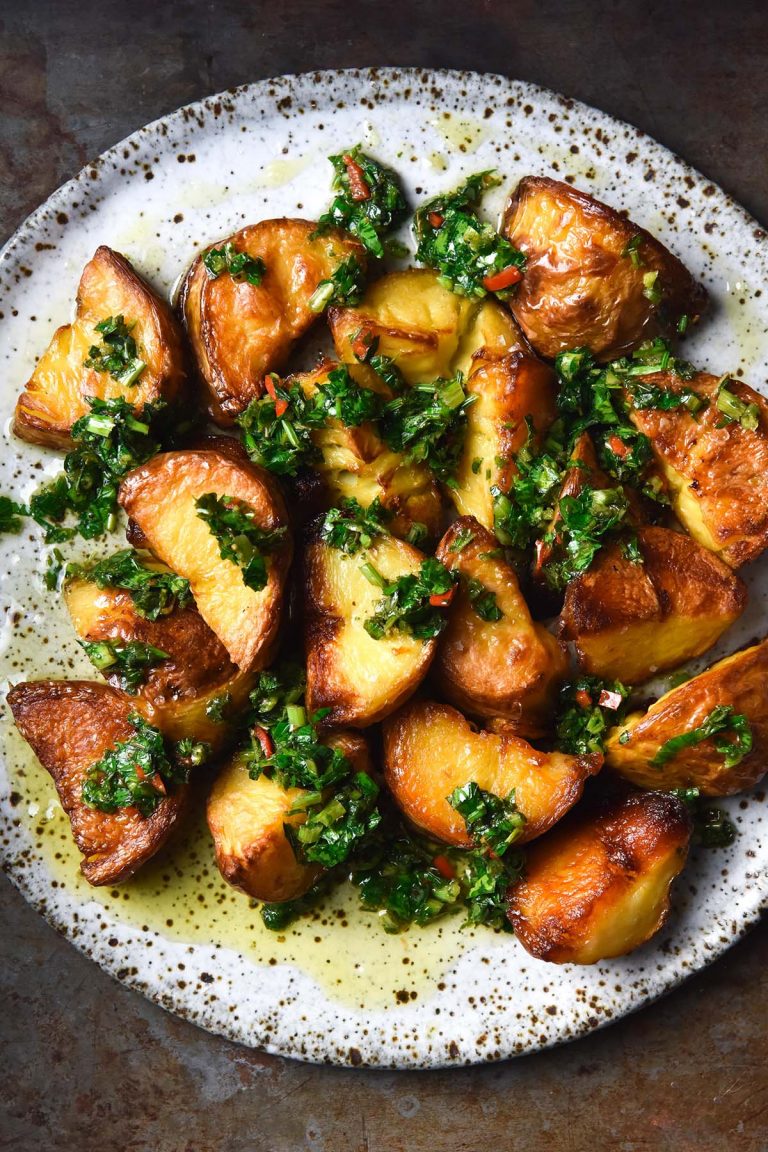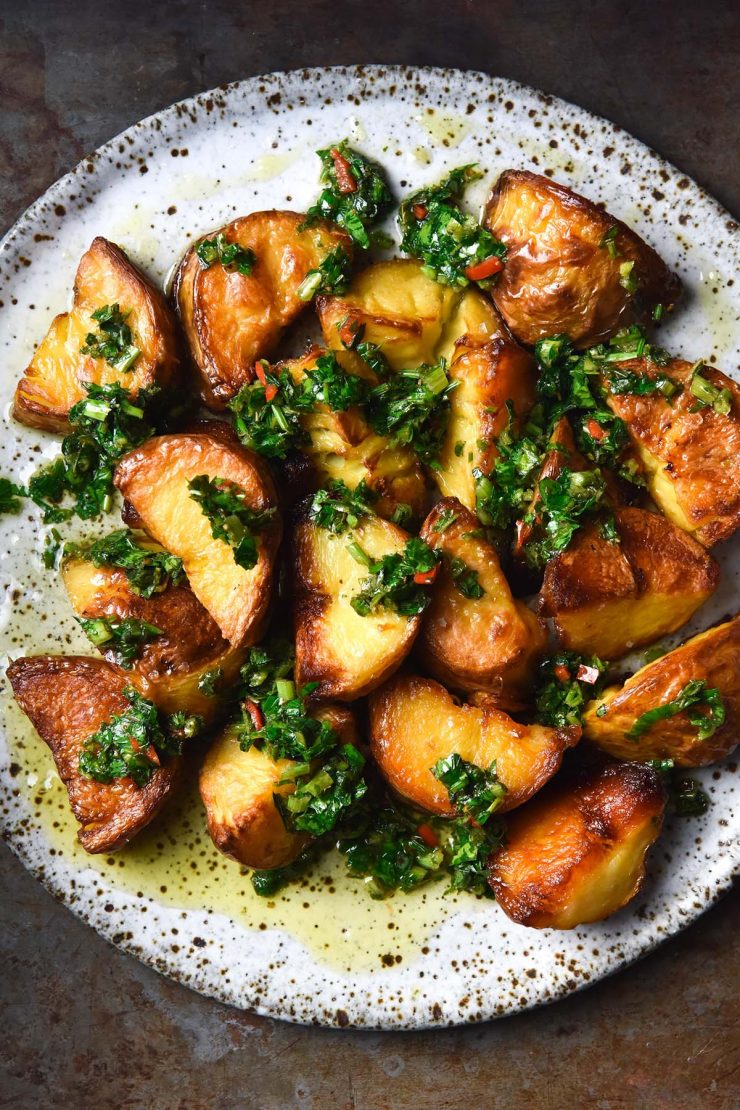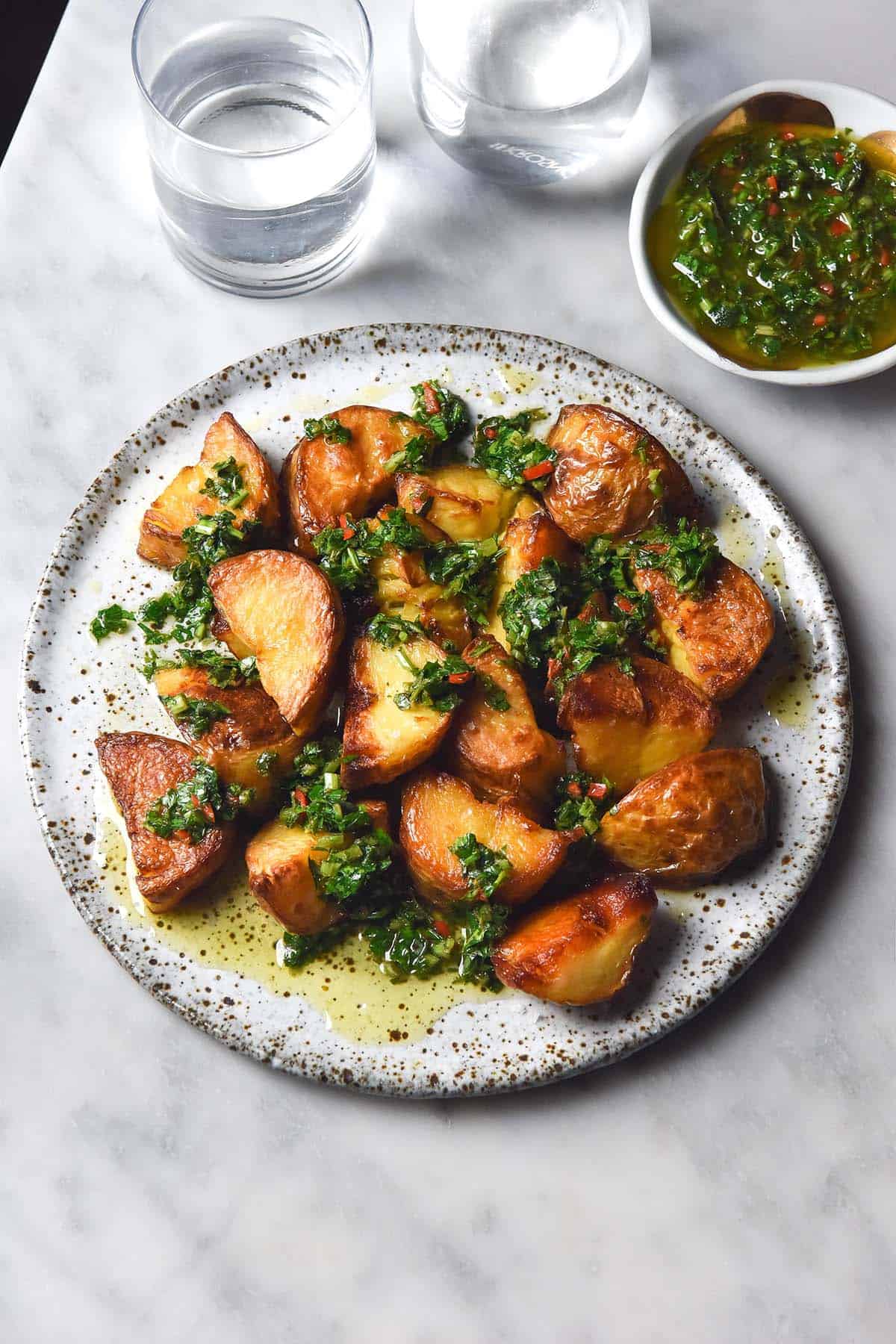 This low FODMAP chimichurri first popped into my head when I had some leftover parsley and oregano. I hate wasting fresh herbs at the best of times (never mind in this economy) so I wanted to put them to use. Obviously, chimichurri is so much more than a great way to use herbs. It's fresh and bright yet spicy and complex – the perfect accompaniment to pretty much everything.
Chimichurri is a bright herby sauce that originates from Argentina. It is also used in Uruguayan cuisine and in Latin America more broadly. Traditionally, it is made with parsley, and oregano, red wine vinegar, olive oil, red chilli and garlic.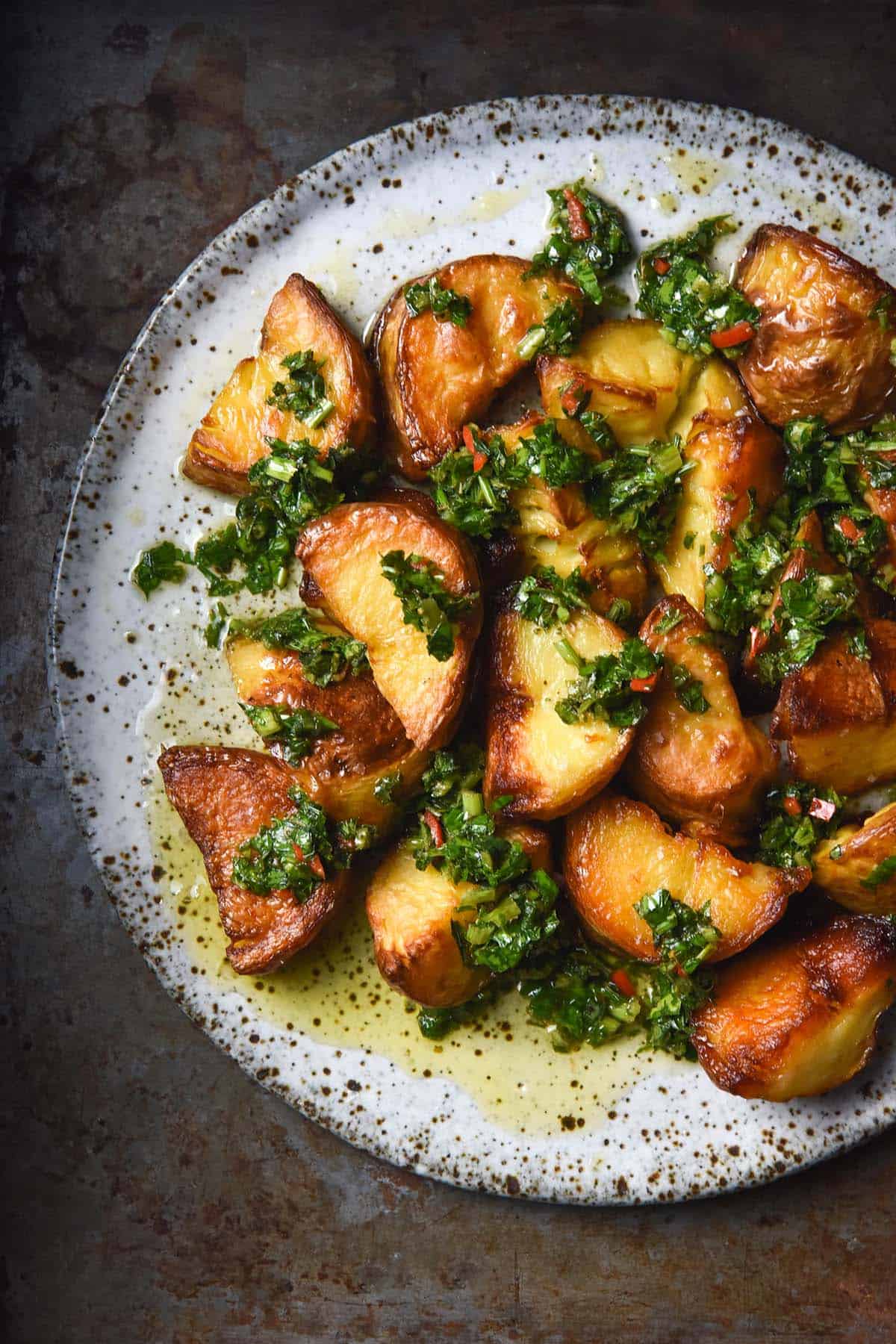 Low FODMAP chimichurri
Because garlic is a high FODMAP ingredient, this low FODMAP chimichurri is made without garlic. Well, not quite: it uses homemade garlic infused oil to give the sauce all of the garlic flavour without the FODMAP content.
This chimichurri can be used essentially anywhere: on meat, on a sandwich, stirred through a pasta salad – the list goes on. Personally, I like to serve it with some crispy potatoes or as a final zingy topping for a pizza.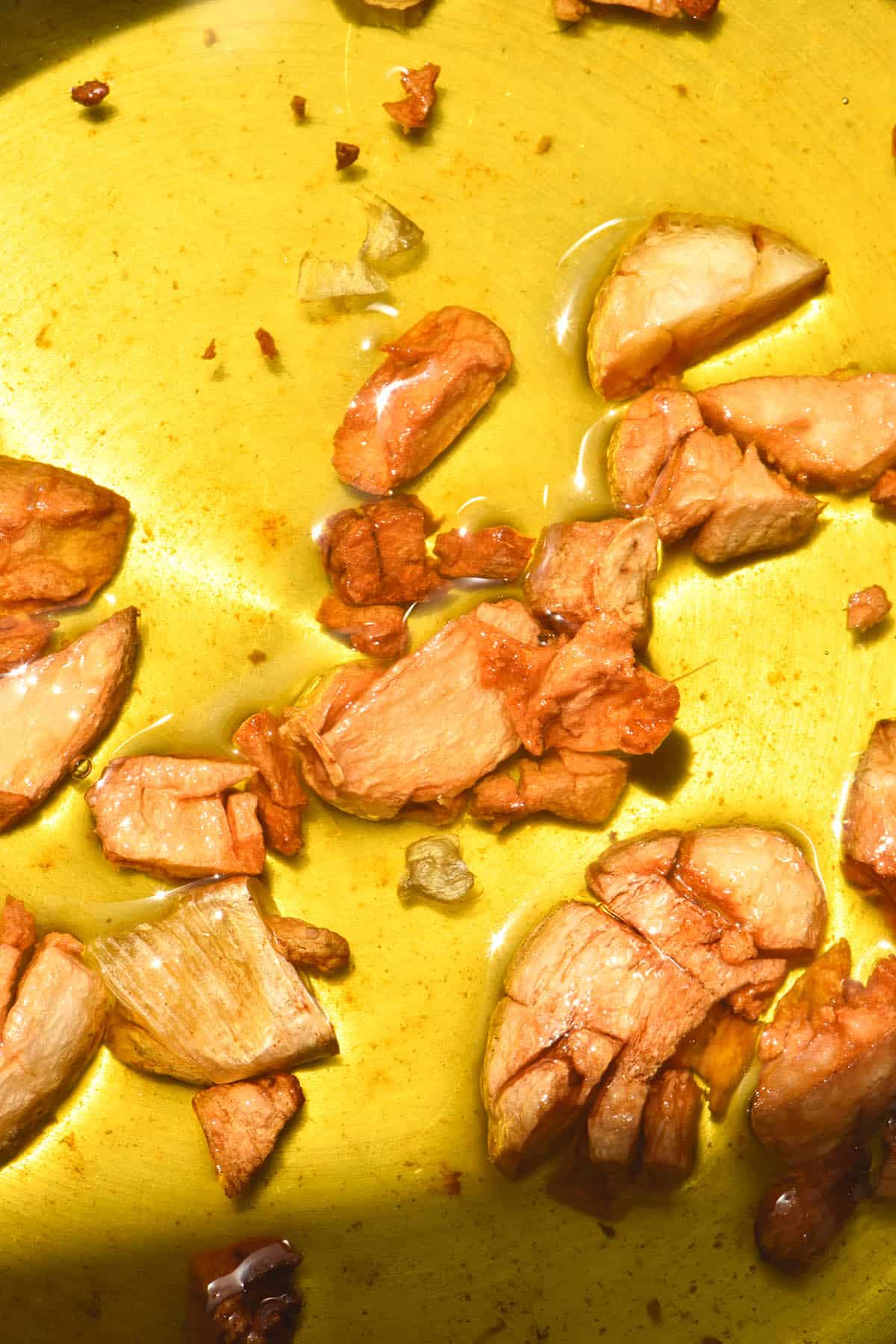 How is garlic infused olive oil low FODMAP?
Garlic is a high FODMAP ingredient because it contains a large amount of fructans. Fructans are a compound in food that is water soluble, but not fat soluble.
What does this mean in practice? If you were to add garlic to stock, the fructans would leech into the stock, raising the FODMAP content of the dish. Because they are not fat soluble, however, you can infuse oil (which is 100% fat) with garlic. The fructans can't leech into the oil, but the flavour can.
The result is a garlicky flavoured oil that will perfectly complement our low FODMAP chimichurri.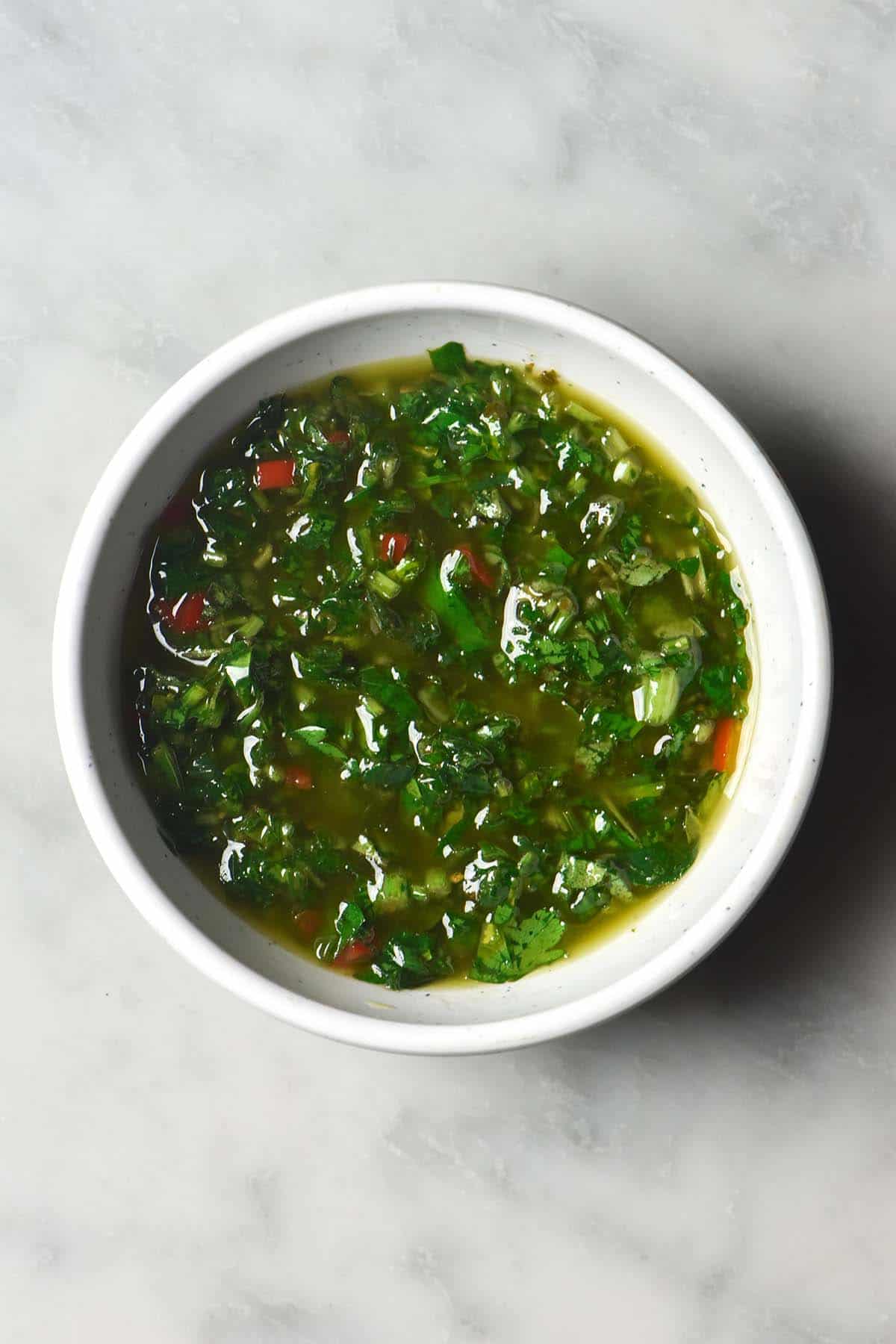 Recipe notes for your low FODMAP chimichurri
Use flat leaf parsley and chop it really finely. You can also use a food processor if you are pressed on time.
I had fresh oregano on hand and it was lovely. However, you can also use dried if you can't find fresh. Add it to taste. I actually added some dried in addition to the fresh.
On that note: at everything to taste. If you feel something is missing, add more of it! This is a very flexible recipe and sauce. Adjust to your preferences.
If you want a stronger garlic hit, try adding a pinch of asafoetida powder. It is a low FODMAP garlic and onion alternative and a pinch goes a long way. For more information on it, see this post.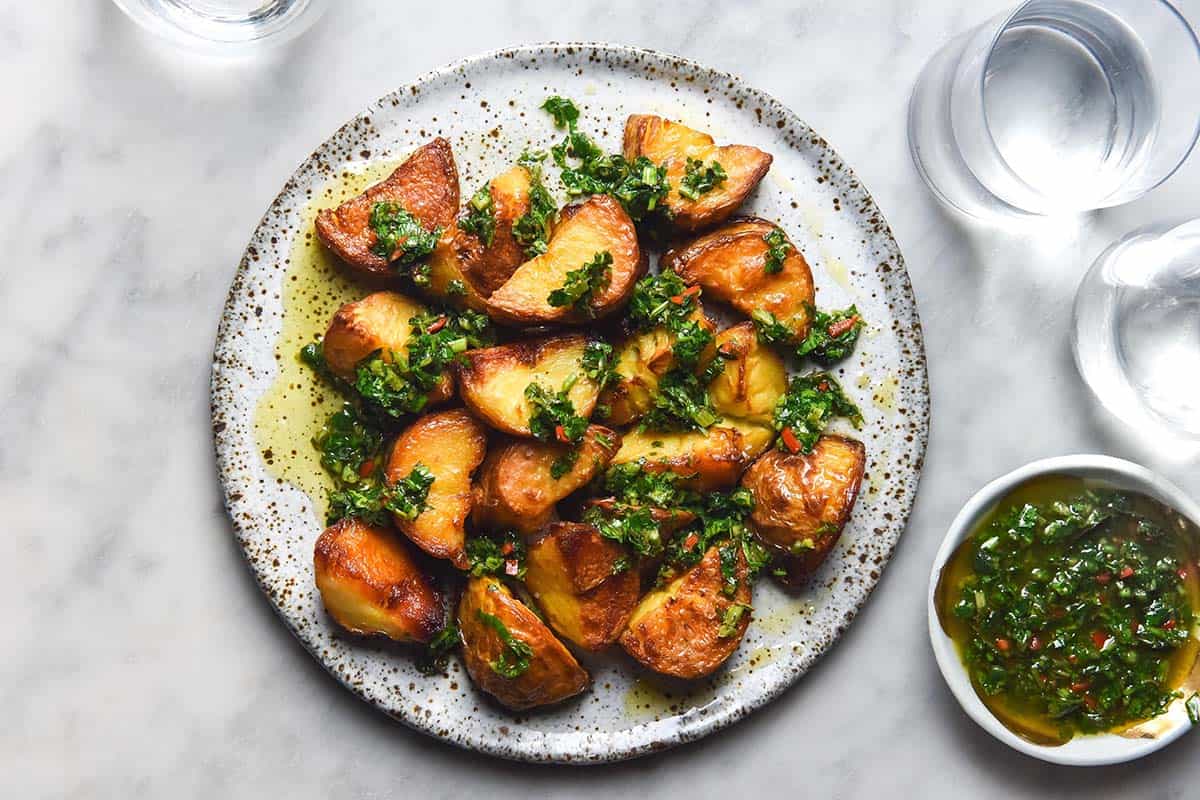 More low FODMAP sauce recipes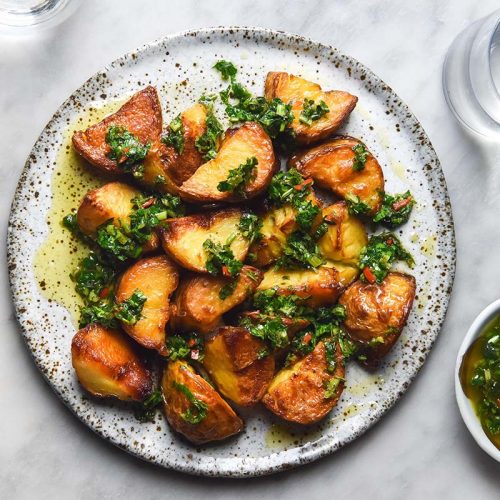 Low FODMAP chimichurri
Vegan, low FODMAP, nut free
Ingredients
1

large extra bunch of parsley

2

tablespoons fresh oregano, chopped (or dried oregano, to taste

1/2 – 1

red chilli, deseeded and finely chopped (add to your tastes)

40-60ml

(2-3 tablespoons)

red wine vinegar, to taste

125-180ml

(1/2 – 3/4 cup)

garlic infused olive oil (see notes for recipe)

Salt and pepper, to taste
Instructions
Mix all ingredients together in a bowl and adjust according to taste. The chimichurri should be a loose consistency that is easily drizzled.

The flavours meld together the longer they sit, so you can make it a few hours ahead and store it in the fridge. Best eaten within a couple of days out of an abundance of caution for garlic infused oil (see notes).
Notes
For my homemade garlic infused oil, see this recipe. Homemade has a much stronger (and better) flavour than store bought, as it has to be stablised. 
Garlic oil can cause botulism if not eaten within a food safe time frame. Although this generally applies in dishes where the garlic cloves remain in the oil (like confit) I like to add a warning out of an abundance of caution. For this reason, I recommend using your garlic infused oil within 2-3 days.
Leftovers can be frozen without any adverse food safety effects.