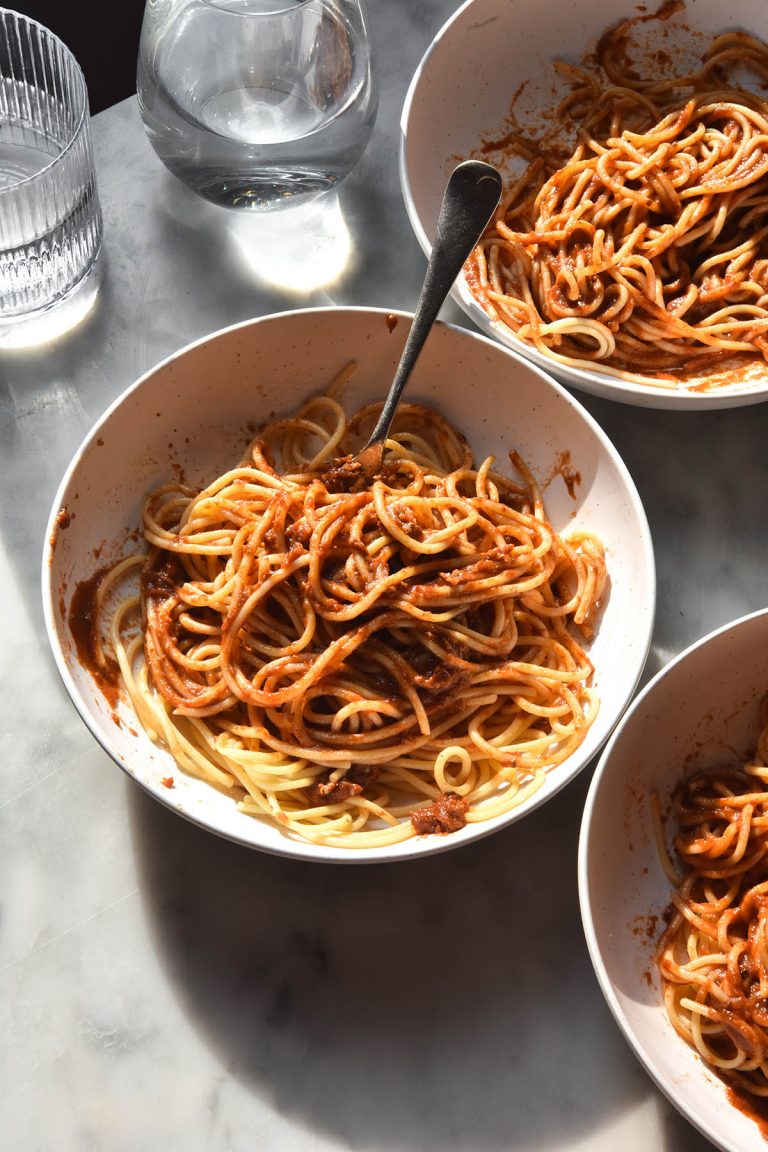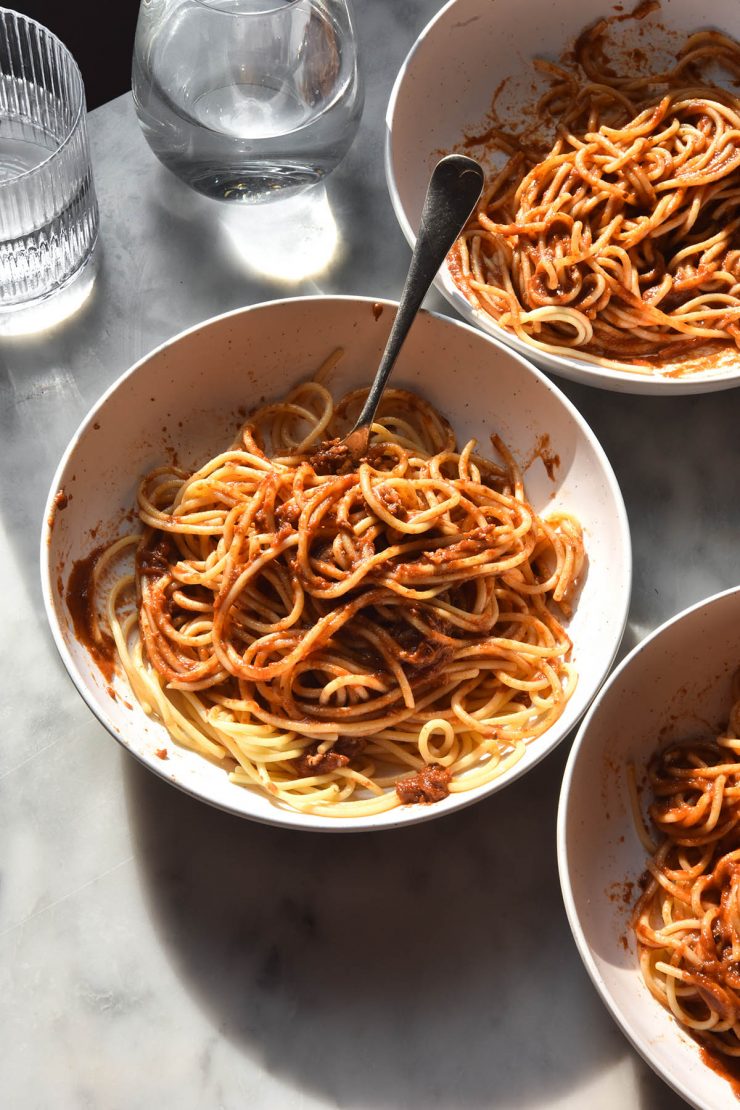 It occurred to me recently that I haven't really developed many pasta recipes. There's the FODMAP friendly vegan spaghetti bolognese, and the vegan lasagne, but not an extensive collection. Today, I begin to rectify that with this quick and easy low FODMAP pasta sauce.
Pasta sauce that is quick and easy yet made without onion or garlic can be a challenge. I think that this pasta sauce ticks all the boxes of a traditional pasta sauce, without the FODMAP content.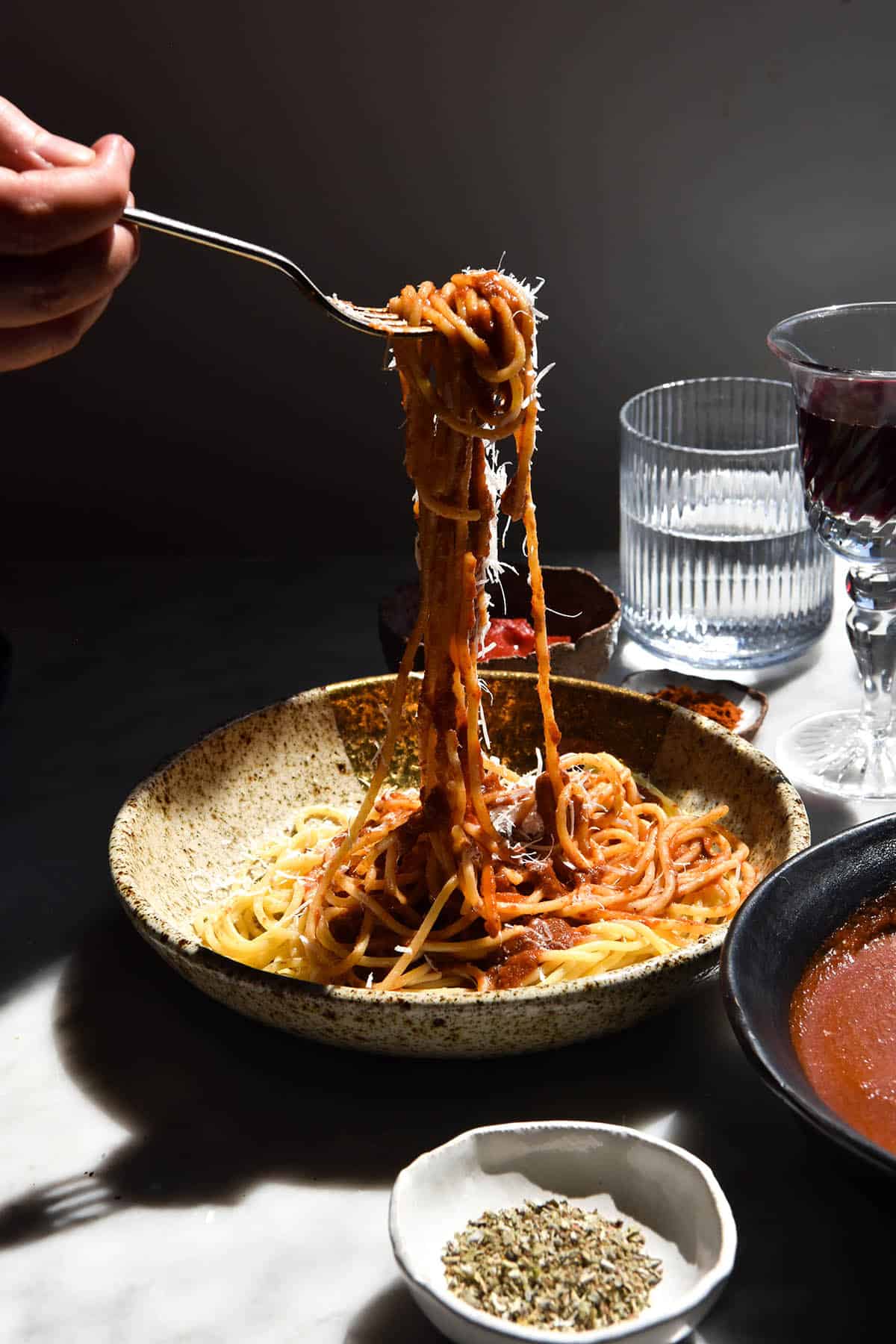 Low FODMAP pasta sauce
This pasta sauce is basically a pasta sauce version of my low FODMAP pizza sauce, with a few alterations. Firstly, I serve it drizzled with garlic infused right at the end. Garlic infused oil tends to get lost in the flavours when you add it before cooking or blending. Added right at the end, however, the garlic flavour really gets a chance to shine.
Secondly, I like to cook this low FODMAP pasta sauce for five or ten minutes after blending. This gives you the opportunity to add a few extra flavours (I like to add a tablespoon or two of red wine).
Because there's no onion or whole garlic in this pasta sauce, it doesn't really need to be cooked long. The sauce does get finished with some homemade garlic infused oil, which is FODMAP friendly. As an added bonus, you can throw the cooked garlic pieces onto the dinners of the people in your house who can eat garlic.
The homemade pasta sauce is vegetarian with a vegan option, onion and garlic free and nut free. It is incredibly quick and easy to make and still full of flavour.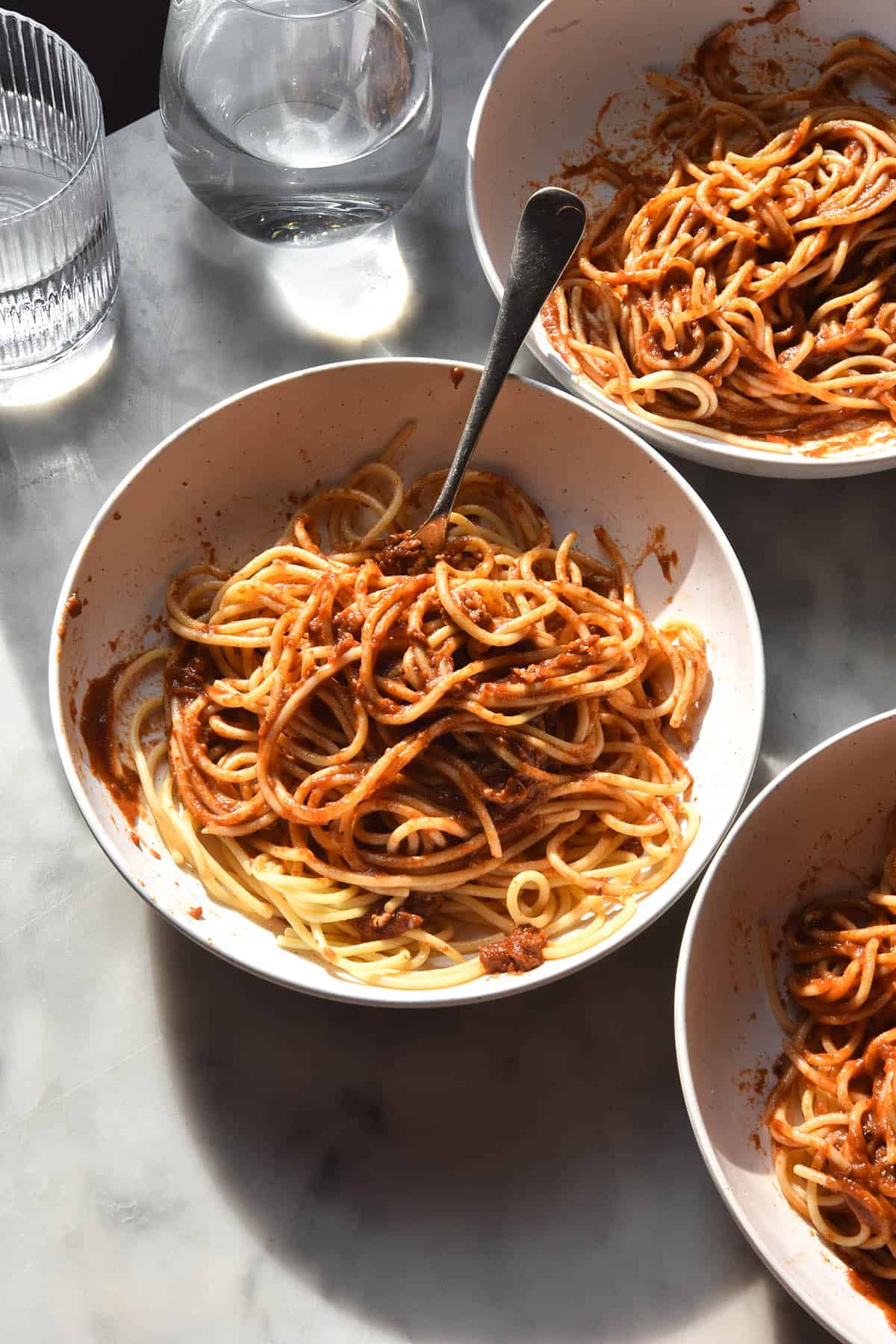 FODMAP notes for your low FODMAP pasta sauce
Tinned tomatoes are low FODMAP in 100g serves per person. This recipe uses 400g tinned tomato and serves 4-5.
You can also use my low FODMAP Nomato sauce recipe to replace some or all of the tinned tomato. One batch of Nomato sauce makes approximately 1.2kg, which is equivalent to 3 x 400g cans of tinned tomato.
Tomato paste is low FODMAP in 2 tablespoon serves, and this whole dish uses only 3 tablespoons.
Honey is low FODMAP in 1 teaspoon serves and the recipe uses 1 teaspoon, which is divided by 4-5 people. You can also use maple syrup or brown sugar, if you would prefer.
I use gluten free pasta, but you can use whatever works best for your diet.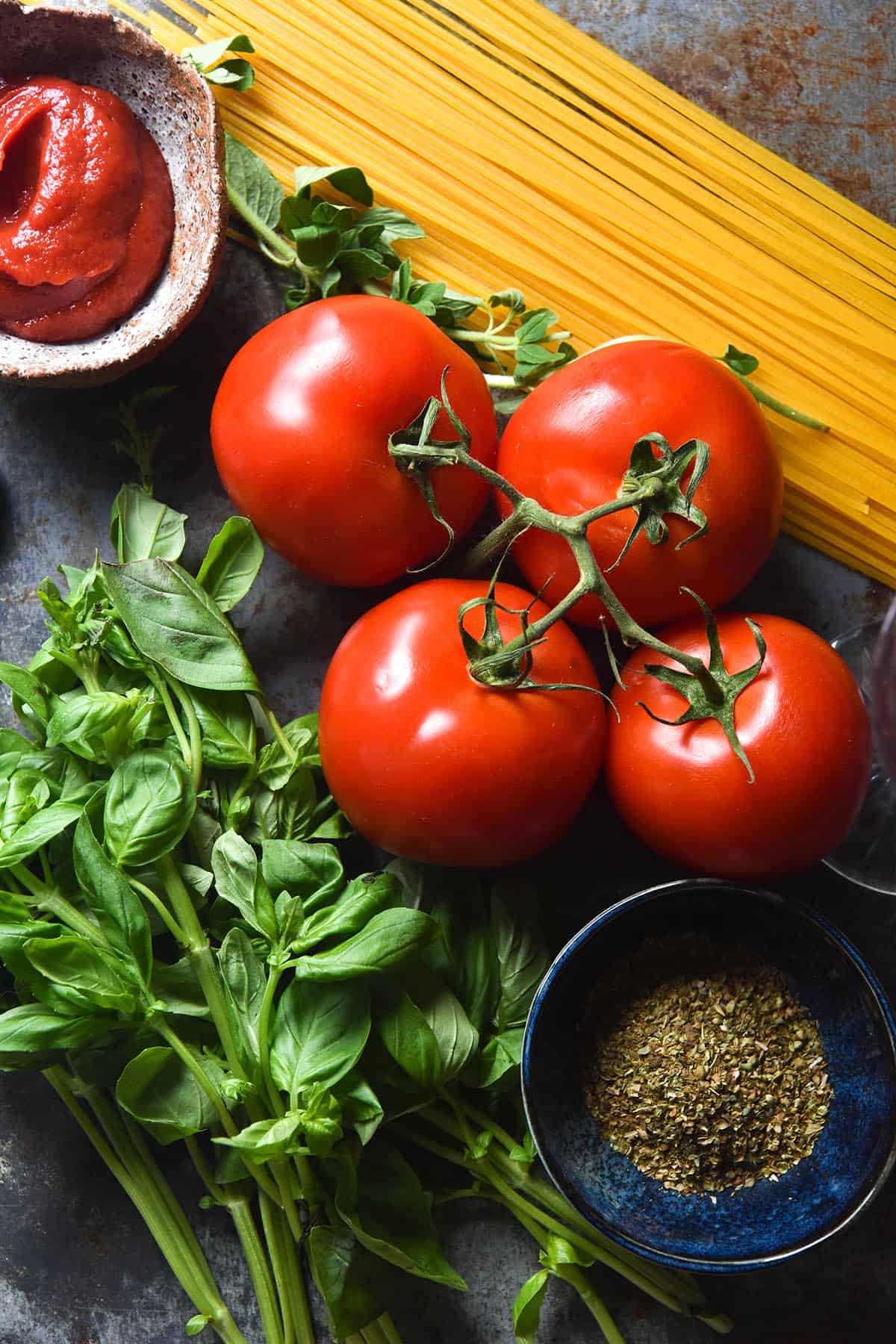 What is asafoetida powder?
Asafoetida powder is a key backbone in this low FODMAP tomato pasta sauce. Asafoetida, sometimes called Hing, has a cooked onion and garlic like flavour and is used a lot in Indian cuisine. It is a powder made from a species of giant fennel.
Asafoetida has a pungent smell and only requires a small amount to add flavour. 1/2 teaspoon, as in this recipe, is actually quite a high amount. This is because pasta sauce doesn't really have any other flavour components or spices that can compensate for the onion and garlic flavour. In a curry, we could add extra spices to compensate for the lack of onion and garlic. Here, the flavours are laid bare.
It is worth noting that asafoetida powder is often 'cut' with flour. Because it is a resin, I assume, asafoetida is mixed with flour to make it powder like, 'pourable' and easy to use. There are brands on the market that use rice flour instead of wheat flour, but some use wheat flour. Check the labels if you need to ensure yours is gluten free.
All that said, I have also seen uncut asafoetida powder on the market. It's important, as such, to add the asafoetida powder to taste. I assume brands vary in their strength (particularly ones without any flour) and it can overpower the dish.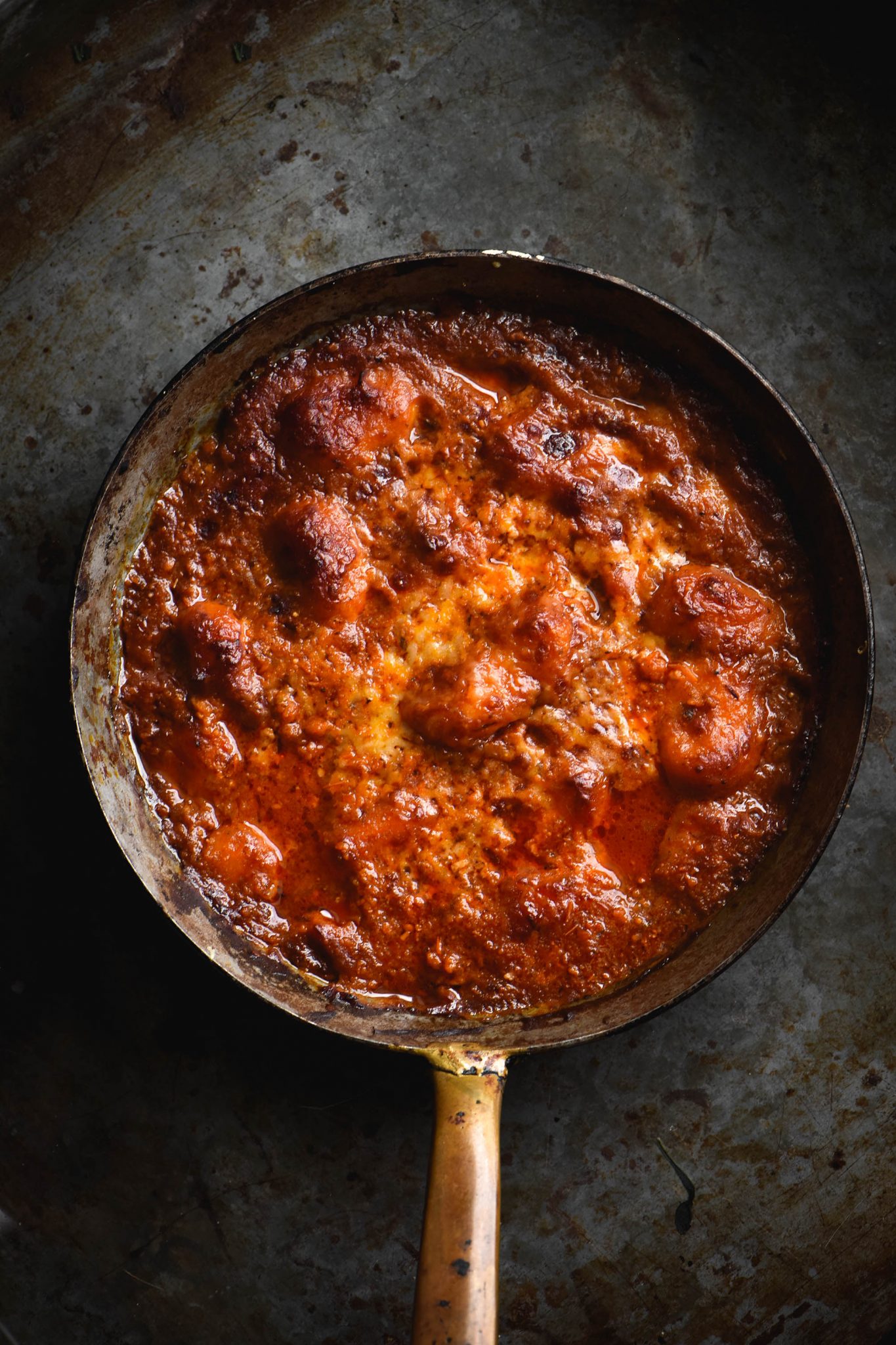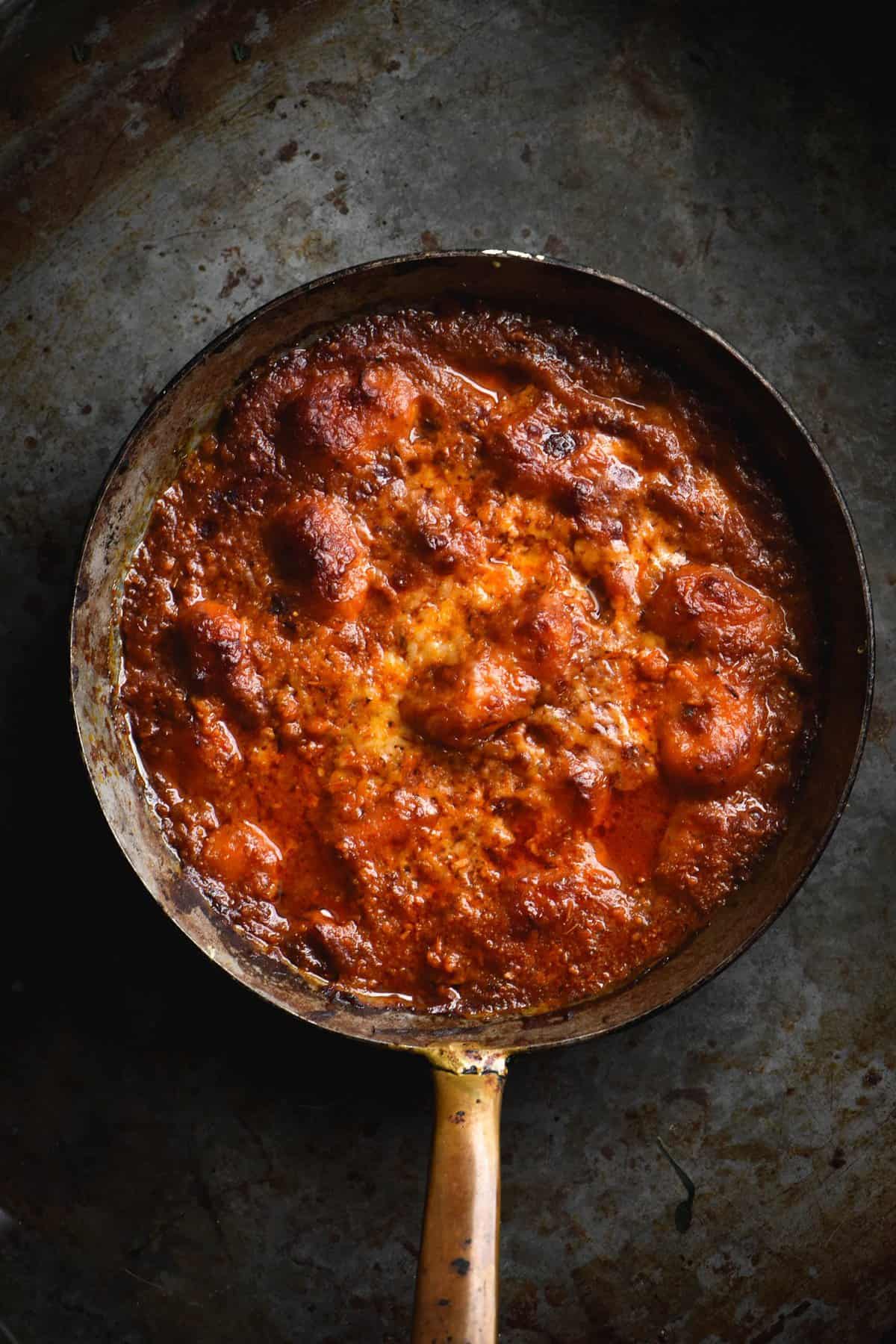 Homemade garlic ghee notes
The fructan content of garlic is water soluble but not oil soluble. This means that if you use garlic cloves in a soup, the fructans leech out. However, if you were to use them in fat (ghee is 99%-100% fat) the fructans cannot escape. The result is a garlic flavoured buttery ghee without any FODMAPs.
People are generally more inclined to use oil in pasta sauce, but I love using ghee here. Marcella Hazan uses butter (ghee's parent) in tomato sauce, which is good enough for me. It adds a deep richness that can sometimes be missing in low FODMAP dishes. I also find that ghee carries garlic flavour better than oil.
This, I suppose, brings me to my next point. Because ghee can have .1% liquid leftover after the ghee making process, there is .1% water that the fructans can cling onto. This has never been an issue for me, as a very garlic averse person. If you're not comfortable with the chance, that's OK. You can also use garlic infused oil (or just regular oil, if you are in a rush).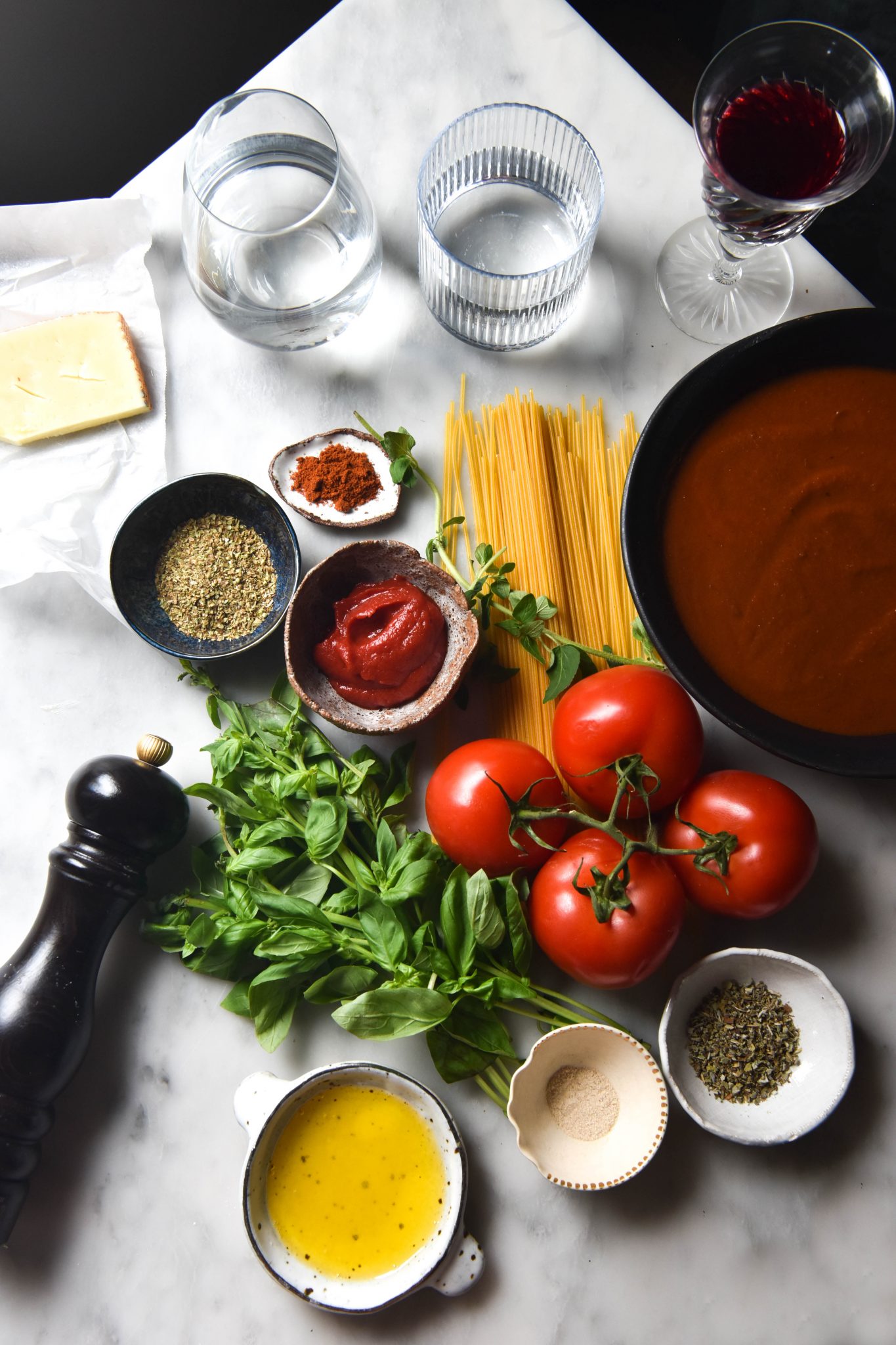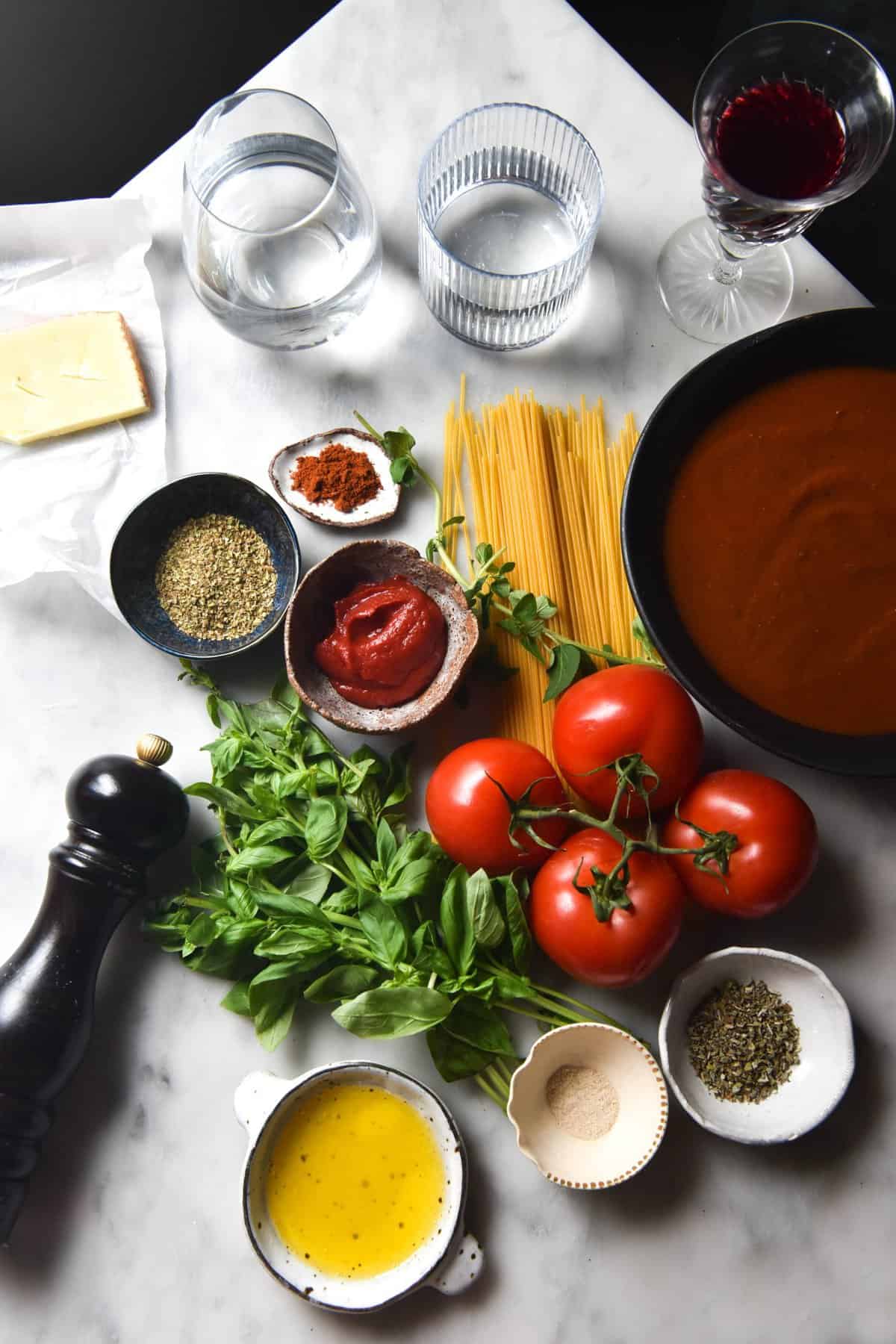 Can I use garlic infused oil instead?
Garlic infused oil is a suitable replacement if you're not keen to use garlic infused ghee. Ghee is by far and wide by preferred option, but garlic oil is also a great choice.
I have found two things to be true of garlic infused oil. Firstly, it is much better homemade. Because garlic oil has some food safety concerns if left for a number of days, commercial garlic oil uses stabilisers to ensure it is food safe. The result, I find, is much less potent than the homemade version.
Secondly, I think garlic oil works best as a finishing oil, rather than something incorporated into the dish. The garlic flavour is very easily lost, so it's best to add it right at the end.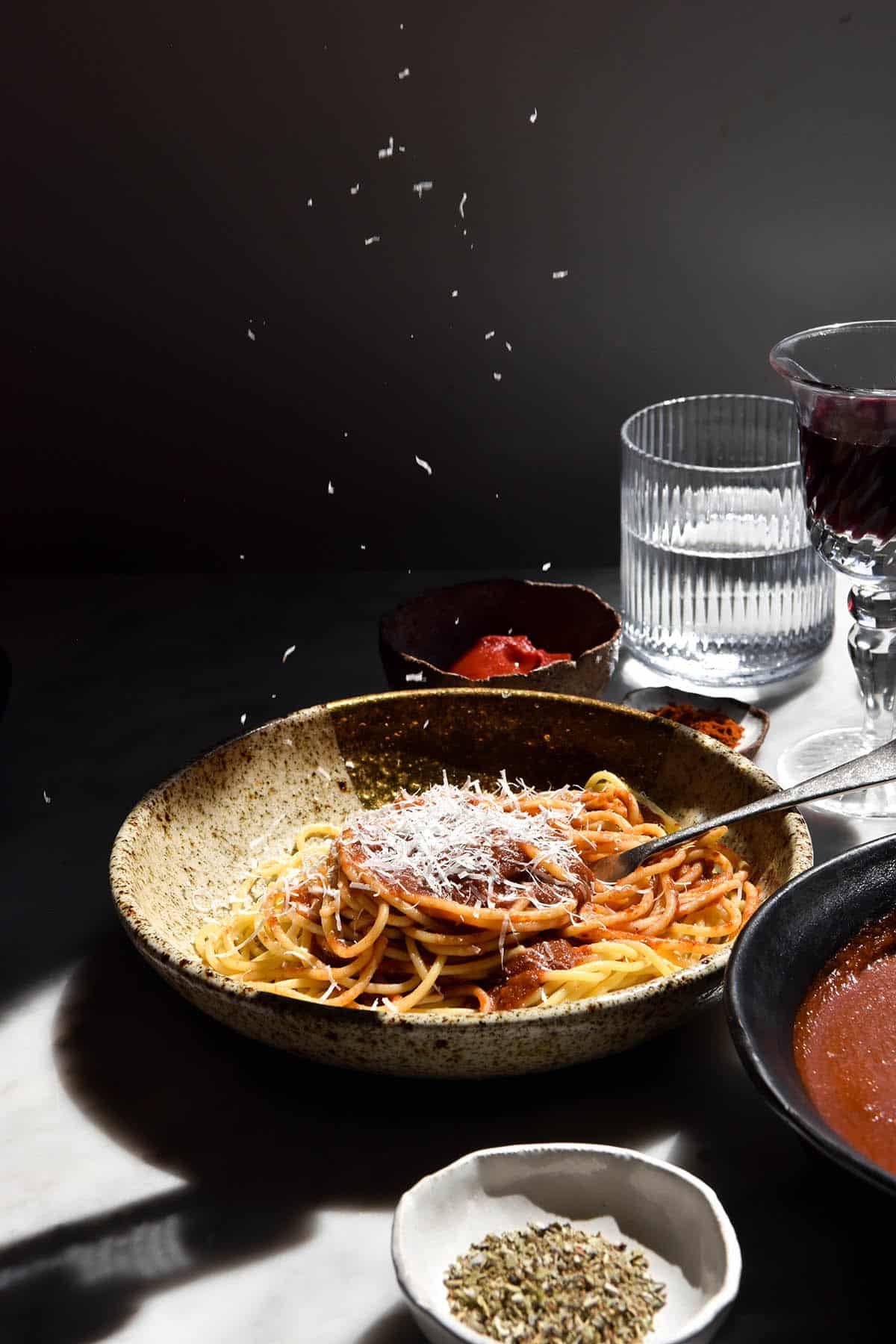 Can I make this pasta sauce vegan?
Yes! Very easily. Simply use maple syrup or light brown sugar in place of the honey and use a vegan cheese to serve (or omit the cheese). You will need to choose the garlic oil option as opposed to the garlic ghee. Make sure you use a store bought dried style of pasta as opposed to a fresh egg pasta to keep the pasta element vegan too.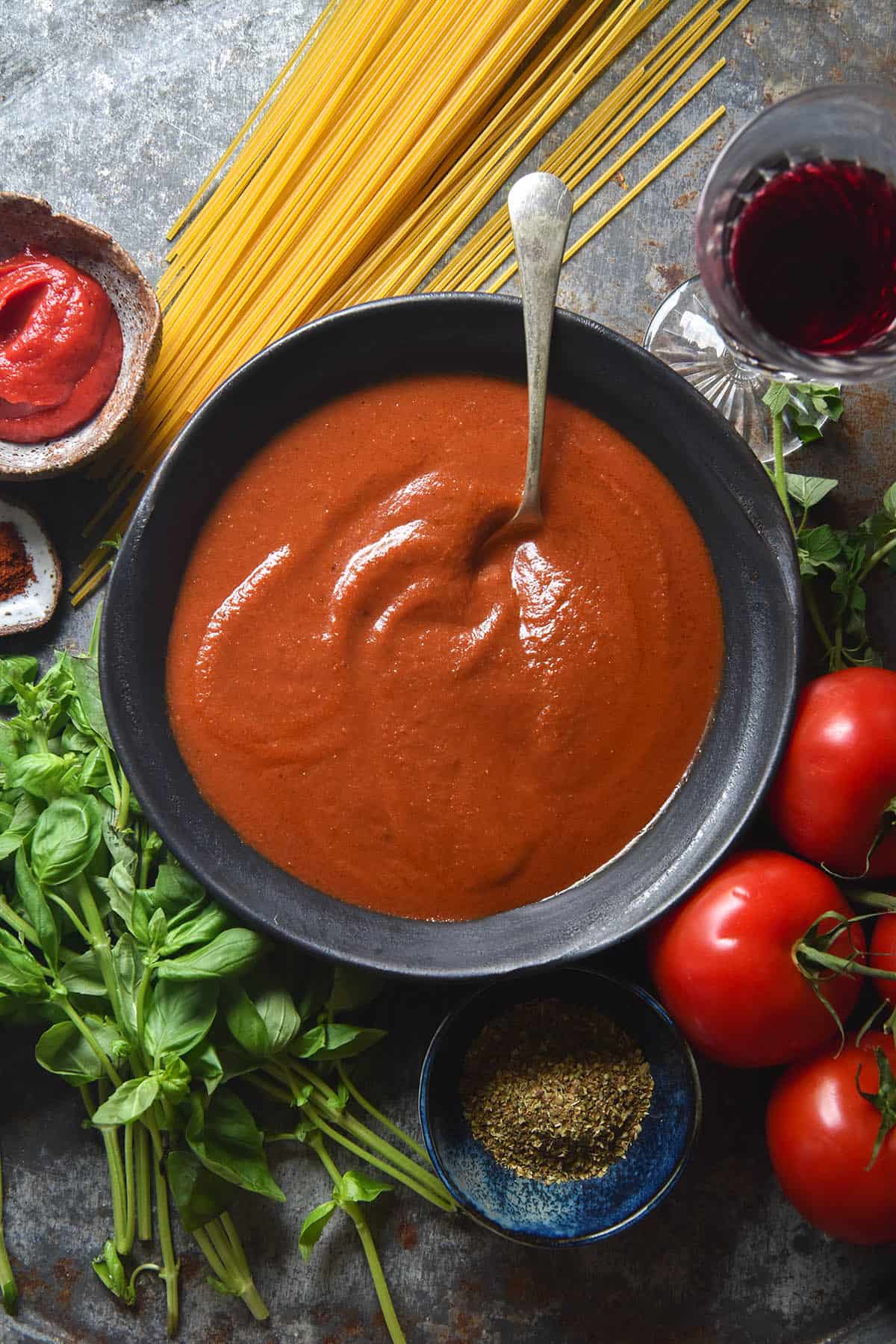 Recipe notes for your low FODMAP pasta sauce
As discussed in the asafoetida section, add your asafoetida to taste. I have added a measurement as a guide, but all brands vary in their strength.
I highly recommend buying some asafoetida powder if you have fructose issues. Mine has lasted me over three years and I still have plenty left. It really does add lots of flavour with just a pinch.
Adding a bit of wine red is completely optional. I like to add it for some depth of flavour, but it's not compulsory.
The more herbs you add, the more muddy in colour your pasta sauce will become. This is why we're adding smoked paprika – for extra flavour, but also for that red colour. It will help counteract the brown colour of tomatoes mixed with herbs. If you don't care about how it looks – great! I still recommend adding the paprika for that extra level of flavour.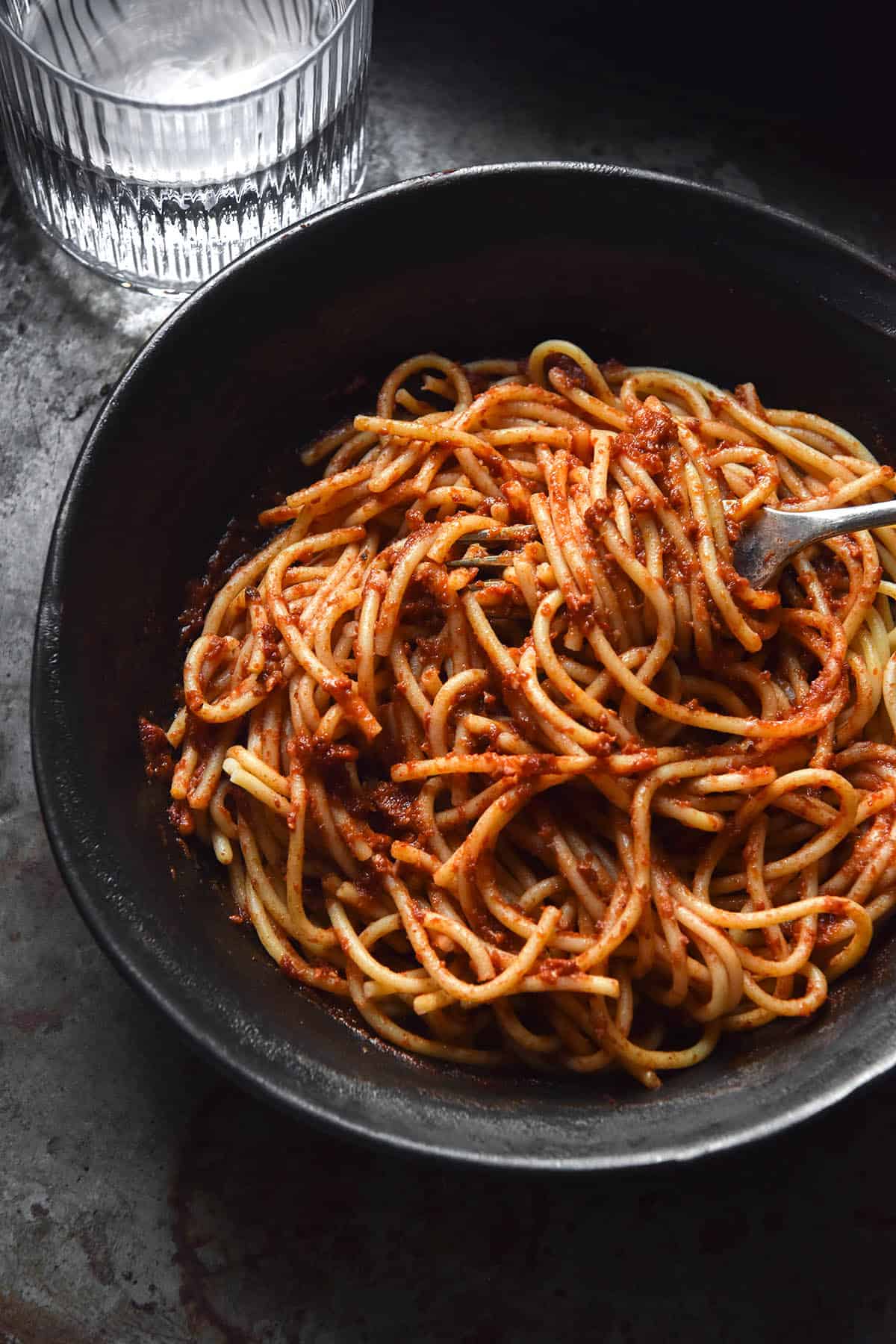 More low FODMAP and gluten free pasta recipes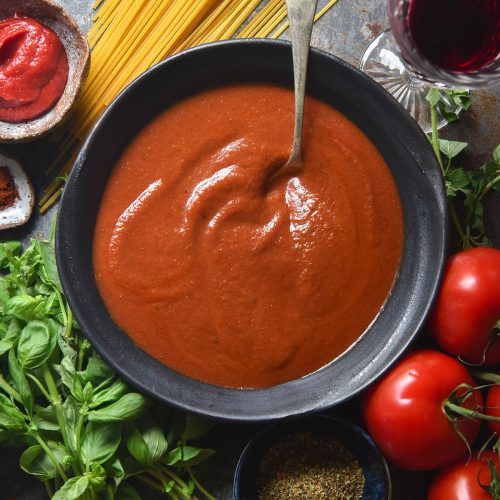 Low FODMAP pasta sauce
Vegetarian, gluten free, nut free
Makes enough for 250-400g uncooked pasta, depending on how saucy you like your pasta
This recipe uses Australian measures. Use heaping teaspoons for US, Canadian and UK teaspoons
Serves 4-6
Ingredients
1

x 400g tin plain tomatoes

3

tablespoons

tomato paste

2

tablespoons

red wine

optional but really adds flavour

1

small bunch fresh oregano

1/2

bunch fresh basil

reserve the remaining to finish

1

teaspoon

maple syrup or honey

1/2

– 1 teaspoon dried sage

1-2

teaspoons

smoked paprika

for flavour and colour

1/4

teaspoon

dried oregano

1/4

teaspoon

asafoetida powder

optional but delicious

Salt and pepper

to taste

1/2

cup

125ml water

2

tablespoons

garlic infused ghee or oil
Instructions
Blend together all the ingredients except the ghee. Add the mixture to a saucepan and cook over a low heat for 5-10 minutes. You can slow cook this mixture as long as you like, but you might need to add more liquid.

Just before you finish cooking, add the ghee and stir to melt and combine. Leaving the ghee just cooked helps it retain the garlic flavour.

Serve over pasta with the remaining basil and some freshly grated parmesan.