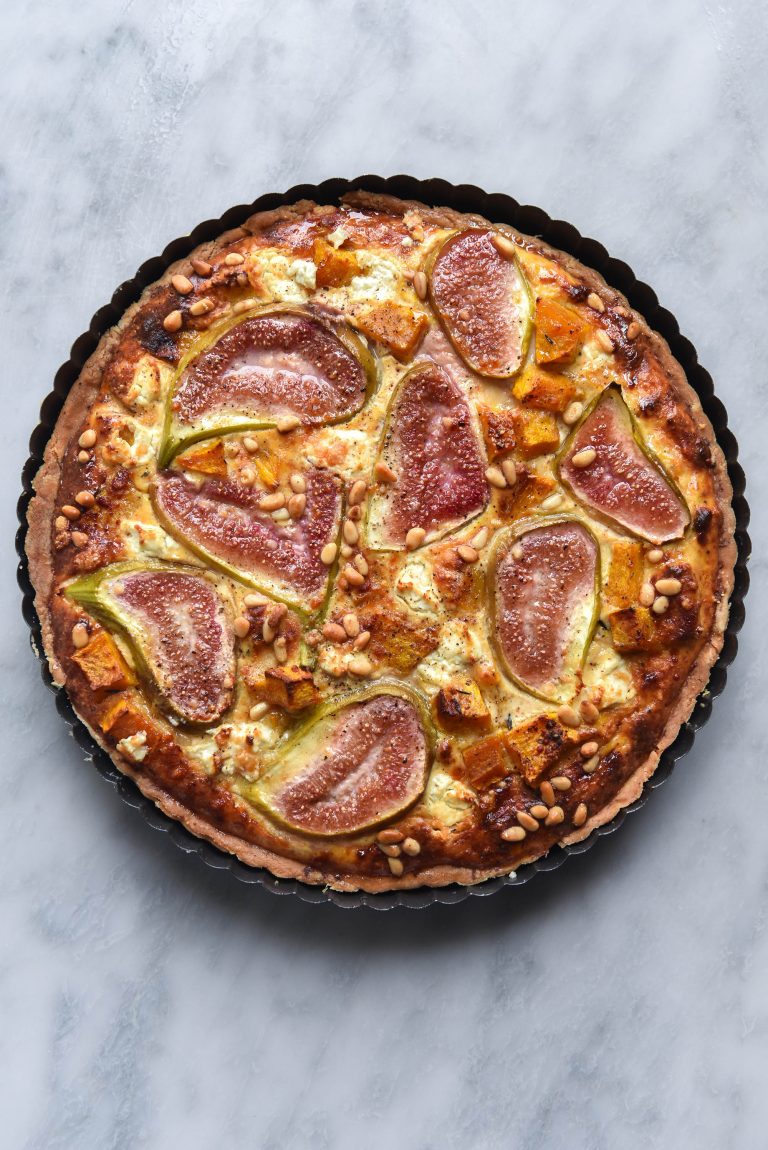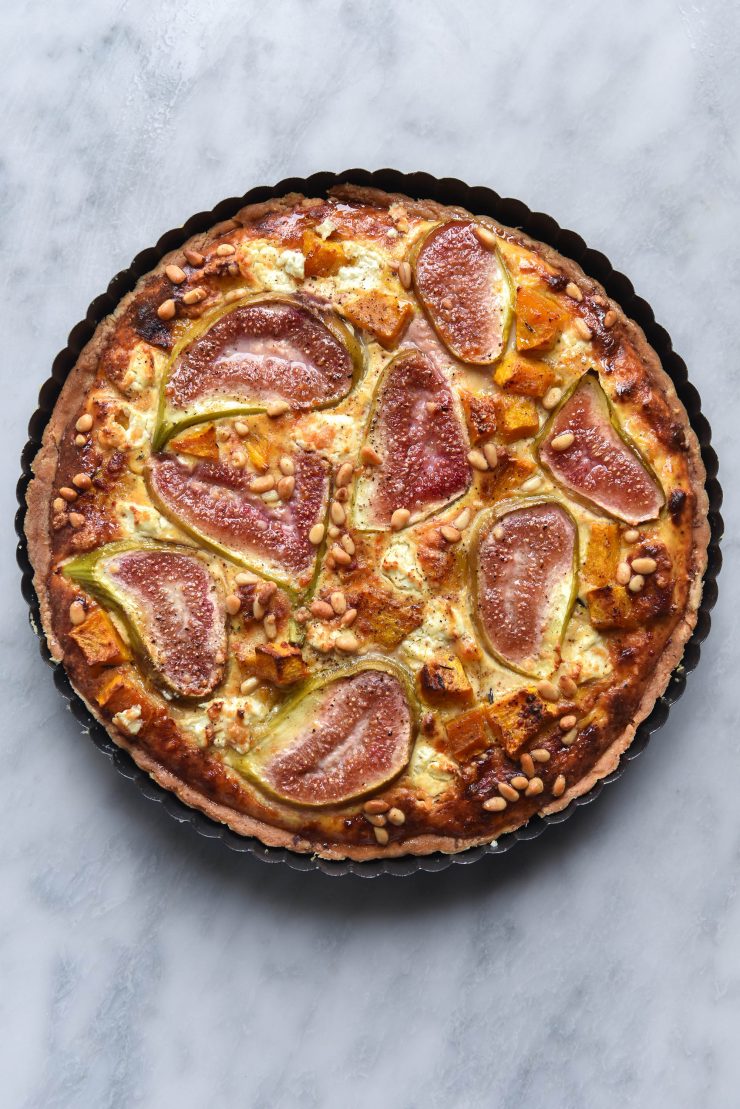 I have been a proponent of the tart since the infancy of my online career. Many moons ago, before FODMAP was even on my horizon, I developed this recipe (or two) for a savoury fig tart. In it's original form, it included roasted pumpkin, basil and goats cheese, all encompassed in a gluten free tart crust.
Despite the fact that figs and garlic are mostly off the menu for me, I wanted to revamp this tart. It's from a nostaglic time when Instagram algorithms didn't exist, I took photos with an IPhone, and stay at home orders were out of the question.
So, allow me to introduce the new and improved gluten free savoury fig tart. It contains honey and thyme roasted pumpkin, figs, goats cheese and some toasted pine nuts. It's all encompassed in a flaky, gluten free pastry, but there's a grain free option, too.
FODMAP NOTES FOR THE SAVOURY FIG TART
Firstly, allow me to point out that this recipe wasn't created with FODMAPs in mind. I can barely believe it when I say I developed it before I knew much about this level of food intolerances at all. That said, there are a few ways you can keep the content down, if that's the route you intend to go:
Use Kent or Japanese pumpkin as opposed to Butternut.
I've had a lot of success replacing ricotta with firm tofu. This can be evidenced from the vegan version of the zucchini swirl tart. I have also used tofu in place of ricotta in the involtini from my cookbook.
If you really would prefer to use ricotta, you can make a lactose free version using my guide here.
If figs don't agree with you or they're not in season? Leave them out! There's plenty of strong flavours without the figs.

RECIPE SUBSTITUTION OPTIONS FOR THE SAVOURY FIG TART
As we've discussed, you are more than welcome to leave the figs out, if that's your preference.
We'll go in flour substitution options for your pastry below. The recipe card contains a grain free option, the recipe text contains a traditional flaky pastry option.
As evidenced by the title of this post, I have used other herbs (namely basil) in this tart before. If you'd prefer to use something like rosemary or sage, go for it. Personally I think hardier, more 'wintery' herbs are best here, but you can use what you prefer (as long as it's not coriander).
Pecorino and parmesan can be used interchangeably in this context. As for other cheeses, basically any variety works: blue, camembert, cheddar et al. The flavours should work with anything you throw at it.
If you need the tart to be nut free, use the flaky pastry option and omit the pine nuts.

GLUTEN FREE PASTRY OPTIONS FOR YOUR SAVOURY FIG AND PUMPKIN TART
THE GRAIN FREE OPTION
You've got two options pastry wise for your savoury fig tart – nut free or grain free. The nut free version is more akin to a traditional pastry, whereas the grain free version is an almond meal based one. Almond meal is slightly sweeter, so people who have never had it sometimes find it jarring.
The grain free option for this tart involves the use of almond meal and tapioca flour. Together, they create a nutty but light pastry crust that's super easy to whip up and caters to grain and gluten free diners alike.
The grain free option is the one listed in the recipe card. It's very straightforward, and is the quickest and easiest option for this tart. If you'd like to make that version, proceed straight to the recipe card.

GLUTEN FREE FLAKY PASTRY – THE NUT FREE OPTION
For the nut free, gluten free pastry you'll need two flours: tapioca and a wholegrain flour. For a quick rundown of FODMAP friendly wholegrain flours, see my flour guide. Thus far, I have tried the pastry with white rice flour, brown rice flour and sorghum flour as the wholegrain component.
If you'd like to try using a different wholegrain, I recommend mixing two. This is particularly relevant to using buckwheat – it performs quite differently to other gluten free flours. As I try different wholegrain flours, I will update this post.
EXTRAS
There are two ingredients in this pastry that you might not find in a regular recipe. Those are xanthan gum and full fat sour cream. As you'll note from the pumpkin pie and tomato tart recipes, it is possible to omit the xanthan gum, if you need to. However, that 1 teaspoon makes it incredibly easy to roll out and use. It also makes for a flakier end result. So, xanthan gum is optional but highly recommended.
Onto the sour cream: like using vodka in batter, sour cream adds fat (for flavour, browning and texture) and moisture, without adding much water per se. This will result in a flakier, lighter and more delicious pastry. Please use full fat – low fat sour cream is watered down, which means it will add more liquid to your pastry. Pastry is not a health food, may as well make it count.
METHOD
This pastry can generally be used as either a shortcrust or a rough puff. For the purposes of the savoury fig tart, shortcrust is absolutely fine. It's quicker, easier and will still be flaky and delicious.
The method is very simple – it involves rubbing cold butter into the flour mixture, followed by cold sour cream. You can do this in a food processor, but I personally think you get much better results doing it by hand. Plus, less washing up!
Once the sour cream has been incorporated into the mixture, spoons of icy cold cold water are added one at a time. Only use as much water as necessary to form a dough ball with no crumbly bits. The idea here is to incorporate as little water as possible to form a pliable dough. Less water equates to a flakier, crispier pastry.
After a 30-60 minute rest in the fridge, your pastry is ready to go! Roll it out using firm, solid movements as opposed to see-sawing rolling. This will help keep the butter bits in tact, helping with flakiness.
NOTES FOR PASTRY SUCCESS
Xanthan gum. What a world of difference it makes.
Ensure your butter, sour cream and water are cold. I like to cube my butter and flash freeze it for 10-15 minutes. If it's summer, I'll do the same for the sour cream. I also use ice water. Keeping the ingredients cold is important, because if the butter melts, so too does it ability to puff up. Pastry puffs up in the oven because the liquid in the butter evaporates and puffs up steam. If your butter is liquid before it goes in the oven, you will get no puff.
Roll the pastry out on a well floured sheet of baking paper, and put it in the fridge whenever you need to.
Keep flipping the pastry over as you roll it out (this should be easy with the xanthan gum). This ensures no part of the pastry has stuck to the paper.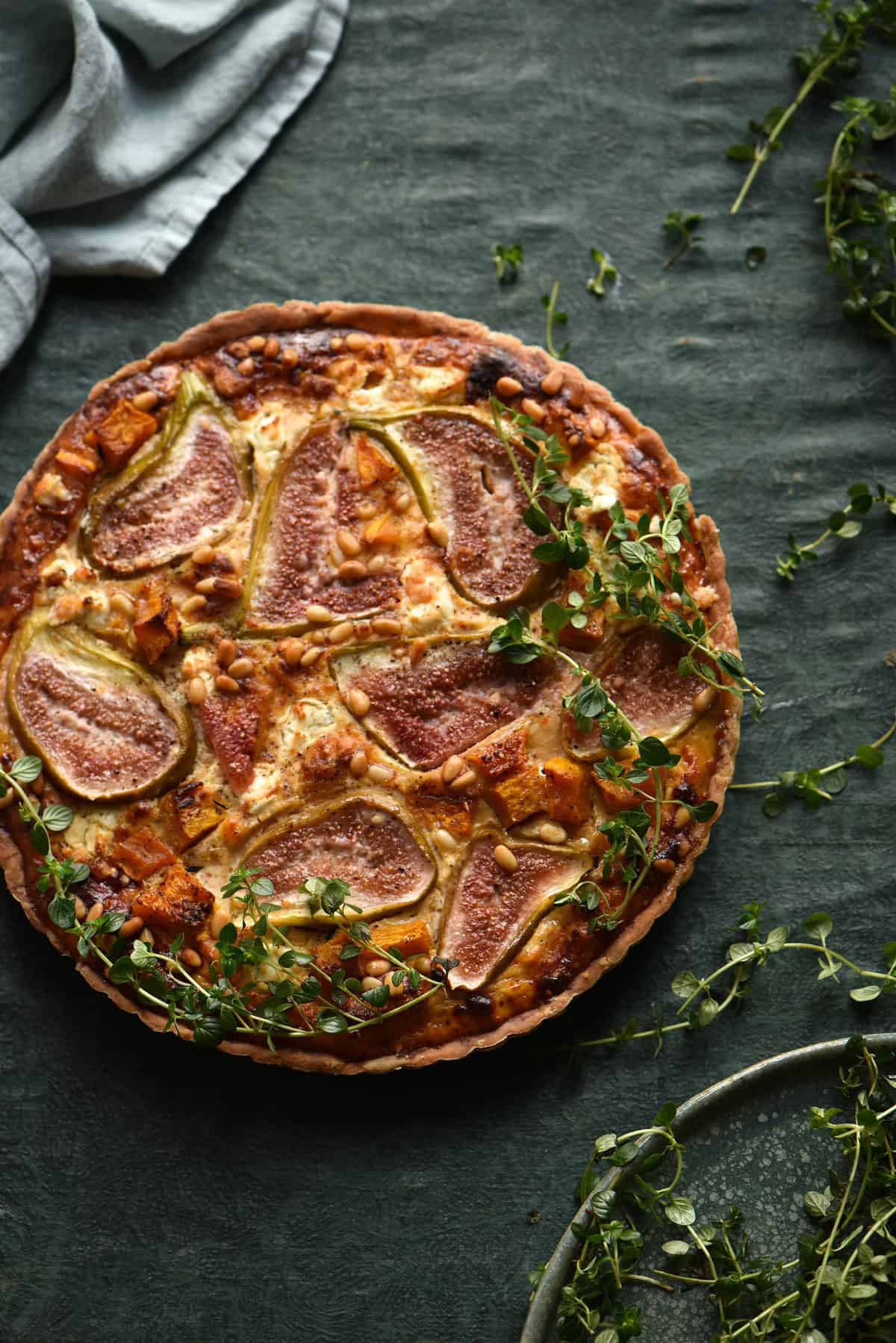 Have you tried this recipe? Let me know in the comments or tag me in a photo on Instagram @georgeats. I love to see what you're making!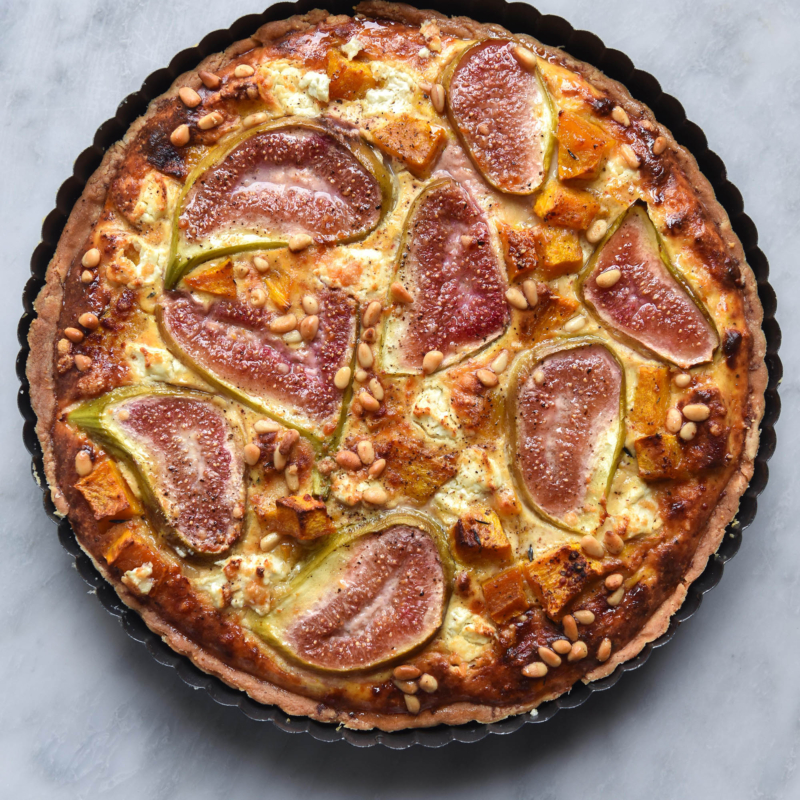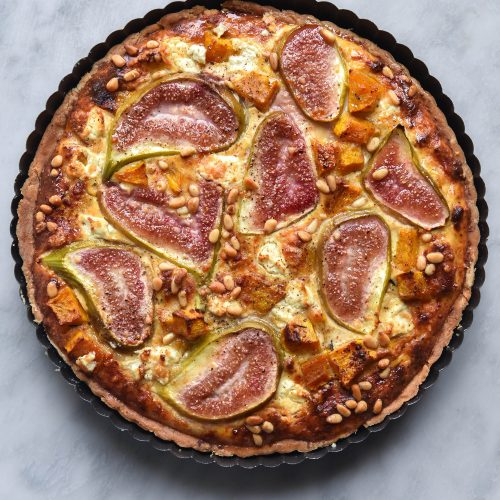 Savoury fig tart with pumpkin, goat's cheese and herbs
Gluten free, grain free option, nut free option
Ingredients
For the roasted pumpkin:
600-700

g

pumpkin

skinned and cut into small cubes (see notes)

2

tablespoons

olive oil

Sprigs of thyme

optional

1

tablespoon

honey

salt and pepper
For the grain free pastry:
150

g

1 1/2 cups blanched almond meal

100

g

1 cup tapioca flour

50

g

finely and freshly grated parmesan

1/2

teaspoon

salt

80

g

melted butter

2

extra large eggs

For the tart mixture:

250

g

ricotta

75

g

blender parmesan

plus extra to finish

Generous freshly cracked black pepper

Good pinch of salt

1/4

of a lemon worth of lemon zest

Pinch

of nutmeg

optional

1/4

cup

pine nuts

optional, plus extra to finish

1/2

tablespoon

balsamic vinegar

thyme leaves

optional

50-100

g

goat's cheese

plus a little extra to finish

3

extra large eggs
To top:
1-2

large figs

A few pumpkin cubes

A few extra pine nuts

Drizzle of honey

optional
Instructions
To roast the pumpkin:
Preheat the oven to 180C or 356F. Combine all the ingredients for the pumpkin on a baking tray.

Once the oven is ready, roast the pumpkin for 30 minutes or so. Keep in mind that it will be cooked again in the tart, so it doesn't need to be totally cooked. Just soft is fine.
To make the tart pastry:
While you're waiting for the pumpkin, place the almond meal, tapioca flour, finely grated parmesan and salt in a large mixing bowl. Stir to combine.

Pour the melted butter into the mixture and use a spoon to combine. It should have the appearance of wet sand.

Add the eggs and mix well. It should come into a smooth-ish ball of dough. If it looks dry, add a splash of milk or water. If it's too sticky to handle, put it in the fridge to firm up for 10-15 minutes. Make sure you weighed the flours for the best results.

When you're ready, press the dough into a 24cm fluted tart tin. You don't want it to be too thick so remove any excess dough (you can bake it into cheese biscuits).

Poke plenty of fork holes in the base and set the tin on a baking tray (this makes it easier to remove from the oven). Place the tart pastry into the oven for 20-25 minutes, or until it is nicely browned.

Once the tart base is ready, brush it with a bit of the whisked egg you'll use for the ricotta. Allow it to cook for 1-2 minutes more. This ensures that the crust base doesn't become soggy - it forms a barrier between the wet ricotta and the crust.

Remove the tart pastry from the oven and allow it to cool a little while you prepare the tart filling.
To make the tart filling:
Combine all the ingredients in a bowl and mix to combine. Depending on the type of ricotta you have used (deli is thicker, shelf is runnier) you might need to add some milk to loosen the mixture. I would suggest 1/4 cup, keeping in mind we need to add the eggs.

Adjust the filling for taste before adding the eggs. Stir well to combine.

Pour the filling into the pastry and smooth it down to create an even layer. Arrange the fig pieces, remaining pumpkin, goats cheese and pine nuts on top.

Place the tart into the oven for 25-30 minutes. After that time, check that the mixture is solid. If necessary, flick the oven to grill and bake for 5-10 minutes (watching closely) until you have a golden top.

If you like, drizzle with honey and top with fresh herbs before serving. Once cooled, you can store the tart in an airtight container in the fridge for a few days.