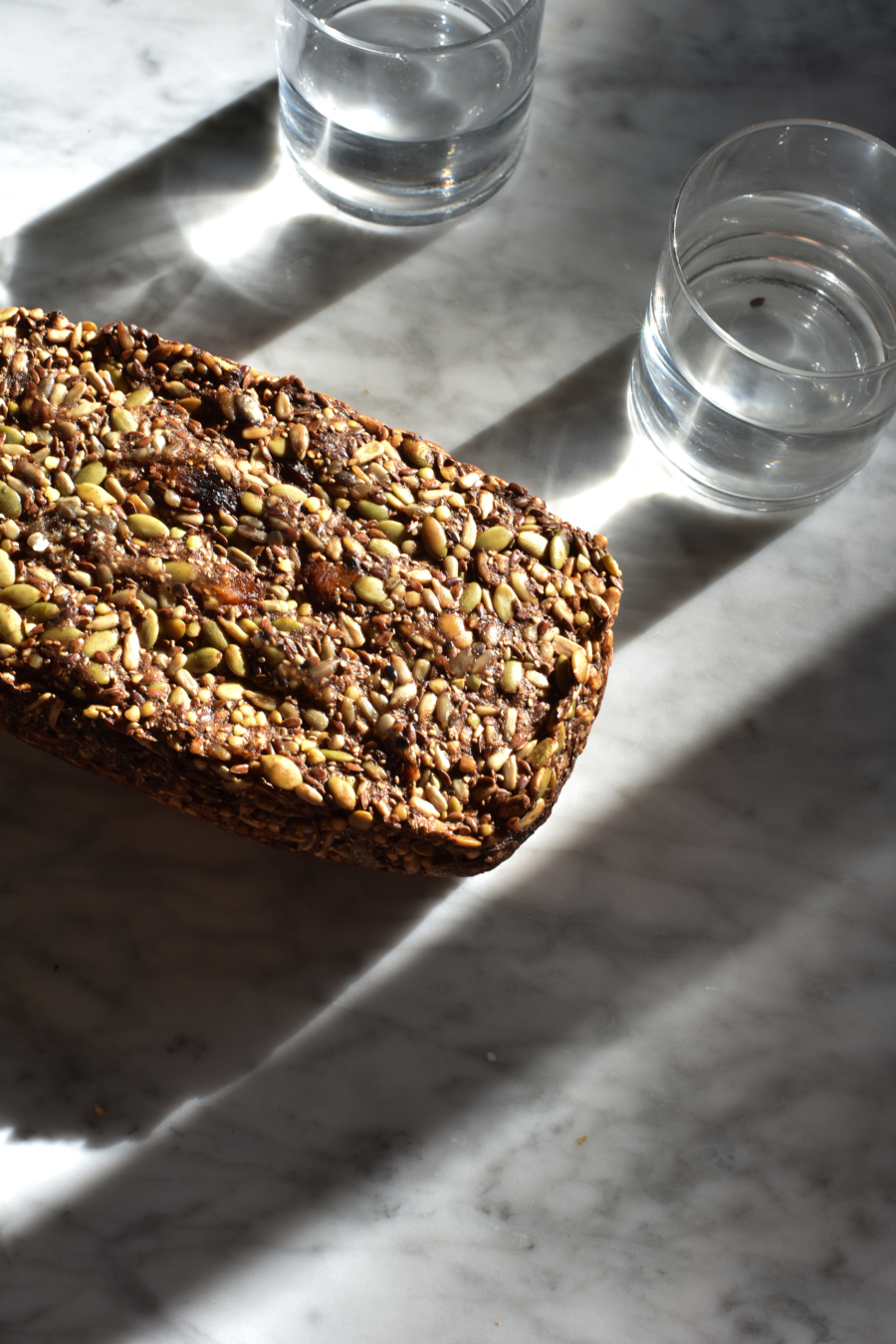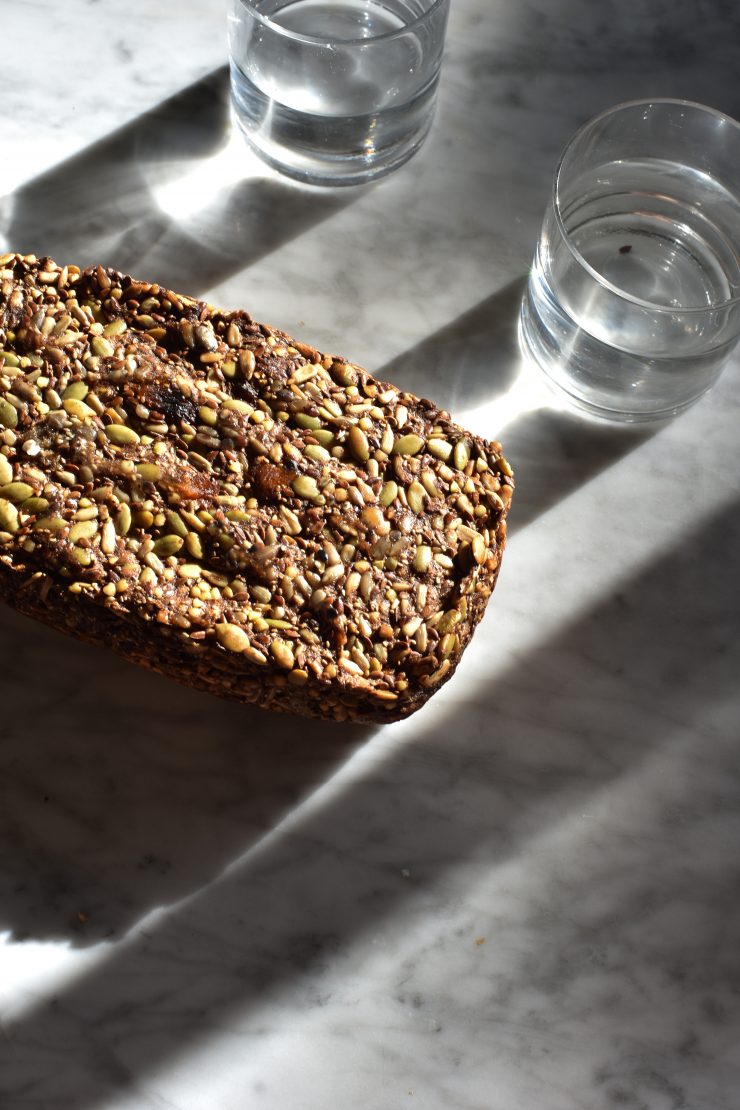 With all the sourdough talk in 2020 (find my gluten free sourdough recipe here) I thought I'd change pace with this nut-free, gluten-free bread. First things first: This nut free life changing loaf, which has essentially revolutionised bread for a huge number of people, is a grain free, nut free, fruit loaf style adaption of The Life Changing Loaf recipe by My New Roots. I am not the inventor – I am a lifelong fan. 
I have been making The Life Changing Loaf for as long as I've been gluten free, which is about 5 years. Regular gluten free bread always made (/still makes) me feel sick, and I just didn't see the point in paying an exorbitant amount to feel unwell. That said, as my intolerances worsened (the cause of which I'm still paying a small house deposit to figure out) I started to find that the bread didn't sit well with me. Given that I was relatively new to the process of elimination, I didn't attempt to experiment which aspect of the bread was giving me grief – I just stopped eating it entirely.
Nut free Life changing Loaf
As the years have gone on, I've identified that grains (whether or not they are gluten free) don't do me any favours in excess. The solution! A grain free version of this magnificent bread. I have also decided to make this nut free, because, given my predominantly grain free diet, I eat enough almond and hazelnut meal as it is.
This recipe, which I developed about 4 years ago, has a total of a 1/2 cup dried fruit. This in itself shouldn't be an issue for my FODMAP friends provided you don't eat a loaf at a time. There is a little more on the FODMAP content below.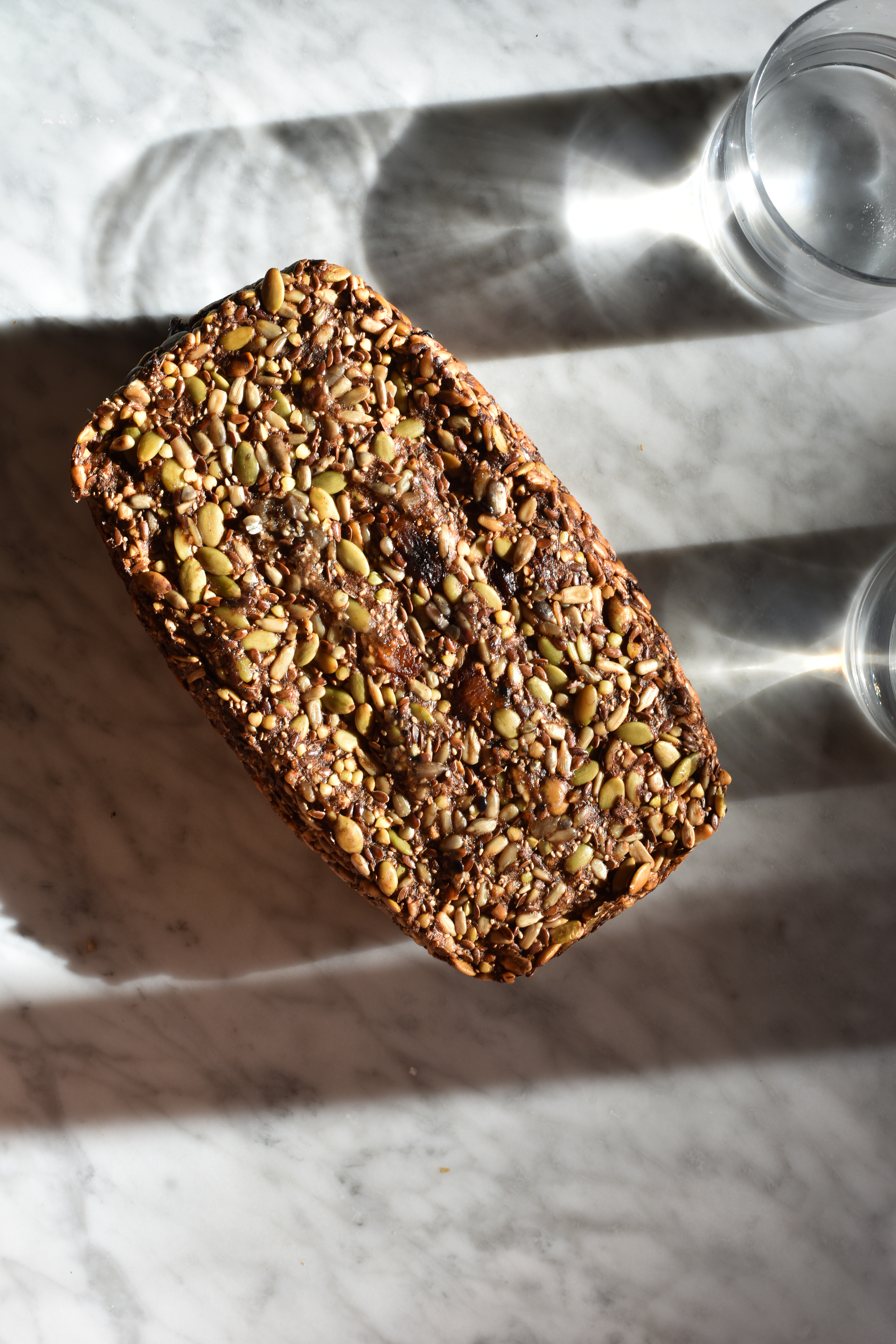 FODMAP notes for the nut free Life changing loaf (and the fruit toast version)
I developed this fruit toast version of The Life Changing Loaf recipe before I really knew what FODMAP was. Needless to say, current me baulks at the thought of eating dried fruit!
As we've discussed, it contains 1/2 cup of dried fruit. It also contains sunflower seeds and pepitas, among other things. Quite honestly, this rendition of the recipe is probably not suited to a FODMAP diet, unless you know that you can tolerate the ingredients.
You could potentially experiment with using the candied pumpkin 'dried fruit' in my FODMAP friendly Christmas pudding, if you like.
However, I'm working on an encompassing FODMAP friendly version of the loaf if that's more your thing. Stay tuned for that.
More gluten free bread recipes without xanthan gum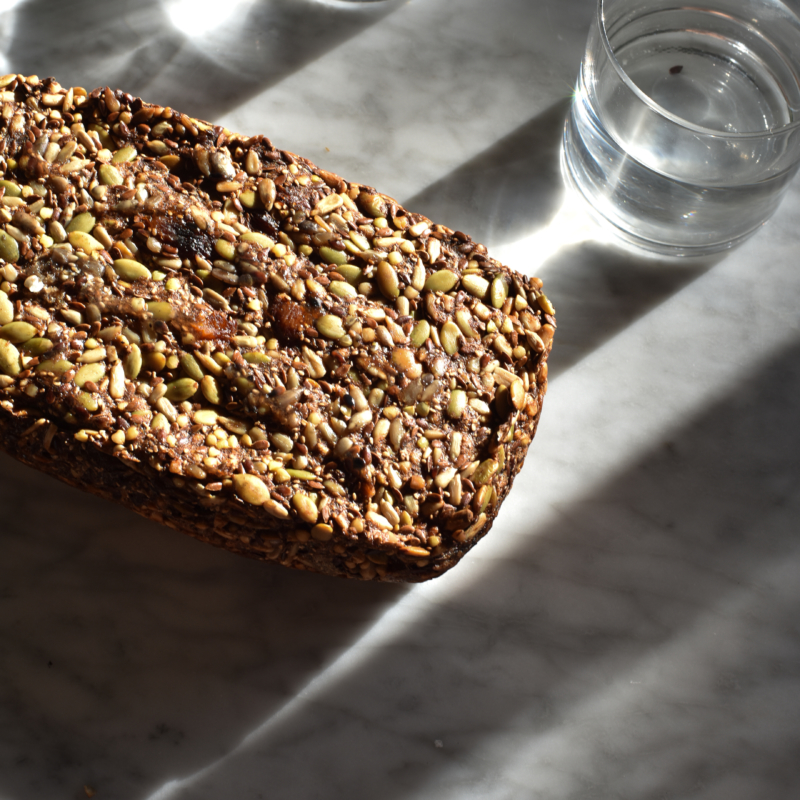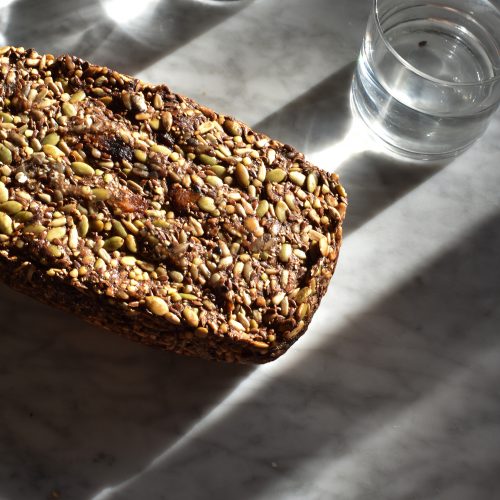 Nut free Life Changing Fruit Loaf
Nut free, gluten free, vegan, FODMAP friendly
Ingredients
For the nut free loaf:
1 1/2

cups

215g sunflower seeds

1

cup

pepitas

1/2

cup

buckwheat groats

1/2

cup

flaxseeds

5

tablespoons

psyllium husk

2

tablespoons

chia seeds

1 1/2 – 2

cups

(375-500ml) water

2

tablespoons

coconut oil
To make into fruit loaf (optional):
Generous 1/4 cup

40g dried apricots, chopped

Under 1/4 cup

20g sultanas

1

teaspoon

cinnamon

2

teaspoons

mixed spice

1

teaspoon

nutmeg

80ml (4

tablespoons)

fresh orange juice

or 1 large orange

1/2

teaspoon

vanilla bean paste

2

tablespoons

coconut oil

2

teaspoons

maple syrup

this is barely sweet – you can experiment with using more

Pinch

of sea salt
Instructions
Preheat the oven to 180C/356F. In a small bowl, mix together the spices, vanilla bean paste, maple syrup, orange juice and dried fruits, and stir well. Set aside for 10-15 minutes to allow the fruit to soak up the juices and spices.

In a large bowl, mix together all the dry ingredients for the bread, stirring well to combine. Add the wet ingredients, including the fruit mixture, and all the spices from the small bowl. Pour the mixture into a silicon loaf tin (for this bread, it really does need to be silicon) and smooth the top down with your hand or a spoon. Pop in the oven for 40 minutes.

When the timer goes off, remove the bread from the oven, and from the silicon loaf pan. Place it back into the oven, sans the pan, straight onto the rack. I put it on a higher rack, with a tray on the rack below, to catch any bits that fall off in the process. Cook the loaf for an additional 40 minutes.

Once cooked, allow the loaf to cool completely on a rack before slicing. I like to use my sandwich press to toast it, not only because it caramelises the fruit, or because it doesn't leave nut crumbs in my toaster, but mostly because I no longer have a toaster.