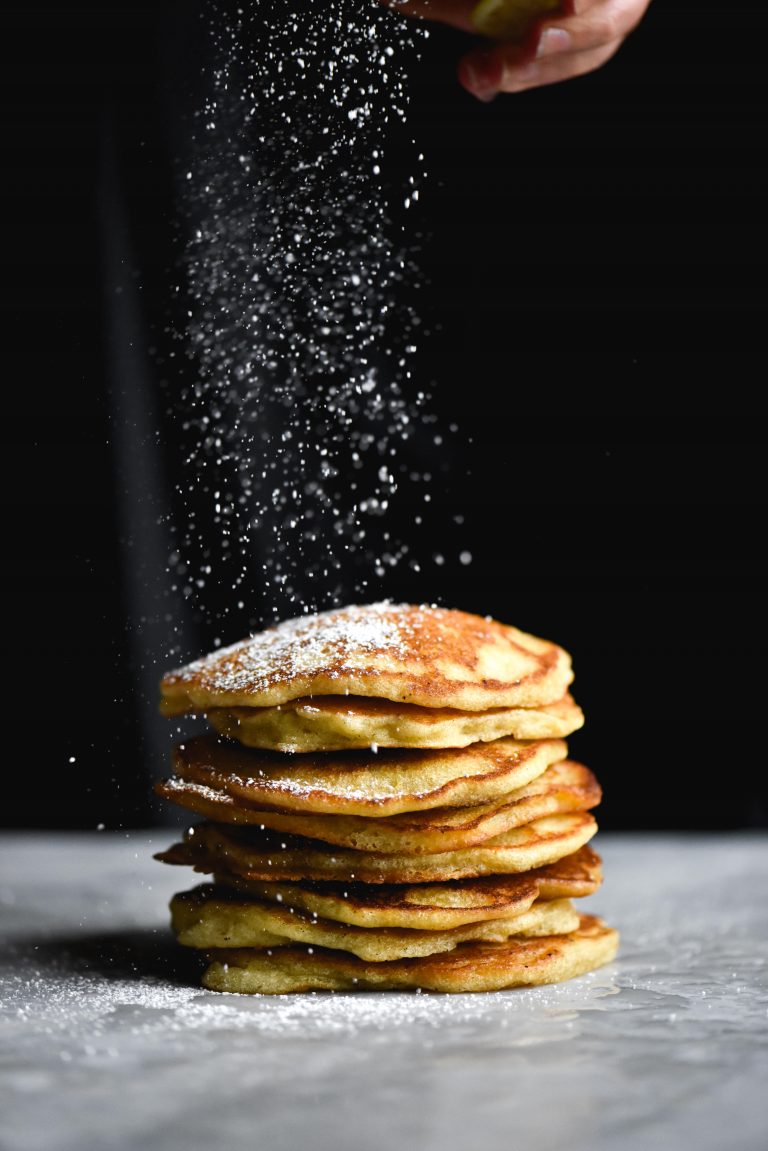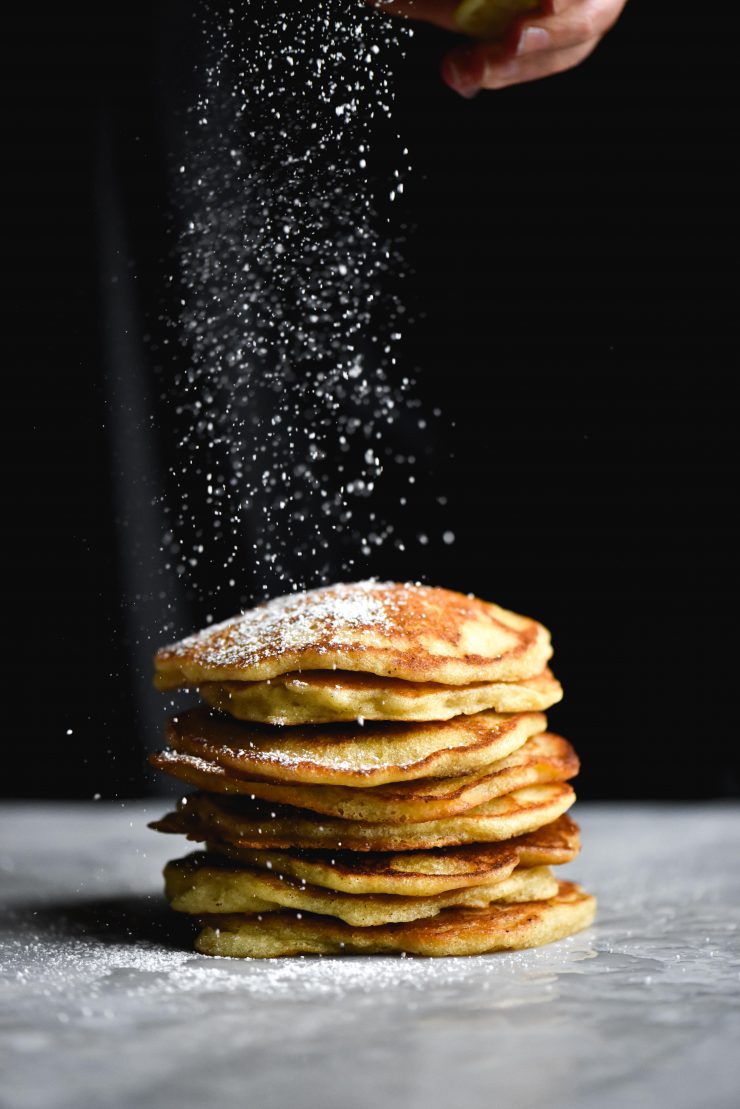 I love finding ways to use up my gluten free sourdough starter, so these gluten free sourdough pancakes do just that. After you all enjoyed my sourdough discard cracker recipe, I decided more discard recipes were in order. Gluten free sourdough pancakes were the first thing I thought of. Second and third? Brownies and brownie cookies.
Gluten free sourdough pancakes without xanthan gum
Gluten free sourdough pancakes have a twofold benefit. Firstly, pancakes. Everybody likes pancakes! Secondly, they use up sourdough discard, a by-product of your gluten free sourdough starter. Sourdough discard is perfectly edible and delicious, despite what the name implies. In fact, there is no difference between sourdough discard and sourdough starter, other than the fact that you need to get rid of it. Enter: the pancakes.
These pancakes are gluten free, FODMAP friendly and nut free. The pancakes are made without xanthan gum, too – hold together by the sourdough starter discard and eggs. They can be made refined sugar and dairy free, too. So many possibilities!

Tips and notes for your gluten free sourdough pancakes
The success of this recipe depends on a healthy, thick and bubbly sourdough starter. If you use a watery or thin starter, you'll end up with slush. It's quite hard to capture a healthy sourdough starter in an image, but if you watch the video on my sourdough starter post, that should give you an idea.
Generally speaking, sourdough discard is more sour in flavour than ripe (recently fed) sourdough starter. I have used sourdough starter that has not been fed since the night before in all my tests of this recipe.
You can use ripe (fed 2-3 hours prior and on a rise) starter in these pancakes, but I wouldn't recommend using a starter that hasn't been fed in a number of days. I daresay the sourdough flavour would be quite overwhelming in that instance.
I have designed this recipe so that you can sub in the wholegrain gluten free flour you have on hand. The tapioca flour is not optional, but you can play around with the other flour. I have tested brown rice flour and sorghum flour, but I daresay buckwheat, toasted quinoa or maybe even almond meal would also work.
Another thing you can potentially play around with is the sugar. I have used caster sugar, simply because I enjoy a clean in flavour sweetness to my pancakes. However, I would say that light brown sugar or panela sugar (maybe even coconut or maple sugar) would also work.
If you choose to use a courser sugar, add it to your wet ingredients as opposed to dry. This will help disperse it more evenly (and sugar is technically a wet ingredient anyway).
I use extra large eggs, always!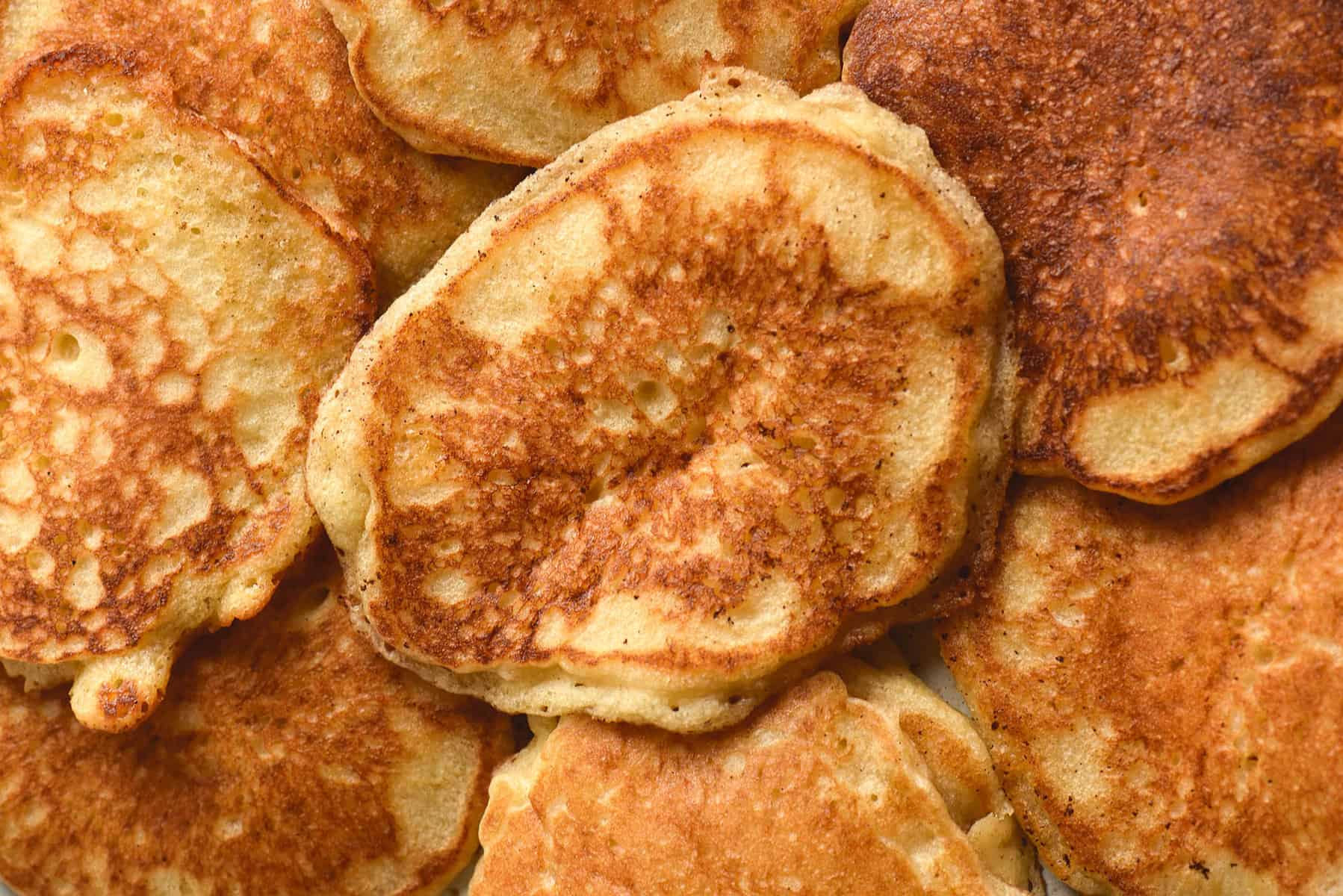 Gluten free sourdough starter notes
My sourdough starter is fed with 100% white rice flour these days. It's easy to find and it works well. As my sourdough starter guide mentions, I generally use a high protein/wholegrain flour mixture like quinoa and sorghum to get my starter going. The cultures seem to thrive on a wholegrain diet.
The ideal consistency of a starter for these pancakes is that of a thick paste, almost like bubbly mashed potatoes. It should be alive and active. Very new starters probably aren't appropriate for this recipe, because of the details we'll go into below.
Mature sourdough starters are very tangy and acidic, which is why there's a reasonable amount of baking soda in this recipe. Baking soda reacts with acid and the result is twofold. Firstly, the acid and the baking soda neutralise each-other, taste wise. The baking soda strips the tanginess of the sourdough starter, and the starter strips the baking soda of it's metallic taste. This reaction results in lots of bubbles which will give our pancakes extra fluff and lift.
If you use a super new, watery starter, chances are you'll taste the baking soda (and have thin pancakes). If you use a thick starter that hasn't been fed for a long time, chances are the sourness will overwhelm your pancake.
A note from experience: feeding your starter immediately before making these pancakes isn't really a clever workaround. I found that the batter was thinner than normal. This meant I needed to have my pan heat higher to compensate for spread, which in turn resulted in pancakes that had a darker crust than I would have liked.
Substitution options for your sourdough discard pancakes
As mentioned, you can play around with the wholegrain flour you use in this recipe. I've tested brown rice flour, white rice flour and sorghum flour. You could try millet, buckwheat or toasted quinoa. Almond meal might also work, but you may need to pull back the oil a little to compensate.
You could use dairy free butter in place of the regular stuff to make the recipe dairy free.
Any oil is suitable – I have used olive and vegetable, but coconut would also work.
The vanilla bean paste is optional – you could also use vanilla extract if that's what you have on hand.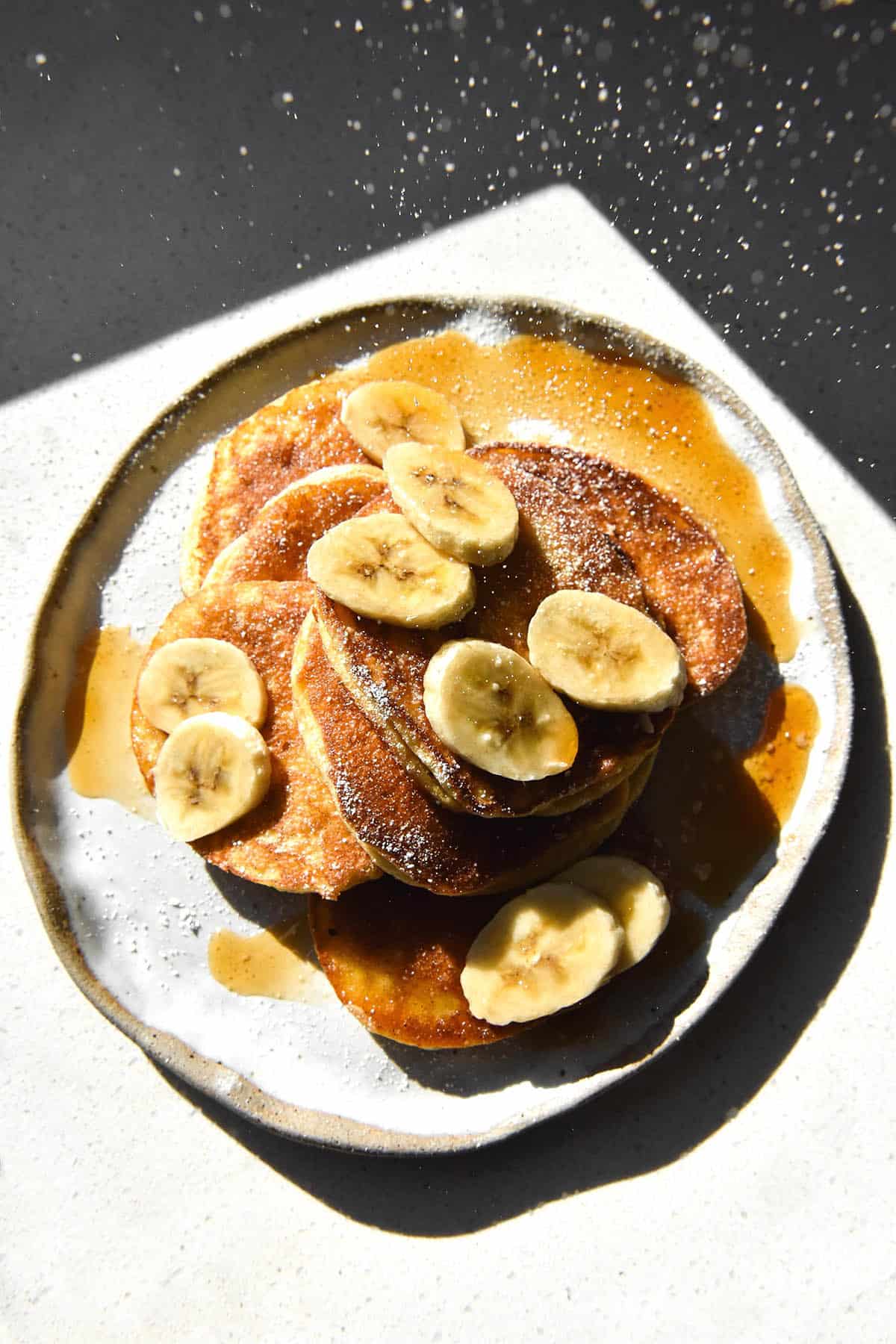 Tips for your gluten free sourdough pancakes
Have everything organised and ready to go before you start. I hate doing this, but I promise it will make your life so much easier. Weigh ingredients, get the pan ready, all that jazz.
The batter should look alarmingly thick before you stir in the beaten egg whites. Don't fret and don't add anything in a panic! The egg whites will loosen it up.
If, by chance, your batter doesn't look thick at this point, it's to do with the consistency of your starter. My suggestion would be to add 1 tablespoon each white rice flour and tapioca flour and see where that leads you.
Onto the egg whites – yes, whipping them into peaks is necessary. It gives such great lift to them – they're light, fluffy and delicious. Worth the effort.
You might (/probably do) have better quality pans than I have, but I like to grease the pan with a little butter and a little oil. They work like a charm together to prevent sticking and it also adds flavour.
The first pancake is a test. Always. You want the pancake to cook through at the same time as it browns, so adjust the heat to suit. Generally I find I need to turn the heat down as I progress through the batter as the pan has had more time to heat up.
More gluten free breakfast recipes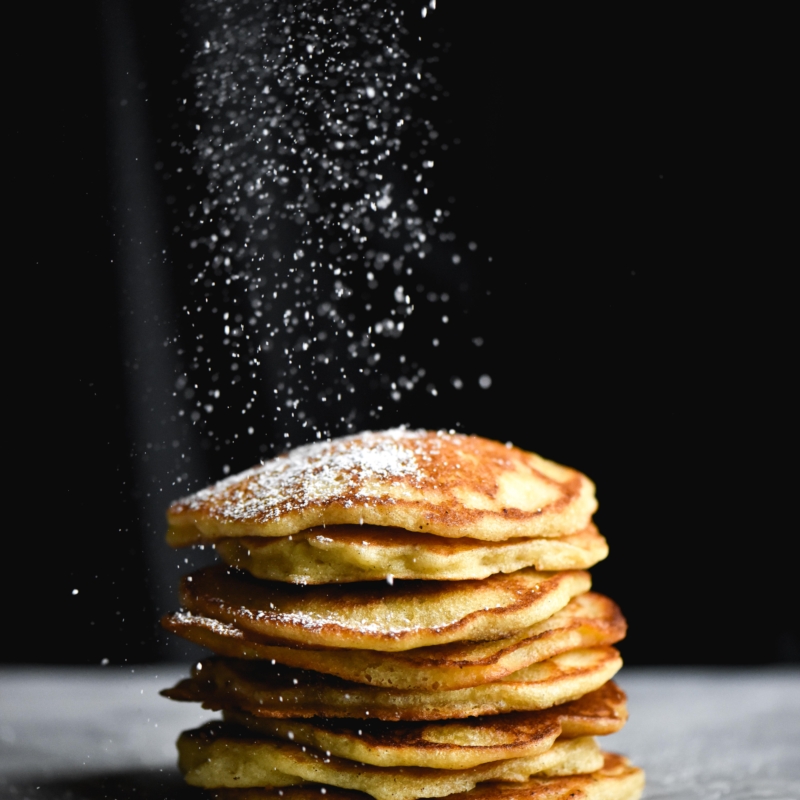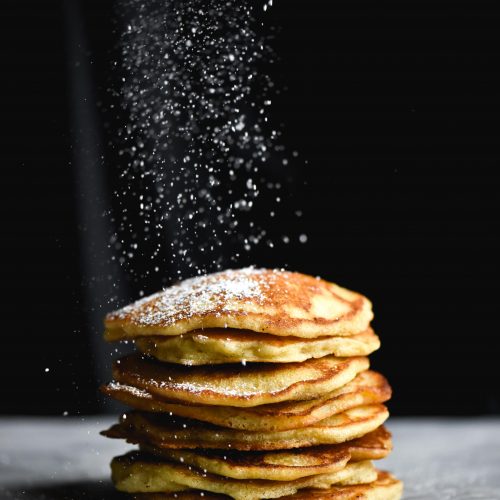 Gluten free sourdough pancakes
Gluten free, nut free, FODMAP friendly
Ingredients
Dry ingredients:
65

g

(1/3 cup) caster or superfine sugar

40

g

(1/4 cup) white rice flour

60

g

(1/2 cup) tapioca flour

1

teaspoon

baking powder

1/2

teaspoon

baking soda
Wet ingredients:
130

g

(1/2 cup) thick sourdough starter (see notes)

50

g

butter

melted

2

tablespoons

oil

I used olive

1

teaspoon

vanilla bean paste

2

extra large eggs

use divided
To finish:
Butter and/or oil

for greasing

Strawberries

berries or whatever else you fancy

Yoghurt or ice cream

Maple syrup
Instructions
Whisk all the dry ingredients together in a large bowl.

Separate the eggs – whites into a small clean, dry mixing bowl and yolks into another small mixing bowl.

To the yolks, add the remaining liquid ingredients (not the egg whites, obviously!) and whisk to combine.

Use an electric beater to beat the egg whites for 5 minutes until they reach stiff peaks.

Whisk the dry ingredients into the egg yolk butter mixture until combined. Using a spatula, gently fold in the whipped egg whites until they're incorporated.

Over a medium heat, cook 2 tablespoons at a time of the mixture. The first few pancakes give you an opportunity to determine the ideal heat level for your pan. Wait until bubbles appear on the surface of the pancakes before gently flipping. I find that because this mixture is very light and fluffy, it's best to cook them on a lower heat and keep them to a 2 tablespoons batter per pancake.

Once cooked, serve with whatever toppings you fancy.