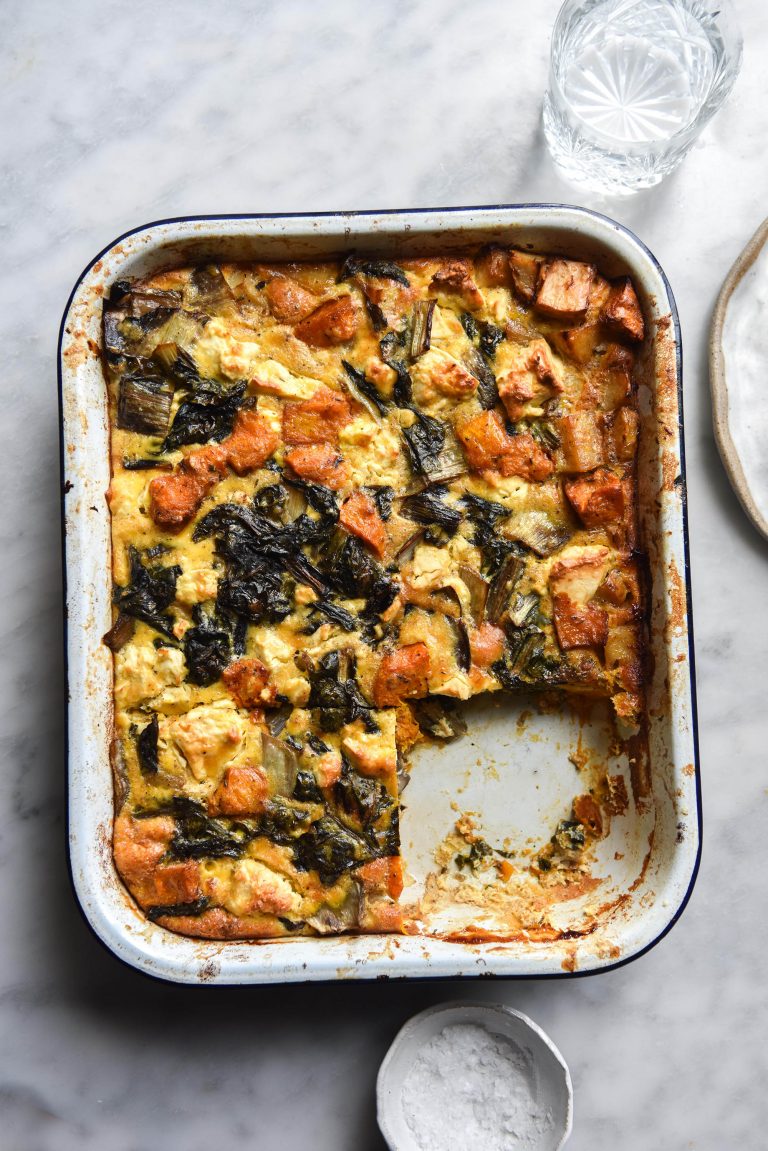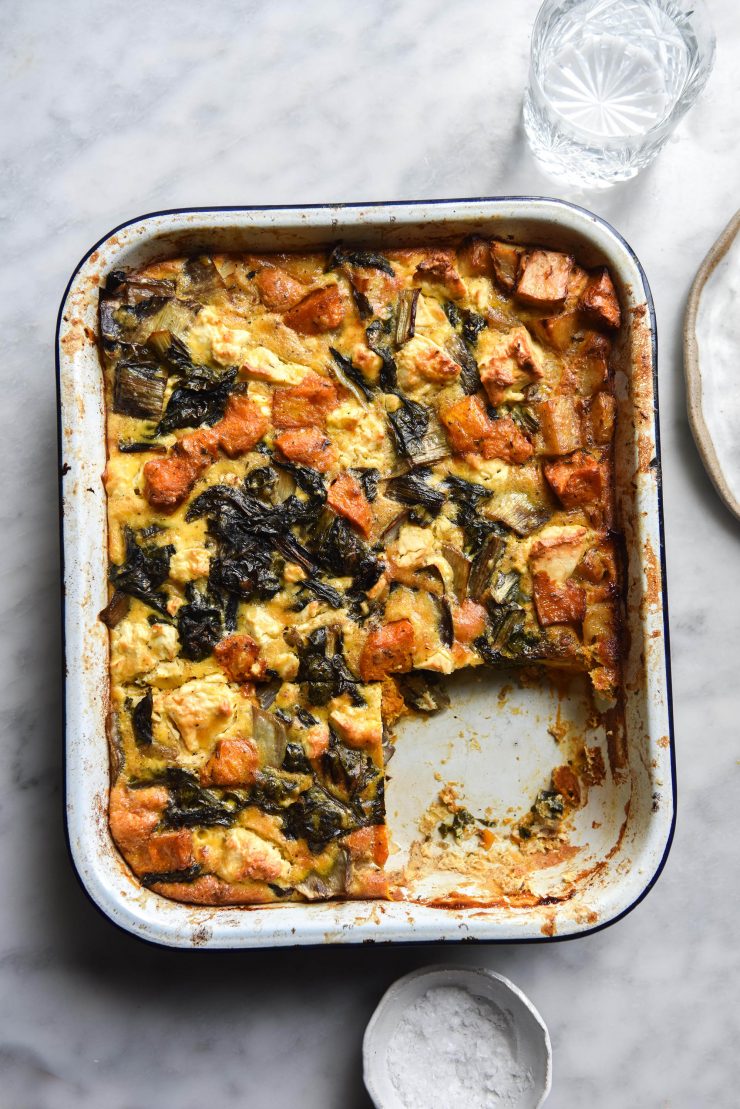 FODMAP friendly frittata (vegetarian)
I don't talk about it too often on my socials, but I eat a fair bit of basic food. The reality of living with an unsolved and somewhat undiagnosed digestive illness is that bland food is my friend. No disrespect to frittata, but I count it in my basic food group. There's nothing offensively flavourful about it, nor does it contain grains or anything that will set me off. With that in mind, I decided to create this FODMAP friendly frittata with lemony kale, feta and pumpkin. It's basic food made delicious, with the assistance of a few nifty tricks.
I've made FODMAP friendly frittata before – namely, this offensively good Green Thai Curry Style Frittata. However, I wanted to make something a little more basic, as it were, elevating it with simple pantry flavours. So, what are these flavours in question?
FODMAP friendly frittata flavourings
First up, we have brown butter. Browning butter is the easiest possible way to incorporate both creaminess and complexity of flavour without anything fancy. Butter is a luxurious fat, but browned butter is altogether more nutty, toasty and delicious. The only effort involved is wandering off to browse Instagram while your butter cooks and browns.
Secondly, lemon zest (and juice!) The humble lemon adds flavour in so many ways, contributing lemon zest fragrance and lemon juice acid. An easy, flavourful two in one.
Thirdly, freshly cracked pepper. Salt is a given, but freshly cracked pepper adds a new dimension to a dish. By cooking it in butter, pepper takes on a new smoky flavour – think cacio e pepe.
Moving on to the roasted veg – we're adding a fruity olive oil, a nice balsamic and a deep maple syrup. All very easy ways to add complexity to the roasted vegetable element of the frittata. Barely any extra effort involved, either.
Salting the pumpkin and potato before they go into the oven encourages the moisture to release. This means that the pieces will never get totally crispy. I prefer this because I don't like getting a chewy vegetable skin in my frittata. It also seasons the from the inside out.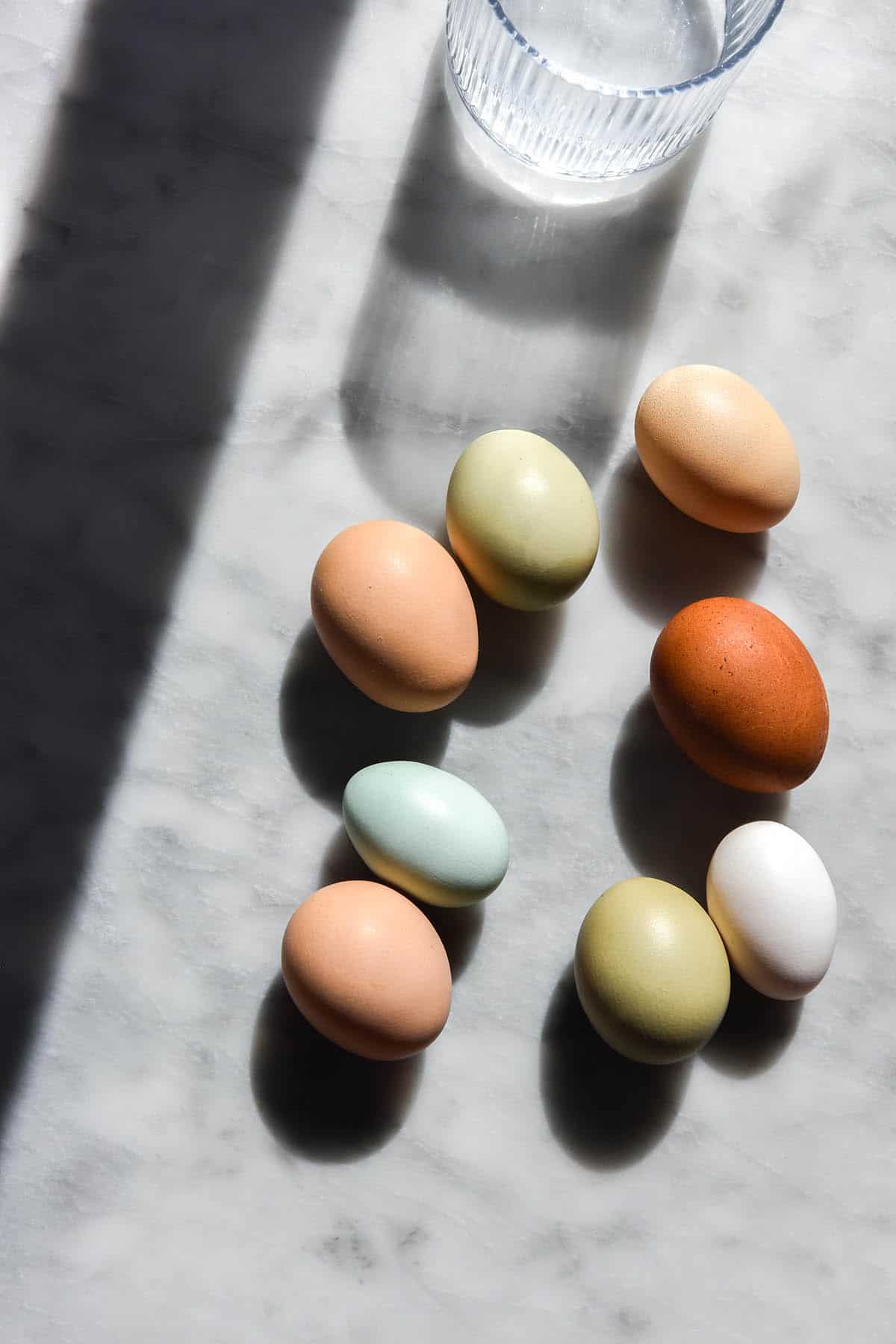 Recipe notes
I have formulated this recipe so it's heavy on the veg, less so on the egg. I like my frittata to be vegetables with egg just holding it together. Anything else freaks me out.
I've used all pumpkin in some versions and potatoes in others. You can play around with it.
Personally I find a hard feta so much better in this recipe than a Danish. Normally I love Danish feta, but a super firm Greek version wins here.
You can use your favourite herb or leave herbs out. They are optional but delicious.
If you'd prefer not to use kale, you could use other leafy green. If you want to use spinach, make sure you wring out the excess liquid first. I'd also recommend blanching it and wringing it out before adding it to the brown butter mixture. Some of the photos here are also made with Swiss Chard, a version I really enjoyed.
Vegetarian parmesan exists. You can fight me on it but it's true. It's often the cheaper brands at the supermarket that use non-animal rennet.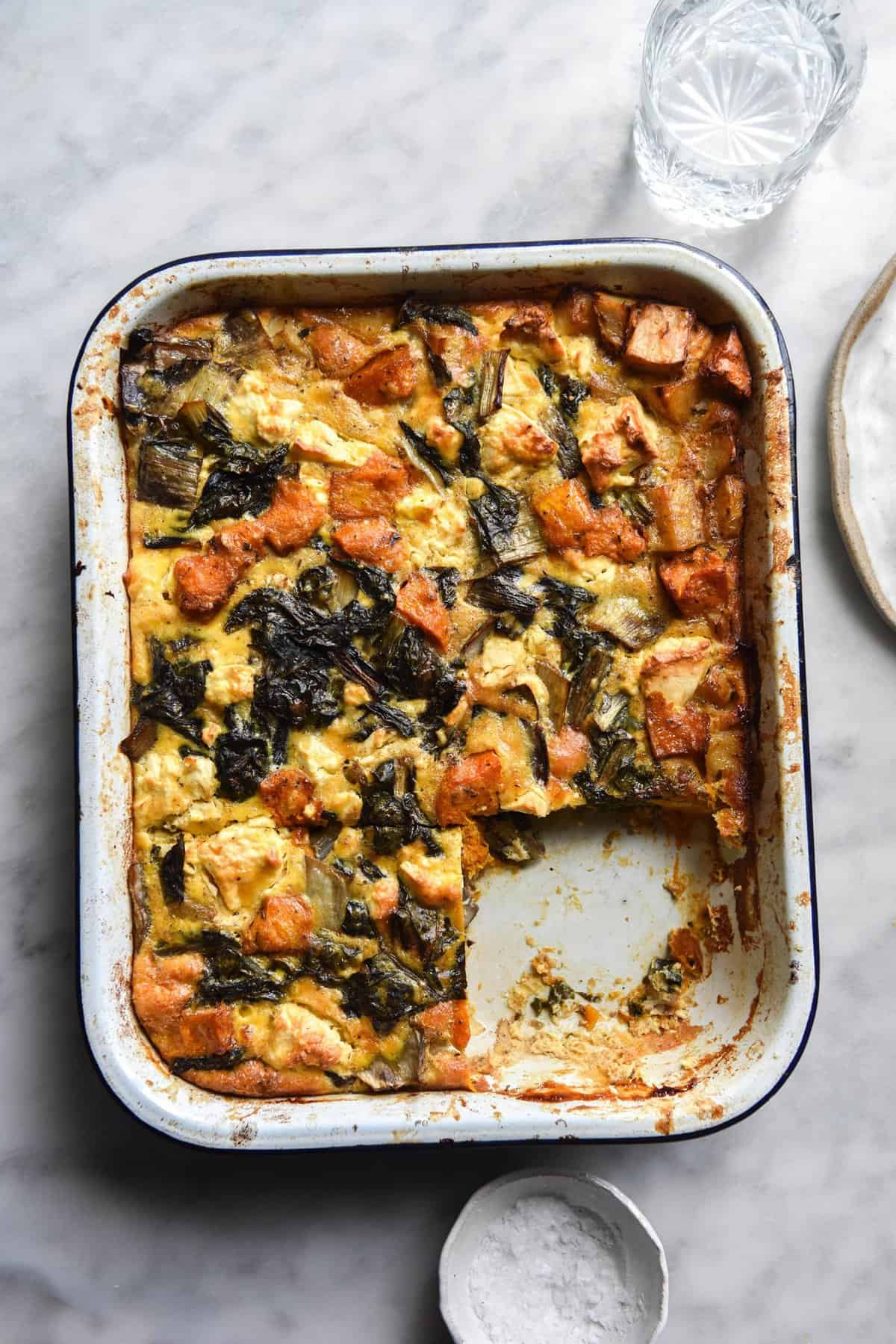 Substitution suggestions
We've gone into some of the substitution suggestions above, but I think it's worth laying them all out in their own separate category. Without further ado:
You can use kale, Swiss Chard, spinach or rocket (arugula) as the green in this recipe. You can also do a mix! Just make sure that if you're using a high liquid content green (looking at you, spinach) that you wilt it and drain it prior to adding it to the butter mixture.
As I've mentioned, you can omit the potato and use all pumpkin if that's your thing. Personally I think the mix is delightful, but you do you.
If you'd like to make this dairy free, there are a few simple switches. Firstly, omit the butter and use a tablespoon or two of olive oil. It won't add flavour in quite the same way, but it will still be delicious. Secondly, swap the feta and Parmesan for dairy free versions. Consider using a bit of nutritional yeast in place of Parmesan, and perhaps some dried herbs to compensate for the lack of brown butter.
Any herb works in this frittata. You could add some sage to the brown butter for a super flavourful base, or some rosemary to the pumpkin and potato. Another option would be to add some fresh basil or dill to the egg mix before baking. Almost any herb you have on hand will work here.
A whole host of flavourful additions are welcome here. Think pitted olives, a different variety of cheese, capers, sun-dried tomatoes – whatever you're into. This is just a flavourful shell of a recipe that you can build on. Hell, even some roasted onion or garlic if you're not FODMAP!
If you don't have maple syrup, you could also use honey or rice malt syrup. I really recommend keeping this in there – it adds a balanced and nuanced level of flavour to the dish.
More vegetarian low FODMAP recipes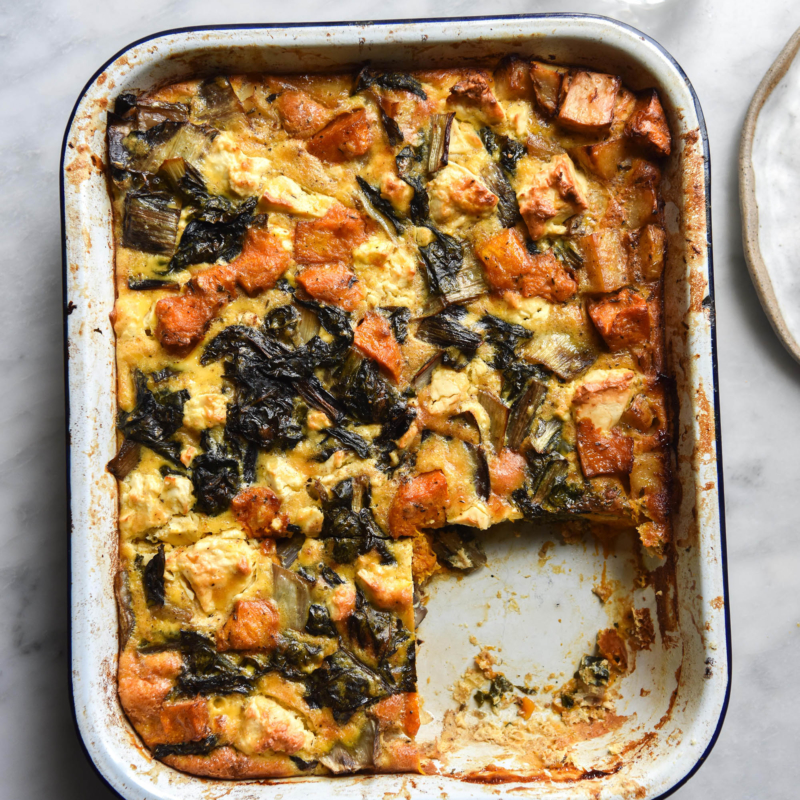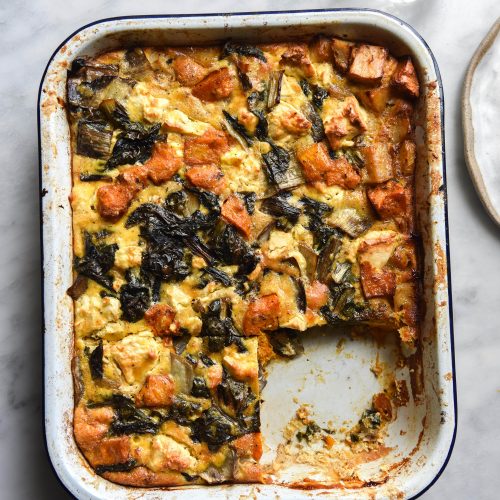 FODMAP friendly fritatta with lemony kale, pumpkin and fetta
Gluten free, nut free, FODMAP friendly, adaptable to be dairy free
Equipment
1 x L33cmW26cm H6cm baking dish baking dish, lightly greased
Ingredients
For the roasted pumpkin and potato:
500-600

g

Japanese or Kent pumpkin

500-600

g

all-rounder potatoes

I used Sebago

2

tablespoons

(40ml)good quality fruity olive oil

1

tablespoon

(20ml) balsamic vinegar

you could also use sherry vinegar, red wine vinegar or lemon juice

1

tablespoon

(20ml) good quality pure maple syrup

Generous fine salt and freshly cracked pepper

1-2

teaspoons

dried herbs

optional, I used Thyme in some versions and none in others
For the lemony kale:
1

bunch

around 500-600g kale or Swiss Chard (see notes for alternatives)

75

g

butter

dark browned

Juice and zest of 1 lemon

Generous freshly cracked pepper

A pinch of salt
To finish the frittata:
8

extra large good quality eggs

1

cup

(250ml) milk of choice

I used soy

200

g

Greek Feta

50

g

finely and freshly grated Parmesan

ensure it's vegetarian if it needs to be

A bunch of chopped herbs

optional
Instructions
To make the roasted pumpkin and potato:
Preheat the oven to 180 degrees Celsius or 356 degrees Fahrenheit. Chop the pumpkin and potato into small-ish bite sized cubes and place them on a large baking tray. They don't need to have space between them – we don't want them crispy so spacing isn't important here.

Pour over the olive oil, balsamic vinegar and maple syrup, along with the salt, pepper and dried herbs if you're using them. Use your hands to massage this all together and then pop in the oven for 30-40 minutes.

Once cooked, remove from the oven and decant into the baking dish you're using for the frittata. Make sure to get all the oil and crispy bits – they're flavour powerhouses.

Keep the oven at 180C or 356F.
To make the lemony greens:
Meanwhile, chop and wash the greens, wilting them and wringing them out if they're watery ones.

Melt and brown the butter in a large skillet over a medium heat. As it cooks, zest in the lemon and add the salt and pepper. When the butter becomes deep brown in colour and nutty in fragrance, add the lemon juice to deglaze the skillet. Add the greens and cook for another minute or two before removing from the heat and pouring them (get all the butter!) into the baking dish with the roasted vegetables.
To finish:
Crumble the feta over the vegetables in the baking dish.

Whisk 8 eggs in a large bowl and add the milk, lots of freshly cracked pepper and 1/2 teaspoon of fine salt. Add the freshly and finely grated parmesan (I blend mine in a Nutribullet for a 20-30 seconds to get that gorgeous restaurant style Parmesan). Whisk to combine. Add fresh herbs here if you're doing so.

Pour the egg mixture over the roasted vegetables and use a spatula to flatten them down so the egg liquid mostly covers the veg. Place in the oven for 40 minutes to one hour – this will depend on the depth of your baking dish. You can serve as soon as cooked or cool and serve cold. Keep in the fridge in an airtight container.