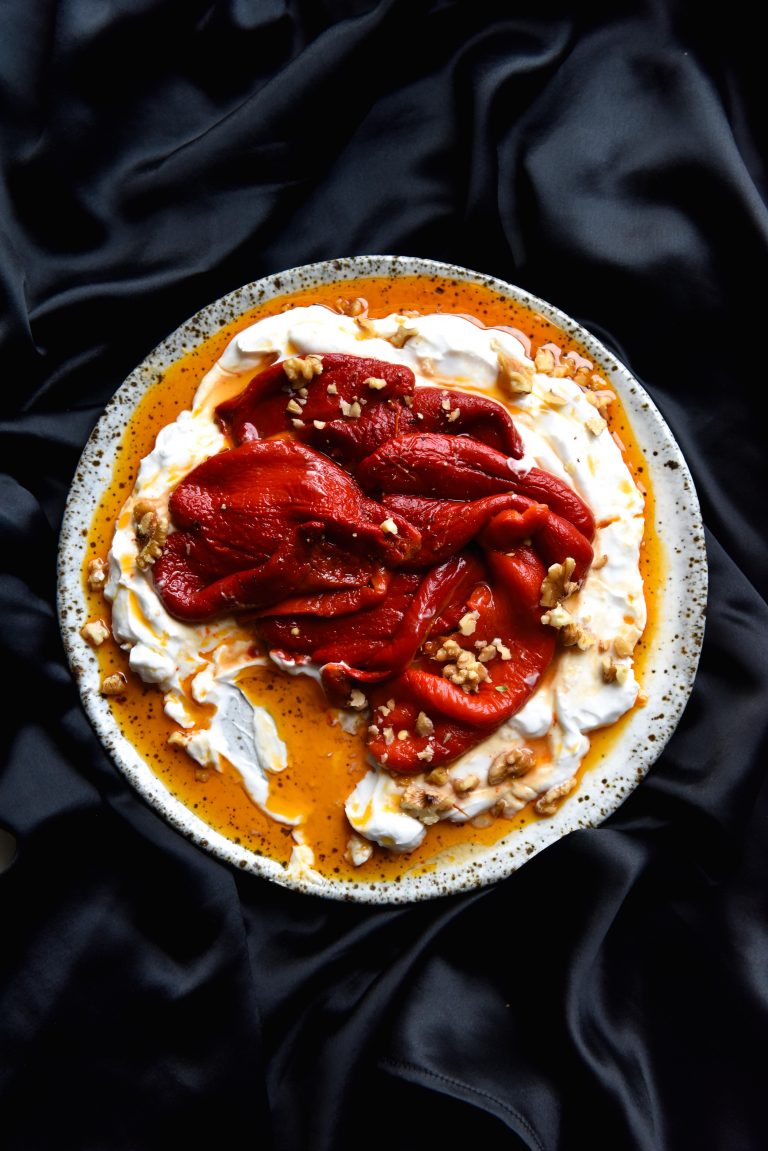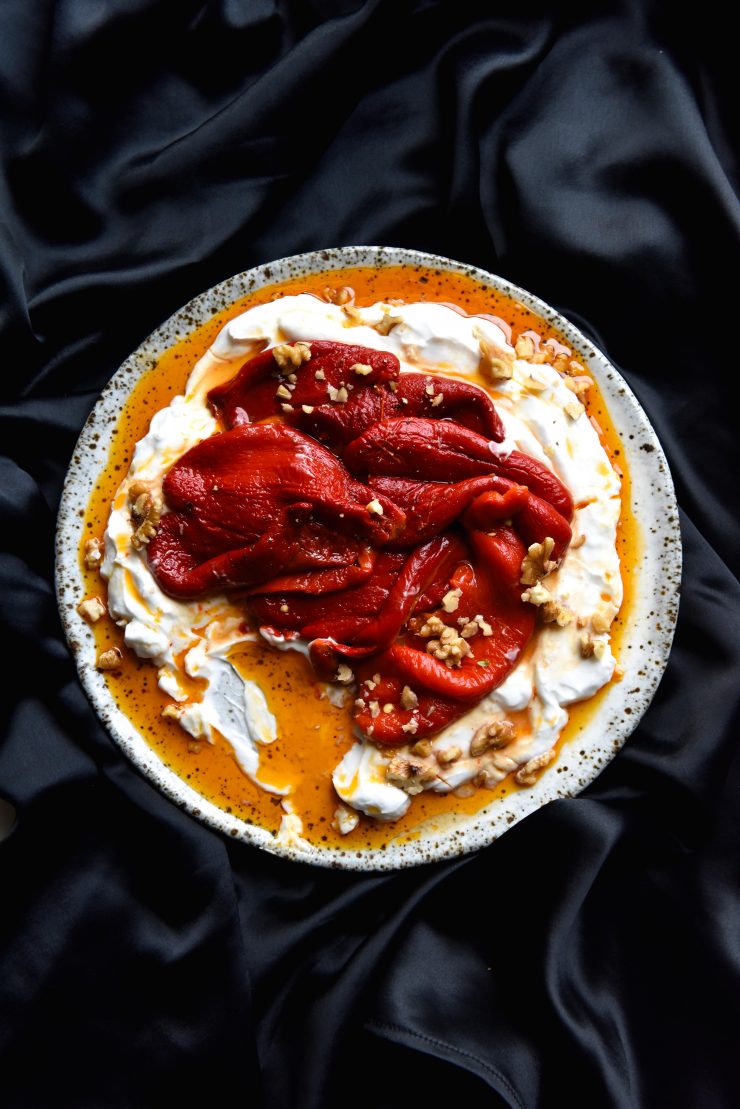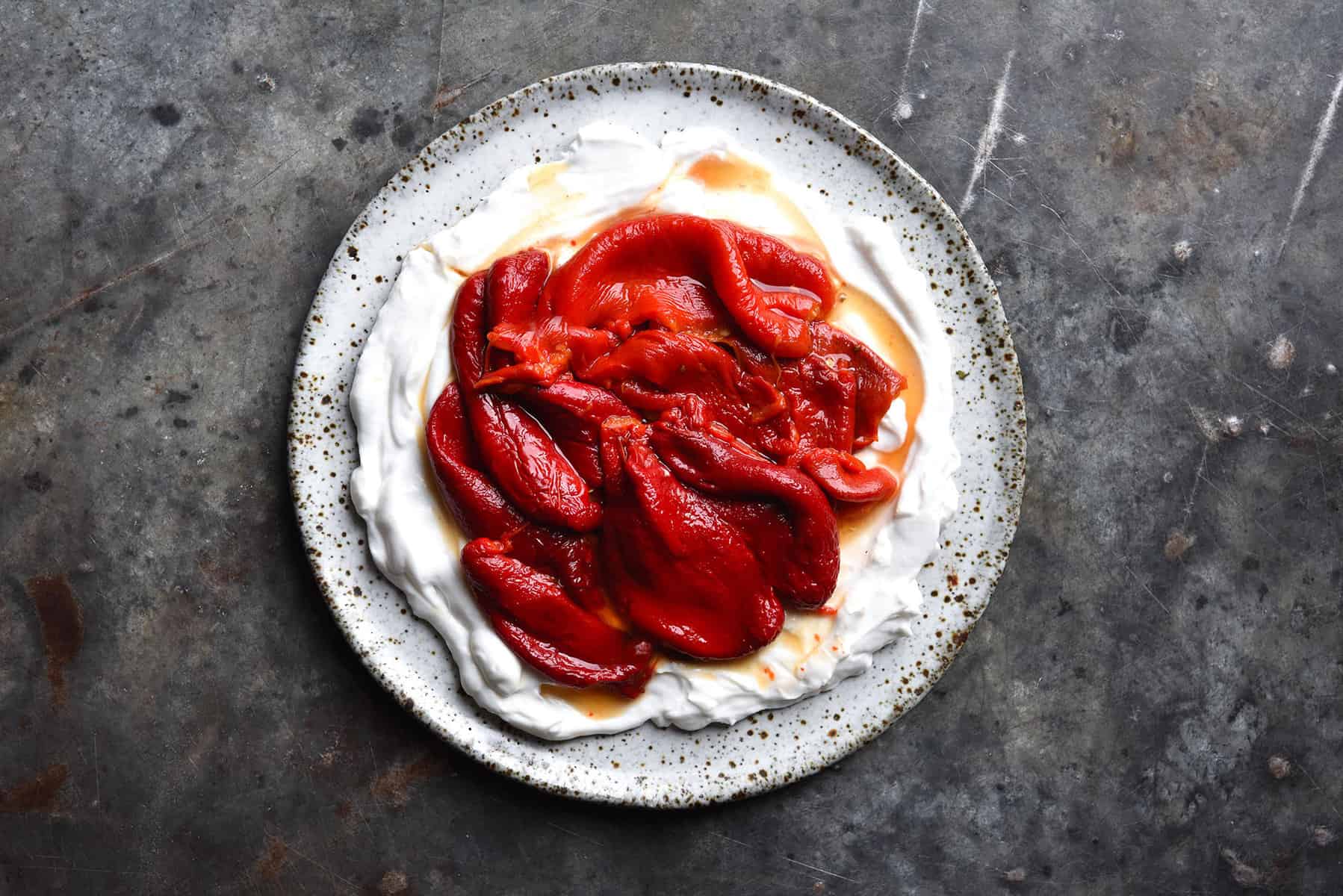 I have officially become a labne fiend after last week's foray into labne making. Who knew that the elegant, delicious delicacy they sell for $100 at the shops is a cinch to make? For the cost of a tub of yoghurt, no less? I, for one, did not. Now that I do, however, I'm on a labne making roll – today with a vegan labne.
Unlike other cheeses (ricotta, mascarpone) that really do require the dairy component, labne can be made with any vegan yoghurt, as far as I can tell. All you really need is a tub of good quality stuff, some salt, a little lemon juice and muslin cloth or a nut milk bag. What self respecting vegan in 2020 doesn't have a nut milk bag? (probably loads but I digress.)
Needless to say, however, you can chop and change with this recipe. If you don't need the labne to be vegan, the dairy option would be delightful here. In equal measure, the honey and dukkah roasted carrots (a recipe I copy-catted from myself for this dish) could be paired with the vegan labne. Moreover, basically any vegetable works – roasted zucchini, eggplant – whatever you have on hand.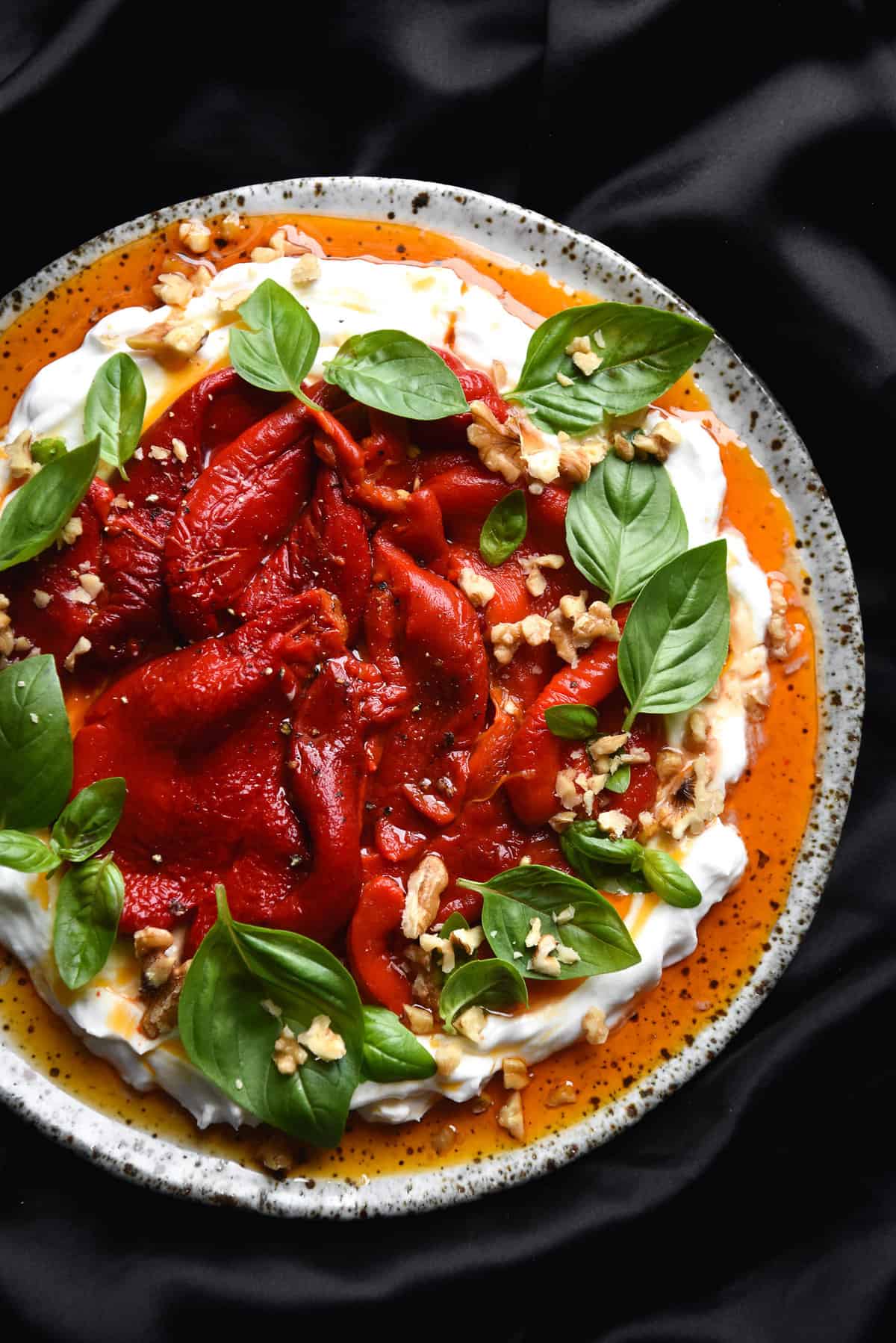 VEGAN LABNE MAKING
Vegan labne making is, in fact, frighteningly similar to regular labne making. There are really only a few steps involved, which I'll quickly run through here.
Purchase your yoghurt. Make sure it's a good quality brand and that it's savoury and plain in flavour. While you're shopping, grab a nut milk bag or some muslin cloth if you don't really have some. A thin, clean tea towel may also work but I haven't tried this.
Mix the yoghurt together with a small amount of salt and lemon juice. The flavours intensify as the yoghurt drains, so don't be tempted to add more (particularly salt) than the instructions suggest. You can also add some flavouring (dried herbs etc) if you're into that.
Let it drain until the labne has reached the consistency you like. DO NOT squeeze the bag or the yoghurt will seep through. Just it allow it to sit and do it's thing for 12-24 hours. You can tie the bag to a wooden spoon and drain it over a bowl in the fridge, or you can leave it on the bench if you live in a cool house.
Your labne is ready to go. You can either use it immediately, within a few days, or cover it in oil and keep it in the fridge. Pictures attached of my regular labne in Aleppo chilli oil, which is more aesthetic than I could ever hope to be.
Personally I find that vegan labne can take a bit more flavouring than dairy labne. I recommend adding more seasoning to taste at the end, along with some preserved lemon brine.

FODMAP NOTES
A capsicum update: Monash has recently lowered the FODMAP threshold for red capsicums to 43g per person. This is significantly lower than the 'eat freely' label it used to live under. If you can eat capsicums with no issues, there's no need to worry. If not, though, consider using a different vegetable.
Coconut yoghurt is considered FODMAP friendly in 125g serves per person by Monash. Some of them do contain gums and starches which can be irritating to sensitive digestive systems, however. Something to be mindful of. If you don't need this dish to be vegan, you can find my lactose free labne here.
Other than that, there are no concerns. This is a very simple dish – it relies on quality ingredients and not much else.
GENERAL RECIPE NOTES
Following on from the above – because this is a simple dish, it relies on quality. A good olive oil is particularly important – I've been buying a local peninsula variety from Dromana bulk food store. SO GOOD.
As an option, you could char the capsicums over an open flame before roasting for an extra smokey flavour.
Covering the capsicums after they've been well cooked is important to getting them sweaty enough to take their skins off. People recommend using plastic wrap but I suggest just putting a baking tray over the top of the bowl they're in.
Don't wash the roasted capsicums to remove the seeds – that's where all the flavour is at. It's not the end of the world if you get a couple of capsicum seeds in your dish.
Aleppo pepper is a sort of smokey, deep flavoured chilli that, according to BA, is about half as hot as regular chilli. I really like it because, as someone who is a chilli pleb, it adds flavour as well as heat. It's also a much more tolerable way to consume chilli. However, because of the Syrian war Aleppo Pepper can be hard to find. LA Times recommends using a mix of cayenne and paprika as a substitute, if you can't find it.
Cheat's tip: I personally believe that the taste of freshly roasted capsicum cannot be beaten. However, I do acknowledge that I have a lot more time to tinker in the kitchen than most, so you can buy jarred capsicum to save a bit of time. Just make sure it doesn't contain any onion or garlic. I'd suggest 1 large or 2 small jars would work a treat.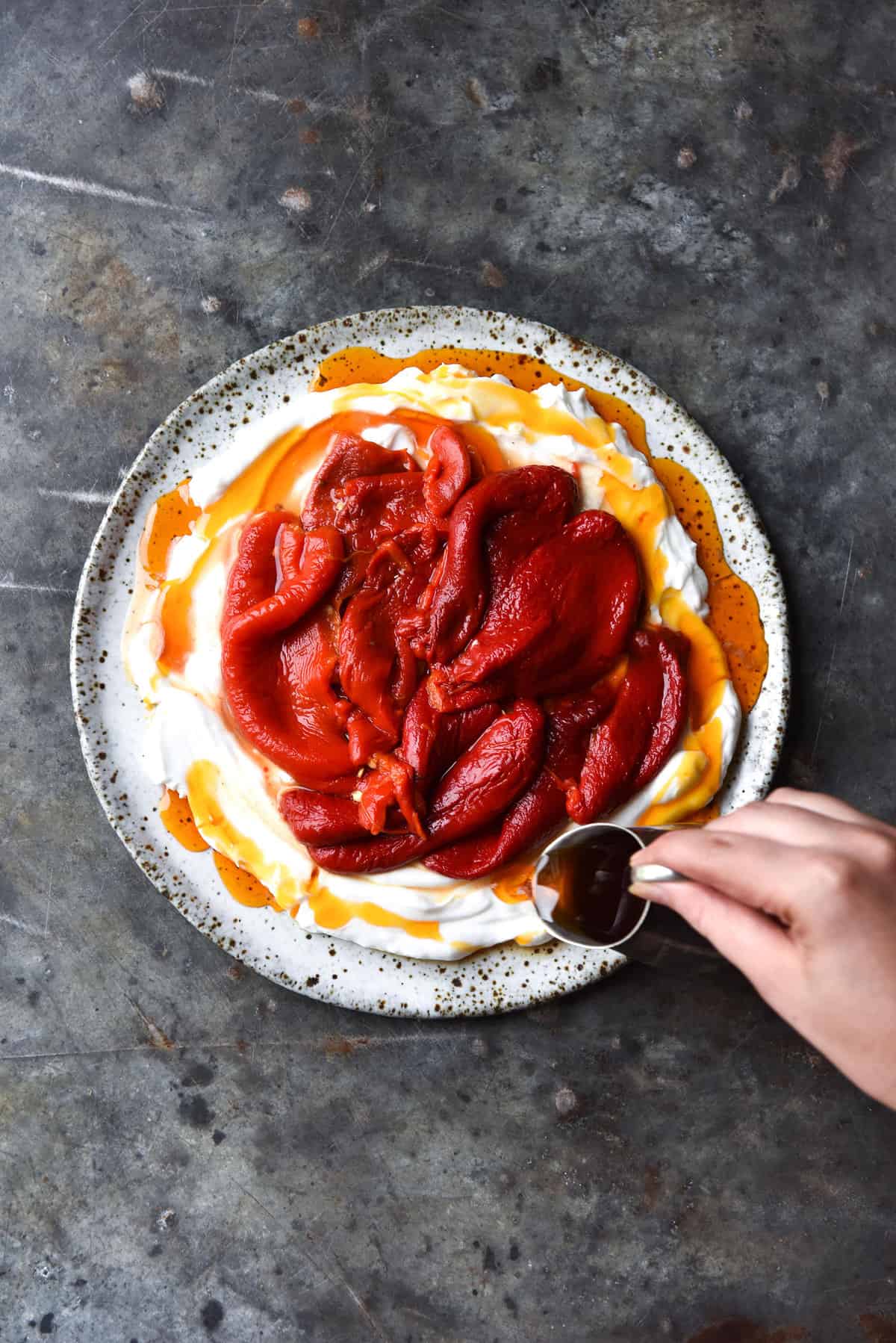 Vegan labne with roasted capsicum and Aleppo chilli oil
Vegan, gluten free, grain free, FODMAP friendly
Ingredients
For the vegan labne:
500

g

vegan yoghurt

I used coconut

1/4

teaspoon

fine salt

Squeeze of lemon juice
For the roasted capsicums:
4-5

medium large red capsicums
For the Aleppo chilli oil:
1/2

cup

good quality olive oil

1/2

tablespoon

Aleppo chilli flakes

see notes

1

teaspoon

sweet paprika
To finish:
Your herb of choice to finish

I had basil on hand but mint would work too

Sea salt flakes and freshly cracked

Lightly toasted nuts that match your herb of choice

optional (I'd suggest pine nuts or walnuts with basil and almond with mint)
Instructions
To make the vegan labne:
In a medium mixing bowl, combine all the ingredients for the labne. Note that the saltiness and lemon juice flavour intensifies as the mixture drains, so don't add more thinking you'll be adding extra flavour.

Spoon the mixture in muslin cloth or a nut milk bag in a colander or sieve atop a large bowl. You can place this in the fridge, or keep it on the counter if the house is cool. Allow the labne to drain for 12-24 hours. Note that this depends heavily on the thickness of the yoghurt you used and your personal preference. I prefer a more spreadable labne, so I drained mine for about 8-10 hours.
To make the roasted capsicums:
Preheat the oven to 180 degrees Celsius or 356 Fahrenheit.

Line a baking tray with baking paper and arrange the capsicums on it. Place into the oven for 60-80 minutes – however long it takes for the skin of the capsicum to be blistered and the flesh soft.

Once well cooked, place the capsicums in a large metal bowl and cover with a baking tray. Allow them to cool as they sweat – this will make peeling the skins off much easier.

Once cooled, peel and discard the skins. Discard as many seeds as possible without washing the capsicum strips – the juice is where all the flavour is.
To make the chilli oil:
While the capsicums are cooking, combine all the ingredients in a small saucepan over a low-medium heat. Cook for a couple of minutes, stirring intermittently, until the chilli sizzles a little. Take off the heat and set aside.
To finish:
Spread the labne over the base of your serving dish. Top with the roasted capsicum strips and drizzle with the chilli oil. Decorate with basil and finish with sea salt flakes, freshly cracked pepper and a squeeze of lemon juice.
Notes
A capsicum update: Monash has recently lowered the FODMAP threshold for red capsicums to 43g per person. This is significantly lower than the 'eat freely' label it used to live under. If you can eat capsicums with no issues, there's no need to worry. If not, though, consider using a different vegetable.