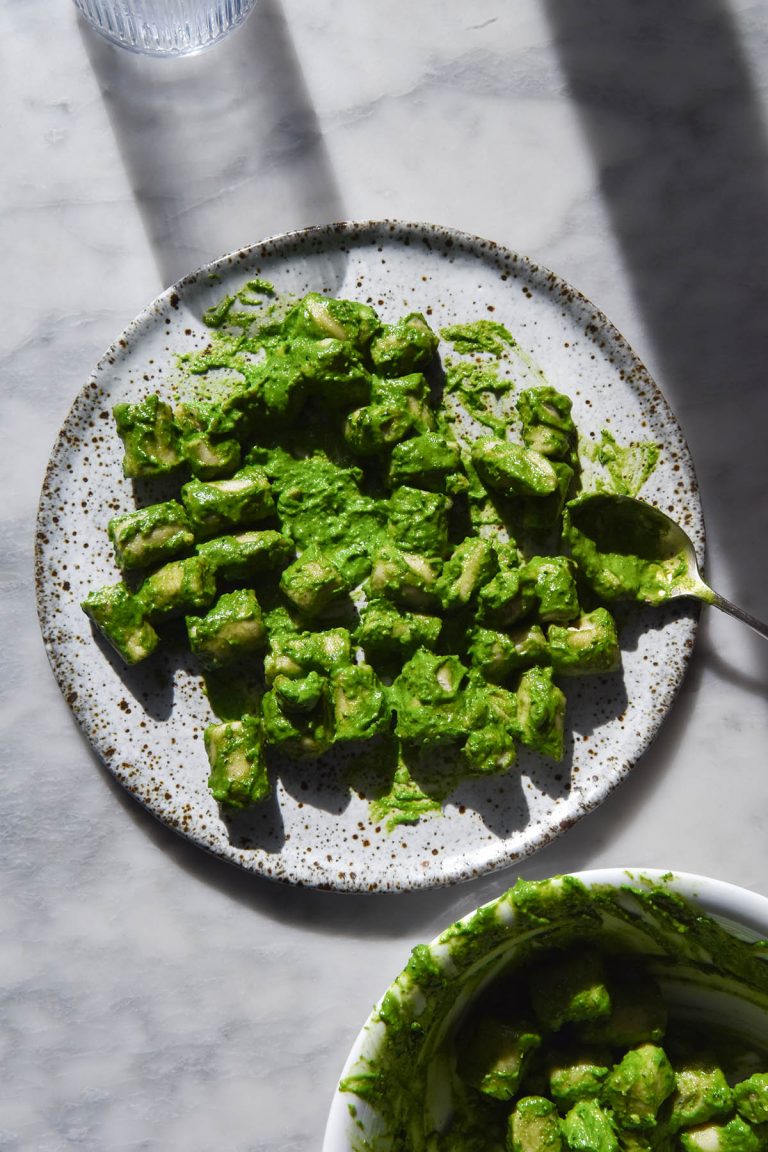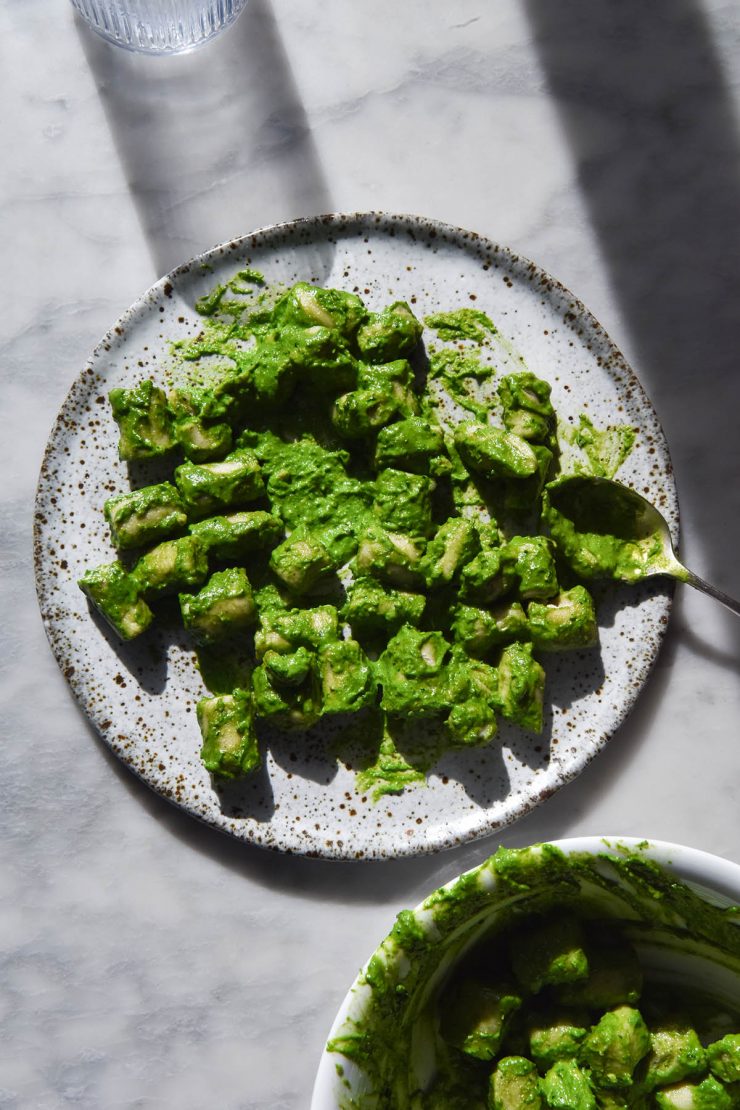 I've been on a bit of a kale bender recipe. It's such a great salad green for sprucing up a salad, and it holds up well in meal prep. It's worth asking the question, then: is kale is low FODMAP?
Before we begin, an important note: this article is solely intended to aid you in your day to day FODMAP journey, and is not a substitute for appropriate medical advice. You should always consult a doctor or dietician before commencing an elimination diet.
Is kale low FODMAP?
Yes, kale is low FODMAP. The Monash up says that kale is low FODMAP in 75g or 1/2 cup servings. However, it goes on to say that only trace amounts of FODMAPs were found in kale, so it can be eaten freely and according to appetite.
There is a non FODMAP related caveat, though: raffinose. Kale is a cruciferous vegetable, along with things like cabbage and broccoli. Raffinose is a sugar present in cruciferous vegetables that our bodies can't break down. So, for some people, too much kale can cause gas and bloating, separate to FODMAP concerns.
This means that there's no set threshold for how much kale you can consume. You will need to assess your own tolerance for raffinose and see what works best for you.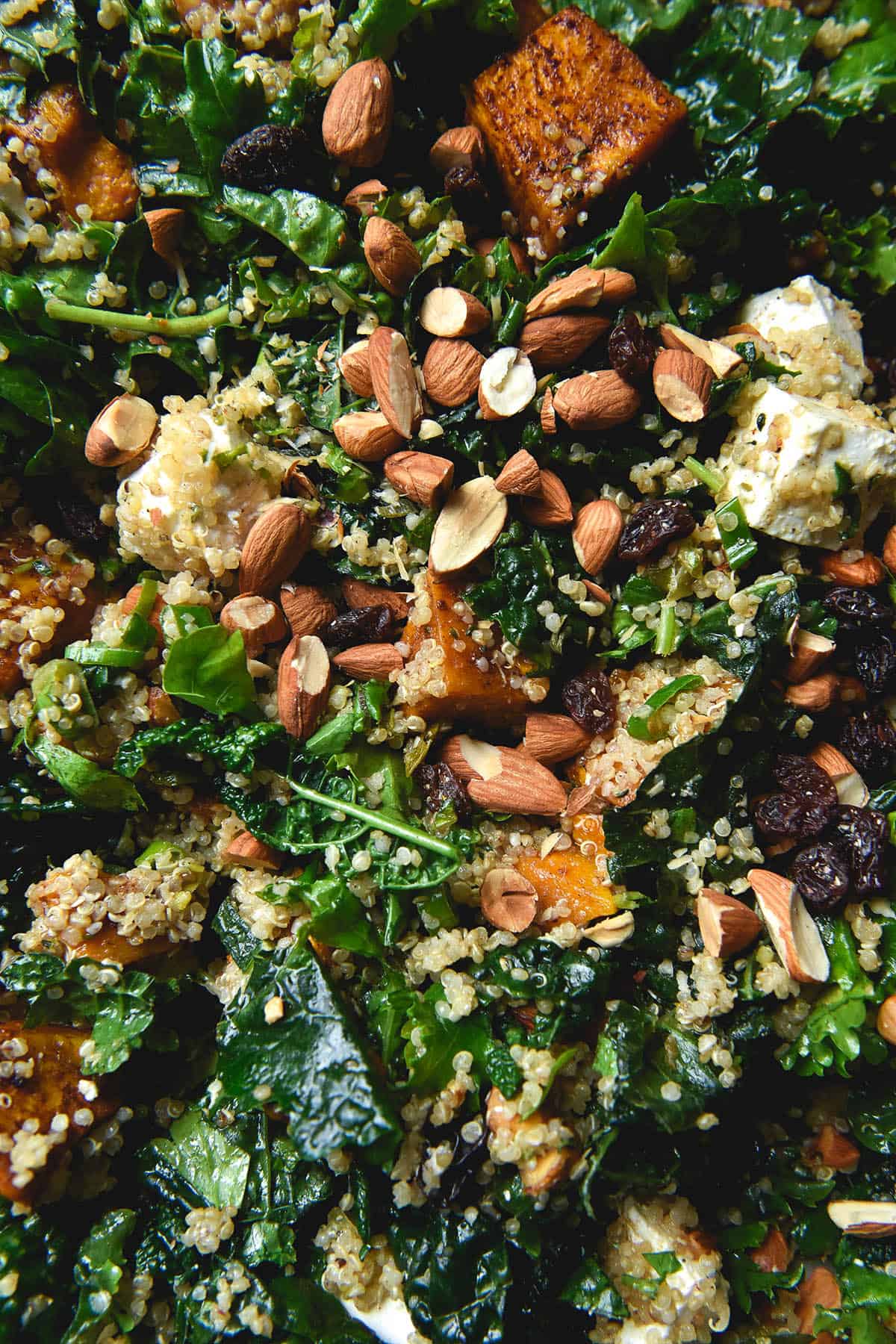 Tips for working with kale
Choose the right variety. I highly recommend Tuscan Kale in all my recipes. It has a smoother surface and is easier to chew. It also just makes for a nicer eating experience when compared to curly kale varieties. I find them impossible to eat without getting irritated.
Wash the kale really well. There are plenty of places for little bugs to hide.
Remove the ribs and chop the leaves into small, bite sized pieces. This makes the eating experience similar to eating salad greens.
Massage the kale. I thought this was a crock before I got into kale, but it really does work. Before adding your washed and chopped kale to a salad, massage it with oil and salt. It only takes a couple of minutes, but the kale softens to a really lovely salad leaf texture.
If you're making a sauce with kale, blanch it in boiling water for 15 seconds before plunging it into cold water. Not only does this set the bright green colour (hello gorgeous sauce) it also removes a bit of the bitterness.
More low FODMAP resources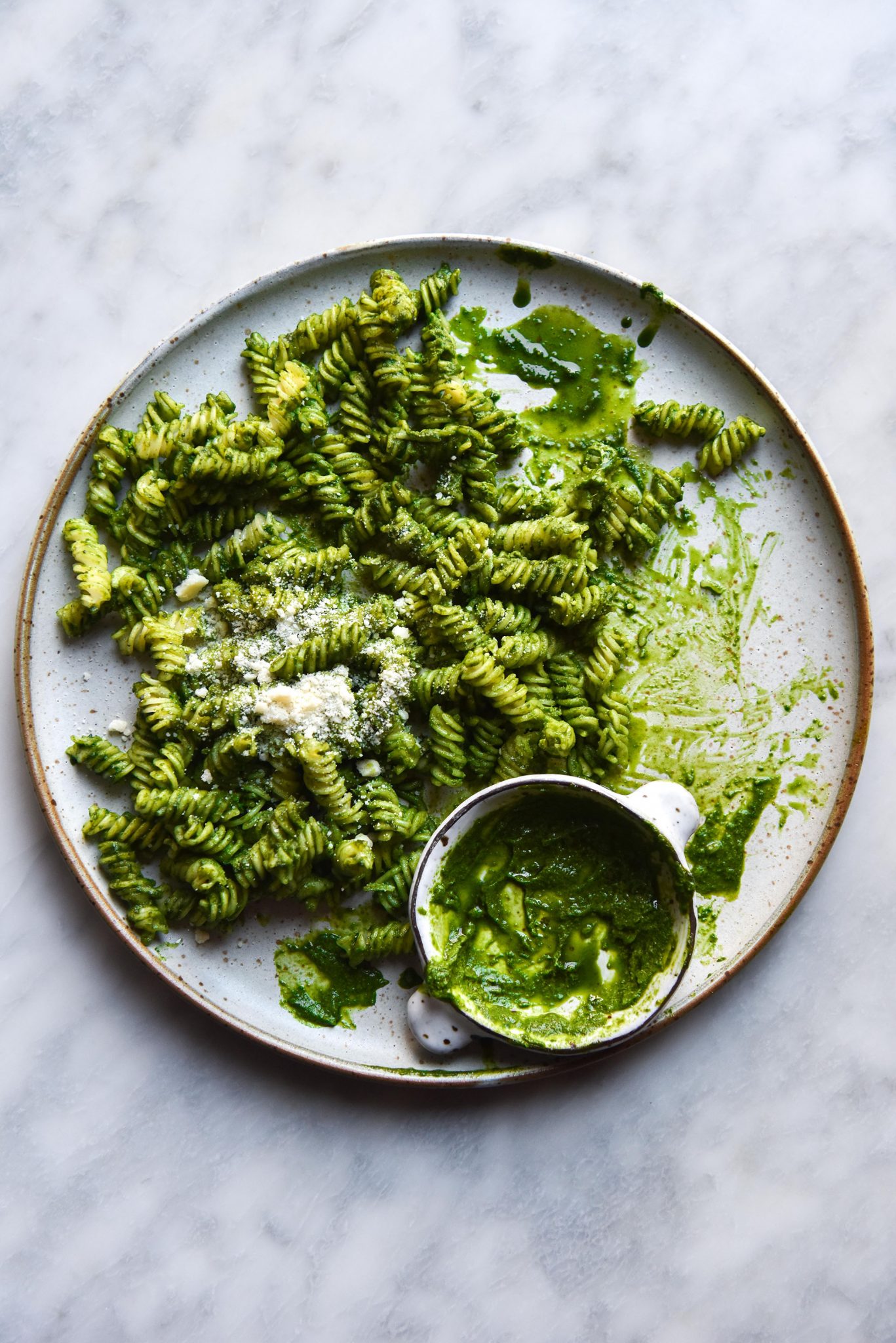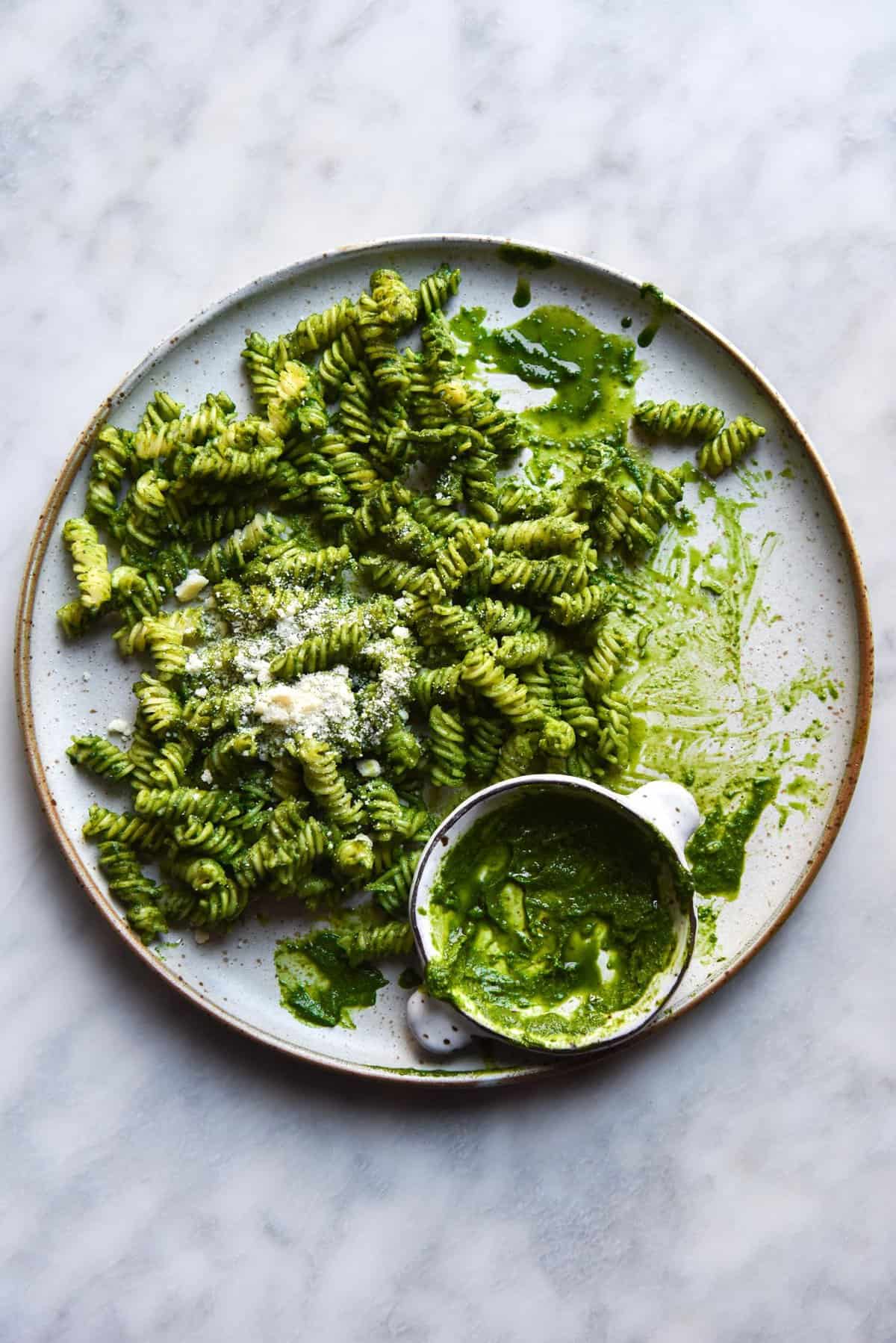 Low FODMAP kale recipes
Roasted pumpkin, quinoa, feta and kale salad
This salad contains most of my favourite things about the cooler months, combined into one. I like to serve it as a warm salad, but it makes excellent leftovers too. Raisins have a low FODMAP threshold, and they add a delightful sweet note to the dish.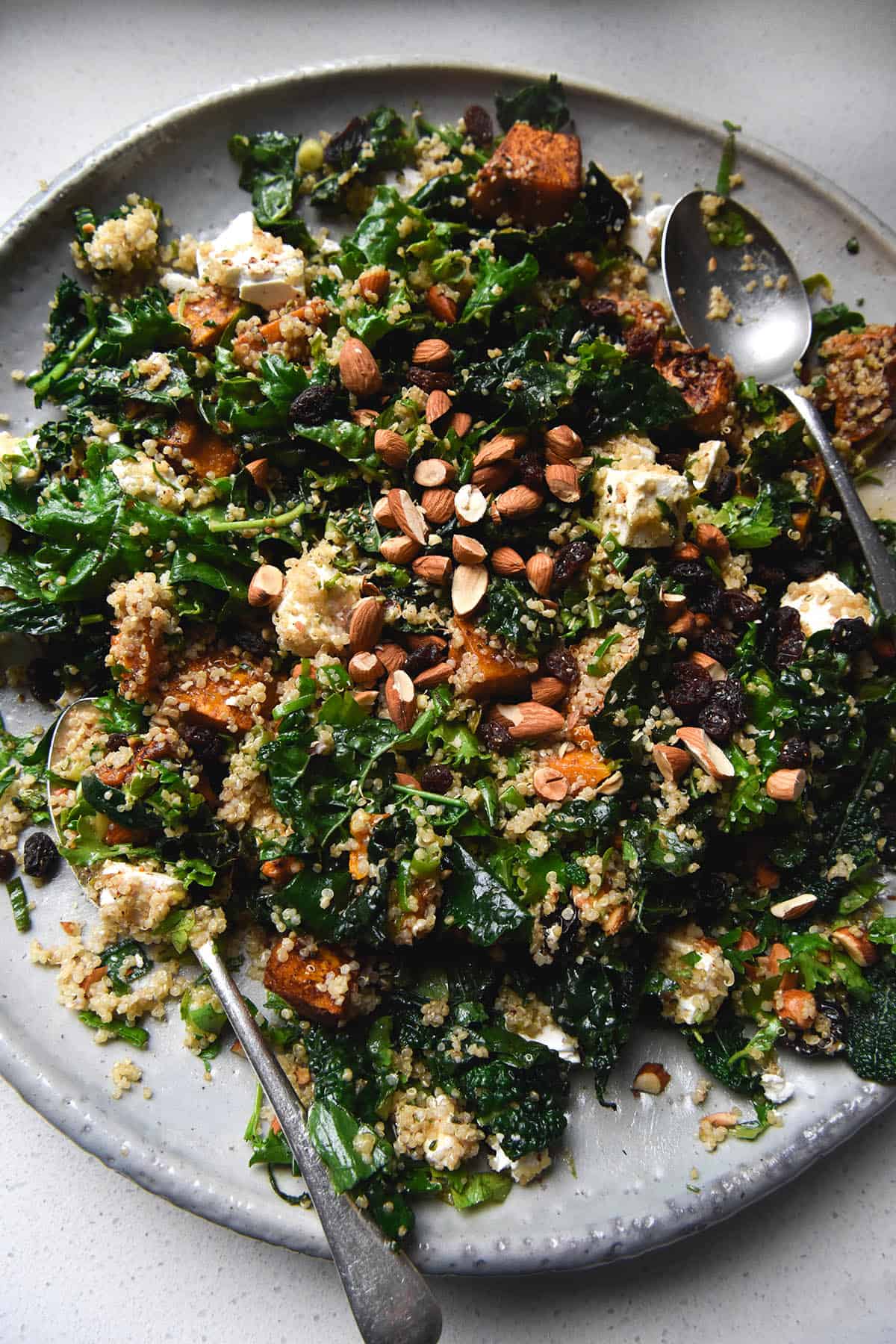 Low FODMAP kale pesto
This low FODMAP kale pesto is made from blanched Tuscan kale. It retains a gorgeous bright green colour, but the kale flavour softens. A delicious, nutrition packed way to make pesto. Use it on pasta or drizzle it over my crispy roasted potatoes.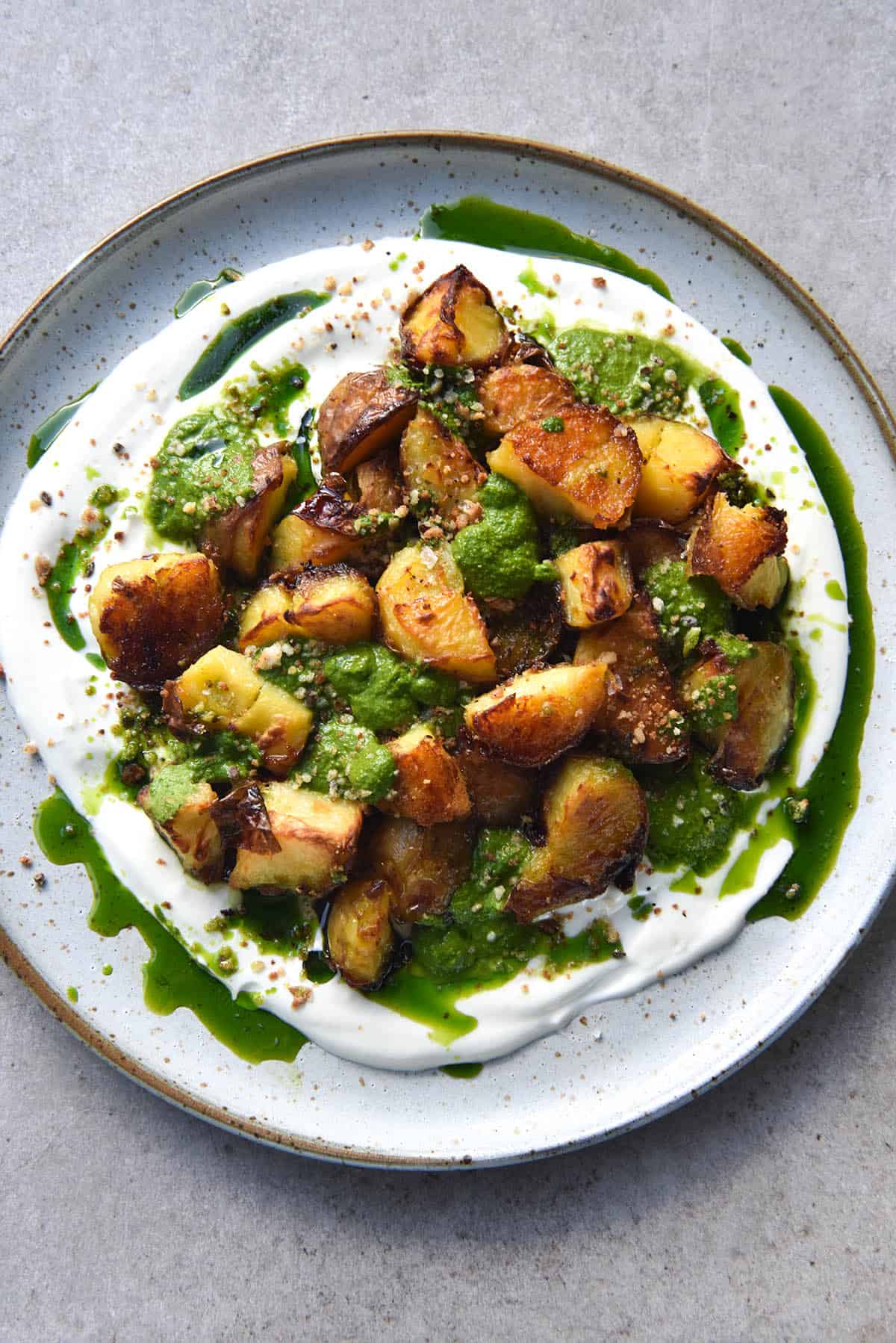 Green protein pasta sauce
This green protein pasta sauce uses blanched kale, basil, lactose free cottage cheese and some canned legumes to add extra protein to the sauce. Make sure you read the FODMAP section to ensure you're dishing up a low FODMAP serve.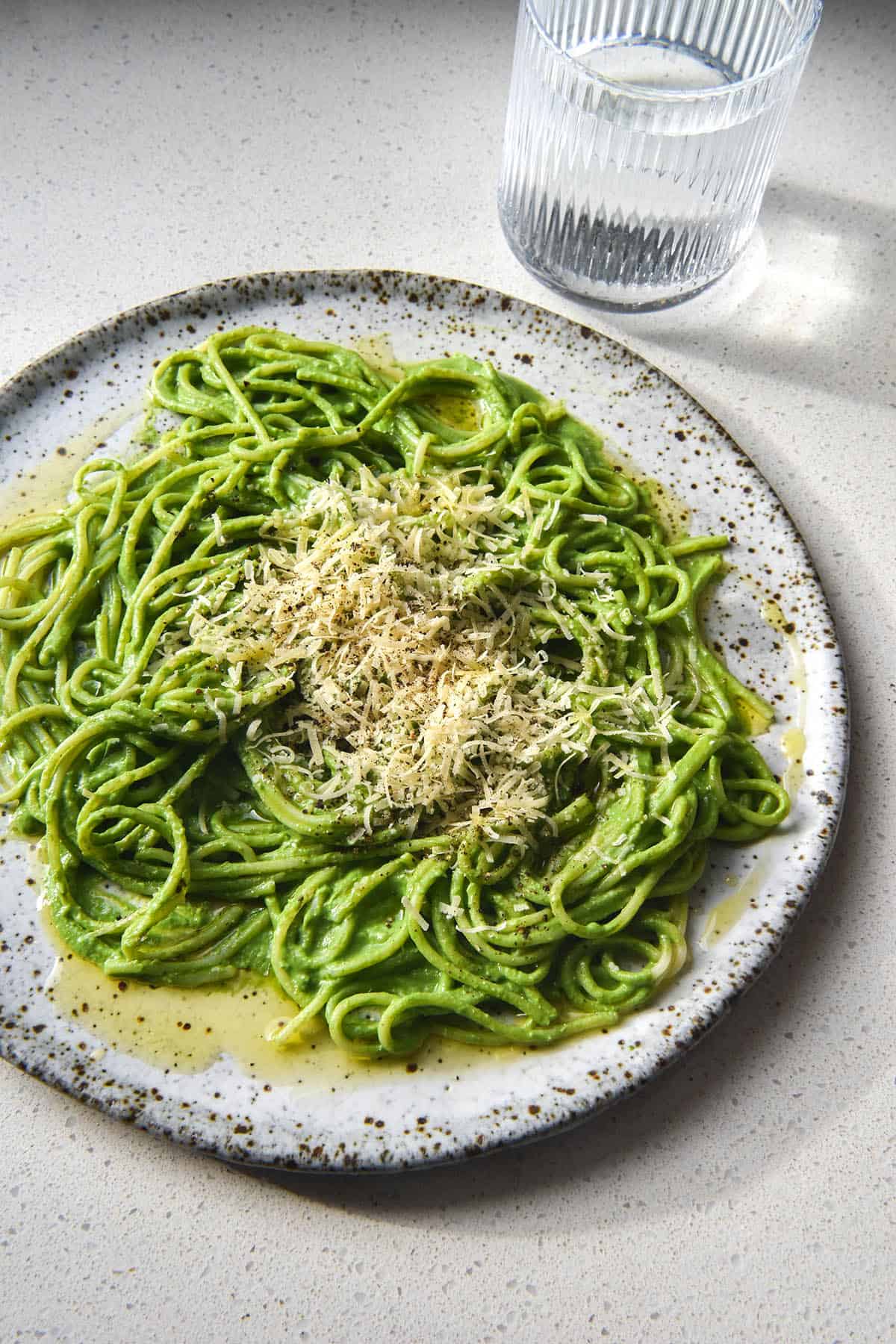 Low FODMAP kale salad with tahini dressing
OK, so the recipe is more for the tahini dressing. BUT I have included a quick recipe for this salad in the body of the post. It's fresh yet hearty and the tahini dressing packs a delicious, creamy punch.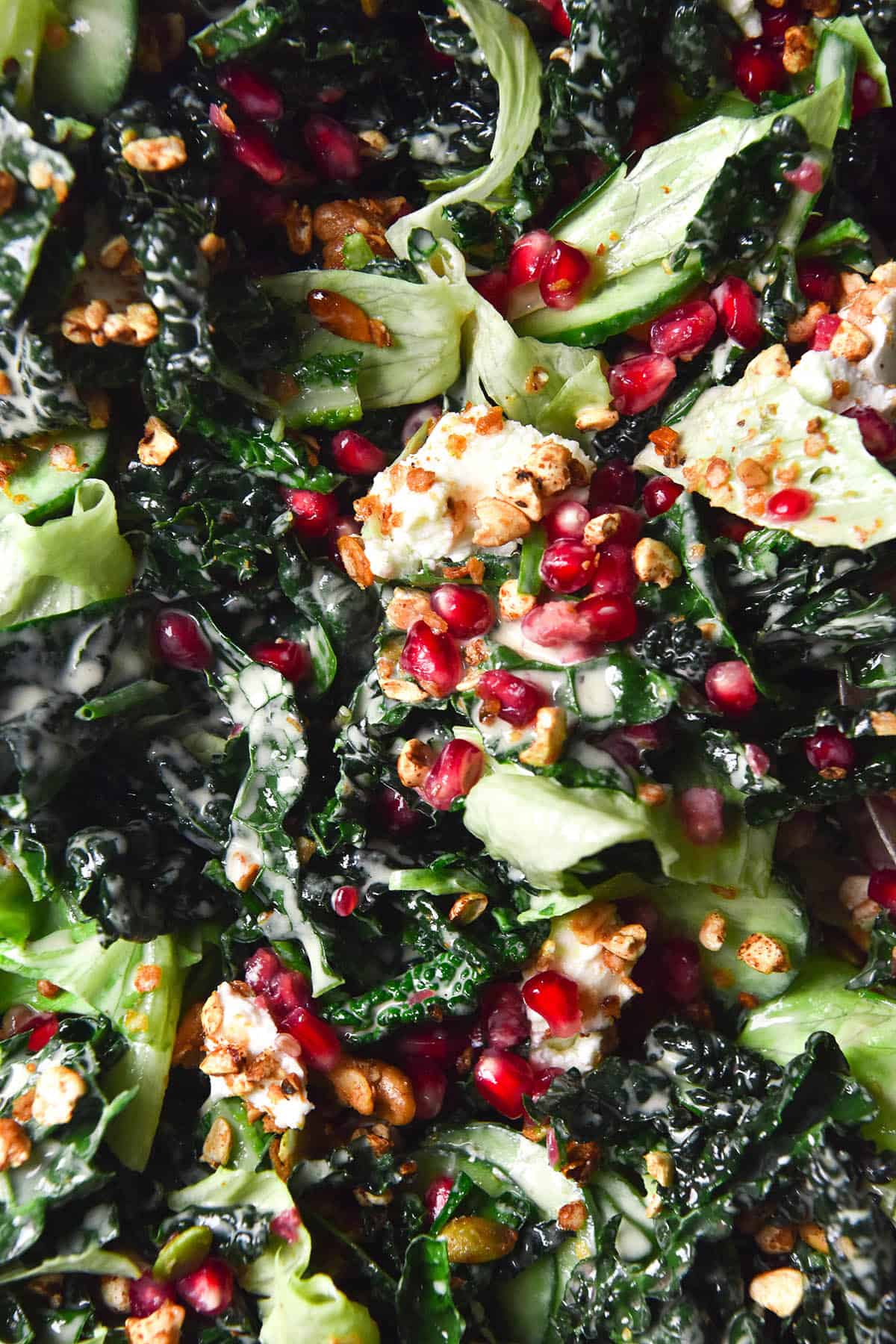 Low FODMAP frittata with lemony kale and roasted pumpkin
This low FODMAP frittata is a delicious weeknight meal that is packed full of flavour. It's also packed full of vegetables, for those (like me) who get a bit funny with eggy tastes and textures.