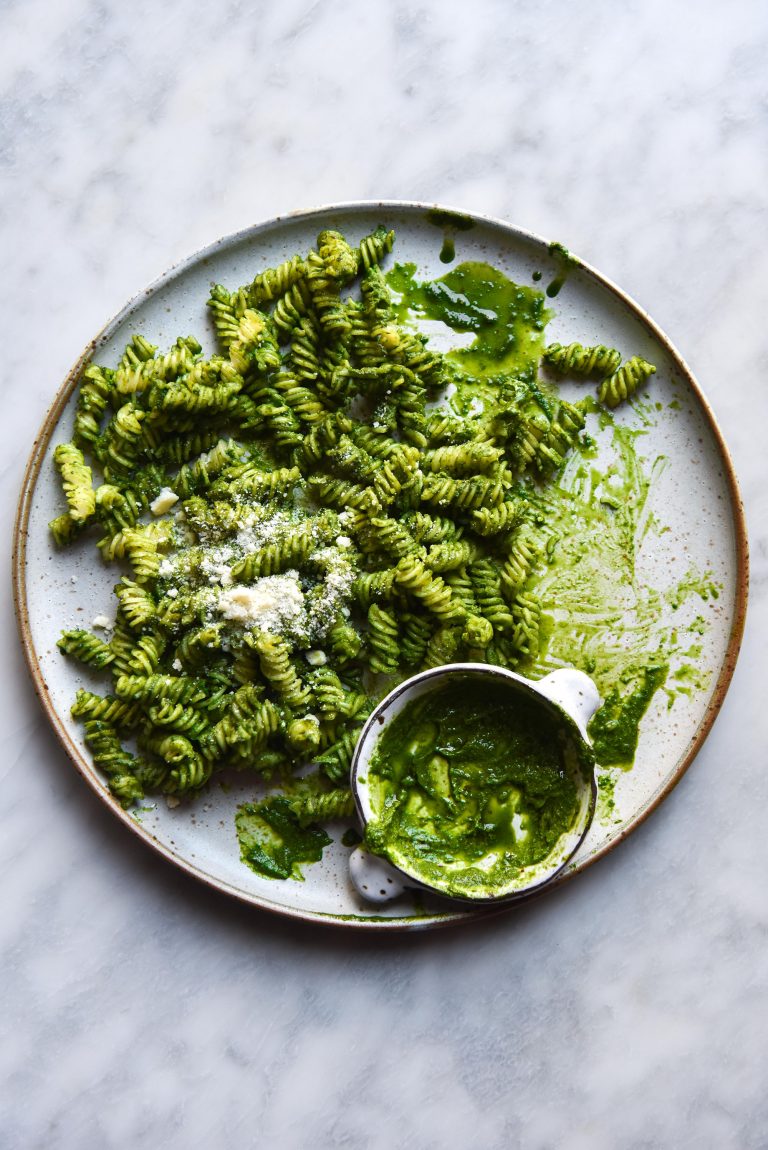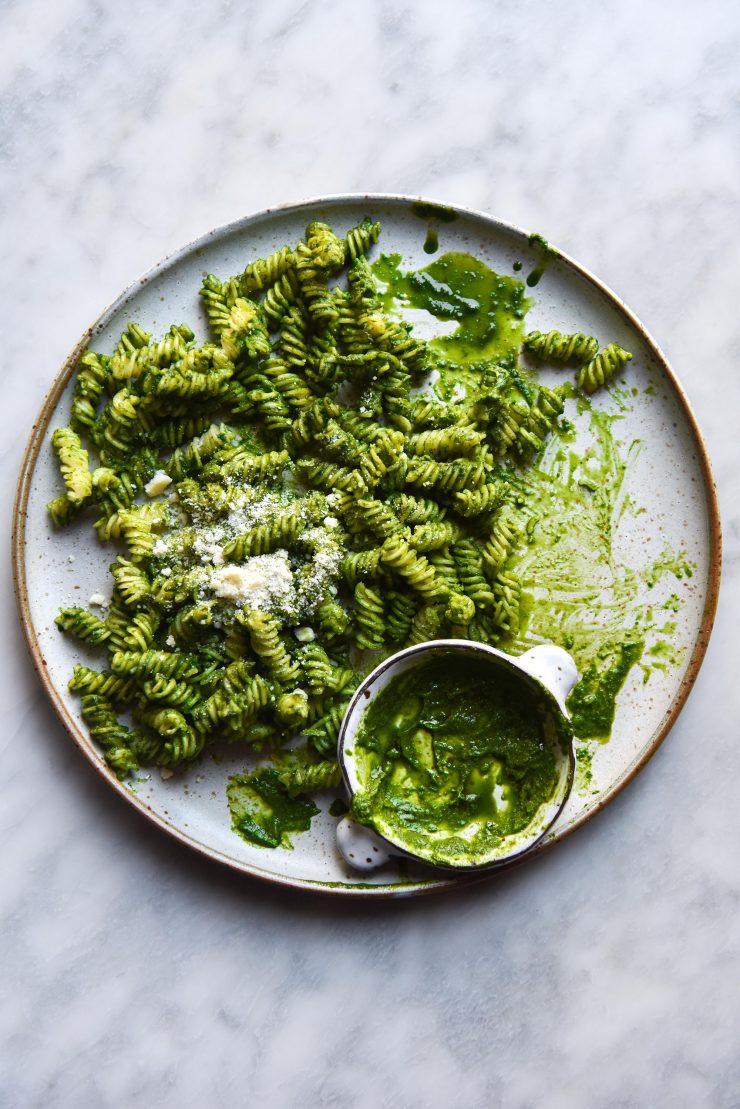 You all know by now that I am a total pesto fiend. If there's a way to incorporate pesto into food, I will do it. When there's an opportunity to work on a new pesto recipe, consider me there. So, today I would like to extol the virtues of my new favourite: FODMAP friendly kale pesto.
Sure, kale pesto isn't particularly traditional. That said, given that onion and garlic form the backbone of essentially every traditional dish known to man, FODMAP friendly food kind of has to forge it's own path. If traditional pesto is more your thing, try my FODMAP friendly pesto recipe. If you like a bit of basil and a bit of health, try the vegetable packed pesto. But if you enjoy a stunningly green and delicious way to eat kale, read on.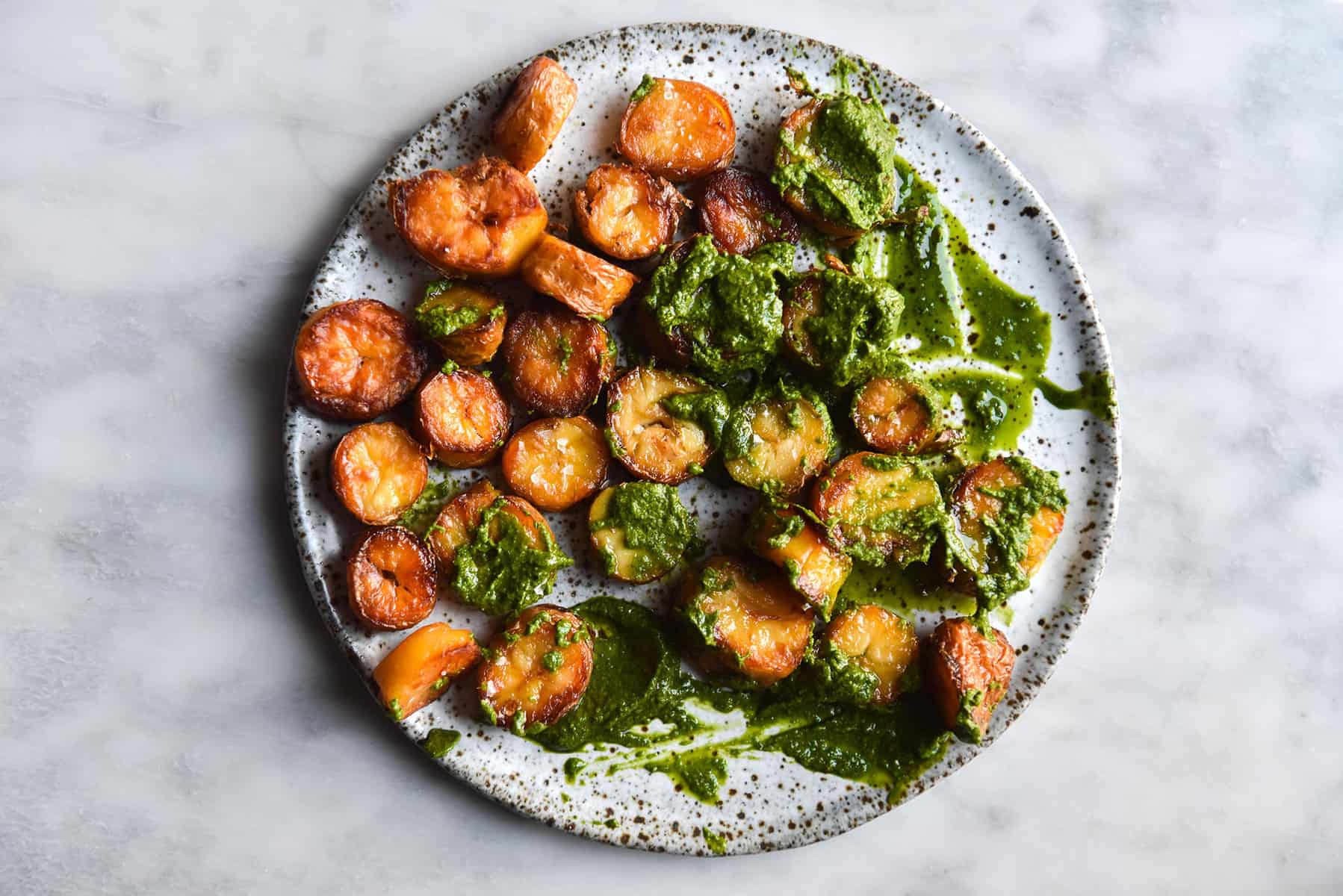 FODMAP friendly kale pesto ingredient notes
I use Tuscan kale for this recipe. It has a nice subtle kale flavour and the dark verdant green colour that translates into the finished product. I haven't tried this with any other sorts of kale.
On the slim chance that anyone reads all my posts, I apologise for repeating myself. However, vegetarian parmesan does exist, even if tradition says it shouldn't. Generally speaking, you'll find it under budget brand names – it might even be called 'Italian hard cheese' or 'Parmesan style'. You're also likely to find it in health food stores or specialist delis, in my experience.
If you're into it, feel free to use garlic infused oil in this recipe. I have been making my own and am now obsessed – it tastes so much more legit than store bought. Needless to say, you could also use garlic if you don't need the pesto to be FODMAP friendly.
On the note of garlic, you could add 1/4 – 1/2 teaspoon asafoetida for a garlic-like hit. You can buy asafoetida powder online or at Indian grocers, and it heavily mimics the taste of onion and garlic, sans side effects.
I also like adding half a bunch of spring onion greens to this sauce. It adds in that punchy layer of flavour that we're missing without garlic.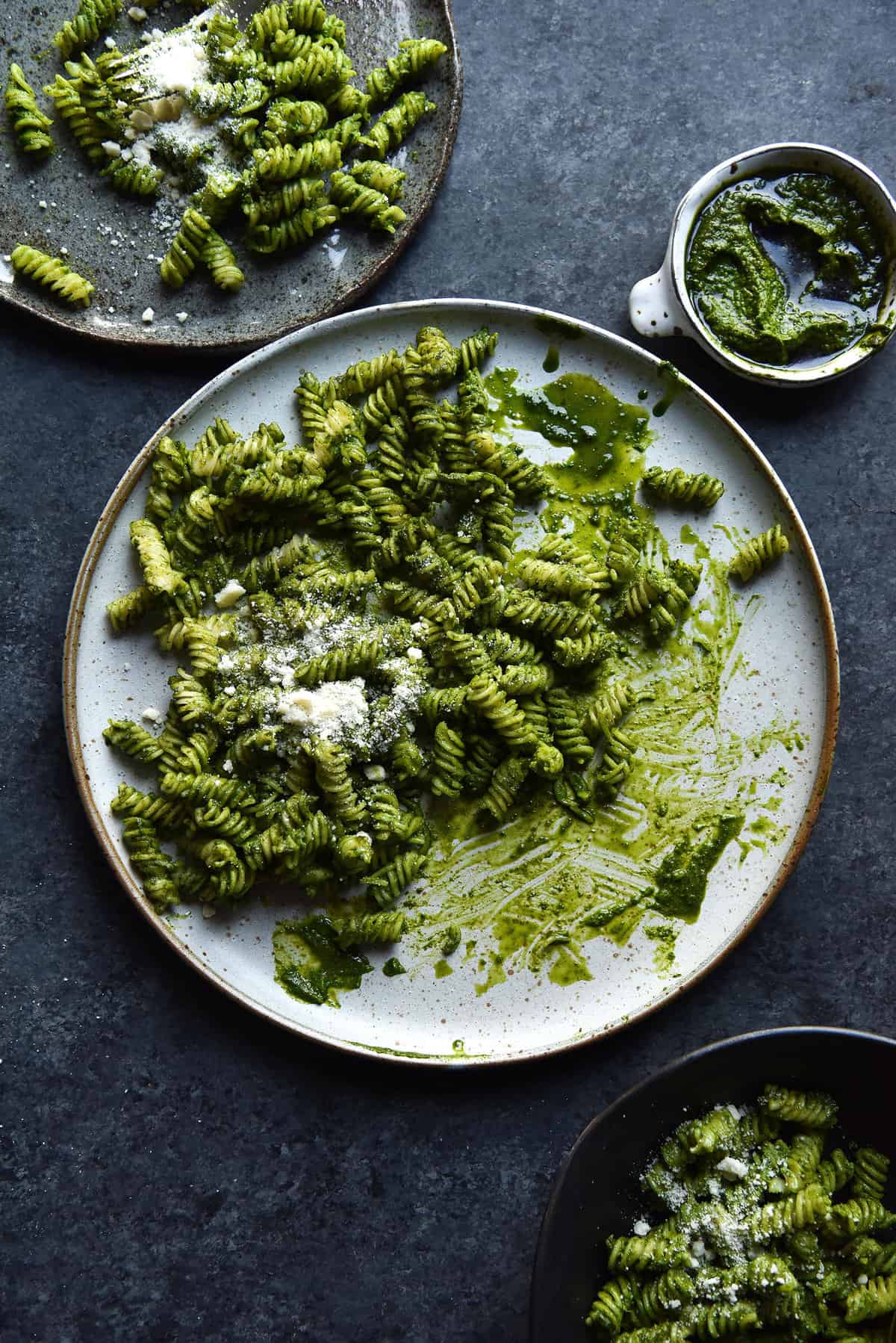 Recipe notes
Personally, I only own a Nutribullet for blending purposes. A tip for Nutribullet users? Put the kale into the blender last. This way, when you invert and blend, the kale will be the first to go. If you do it the other way around, the kale tends to resist the blades and you'll be blending for eleventy hundred hours.
The lemon juice is important in giving the pesto a punchy, full bodied flavour. The more the merrier, as far as I'm concerned.
In a traditional pesto recipe, you generally don't need additional salt because the parmesan provides more than enough. However, I do think a bit of extra salt is necessary here. This might be because kale is a lot hardier than basil, I don't know. Either way, blend it, decant it, and then season to taste. This will eliminate the risk of over-salting.
This pesto tends to separate quickly without nuts. Nothing to worry about and to be expected. I just stir it up or add in some pasta water before mixing.
The pesto freezes well if you don't plan to use it all at once. That said, it's a great thing to have in the fridge – to dress a salad, pasta, roasted vegetables, or even to use it for dip.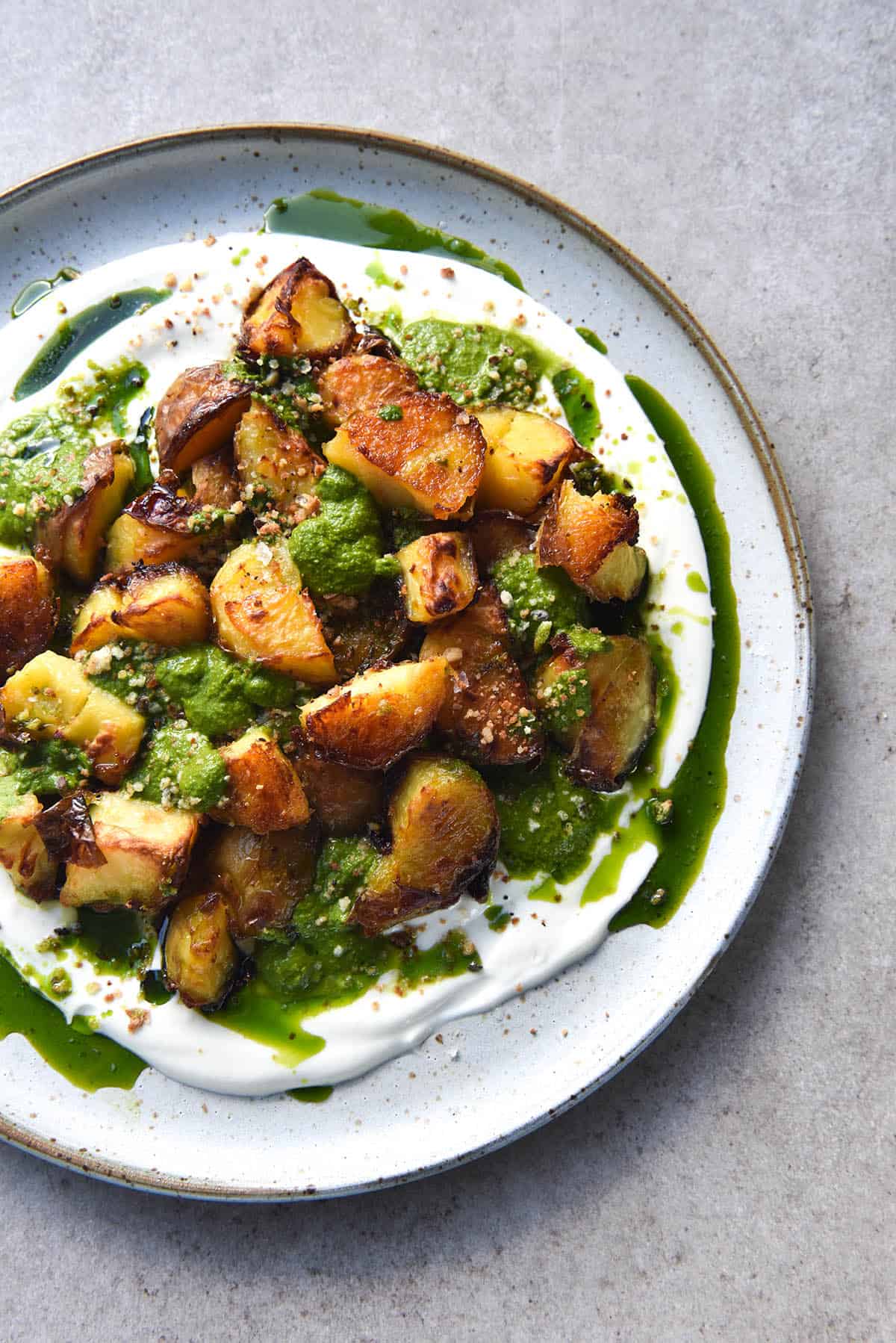 Should I blanch my kale?
Lots of recipes online seem to blanch the kale before making it into pesto. From what I have read, this is for a few reasons. Firstly, it takes a bit of the bitterness out, and makes the pesto taste more subtle. Secondly, when blanched briefly and then set in cold water, lends to a more vibrant colour. So! Whether you'd like to blanch your kale is up to you. I have made it both ways, and I enjoy them both.
The unblanched kale pesto smells quite kale-y the next day, which is something to consider if you're only using a little bit at a time.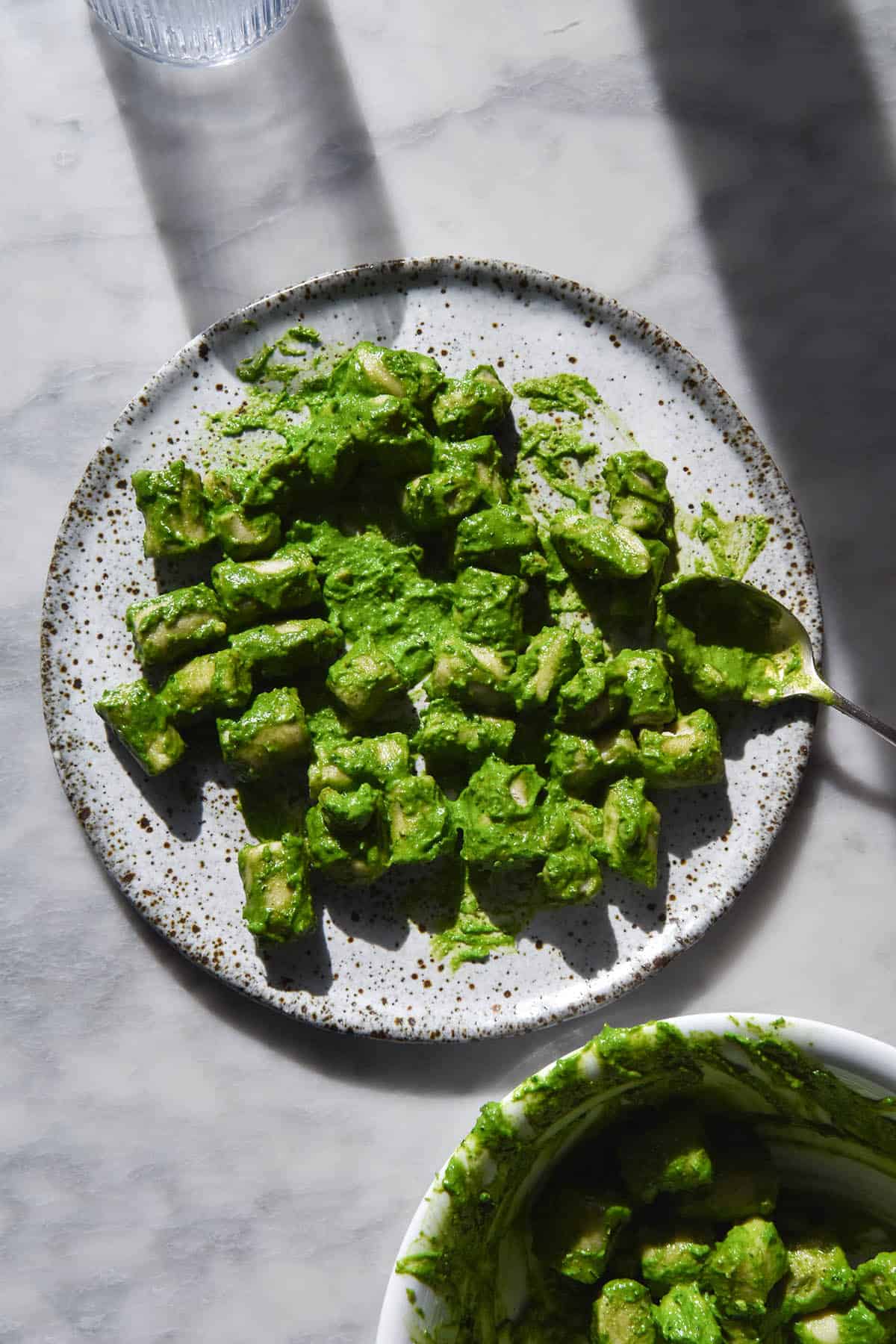 Where to use your FODMAP friendly kale pesto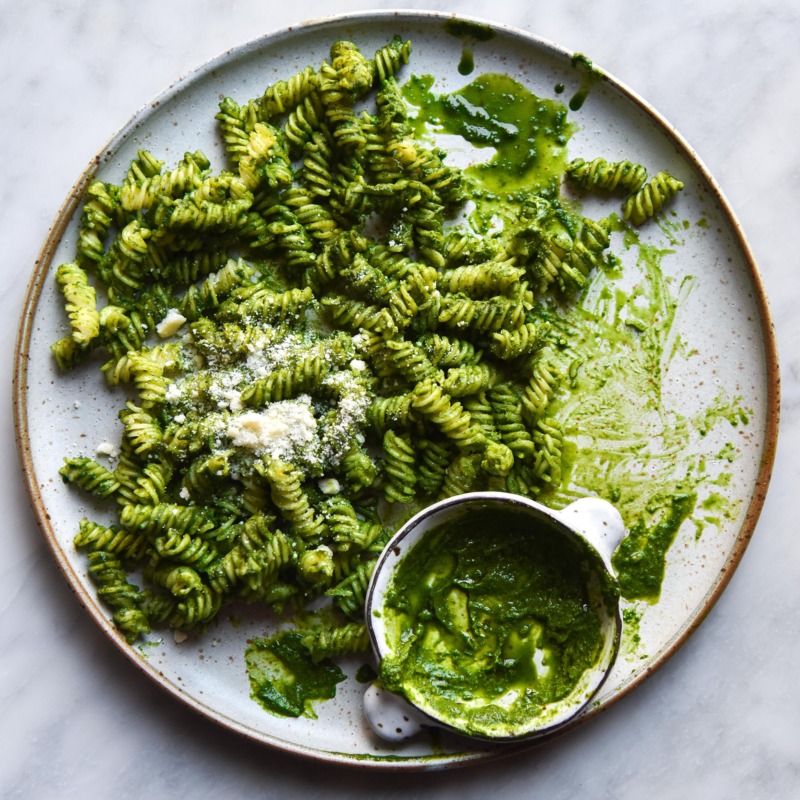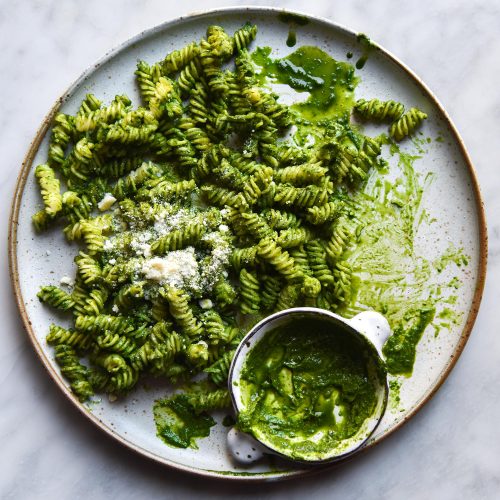 FODMAP Friendly Kale Pesto
FODMAP friendly, gluten free
*Cups and measures are in Australian cups and measures. Use gram and ml for international accuracy.
Ingredients
1

bunch Tuscan kale

about 125g once big and smaller woody stems removed washed and chopped

75-125

g

vegetarian parmesan

to your taste

170ml (2/3

cup)*

olive oil

100-150ml (5-7

tablespoons)*

lemon juice, to taste

1 1/2 – 2 big juicy lemons

1/2

bunch

Spring onion greens, chopped

1

bunch

basil

Salt and pepper

to your taste
To make into pasta:
350g

gluten free pasta

Burrata (optional, to finish)

Gluten free toasted breadcrumbs (optional, to finish)
Instructions
Pulse all ingredients in a high speed blender until combined and your desired pesto consistency is achieved. Adjust seasoning and lemon juice for taste.

Once blended and seasoned to your liking, decant into an airtight container. Keeps well in the fridge for a few or so, and can also be frozen.

It helps to add a thin layer of olive oil to the top of the container to seal the pesto. This keeps it fresher and brighter for longer.
To make into pasta
Cook your pasta as per the packet instructions, reserving about 1 cup of pasta water to emulsify and loosen up the pesto. Add as much pesto as you like, then top with the optional extras.
Notes
This makes enough for 2 batches of 350g worth of uncooked pasta. So, plenty. I like to use it on roasted vegetables, crispy potatoes, toast – whatever needs some pizzazz. 
The pesto keeps well in the fridge for a number of days. It will separate, but is easy to stir back into fine form. You can also freeze it and defrost at a later date.