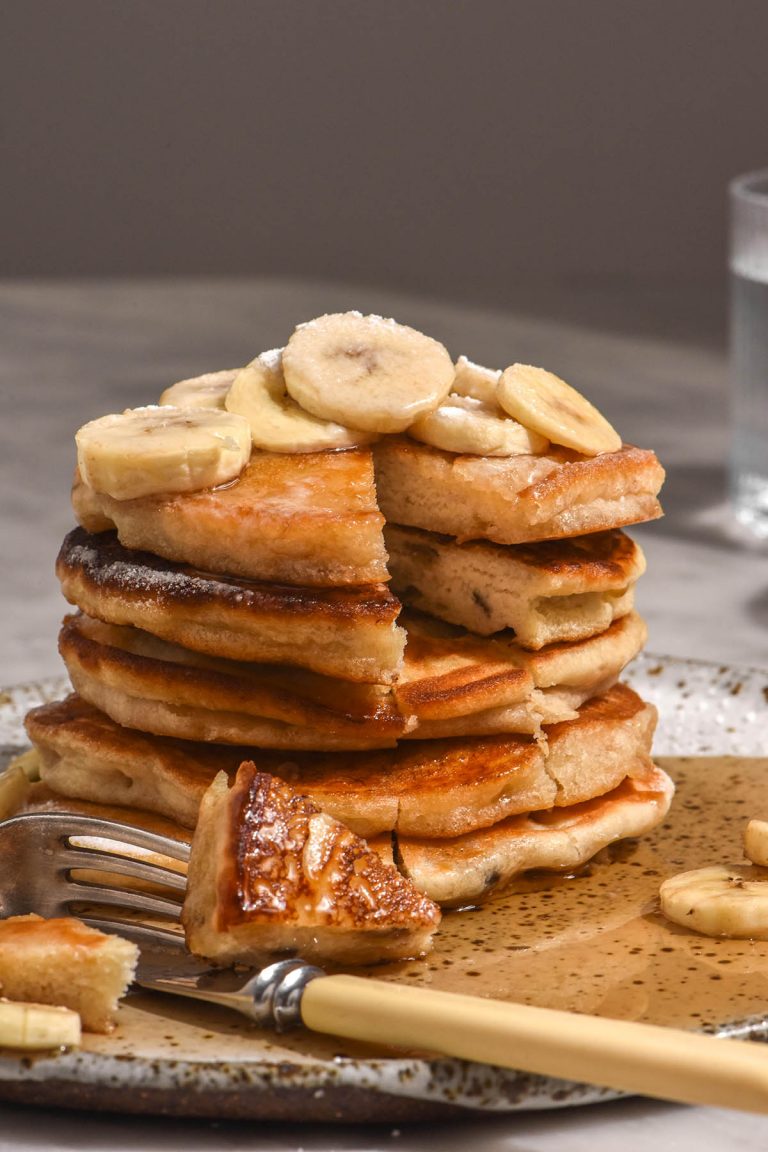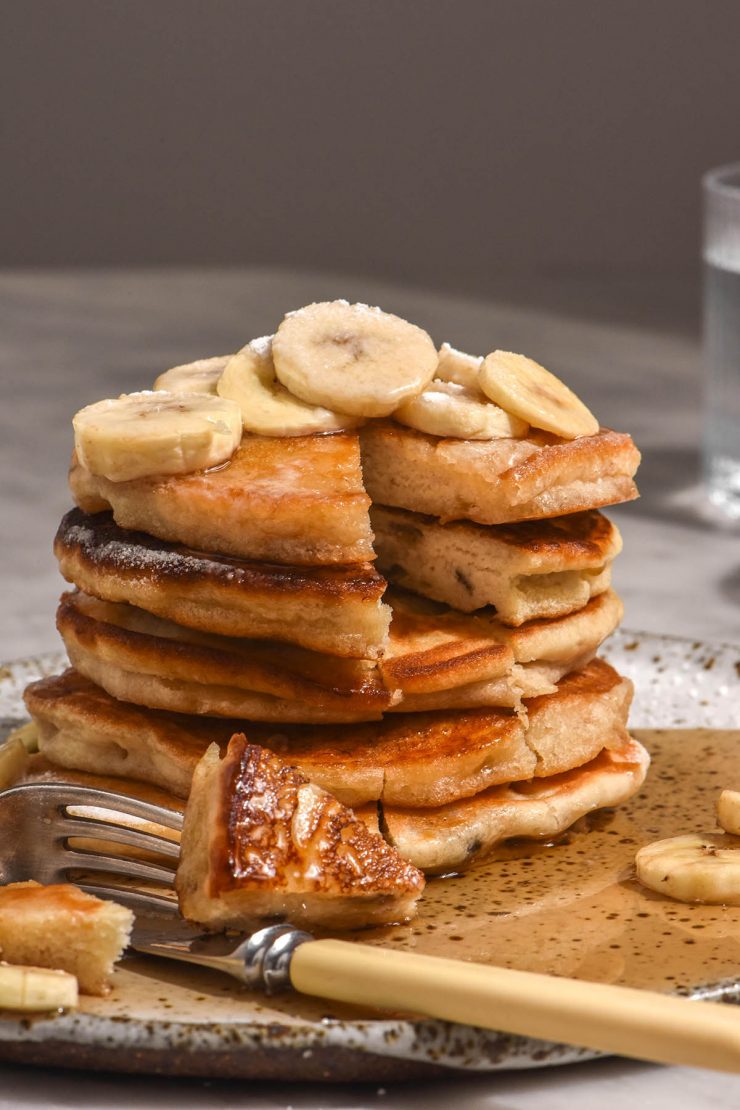 These gluten free banana pancakes have been on the cards for a while. I have been meaning to develop more breakfast recipes (and more pancakes specifically) so today's the day for some delicious and quick banana pancakes.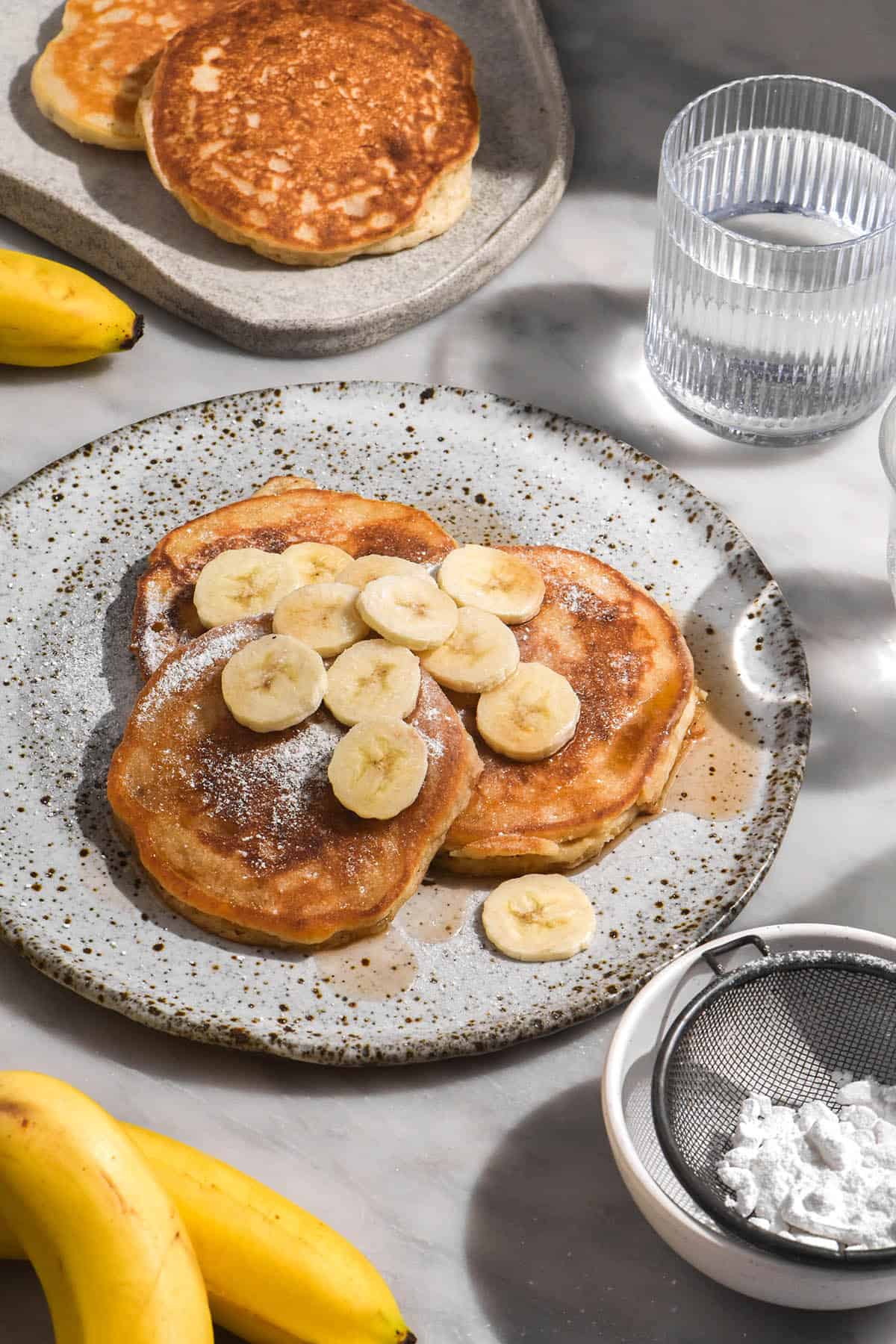 Gluten free banana pancakes
These pancakes use a simple blend of two flours to form the base of the pancake. I have tested a variety of options (which we'll go into below) but my favourite was white rice flour and cassava flour. They use 150-200g mashed ripe banana for that delicious banana flavour, binding, and to replace the eggs.
A bit of milk makes for a tender crumb, while a plant based milk holds everything together. I like to sweeten my banana pancakes with white sugar, but I daresay you could use light brown or rapadura, too.
While this is not explicitly a low FODMAP recipe, there are options to make these pancakes low FODMAP, which I will go into below.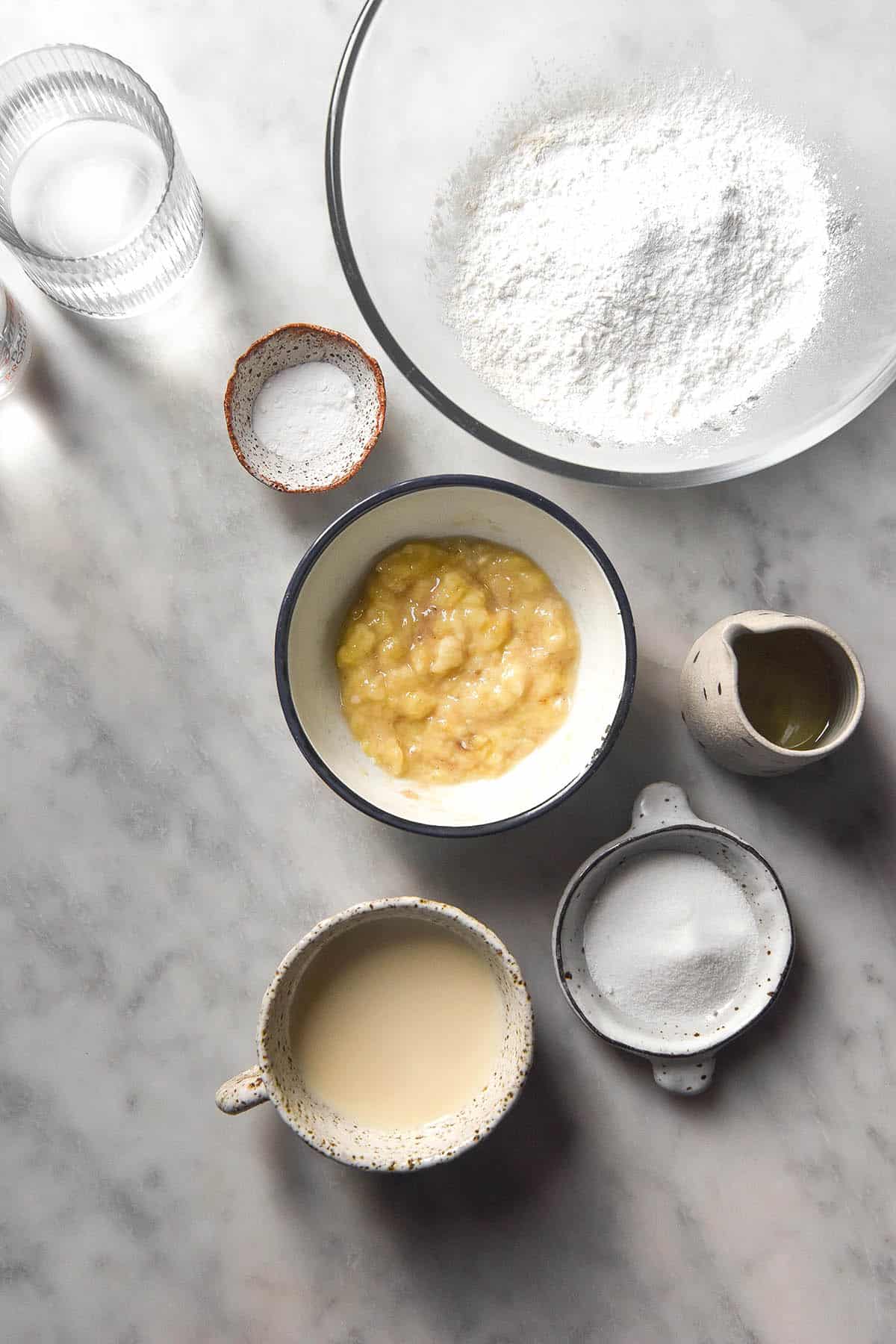 Are ripe bananas low FODMAP?
A low FODMAP serving of a ripe common banana is 35g, or approximately 1/3 of a medium fruit. At 45g, ripe bananas contain moderate levels of fructans. At 100g, they contain high levels of fructans, and Monash says this quantity should be avoided for those who have issues with fructans.
HOWEVER, may I introduce you to your new friend, ripe sugar bananas? Also known as lady finger bananas, ripe sugar bananas are also low FODMAP in 112g serves, or 1 medium banana. This recipe uses 150-200g banana and serves 2-3, so this is a great option to ensure these pancakes are low FODMAP.
These are the short and stubby ones at the supermarket. They have a very slightly different flavour to regular bananas (I think I prefer them!) but they work exactly the same.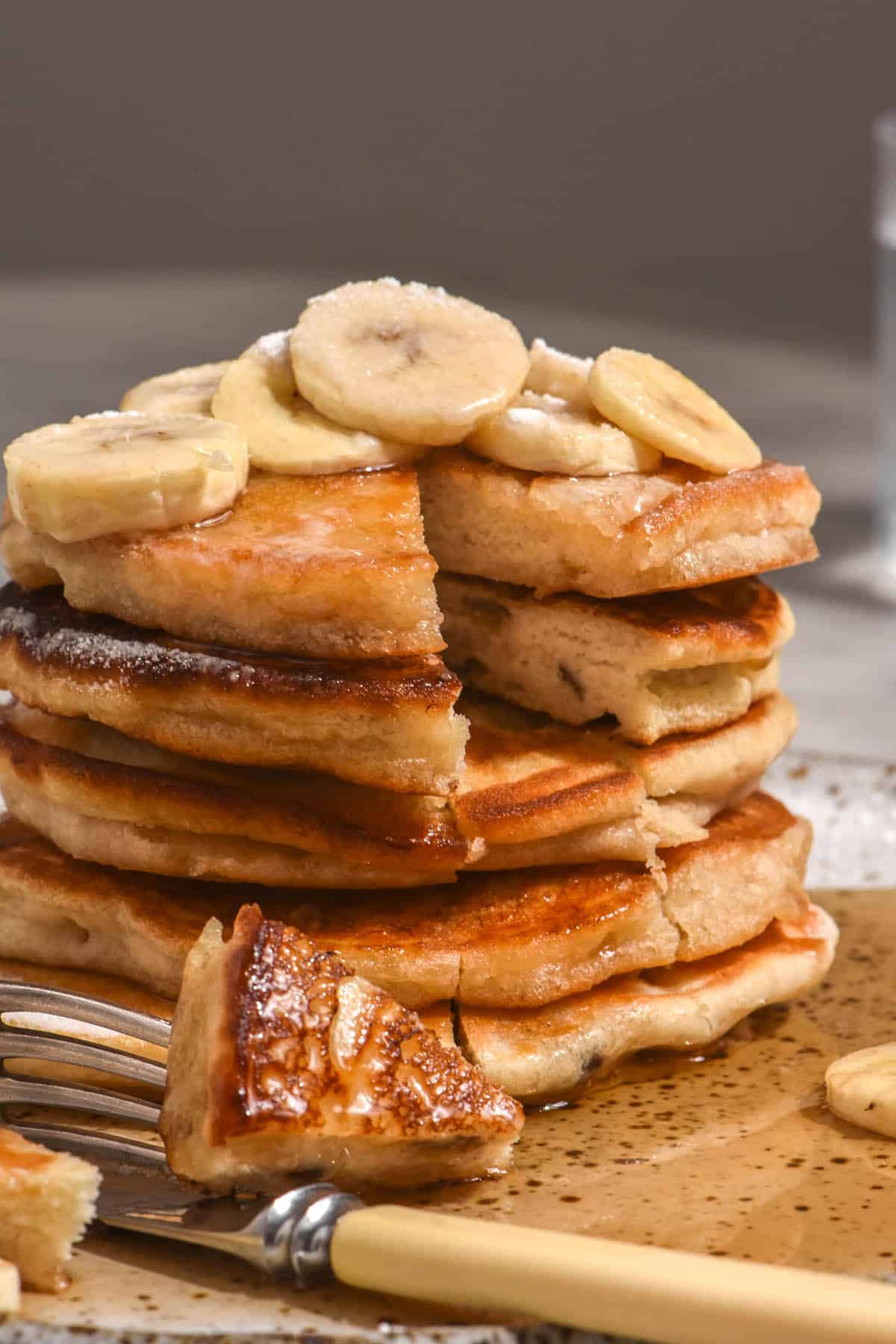 How to make these gluten free banana pancakes low FODMAP
Use ripe lady finger bananas instead of common bananas.
To lessen the FODMAP load, consider using tapioca flour in place of cassava flour. While cassava root is low FODMAP in serves of up to 75g, there is no entry for cassava flour yet. Some varieties of cassava flour (like Ottos) are fermented, while I don't think others are. I'm not sure yet if this will be reflected in the Monash entry for cassava flour if there ever is one. While cassava flour won't tip these into high FODMAP territory with sugar bananas, they likely would with regular bananas.
Use a low FODMAP milk (full fat/full cream lactose free milk, rice milk, soy milk made with soy protein, macadamia milk etc).
Top your pancakes with a low FODMAP topping like blueberries and some maple syrup.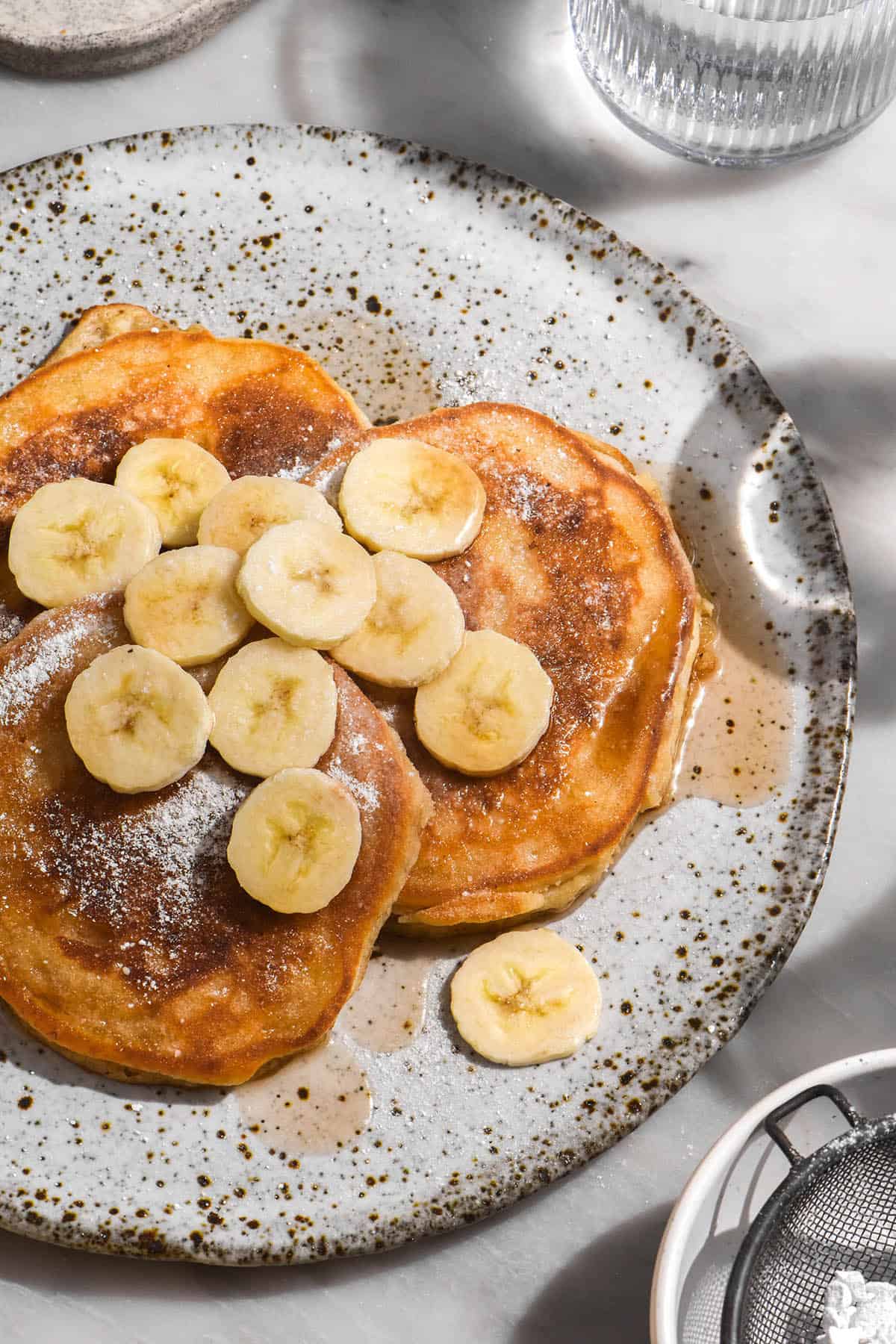 Can I substitute the flours in these gluten free banana pancakes?
Yes, you can. I have tested a number of different combinations and they have all worked quite well.
Sorghum flour and cassava flour – although the sorghum was a little bitter (it could just be my bag?) these worked well. I used 180ml (3/4 Australian cup) of milk, but thought they could have used a little less.
White rice flour and cassava flour – this is the combination in the recipe card and my personal favourite. They're neutral in flavour with the right amount of chew.
White rice flour and tapioca flour – I used 80g of each, and thought they were a bit too mochi like. I would probably use 100g white rice flour and 60g tapioca flour next time. The tapioca absorbs less liquid than the cassava, so 125ml (1/2 cup) was enough milk.
Buckwheat flour and white rice flour – I found an all wholegrain version worked, but it needed more liquid (mine used 250ml or 1 cup). I would also use the 200g of banana here.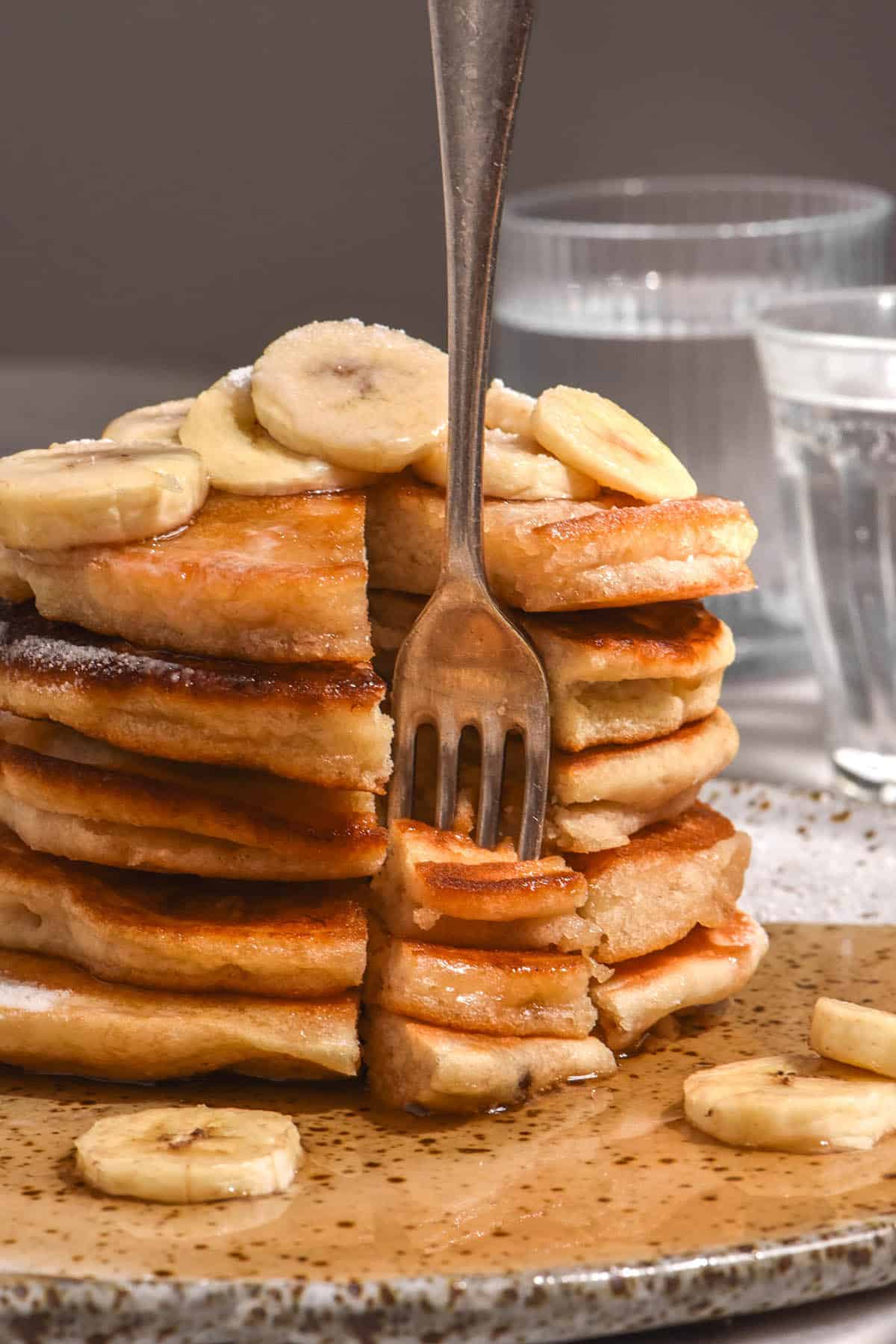 More gluten free breakfast recipes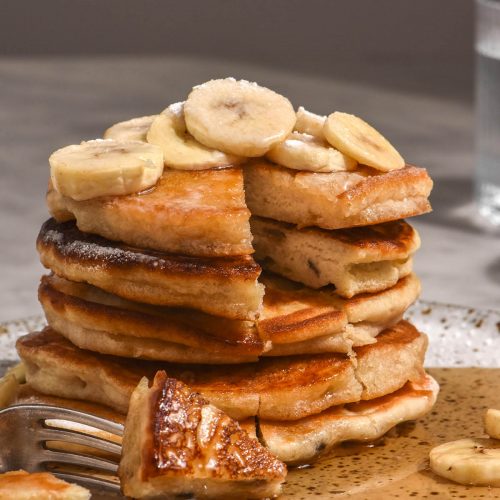 Gluten free banana pancakes
Egg free, nut free, vegan option, xanthan gum free
Ingredients
For the pancakes:
80g

white rice flour (see body of post for alternatives)

80g

cassava flour (see notes body of post for alternatives)

25g

caster sugar

6g

(1 1/2 teaspoons)

baking powder (not soda)

150-200g

ripe banana, thoroughly mashed

60ml

(1/4 cup)*

vegetable oil or neutral oil

125ml

(1/2 cup)*

milk of choice (see notes)

extra oil or butter, to cook the pancakes
Optional add ins:
1

tsp

vanilla bean paste

chocolate chips, to your tastes
Instructions
Add the dry ingredients to a medium mixing bowl and whisk to combine.

Add the mashed banana, oil and milk and whisk until a smooth batter forms. The batter should be the consistency of a thick yoghurt and easily spoonable. If the batter looks too dry, add a splash more milk. If you prefer thinner pancakes, add a splash of extra milk here too. Add vanilla here if you're using it.

Thoroughly heat a pan over a low-medium heat. Once warmed, add a splash of neutral oil or butter. Spoon roughly 1 1/2 Australian tablespoons (around 2 US tablespoons) of pancake batter into the pan. Allow to cook for a minute or two until you see the edges starting to brown (adjust the heat as necessary). Flip the pancake and cook on the other side. I find it's best to cook banana pancakes low and slow to ensure they're cooked through before they over brown.

Transfer each cooked pancake to a baking rack so it doesn't get soggy on the bottom. Repeat with the remaining pancakes, adding more oil/butter and adjusting the heat as necessary.

Serve warm with your toppings of choice. Leftovers keep well in an airtight container in the fridge.
Notes
I find Otto's cassava flour to be more absorbent than the brand I get at my local bulk food store. You might need to use more milk if you're using Ottos.
Any neutral flavoured oil should work here.
To keep these pancakes vegan, use a gluten free plant based milk (this doesn't include oat milk in Australia).
To keep the pancakes low FODMAP, see notes in the body of the post. 
This recipe makes 5-6 pancakes and serves 2-3 people, depending on appetite. If you're cooking for more people, double the recipe.