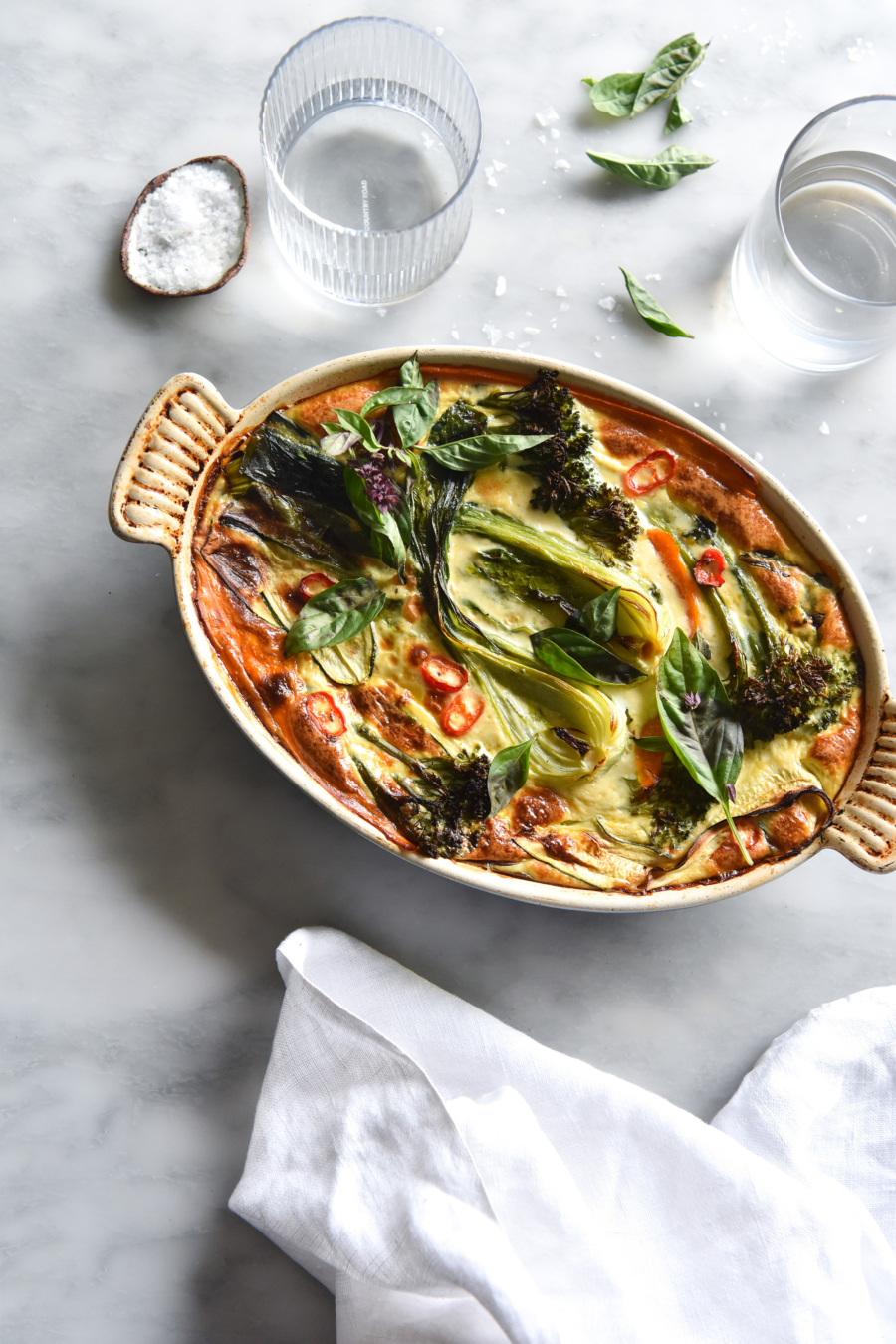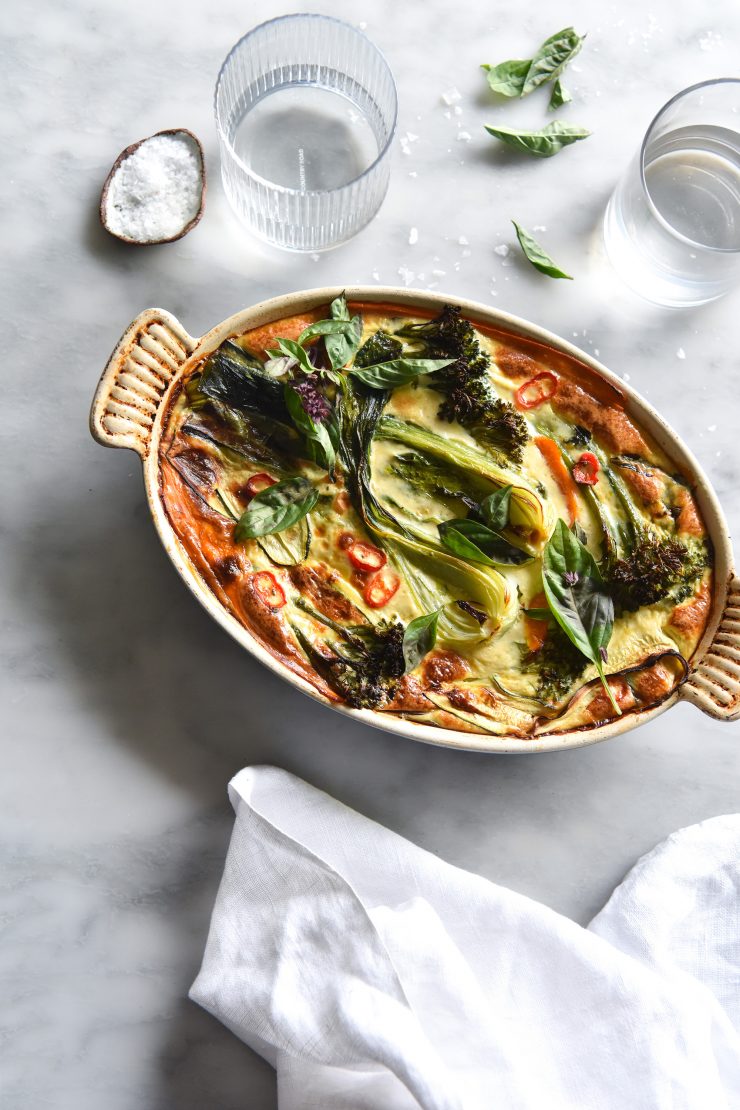 This green Thai curry frittata is a recipe I developed as an easy, protein packed lunch or dinner option. Personally, I love eggs but I sometimes struggle with the taste and texture. As such, I love egg based recipes that are full of flavour and vegetables. They disguise the egg somewhat while they remain filling and delicious. This vegetarian Green Thai curry frittata well and truly fits that bill.
Vegetarian Green Thai curry frittata
This frittata is vegetarian, gluten free and grain free. You can use any vegetables you prefer if you have some that you need to use up. My one tip with the vegetables is to try not to use too many 'wet' vegetables like zucchini or pumpkin. This is because they might overload the frittata with liquid.
Although I used a store bought curry paste for this recipe, you can also use homemade. I have developed a low FODMAP Thai green curry paste recipe which you can find here.
This frittata is an easy and delicious weeknight meal that tastes like it was harder to make than it is. I love keeping this in my fridge for busy weeks.
FODMAP notes
When I developed this recipe, I was not necessarily going for low FODMAP. Although I had digestive issues at the time, I was still trying to figure them out.
With that said, it is possible to make this frittata low FODMAP. There are a few things to be aware of.
Firstly, use my low FODMAP Thai green curry paste recipe. It is onion and garlic free and freezes really well.
Secondly, use coconut milk without inulin or any added fibres. Monash says that canned coconut milk without inulin is low FODMAP in 60g serves. It becomes moderate for sorbitol in 120g serves. This suggests that a low FODMAP serve COULD be up to 100g. This frittata uses 400g coconut milk, which puts it right on the line.
If you have issues with sorbitol or coconut in general, you could try substituting half the coconut milk with water or a low FODMAP milk of choice.
Finally, the vegetables. The only issue of note is broccolini, which has quite a confusing entry in the FODMAP app. Broccolini is only listed as heads or stalks, not as whole broccolini. The quantity used in this recipe shouldn't be an issue when divided by four, but you can swap in a lower FODMAP vegetable if you know broccolini doesn't work for you.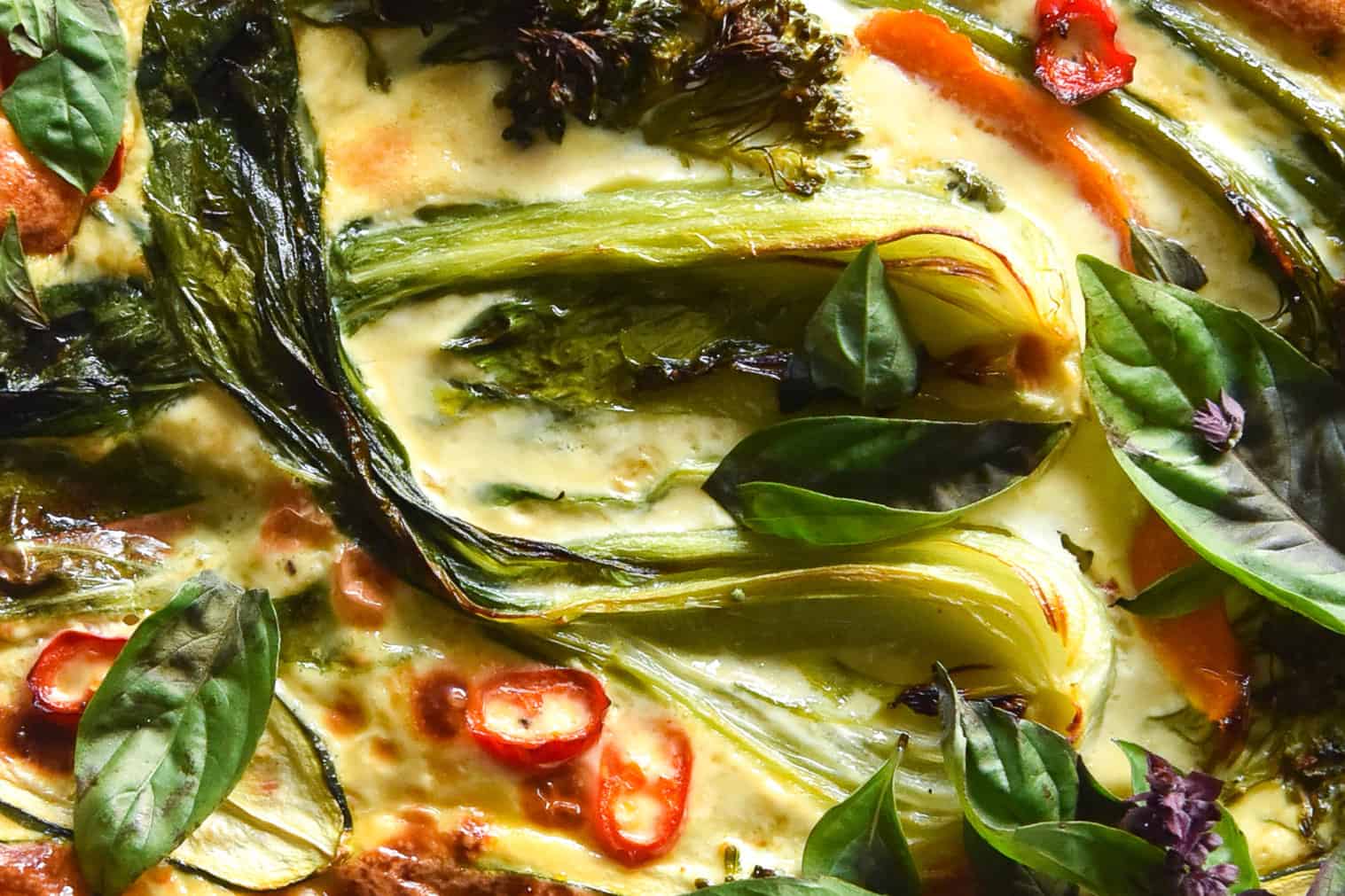 More vegetarian recipes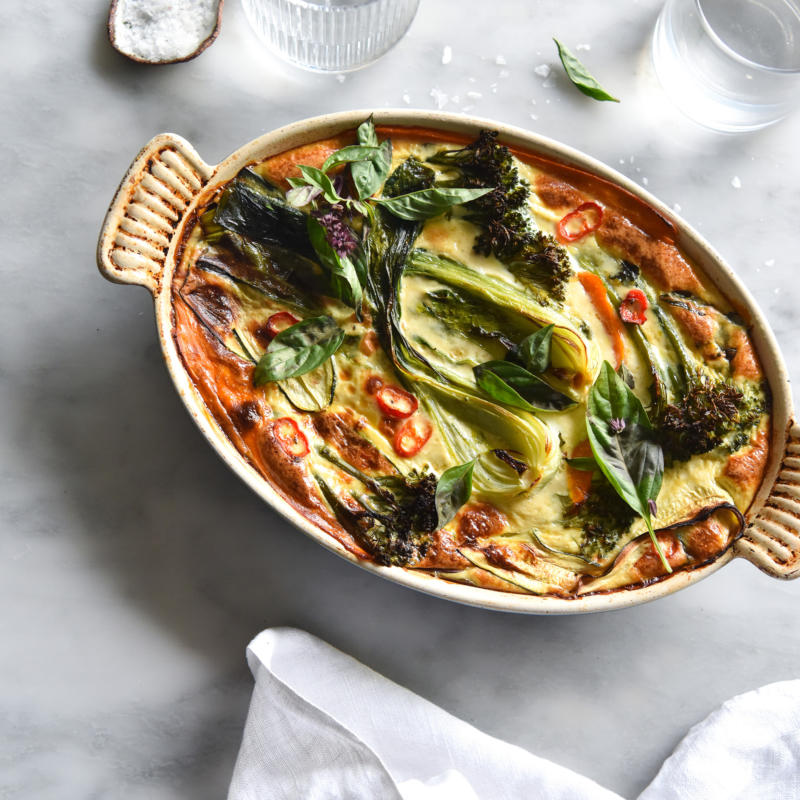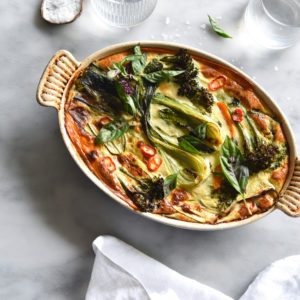 Thai green curry fritatta
Ingredients
Vegetables:
1

bunch of broccolini

2

carrots

peeled and mandolined or finely sliced lengthways

1

large or 2 small heads of Pak choi

thoroughly rinsed

1

small zucchini

mandolined or finely sliced lengthways
Frittata:
6

extra large eggs

1 400

ml

tin of coconut milk

or 3/4 of the tin if you like a firmer frittata

1 1/2-2

teaspoons

green thai curry paste

I recommend Mae Ploy brand – I use 1 1/2 teaspoons because I have a pathetic spice tolerance but if you don't, you can use more

1

teaspoon

sea salt

1

teaspoon

coriander powder

Good splash of chilli sauce

use Tabasco for a lower FODMAP option than sriracha

Handful of Thai basil

roughly chopped

Squeeze of lime juice or 1 teaspoon of rice vinegar

Generous freshly cracked pepper

you can use white pepper for a more pronounced taste

Good grating of kaffir lime

I freeze them when they're in season and grate the frozen one straight in
To serve:
A handful of toasted coconut flakes

I toast mine in the oven at 180 degrees with a light spray of oil and a pinch of salt for around 5 minutes

Chilli

Remaining Thai basil
Instructions
Bring a medium sized saucepan of salted water to the boil and blanch the broccolini and carrot slices for a couple of minutes. Transfer them to a sieve to steam dry, and blanch the pak choi extremely quickly – ideally the leaves will remain firm.

Preheat the oven to 180C/356F and spray a 27cm oval baking dish with oil.

Using a large bowl, whisk the eggs vigorously until the whites have broken down.

Add the remaining ingredients for the frittata, and continue to whisk until the curry paste is completely incorporated.

Arrange 3/4 of the vegetables in your baking tin (reserving some to decorate) – I used a 27cm oval Le Creuset.

Once the vegetables are arranged, pour the frittata mixture over the top, and finish with the remaining decorative vegetables. Give the top a good spray with oil to prevent the vegetables from burning.Place the frittata in the oven for 35-45 minutes, or until it has completely set and the top is lovely and brown. I like to finish mine under the grill for a few minutes.Remove from the oven and serve with remaining Thai basil, toasted coconut flakes, chilli, and, if you're feeling fancy, a squeeze of lime juice.