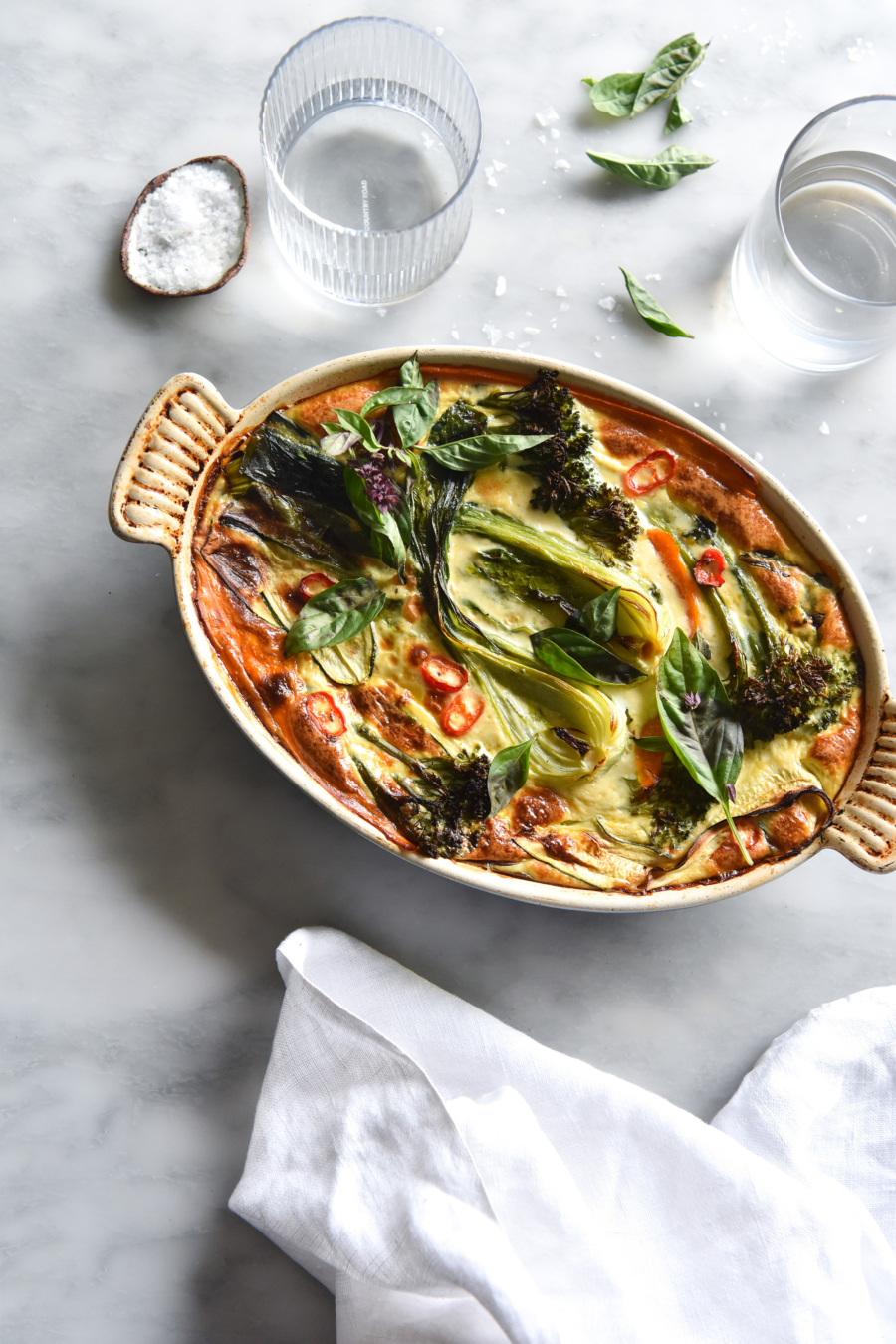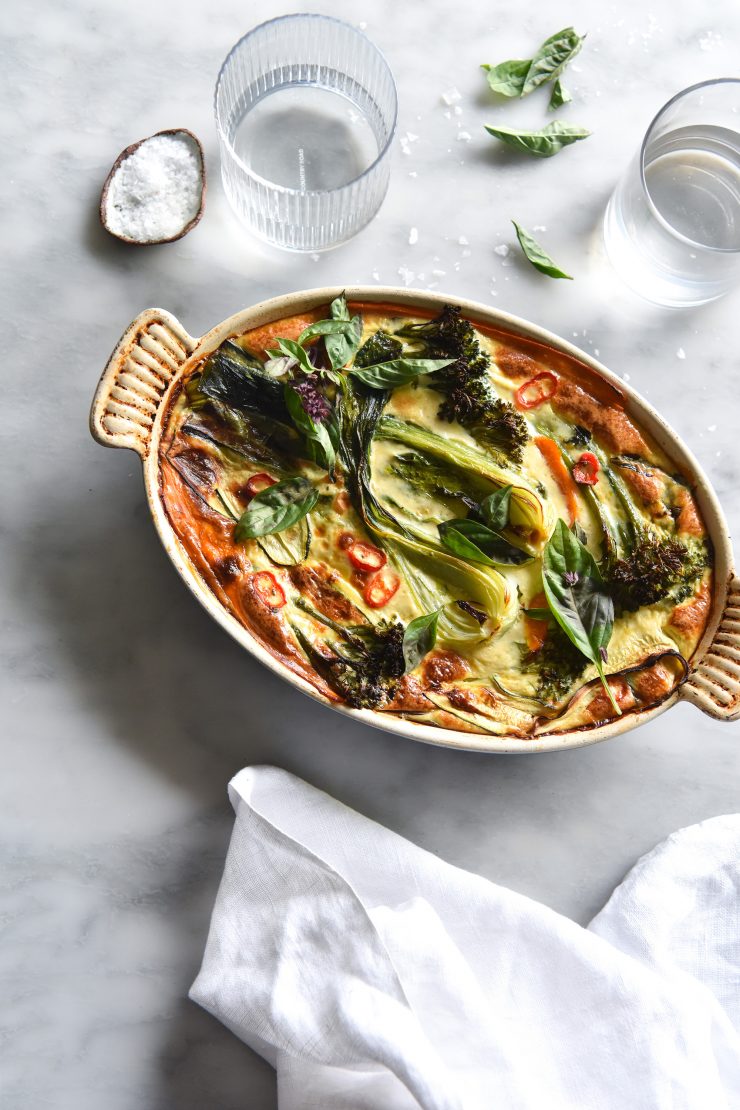 Despite the fact I almost never seem to develop them because they somehow seem a little too cheaty, I love a simple recipe. A five minute and into the oven job that I can keep in the fridge for breakfast/lunch/dinner, because the world of working from home is a lawless one. Lately, it has dawned on me that perhaps other people want these sorts of recipes too, given that they don't have all day to cook, as I do? Given that they have to leave the house early and eat lunch somewhere that isn't their bedroom floor, as I do not? Please confirm I'm onto something here.
In terms of my ideal easy breakfast/lunch/dinner, I'd like it to be portable, to be able to use my hands, and I'd like my protein to be combined with my veg, because A) the height of convenience and B) if I have the choice between a boiled egg and a brownie I'm testing, I will eat that brownie. A harsh truth.
So, a portable, held held, protein veg combination. Basically synonymous for frittata. This recipe was developed for my pals at Australian Eggs, and I promise you that it fits all the aforementioned criteria. In addition, it's dairy free, gluten free, FODMAP friendly, and vegetarian. What says party in the front, 'it's Sunday and I have to make lunch for the next week' in the back like an intolerance friendly Green Thai frittata? Or, on a meal prep note, furikake rice with crispy miso glazed tofu and broccolini?, Nothing, that's what, so here's the recipe.
FOR THE FRITTATA:
Vegetables:
1 bunch of broccolini
2 carrots, peeled and mandolined or finely sliced lengthways
1 large or 2 small heads of Pak choi, thoroughly rinsed
1 small zucchini, mandolined of finely sliced lengthways
Frittata:
6 700g eggs
1 tin of coconut milk, or 3/4 of the tin if you like a firmer frittata
1 1/2-2 teaspoons green thai curry paste (I recommend Mae Ploy brand – I use 1 1/2 teaspoons because I have a pathetic spice tolerance but if you don't, you can use more)
1 teaspoon sea salt
1 teaspoon coriander powder
Good splash of chilli sauce (use Tabasco for a lower FODMAP option than sriracha)
Handful of Thai basil, roughly chopped
Squeeze of lime juice or 1 teaspoon of rice vinegar
Generous freshly cracked pepper (you can use white pepper for a more pronounced taste)
Good grating of kaffir lime (I freeze them when they're in season and grate the frozen one straight in)
To serve:
A handful of toasted coconut flakes (I toast mine in the oven at 180 degrees with a light spray of oil and a pinch of salt for around 5 minutes)
Chilli
Remaining Thai basil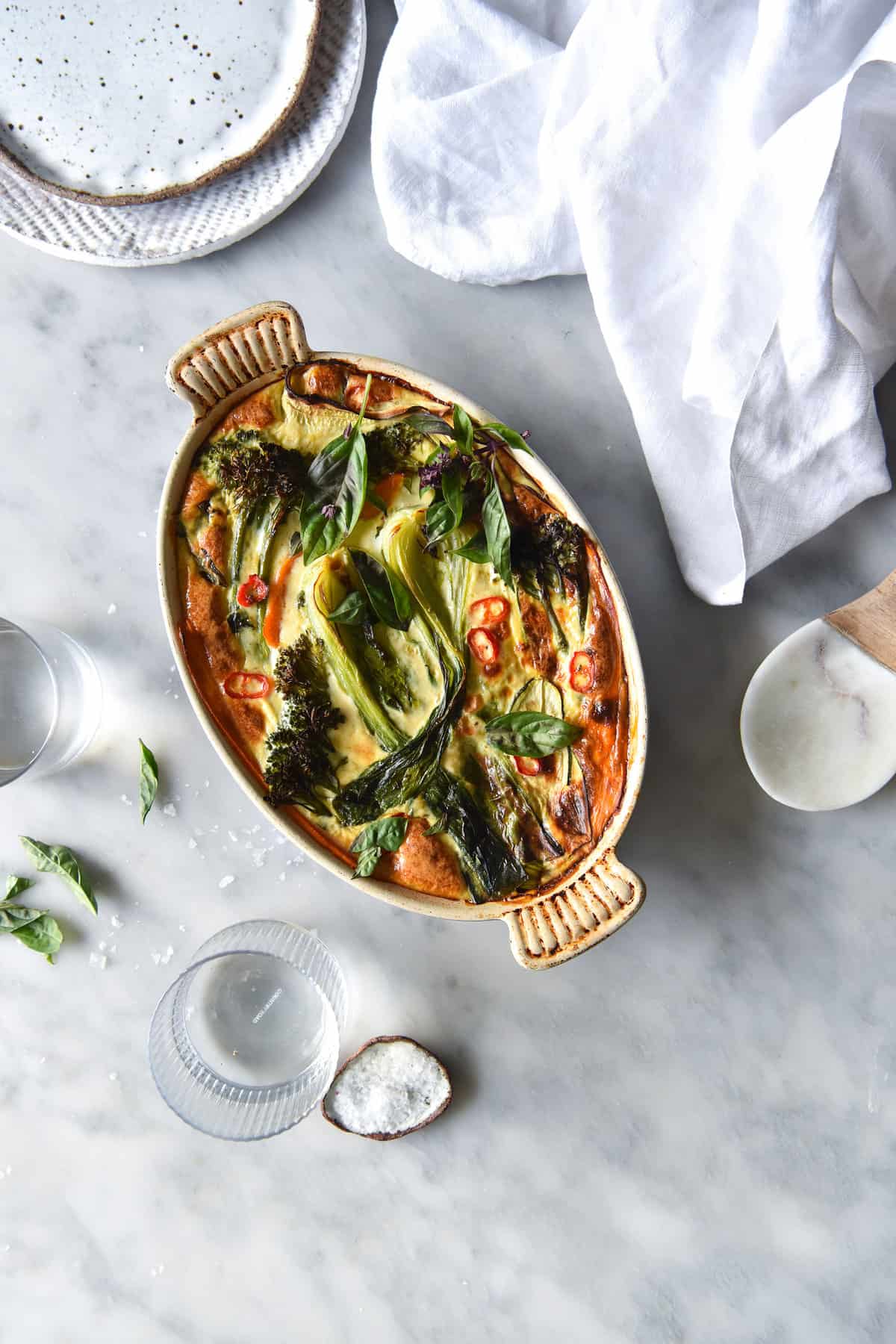 METHOD:
Bring a medium sized saucepan of salted water to the boil and blanch the broccolini and carrot slices for a couple of minutes. Transfer them to a sieve to steam dry, and blanch the pak choi extremely quickly – ideally the leaves will remain firm.
Preheat the oven to 180 degrees Celsius.
Using a large bowl, whisk the eggs vigorously until the whites have broken down. Add the remaining ingredients for the frittata, and continue to whisk until the curry paste is completely incorporated, and the mixture smells fragrant.
Arrange 3/4 of the vegetables in your baking tin (reserving some to decorate) – I used a 27cm oval Le Creuset. If you're using a tin with sticky tendencies, you might need to give it a spray with oil first. Once the vegetables are arranged, pour the frittata mixture over the top, and finish with the remaining decorative vegetables. Give the top a good spray with oil to prevent the vegetables from burning.
Place the frittata in the oven for 35-45 minutes, or until it has completely set and the top is lovely and brown. I like to finish mine under the grill for a few minutes.
Remove from the oven and serve with remaining Thai basil, toasted coconut flakes, chilli, and, if you're feeling fancy, a squeeze of lime juice.