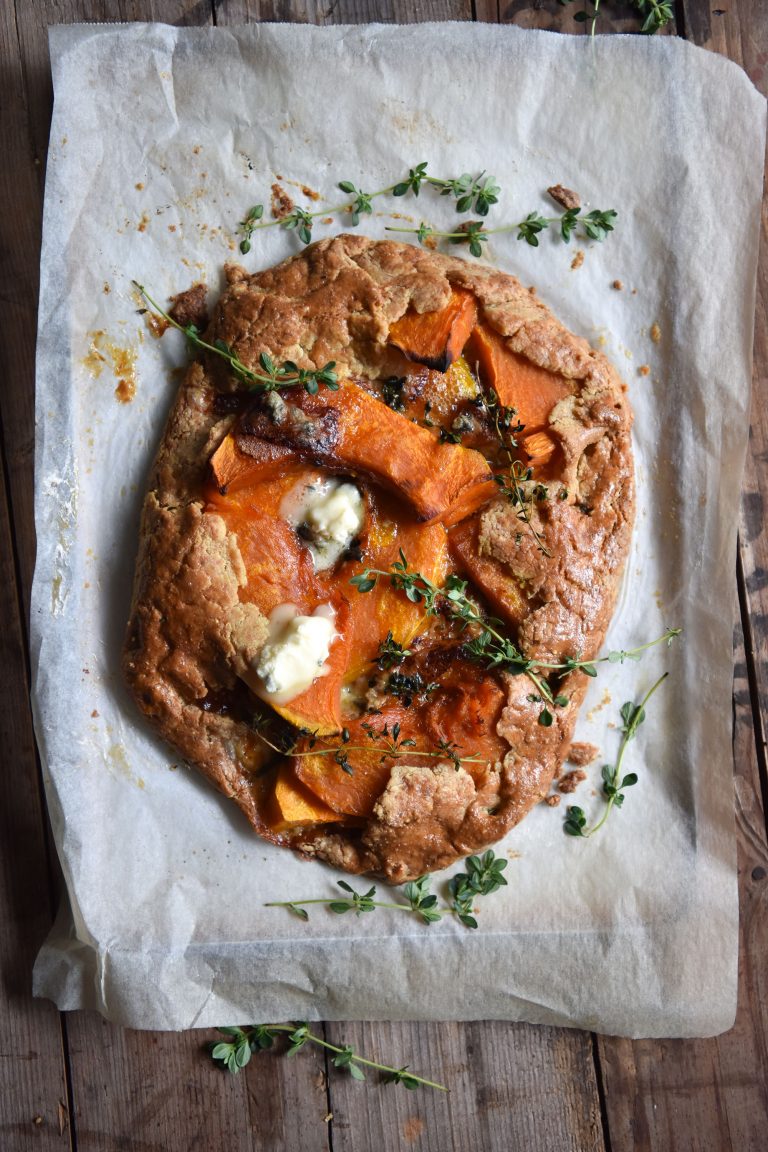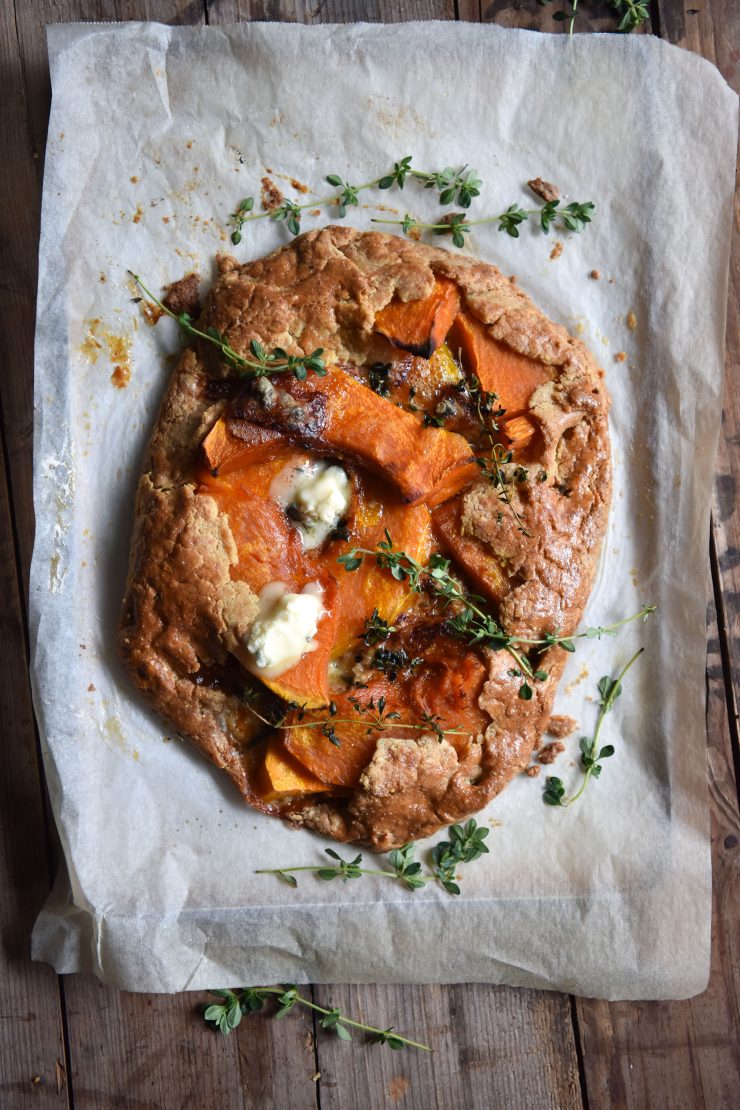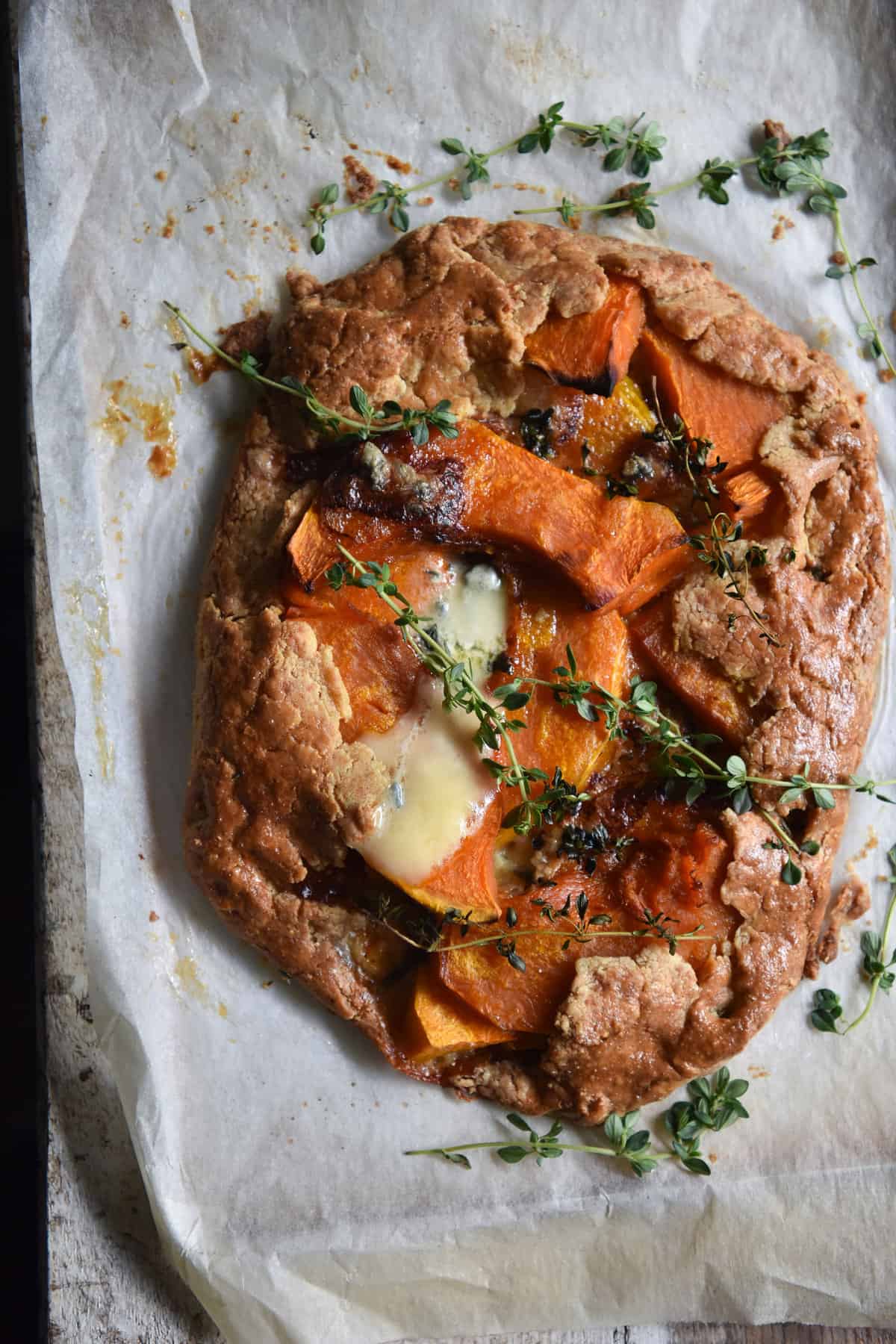 By now you all know that I love me a galette. Having the patience of a youthful chimpanzee, I loathe crimping pastry into neat little fluted tins or shapes. Particularly gluten free pastry, which is fickle at the best of times. You also probably know of my new affinity for quinoa flour, and quinoa pastry.
I recently invested in a Nutribullet, and was delighted to discovered that I could make my own quinoa flour, straight from the grain. Simply process it in smallish batches, giving the machine time to cool down between attempts. Voila, quinoa flour! Quinoa pastry! Quinoa quinoa quinoa!
In all seriousness, I am very much enjoying this quinoa pastry recipe. It's nut free, crumbly, nutty, with the added bonus of a lil extra protein from the quinoa. It's relatively inexpensive and very easy to make, all the while being gluten free, FODMAP friendly, and gum free. Huzzah.
What are my future plans for this pastry? Well, I'd quite like to try it out in a spinach ricotta style scenario, or even as a flaky pastry for a tart. This fig, blue cheese and pumpkin tart and ye olde zucchini mandoline and ricotta, herb and caper filled tart come to mind.
The recipe itself? Very much FODMAP friendly. The quantity of honey used should be an absolute non issue given how many servings it makes, but you can use maple syrup in it's place if you're particularly concerned.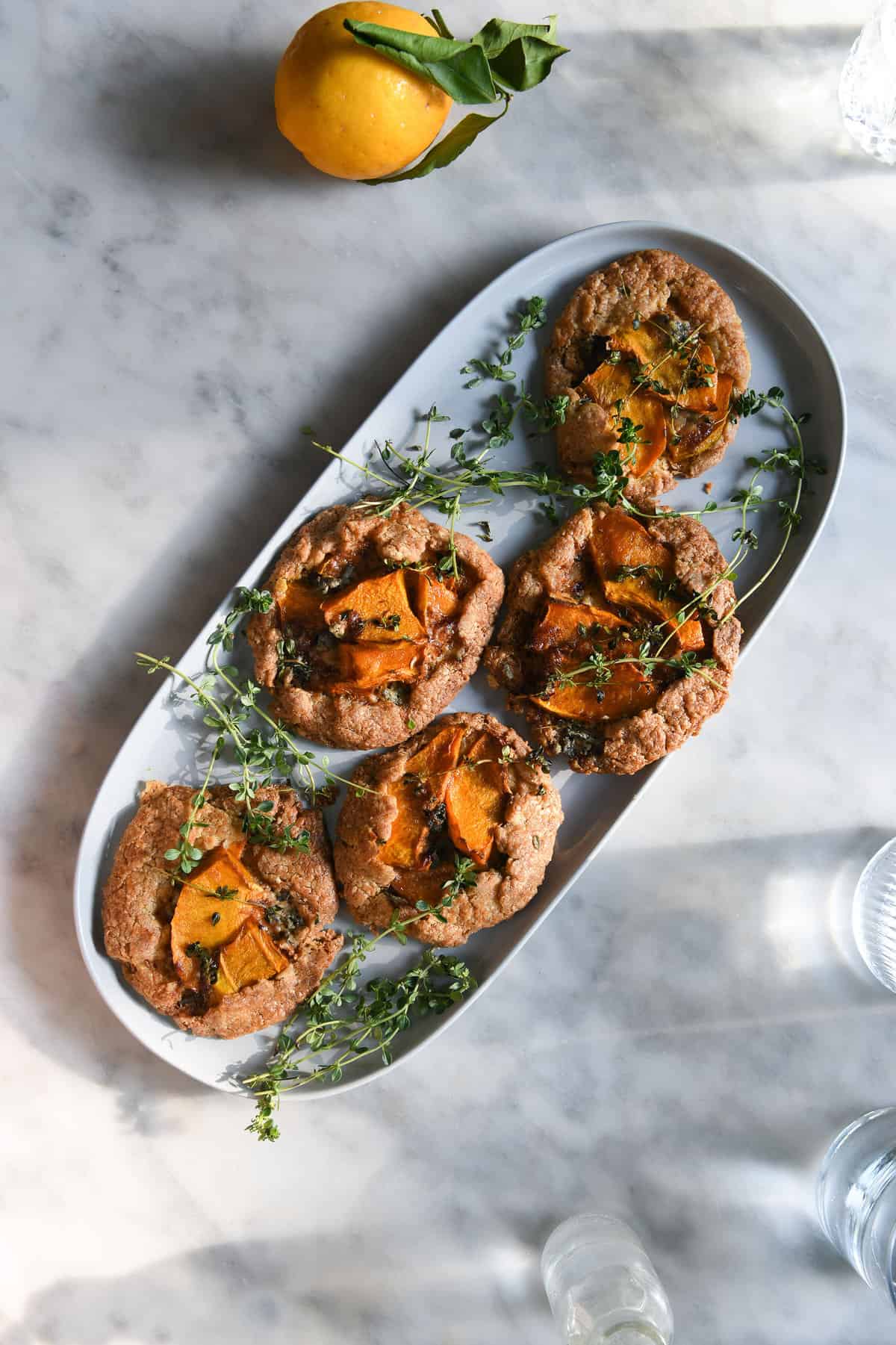 Gluten free pumpkin, blue cheese, honey and lemon thyme galettes with a quinoa pastry
Gluten free, FODMAP friendly, vegetarian, and foolproof
Ingredients
FOR THE PASTRY
2/3

cup

quinoa flour

70g

1/2

cup

brown rice flour

60g

1/4

cup

tapioca flour

30g

25

g

finely and freshly grated parmesan

Good pinch of fine salt

1

tablespoon

psyllium husk

125

g

cold butter

I put mine in the freezer for 15-20 beforehand

2-3

tablespoons

ice water

only as needed
FOR THE ROASTED PUMPKIN
400-500

g

pumpkin

2

teaspoons

olive oil

2

teaspoons

honey

Generous salt and pepper

Half the bunch of lemon thyme
TO FINISH
100

g

good quality blue cheese

Lemon thyme

to garnish

1-2

teaspoons

of honey

to finish

Sea salt flakes and freshly ground pepper

1

egg

whisked for egg wash
Instructions
Preheat the oven to 180 degrees Celsius. Line an oven tray and prepare the pumpkin by covering it with oil, honey and seasoning, before laying it on the tray. Once the oven is ready, cook the pumpkin for 20-30 minutes, depending on the size you cut it. Keep in mind that it will be cooked again when it is encased in the pastry.

Combine the flours, parmesan, salt and psyllium husk in your food processor, and blitz to combine. Add the butter, pulsing the mixture until it just begins to ball up, and looks like sandy crumbs. Add the water as and when it's necessary, one tablespoon at a time, until the mixture looks pliable but moist. Gather it into a ball with your hands and place it in the fridge to cool.

Once the pumpkin is cooked, remove it from the oven and allow to cool.

To roll out the pastry, divide it into six balls, and take two sheets of baking paper. Sprinkle the first sheet thoroughly with tapioca flour, and place one ball of pastry dough on top. Sprinkle the dough with a little more tapioca, and then lay the second sheet on top. Use your rolling pin now to roll the dough out in the little paper sandwich. It's the easiest way to roll out gluten free dough. If at any time the dough is sticking, use a bit more tapioca flour.

After you have rolled out a galette, fill it with an even portion of pumpkin and blue cheese. Add a bit of lemon thyme, and use your hands to roughly gather up the edges, pressing them firmly into the pumpkin to ensure they stick. Repeat with the remaining galettes.

Once the galettes are filled and ready, gently brush them with a well whisked egg.

Place the galettes on a lined baking tray, and into the oven for 20-30 minutes to cook. You can brush them with some milk, water or eggwash to make them shiny and brown. You can also drizzle over a little extra honey in the last ten or so minutes, for a bit of caramelized sweetness.

Allow the galette to sit for 5-10 minutes before cutting or moving it. It's a sensitive gal and any rash movements straight out of the oven might break it. Give it time to breathe/firm up.