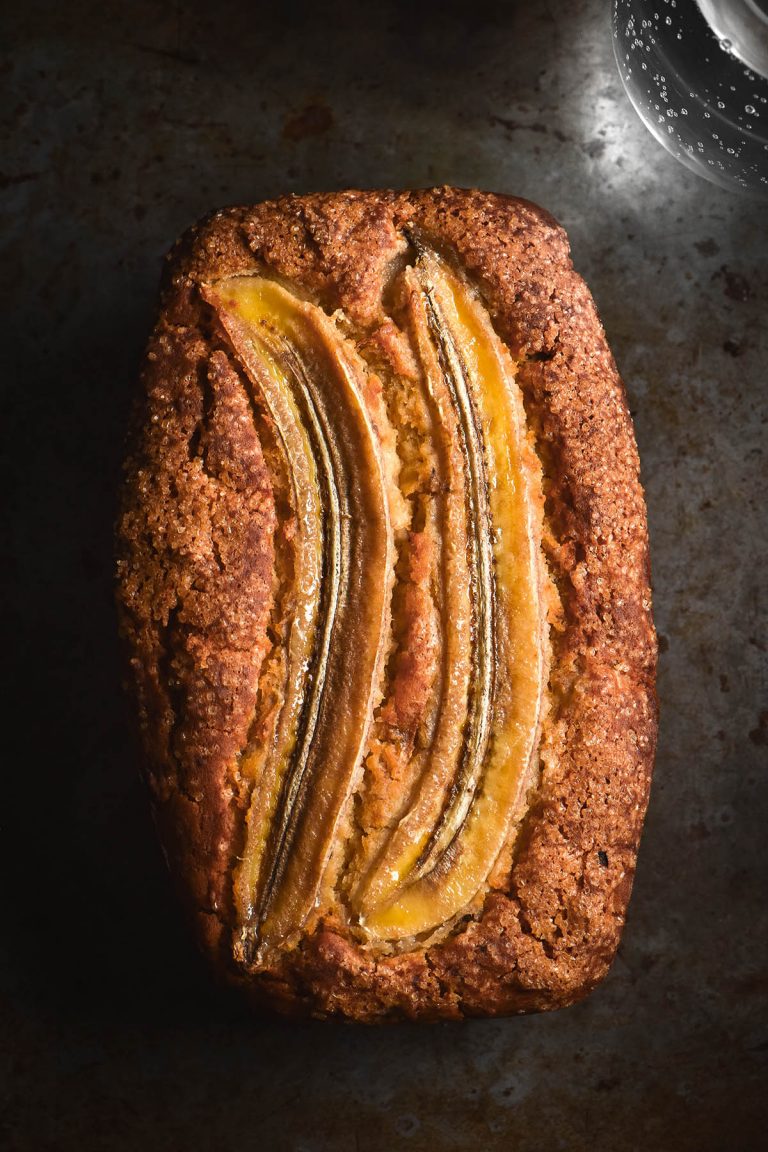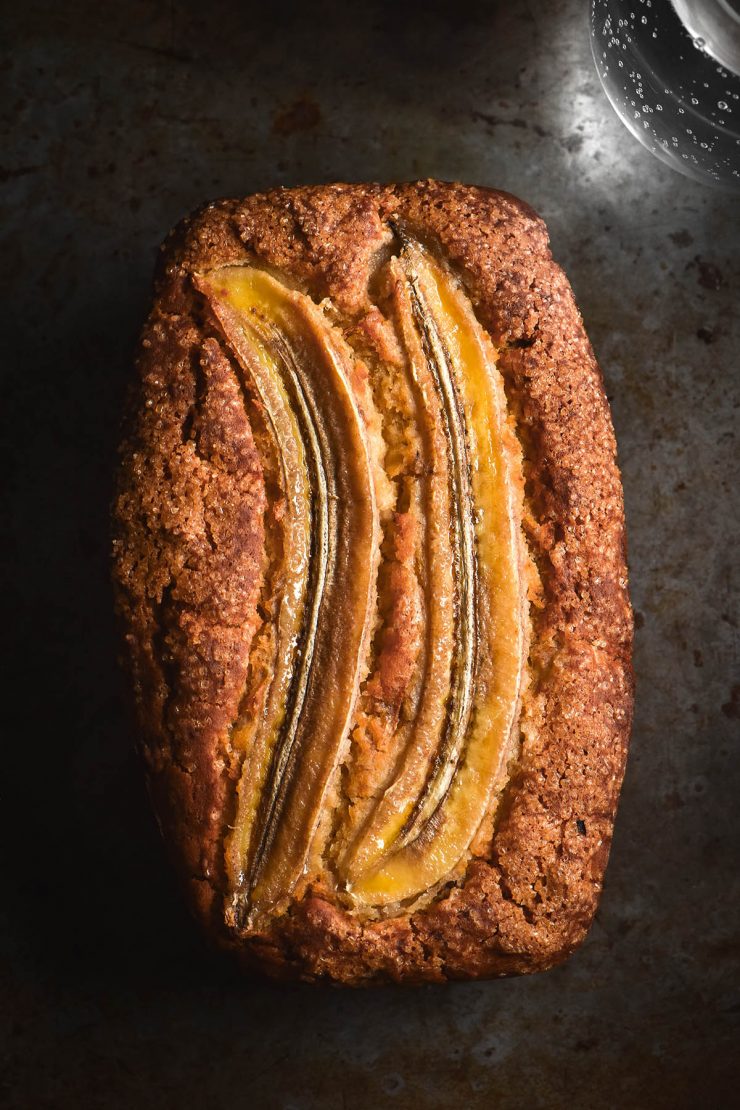 I have a specific preference when it comes to eating bananas. Just ripe, sweet but super firm, with nary a brown spot in sight. Anything beyond that? You better believe it's going in banana bread. With a glut of overripe bananas, today's recipe had to be this gluten free dairy free banana bread.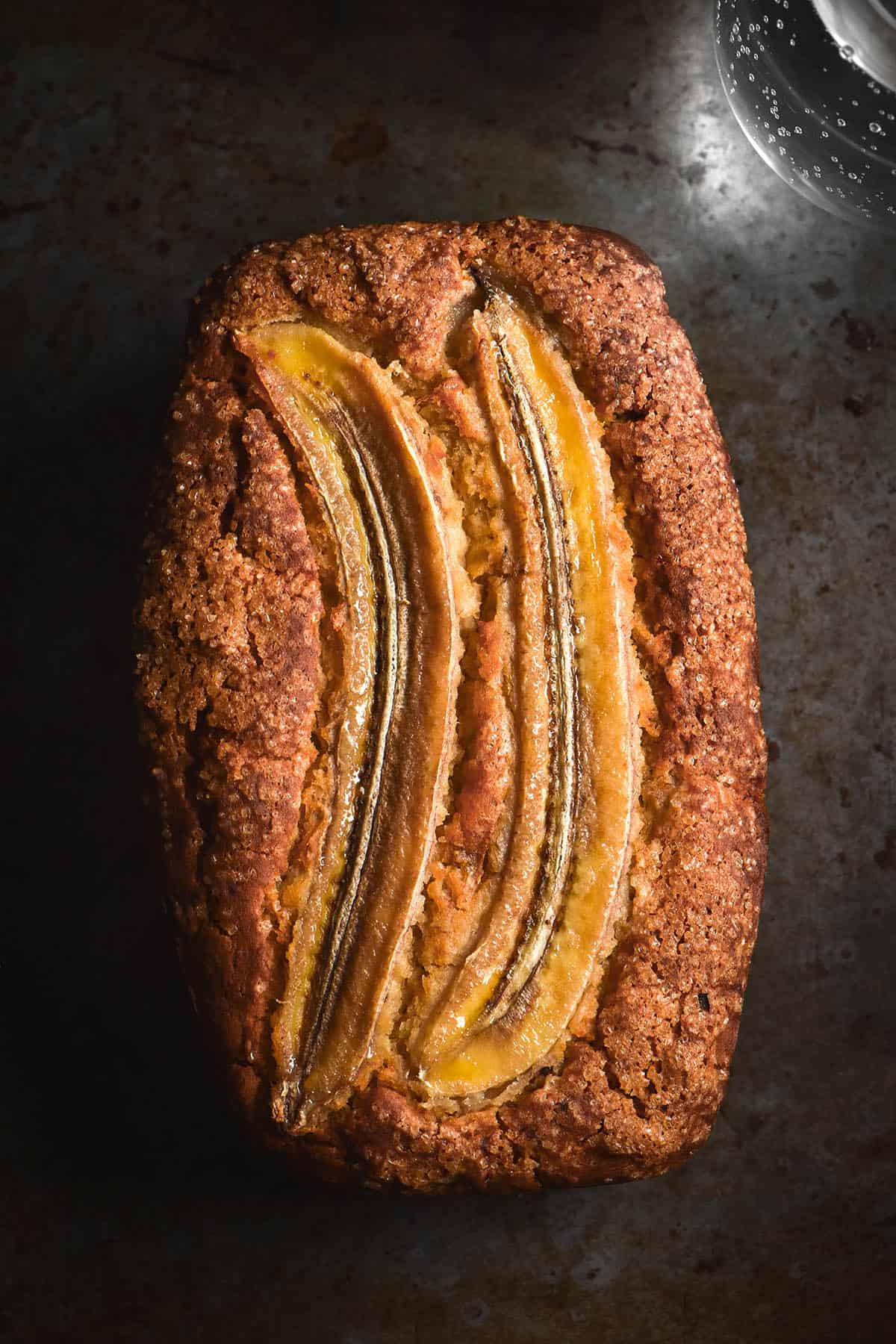 Gluten free dairy free banana bread
This banana bread uses a very simple mix of ingredients for a delicious, dairy free result. Bananas and a small amount of brown sugar provide sweetness, binding and flavour. Eggs aid further in binding and also in leavening. Some vegetable, olive or coconut oil and dairy free milk act as dairy replacements, and a bit of baking powder and soda finishes things off.
This banana bread is xanthan gum free and nut free. It's assembled in a single bowl, with no fancy equipment needed. A quick, easy and delicious gluten free dairy free banana bread that will keep on the counter for days. What's not to love?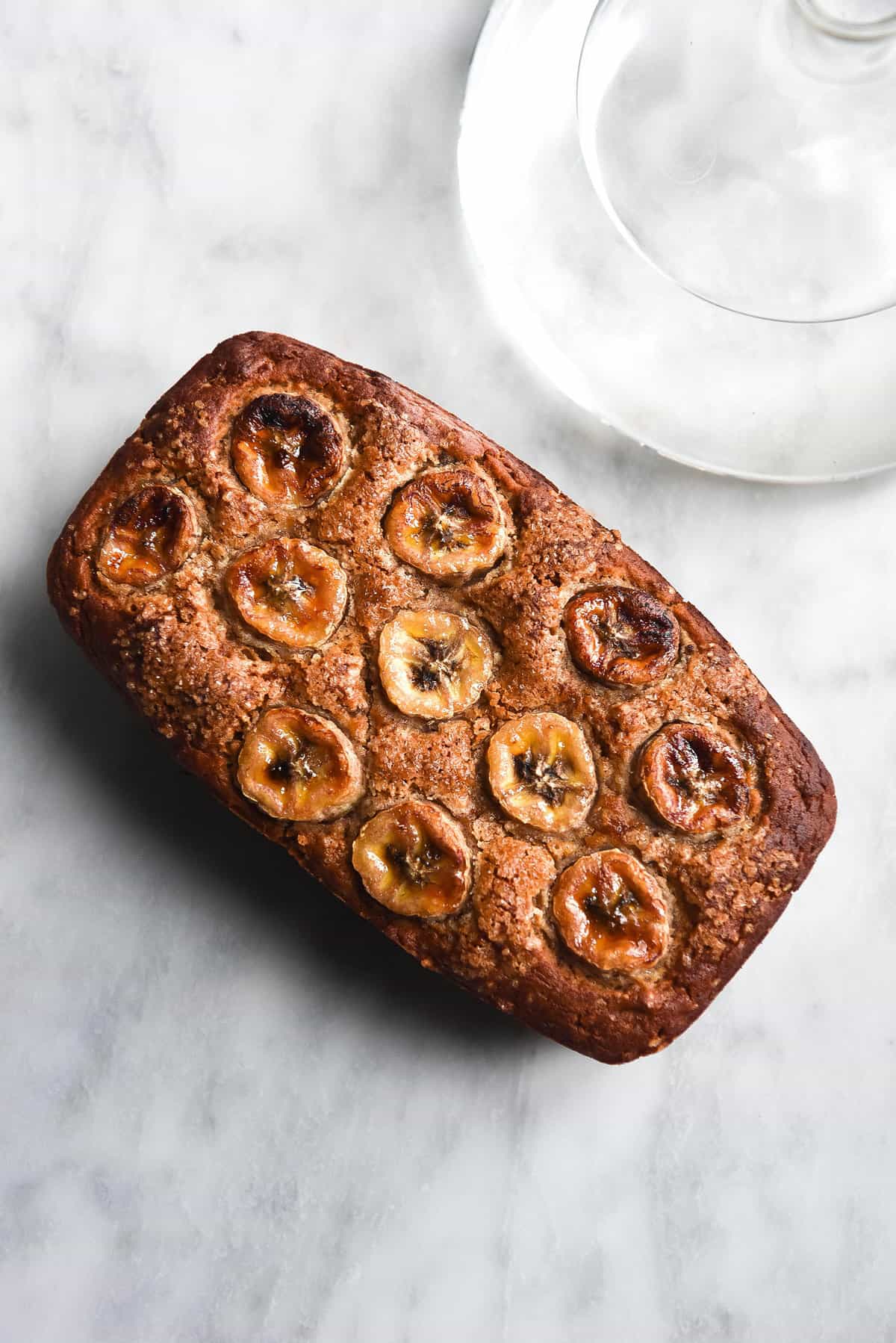 Recipe notes for your gluten free dairy free banana bread
As always, I recommend sourcing good quality, fresh rice flour. If you use a gritty and musty rice flour, you will be able to taste it in the bread.
If you'd prefer, you can use cassava flour in place of the tapioca flour. I would recommend adding a tablespoon extra milk and oil to compensate for the absorbency of cassava flour.
The sugar isn't of structural importance in this banana bread, so white sugar or panela/rapadura sugar are suitable replacements. Coconut sugar would likely also work, but it is high in fructose so I don't often use it. If you have fructose issues, I wouldn't recommend it here as the banana bread already contains a substantial amount of bananas.
I have no experience with allulose, monk fruit or any other sugar replacements, unfortunately.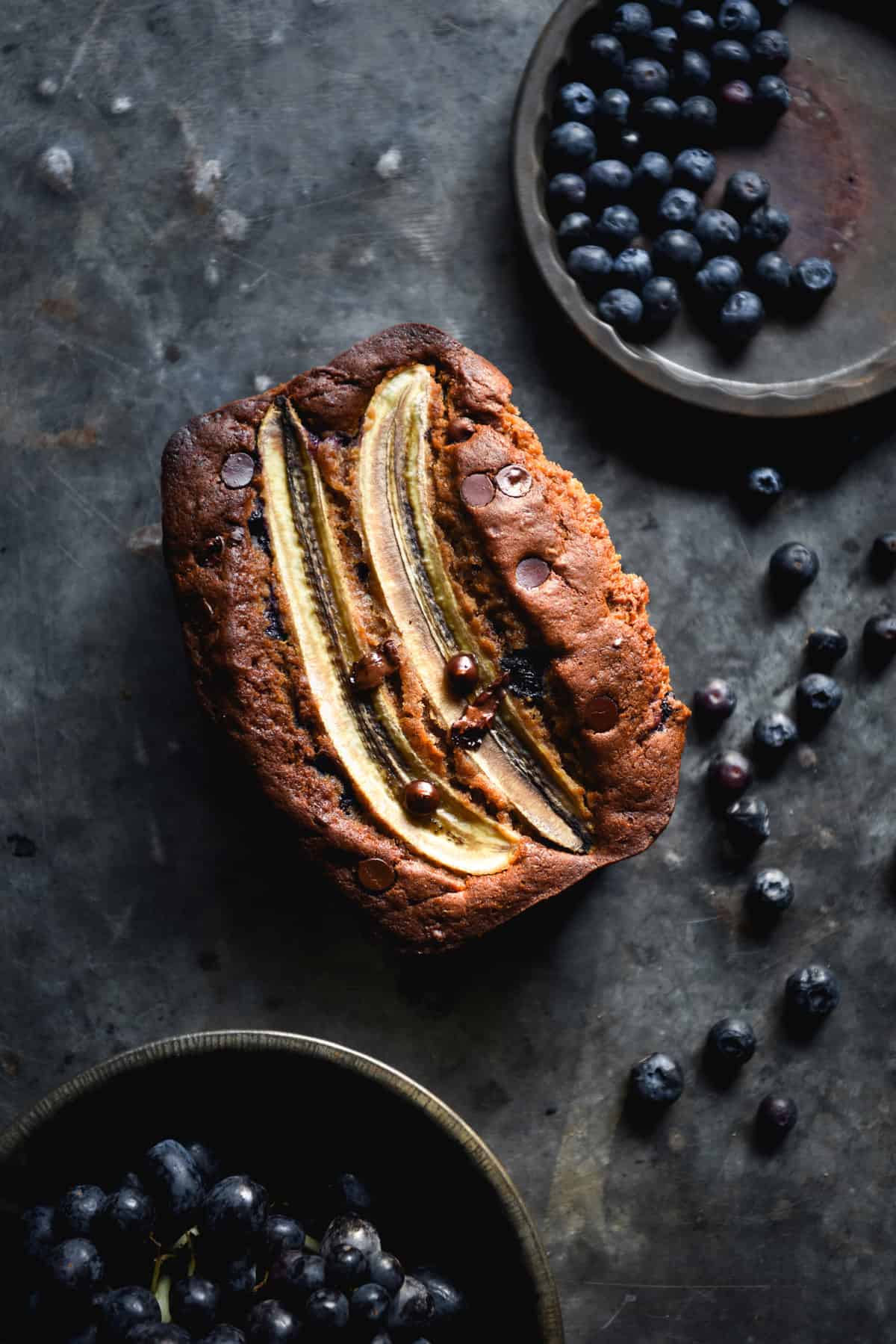 FODMAP notes for your gluten free dairy free banana bread
This recipe is not explicitly designed to be low FODMAP. Bananas have a FODMAP threshold, however, so you can make the bread work for you.
Ripe common bananas are low FODMAP in 35g serves at the time of writing. This means that you can use common ripe bananas if you slice the loaf into 9 serves. I generally like to slice 8 so it's a little thinner than usual, but it does work.
Just ripe common bananas are low FODMAP in 100g serves. If you use these, this gluten free dairy free banana bread is well under the low FODMAP threshold per serve. You can also experiment with using some ripe and some just ripe for extra banana flavour.
Finally, ripe sugar bananas (lady finger or the cute little bananas) are low FODMAP in 112g serves. You can use these for the best of both worlds – ripe banana flavour and a low fructose content.
I have tested slightly underripe bananas and they didn't make a good banana bread. It wasn't banana in flavour, nor sweet enough. If you want a low FODMAP loaf, try my gluten free pumpkin loaf.
All the other ingredients in this banana bread as written are low FODMAP. If you use coconut sugar, that changes the equation.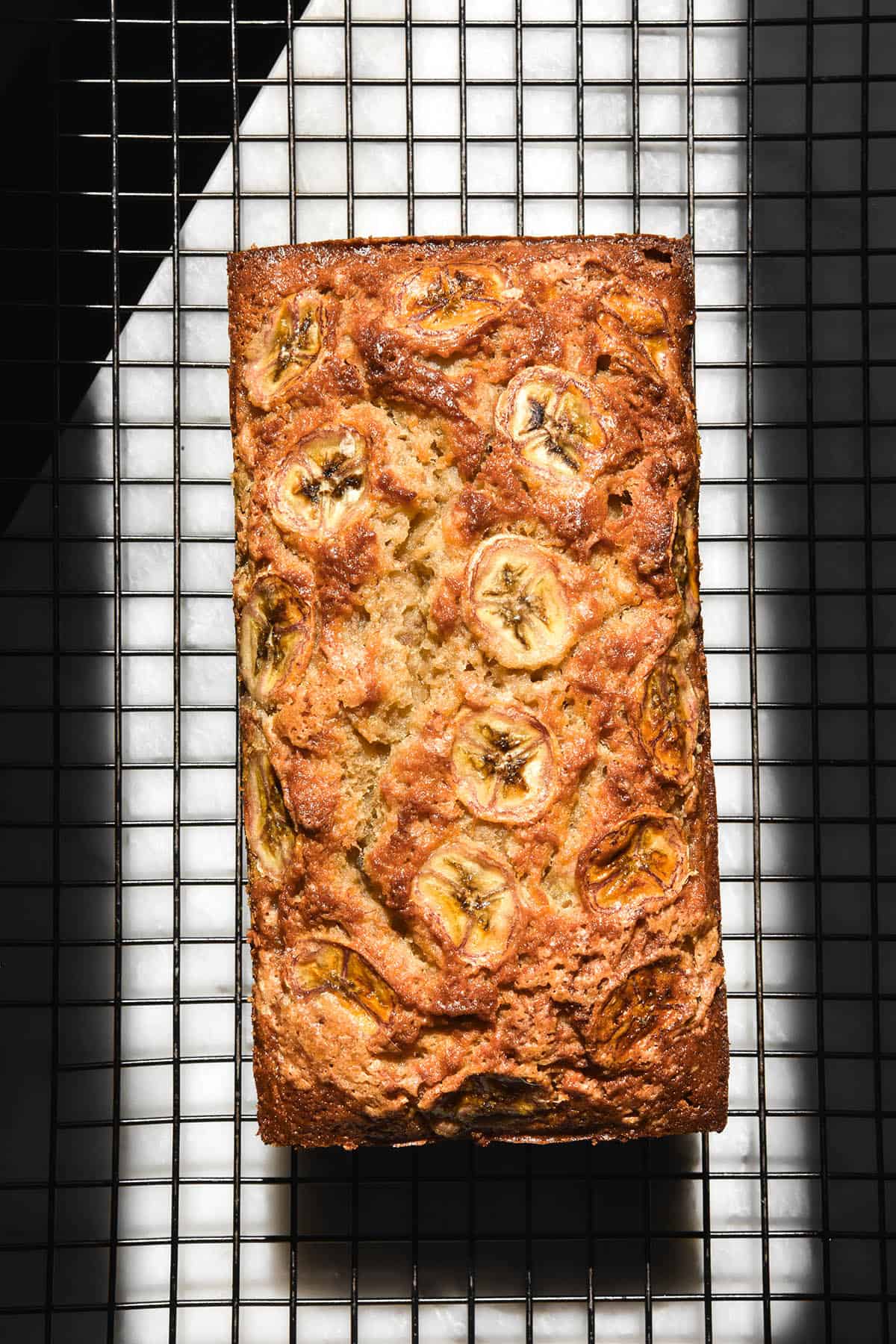 Additional flavour suggestions
This banana bread can be flavoured with any number of different things. You can add some cinnamon and or nutmeg for a bit of spice, or throw in some dairy free chocolate chips. I like adding blueberries to my banana breads, but raspberries or mixed berries would also work well.
In terms of nuts, walnuts are always classically associated with banana bread. I daresay some hemp seeds or toasted sesame seeds would make excellent additions, too.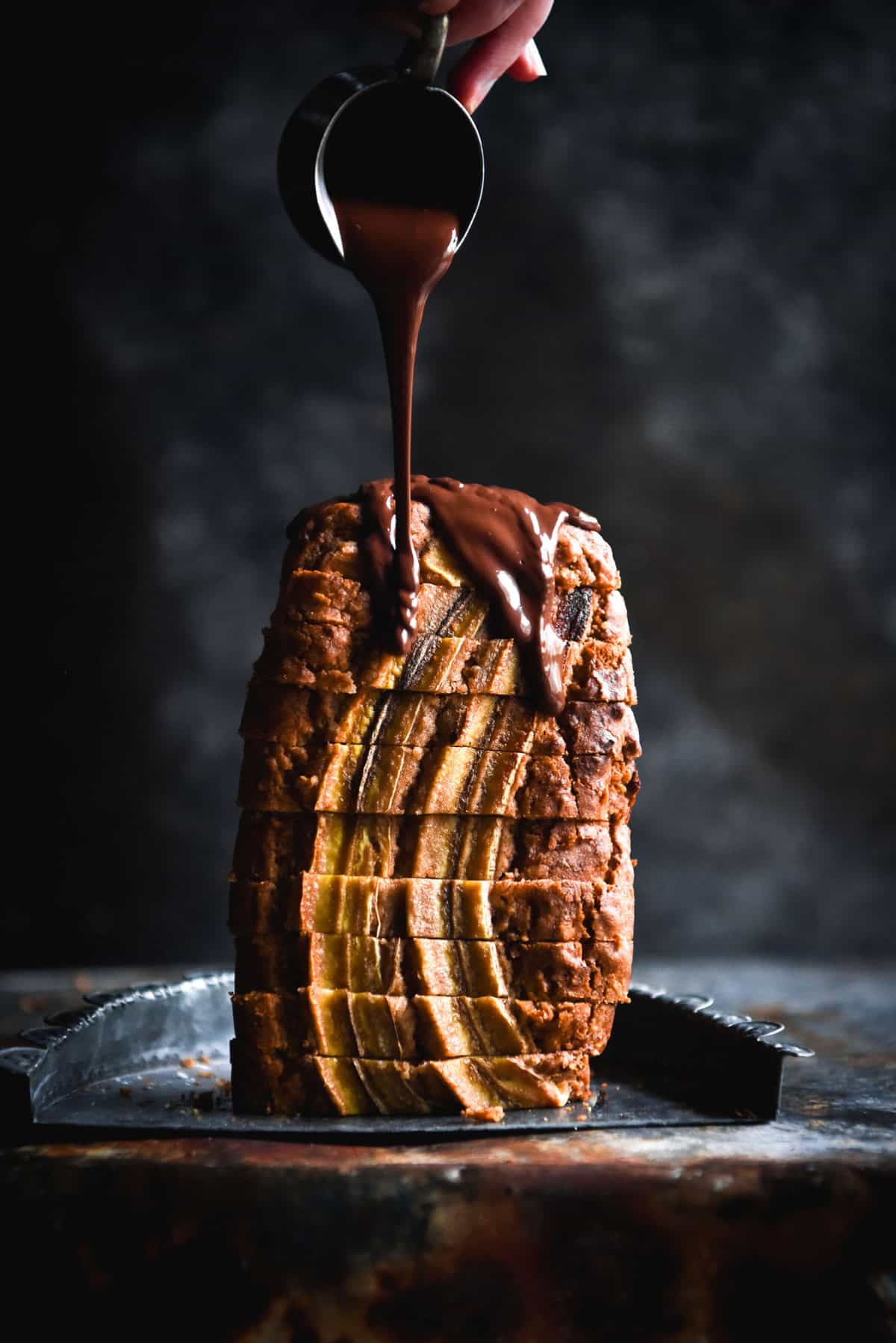 More gluten free banana recipes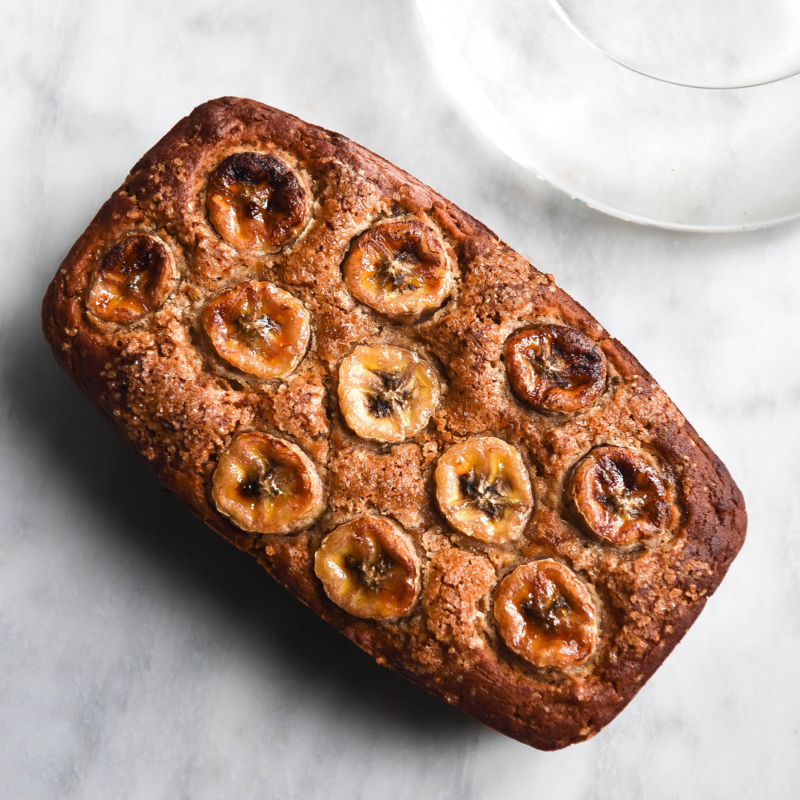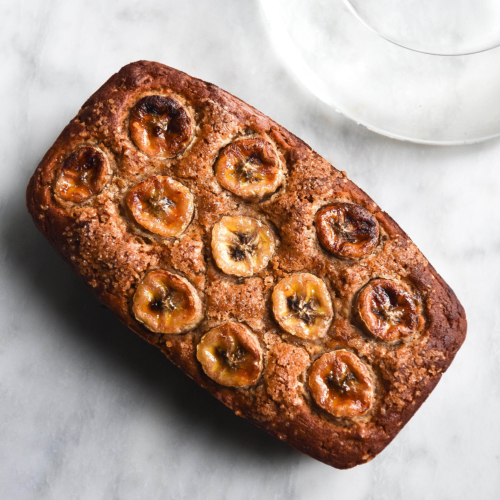 Gluten free dairy free banana bread
Cups and measures are in Australian cups and measures. Use gram weights for international accuracy.
1 Australian tablespoon = 4 American, Canadian and New Zealand teaspoons.
1 Australian tablespoon = 3 1/2 British teaspoons
Ingredients
300

g

ripe banana

see body of post for lower FODMAP options

150

g

light brown sugar

60

ml

(1/4 cup) vegetable or neutral oil

60

ml

(1/2 cup) dairy free milk of choice

2

extra large eggs

44-55g per egg, weighed out of shell

175

g

white rice flour

75

g

tapioca flour

3g

(3/4 teaspoons)

baking powder

1g

(1/4 teaspoon)

baking soda

1/4

teaspoon

fine salt
Instructions
Preheat the oven to 180C/356F. Grease a loaf tin. I have used an  22 X 12cm steel pan and a silicon loaf pan, both to success.

Mash the banana in a large mixing bowl, then add the light brown sugar, oil, milk and eggs. Whisk to combine, then add the flours, baking powder, baking soda and fine salt. Whisk until a medium thickness batter forms. Add any mix ins here if you are using them.

Decant the mixture into the greased loaf tin. You can sprinkle the top with finishing sugar or add on some extra banana coins.

Bake for 50 minutes or until golden brown and cooked through. Gently remove from the loaf tin and allow to cool for 10-20 minutes before slicing and serving.