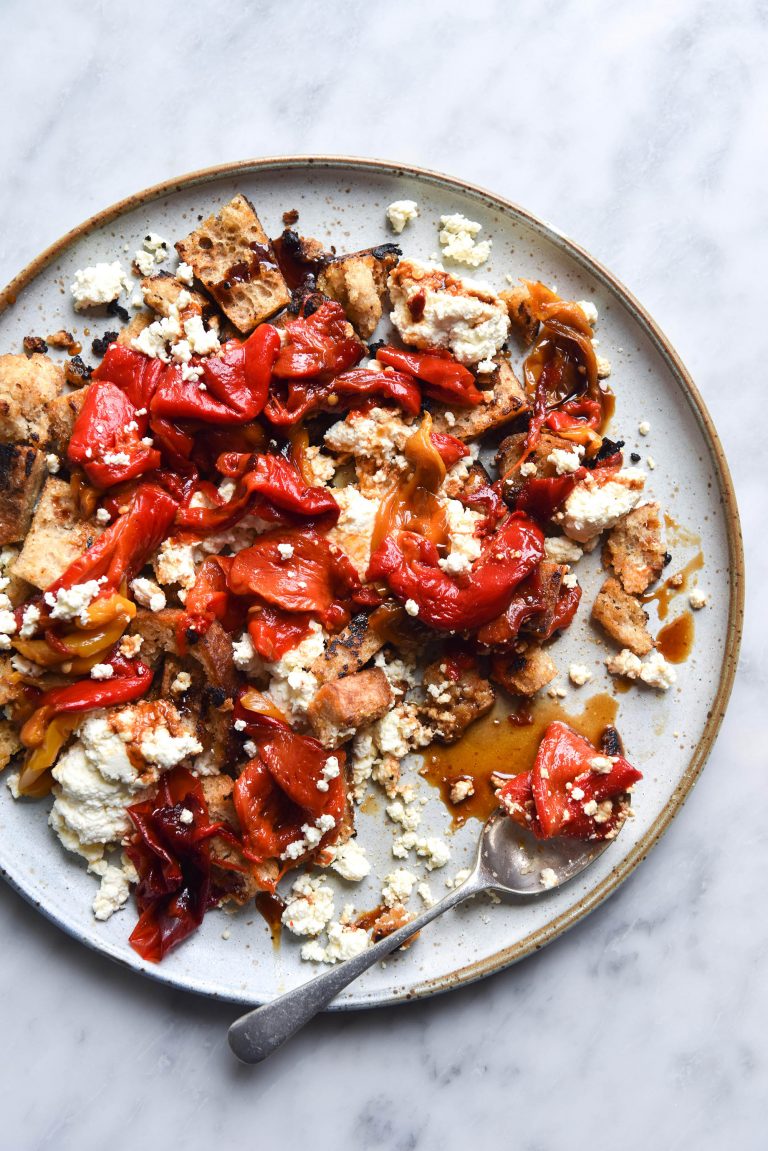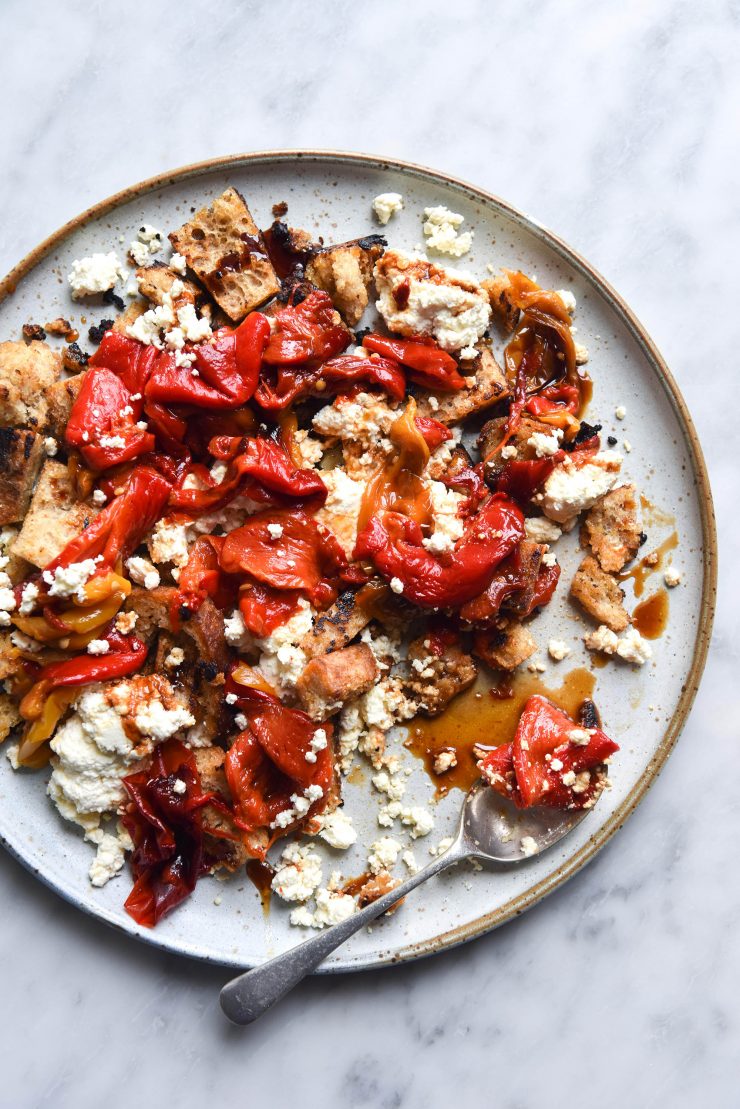 Honestly, roasted capsicums are my favourite vegetable second only to potatoes. Raw capsicums are OK, sure. But roasted? They cannot be beaten, my friends.
This recipe for roasted capsicums is a delightful way to use up stale gluten free sourdough. If you're anything like me in isolation, you've baked more than you can chew, so to speak. The quest for the perfect sourdough loaf doesn't wait for you to eat bread, obviously! You can find my original gluten free sourdough recipe here, and my white bread gluten free sourdough recipe here.
The recipe also uses lactose free ricotta and you can find my recipe linked. It's more of a 'ricotta' in the sense that it's a little bit cheaty and doesn't use cream. You can add lactose free cream if you fancy it – have a read of this Gourmet Traveller guide for more information.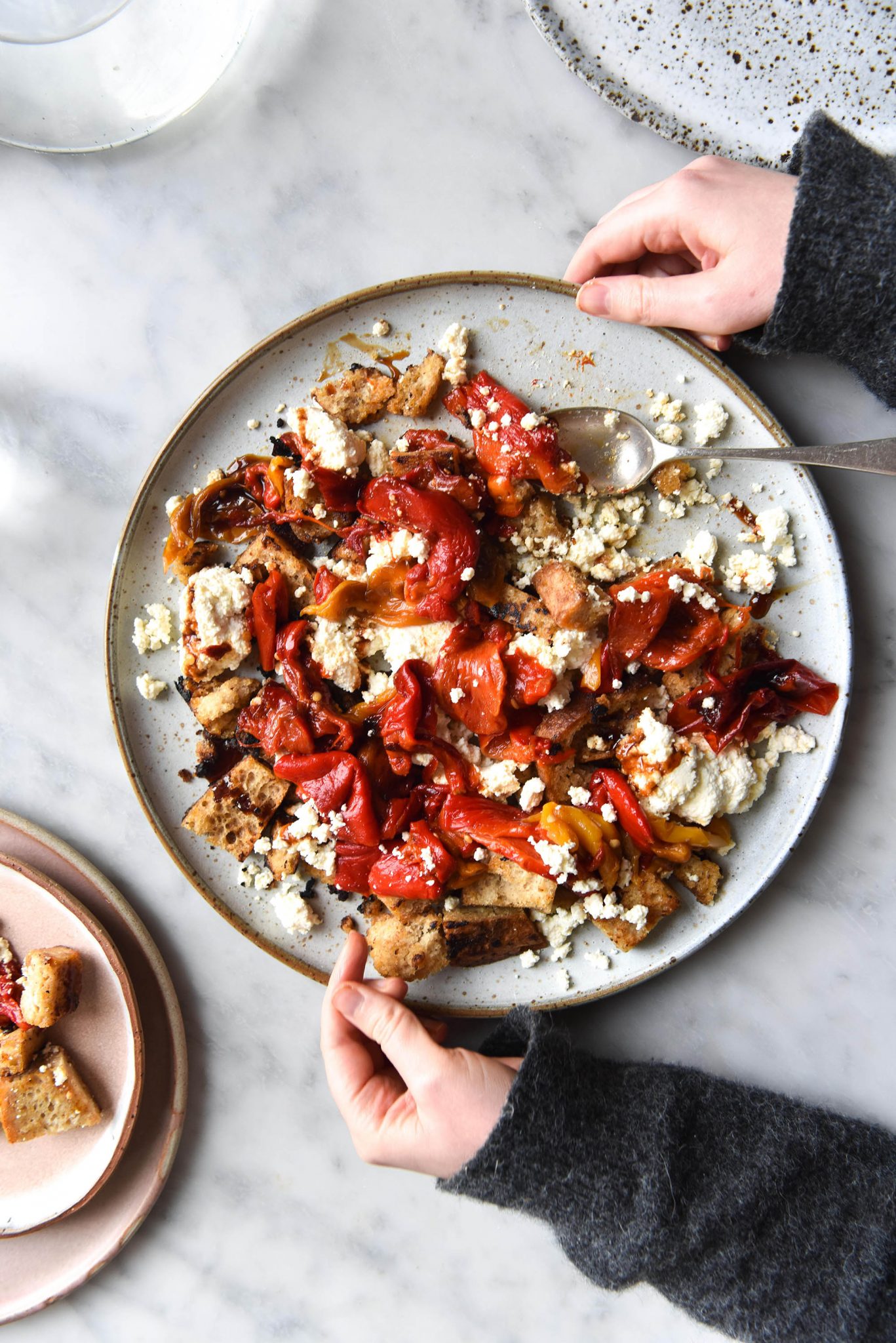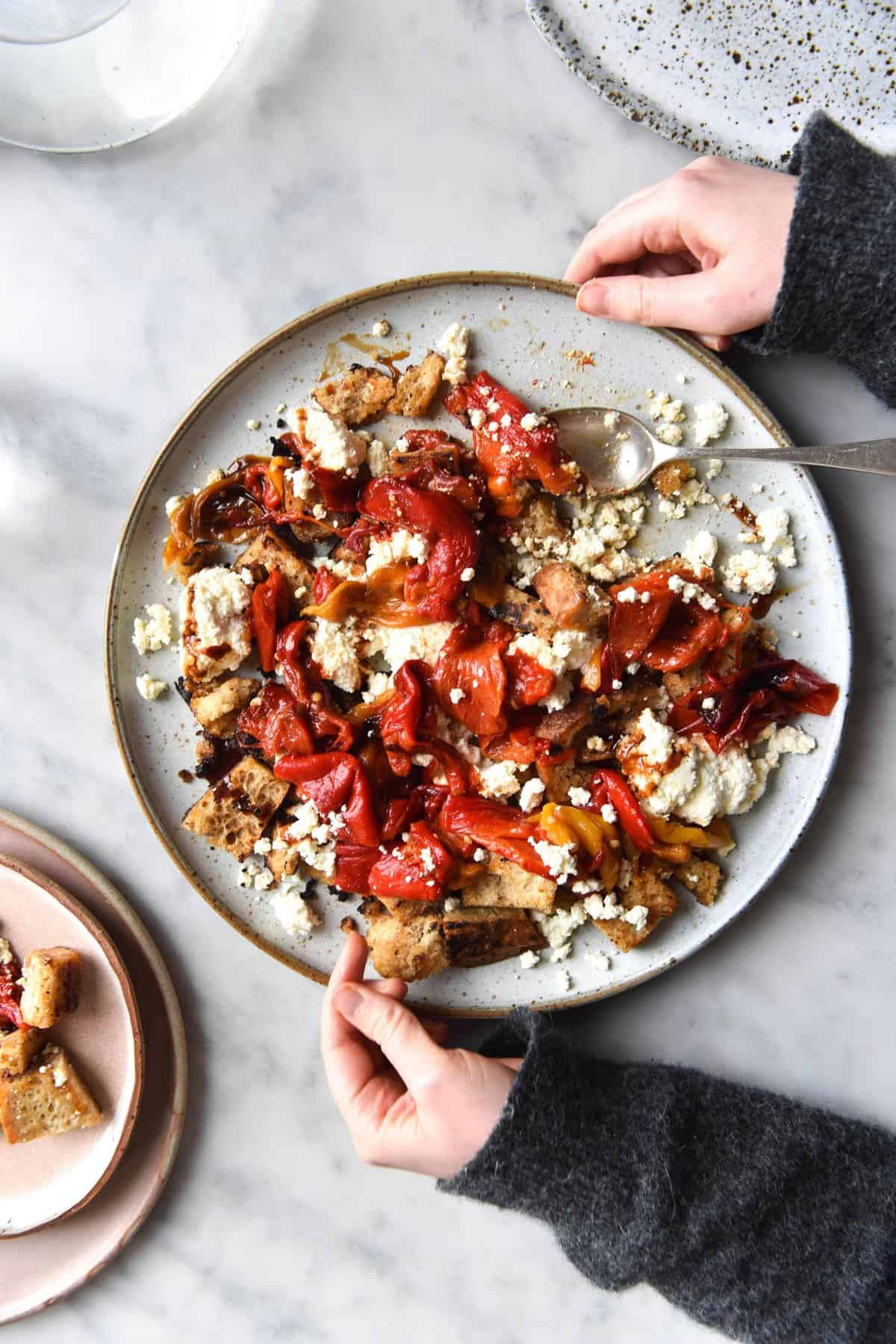 Recipe notes
This is a 'recipe not recipe' style dish. Scale up or down to use your leftovers as you see fit. This could also work well with other vegetables, although their roasting will vary. As you can see, I've used tomatoes in some of my iterations.
As discussed, the lactose free ricotta recipe is available here. If you don't need it to be lactose free, use a good quality, deli style ricotta.
Stale sourdough is actually best for breadcrumbs! Hurrah! That said, the breadcrumbs are best served immediately. If given time to cool they have a tendency to revert to being dry in the middle. You could consider breaking them up further if you're using particularly stale bread.
Add your oil as the breadcrumbs need it. If the bread is particularly stale, they'll need a little extra oil and a little more time on the heat.
Other nice additions include some herbs, chilli flakes or chilli oil, capers or olives. Really, anything goes.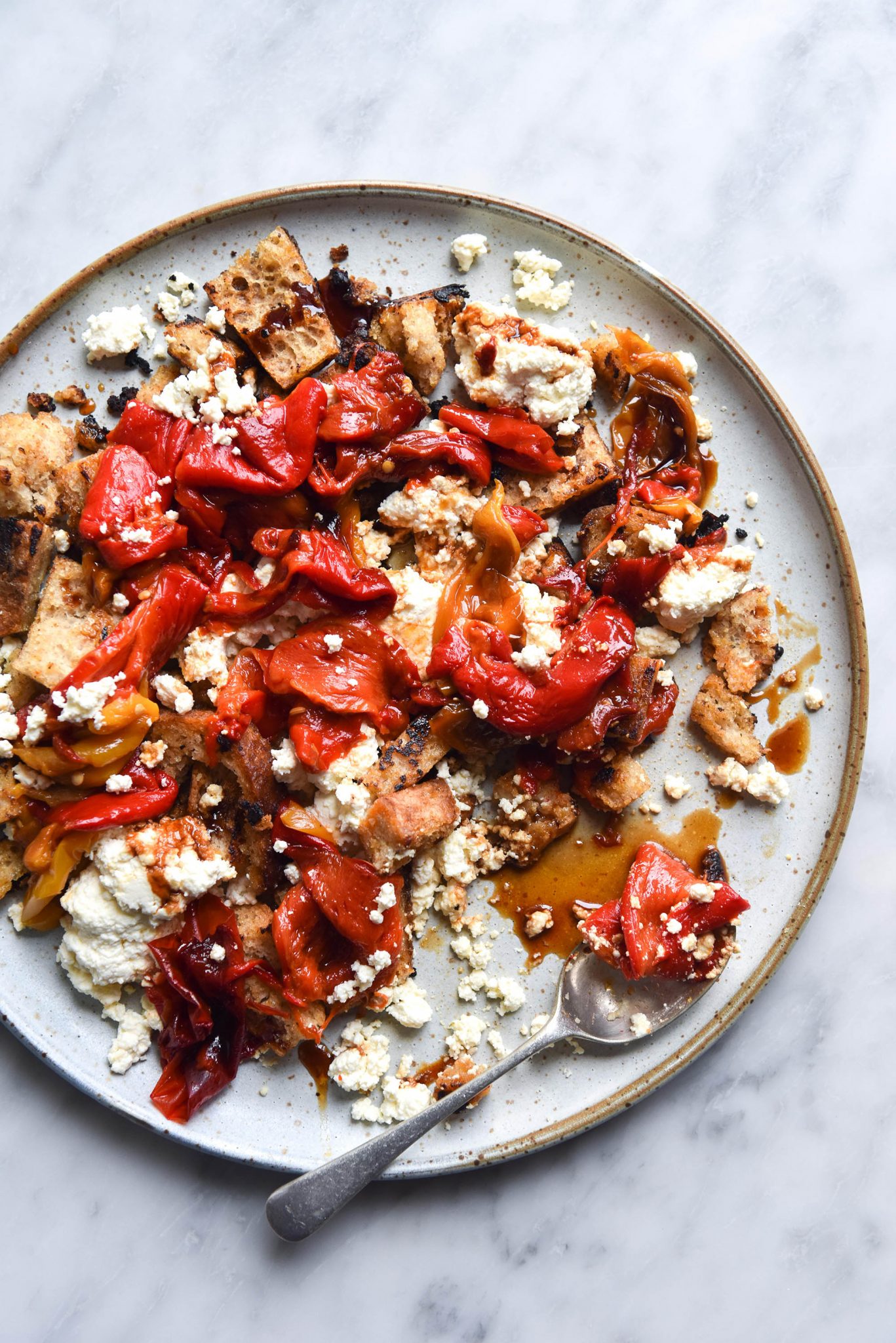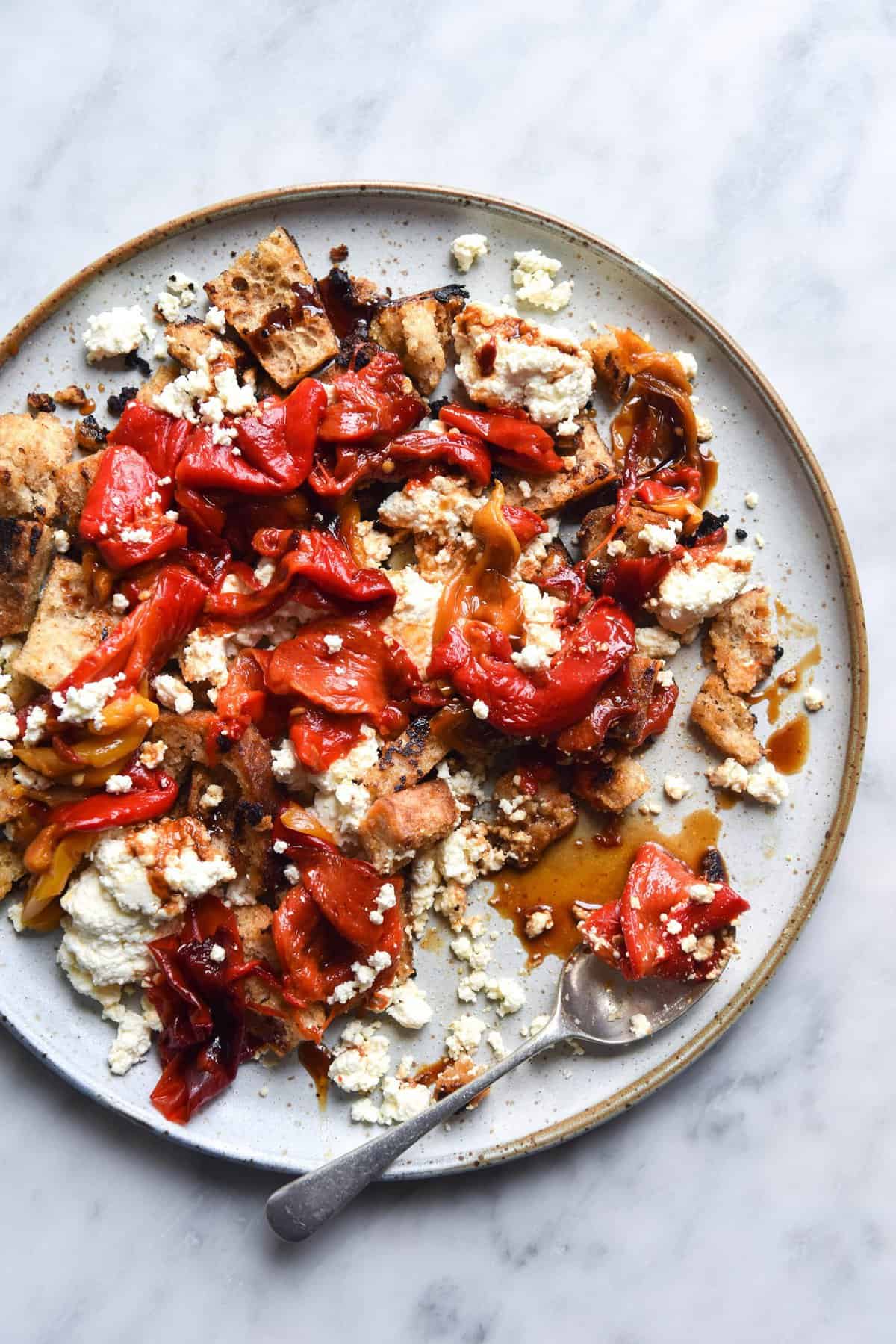 Tips for your roasted capsicums
Although not necessary, a very light coating of oil (put a teaspoon in your hands and rub it on) can help make the skin peeling process a little easier at the end.
NEVER wash or rinse your roasted capsicums to get the seeds off. You're essentially washing off all the flavour! Better off with lots of flavour and a few errant seeds than seedless and tasteless.
Save the liquid! It makes the most beautiful balsamic glaze with the addition of a little brown sugar. Scale up if you have extra liquid.
The skins can be blistered and burnt – this will add a caramelised flavour. It doesn't mean that the innards are burnt.
I cook my capsicums whole. Then, after 'steaming', I pull the stem out with the stem facing downwards, into a bowl. Out will pour a lot of clear-ish liquid (we don't need to keep this) and the majority of the seeds.
On the note of steaming: as soon as your capsicums are cooked, place them all in a heatproof bowl. Cover this bowl with a cool baking tray or something flat, and allow them to steam for 10-15 minutes. This makes the skin so much easier to peel off later.
Update:
Monash has recently updated the FODMAP content of red capsicums. A new low FODMAP serving size is 43g per serve. Larger amounts contain moderate to high quantities of fructose. SAD! If you react well to capsicums, no need to change anything. If you do, consider using green capsicums or using a variety of different vegetables in this dish. You could roast zucchini, pumpkin and/or some greens to adjust the FODMAP content. 
More vegetarian recipes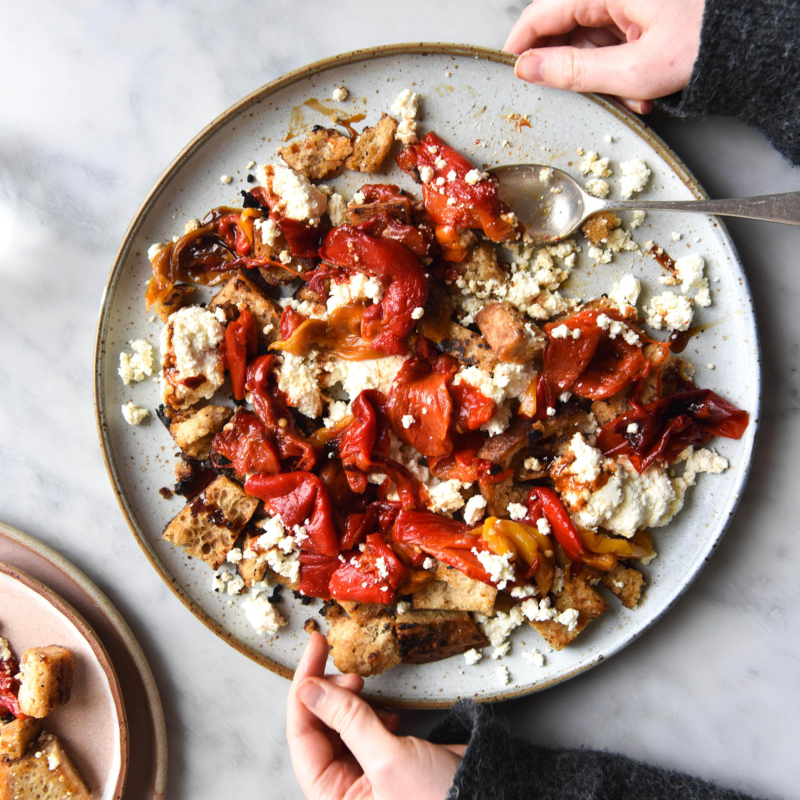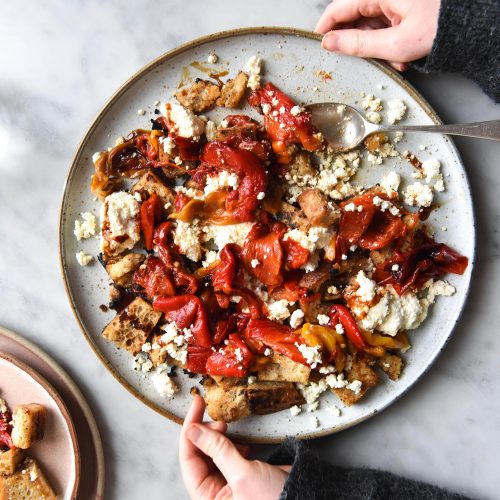 Roasted capsicums with ricotta and gluten free sourdough croutons
Gluten free, nut free, lactose free, FODMAP friendly, vegetarian
Ingredients
For the salad:
1

batch of lactose free ricotta

see notes for recipe or regular deli style ricotta

5-6

large capsicums

I used 4 large red and 2 small yellow
For the drizzle:
1-2

tablespoons

roasted capsicum liquid

scale up or down as you see fit

1-2

tablespoons

balsamic vinegar

1/2-1

tablespoon

light brown sugar

you can use an equal ratio of the three if you prefer a sweeter glaze
For the lemon croutons:
Stale gluten free sourdough

I used around 200g, see notes for recipe

Zest of 1 lemon

Salt and freshly cracked pepper

to taste

Good quality olive oil
Optional extras:
herb of choice

basil or mint would be nice

Some toasted nuts

pine nuts or walnuts would be lovely

Some chilli flakes

paste or oil

Olives or capers
Instructions
TO MAKE THE RICOTTA:
See the notes for a link to my lactose free ricotta recipe. If you're using store bought, proceed to the next step.
TO PREPARE THE CAPSICUMS:
Preheat the oven to 200C or 400F. Line a large baking sheet with baking paper so that no liquid will meander onto the tray. Rub a teaspoon of olive oil into your palms and light coat the capsicums so that the skin will be easier to remove later. Place the capsicums into the oven for 1 hour, or until their skin is blackened and blistered and flesh soft.

Remove from the oven and transfer into a heatproof bowl, liquid and all. Place a cool baking tray over the top so that no steam can escape. Allow the capsicums to sit for 10-15 minutes – the steam will assist in removing their skins.

Once the capsicums are cooled, take an individual capsicum and hold it over a bowl, stem facing the bowl. Pull on the stem and allow it, along with the liquid and (hopefully) seeds to fall into the bowl. Peel the capsicum and place the peel in the bowl, the flesh in a new bowl. Try to get the seeds off where possible but don't be precious about it, and definitely don't rinse the capsicum!

Repeat with the remaining capsicums until you have a bowl of beautiful roasted cap.
TO MAKE THE GLAZE:
Take 2-3 tablespoons of the capsicum juices and place them in a small saucepan with the balsamic vinegar and brown sugar. Cook over a low heat until the glaze thickens and becomes viscous.
TO MAKE THE LEMON CROUTONS:
Tear or slice your stale bread into small, bite sized chunks. If you can still tear it (super stale bread is easier to cut) torn pieces tend to get crispier and have a more interesting texture and appearance.

Heat a large skillet over a medium heat. Add a good glug of good quality olive oil – the staler the bread, the more oil it will need, but only add oil as you see fit.

Zest the lemon straight into the oil, and add the seasoning. Throw the bread into the skillet and toss well to coat in the oil and flavours. Turn the heat up a little and cook until the bread is golden brown and crispy. Again, add a little extra oil if necessary. These croutons are best served warm, particularly if the bread is super stale. They tend to dry up again inside if left to cool.
TO ASSEMBLE:
Layer all the ingredients on the plate and dress with the balsamic glaze. Add a little finishing salt and some freshly cracked pepper, along with any other extras you're using. Serve immediately if you can, although it does make nice leftovers provided you moisten the croutons a little.