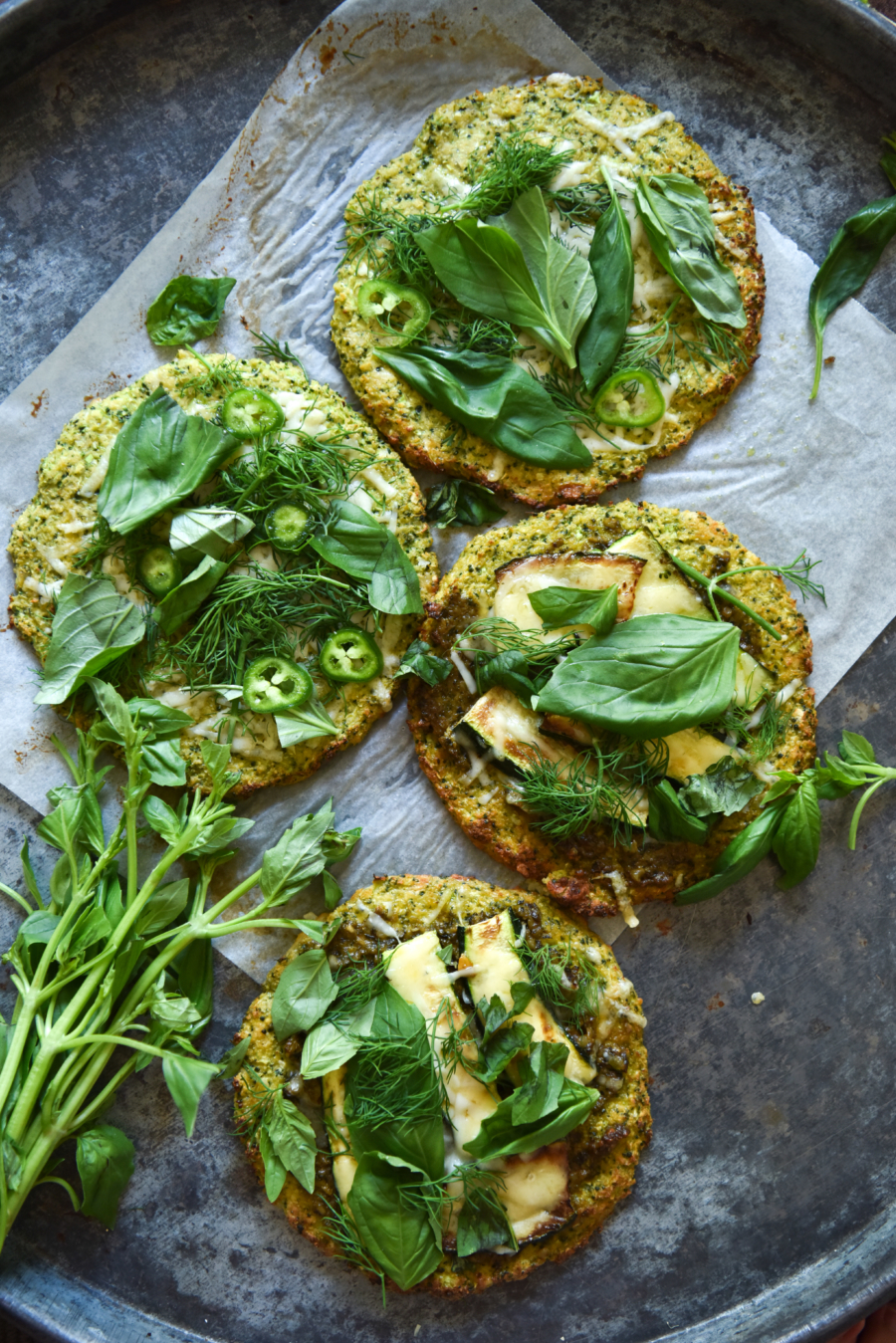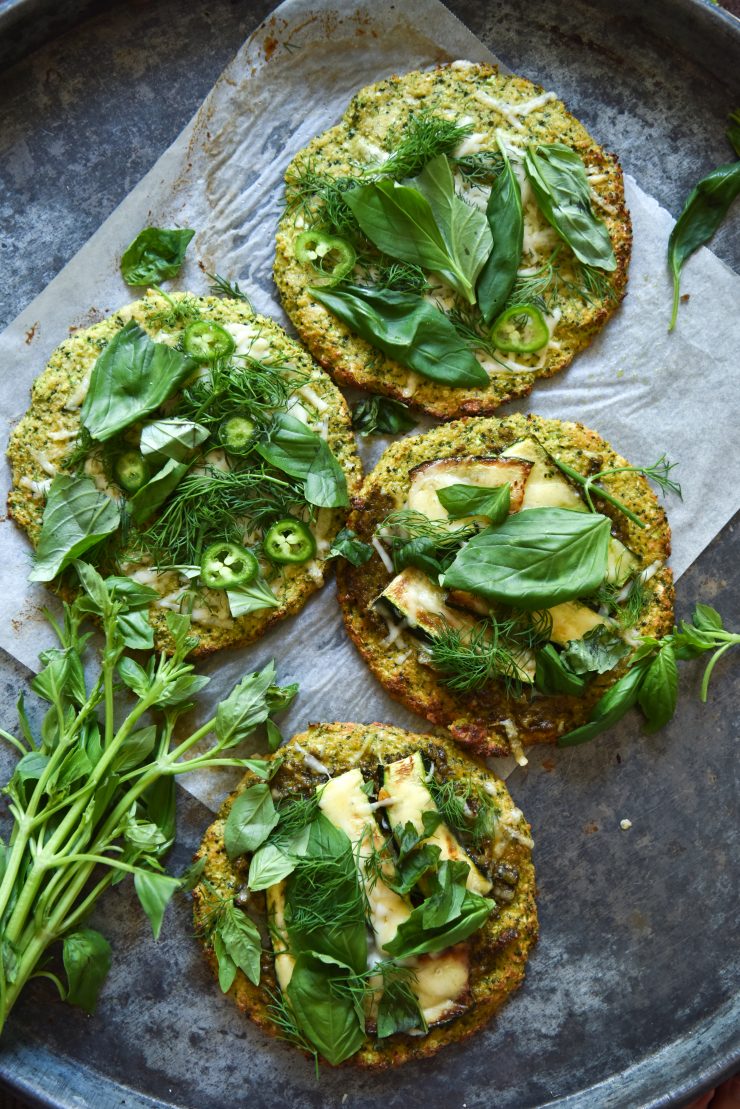 If you can't tell, these gluten free broccoli pizza bases are a product of 2013 Instagram, when edible flowers and all things pretty reigned supreme. They are kind of fun, though, and a great alternative to the traditional cauliflower pizza base.
I first discovered the healing properties of pizza at the height of my partying days, when ordering a pizza the morning after (don't judge) seemed to bring me back to life. While I have since made a conscious effort to reign in the partying (old gal takes a good two days to recover now) I was still very keen to keep the magic, excitement and restorative qualities of pizza night alive, in the form of a gluten friendly, grain friendly pizza. Enter gluten free broccoli pizza bases.
Gluten free broccoli pizza bases
These pizza bases are grain free, gluten free and paleo. They are made without xanthan gum, and a fun alternative to cauliflower pizza bases. They use broccoli, almond meal, eggs and parmesan to form a mean and green pizza. Although these bases are not FODMAP friendly, I've kept them on the site because people ask me for the recipe
Top that with whatever you fancy, but here are some FODMAP friendly options to get you started:
Fennel, zucchini, spinach, rocket
Tomatoes, pumpkin (Japanese or Kent are the lowest FODMAP) eggplant, roasted capsicum
Any and all sorts of herbs
Sundried tomatoes, olives (ensure they contain no garlic) or capers
Cheddar, extra Parmesan, Blue cheese, mozzarella, or a cheese substitute if you are hyper intolerant (check the label first though)
More gluten free pizza recipes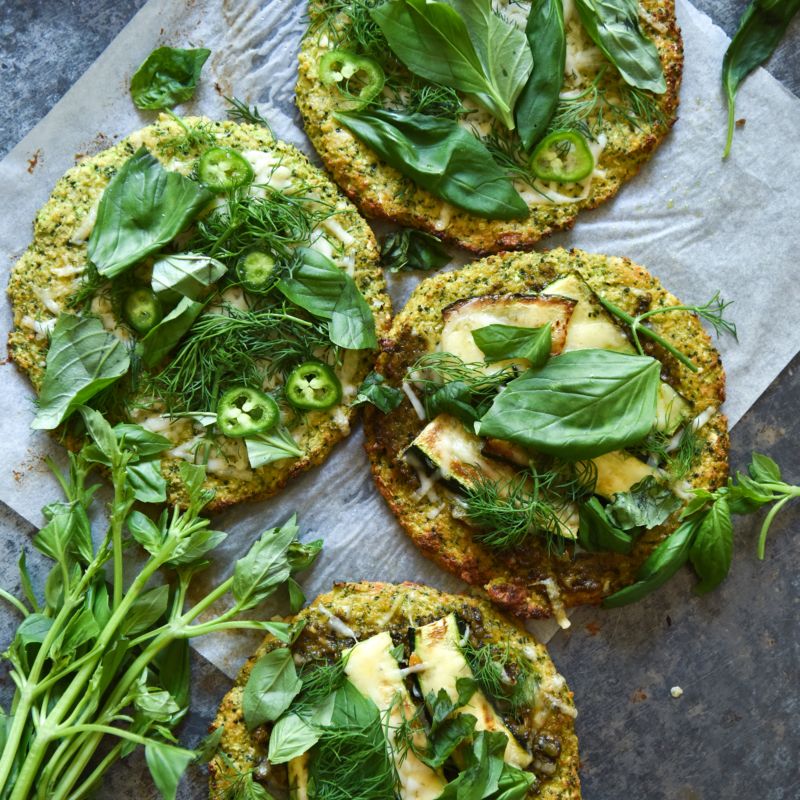 Gluten free broccoli pizza bases
Makes 4 small-medium or 5 small pizza bases
Ingredients
600

g

broccoli

stems are fine but chop the toughest part off – this was 2 medium heads for me

1 1/2

cups

(150g) almond meal

6

small or 5 medium eggs

50

g

parmesan or hard cheese

1

tablespoon

olive oil

1/4

cup

(60ml) water

Generous table salt
Instructions
METHOD
Preheat your oven to 180 degrees Celsius.

Roughly chop your broccoli, throw it in the food processor, and process it for about 10-15 seconds, until you have very fine little bits of broccoli rice, for lack of a better term.

In a large bowl, combine the broccoli with the almond meal, parmesan and salt, and mix well. Add the eggs and stir them through thoroughly. Repeat with the oil and water.

Line two baking trays with paper, and place 1/4 or 1/5 of the mixture on each tray. As mentioned above, this makes 4 large or 5 medium pizza bases, so divvy up as you see fit.

Place the first two pizza bases in the oven for 10-12 minutes, or until firm but still green. You wanna keep the green colour for #fitspo dinner shots later. Or, you know, just to not have burnt pizza bases.

Repeat with the other 2 or 3 pizza bases, and then top the pizzas with your choice of toppings. Pop them back in the oven for 10-15 minutes (you might want to spray them a lil with olive oil so the edges don't get too crisp) and ur good to go.