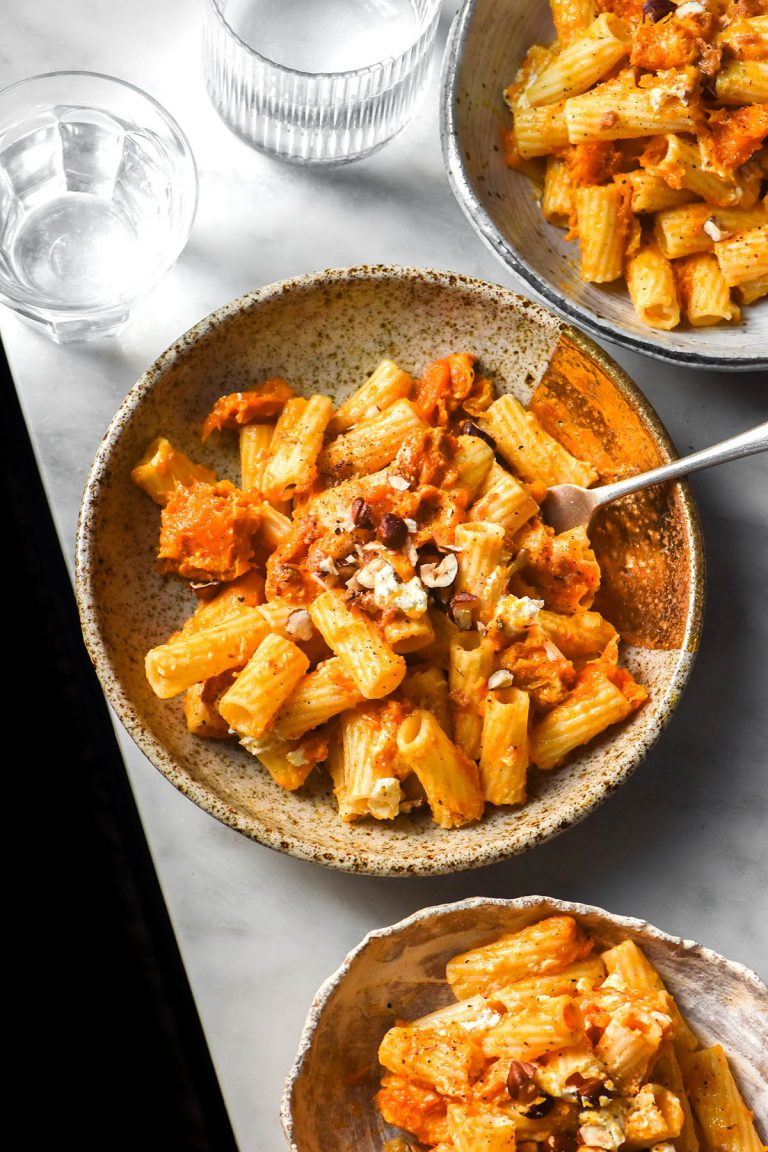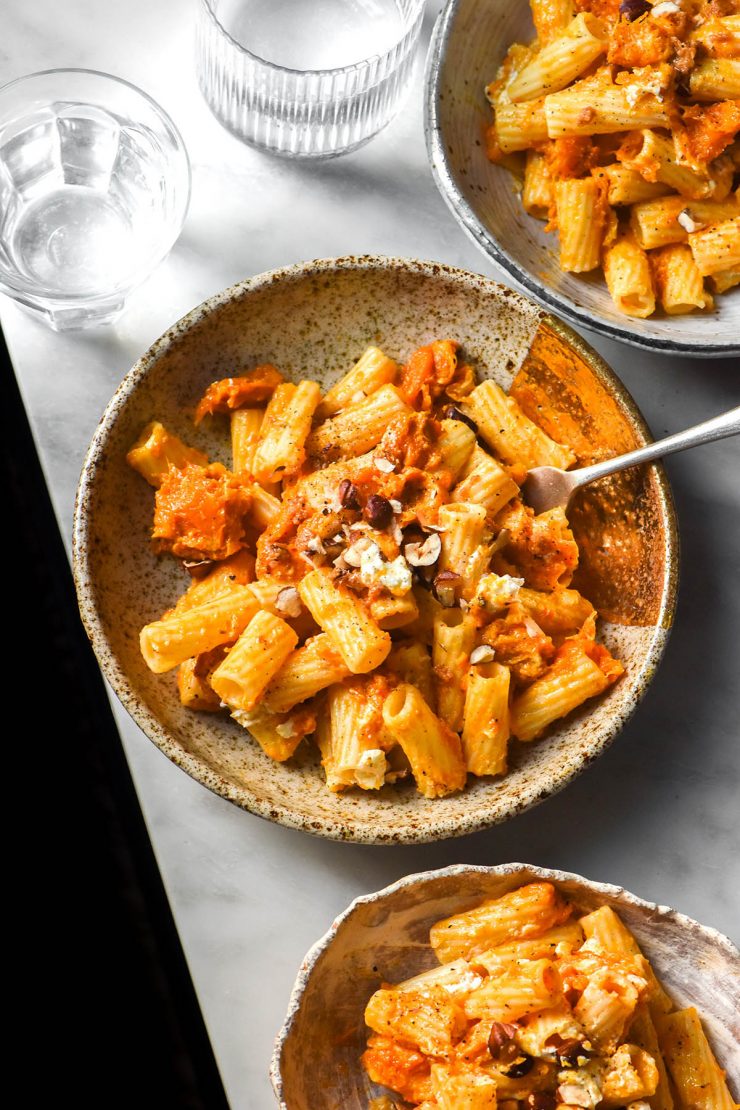 This low FODMAP pumpkin pasta is my new favourite comfort food dish. It looks and tastes fancier than the effort involved, which is what I look for in a recipe. Deliciously sweet roasted pumpkin, bright and acidic goat's cheese and garlic infused oil combine for a garlicky, pumpkin carb heaven.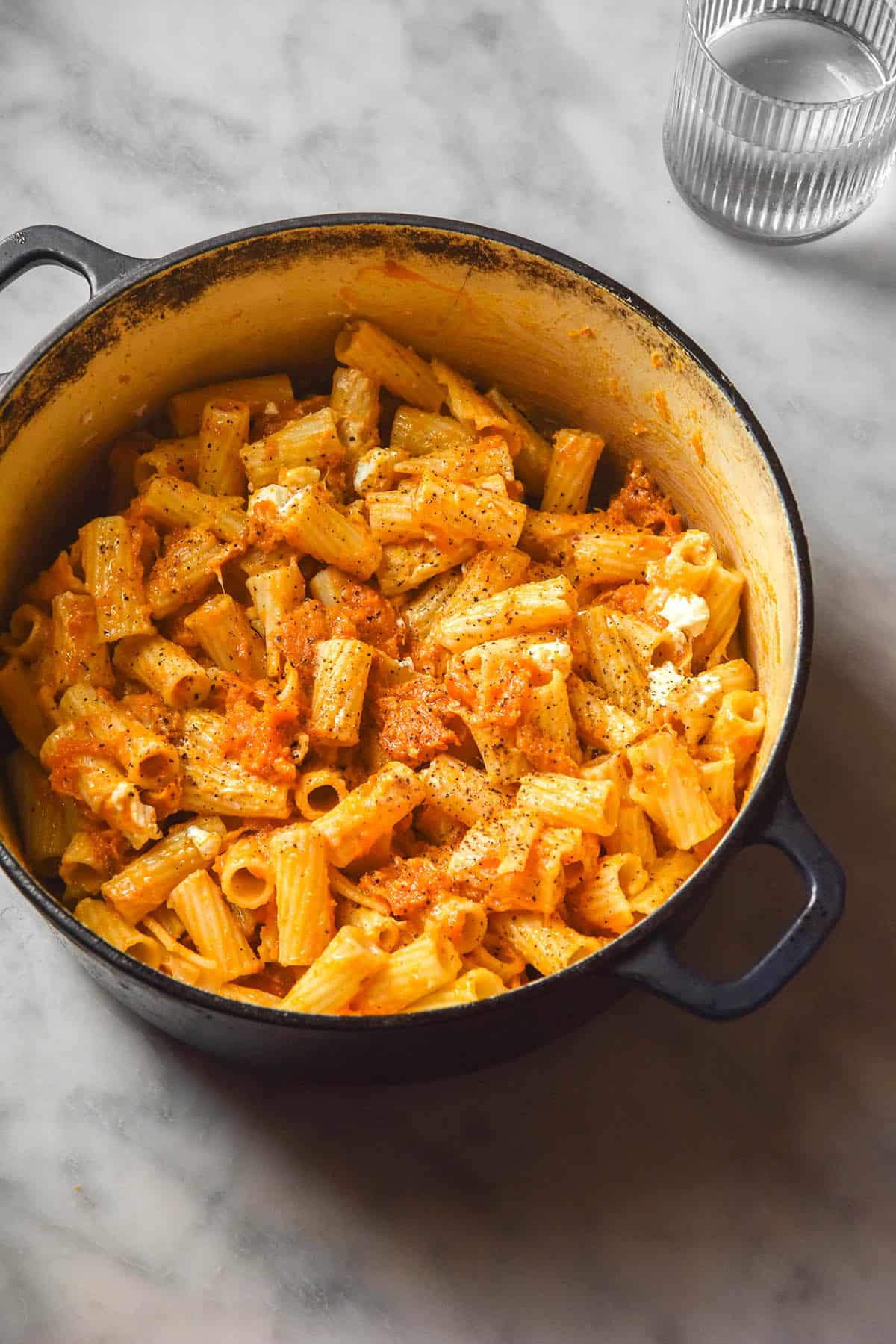 Low FODMAP pumpkin pasta
This low FODMAP pumpkin pasta is vegetarian, gluten free and has a nut free option. It's a deliciously comforting dish that is easy enough to assemble and tastes delicious.
I use gluten free pasta to keep the FODMAP content down, but you can use whatever pasta works best for you. Monash says that 100g of chickpea pasta is low FODMAP, so that's an option here as well.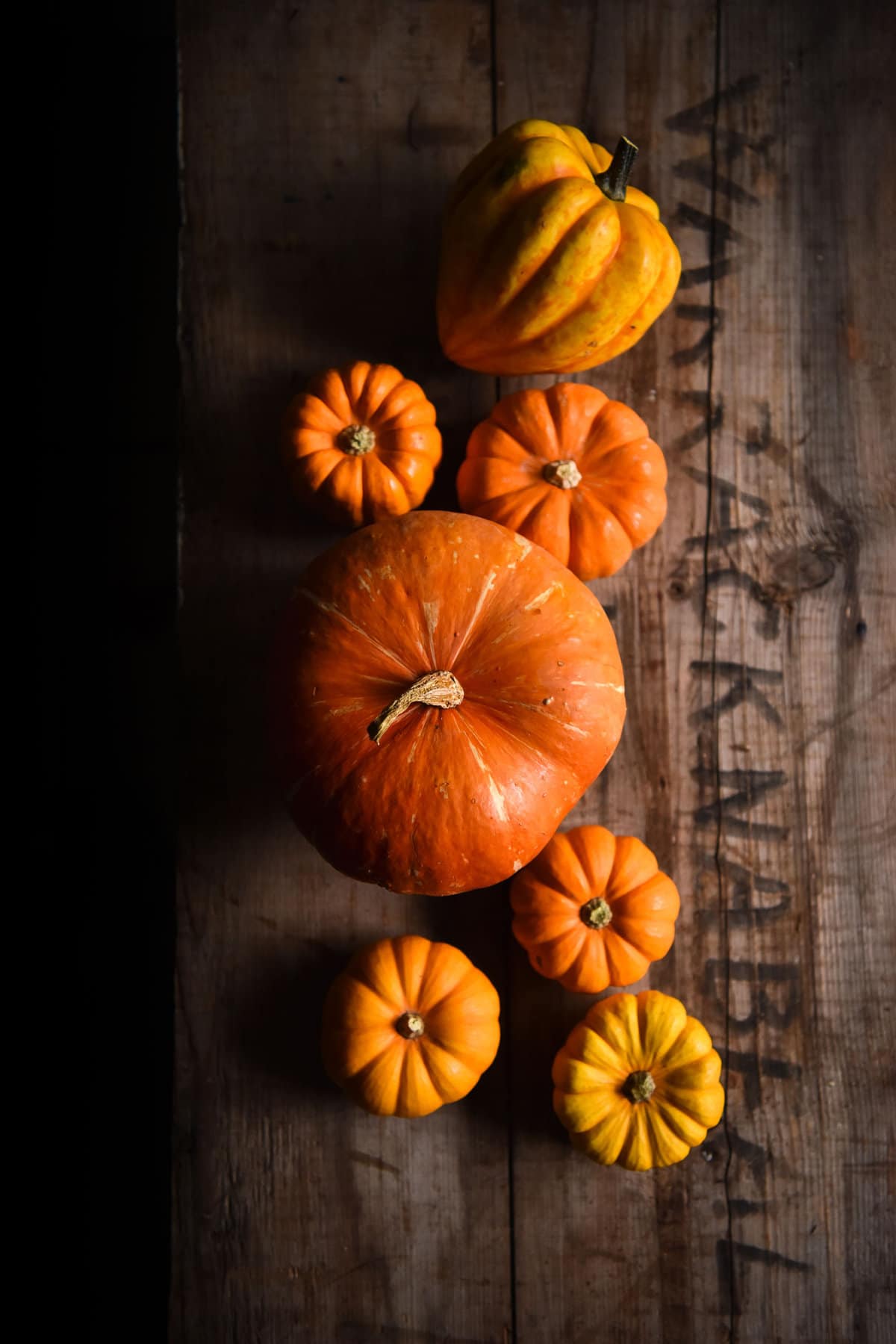 How is garlic infused oil low FODMAP?
The fructan content (aka the FODMAP) of garlic is water soluble but not oil soluble. This means that if you were to use garlic cloves in a soup, the fructans would leech out. However, if you were to use them in oil the fructans are unable escape. As a result, you get the garlic flavour without the FODMAP content.
I have learned two things when working with garlic infused oil. Firstly, homemade is best. It's more potent and you can control how much garlic you add (I add a whole head). As an added bonus, this leaves you with crispy garlic pieces that you can add back into the dishes of people in your household who can eat garlic. One last bonus? It's cheaper. All you need is olive oil and garlic.
The second thing I have learned about garlic infused oil is not to cook it. The garlic flavour is infinitely more pronounced when you add it to your dish once finished. Cooking the oil seems to make the garlic flavour disappear.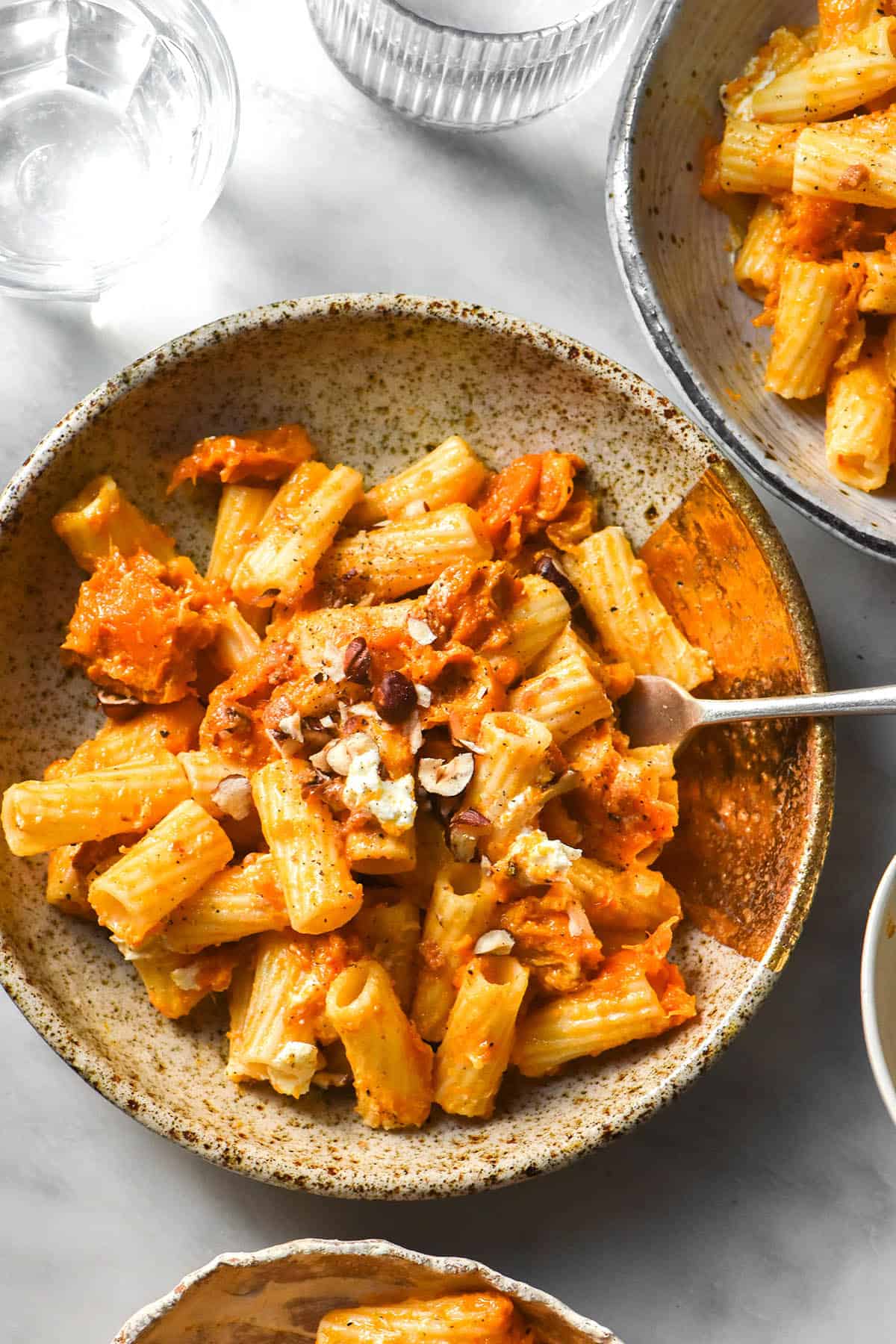 Tips for your low FODMAP pumpkin pasta
Don't cook the garlic infused oil – it makes the garlicky flavour disapear.
I recommend mushing up the pumpkin pieces a little before adding them to the pasta to form a pumpkin sauce. You can keep them whole, but I find this dish before pleasant to eat when they're mashed.
Only cook the pasta until al dente. All the pasta stirring tends to break up gluten free pasta, which is very sensitive. Overcooking it exacerbates the issue, so al dente is best.
You can add asafoetida powder, dried or fresh sage, or really any flavourings you fancy. I love this dish with just lots of salt and pepper, but you do you.
If you're feeling cheesy, some freshly grated parmesan works wonders here too. I have a list of vegetarian parmesan brands (yes, vegetarian parmesan) in Australia at this link.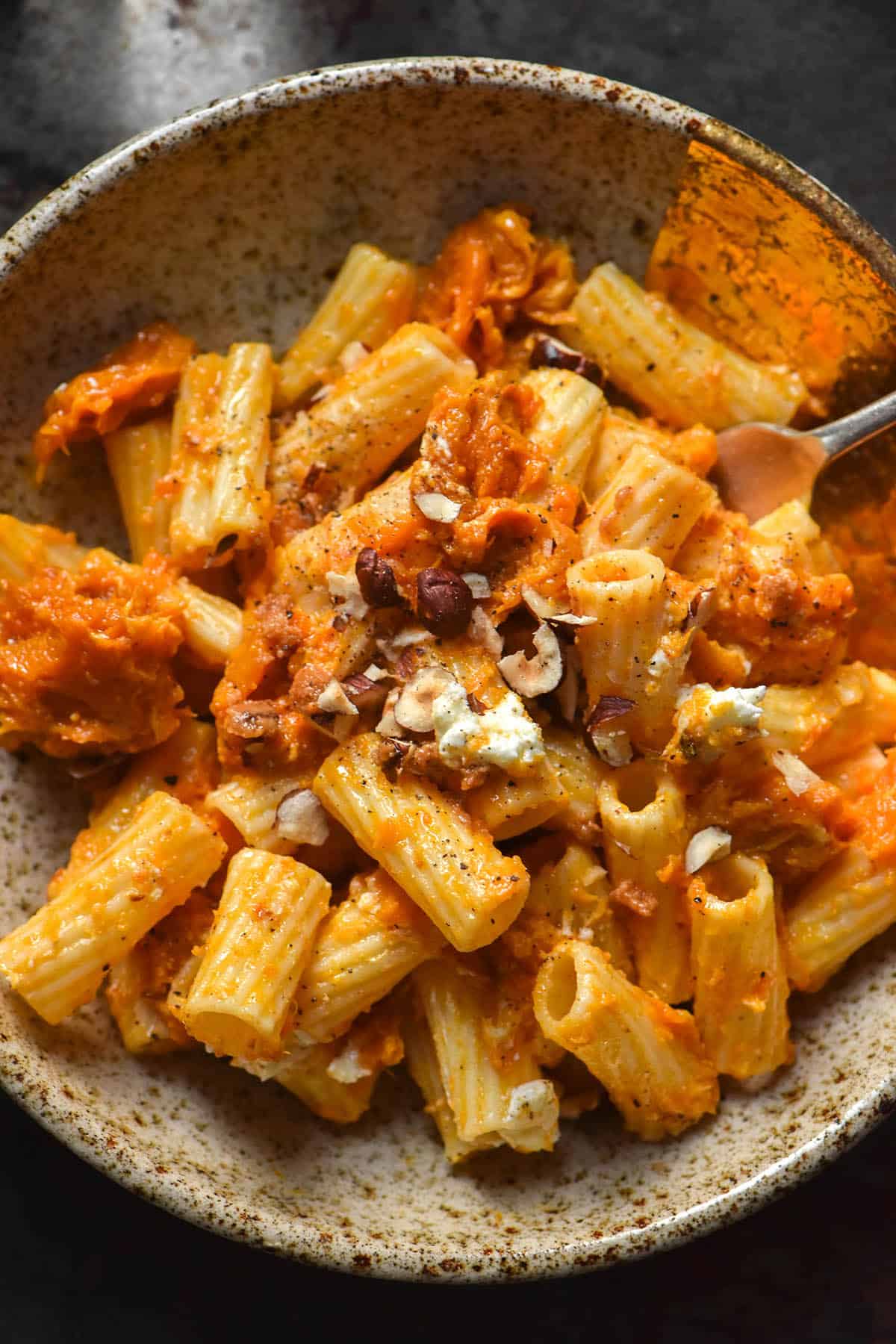 FODMAP notes
Use Japanese or Kent pumpkin to keep the FODMAP content down.
As above: garlic infused oil is a great way to add garlic to low FODMAP recipes.
If you want to add even more flavour, see my post on adding flavour without onion or garlic.
Goat cheese is low FODMAP in 40g serves, or around 1 tablespoon. This recipe uses 100-150g goat's cheese and serves 4-5. Another thing to keep in mind: you can use more if you're not on the elimination phase and don't have lactose issues.
Use gluten free pasta for a low FODMAP option. That said, if you're finished the elimination period and have no issues with wheat, you can use whatever works for you.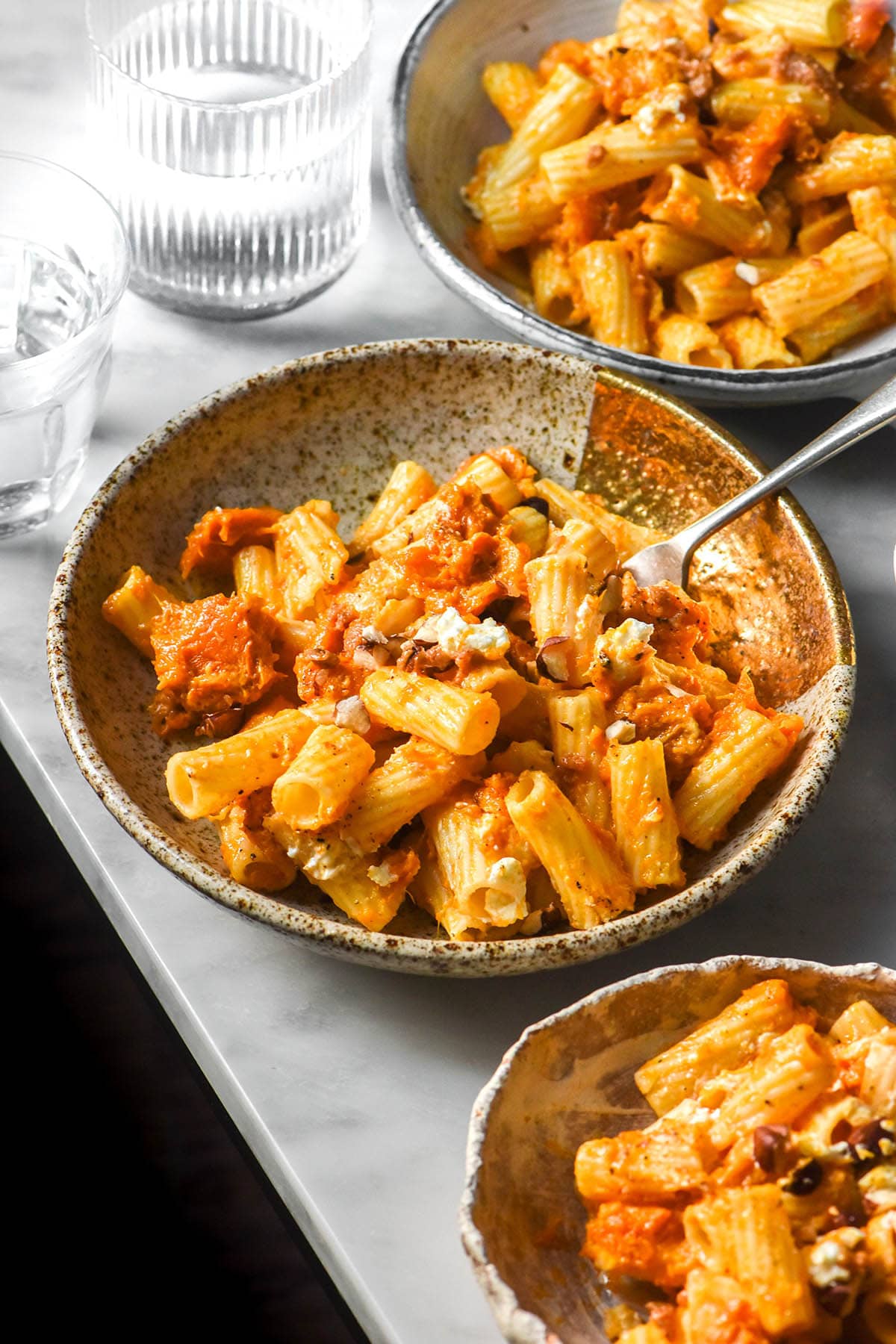 More low FODMAP and gluten free pumpkin recipes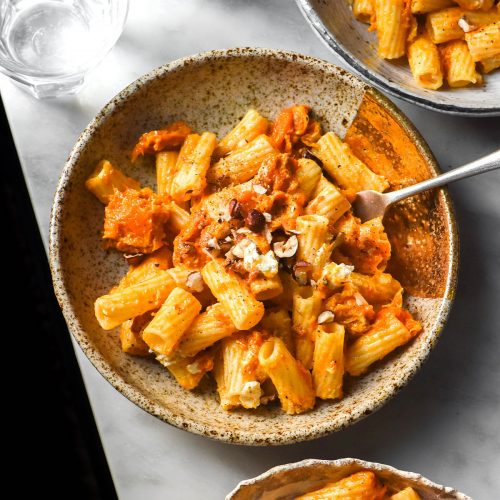 Low FODMAP pumpkin pasta
Serves 4-5 people
* Cup and tablespoon measures are in Australian measures. Use gram weights for international accuracy.
Ingredients
For the low FODMAP pumpkin pasta:
1

kg

Japanese or Kent pumpkin

20

ml

(1 tablespoon) olive oil

Salt and pepper

to your tastes

125-170ml

(1/2 – 2/3 cup)* olive oil

(see notes)

1

whole head of garlic

papery skins removed and sliced

350

g

gluten free pasta of choice

100-150

g

goat's cheese

1/4

cup

toasted walnuts

chopped (optional)
Optional extra flavourings:
asafoetida powder (1/4 teaspoon)

chiili flakes, to taste

Finely chopped flat leaf parsley or radicchio, to taste

Pinch of Italian seasoning or low FODMAP dried herbs

Squeeze of lemon juice

Fresh and finely grated parmesan, to finish
Instructions
Preheat the oven to 200C/400F.

Cut the pumpkin into small cubes, around 1cm X 1cm. Place the pumpkin on a baking tray and drizzle over the 20ml oil. Use your hands to coax it over all the pumpkin pieces.

Season well and cook for 15-25 minutes or until cooked to your liking. If you prefer whole chunks of pumpkin, cook it for the lower amount of time. If you prefer soft, mashed pumpkin, cook it for longer.

While the pumpkin is cooking, heat the oil in a medium saucepan over a medium heat. Add the sliced garlic and cook for around 5 minutes or until the garlic is golden. Set aside.

Bring a pot of very salty water to the boil and cook your pasta as per packet instructions.

Reserve around 250ml (1 cup) of starchy pasta water to thin your sauce. Once the pasta is al dente, drain it and return it to the pot.

Strain the garlic infused oil into the pasta, holding back the cooked garlic. You can add it to the pasta of the non-FODMAP diners if applicable.

Gently stir the pasta to coat, then season generously to taste.

Either gently mash the pumpkin or add the cubes whole. Stir gently to incorporate, then add the goat's cheese. I like to reserve a small amount for topping. If you're using them, add the optional additions here to your tastes.

Serve the pasta into 4-5 plates and top with reserved goat's cheese, some cracked pepper some chopped hazelnuts, if you're using them.
Notes
There is an option to use more or less oil based purely on your preferences. I use more, because this means more garlic flavour. I know some people try to reduce their oil consumption (unrelated to FODMAPs) which is why there is an option.