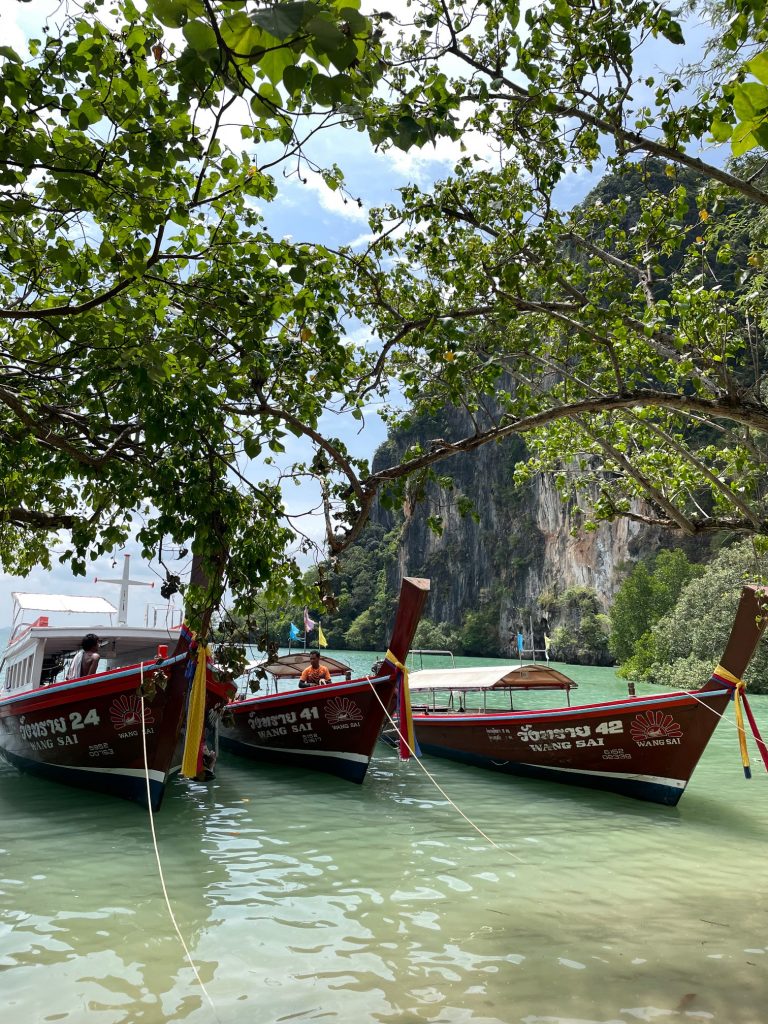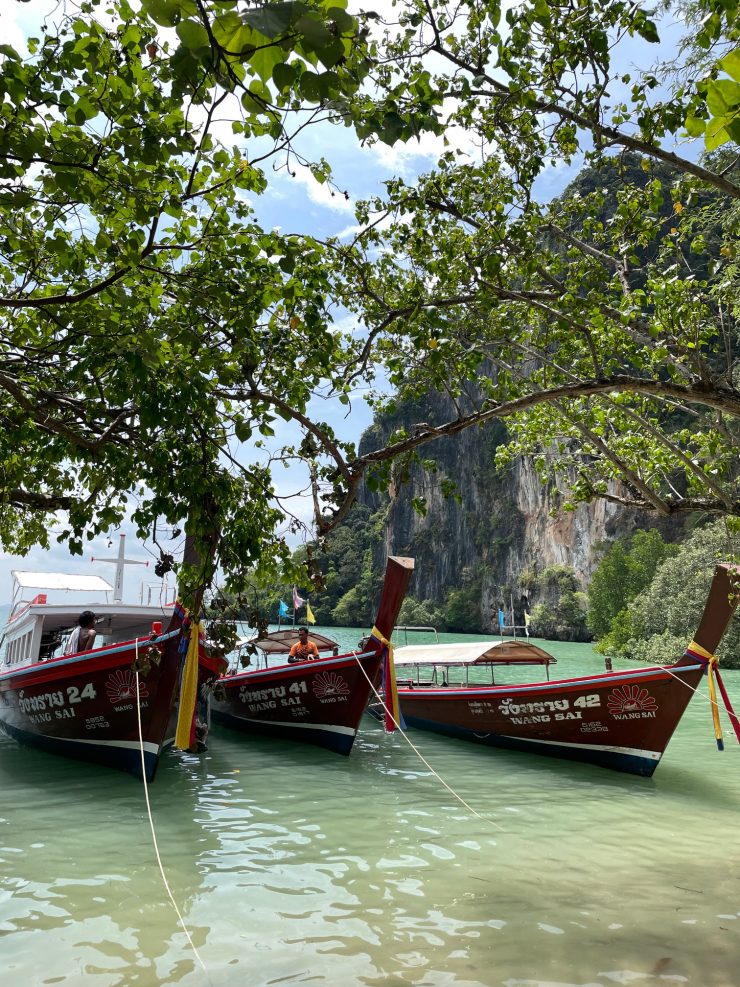 As you might have seen on my stories, I have just come home from a ridiculously fun trip to Thailand. This was my first international trip since Covid hit, and it was such a lovely return to to travel. Although I had no intention of making this trip about 'content', I thought I'd write this post to publish all the suggestions and tips I wish I had found prior to booking. Also, because it gives me an opportunity to talk about Thailand on repeat.
Some general observations from the trip
A lot of restaurants had closed to Covid but their closure wasn't reflected on the internet. Expect to get to a few restaurants and find them gone.
We found we needed to be flexible with plans (particularly in Ao Nang/Railay) because everything is subject to the weather. April, when we visited, is on the cusp of rainy season and had we a few very rainy days. We got stranded in a hotel lobby in Railay and watched longboats tackle torrential rain and lightning. The weather lifts quickly enough and (dare I say) the weather apps seemed to overestimate the storms during our stay, but still. Do whatever you're planning the minute there is nice weather, because it might not be nice the next day.
Allergies and other dietary requirements aside: if you're choosing between street food and a restaurant, choose the street food. This rule particularly applies if you found a restaurant on Trip Advisor (hot tip: don't do that). Basically all the most memorable and delicious food we ate was street food.
Asia 12 Go is a great and reliable website for booking lots of transport – ferries, speedboats, etc.
I used to think that having a Western menu (spaghetti carbonara, et al) was a sign of an inauthentic restaurant. That wasn't the case in Thailand, so don't let it put you off. That is, as long as there's a Thai menu, too!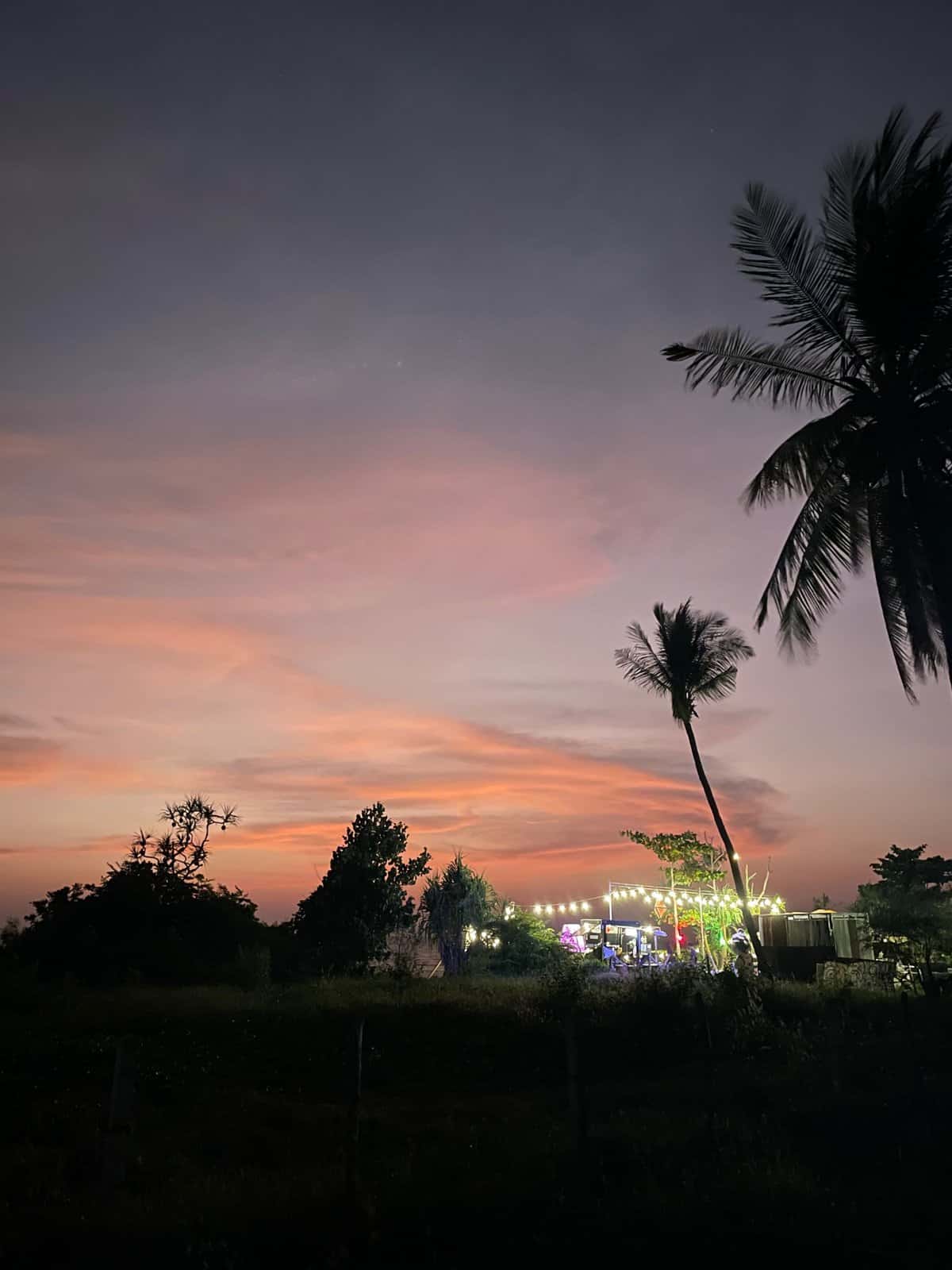 On being vegetarian or vegan in Thailand
We didn't find it particularly hard to find vegetarian food, but I daresay a fair bit of what was 'vegetarian' had fish sauce in it. I'm technically pescatarian (I eat fish as a backup when I can't eat anything else) so that was no issue for me. We used the term 'mangsewirat' (pronounciation, not spelling) a bit, which doesn't fully translate to vegetarian but more like 'i don't want to see chunks of meat'. Not everyone understood the term (apparently it is not used everywhere) but most did, or they understood vegetarian in English.
In the more touristy places there were also a few restaurants that explicitly listed vegetarian options, although it's hard to say if any fish sauce snuck in there.
The word for vegan is jay or jey. However it has roots in Buddhist practice and encompasses more than just meat and dairy. Requesting jay or jey food will also mean they take onion, garlic and other more pungent ingredients out of your food. Very helpful for a fructan adverse vegan!
Quite honestly, I wasn't there for long enough to say how successful our vegetarian requests were or how easy it is in other places.

On being gluten free or FODMAP in Thailand
On the surface, it feels quite easy to eat gluten free in Thailand, given the prominence of rice noodles and vegetable forward dishes. However, most Thai dishes contain soy sauce, fish sauce and oyster sauce, all of which can contain gluten. There is also a risk of cross contamination – I have read that woks aren't necessarily washed between uses, etc. Which makes sense for street food – where would you wash it? As someone with an intolerance rather than an allergy, this was OK. There was only one occasion where I felt quite unwell. If you have an allergy, I would recommend doing some research into safe places to eat. See one of the links below for some suggestions.
Generally speaking, I let FODMAP fall to the wayside when I'm on holidays. I won't order a plate of fried onions, but if I see onion in my pad Thai, I will pick it out where I can but won't let it ruin my day. There's something about being on holidays (the lack of stress, perhaps) that seems to improve my tolerance to them a little. If you don't want to do that, consider asking for jay/jey food, as they will leave out onion and garlic. There's no magic button for other high FODMAP foods, though.
I didn't find that any dishes were particularly onion or garlic heavy – probably because Thai cuisine uses lots of other things to flavour dishes. I barely found any beans, except for some mung bean desserts in Bangkok.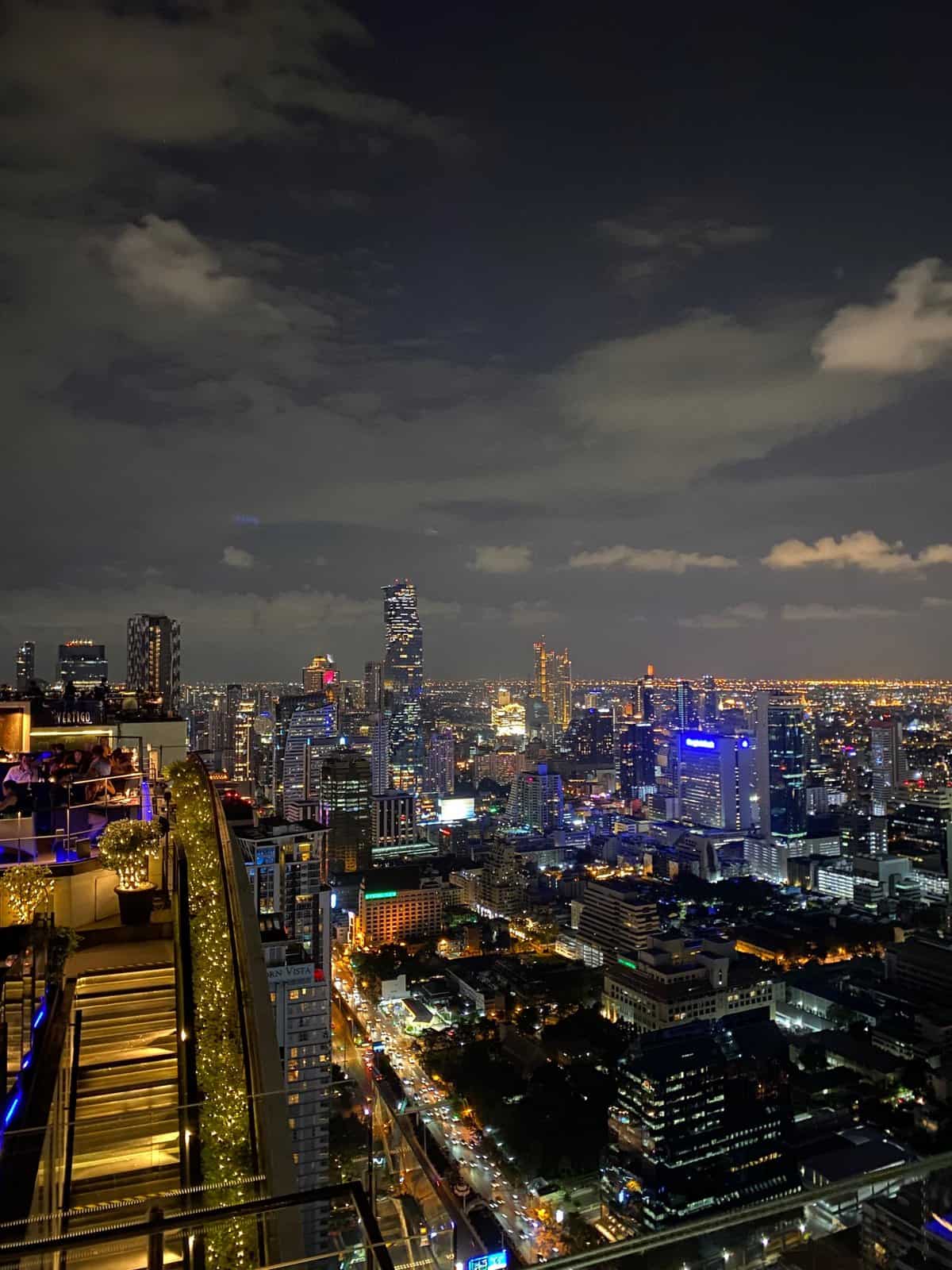 Helpful links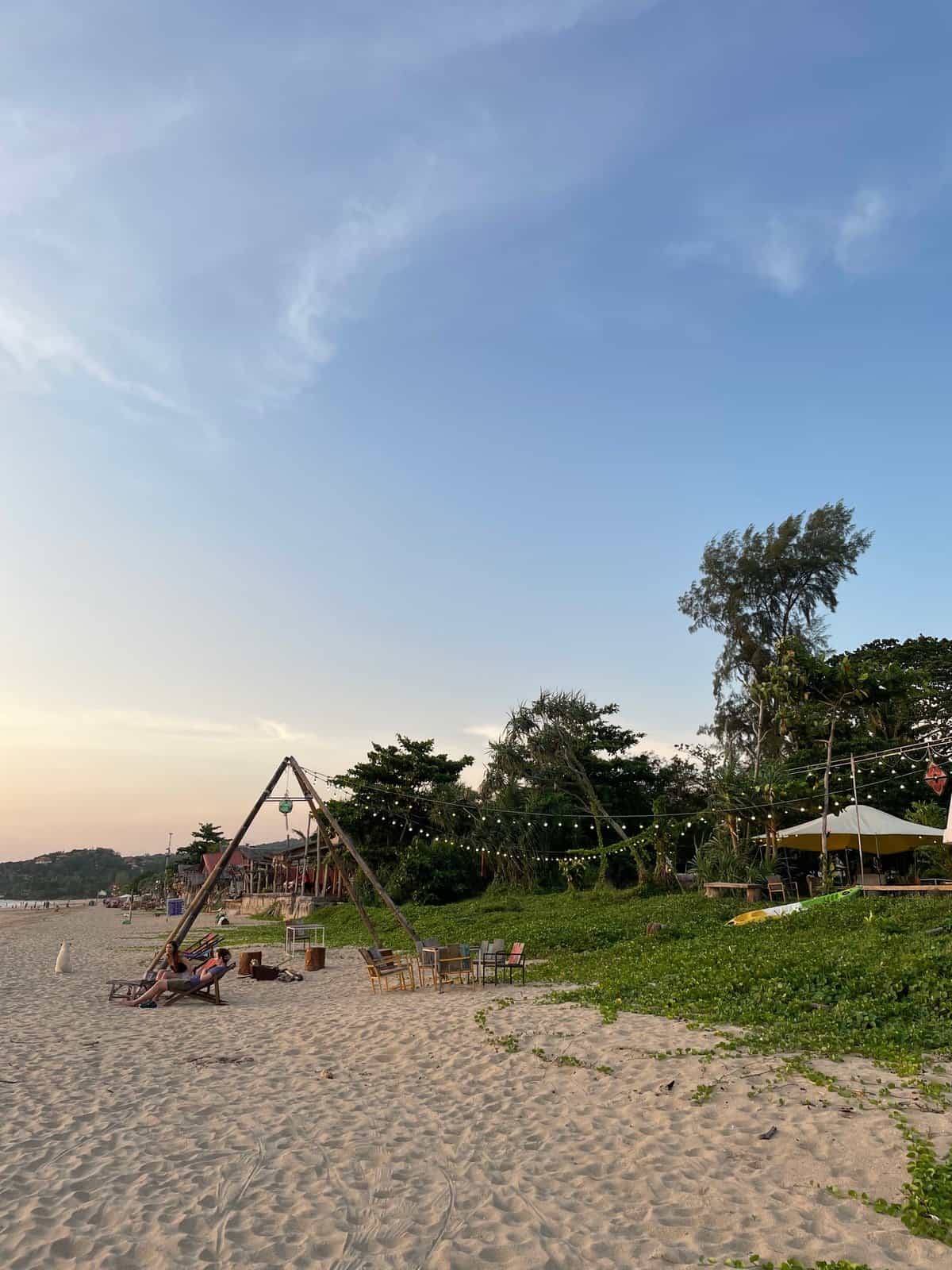 Our Itinerary
We had a limited amount of time and wanted to do some of the islands before ending in Bangkok. As such, we decided to start in Phuket, then take a speedboat to Koh Lanta, a car transfer to Krabi/Ao Nang (there's a short car ferry from Koh Lanta to the mainland) and then a flight to Bangkok. We made the itinerary so there was no double transit in a day (ie a bus and then a plane). We flew into Phuket and out of Bangkok.
One thing I learned was that the islands are a lot further away from each other than I originally assumed. Phuket is on the Andaman Sea side of Thailand while Koh Samui is on the other side in the Gulf of Thailand. As such, it's not a quick boat trip and you have to choose one side if you have a short amount of time. We chose the Andaman Sea side, so Phuket was the logical place to fly into. Koh Samui has an airport too, so if you choose the Gulf of Thailand side, you would fly into Koh Samui.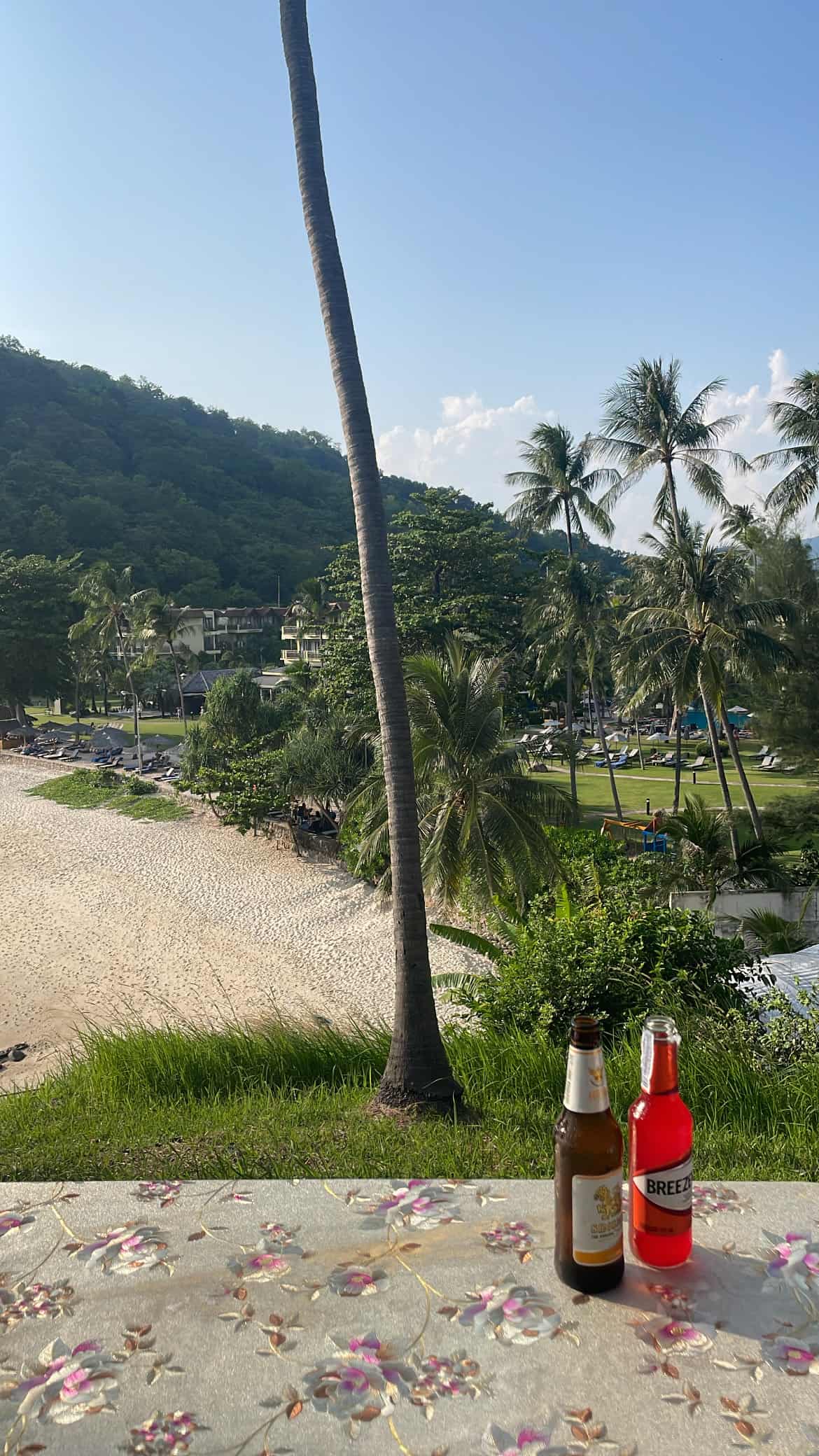 Phuket
Accomodation and where to stay
Because we only had just over a day in Phuket and we flew in late, I wanted to book a hotel that was close to main attractions, not too far from the airport and not too far from the ferry terminal where we would leave from. I did get a bit confused with the SHA+ vs Test and Go aspect, and I ended up booking Marriott Merlin Beach. I figured Marriott was a bit enough chain to inspire confidence/assist us should there by any issues with our arrival, and they would also be open late enough to receive us if the flight was delayed. We arrived at 11pm, although I guess Phuket is somewhat of a nightlife place so my fears might have been unfounded.
The hotel was very nice and the staff were lovely. On the whole it was not necessarily our vibe – it had a distinct stop and flop, stay in the resort sort of feel to it. While it is near Patong Beach on the map, it's up and down a giant hill so not walking distance. The hotel did have a lovely private alcove beach and also a super cute little local restaurant perched on the top of a hill overlooking the water. That was probably my favourite part. A very comfortable, very pleasant stay, but I would probably choose a different spot for our needs next time.
Patong has quite the reputation and I can definitely see why. Because we were there post Covid, though, I didn't find it overwhelming or particularly seedy at all. It was quite an interesting place and I would probably have stayed there for ease with such a short amount of time on the island. There are 'nicer' places to stay, I'm sure (Phuket is also bigger than I realised – about 40 minutes across and maybe 1 hour 30 minutes or more from top to bottom) but for one night, it would have been an easy bases for taxis and dinner. It's also just a place you need to see if you visit Phuket.
If you're staying for longer, I have read good things about Nai Harn, Bang Tao and Kata beaches. If you're passing by, I'd suggest the Emerald Bay side of Patong (which was a bit quieter) or Kalim beach.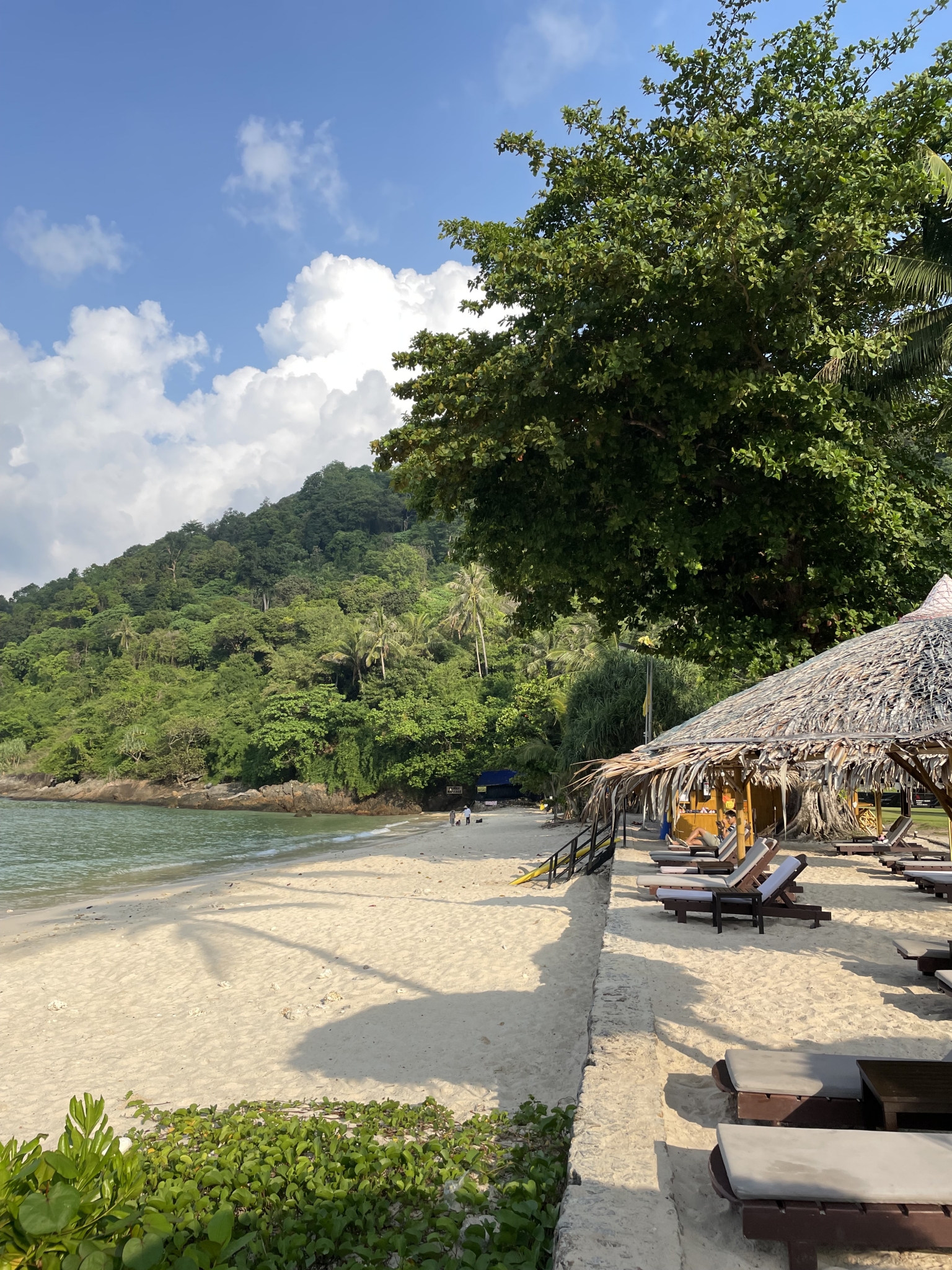 Activities
We only really achieved one big activity in our time in Phuket and that was Phuket old town. Old town is on the opposite side of the island to most of the resorts, but it only took about 20-30 minutes in a taxi. Normally this would be a bit annoying but we went in the height of summer and any time in air con was gratefully received.
Phuket old town was a cute little town with colourful buildings. Romanee Street seems to be the most aesthetically pleasing street, which was evidenced by the sheer volume of photoshoots taking place. We had lunch at One Chun which was delicious and I would recommend. They have a sister restaurant, Raya, right around the corner.
We did also want to go to Banana Beach and Freedom Beach, but we ran out of time. I also read great things about Bang Tao and Nai Harn areas.
There is a wealth of things to do in Phuket, so I doubt you could get bored.
I would have liked to find more street food in Phuket, although we had barely any time. This Michelin Guide has a bunch of suggestions for finding good street food in Phuket, if you have the time.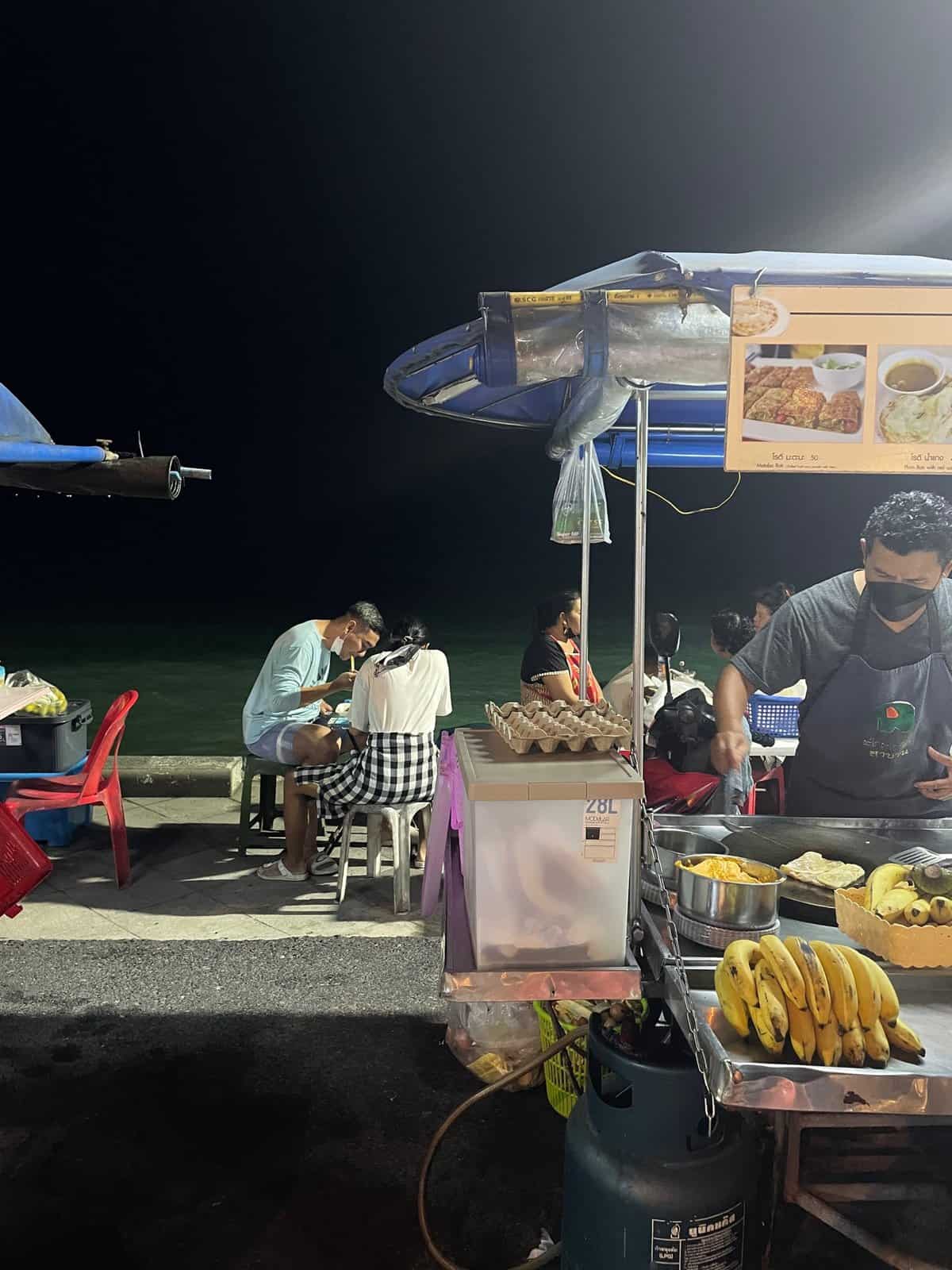 Food
We didn't get too many meals in Phuket because of our short time there. I can recommend One Chun in Old town and also the street food markets at Kalim Beach for dinner. We found that a lot of places didn't open early (or had already opened and closed because of the heat) so it ended up being easier to get breakfast at the hotel or to buy extra street food (hello, mango sticky rice). I'd also suggest finding some street food spots – this Michelin Guide will get you started.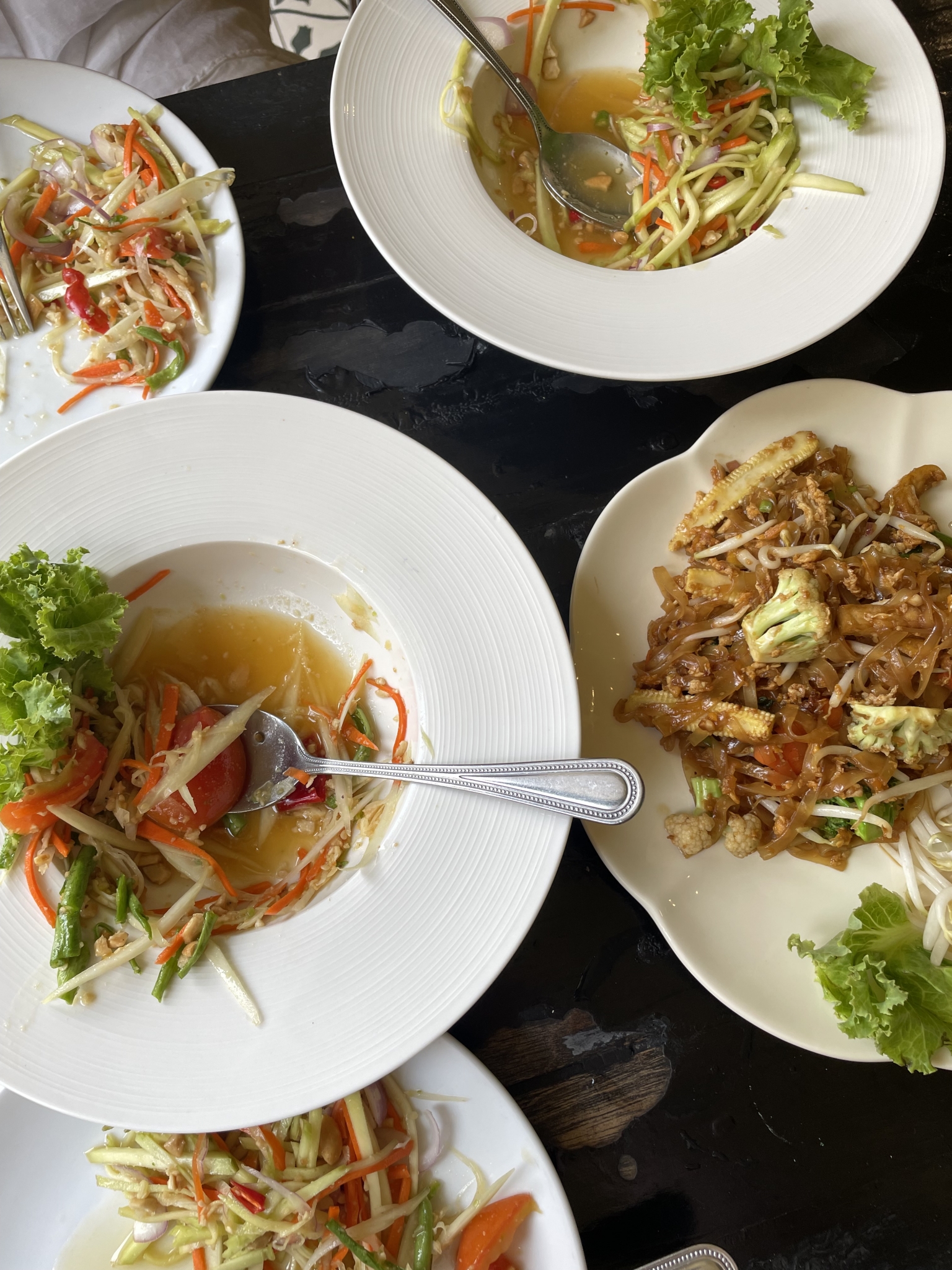 Koh Lanta
Koh Lanta was a trip highlight for me, and we very nearly didn't go. There's not as much effusive praise for Koh Lanta online as there is for other islands, and I have no idea why. It has a distinct laidback, more hippy sort of vibe and was a lot quieter than other islands. It is also much less of a party place, so that might account for some of the quiet. I also found it hard to photograph despite it's tropical beauty, so there might just be less photos online.
The arrival via ferry is not quite as spectacular as that of Phi Phi or Railay. I saw my travel companion's face fall as we pulled in, given that the boat had stopped at Phi Phi en route, with it's bright blue water and beautiful scenic appeal. That all said, I would recommend to Koh Lanta to anyone and everyone. I absolutely loved it. I wouldn't say the beaches were as spectacular as Phi Phi, but the island was beautiful, super vibey and just had a really lovely feel to it. None of my pictures do it justice, but it was so gorgeous.
If you're a left sided driver back home, I would also recommend hiring a car. It makes getting around the island incredibly easy (it takes about an hour top to bottom, but the speeds aren't high nor are all the roads great). We saw so much more of the island than we would have without one. You can also hire motorbikes or scooters, but our hotel only had motorbikes and they didn't want us to use them as beginners. Fair call, really.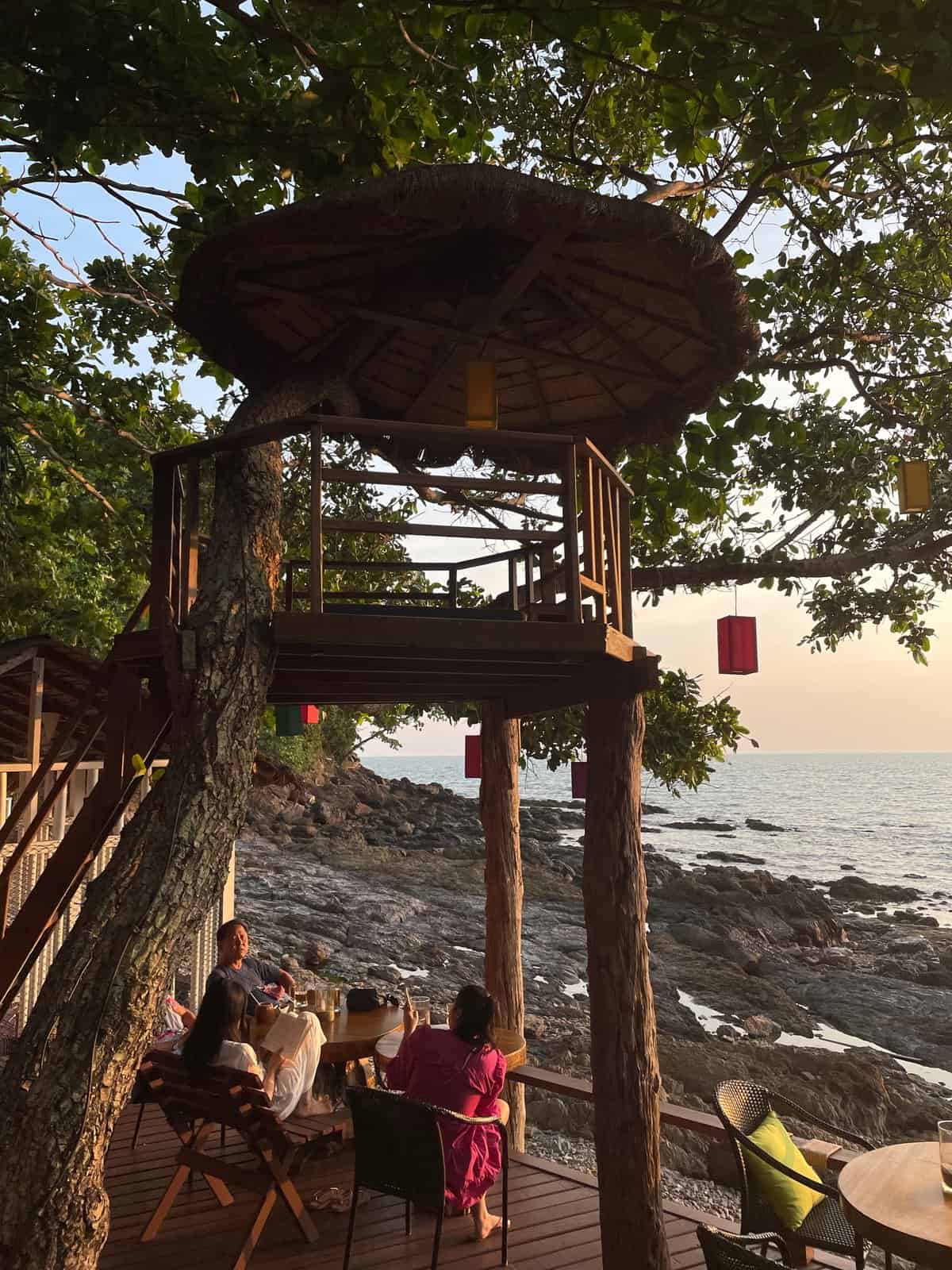 Accomodation and where to stay
We stayed at Avani Koh Lanta, which is at the top of the island near the ferry terminal. If you arrive by boat, you could probably ask the hotel to pick you up. There are a lot of taxis waiting at the terminal too, but they will probably overcharge. Not that it matters, quite frankly – Covid decimated the tourism sector and you will never remember paying a few extra dollars for a taxi.
Avani was HEAVEN and I can highly recommend it. It is right up the top of the island, though, so you will either need to take taxis or organise your own transport (like hiring a car, which the hotel will do for you). If I didn't have a car nor any intention of hiring a scooter, I would probably stay somewhere on Klong Nin. It is central and has lots of bars, restaurants and other bits.
We had breakfast included at Avani which was super helpful. Things don't open early and it would have been hard to find anything close, particularly once we gave the car back. I ate a lot of congee (which might have been the Thai equivalent called Khao Som or jok) with fresh ginger, which greatly aided the whole 'is it all the cocktails or is it Covid' dilemma (it was the cocktails).
Although the pools and general vibe of the hotel were delightful, I'd argue the highlight was the Reggae bar (at which I heard not a single reggae tune). It's right on the water with little day beds in private booths and has a real jungle book feel to it. The cocktails with Mekhong (a Thai made spirit) and Thai basil were also some of the best we had on the trip. We felt like 90% of the cocktails we had were super watered down, so this was a nice change.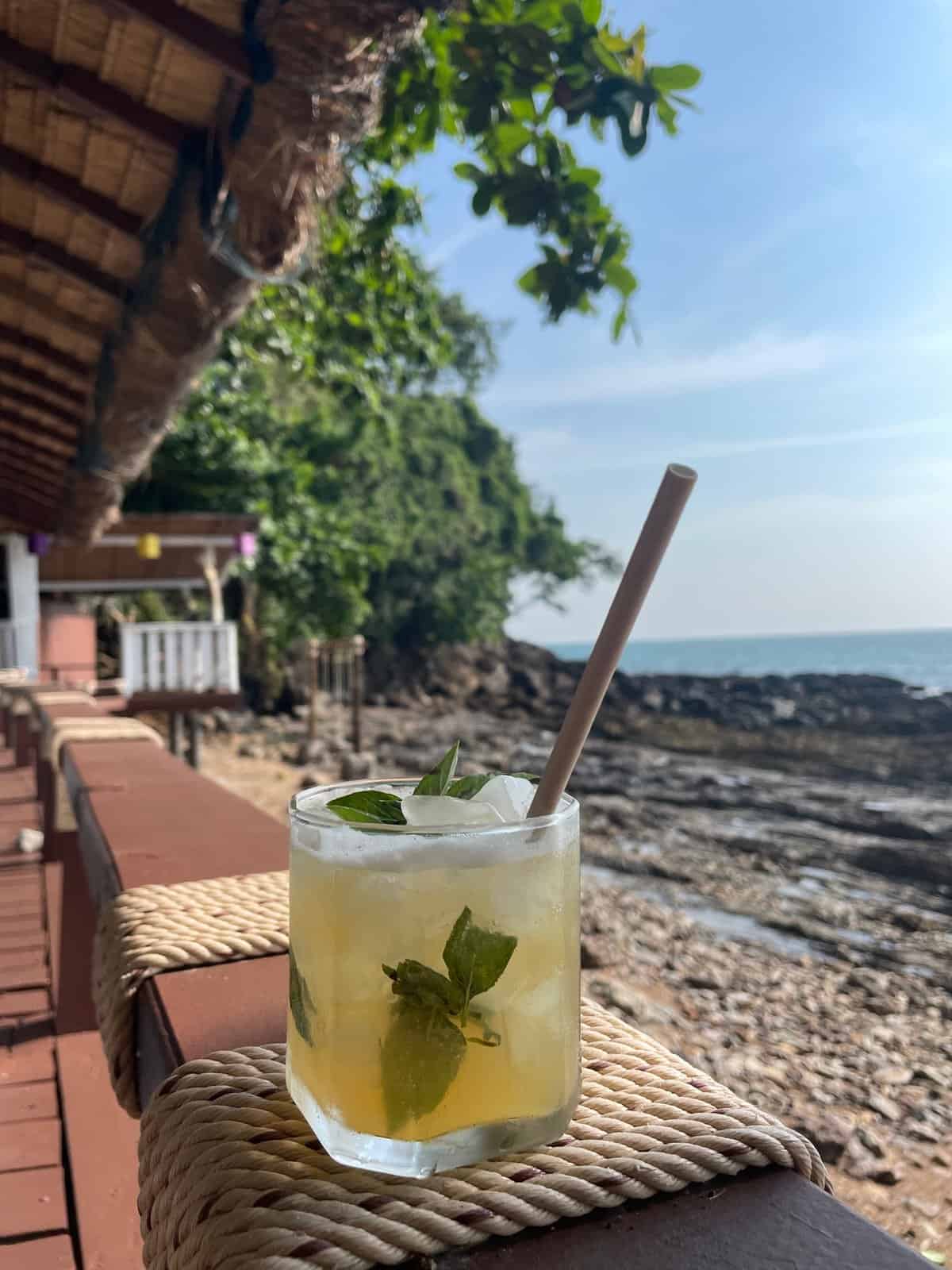 Activities
Activities in Koh Lanta depend a bit on where you're staying and what you fancy doing. We had another rushed itinerary here so we drove around the whole island in a day. If I had my time again I would have budgeted 3-4 days or up to a week for Koh Lanta to account for both exploration and beach leisure time.
Lanta Animal Welfare and the cooking school that supports it (Time for Lime). Apparently their mohitos and lemongrass margaritas are great (although it should be noted they are part of the cooking class – I assumed there was a separate bar). Also worth noting they have moved from their Google location.
Lanta old Town. A super cute village with shops half on stilts over the shore, on the other side of the island to most of the hotels. I didn't manage to take any nice photos because it was just so incredibly hot, but the street is very picturesque and lined with restaurants that sit on stilts over the water. On a clear day the view from those restaurants would be phenomenal.
Klong Nin Beach. If you wanted a bit of a party, Klong Nin beach is where you would find it. Lined with restaurants and bars that spill out onto the sand, this was the only place I saw an offer for magic mushrooms (I wasn't looking that hard, I must admit). It also has massages and just a general nice vibe at sunset.
Driving around to stop for a drink at various cute little beachside stalls and restaurants. This was a suggestion I found on a blog and I can see why. The road past Klong Nin beach and down to the national park is lined with blue water, beaches and lush greenery. Restaurants and stalls line the road and make for an incredible viewpoint. Plus, it means more Thai iced tea. I can recommend Sam Nee Pong family restaurant for the view and I have them to thank for my introduction to Thai iced tea with lemon.
The national park is right down the end of the island and a lovely spot. It costs to enter and we were too hot to do the hike or pretty much anything other than jump in the water (bring a towel) but it's lovely nonetheless. There are other activities on offer there too, I believe.
Take a day trip out to Koh Rok. If you're after that aquamarine water Thailand is known for, this looks like a great bet.
Apparently the scuba diving is pretty good here, too.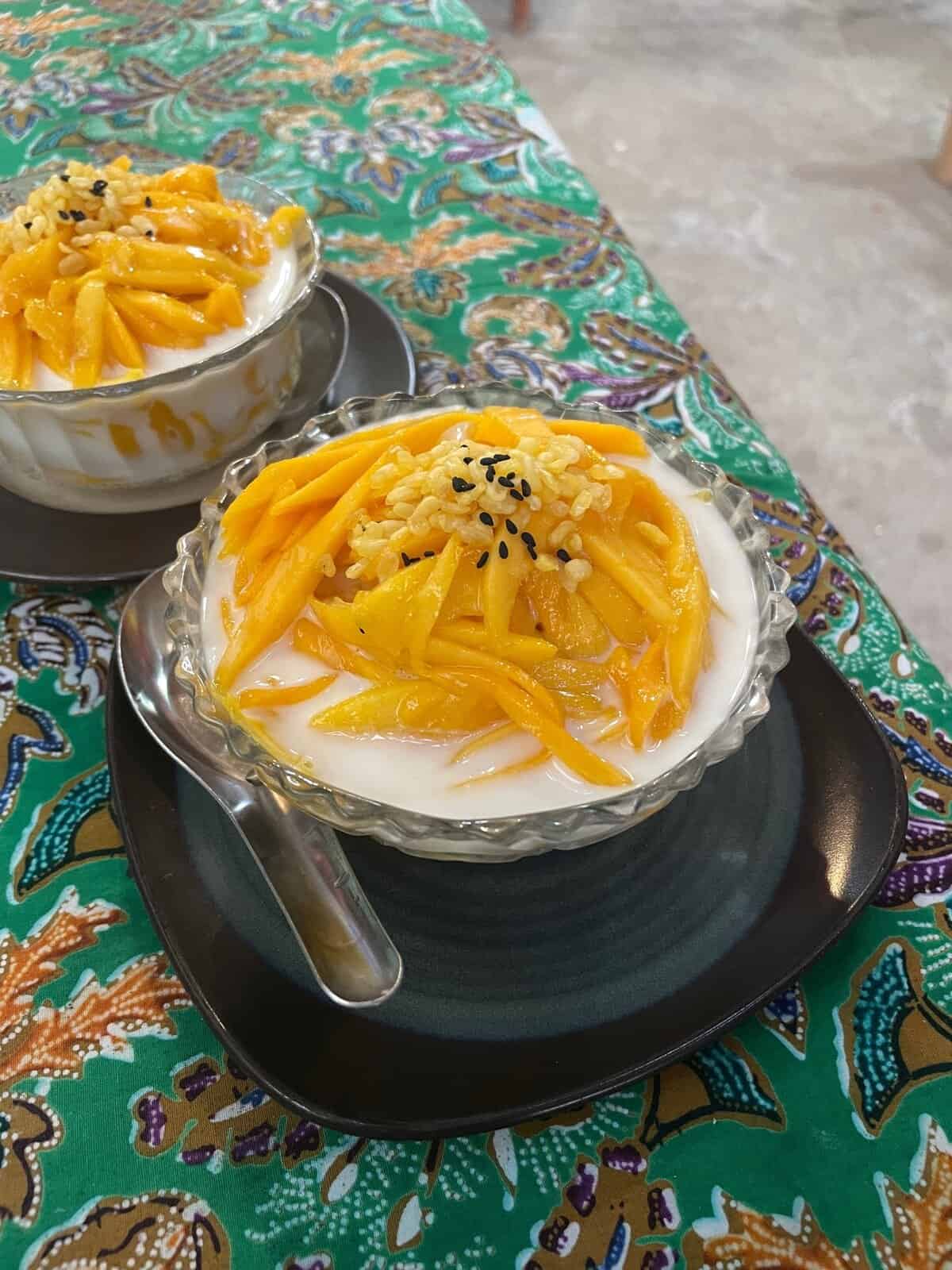 Food
We absolutely didn't have enough time to try everything I wanted to here. In fact, we barely touched my list.
I can 100% recommend the sticky rice with mango at Sunee's Place in Lanta Old town. We agreed that if we had our time again we would have gone back there for dinner.
I also had a good pad Thai at Blue Moon Bar in Klong Nin.
Other places on my list were Baifern restaurant in Saladan (which is where the boat arrives) and the night food market in Saladan. I'm not 100% sure if it's on every night.
I read about a group of four restaurants in Khlong Dao near the Lanta Mermaid hotel, one of which sells rice soup (apparently akin to a Thai breakfast, which I only got to try at a hotel breakfast). They sell out early apparently, so it needs to be your first stop of the day.
Ao Nang/Railay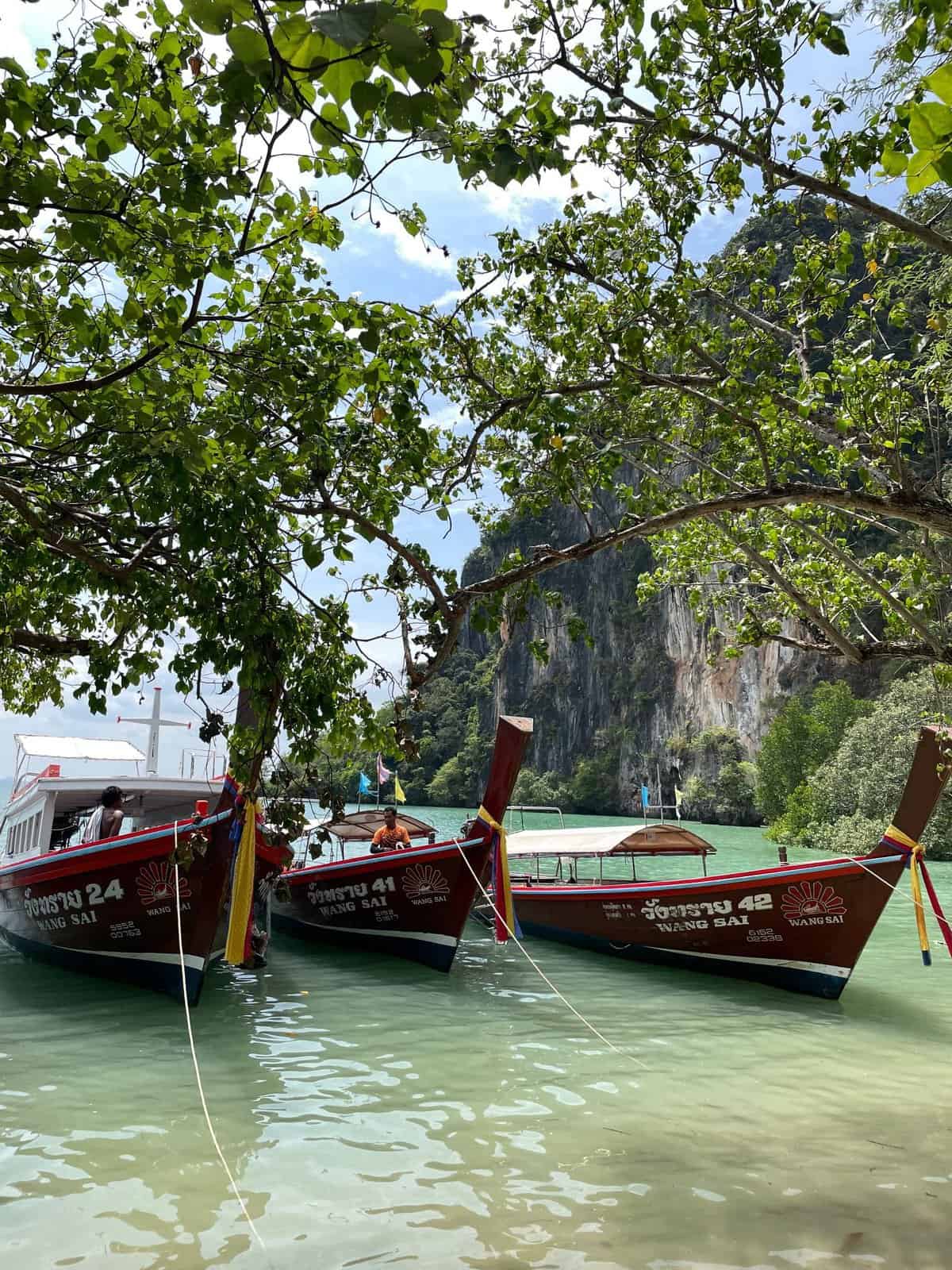 Railay
Firstly, because I got quite stressed when I couldn't find any speedboats to Krabi, it's worth noting that Koh Lanta has a car ferry and is a short distance from the mainland. So don't stress if you can't find a ferry onwards – they stopped for Covid but also take a break in the more choppy wet months. We booked ours at the pier and although it was suggested to be a private transfer, a van pulled up full of people. Still, it was inexpensive, nice enough and had the all important air con. Just make sure to keep an eye on your suitcase as people get off, or your bag might get accidentally swept up in the mix (like mine did).
Secondly, if you're staying on Railay, be aware that you'll likely need to be able to get your own suitcase on and off a longboat parked in the shallows. Luckily for us my suitcase was still in the wind (since returned!) because we wouldn't have managed to get all our stuff on and off. Also something to be aware of for any mobility issues – I didn't find it a seamless exit and I am mobile. Some boats arrive at Railay East which has a pier, but I think they are privately arranged. Worth looking into if you're worried about getting on and off with luggage.
We ended up having a bit of an accomodation kerfuffle and left our hotel on Railay. We booked Avani in Ao Nang straight away and hopped back on a longboat (about 15-20 minutes to Ao Nang). Although it was a long day, it worked out better for us in terms of activities we wanted to do.
If you want to stay on Railay, my advice would be to splurge a little, book in advance (so you get a cheaper room) and stay at Rayavadee. The grounds are huge and it seems to be just a lovely place to stay.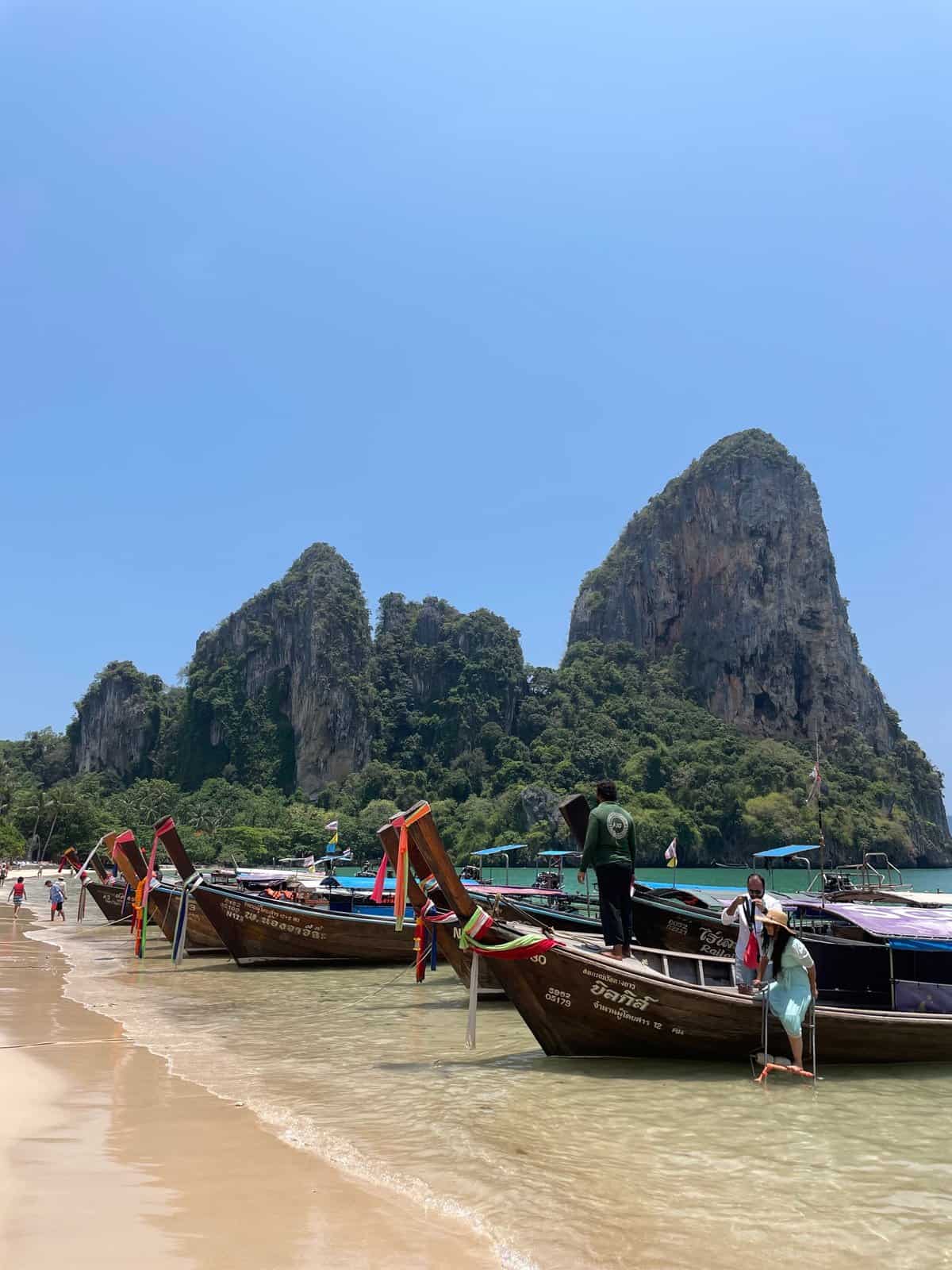 Food
Because we didn't stay long, we didn't try too much of the food. I had read that Railay is not a great place to get authentic Thai food, but I suppose vegetarian pad Thai is not really authentic anyway. We ate lunch at Mangrove, right up the back of walking street. The pad Thai I had was probably the best of the trip.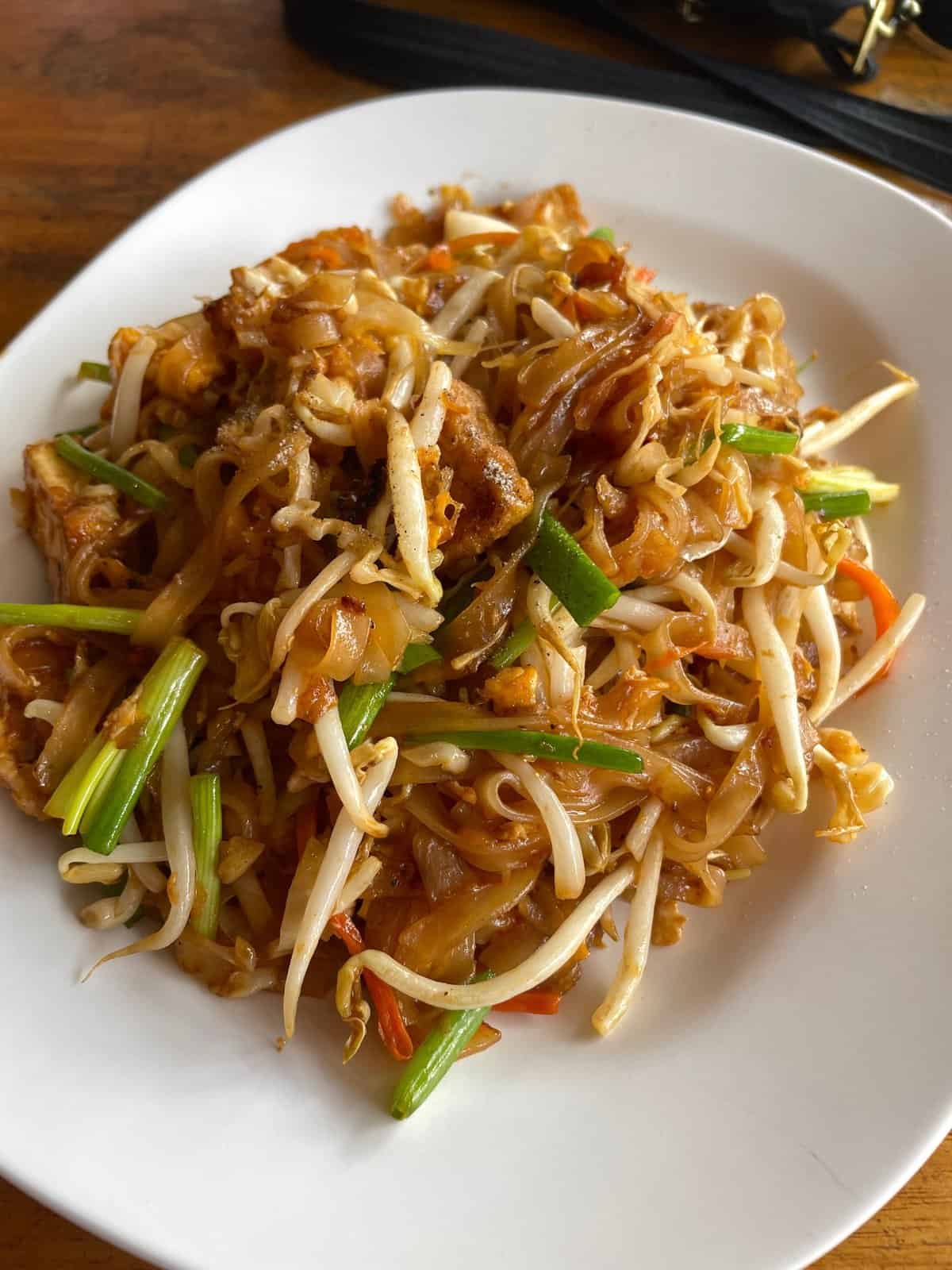 Ao Nang
Ao Nang is the main township on the 'mainland'. Railay isn't an island, but because of the mountainous terrain the only way in is by boat. Initially I was not taken by Ao Nang at all and I suspect something to do with that was the fact we were coming from Koh Lanta. Ao Nang felt distinctly more like a shopping strip with a beach. It took some time to grow on me but I was quite fond of Ao Nang by the time we left.
Because it was a bit of an emergency booking, we didn't look too closely into what we were doing. We stayed at Avani on the main strip back from the beach. I think it was nice and central and a nice hotel with an infinity pool overlooking the water and the cliffs.
Ao Nang seemed like a little bit more of a party town. It's a great base for day trips to Railay, the surrounding islands, Hong Island and Phi Phi. If you stay close to the beach, you're walking distance from the long boats to Railay as well as transfers to the other pier for day trips.
A quick note if you prefer to walk and are staying down by the beach: the restaurants and shops go up around the corner, past the mosque. We only walked up to the mosque and back because it was so hot. We discovered a whole new set of shops and restaurants around the corner as we drove to the airport.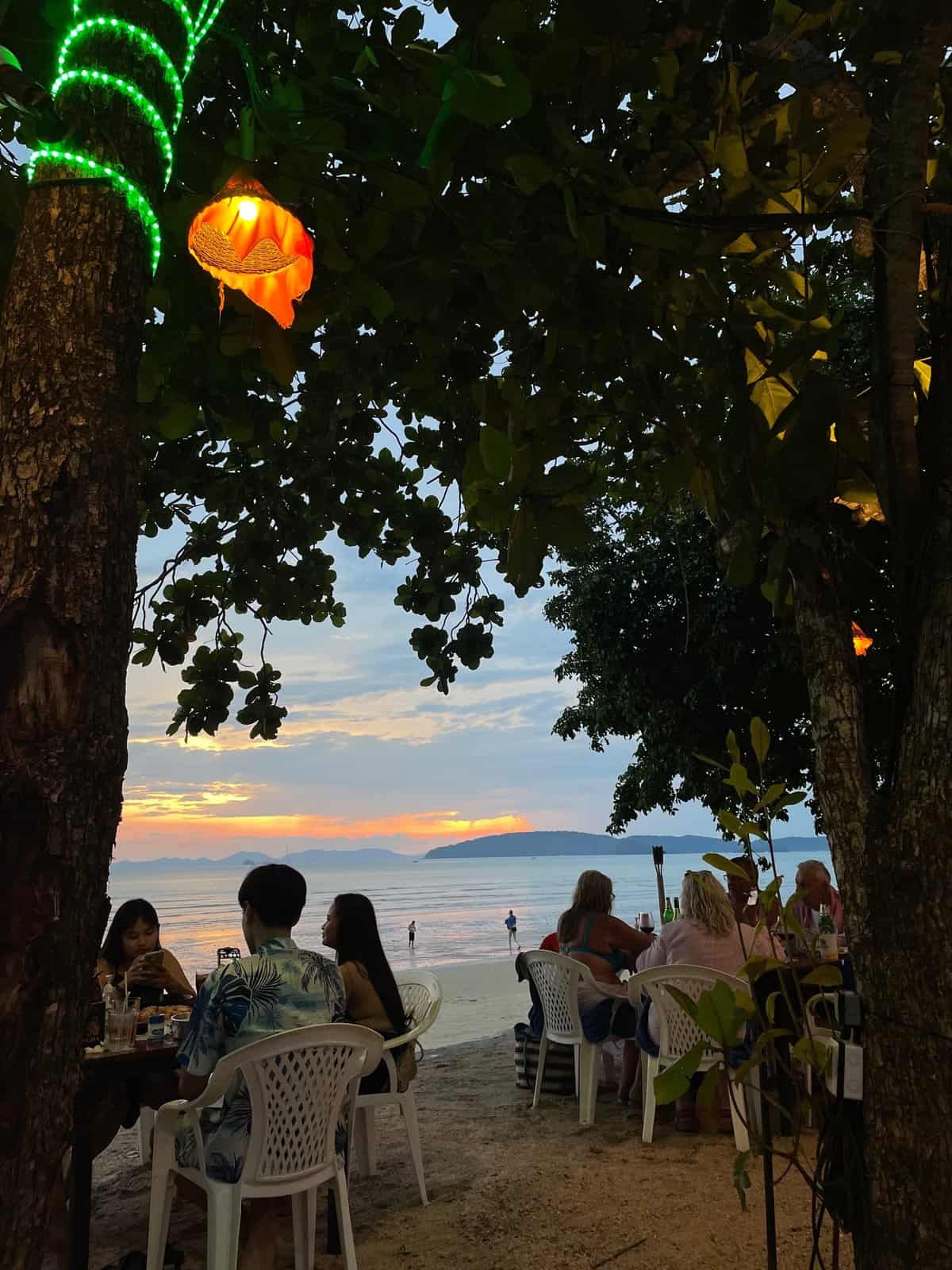 Activities
Day trips to the surrounding islands. We booked all of ours through the travel vendors on the street. Sadly we had a few stormy days while here and we missed out on Hong Island and Phi Phi. I saw a couple of long boats out in a thunderstorm and I am just not about that life.
Get a massage on the water. I didn't realise it, but Thai massage is well renowned. Normally I am too ticklish for a massage but they were lovely.
Enjoy the nightlife. A hypocritical suggestion given that we were exhausted and in bed by 9pm most nights, I know. That said, I can highly recommend the Italian margaritas at the takeaway cocktail bar near the beach.
If I had my time again, I would have done a day trip into Krabi itself. Apparently it's a lot more local and with more authentic food.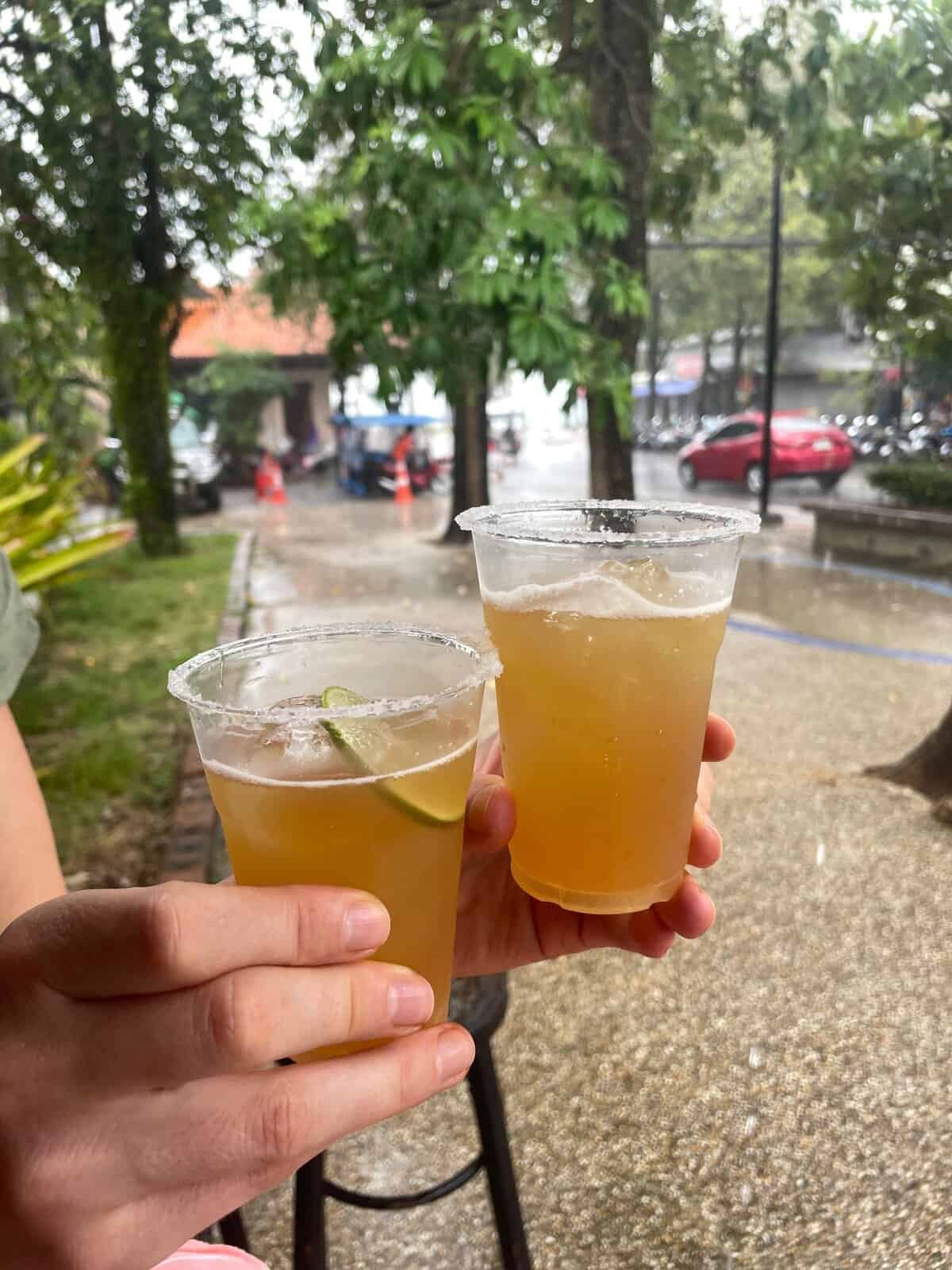 Food
Yet again, I didn't achieve half the eating I wanted to in Ao Nang. Day trips and sightseeing were priority, so eating was just a matter of finding a spot, preferably with locals.
We ate at Racha seafood up near the mosque and it wasn't bad. It was incredibly inexpensive and a good hearty meal.
My travel companion was very taken by the roti stand near the entrance to the street of bars. I think it was called RCA entertainment. The roti up the top nearest the seating area was her personal favourite.
Cafe 8.98, while not the food experience I was intending to have, was open at times that agreed with our schedule and the food was good. More like a Melbourne cafe than Thai street food, but still very nice.
Apparently there used to be a food centre called Jame Food Centre. The only sign of it we found was the literal sign. I'm not sure if it succumbed to Covid or we were there at the wrong time.
I also read that there was street food up near the mosque. We only found a bit, although the writer was perhaps including the permanent shops like Racha seafood.
Other places I read about but didn't get to try: Family Restaurant and A One restaurant (the photos online looked a bit Western but I saw lots of good reviews – not on Tripadvisor. Also, Raan Andaman (which is Muslim Thai food) and Bryde in Klong Haeng Village. Basically all the places I wanted to try were found in this article.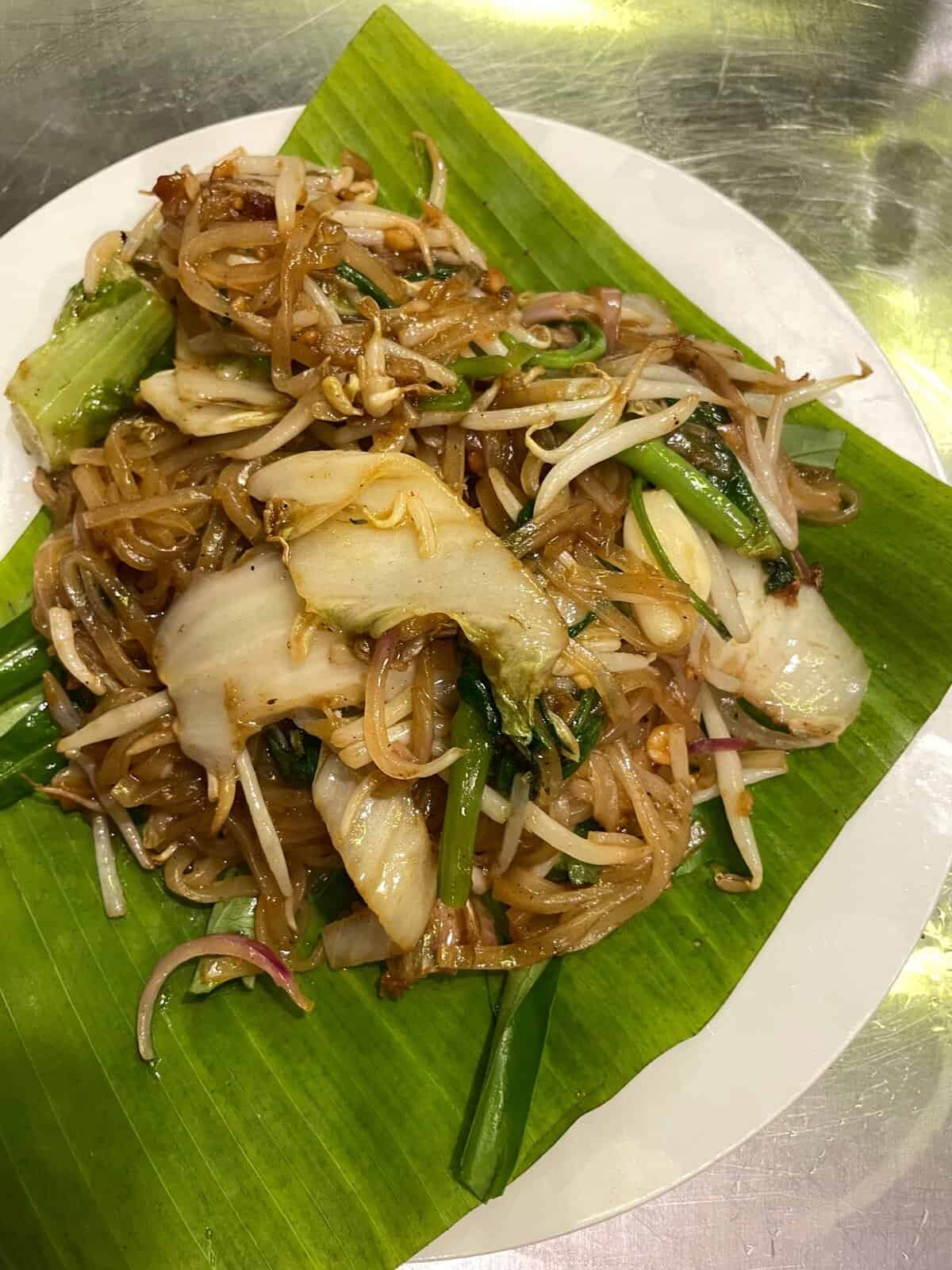 Bangkok
I didn't quite understand the sheer size of Bangkok until we made the drive from the airport into the city. The amount of buildings and skyscrapers makes Melbourne look like Mount Martha. So, it was obvious fairly early on that we were never going to accomplish everything we wanted to with the time we had. If I had my time again, I would probably budget a week or two for Bangkok alone – there is so much to do, see, eat and drink. In fact, I don't think we ate at a single restaurant I had on my list.
We stayed at the Marriott on Sukhumvit 57, walking distance from Thong Lo station. I decided we wanted to be central given the amount of time we had, and figured being on the BTS Skyline route would be a bonus. We also stayed there because the hotel has one of the best 360 degree rooftop bars in the city. Let me politely say – best for the view, not for cocktails.
We both agreed that we'd stay centrally again – perhaps closer to Nana Station. Nana is a trendy, foody area and Thong Lo was a bit quieter. Either way, the traffic is pretty bad so it makes sense to be able to catch the metro. We also used Grab for a lot of things off the metro line and can highly recommend downloading it for Bangkok. Traffic moves slowly but the service is very inexpensive and sometimes it can just be nice to sit in air con.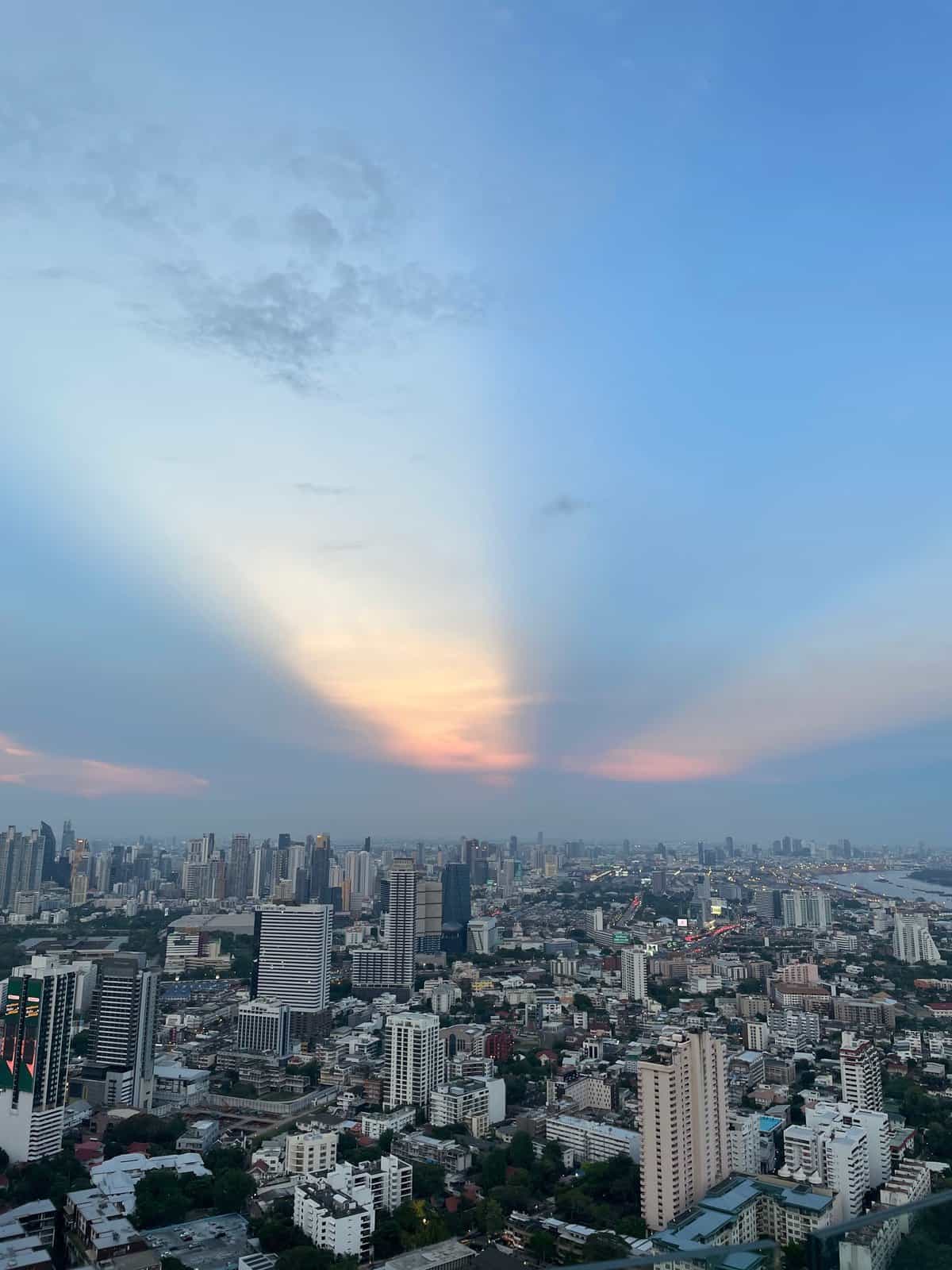 Bars and street food places I would recommend:
Q & A Bar – the best cocktails we had of the trip in a sleek and cute setting
Find the Locker Room – a fun hidden bar where you have to find the entrance in a locker room. Not the best cocktail I have ever had but a fun experience and a nice vibe.
Octave Bar (top of Marriott hotel Sukhumvit) – Go for the incredible 360 degree view at sunset (not the cocktails)
Banyan Tree hotel rooftop – same as above on the cocktail front
Or Tor Kor food market – lots of fresh and cooked food options and a really cool experience. There are tables to eat your food in the middle, too.
Taling Chan floating market (Saturday and Sunday) – from the place you arrive, you don't get to see any floating, per se. There's a lady there who arranges boats to go and see the floating aspect, but they are at certain times. So allow time for this if you want to see a floating market (I can't vouch for the experience as we didn't have time). Otherwise, we just found some really interesting food here that we hadn't seen elsewhere.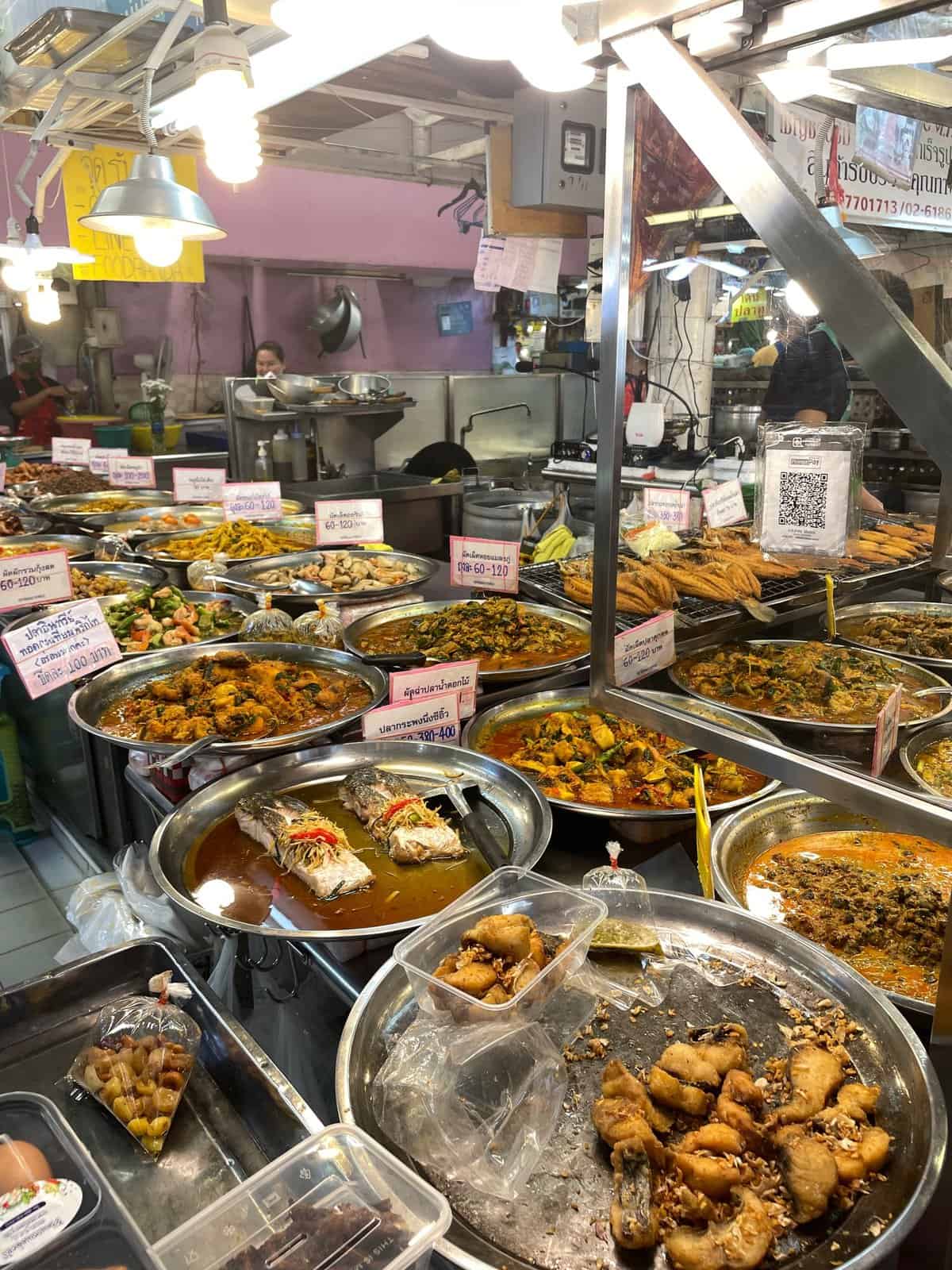 Activities I would recommend:
Take a cooking class.
Do a Street Food walking tour. I have to say I probably wouldn't recommend the one we did, as it was more like an hour of markets and two hours of a promotional spiel. That said, we wouldn't have tried a lot of the foods we did if it weren't for the tour, so it was worth it on that front. If you do a bit of digging I'm sure you will find a good one online.
I desperately wanted to visit Damnoen Saduak floating market and Maeklong railway market. They're about an hour and a half out of Bangkok city, so we didn't get the time. Both markets are relatively close together, so next time I would book a guide or a tour and do both in the one day.
It was too hot for us, but we went to Chatuchak weekend market and the sheer size of it was pretty wild. A fair few of the stores were closed when we went – unsure if this was Covid, heat or otherwise related. Apparently it is the world's largest market (or so their website says).
Go to Chinatown. We didn't, and I wish we did. Apparently it's just a really cool spot with really good street food.
Chamlong Asoke – a vegetarian food court at the back of Chatuchak market (apparently it closes by 3pm so best to get in for lunch)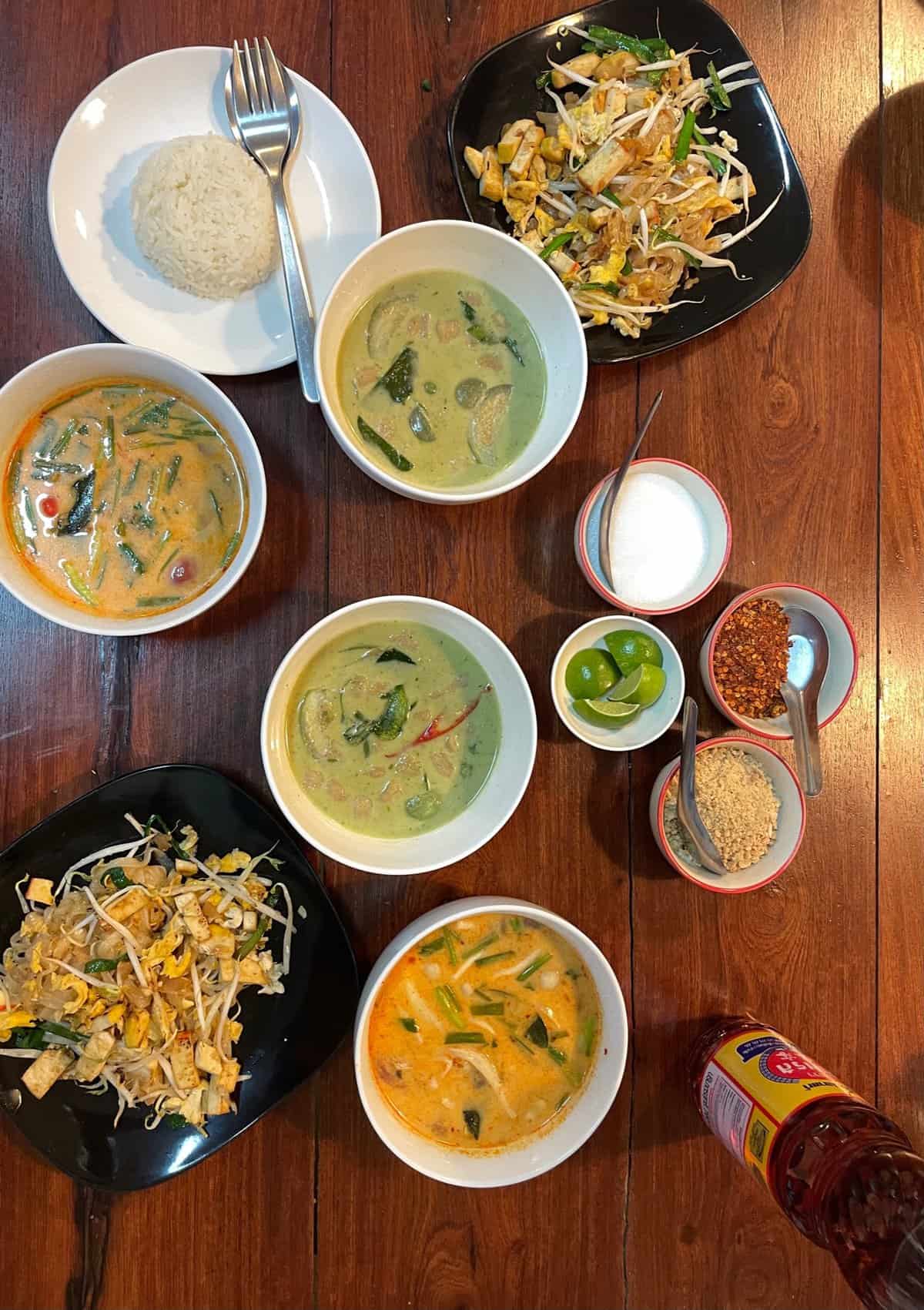 Street food places we didn't get to:
Soi Sukhumvit 38 – apparently there's some great street food at night
Yaowarat Street (Chinatown) – apparently the competition is brutal here so only the best street food survives
Boonsap Thai Desserts
Thip Samai (apparently the best pad Thai in Bangkok, so I was pretty crushed to miss this)
Raan Jay Fai – Thanks Netflix
P'aor – apparently the best Tom Yum in Bangkok
Maybe not street food but I really wanted to Thai Tea soft serve at Cha Tre Mue. We went to the venue at Terminal 21 and they didn't seem to have it, but they did make a good Thai milk tea
Khao San Road – the cheap, party central backpacker area which apparently has great street food

Vegetarian restaurants we didn't get to:
House of Joy (Vegetarian Thai food, apparently temporarily closed)
Anotai (vegetarian Thai food)
Broccoli Revolution (a bougie cafe with some Thai food crossover)
May Veggie Home
Baan Suan Pi vegetarian food court (also known as Banana Family Park) – I just read that there is only one stall left now, which is sad.
Chamlong asoke food court – apparently at the back of the Chatuchak market
Mai Kadee – vego/vegan near Khao San road (which we also didn't get to and apparently has great street food)
Bougie restaurants we didn't get to:
One thing I will say about the fancy places is that none of them had really any vego options and at least a few of their websites said no changes. One restaurant even asked you to tick a box to declare that you would eat fish sauce, shrimp paste, etc. Totally fine given they want to serve authentic Thai, just something to be aware of if you're looking to dine out. The one exception I found was Khua Kling Pak Sod, which has a vegetarian menu.
Akorn (David Thompson, whose cookbook, Thai Street Food, is an amazing resource for learning about what is what for the English speaker)
Nahm (ex David Thomspon – there's a theme)
Issaya Siamese Club
Sala Rim Naam – dining on the water
Jeib Roddeedet – authentic thai in a boug atmosphere
Bo Lan – which is apparently closed due to Covid, but seems to have a monthly pop up that didn't fit with our timings)
Khua Kling Pak Sod, which has a vegetarian menu (rare!) so would be worth a visit.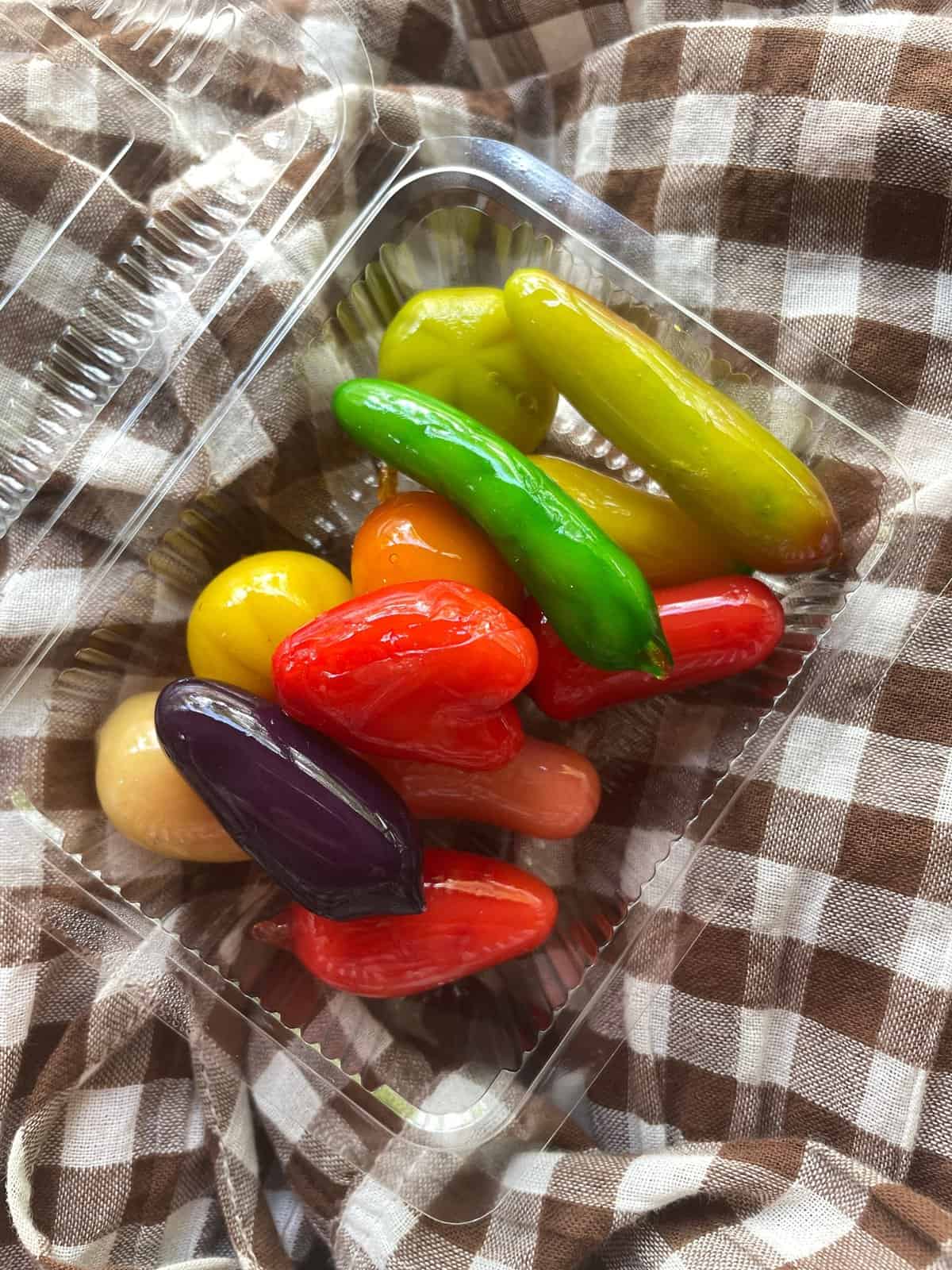 Bars and rooftop bars we didn't get to:
Teens of Thailand
Havana Social
Sugar Ray, You've Been Poisoned (sister bar to Q & A)
The Bamboo Bar (number 11 on the World's 50 Best bars in Asia this year)
Tropic City (number 22 on the World's 50 Best bars in Asia this year)
Vesper (number 46 on the World's 50 Best bars in Asia this year)
Jacks Bar – a hole in the wall with no air con on the river which sounds like fun
Playhaus

Some foods I had that I really enjoyed:
Before we begin, a quick note: I am not (as far as I know) a coeliac. I am a little adventurous with the unknown on holiday, because if worst comes to worst I will just feel like rubbish. If you are a coeliac, I would recommend learning some phrases and doing some research on safe places. A lot of sweet foods in Thailand seem to be both vegan and gluten free, but it's better safe than sorry.
Kanom kluay – little steamed banana cups with sugar, rice flour, tapioca flour and shredded coconut. A little squidgy jelly-pudding type number that was very nice.
Kanom Buang – the little taco looking desserts beneath. They are made with rice flour and mung bean flour and taste like fortune cookies. The insides can be filled with an egg yolk and sugar mix or a coconut coriander mix for a fun sweet and savoury twist.
Mango sticky rice and durian sticky rice. Obviously.
Khao tom mat – Sticky rice, banana and sometimes beans wrapped in a banana leaf and sold as a little parcel. They're just sweet and the perfect snack.
Thai iced tea, both milky and lemon. I always had it at 100% sweetness if they asked. Holidays, you know?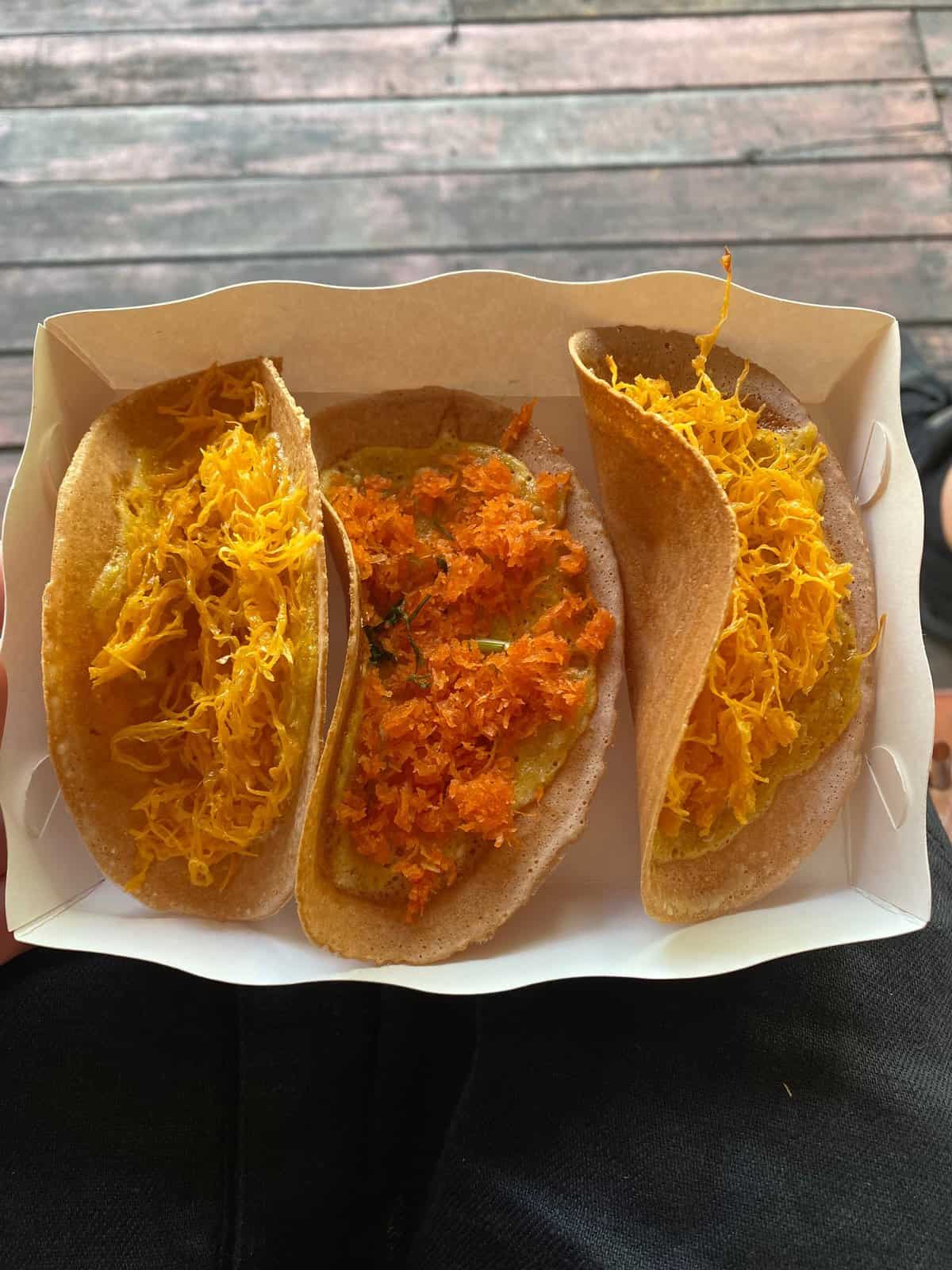 Foods I wanted to try:
First off, a quick note: our guide told us that Kanom (also spelled khanom) means dessert
Kanom Ko – little dessert dumplings made with glutinous rice flour, shredded coconut and coconut milk.
Lod chong – a cousin of cendol in Malaysia, lod chong are those bright green pandan wormies in a sweet syrup. They're made with rice flour, mung bean flour and pandan water. They are accompanied by a sweet coconut milk based syrup.
Kanom khrok – little pancakes made with rice flour, jasmine rice and coconut milk. They look a little like mini hoppers and are filled with a variety of different things, sweet and savoury.
Gluay Ping – grilled bananas served with a coconut sugar syrup
Kanom Chan – a layered dessert made with tapioca flour, rice flour and coconut milk. It also sometimes uses mung bean flour, so I have read. It can be brightly coloured and almost looks like a layered stack of jelly.
Pad gra pao het jay – a vegetarian version (jay means vegan) of a pork stir fry dish. It uses mushrooms stir fried with Thai basil and chillies.
Pad pak ruam prik gaeng – a dish of stir fried mixed vegetables fried in chilli curry paste with makrut lime leaves.