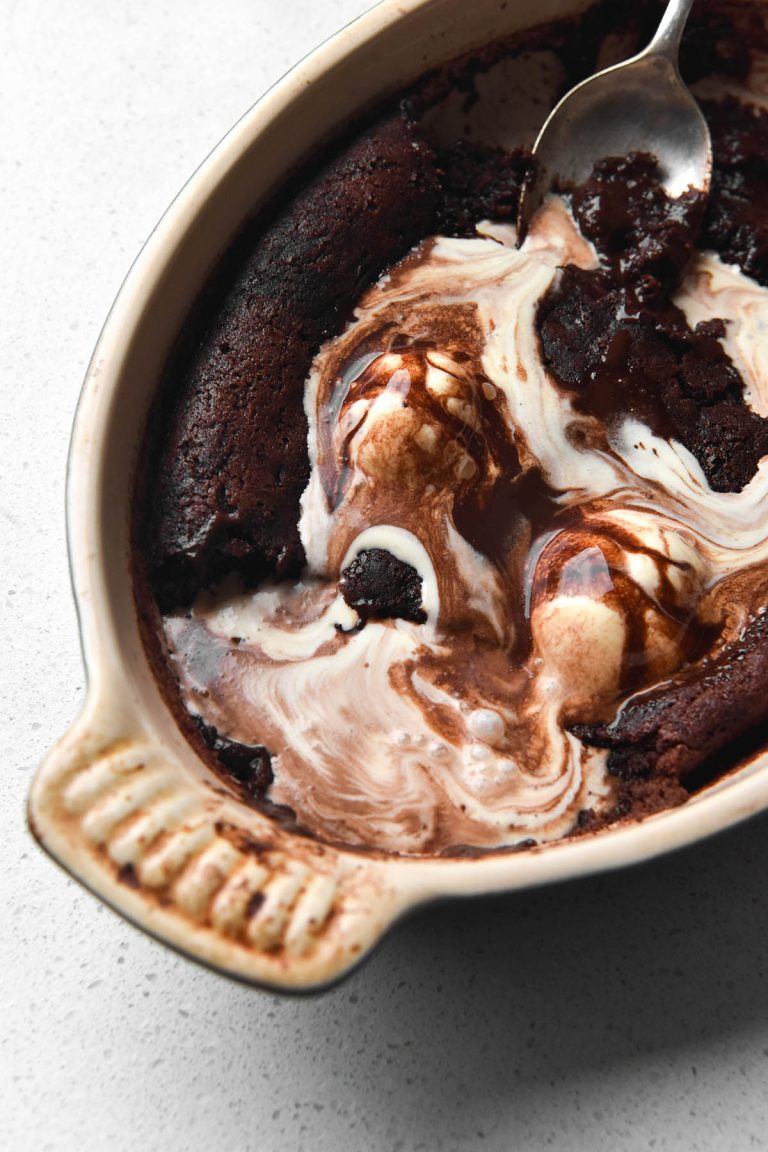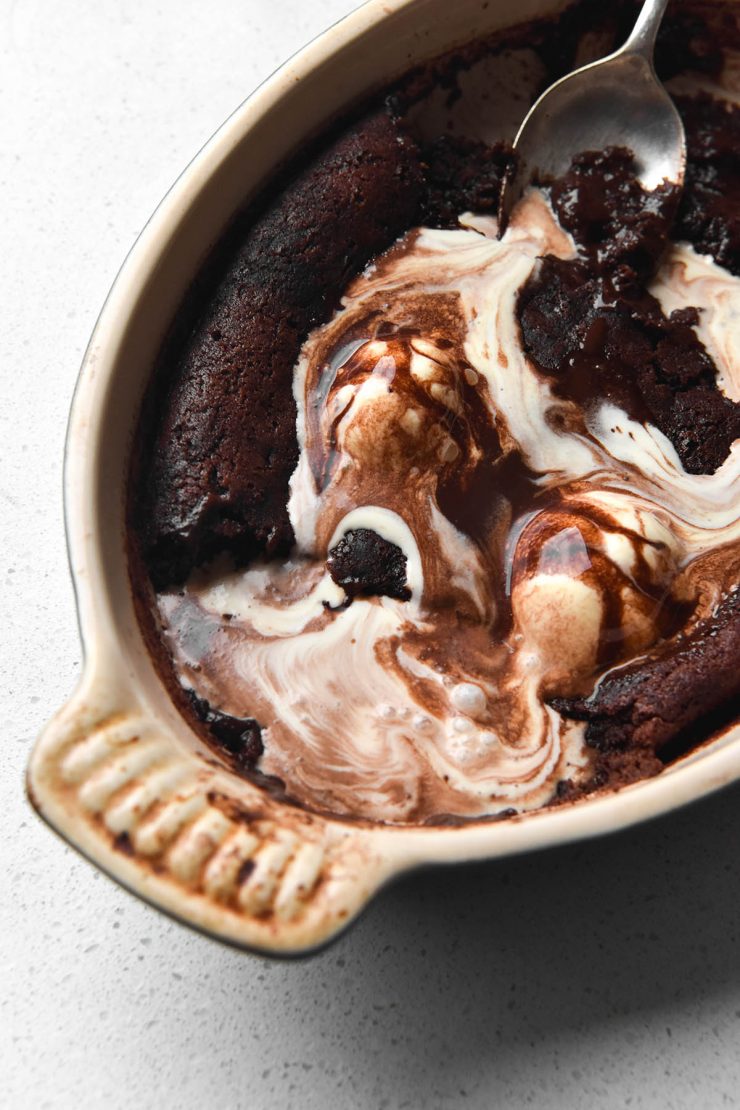 This gluten free chocolate self saucing pudding is perfect for this relentless Melbourne weather. I wanted something chocolatey and sweet yet easy to whip up without any special equipment, and this pudding fits the bill.
In some places, this might be called a gluten free chocolate cobbler. Whatever you call it, it's easy and delicious.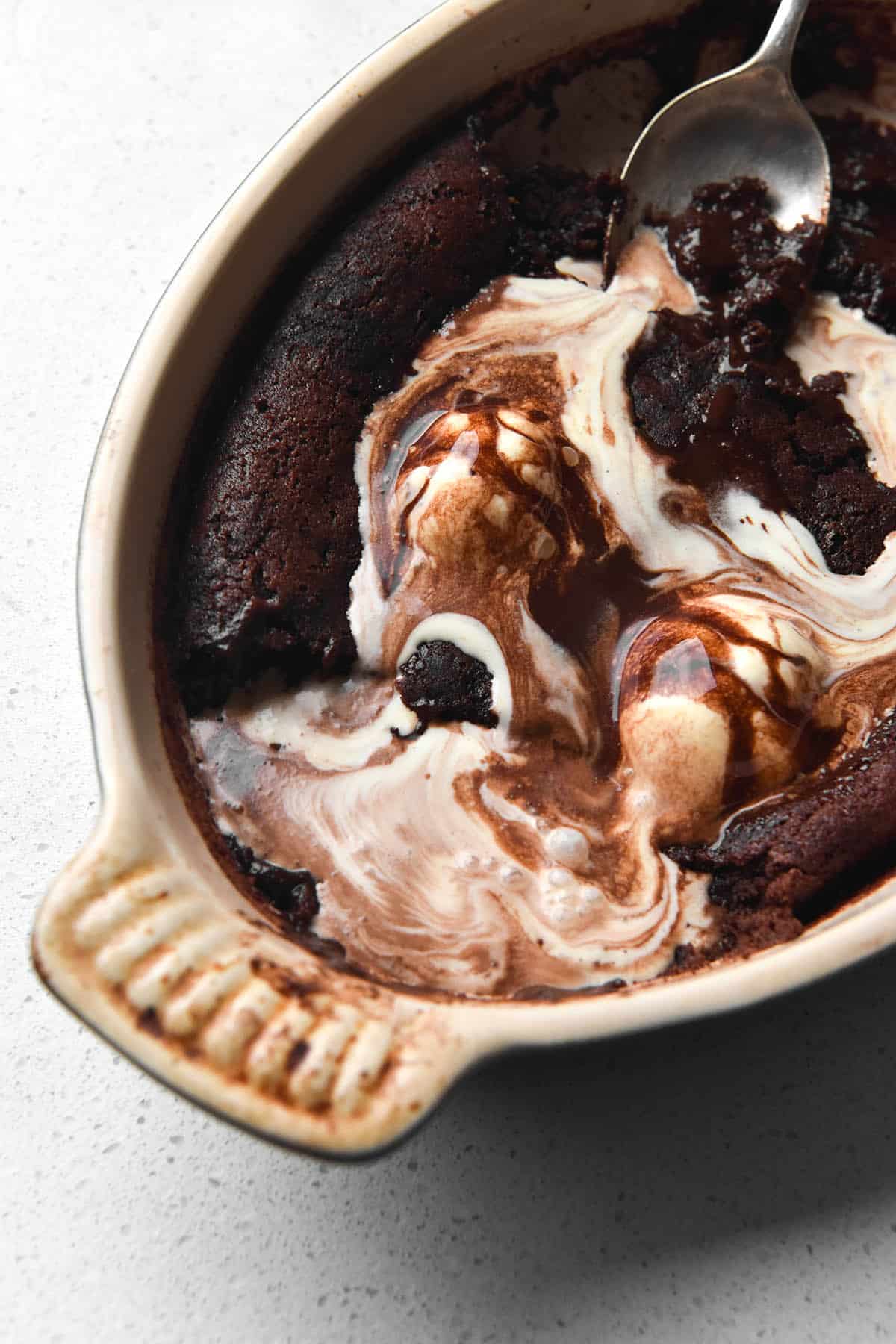 Gluten free chocolate self saucing pudding (without eggs or xanthan gum)
This pudding is gluten free and grain free. The version in the recipe card (which is my favourite) uses almond meal and cassava flour which are both grain free flours. However, the pudding can also be made with sorghum and glutinous rice flours. I plan to test more flour combinations, too, so stay tuned.
This gluten free chocolate self saucing pudding is xanthan gum free and egg free. The combination of a starchier flour (like glutinous rice flour or cassava flour) in conjunction with a wholegrain flour is what keeps the pudding together.
Because the pudding contains no eggs, it can also be made dairy free and vegan. Simply substitute in plant based eggs and milk and you have a gluten free and vegan chocolate self saucing pudding.
I have tested this pudding with both regular and Dutch processed cocoa. Both work, but I definitely prefer the Dutch processed cocoa version. It is richer and has a deeper chocolate flavour.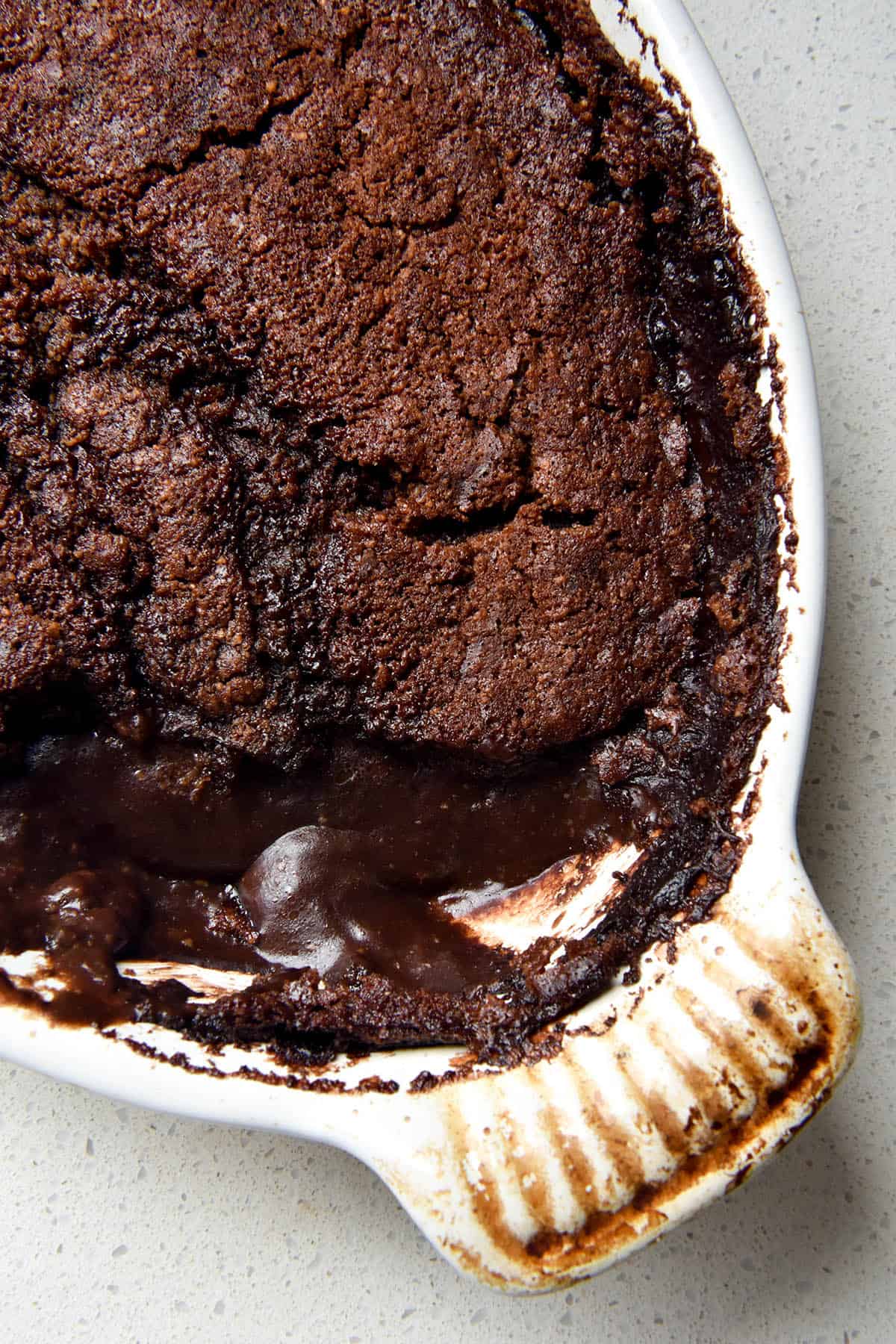 Substitution notes for your self saucing chocolate pudding
This pudding, I daresay, could be made with rapadura or panela sugar instead of light brown sugar. A liquid sweetener, such as maple syrup, isn't suitable here. I have not tried any sugar alternatives.
To make the pudding vegan, use plant based butter and milk.
If you want to make the pudding nut free, use the sorghum and tapioca flour option listed in the notes. I will add more flour options as I work.
Personally, I found that the rice flour option was a little too gritty. Normally rice flour is my go-to, but I don't recommend it here.
Another thing I don't recommend is trying to combine cassava with a starch like tapioca. They are from the same family, so it will result in a mochi like overly chewy filling.
I highly recommend the Dutch processed cocoa version for a deeper chocolate flavour, but regular cocoa also works in a pinch.
Keep in mind that the sauce component will have little bits of almond meal flecks in it. Nothing to be concerned about.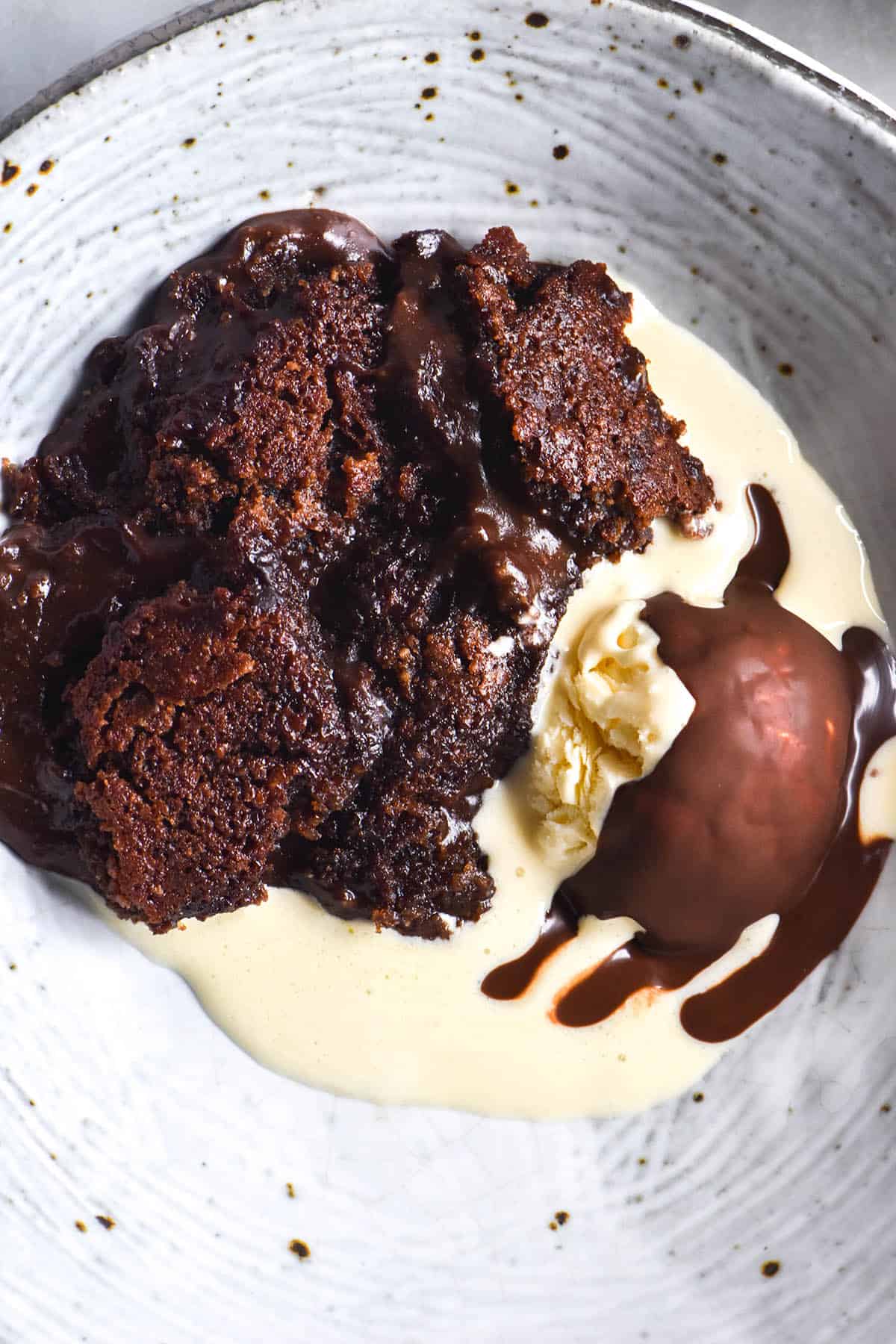 Tips for your gluten free chocolate self saucing pudding
This self saucing pudding is incredibly easy to make. There aren't too many things that can go too far wrong, because you simply mix up the pudding, boil the kettle and bake.
The number one tip I can give you is to pull the pudding out of the oven while it's very jiggly and unset in the middle. This is the entire point of the pudding! The bottom half needs to be undercooked to form the sauce. If you let the pudding cook all the way through, it will no longer be self saucing. That's fine, if that's how you would like it, but it's not the traditional goal of the recipe.
Because this pudding contains no eggs, there's no need to worry about any food safety issues. The flours in the pudding will have been sufficiently cooked, and the dairy does not need cooking to be food safe.
The other tip is to ensure that your pudding is the right consistency. You want the pudding mixture to be roughly pancake batter like in texture. It should spread when you pour it into the container, but you should need to spread it out a little with your spatula. The consistency is important to ensure the batter isn't too thin. If the batter is too thin, it will mingle with the sauce liquid too much and become runny.
How much liquid should I add for the sauce?
There is some wiggle room here. I tested many puddings with 1 1/2 cups (375ml) and many with 2 cups (250ml. The pudding with more liquid was more substantial and had more pudding sauce on the bottom. It did need an extra 5-10 minutes in the oven.
If you prefer a higher cake to pudding ratio, use less liquid. Either way, it's still delicious.
Another sauce trick I cottoned onto is to add 25g of butter if you like a crispy top and a richer sauce. It's very optional, but I enjoy it.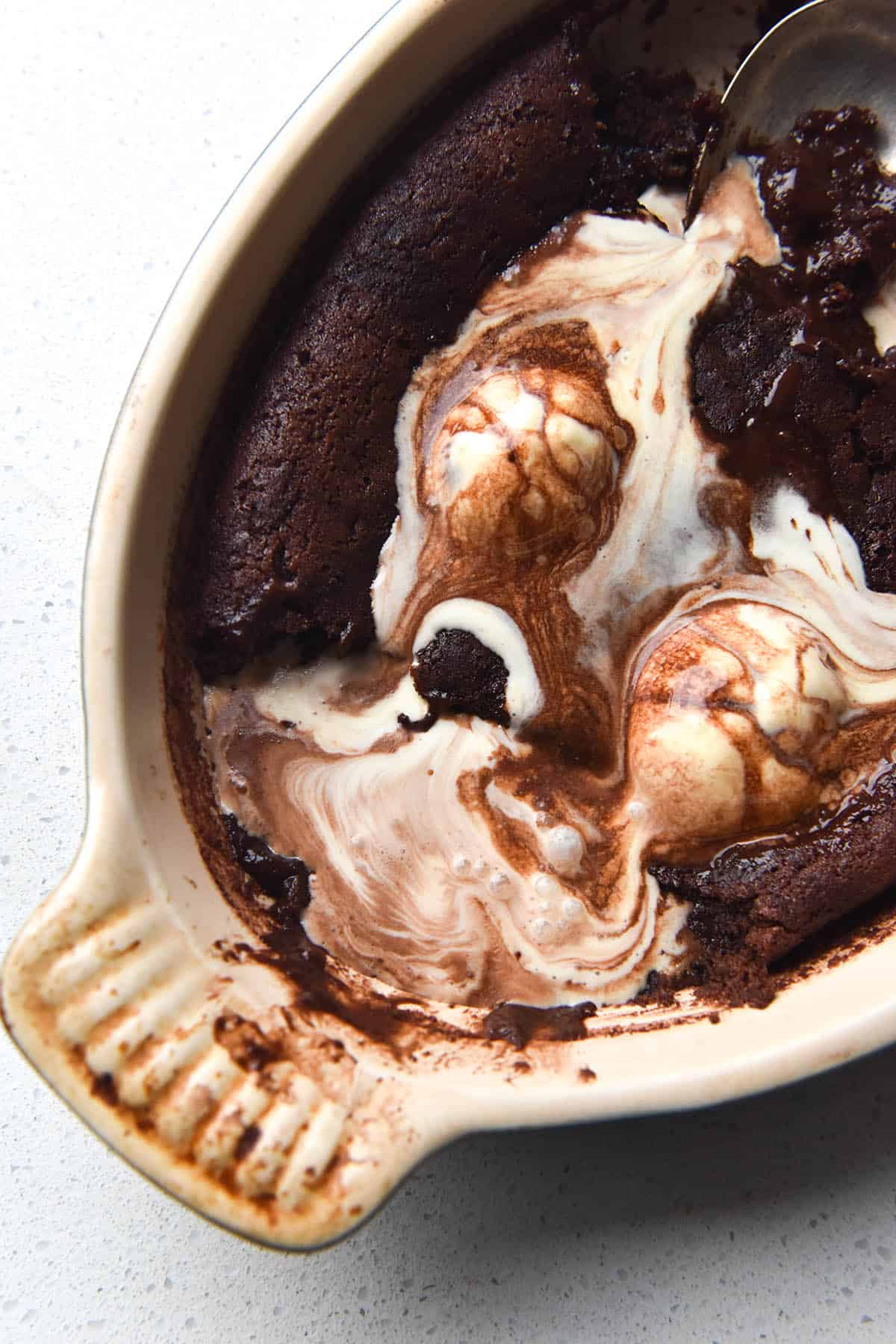 More gluten free chocolate dessert recipes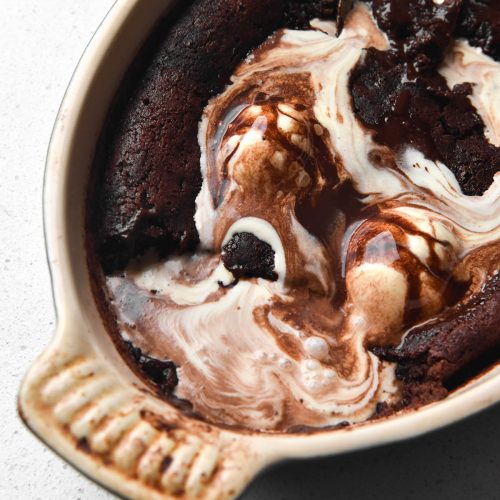 Gluten free chocolate self saucing pudding
Grain free, xanthan gum free, egg free, vegan option
Serves 6-8
All measurements are in Australian cups and tablespoons
Use gram and ml measurements for accuracy
Ingredients
For the chocolate pudding:
1/2

cup

(80g) cassava flour

1/2

cup

(50g) almond meal

2

tablespoons

(20g) cocoa powder

2

teaspoons

baking powder

125g light brown sugar

75

g

melted butter

salted or unsalted

1/2

cup

(125ml) milk

1/4

teaspoon

fine salt (if you use unsalted butter)
For the sauce:
1/3

cup

(30g) lightly packed light brown sugar

2

tablespoons

(20g) cocoa powder

1/4

teaspoon

fine salt

1 1/2 -2

cups

(375-500ml) boiling water

(see notes)
Instructions
Preheat the oven to 180C/350F.

Combine the dry ingredients for the pudding in a medium sized mixing bowl.

Combine the dry ingredients for the sauce in a large measuring jug and boil the kettle.

Add the wet ingredients to the pudding mixture and whisk to combine. Use a spatula to decant the mixture into a 28cm (1.6 litre) baking dish and use the spatula to spread it out. The mixture should be a medium thickness batter that needs a bit of help spreading to the edges.

Pour the boiling water into the sauce jug and stir well to dissolve the cocoa lumps. Gently pour the sauce mixture over the back of a spoon onto the pudding. The spoon will help soften the stream and ensure it doesn't break up the pudding.

Place the pudding into the oven for 20 minutes. It should be very jiggly but with a set top when you remove it from the oven.

Serve alone or with vanilla ice cream (lactose free or plant based if needed). Leftovers keep well in an airtight container in the fridge.
Notes
Both Dutch processed and regular cocoa work here, but I recommend Dutch processed cocoa for a deeper chocolate flavour.
For a nut free option, you can use 1/2 cup (80g) sorghum flour and 60g (1/2 cup) tapioca flour. 
You can play around with using 1 1/2 -2 cups (375-500ml) of water in the sauce. I find the 2 cup (500ml) needs an extra 10 minutes in the oven.
If you like a crispy topped pudding, you can also try adding 25g of butter. It makes for a crispy topped pudding and a slightly more rich sauce layer.