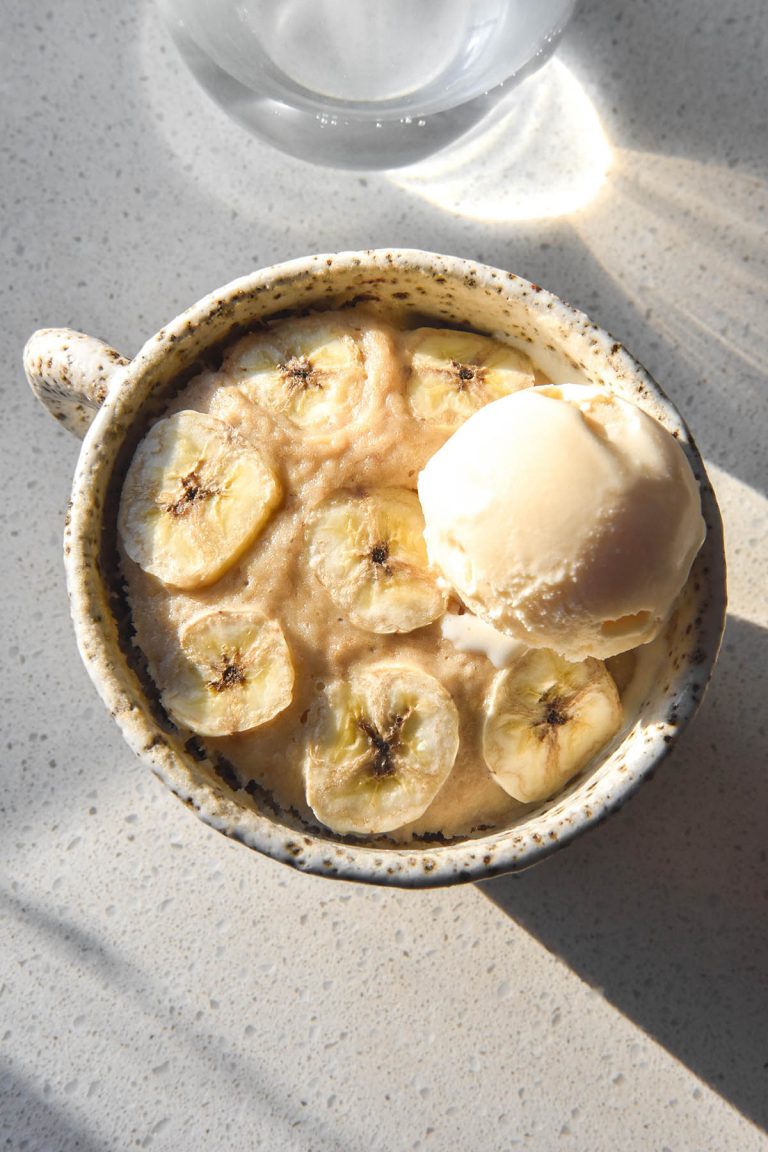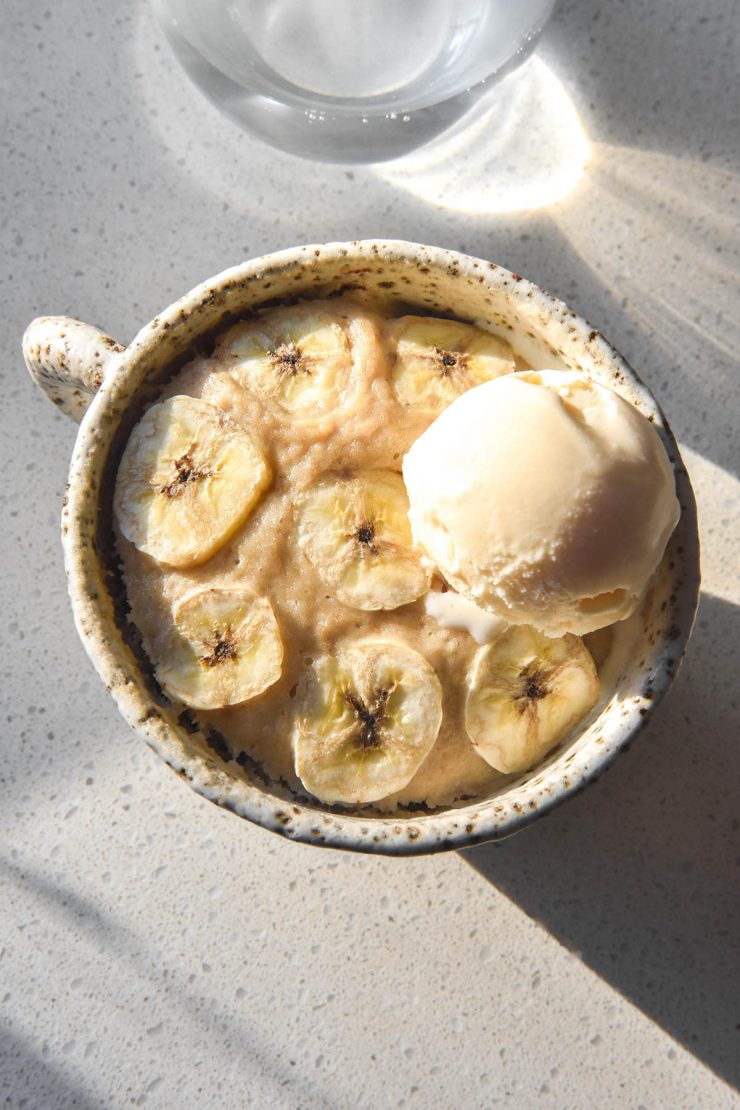 I have recently perfected my vanilla flavoured gluten free mug cake recipe. Now that I have, though, so many flavours are ripe for sharing. On the menu today? This gluten free banana mug cake. It's quick, easy and sinfully good.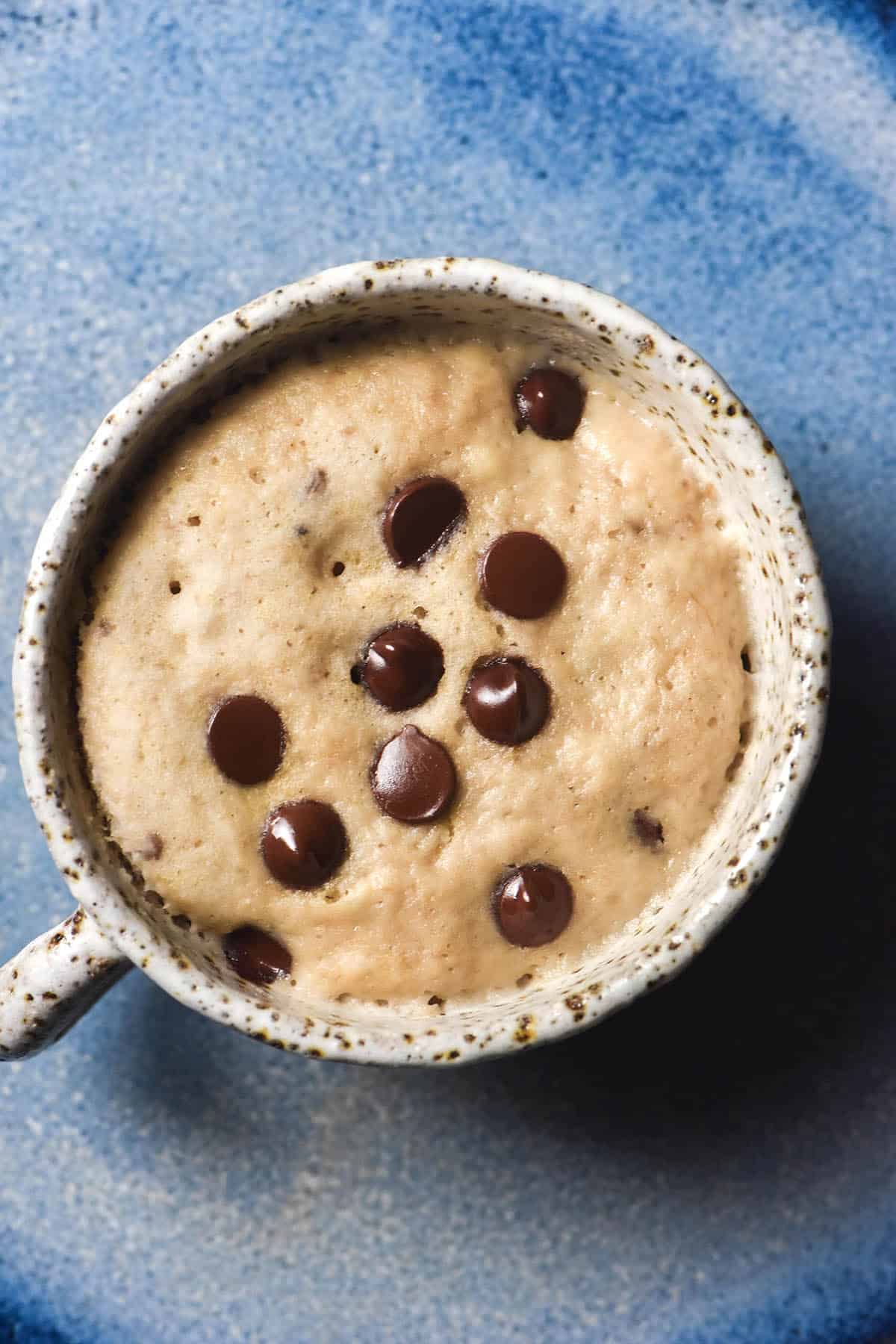 Gluten free banana mug cake
This mug cake is suitable for any number of dietary requirements. It is nut free, xanthan gum free, egg free and easily dairy free with the right milk. Because milk is the only dairy/animal product, the mug cake is also vegan with a plant based milk.
This mug cake also has a low FODMAP option. While I like to use ripe banana for maximum banana flavour, just ripe banana also works here. If you have issues with fructose, you can safely use a ripe sugar banana (sometimes called a lady finger banana) instead. Ripe sugar bananas are low FODMAP in 110g serves, which makes them a great option.
The best thing about this mug cake being egg free is that it is absolutely delicious when a little undercooked. I personally love a slightly under-baked banana cake, and this is exactly that. There are no food safety issues and it has this delicious banana flavoured saucy top that I love.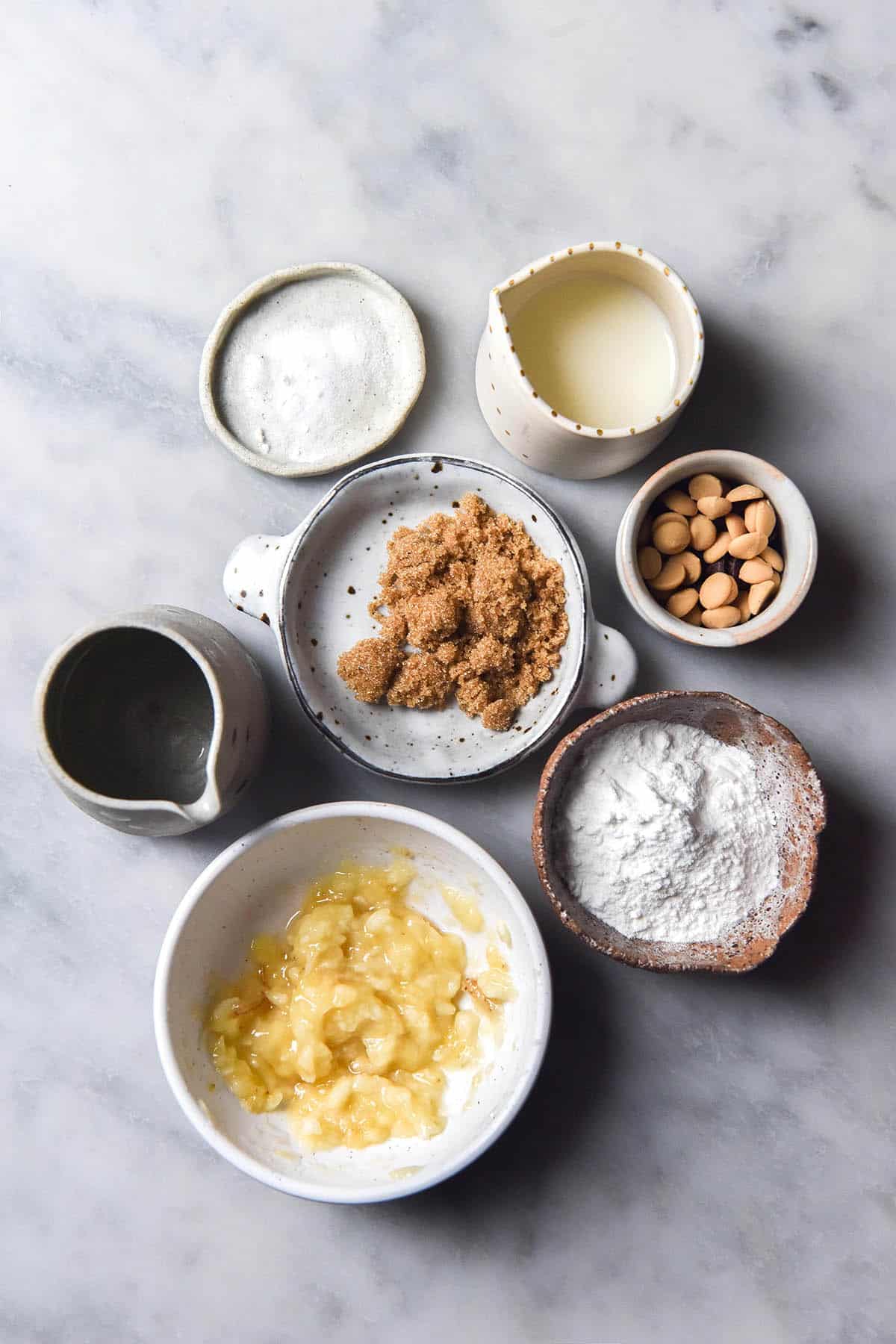 Why does this mug cake use baking soda?
During my countless tests, I found that baking soda was the most efficient leavening agent for gluten free mug cakes (vanilla ones, anyway). They need quite a lot of leavening, relative to a full sized cake or baked good. Generally speaking, you need to use about 3 times the amount of baking powder as baking soda (or bi-carb soda). What I found when trying to use baking powder, however, was that the quantity needed ended up making the mug cake taste salty.
This mug cake uses 1g of baking soda, which is a heaped 1/8th teaspoon. It's incredibly important not to use too much, or your mug cake will have that classic metallic taste. This is the only tricky thing about this recipe. I highly recommend (in fact, I insist) you use scales here. Scales are inexpensive and a critical element of gluten free baking. You really just have to have some in order to bake gluten free successfully.
Because the mug cake uses baking soda, it needs an acidic ingredient to start the chemical reaction and create bubbles. Light brown sugar is a start (which is why you can't sub for caster sugar) but we need some vinegar or lemon juice, too. This will react with the baking soda to create bubbles, but also to neutralise the baking soda flavour.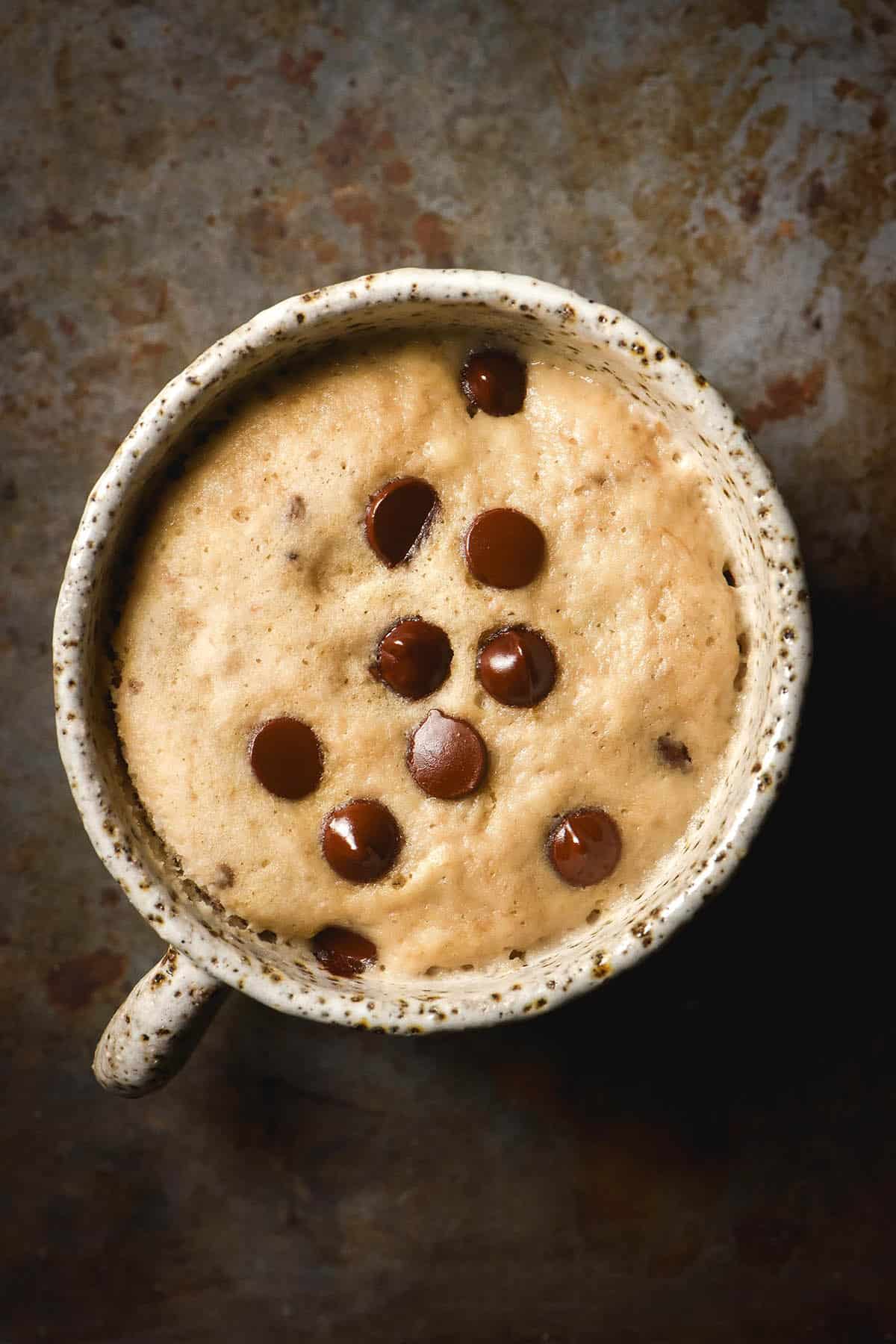 Optional additions for your mug cake
Although the mug cake is delicious as is, I absoutely love it with some choc chips. It becomes the ultimate decadent treat with those melty, gooey choc chips. If you wanted to scoop a bit of ice cream on top, I wouldn't stop you, either.
Because the mug cake uses a reasonable quantity of baking soda, it doesn't need any salt. However, some other optional additions include:
Blueberries (fresh or frozen)
White chocolate chips (dairy free/vegan if need be)
Some chopped walnuts
A spoonful of peanut butter in the centre (this would also work with Nutella/other nut butters)
Ice cream (duh!)
A finishing drizzle of chocolate sauce or maple syrup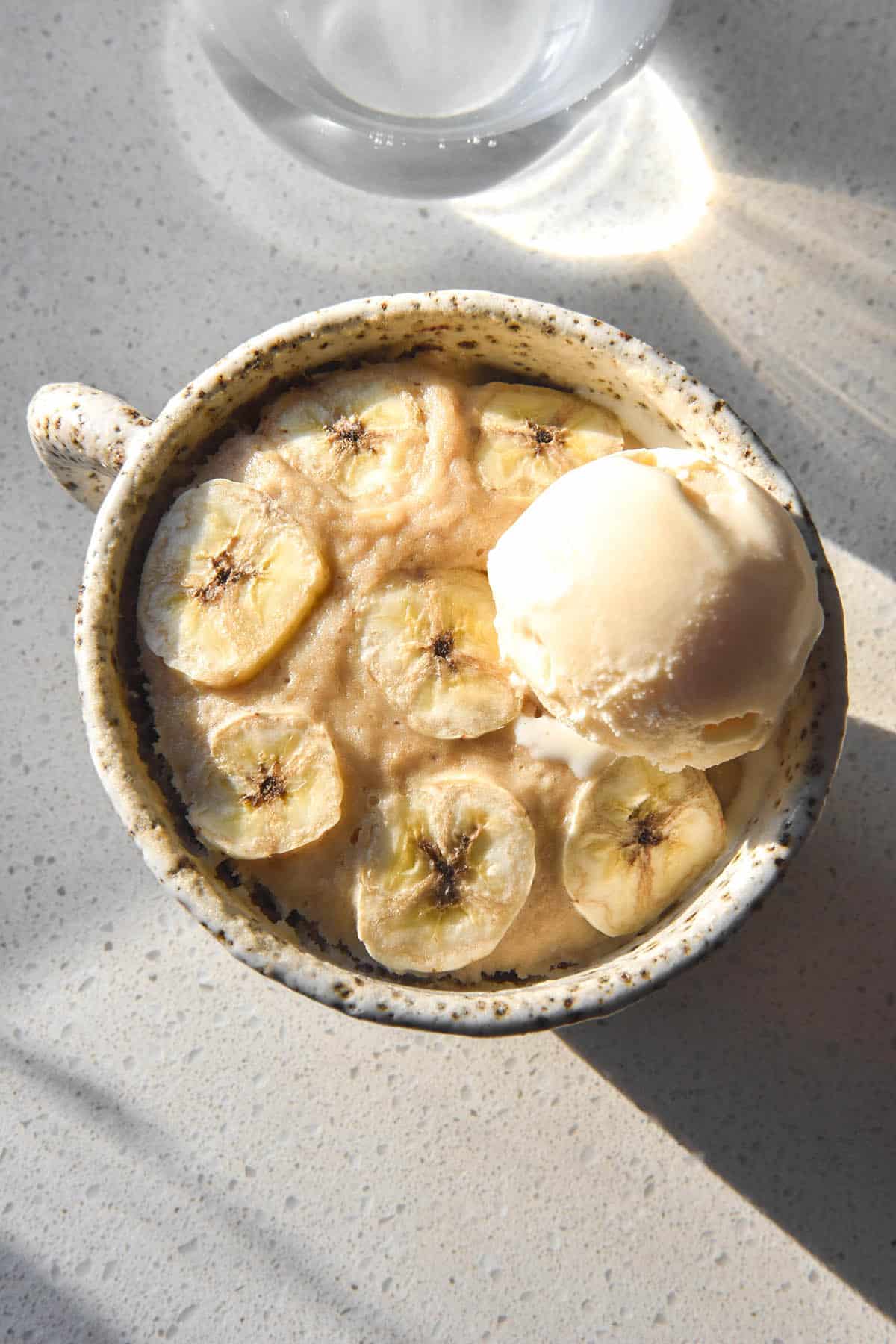 More gluten free mug cake recipes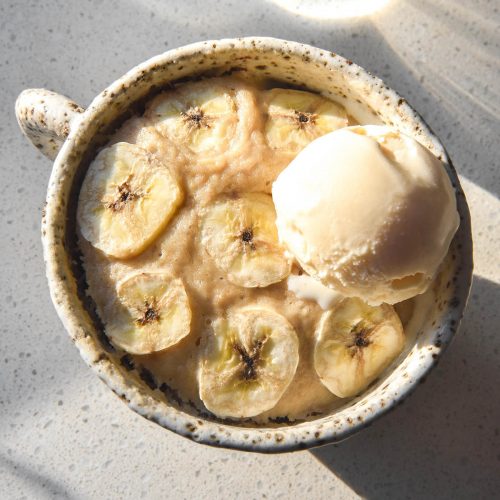 Gluten free banana mug cake (egg free)
Nut free, xanthan gum free, vegan option
Ingredients
40g

fine, fresh white rice flour

20g

light brown sugar or white sugar

50g

ripe banana, mashed

30-40ml

milk of choice

10ml

(2 teaspoons)

neutral oil (I used vegetable)

1g

(heaped 1/8th teaspoon)

baking soda (not baking powder)

10ml

(2 teaspoons)

white vinegar or lemon juice

1/4 – 1/2

teaspoon

vanilla extract or vanilla bean paste (optional)

15-20g

chocolate chips (optional)
Instructions
Whisk together the dry ingredients in a small mixing bowl. Whisk in the wet ingredients into a smooth and aerated batter forms. Add the chocolate chips and stir to combine.

Decant the mixture into a large microwave safe mug. Cook for 1 minute or until the top of the cake is solid yet springy. You can leave it a little undercooked as there is no egg in this recipe.

Allow to cool for a minute before serving. You can eat it as is or with some of the optional toppings listed in the body of the post.
Notes
It's very important to use fresh rice flour here or you will be able to taste it. Rancid rice flour has a musty, floral taste and smell. It's also important that the rice flour is finely ground or the mug cake will be gritty. Fellow Australians: please don't buy the box of rice flour at the supermarket (it's incredibly gritty).
The other trick to this mug cake is to ensure you are not using too much baking soda. Baking soda has a metallic taste if too much is used. For best results, always weigh your ingredients in gluten free baking.