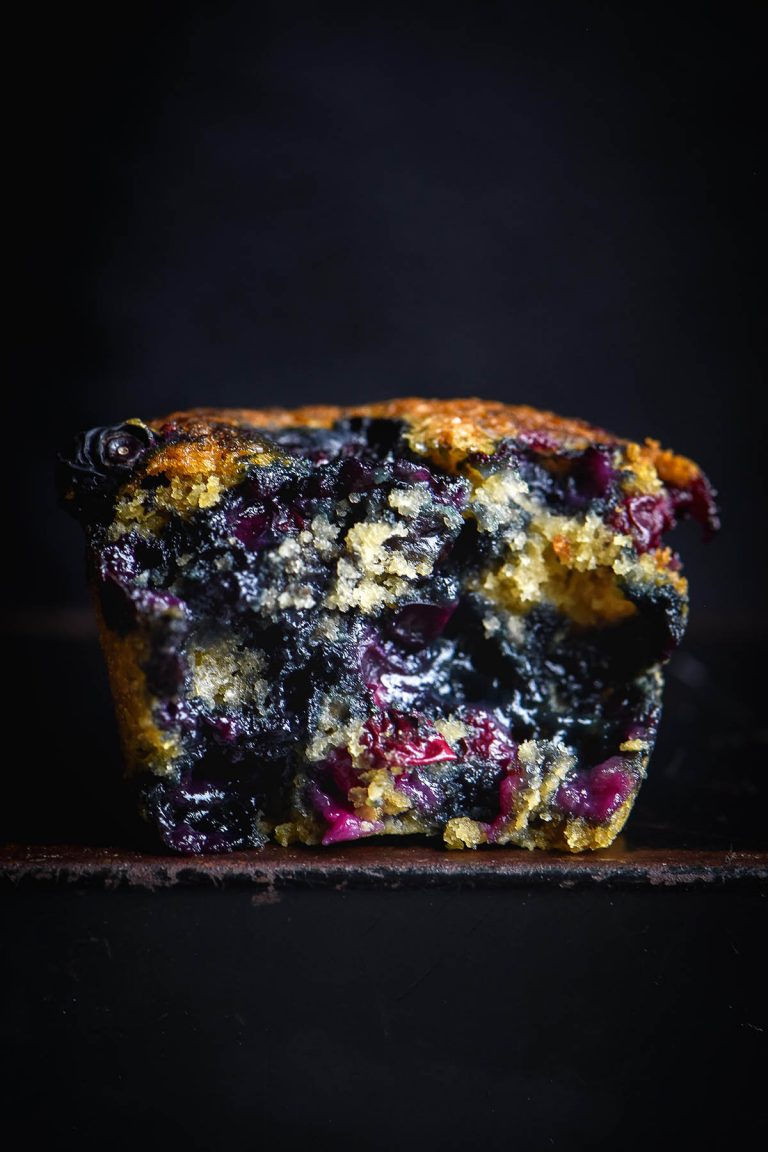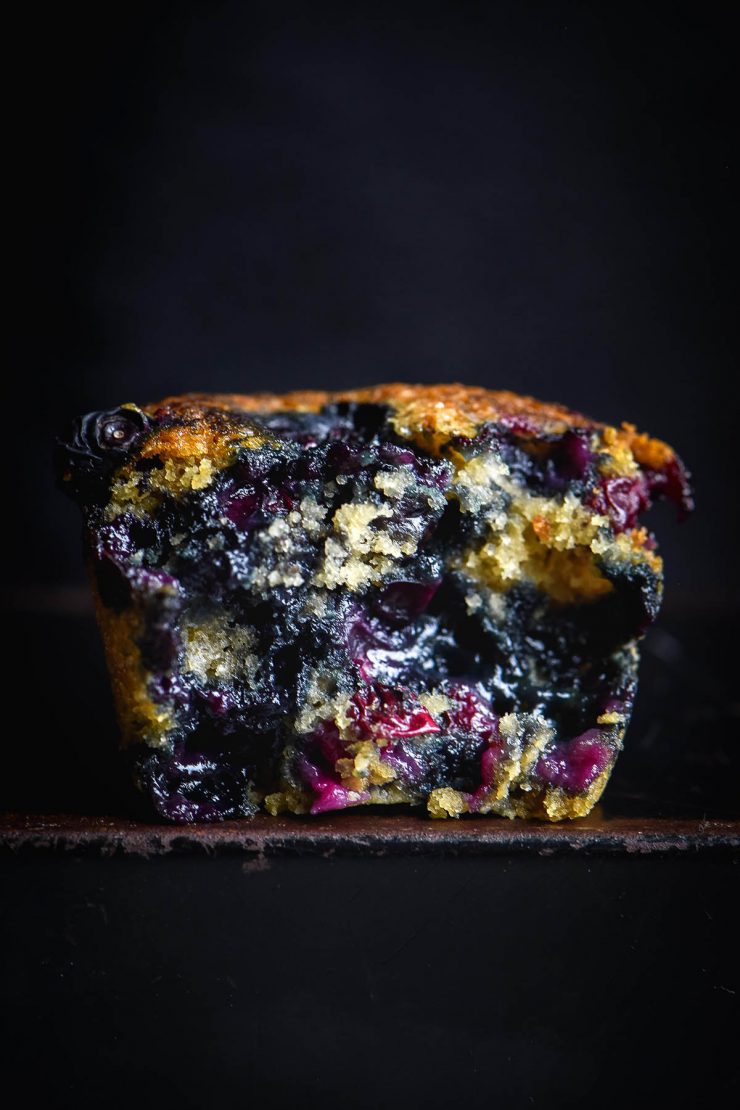 As a single person with only a cat as a dependent, I don't always want a whole tray of muffins on my kitchen bench. If I have a whole tray of muffins, I'll eat muffins at every meal (with nary a vegetable in sight) until I no longer have muffins. Given that I bake professionally (and constantly) you can see my dilemma. Today's recipe is the perfect middle ground: a single serve, gluten free vegan blueberry muffin.
Gluten free vegan blueberry muffin (single serve)
This muffin is gluten free, nut free, egg free, dairy free, xanthan gum free and uses a single flour (not a blend). It's easy to whip up, and perfect to slip into the oven if you have something baking already. If you don't fancy turning the oven on, I have another solution: this gluten free vegan blueberry mug cake. In addition, if you're feeding a crew, please see my gluten free vegan blueberry muffin recipe (that makes 6-7 muffins).
The muffin is a low FODMAP, quick and easy dessert or snack for one. It uses fine, fresh white rice flour, vegan yoghurt and milk, a small amount of oil and sugar plus baking soda to make a satisfying and gorgeous little muffin.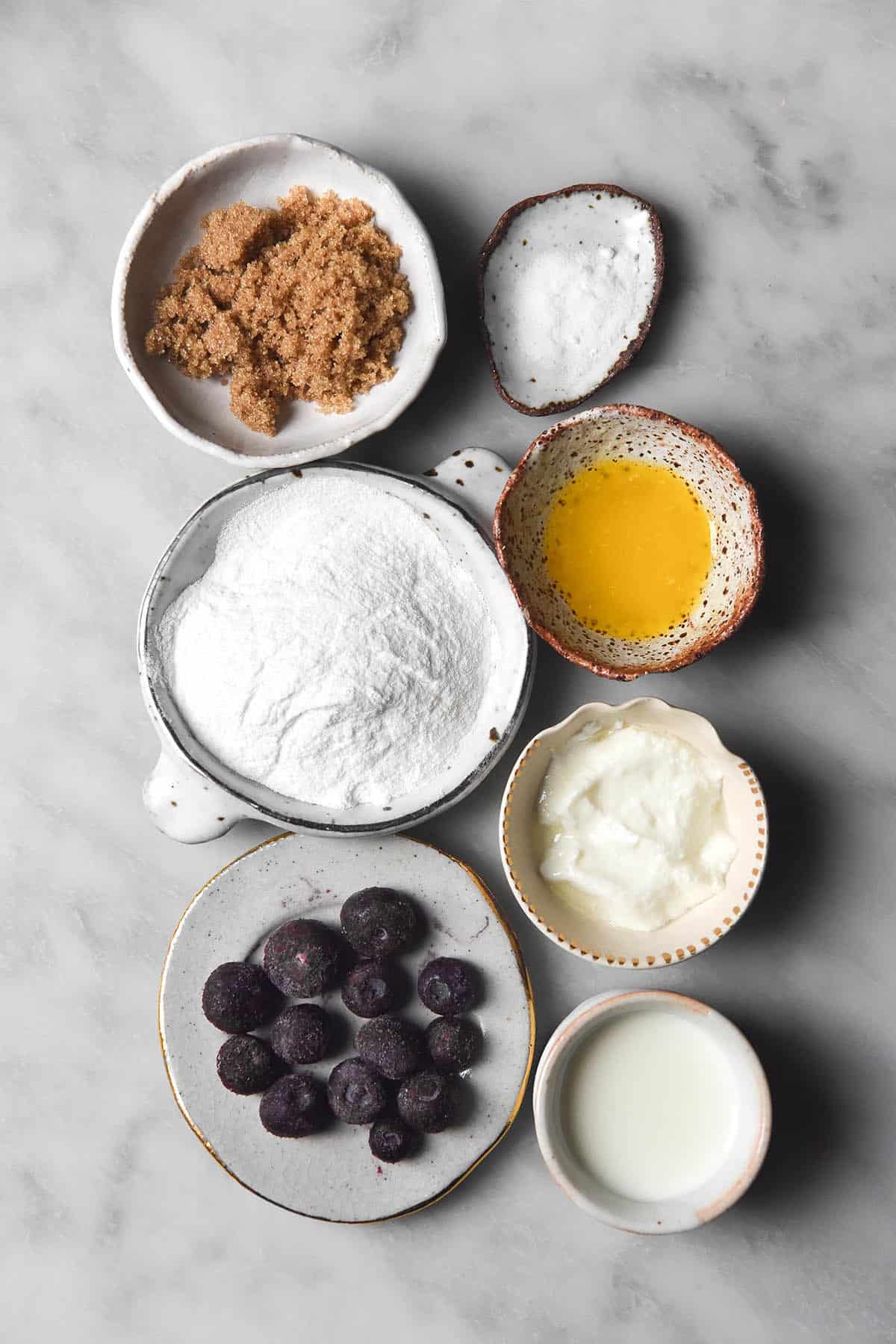 Can I make this gluten free vegan blueberry muffin with dairy instead?
Yes, you can! If you don't need this muffin to be vegan, you can use regular yoghurt and milk. I would recommend an unsweetened variety, as the muffin is perfectly sweet as is. Personally, I love Jalna lactose free Greek yoghurt. It's thick and acidic, which works really well here.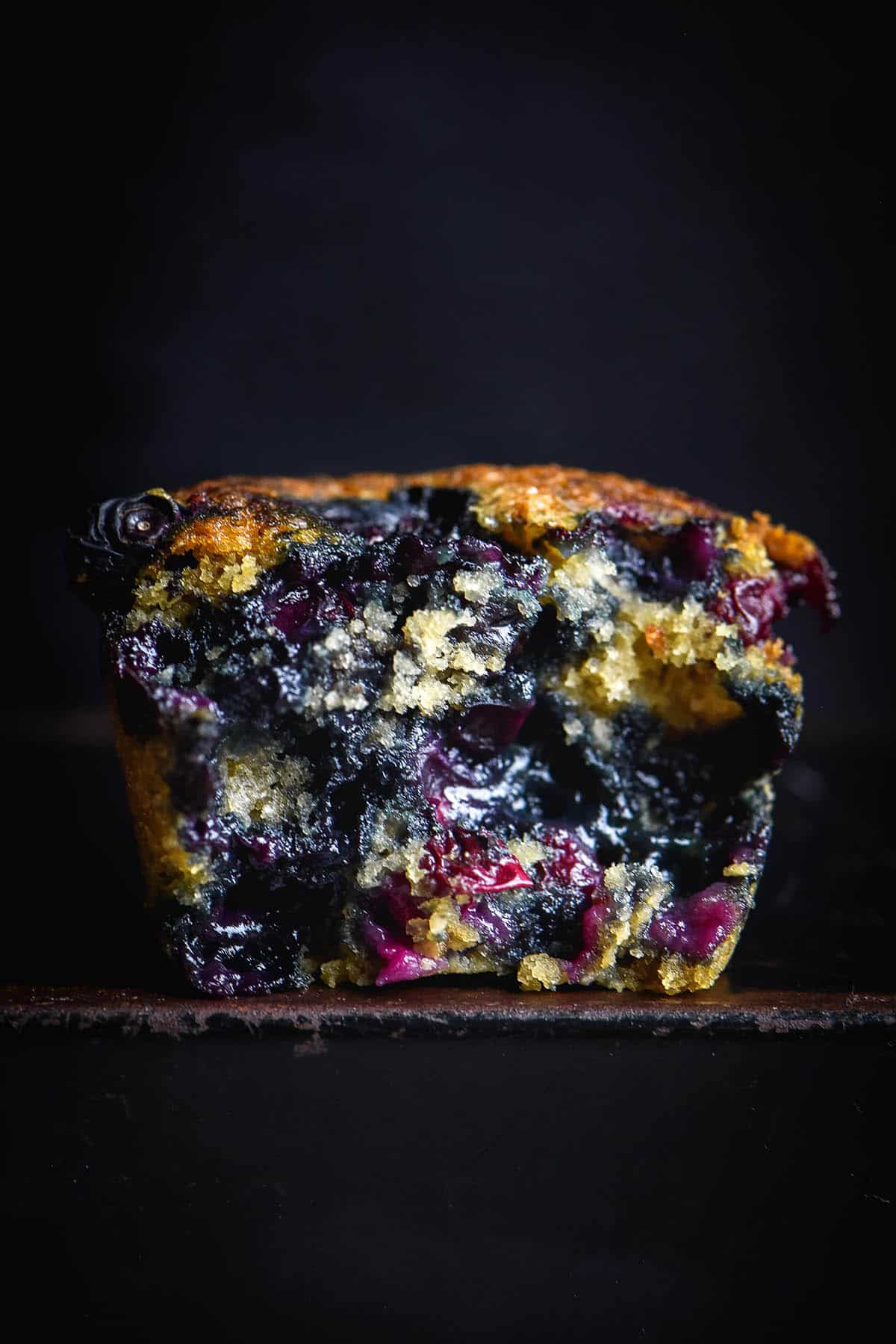 Can I use frozen blueberries?
Yes, you can. In fact, I developed this recipe using frozen blueberries, because I assumed that people are more likely to have frozen berries lying around. I wanted this muffin to be a pantry friendly recipe, and frozen blueberries are easy to keep on hand. If you don't have frozen blueberries, I daresay frozen raspberries or perhaps even chopped frozen strawberries would work a treat.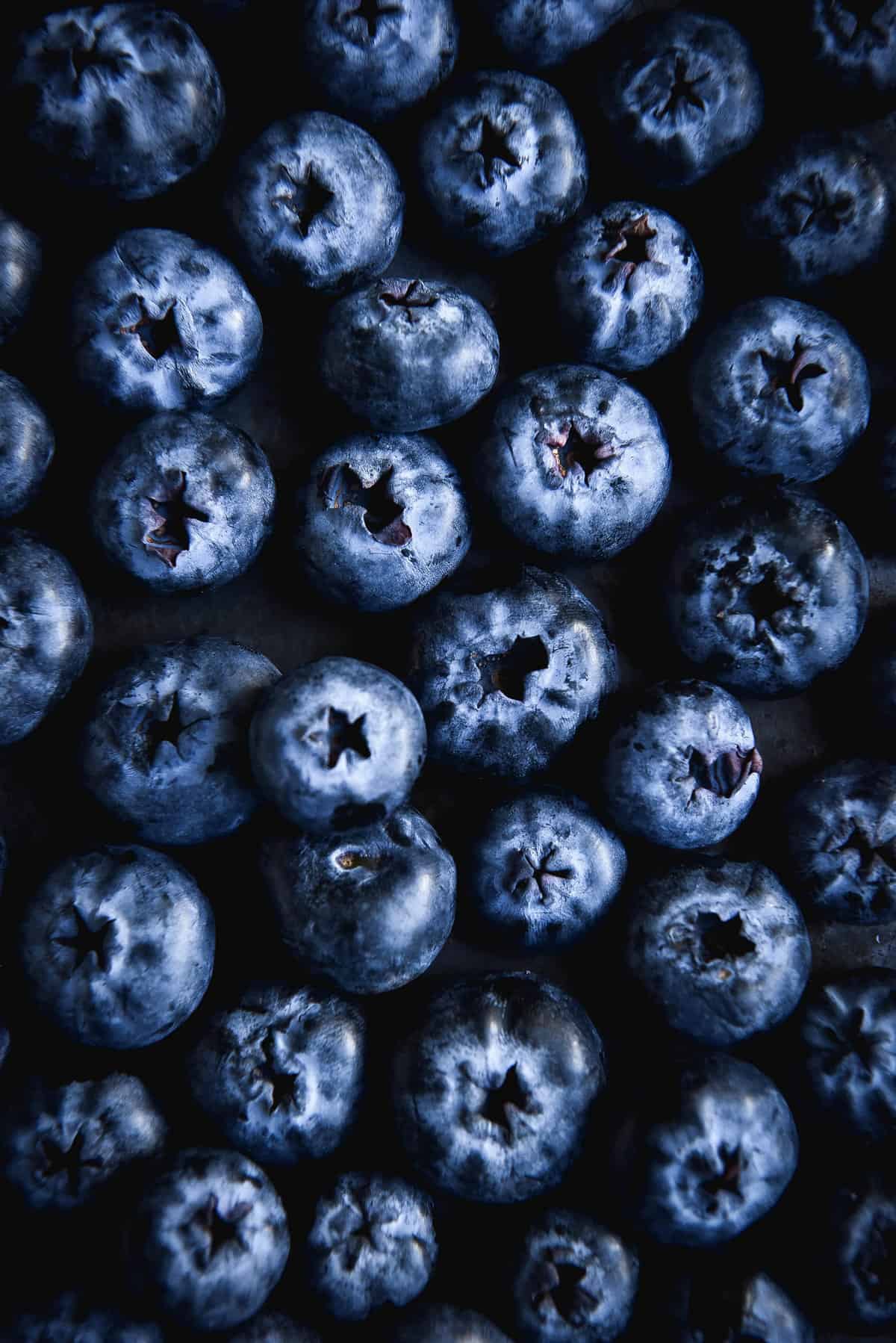 Can I use a different flour?
Most gluten free flours need to be combined with a different flour or starch to make an edible baked good. I find rice flour to be one of the only gluten free wholegrain flours that works well alone. I have had success with sorghum flour, but it can be bitter in large volumes.
As for gluten free flour blends: I don't work with them so I can't say. If you try it, let me know how you go!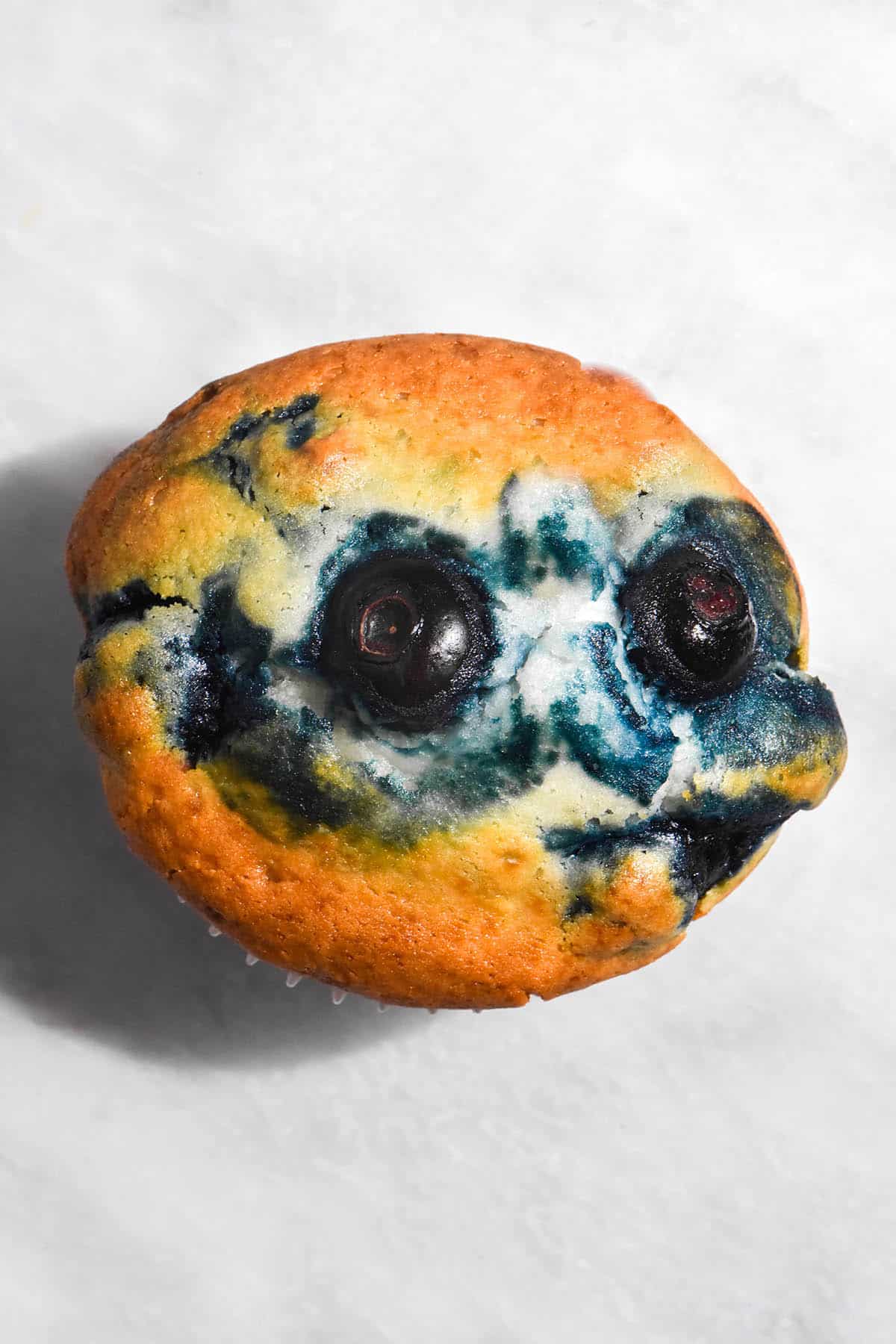 Tips for your single serve muffin
This muffin uses a small amount of baking soda for rise. In my experience, less leavening (baking powder or soda) actually makes for a taller muffin.
These muffins use baking soda (also called bi-carb soda) specifically. Because the muffin is vegan, it doesn't have the sugars in milk and butter present. These sugars are fast browning, which means that traditional baked goods brown better than vegan ones. Baking soda encourages browning in the oven, so we use baking soda in vegan baked goods to help replicate the browning for a golden brown muffin.
However, because we're using baking soda, we need acidic ingredients to start the chemical reaction. Baking soda (an alkali) reacts with acidic ingredients (like vinegar) to create bubbles in the batter responsible for rise. This reaction also neutralises that metallic baking soda flavour, so it is important to use sufficient acidic ingredients to start this reaction. Without them, you'll have a stodgy and flat muffin that tastes that baking soda.
Acidic ingredients include brown sugar, yoghurt, chocolate and buttermilk. In this recipe, we're using brown sugar and yoghurt along with a tiny bit of vinegar or lemon juice.
So, why the long spiel about baking chemistry for a single muffin? Because I want you to know why the recipe works and what you can cannot substitute. Simple as that.
More gluten free vegan dessert recipes
Gluten free vegan blueberry muffin (single serve)
Nut free, xanthan gum free, dairy free, egg free
Ingredients
40g

fine, fresh white rice flour

20g

light brown sugar

1.5g

(1/4 teaspoon)

baking soda

25g

plain yoghurt (vegan or regular)

40ml

milk of choice (plant based or regular)

10ml

(2 teaspoons)

neutral flavoured oil (I used vegetable) or 25g regular or vegan butter, melted

15-20g

frozen blueberries

1/2

teaspoon

vinegar or lemon juice
Optional extras
1/4 – 1/2

teaspoon

vanilla paste or extract

pinch of fine salt
Instructions
Preheat the oven to 180C/356F. Grease or line an 80ml (1/3 cup) capacity muffin hole.

Whisk the dry ingredients together in a small bowl. Whisk in the wet ingredients. The batter will thin out a little after 15-20 seconds of whisking. If it is still thick and chunky, add a little extra milk.

Add the blueberries and mix, then transfer into your greased muffin hole or muffin liner.

Bake the muffin for 20-25 minutes or until golden brown and cooked through.
Notes
Stale or gritty white rice flour will ruin your muffin. It has a musty, floral flavour that can't be hidden, particularly in 'vanilla' baked goods. Make sure you choose a fresh and finely ground variety.
You can add as many blueberries as you like, but you might end up with a bit too much batter. 
If you divide the mixture between two muffin holes, check on it sooner (about the 10-15 minute mark) to ensure they're not burning.