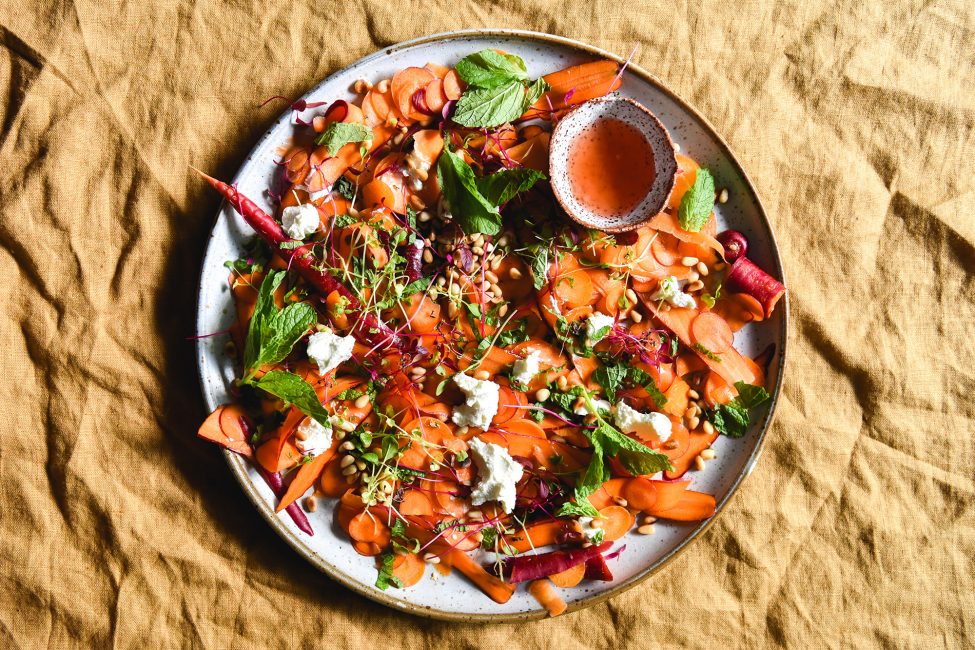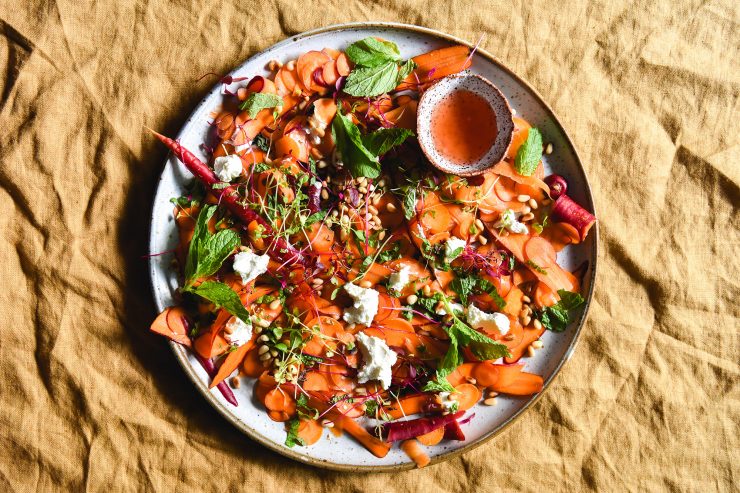 I've been obsessed with this orange blossom and lemon syrup for a while now, but only recently have I decided it's place is on a shaved carrot salad. Shaved carrot salad generally relies on a bit of acid to 'cook' the carrots a little, which is why this works so well.
According to this website, carrots are in season through Summer, Autumn and Winter in Australia. Because this salad consists of few ingredients, choose the best carrots you can afford.
I used heirloom carrots from a farm near where I grew up called Torello Farm. If you're on the Mornington Peninsula or you live in Melbourne and can make a day trip, I highly recommend it. They sell only what they have grown on the farm, and are plastic free. Bring your own bags and stock up on what is truly delightful and local produce.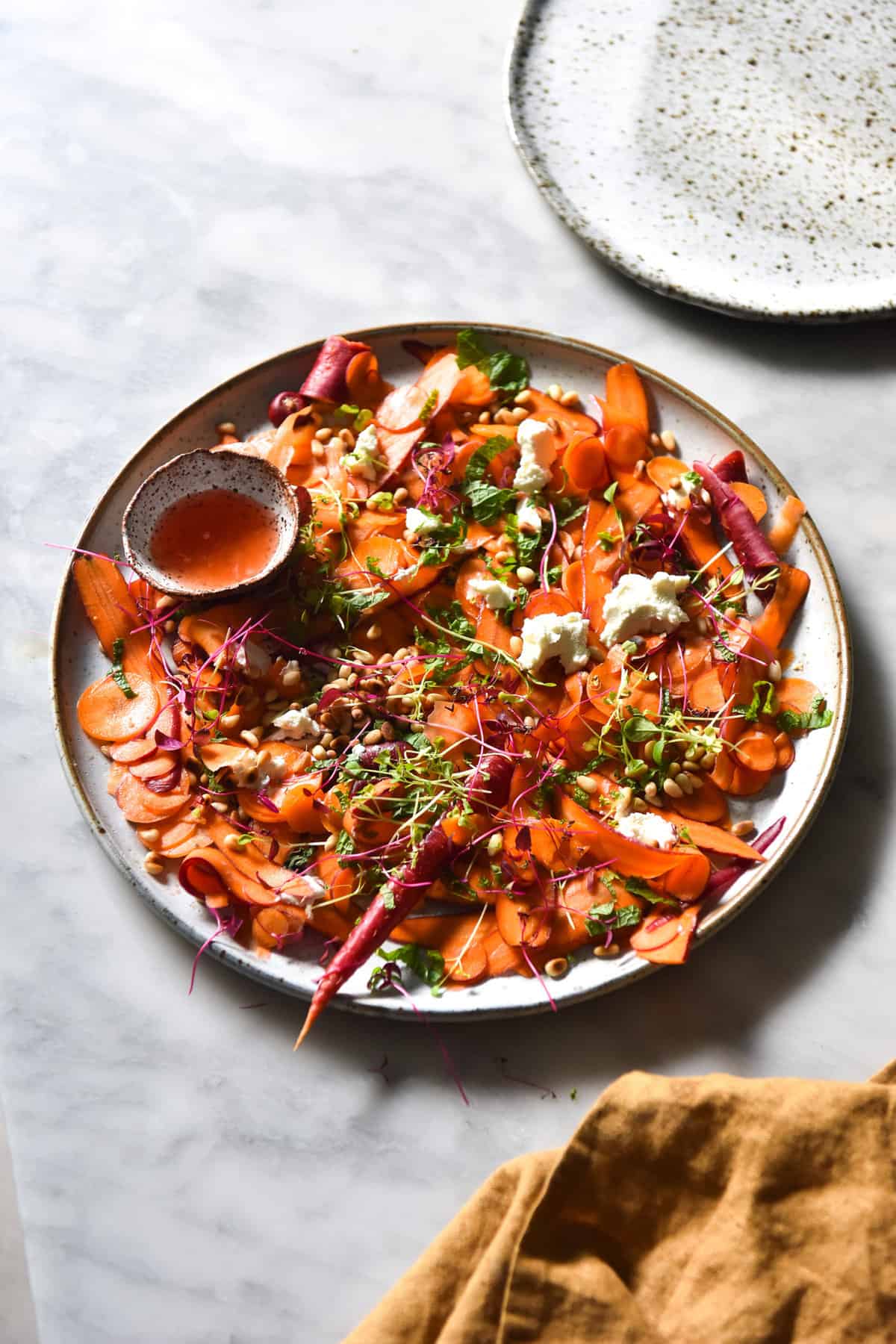 Shaved carrot and goat's cheese salad
This salad is a light and bright addition to a summer picnic. It doesn't mind sitting in it's own syrup for a while – in fact, it thrives on it. It is ridiculously easy to assemble, looks aesthetically pleasing, and has a vibrant tang, courtesy of the syrup dressing.
Goat's cheese is one of the more FODMAP friendly cheeses, given it's low lactose content. According to Monash, 2 CUPS worth is only mildly high in lactose, which means we're free to use goat's cheese with reckless abandon.
The dressing is made with orange blossom water, freshly squeezed lemon juice and sugar. I use caster sugar in this instance because it contributes to the sweetness and lightness, without adding a caramel flavour. If you want to make the dressing refined sugar free, you can try using maple syrup, rice malt syrup or coconut sugar. I haven't tried and I don't intend to, but you do you.
You can, of course, omit the Campari if you don't have any, or don't want to use it. It contributes a delightfully dry citrus tang which I love. Aperol would work much the same way, if you have some.
If you're dealing with a nut allergy, you could replace the pine nuts with toasted pepitas, or omit them entirely. Be sure to add extra goat's cheese for richness if you decide to omit them.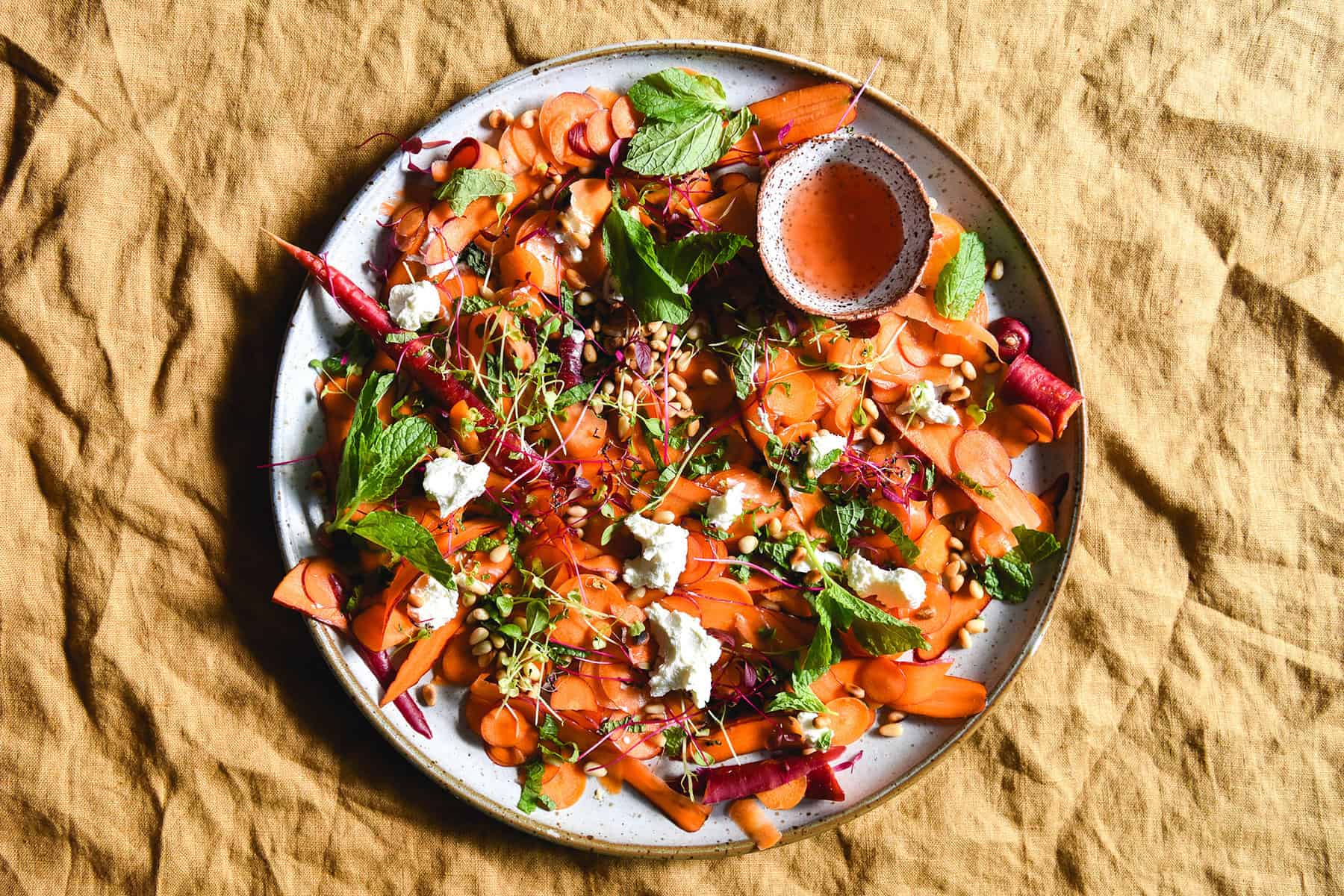 Tips and recommendations for your salad
There are two things I would highly recommend for this salad. 1 is obviously orange blossom water, and the other is a mandoline. Orange blossom water can be found in most health food stores and Arabic groceries. It can also be found online here.
A mandoline will save your life in the shaving of carrots and I would highly recommend it. At worst you can use a vegetable peeler, but after 3 carrots you will be cursing my name. I use my mandoline all the time – it is well worth the investment. Some food processors also have a mandoline attachment, so keep your eyes out for that.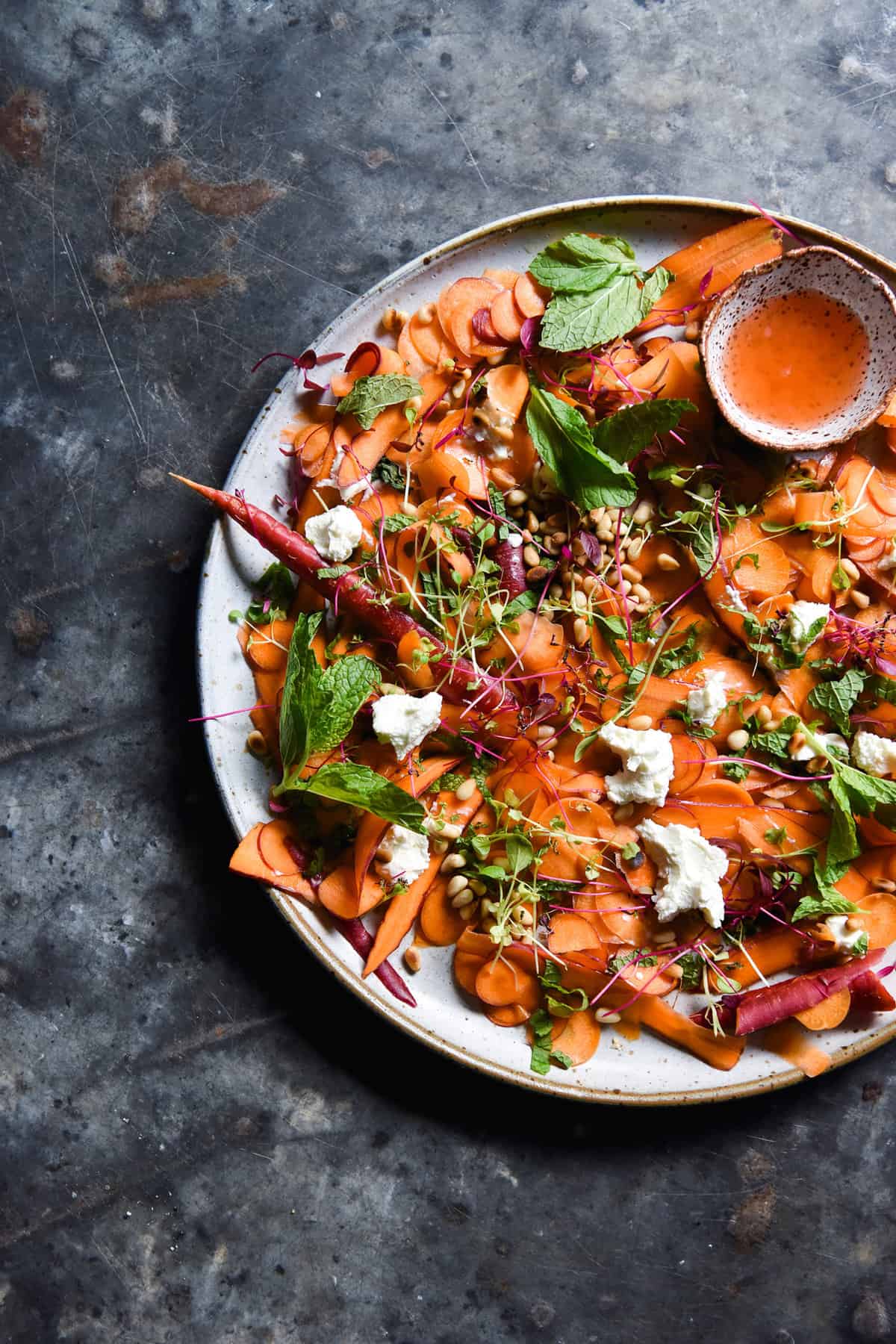 More l0w FODMAP salad recipes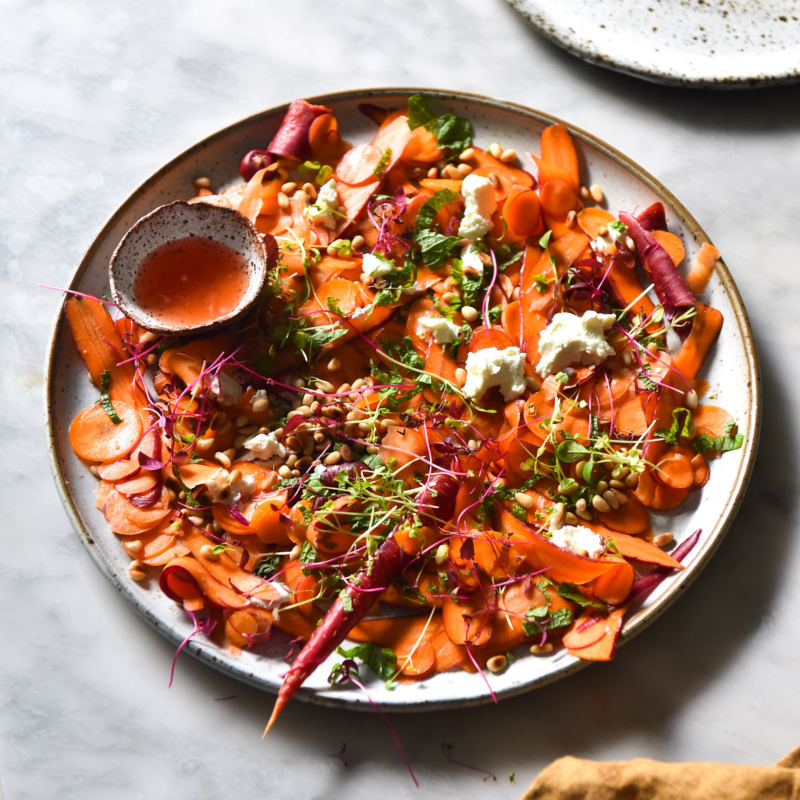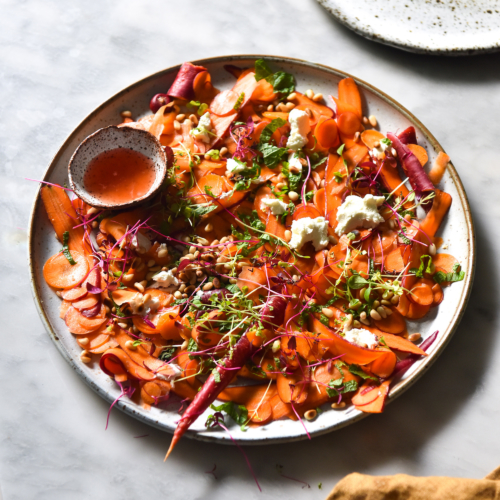 Shaved carrot and goat's cheese salad
Gluten free, vegetarian, FODMAP friendly
Ingredients
FOR THE DRESSING:
80ml (4

tablespoons)*

freshly squeezed lemon juice

you could also use lime

80ml (4

tablespoons)*

orange blossom water

see notes on where to purchase

20ml (1

tablespoon)*

Campari

optional, see notes

2

tablespoons

caster sugar

see notes on substitutions

salt and pepper, to taste
FOR THE SALAD:
500

g

carrots

the best quality you can afford

Half a bunch of mint

50-100g

goats cheese

to your tastes

Micro herbs

optional

Handful of toasted pine nuts

optional
Instructions
Combine all the ingredients for the dressing in a small saucepan, and place over a low-medium heat. Cook for 5-10 minutes until a syrup forms. Set aside to cool.

Use a mandoline to finely shave the carrots. I like to do a combination of slices to add an interesting texture. You can use a knife, but it might want to make you gouge your own eyes out. I highly recommend using a mandoline. I've linked the one I use above.

Place the dressing and carrots in a large bowl, and use your hands to massage the dressing into the carrots. If you like a tart salad or a soft carrot, add an extra squeeze of lemon juice. Add a bit of mint, chopped.

To assemble, arrange the carrots on a plate, and top with the goats cheese, extra mint, pine nuts and micro herbs (if you're using them.) Season well with sea salt flakes and freshly cracked pepper. Serve immediately.