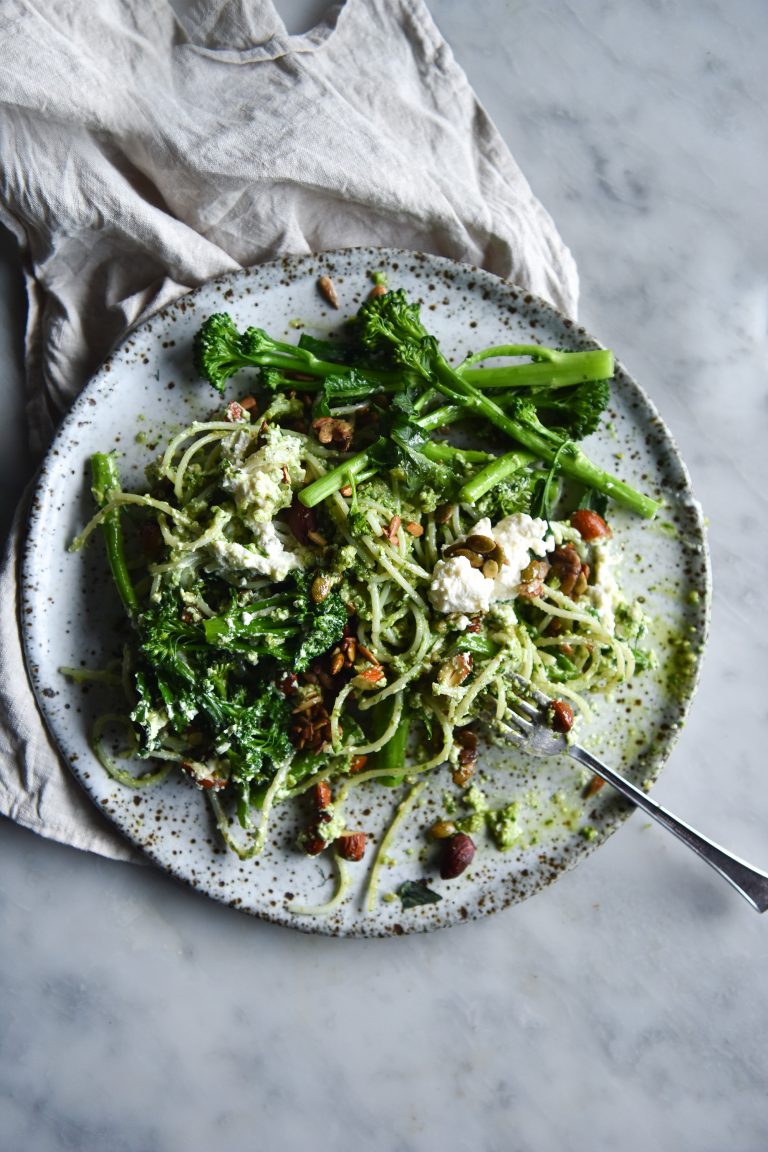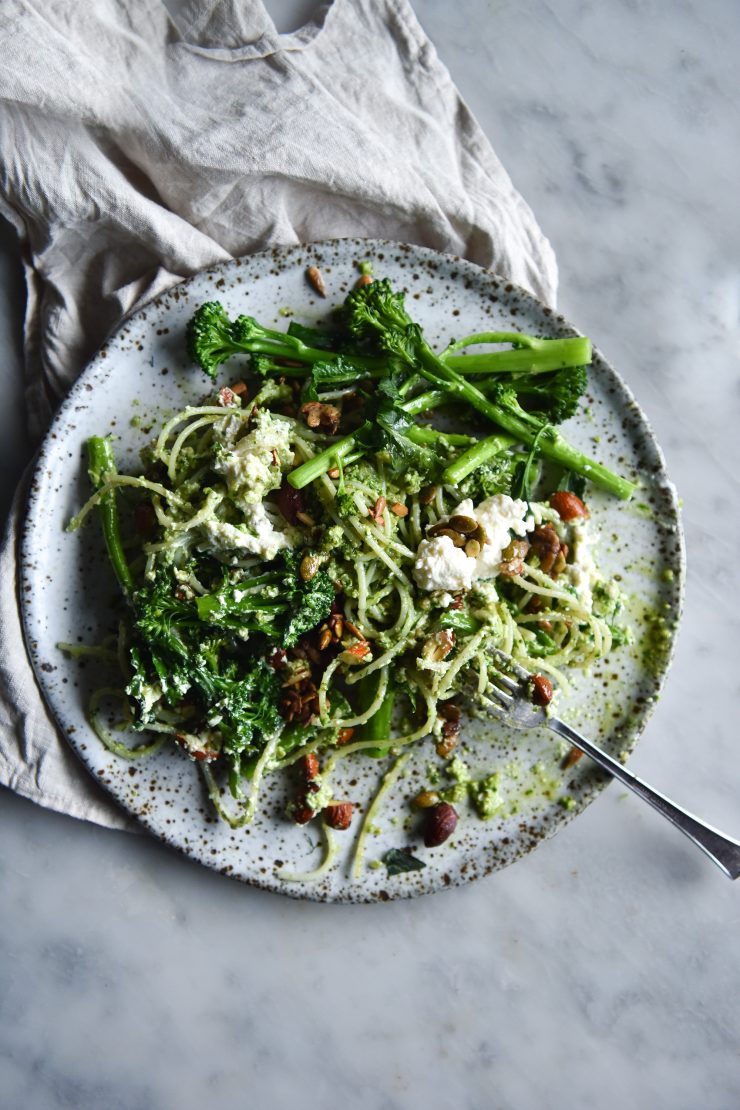 [vc_row][vc_column][vc_column_text]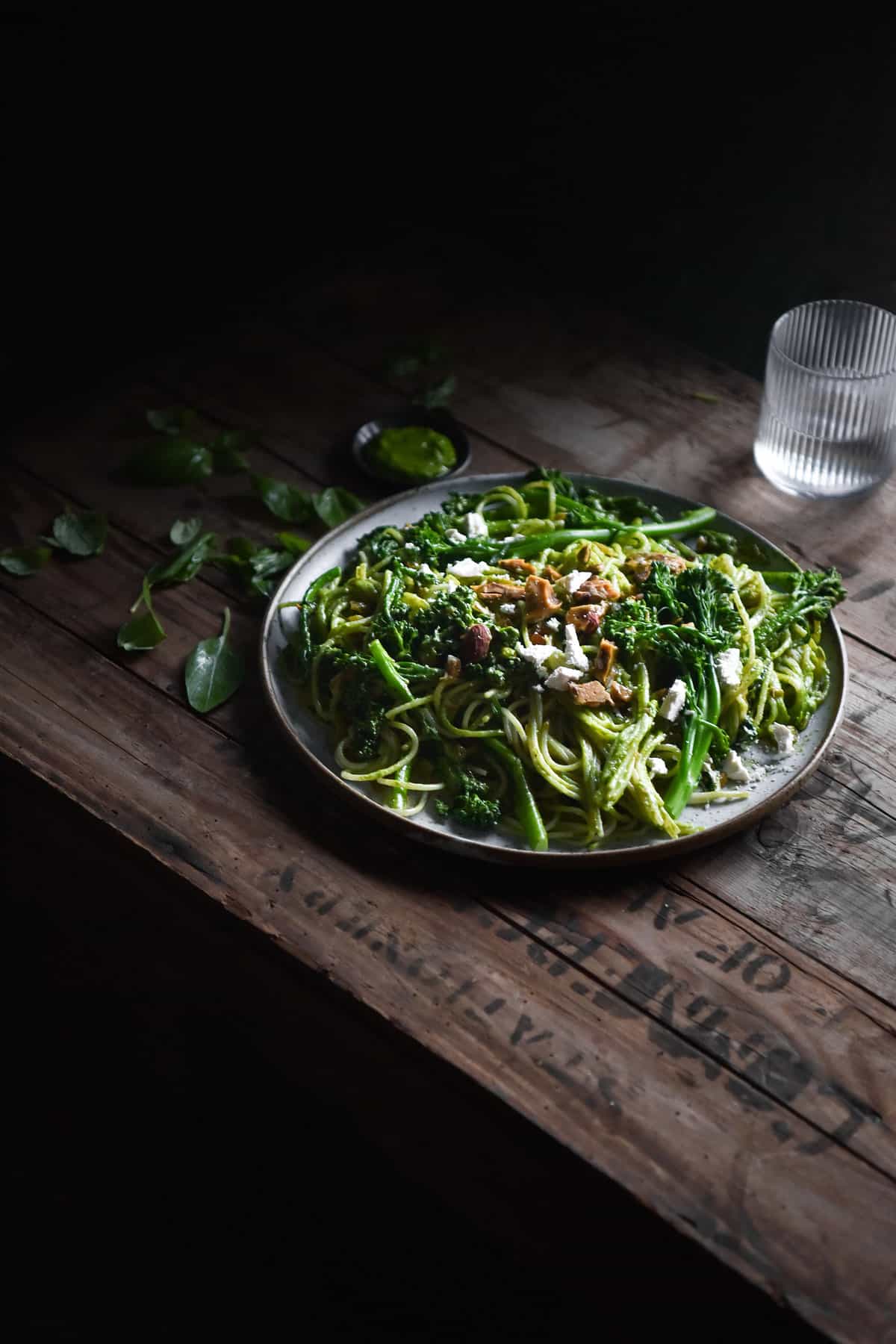 Hemp has been something I have struggled to incorporate to my meals, prior to this recipe for hemp and pine nut pesto. I've tried sprinkling it on salads, I've tried making milk, I've tried eating a spoon of hemp seeds, straight up. But I knew none of these methods would stick in the long term. Hot damn, making milk from hemp is expensive.
Hemp is supposedly an excellent plant based source of omegas and protein. As I currently toy with moving back into vegetarianism (as opposed to pescetarianism) this has been real #inspo to include more hemp seeds in my diet. Mostly, however, my #inspo is anything that allows me to eat pasta and call it work. So here we are.
The lowdown: I've never been a pesto traditionalist in terms of the nuts I use, so I had the idea to try a hemp and pine nut pesto. I've used walnuts, almonds, and even macadamias in the past, all to (in my eyes) success. I'm also equally happy to use rocket in pesto as opposed to the traditional basil, which I have done in this pesto. In the absence of garlic, rocket gives this pesto a real kick that might otherwise be missing.
This hemp and pine nut pesto pasta is gluten free, FODMAP friendly and vegetarian. It could also be made nut free by using sunflower seeds in both the pesto and the brittle. 
The brittle, although not compulsory, gives this dish an amazing, sweet and salty kick that I really love. 10/10 would recommend to a friend.

FOR THE HEMP AND PINE NUT PESTO:
1/2 cup (65g) hemp seeds
1/2 cup (70g) pine nuts
50g Parmesan
50g Provoline piccante (or an additional 50g parmesan)
1/2 cup good quality olive oil
Juice of 1 lemon
Salt and pepper, to taste
Big handful of rocket (or argugula)
Big handful of basil (alternatively you can use one big bunch of basil)
FOR THE PASTA:
1 medium fennel bulb, finely chopped
1 tablespoon olive oil
2 tablespoons balsamic vinegar
1/2 – 1 tablespoon brown sugar
Generous water, as necessary
250g packet of gluten free spaghetti (you could also use another pasta variety)
1-2 bunches of broccolini (I like to use two)
Ricotta salata, to serve (you can also use regular ricotta – I have before)
METHOD:
Add the olive oil, brown sugar and balsamic vinegar to a saucepan over a medium heat. Add the finely chopped fennel. Cook the fennel down for 15-20 minutes – you want it to become soft and caramel in colour, as onion would. Add water to loosen whenever necessary.
Place a large saucepan of well salted water over a high heat and bring to the boil. Once boiling, cook the pasta as per packet instructions.
While the pasta is cooking, blitz the hemp seeds, nuts, cheese, oil and lemon juice until smooth. Set aside. Adding the greens at the last minute will prevent bruising them and result in a vibrant green pesto.
To blanch the broccolini, drop it into the pasta water. It will only need a minute or two – ideally it will be just cooked, and still crunchy-ish, to give the pasta texture.
When draining the pasta, reserve a cup or two of the starchy water. This is great at thickening sauces, so you can add it to the pot as you see fit, to make the pesto 'saucier' if you will.
Return the drained pasta to the pot, and stir through the caramelised fennel. Add the pesto, and follow this with as much pasta water as you like.
In the spirit of doing things as you fancy, you can either mix through the ricotta, broccolini and nut brittle, or you can serve it on top. The world is your pesto covered oyster. Sorry, I can't stop using this phrase to indicate a free flowing recipe. I doubt I will ever stop.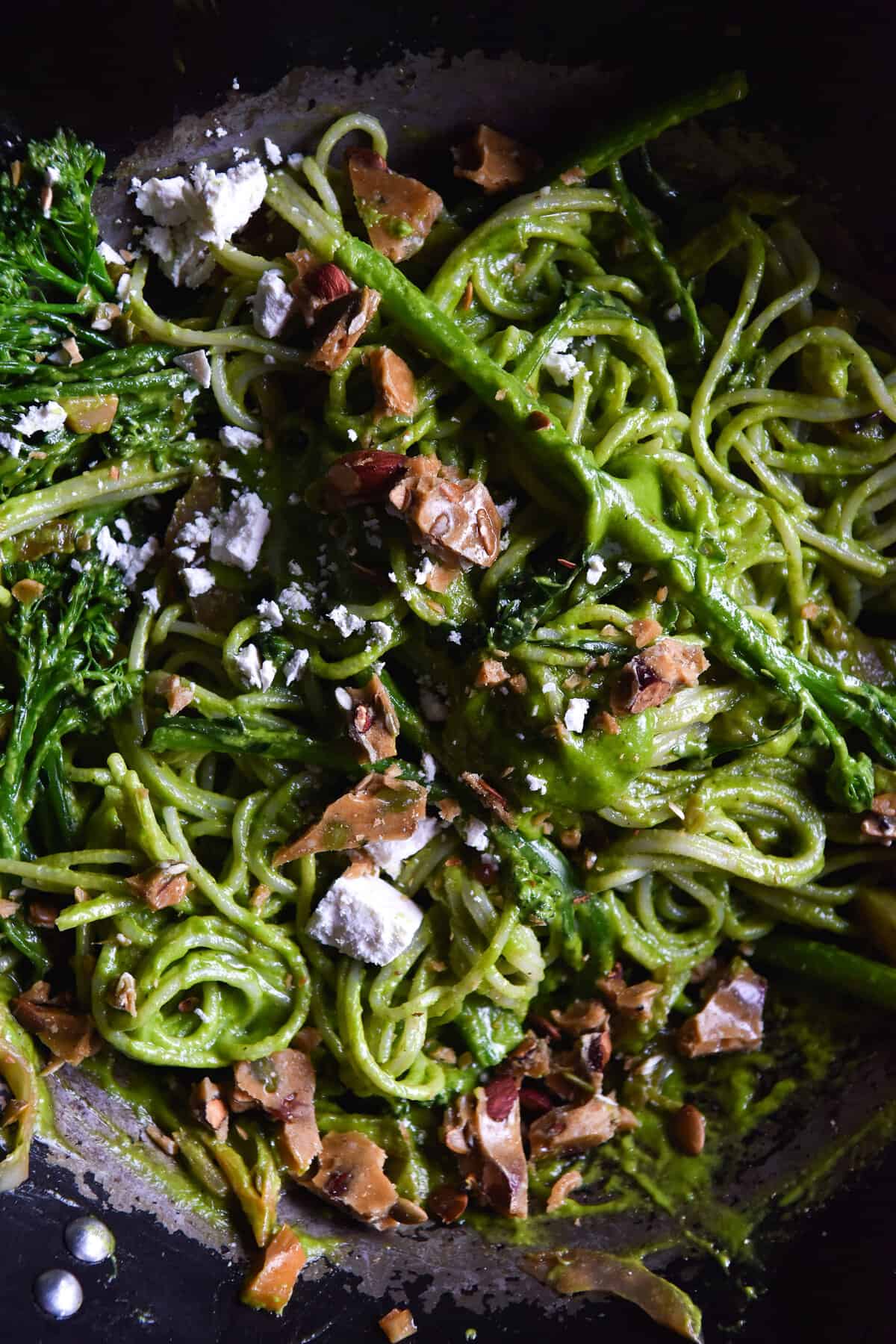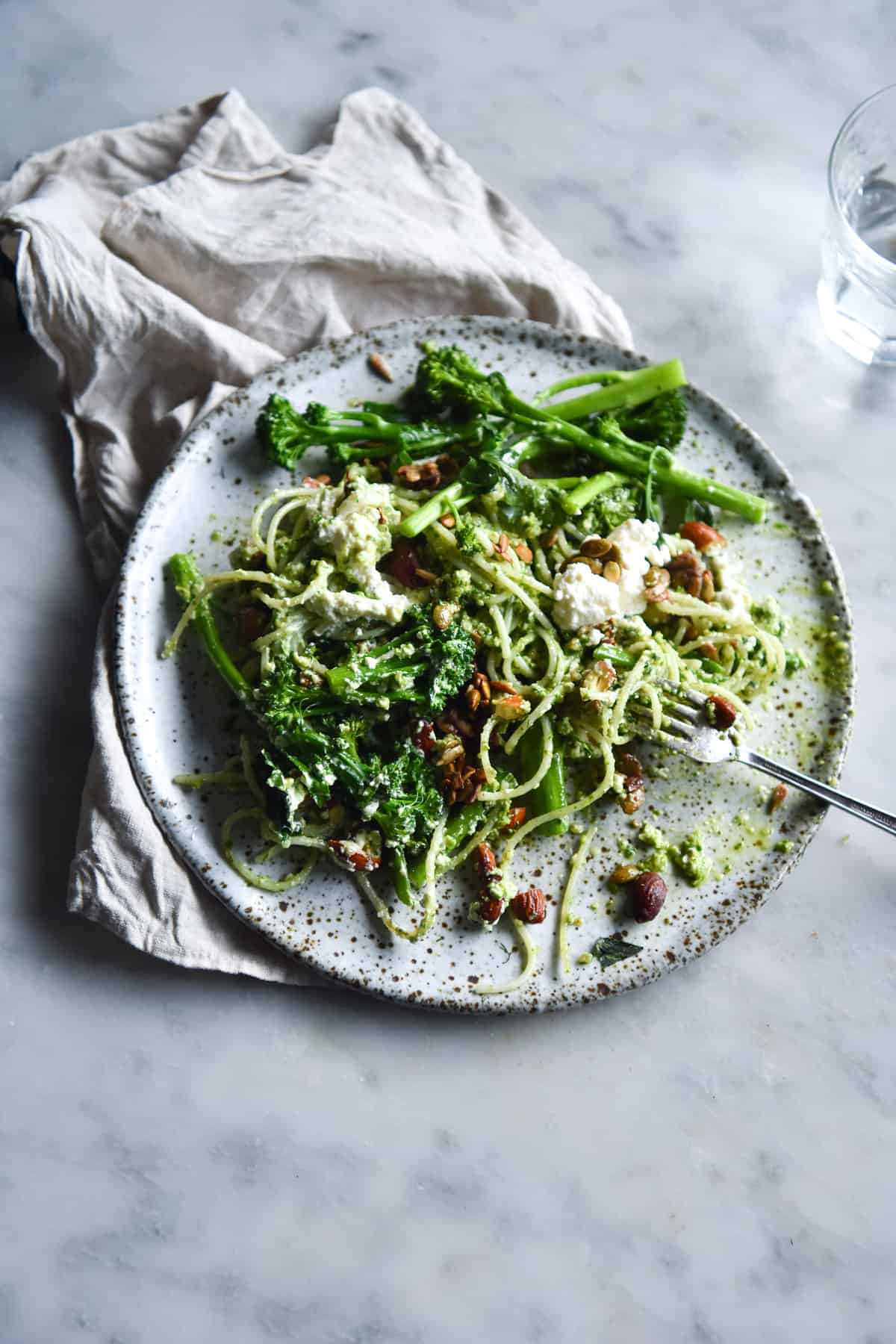 [/vc_column_text][/vc_column][/vc_row]