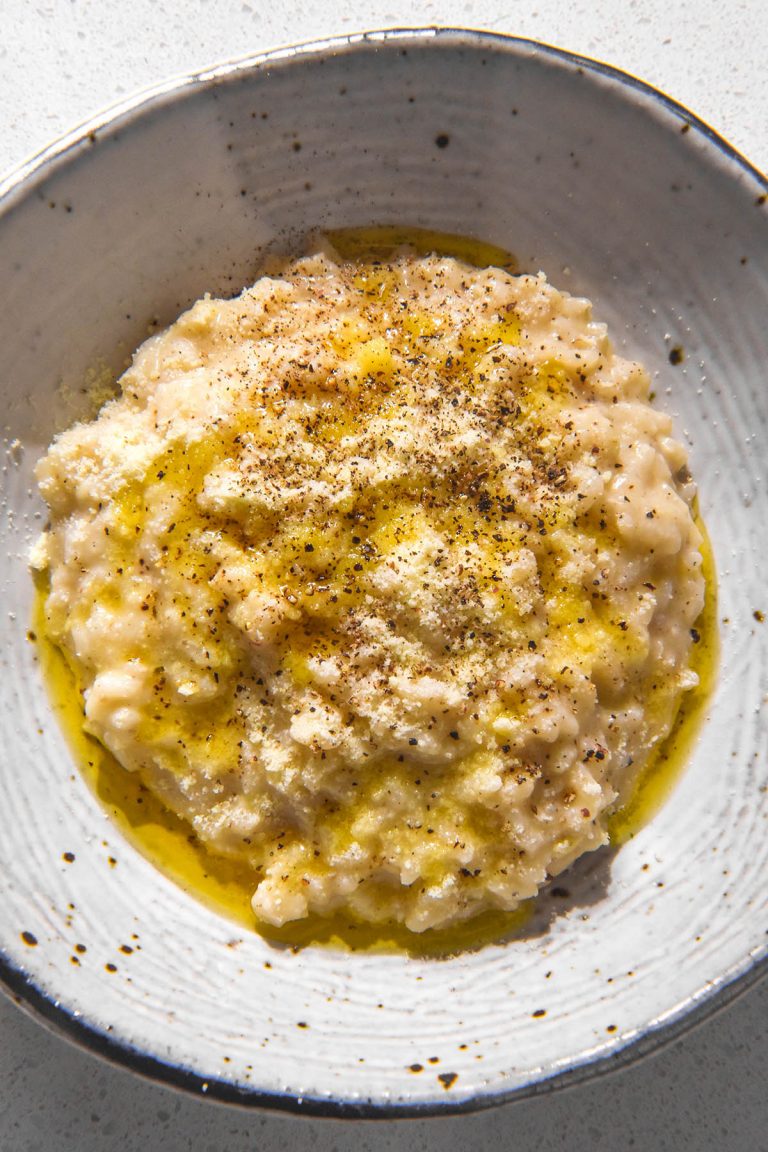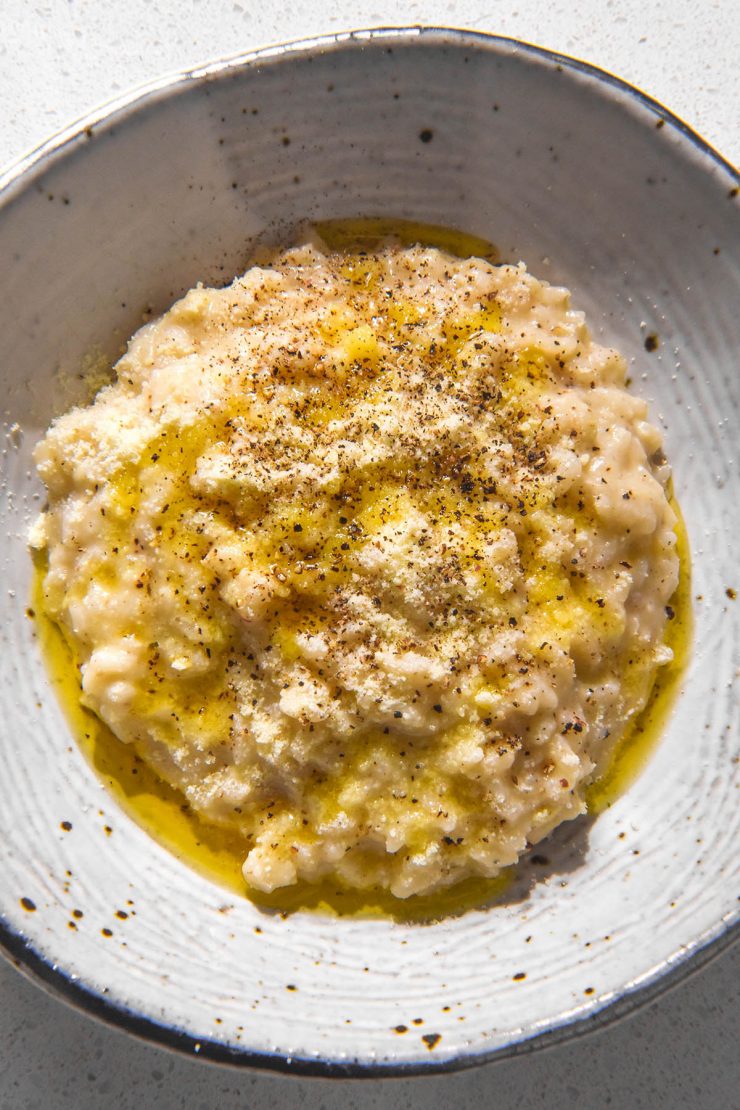 I am a risotto girl now, it seems. What I once considered 'the boring vegetarian option' is now something I love and appreciate. Risotto isn't difficult to make, but it does require some patience. A labour of love, as they say. The best way to reward all that labour? A giant bowl of cheesy and delicious cacio e pepe risotto.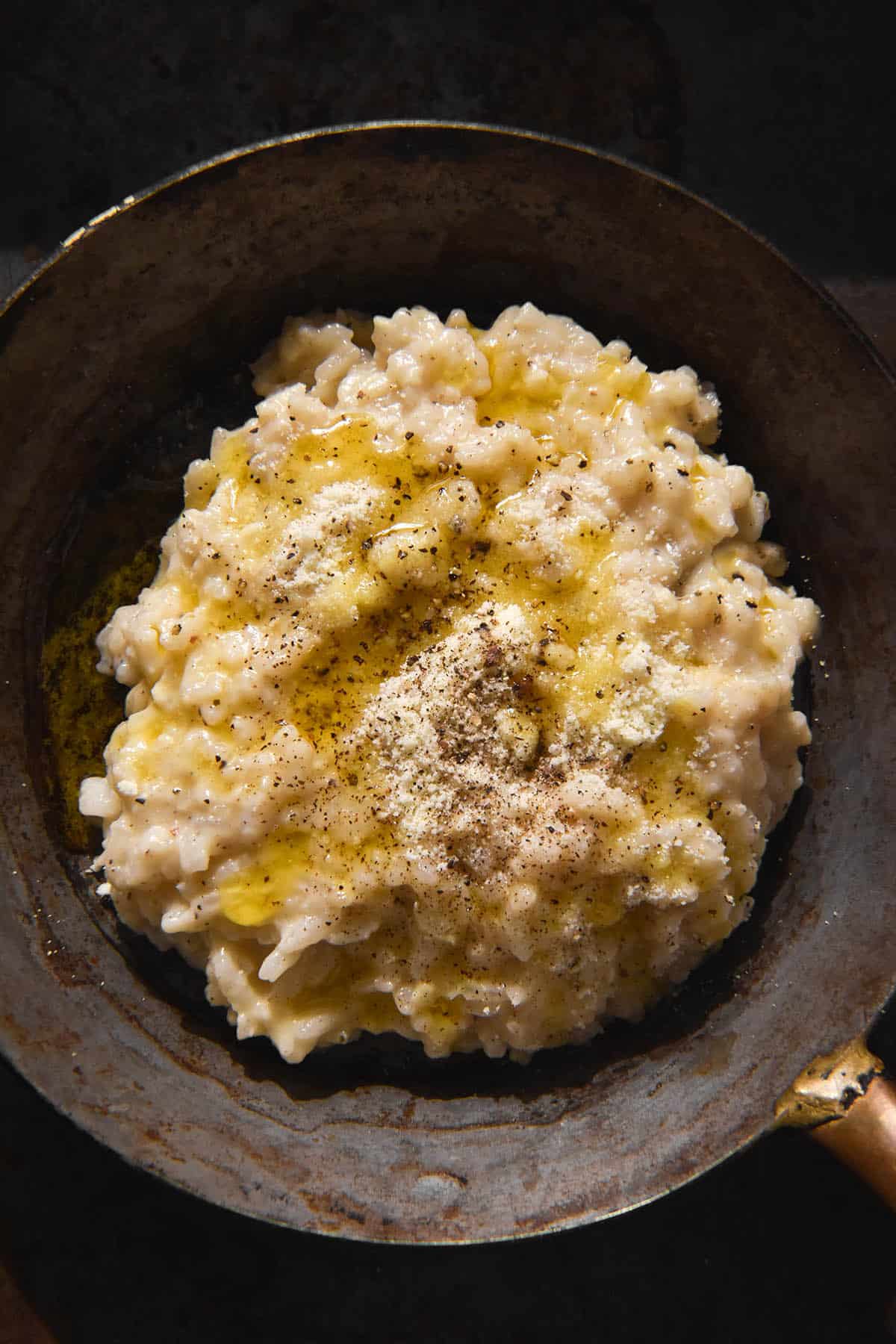 Cacio e pepe risotto (low FODMAP)
This cacio e pepe risotto is a low FODMAP recipe that is naturally gluten free. Not all parmesan is strictly vegetarian, but there are plenty of options these days which we will go into below. The risotto is a rich and hearty winter dish that is big on flavour, yet comes together with a handful of basic ingredients. Also known as: you don't need to leave your house to make it. Perfect.
Ingredient notes for your cacio e pepe risotto
First and foremost: you need to use freshly and finely grated pecorino romano or parmesan for this recipe. Pre-grated cheese from the supermarket contains fillers which prevent it from melting properly. An exception to this rule is if you buy it from the deli and they're freshly grating it for you.
Did you know that you can cut hard cheese into chunks and blend it in a Nutribullet? The result is a fine crumb that takes seconds, so this is a great option if you are pressed for time.
Whether or not it's supposed to exist, vegetarian parmesan does exist. Most parmesan is made with animal rennet, which comes from the lining of a calve's stomach. Vegetarian versions that are made from synthetic or plant rennet are available – see my list here.
Arborio or carnaroli are the rice varieties you can use here. I haven't tried other grains and I don't intend to.
Honestly, the garlic infused ghee is what really brings this all together. It adds richness and a deep umami garlic flavour without the FODMAPs of garlic. I highly recommend (nay, insist) you don't omit it. It doesn't take long to make and you can use it everywhere.
Low FODMAP stock can easily be made at home or store bought. I used Massell low FODMAP vegan 'chicken' stock powder here.
Although the white wine is optional, it really adds a great depth of flavour to risotto. I'd argue that the wine is what makes risotto taste like risotto.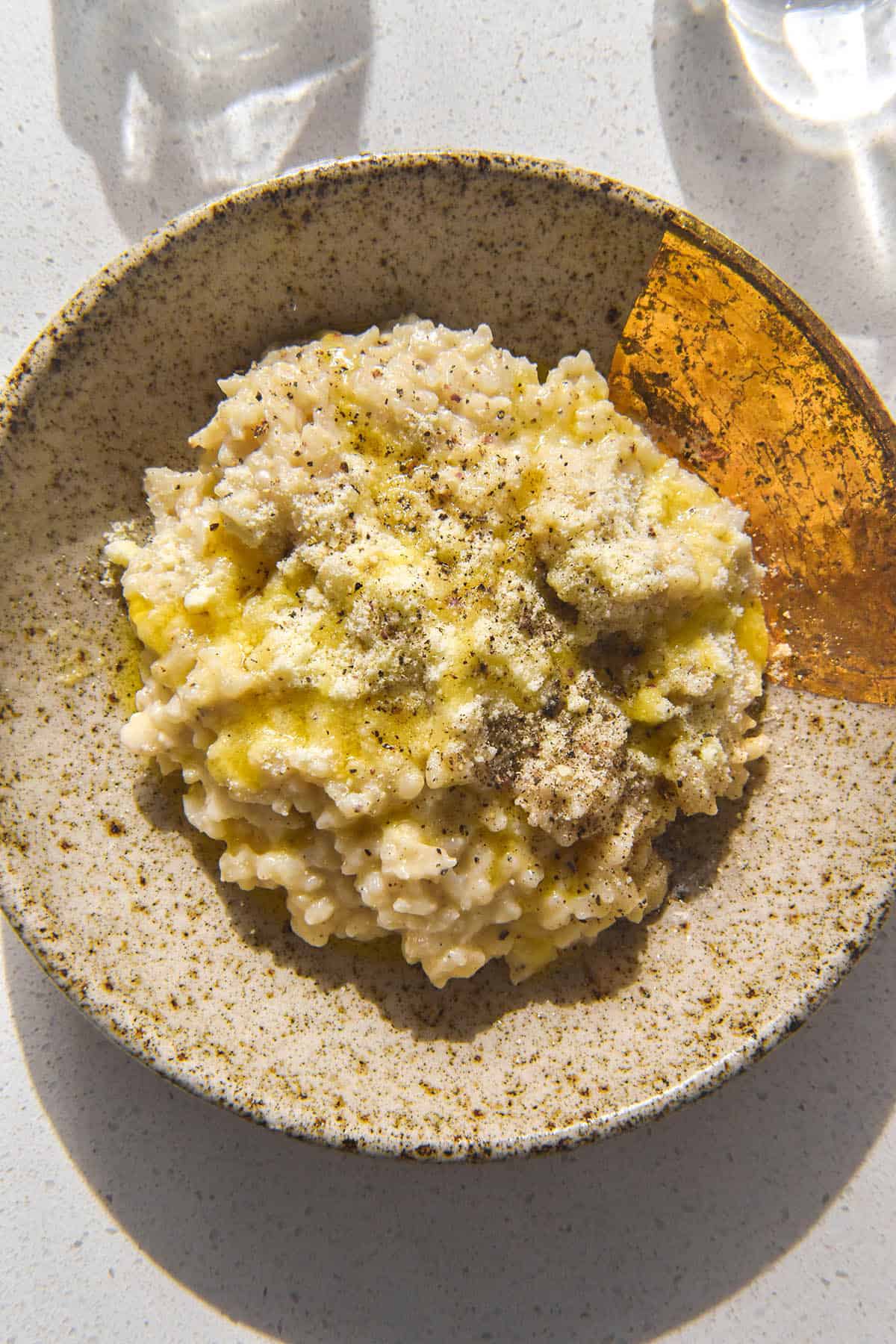 Tips for making cacio e pepe risotto
As discussed: freshly and finely grated cheese only please. No pre-grated packets.
Toasting your peppercorns prior to adding them to your pepper grinder really brings out the flavour and is well worth the extra time. They become much more aromatic and you can get away with using less (which is great if you're a 'spice' wimp).
Cook the risotto grains for 3-4 minutes in the garlic ghee. Toasting the grains without liquid first will help ensure the grains keep their shape during cooking.
Keep the stock on a very low heat in a pot alongside your risotto. Adding hot liquid encourages the starches in the rice to come out, which is what creates a creamy risotto. Further than that, cold stock will increase the cooking time. No thanks.
Add liquid to suit your risotto. No two risottos will be the same. Continue to intermittently stir, cook add liquid until the grains are cooked through but have a bit of bite. If you run out of stock, use water.
Add your final ingredients off the heat. As you'll know if you've made cacio pepe, cheese can overcook and become a hot mess. Allowing the risotto to cool just a bit before stirring in the cheese helps. As does stirring your cheese in in increments.
Taste and adjust the seasoning before plating. Pepper and salt are all individual preferences, so add them to yours.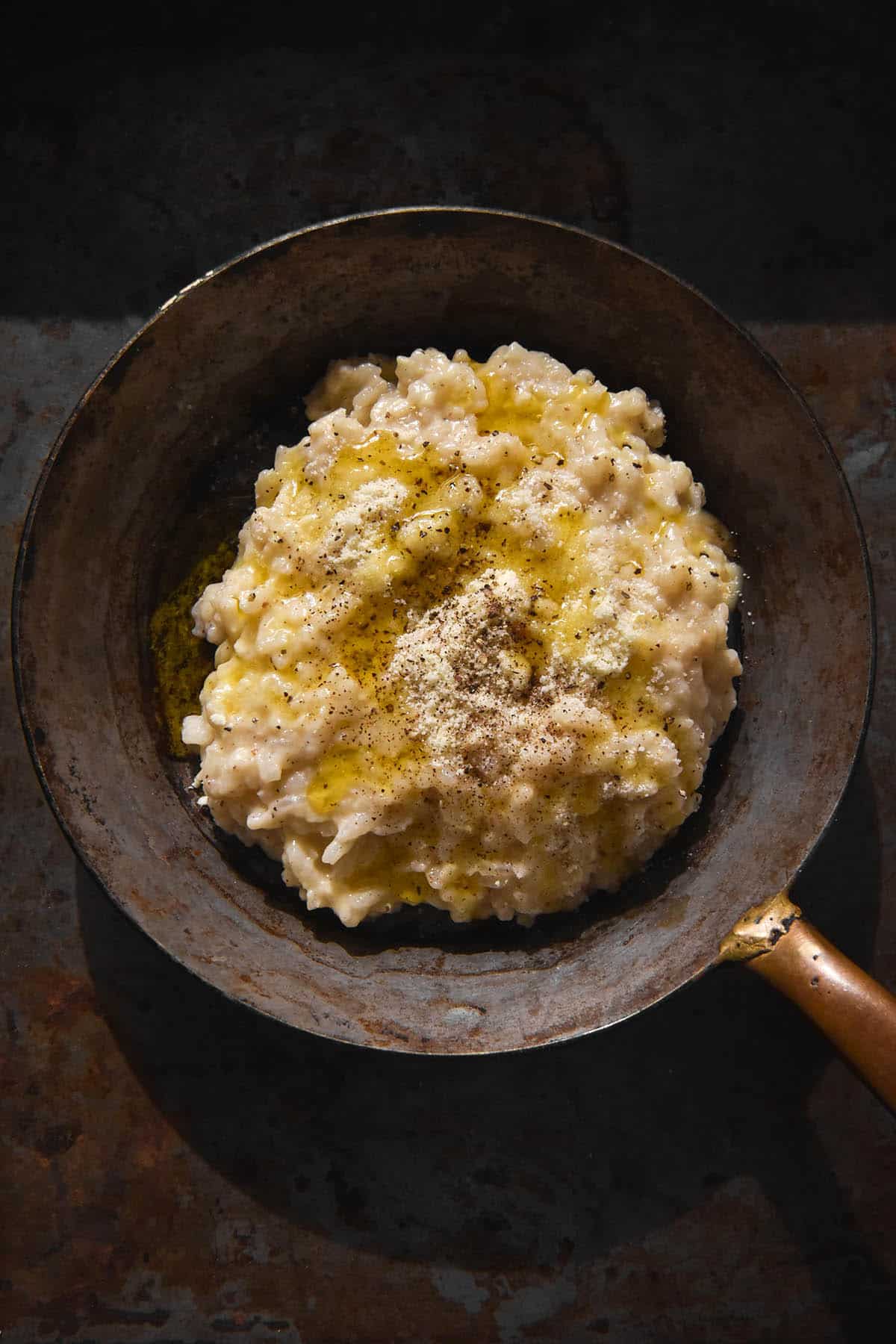 Can I omit the white wine?
Yes, you can omit the wine. If you don't want to use alcohol, simply replace it with the same quantity of stock.
If you choose to omit the wine, I'd recommend adding a splash of white or apple cider vinegar to replace the acidity of the wine. You can add this at any time. I actually quite like to add this regardless, as I find it breaks up the richness and adds another layer of flavour.
Which cheese should I use for cacio e pepe risotto?
Cacio e pepe is traditionally made with Pecorino Romano, which is an aged sheep's milk cheese. This is generally a little harder to find in Australian supermarkets (not impossible, but harder outside big cities).
You can absolutely use Pecorino Romano here, but parmesan also works a treat. I actually used parmesan because cheese is expensive right now and parmesan is what I did. Use what works for your and your budget.
Can I use a plant based cheese instead?
I haven't tried this and I don't think I would recommend it. Vegan cheeses work very differently to dairy cheese, and they also taste different. Substituting the same volume may result in a pretty unexpected result.
This recipe also uses garlic ghee, which cannot be made with vegan butter. I will try and develop a vegan, low FODMAP risotto recipe at some point soon.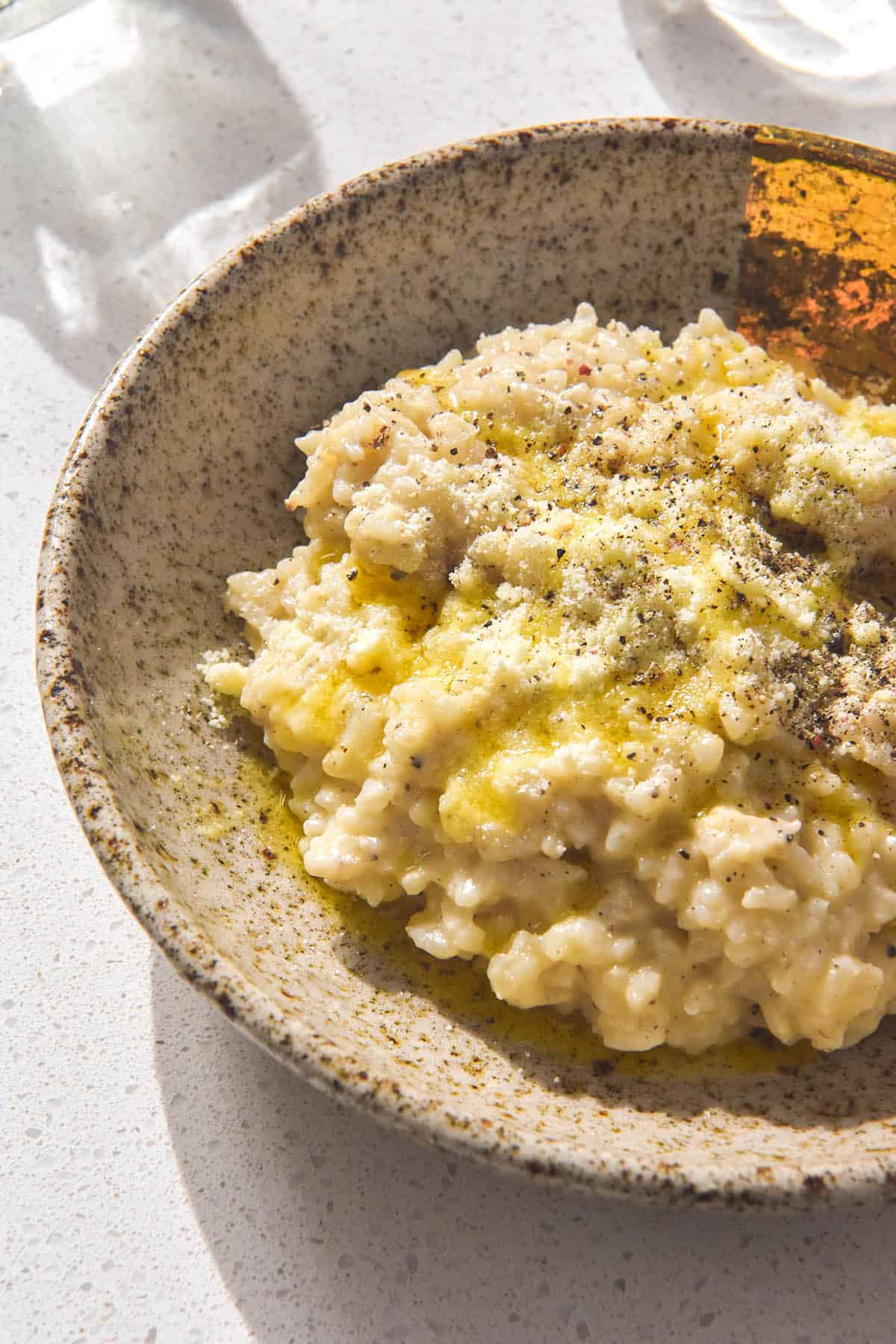 FODMAP notes
There are a few things to chat about FODMAP wise, but not many.
Make sure you use a stock without onion or garlic. I used the Massell low FODMAP vegan 'chicken' stock powder. This is easily purchased at all big supermarkets in Australia.
Monash says that white wine is low FODMAP in 150ml serves per person. They don't give an upper limit. This risotto uses 125-150ml for four serves, which puts it well under the threshold.
Contrary to popular belief, hard cheeses like parmesan are extremely low lactose. In fact, Monash writes that they detected only trace amounts of FODMAPs, and parmesan is low FODMAP in servings of up to 500g per person.
For more information on the garlic infused ghee and FODMAPs, have a read of the post.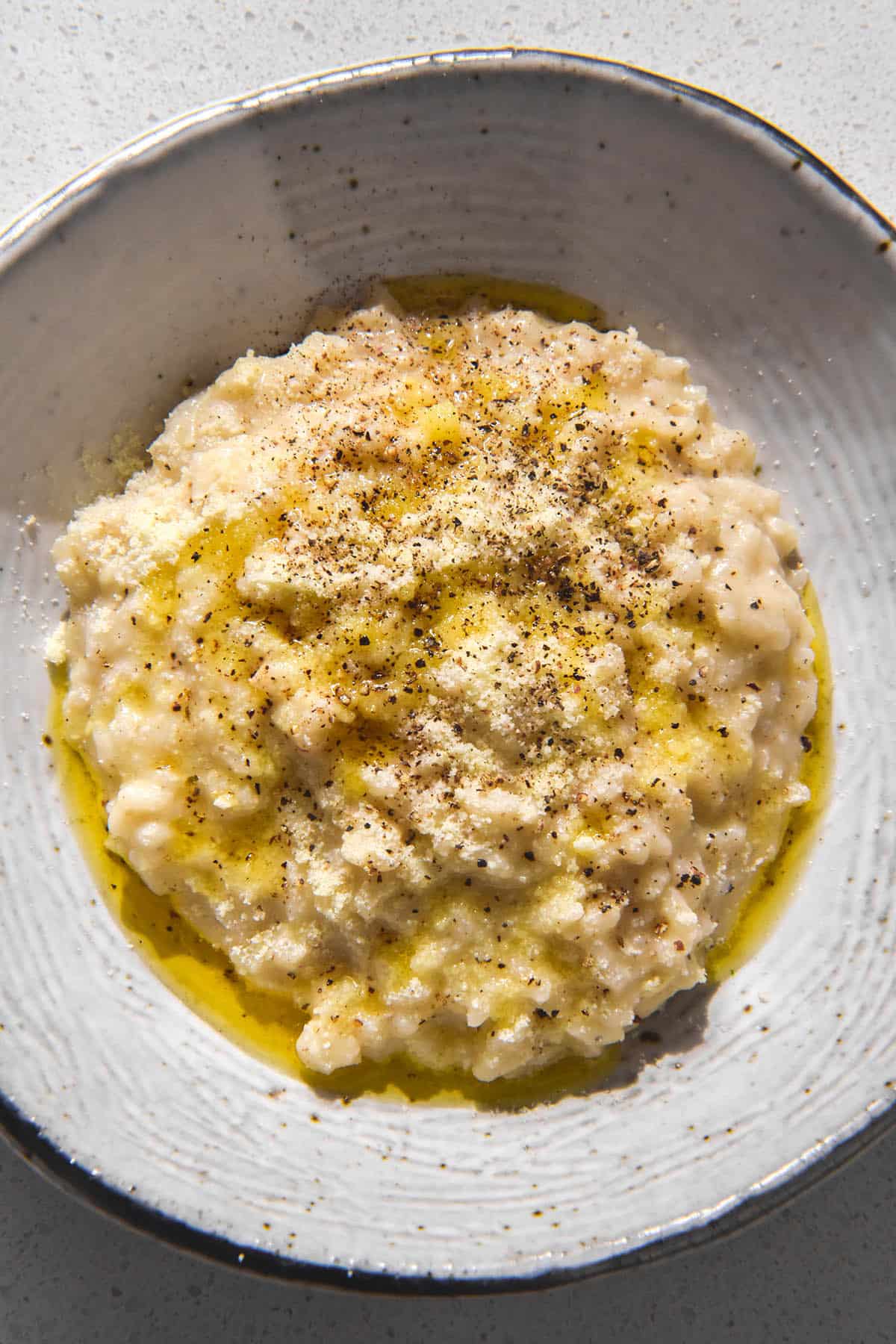 More low FODMAP Italian inspired recipes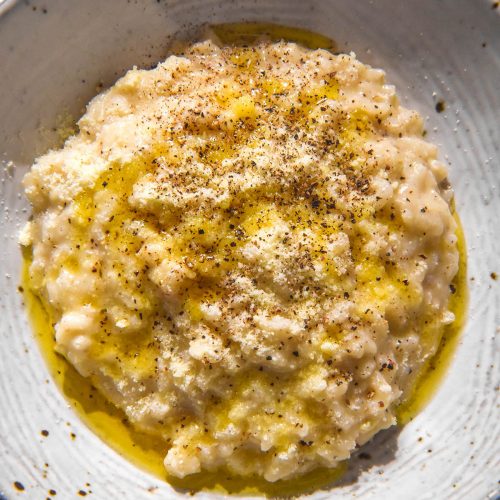 Cacio pepe risotto (low FODMAP)
Gluten free, low FODMAP, vegetarian option
Serves 3-4 people, appetite dependent
Ingredients
1-2

tablespoons

garlic infused ghee (see notes for recipe link)

25-30

grinds of black peppercorns

toasted beforehand is ideal

300

g

Arborio or Carnaroli rice

125-150

ml

dry white wine

optional, see body of post

750-1000

ml

low FODMAP stock

1-2

tablespoons

garlic infused ghee

100-200

g

freshly and finely grated Pecorino Romano or Parmesan

vegetarian if need be

Extra ground peppercorns

to your taste

Salt and a splash of vinegar

to your tastes

Parmesan

pepper and melted garlic infused ghee, to finish
Instructions
Place a large pan or Dutch oven over a medium heat and add the ghee. Once it is shimmering, add the rice grains and 20-30 grinds of freshly cracked black pepper and cook for 3-4 minutes or until they start to become a little bit translucent. You can add a bit of extra ghee or oil here if you need it.

Once the grains are toasted, add the white wine to the pan. Stir and allow it to be absorbed by the grains. Once it has, add a ladle full of warm stock. Stir gently and allow the stock to be absorbed by the grains. Repeat this process until you have used 750ml of stock. From here, assess: is the rice cooked through but firm? Are there any undercooked grains? Does the risotto have a creamy, saucy texture without being sloppy? Add the extra stock, if necessary, to achieve this consistency.

Once you're happy with the consistency, take the risotto off the heat. Stir in the extra ghee and allow it to incorporate. Next, stir in the cheese in batches, adding a splash of extra stock if necessary to achieve a creamy risotto that still holds its shape. Add extra cracked pepper here to achieve your desired pepperiness. I generally use about 1/2 – 1 Australian tablespoon worth of cracked pepper, but I love pepper. Add yours to your own personal taste.

Serve with extra grated cheese and pepper and drizzle over some melted garlic ghee to finish.