I am officially a risotto girl now. I've made low FODMAP risotto verde, pumpkin sage risotto and cacio e pepe risotto in quick succession. Next on my list? This low FODMAP risotto al limone.
My inspiration for this dish is twofold. Firstly, I have been gifted an overwhelming quantity of lemons and have been searching for something to do with them. Secondly, I saw risotto al limone on TikTok. Fate, data tracking, whatever the case may be: it's time to make this delicious lemon risotto.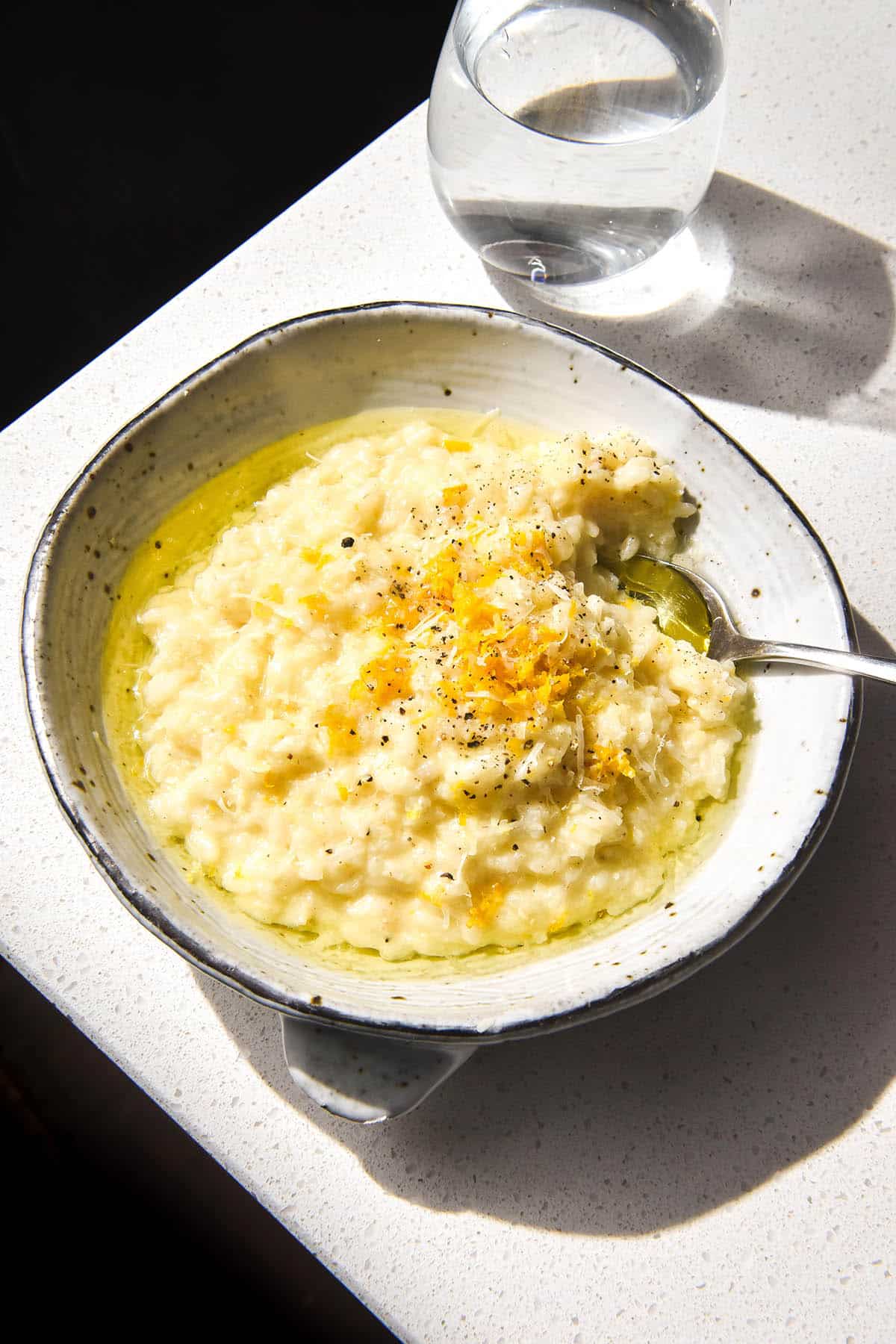 Low FODMAP risotto al limone
Risotto al limone is a simple dish traditionally made with risotto rice, white wine, shallots, parmesan and lemons. Most recipes I looked it suggested using water over stock to allow the lemon flavour to shine through. However, I found that a low FODMAP version of the dish really needed the stock to add layers and complexity. Homemade stock is always best, but Massel make low FODMAP stock here in Australia.
To make a low FODMAP version of risotto al limone, I have made a few simple adjustments. Of course, we use the aforementioned low FODMAP stock. Next we remove the shallot, replacing it with a drizzle of garlic infused oil at the end. This adds the flavour complexity without the FODMAP content. You can read more about the science of garlic infused oil here.
And that's it! A simple, full flavoured and stunning risotto that is low FODMAP without much effort.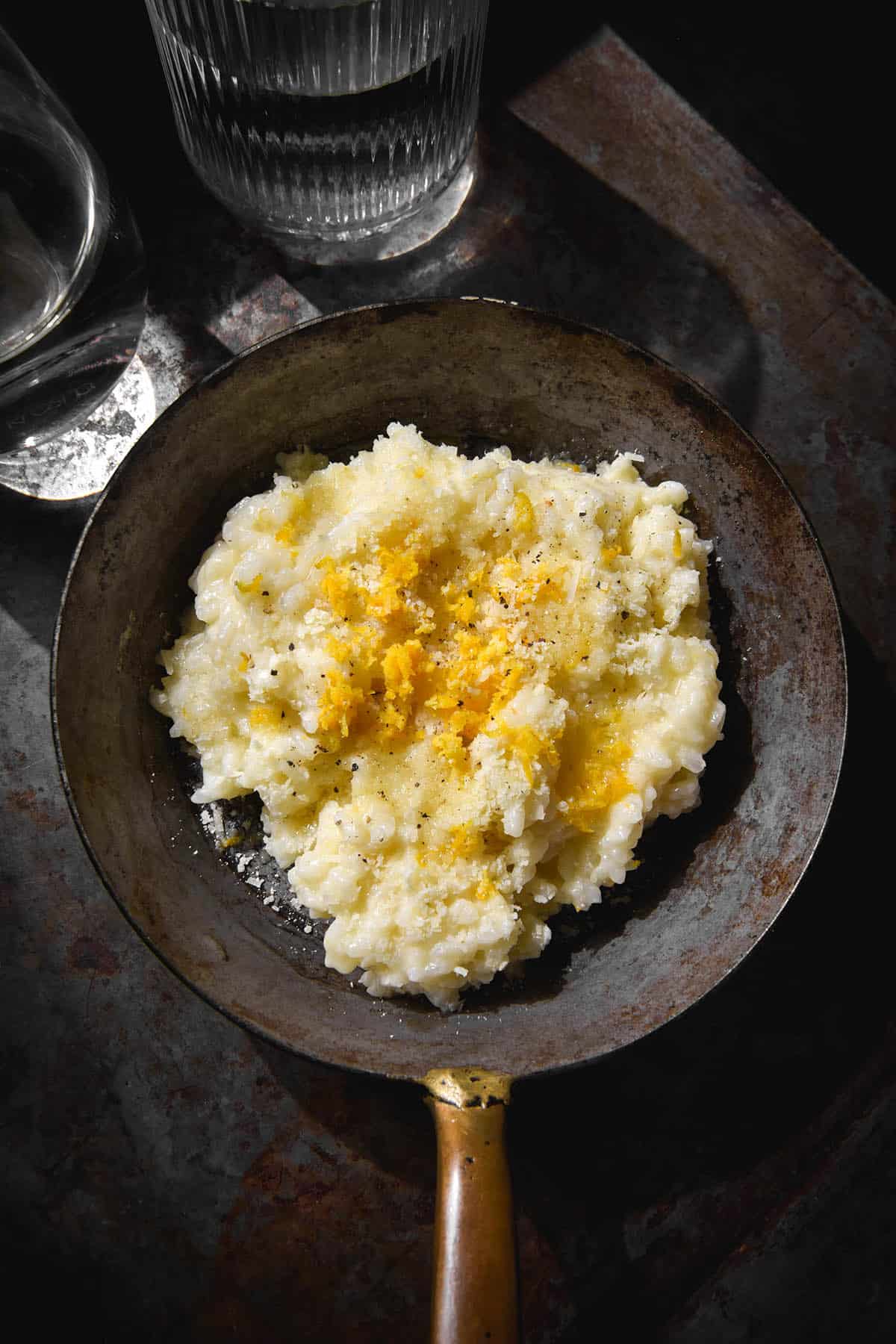 Ingredient notes for your low FODMAP risotto al limone
For dishes like these where the flavours are simple, I insist you make your own garlic infused oil. It is incredibly easy to make, takes 5-10 minutes, and the taste is in another league compared to store bought.
If you are catering to vegetarians, make sure you use a vegetarian parmesan. Yes, they exist, even if they shouldn't by tradition standards. See my list here of vegetarian parmesan brands available in Australia. If you are not based here, look for 'non animal rennet' on the label.
Don't be shy with the parmesan – it adds a creaminess to counter balance the lemon. Make sure you use a block and finely grate it yourself – the pre-grated packets contain fillers which prevent the cheese from melting (and potentially make it higher FODMAP).
Meyer lemons are ideal here as they are sweeter and have a bright yellow zest. With that said, any lemon works. Make sure you add the lemon juice according to taste if you are working with particularly sour lemons.
Arborio or Carnaroli rice are the two sorts of rice that work here. They release starch in a specific way that makes them perfect for risotto, so there is no substitute here.
Most recipes for risotto al limone use water instead of stock. However, they also have the added flavour of the shallots (which this one does not). This is why I use low FODMAP stock powder – it adds a little something to round out the flavour profile. I like Massel stock (which is low FODMAP) in Australia.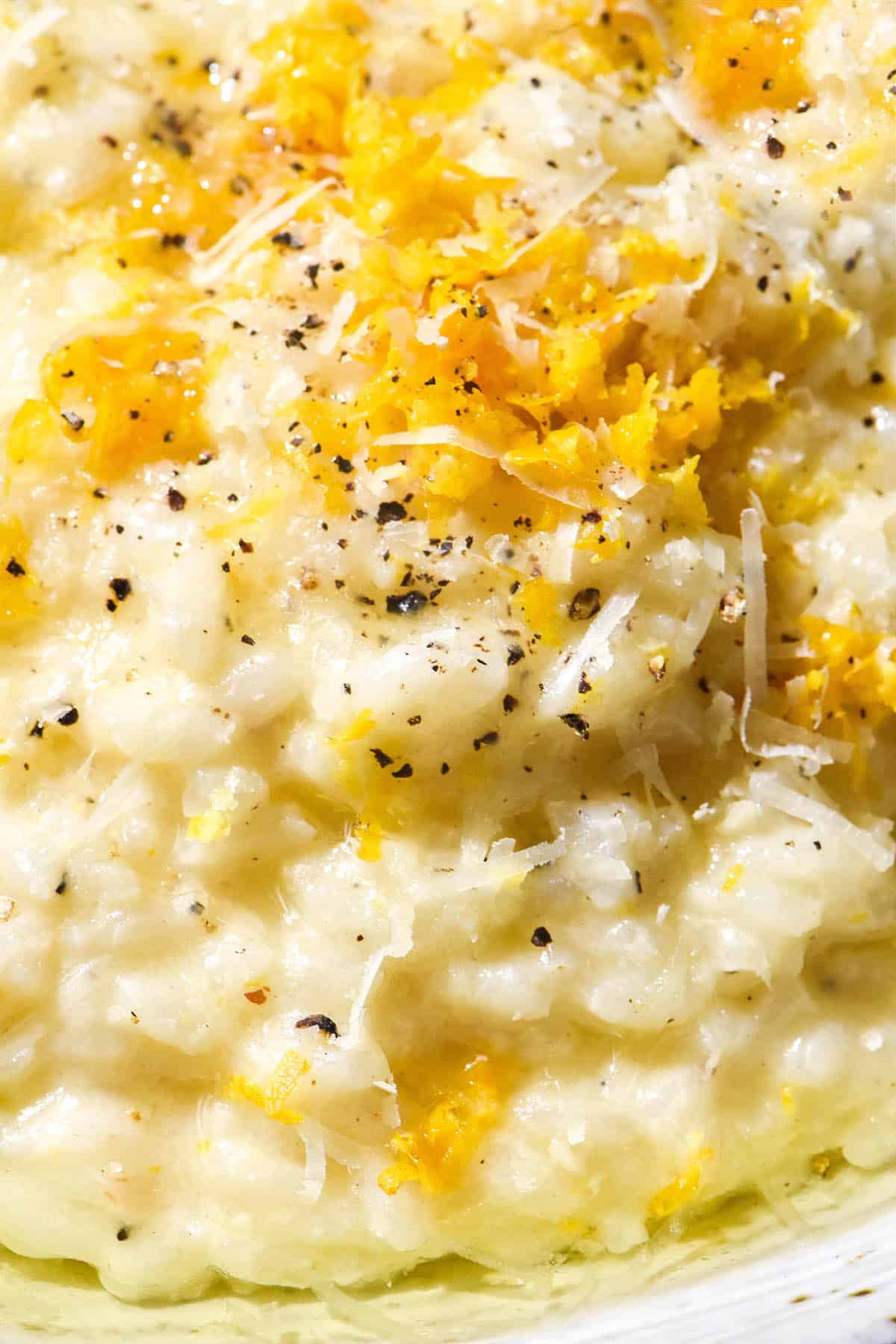 Tips for making risotto
Cook the risotto grains for 3-4 minutes in the ghee or oil. Toasting the grains without liquid first will help ensure the grains keep their shape during cooking.
Keep the water (or stock) on a very low heat in a pot alongside your risotto. Adding hot liquid encourages the starches in the rice to come out, which is what creates a creamy risotto. Further than that, cold stock will increase the cooking time. No thanks.
Add liquid to suit your risotto. No two risottos will be the same. Continue to intermittently stir, cook add liquid until the grains are cooked through but have a bit of bite. If you run out of stock, use water. Keep in mind here that we are adding lemon juice at the end, so your risotto can be a little thicker than you like it prior to adding the lemon juice.
Add your final ingredients off the heat. I like to add the lemon juice first here, then the cheese. As you'll know if you've made cacio pepe, parmesan can overcook and become a hot mess. Adding the cold lemon juice helps to bring the temperature down before adding the cheese.
Parmesan will help bring your risotto together. If it's looking a little runny after adding the lemon juice, don't stress. The parmesan will create a cohesive, thick risotto that stands up in the bowl.
Taste and adjust the seasoning before plating. Pepper, salt and lemon juice are all individual preferences, so add them to yours.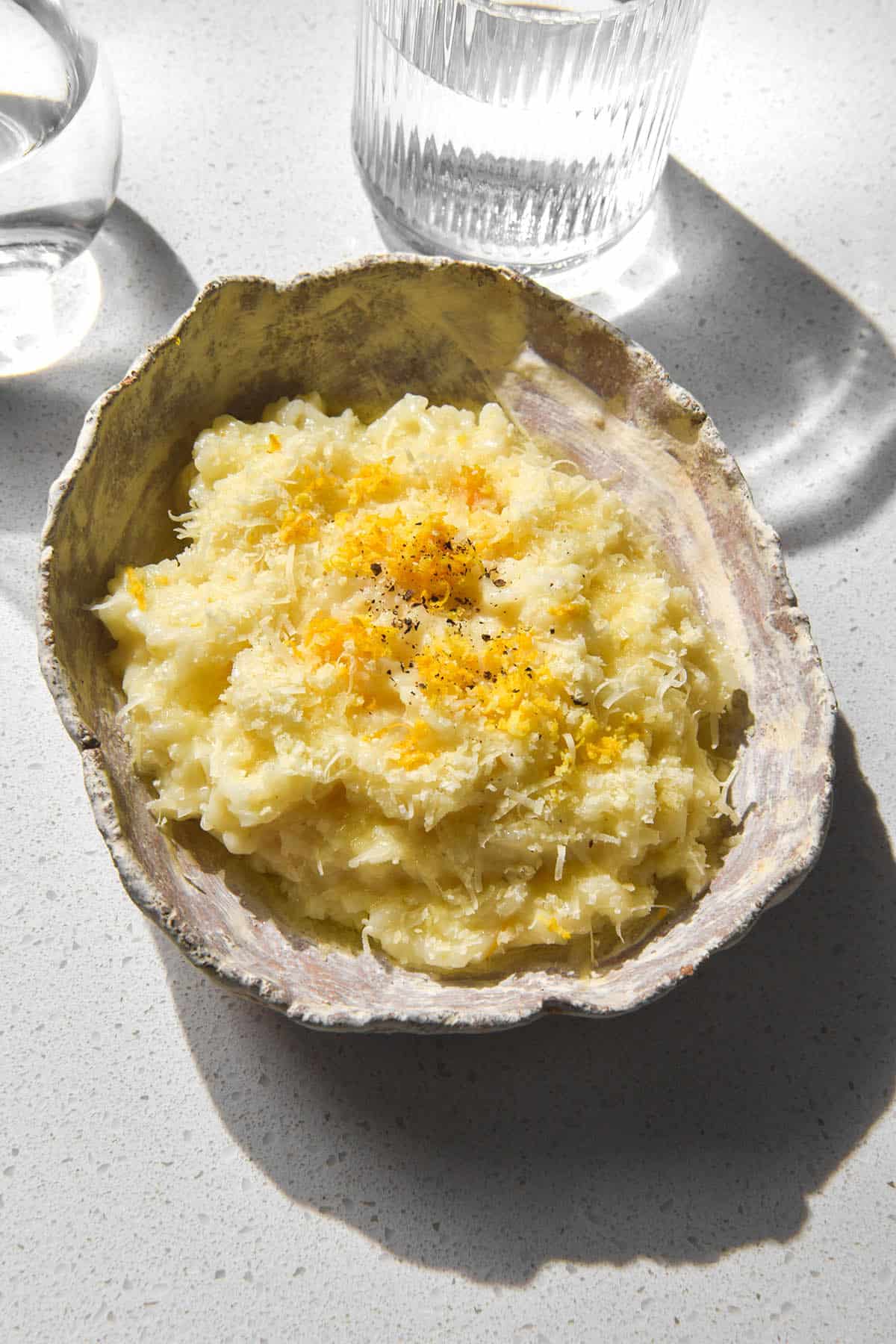 More low FODMAP Italian recipes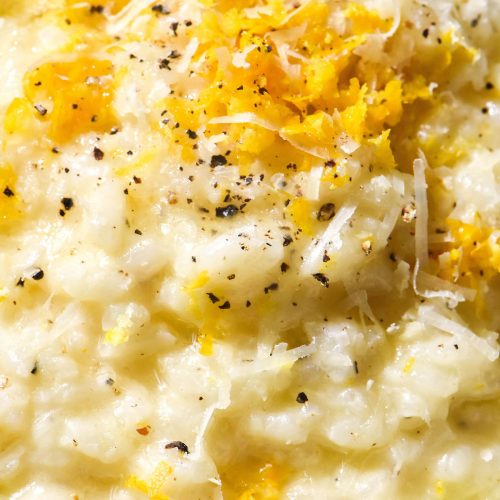 Low FODMAP risotto al limone
Low FODMAP, vegetarian option, nut free
Serves 3-4 people, appetite dependent
*Cups and measures are in Australian cups and measures. Use gram weights for international accuracy.
Ingredients
350

g

Arborio or Carnaroli rice

40

ml

(2 tablespoons)* garlic infused ghee or oil

(see notes)

125

ml

(1/2 cup)* white wine

Zest and juice of two Meyer lemons

1000-1500

ml

low FODMAP stock

(vegetarian if needed)

Seasoning

to taste

100-200

g

finely and freshly grated parmesan

to taste (vegetarian if needed)

Melted garlic infused ghee or oil, to finish

(see notes)
Instructions
Place a large pan or Dutch oven over a medium heat and add the ghee or oil. Once it is shimmering, add the rice grains and about half of the lemon zest. You can add a bit of extra ghee or oil here if you need it.

Once the grains are toasted, add the white wine to the pan. Stir and allow it to be absorbed by the grains. Once it has, add a ladle full of warm stock. Stir gently and allow the stock to be absorbed by the grains. Repeat this process, adding splashes of lemon juice in with the stock to your taste, until you have used 750-1000ml of stock. From here, assess: is the rice cooked through but firm? Are there any undercooked grains? Does the risotto have a creamy, saucy texture without being sloppy? Add the extra stock, if necessary, to achieve this consistency.

Once you're happy with the consistency, take the risotto off the heat. Stir in the cheese in batches, adding a splash of extra stock if necessary to achieve a creamy risotto that still holds its shape. Add seasoning here to taste, along with extra lemon zest and juice if you think it needs it.

Serve with extra grated cheese, lemon zest and pepper and drizzle over some melted garlic ghee or garlic infused olive oil to finish.