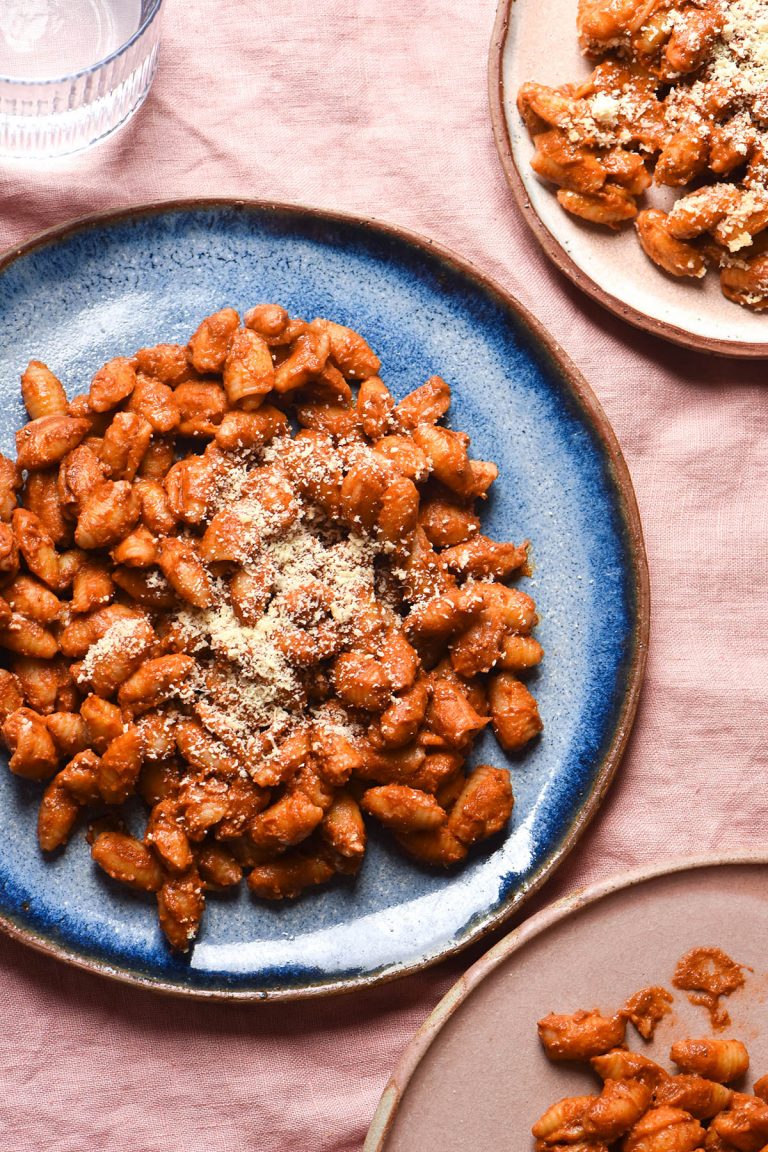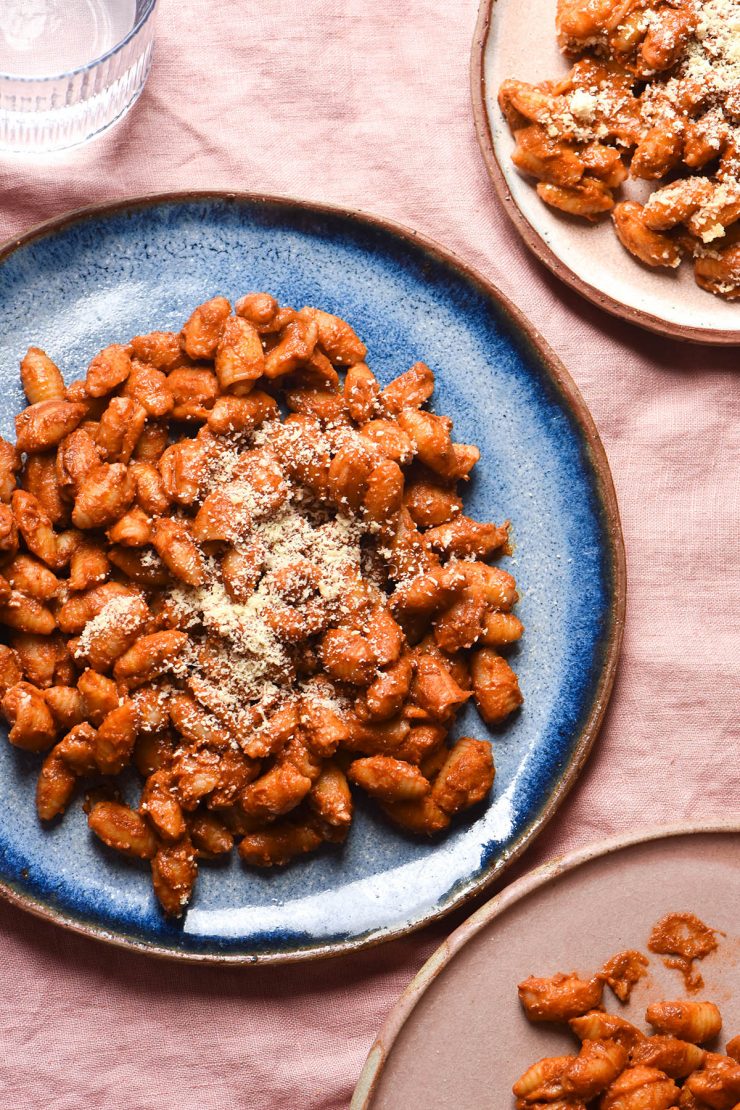 This tomato mascarpone pasta sauce is really a combination of two of my favourite recipes. My low FODMAP pasta sauce and my lactose free mascarpone. Ok, add in my garlic infused ghee for good measure. The tomato base is full of flavour thanks to herbs, garlic infused ghee and a few other tricks. The mascarpone adds a rich and creamy finish to the sauce to bring it to a whole other level.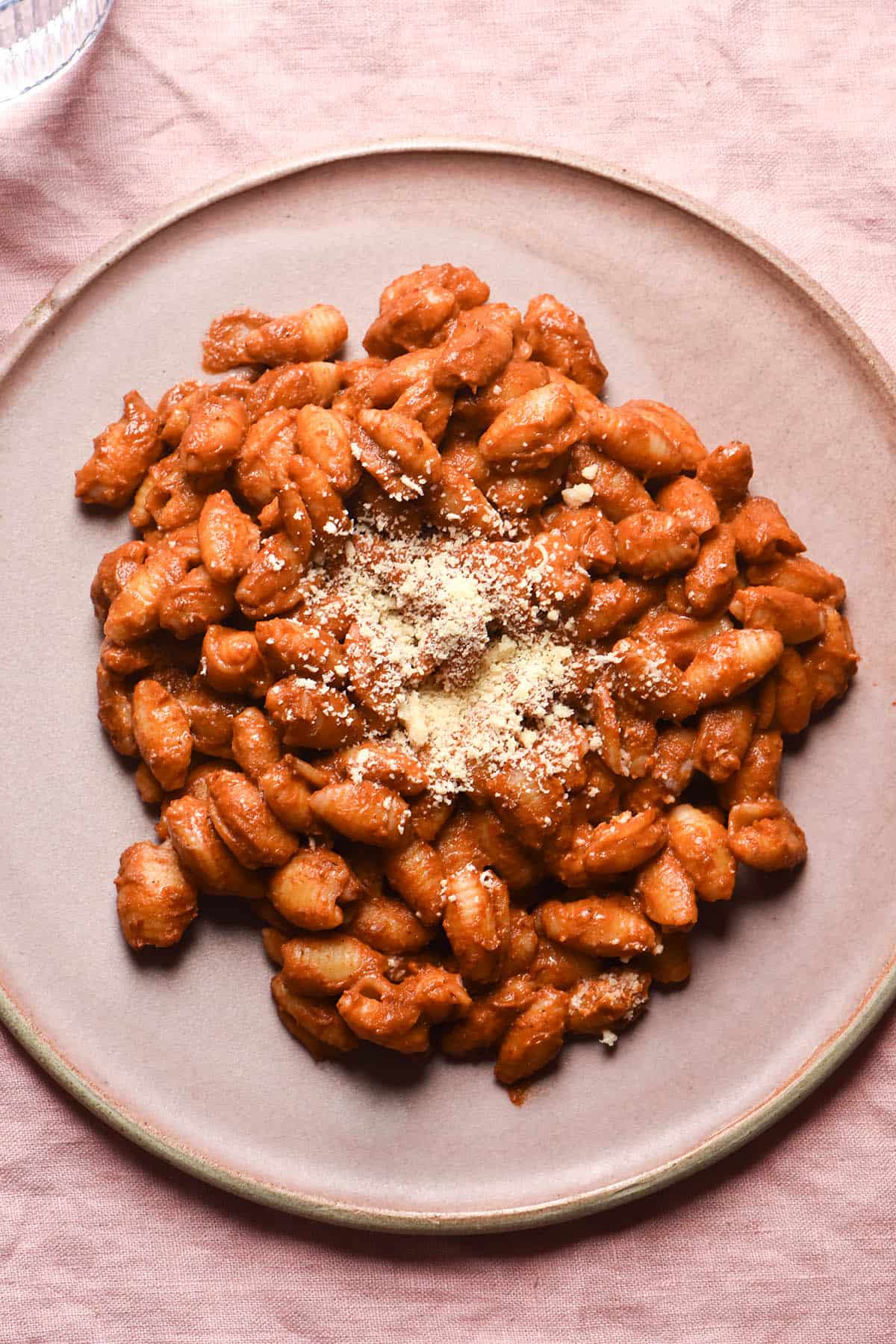 Tomato mascarpone pasta sauce (low FODMAP)
This low FODMAP tomato sauce uses tinned tomatoes, tomato paste and herbs and spices to form the backbone. Next, it uses asafoetida and garlic infused ghee to inject some garlic flavour back into the sauce. Finally, a good splash of red wine rounds out the flavour of this vegetarian, onion and garlic free pasta.
The mascarpone is stirred through at the end to create a luscious and creamy pasta dish. I like to stir through some vegetarian parmesan at the same, although this is optional.
For those who are intolerant to lactose (not dairy) I have a recipe for lactose free mascarpone. Because it's in such a small quantity, the lactose content will be minimal even with regular mascarpone, but it is an option.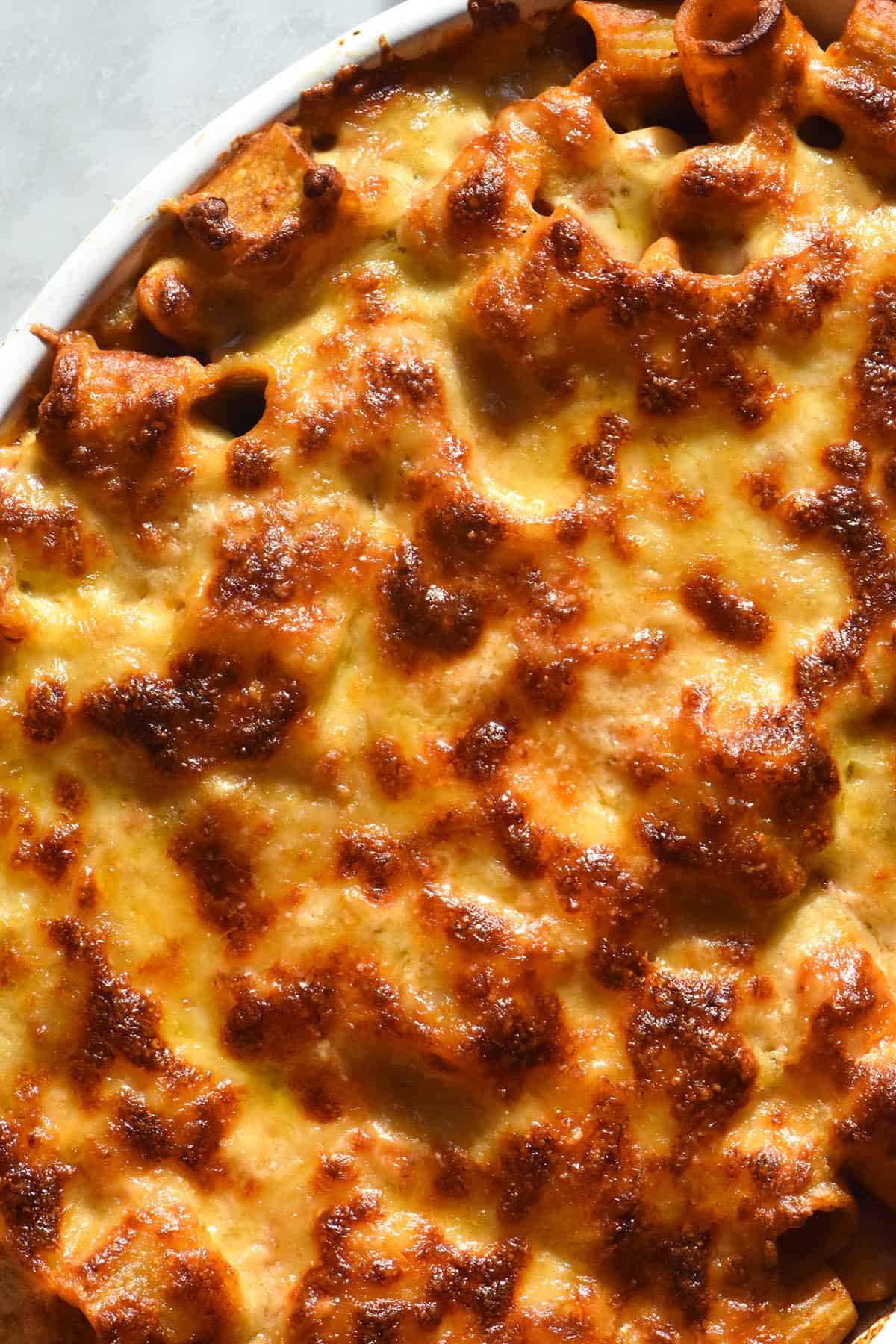 Tips for your tomato mascarpone pasta sauce
Reserve some of the pasta water in case you want to thin the sauce at the end.
On the contrary; keep a bit of extra tomato paste on hand in case you need to thicken the sauce.
See the section below on baking this tomato mascarpone pasta sauce into a pasta bake.
If you don't have mascarpone, you could also use cream or ricotta.
Garlic infused oil is a suitable replacement for ghee if you'd prefer to use oil.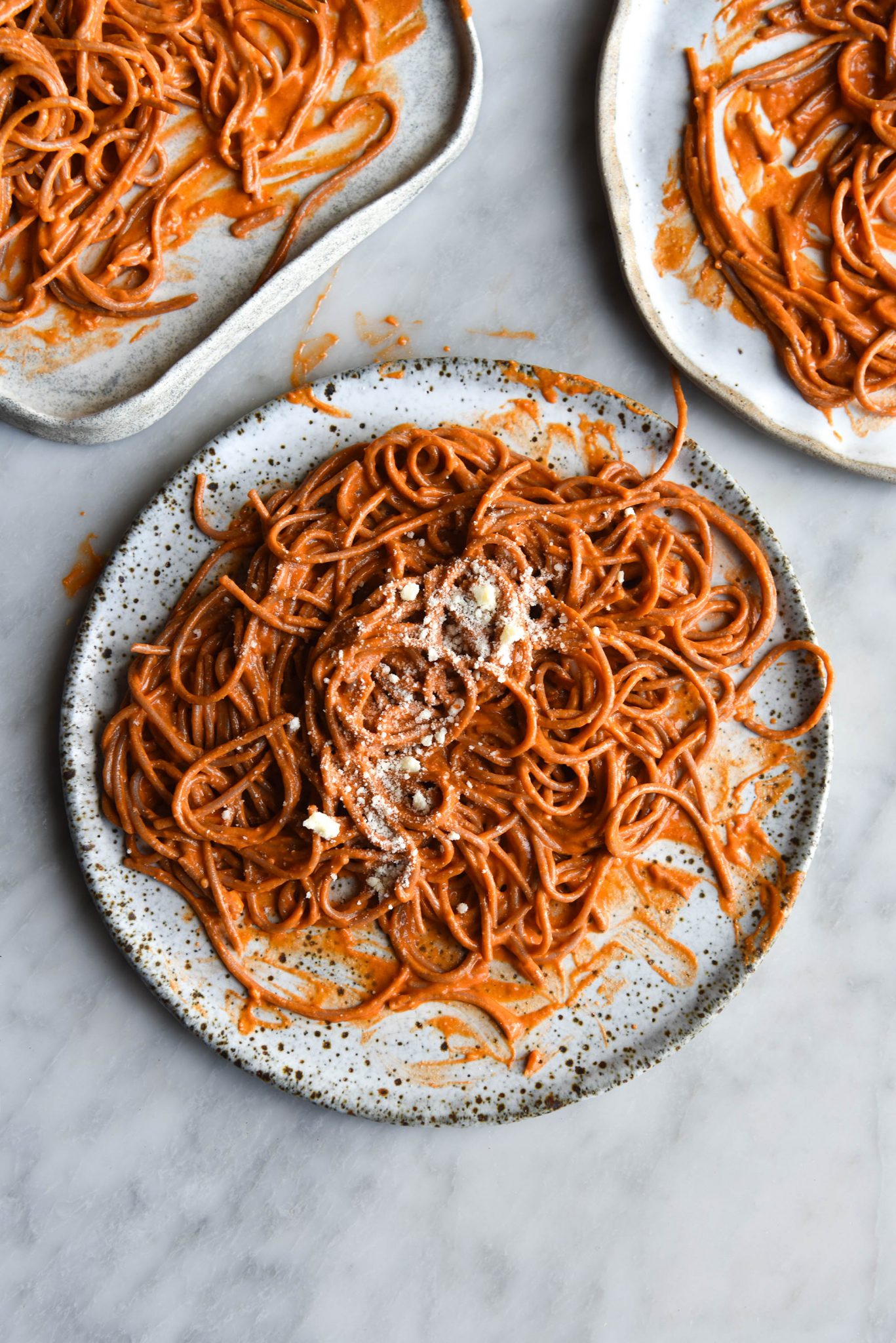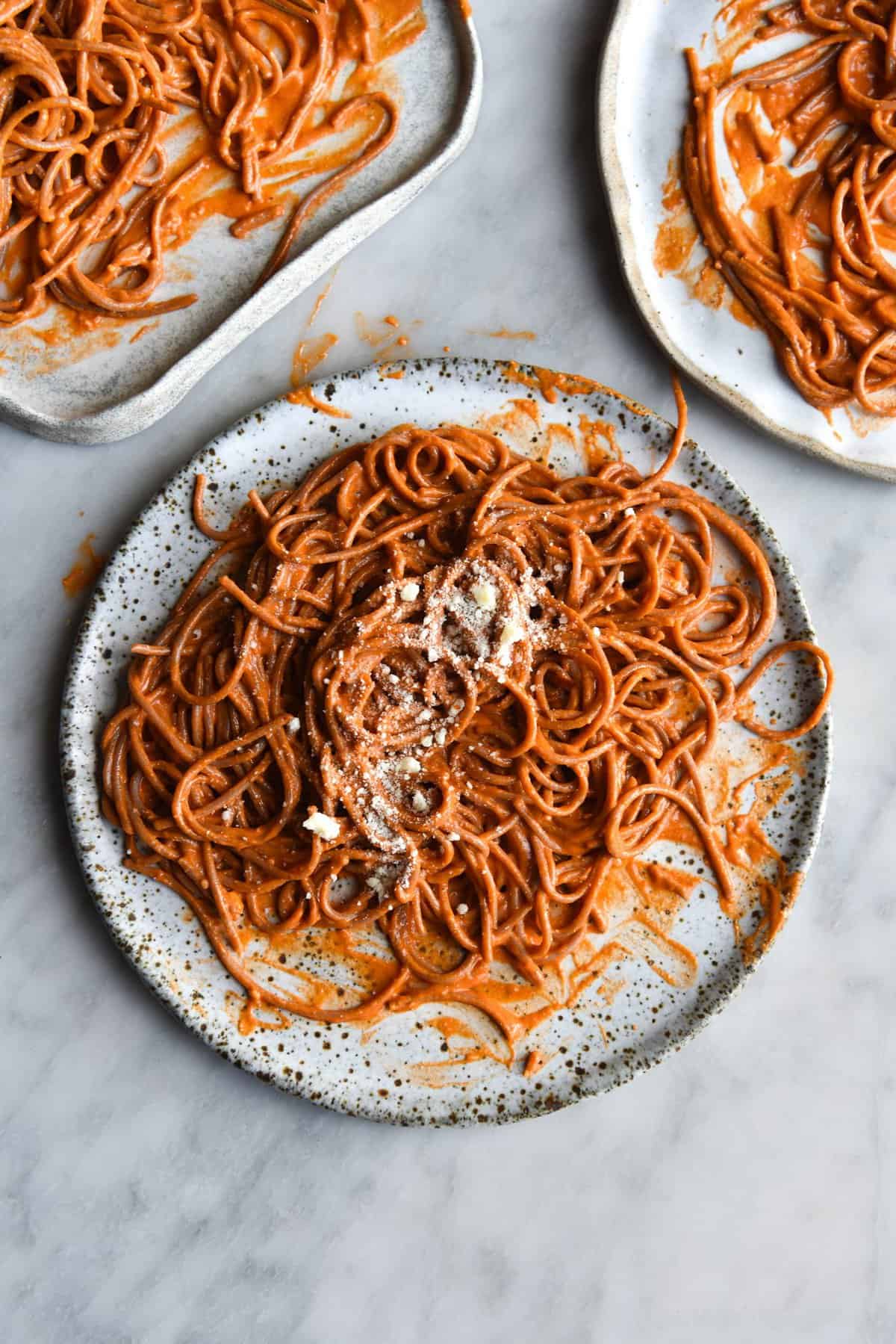 FODMAP notes for your tomato mascarpone pasta sauce
This sauce uses garlic infused ghee and asafoetida to replace the garlic flavour. For a vegan option, you can also use garlic infused oil.
Tomato paste is low FODMAP in 2 tablespoon (28g) serves. This whole dish uses 3 tablespoons.
Canned tomatoes are low FODMAP in 100g serves, and the recipe uses one 400g tin. That means the recipe needs to serve four people.
You can also use my low FODMAP Nomato sauce recipe to replace some or all of the tinned tomato. One batch of Nomato sauce makes approximately 1.2kg, which is equivalent to 3 x 400g cans of tinned tomato.
You can use regular mascarpone if you don't have any issues with lactose. If you do, use my lactose free mascarpone recipe (or just use lactose free cream).
I use gluten free pasta but you can use whatever works for you.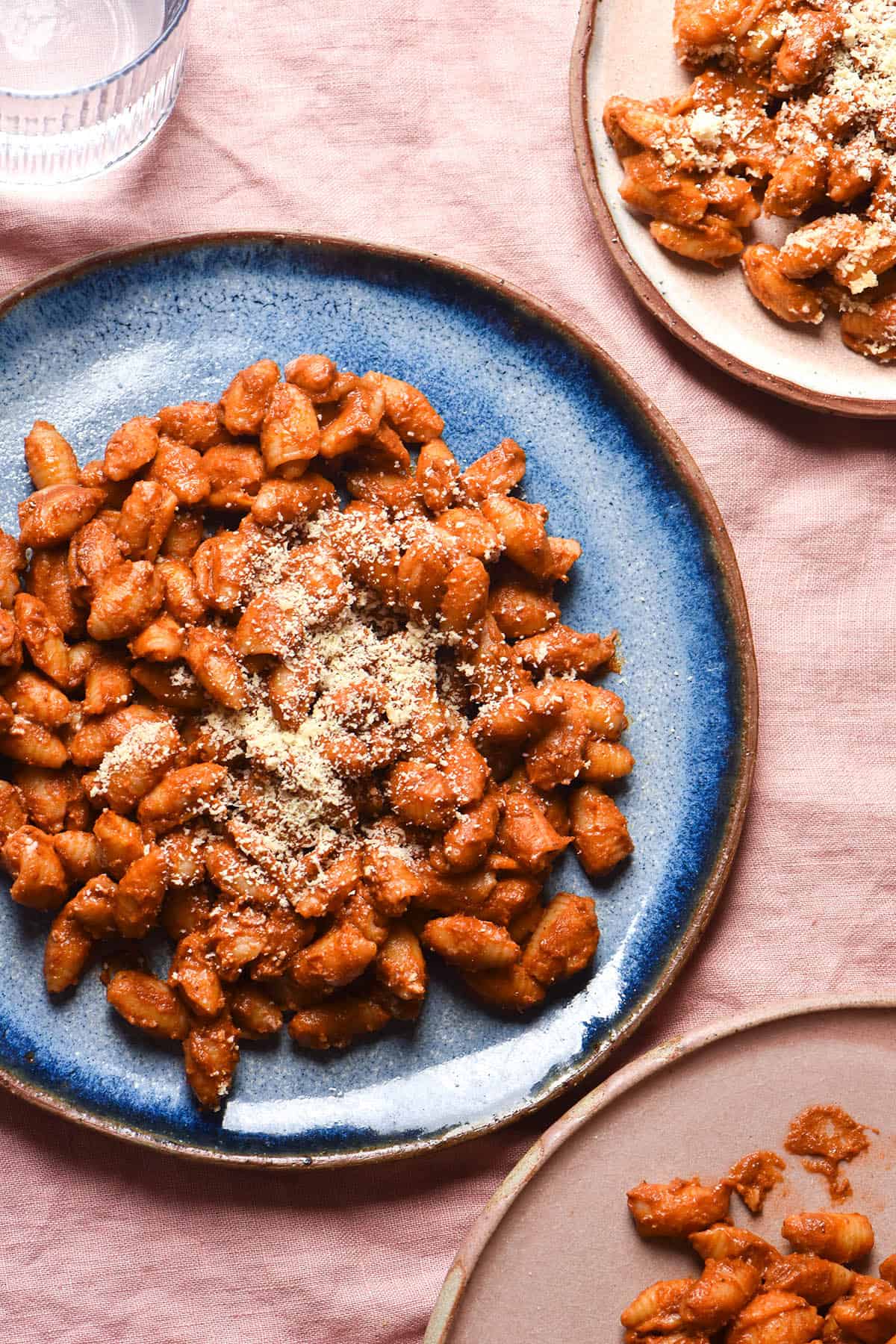 To make a pasta bake
This tomato mascarpone pasta sauce cooks up into a really lovely pasta bake. The process is simple: proceed with the recipe as written, but add 125ml (1/2 cup) of water to the sauce as you're blending it.
After the pasta dish is ready and sauced up, decant it into a xxcm baking dish. I like to add 1/2 a can of tinned butter beans for a low FODMAP quantity of protein, but it's very optional.
Finally, top the bake with the cheese of your choice (I like a blend of smoked mozzarella and cheddar) and bake under the grill for 10-20 minutes or until golden brown. Because all of the components are already cooked, you just need to brown the cheese.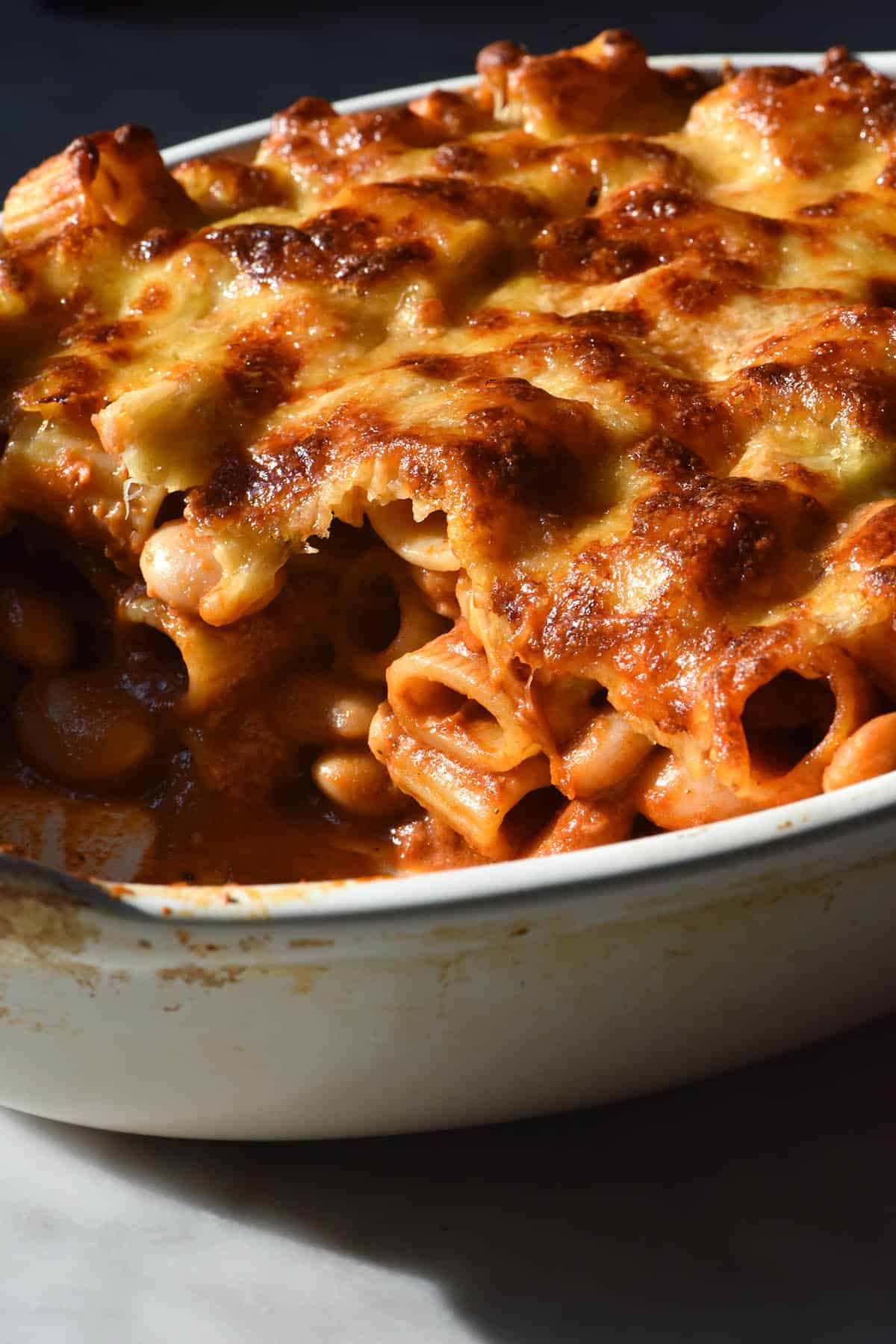 Other low FODMAP vegetarian pasta dishes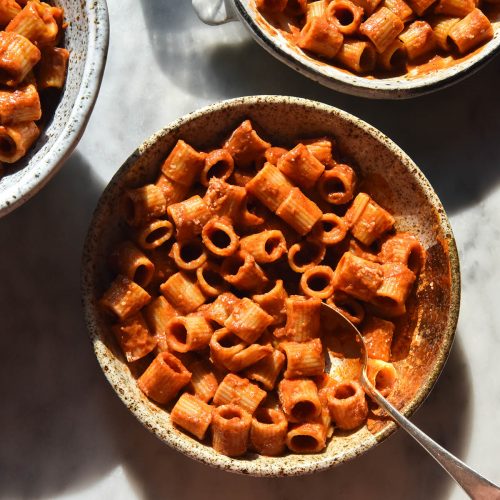 Tomato mascarpone pasta sauce
Tablespoons are in Australian measures. 1 Australian tablespoon = 4 American, Canadian and New Zealand teaspoons, 3 1/2 British teaspoons
Ingredients
For the pasta sauce:
1

x 400g tin plain tomatoes

3

tablespoons* tomato paste

2

tablespoons

red wine optional but really adds flavour

1

small bunch fresh oregano

1/2

bunch fresh basil reserve the remaining to finish

1

teaspoon

maple syrup or honey

1/2

– 1 teaspoon dried sage

1-2

teaspoons

smoked paprika for flavour and colour

1/4

teaspoon

dried oregano

1/4

teaspoon

asafoetida powder optional but delicious

Salt and pepper to taste

2

tablespoons* garlic infused ghee or oil
To finish:
400

g

gluten free pasta shape of choice

2-3

tablespoons* mascarpone

Finely and freshly grated parmesan

to finish
Instructions
Blend together all the ingredients except the ghee. Add the mixture to a saucepan and cook over a low heat for 5-10 minutes. You can slow cook this mixture as long as you like, but you might need to add more liquid. This sauce spits quickly and easily, so keep a lid on while you're not stirring it.

While the sauce is simmering, cook the pasta in well salted water as per the package instructions.

Just before you finish cooking, add the ghee and stir to melt and combine. Leaving the ghee just cooked helps it retain the garlic flavour.

Drain the cooked pasta (reserving some pasta water in case you need it) and return it to the cooking pot. Pour over the pasta sauce and stir to combine, then add the mascarpone. Taste and adjust seasoning if necessary (I sometimes like to add a squeeze of lemon). You can stir through a handful of finely and freshly grated vegetarian parmesan (yes, it exists) here too.

Serve with a little extra parmesan and the remaining 1/2 bunch of basil.