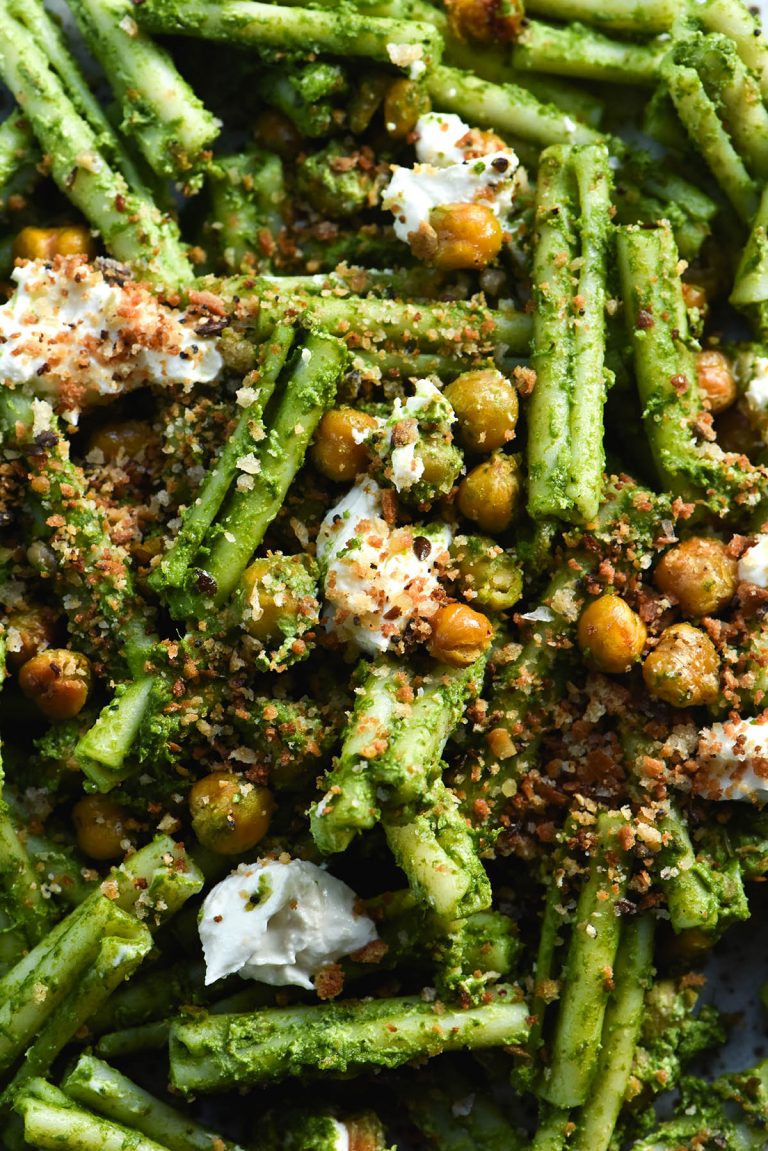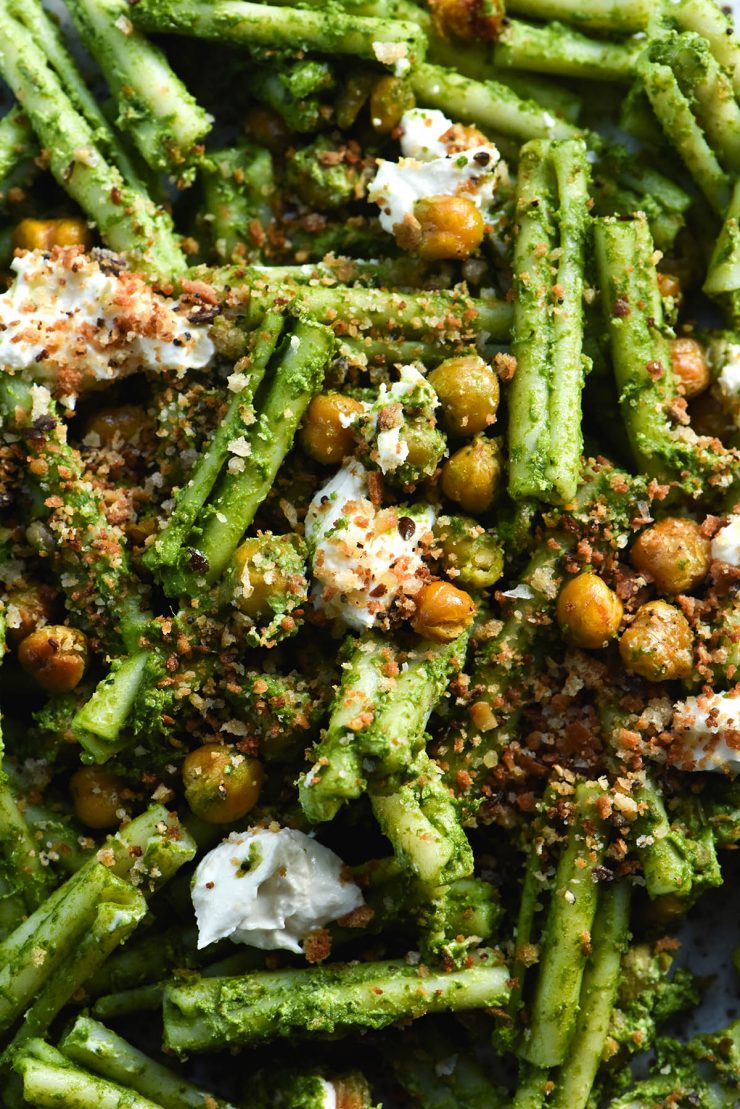 If you're doing the low FODMAP diet as a vegetarian or vegan, it can be a little trickier to determine which protein sources are appropriate. We've already discussed tofu, so today we're asking: are chickpeas low FODMAP?
A note before we begin: this article is not a substitute for appropriate medical advice. It's sole intention is to aid you on your day to day FODMAP journey, not to replace professional health advice. Always consult a doctor or dietician before you begin any sort of elimination diet.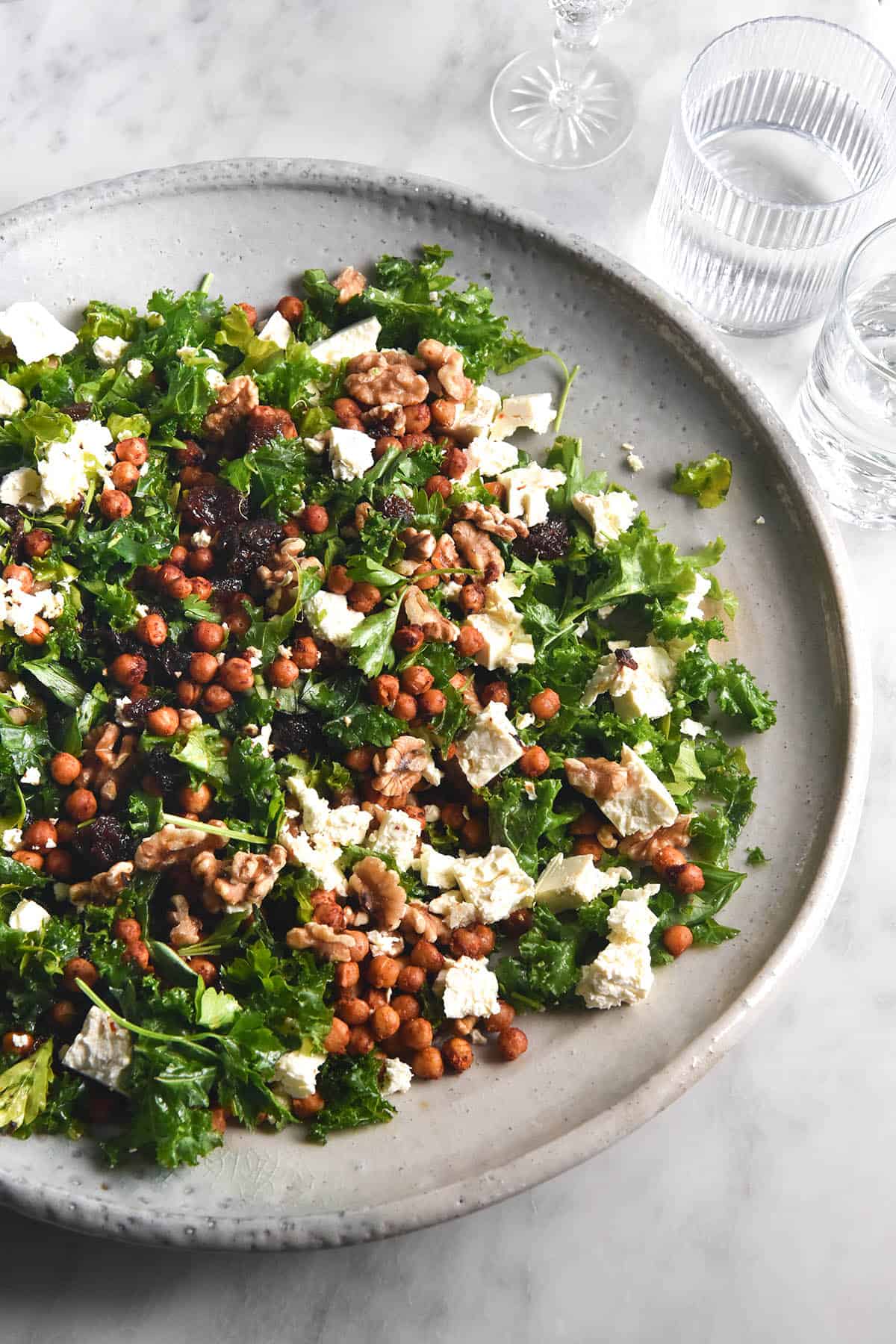 Are chickpeas low FODMAP?
Unfortunately, dried chickpeas are high FODMAP, even in small serves. However, canned chickpeas have a low FODMAP threshold of 42g or approximately 1/4 cup per serve. In serves of 84g or 1/2 cup, they contain moderate amounts of GOS. The gap between the low and moderate thresholds suggests there is a small amount of wiggle room as to what constitutes a low FODMAP serve. Assess your own tolerance and use what works for you.
Why are canned chickpeas low FODMAP?
Canned chickpeas are lower FODMAP because some of their FODMAP content leeches out into the water they are canned in. This is not unique to chickpeas – other canned legumes have lower FODMAP thresholds than their dried counterparts too.
This is why recipes will often specify that you thoroughly rinse canned chickpeas before use. Some of the FODMAP contains drains away with the canning liquid, so it's important to rinse them well.
Is chickpea flour low FODMAP?
Unfortunately, chickpea flour is high FODMAP even in small quantities.
Is chickpea pasta low FODMAP?
Chickpea pasta is low FODMAP in 100g serves, or approximately 1 cup cooked pasta. In serves of 120g, it contains moderate amounts of GOS.
More low FODMAP resources
Low FODMAP recipes that use chickpeas
These recipes are all gluten free and vegetarian or vegan. Where possible, they are also nut free and egg free. Most of the savoury recipes on my website, particularly the more stewy ones, would easily incorporate some smashed chickpeas if you're looking for more places to use them.
Kale, crispy chickpea and feta salad
This delicious kale salad has all the different elements covered. Crunchy smoky chickpeas, salty cool feta, (a small serving of) sweet raisins, and the earthy kale. It comes together with an easy low FODMAP salad dressing and makes for a great meal prep dish or dinner party salad.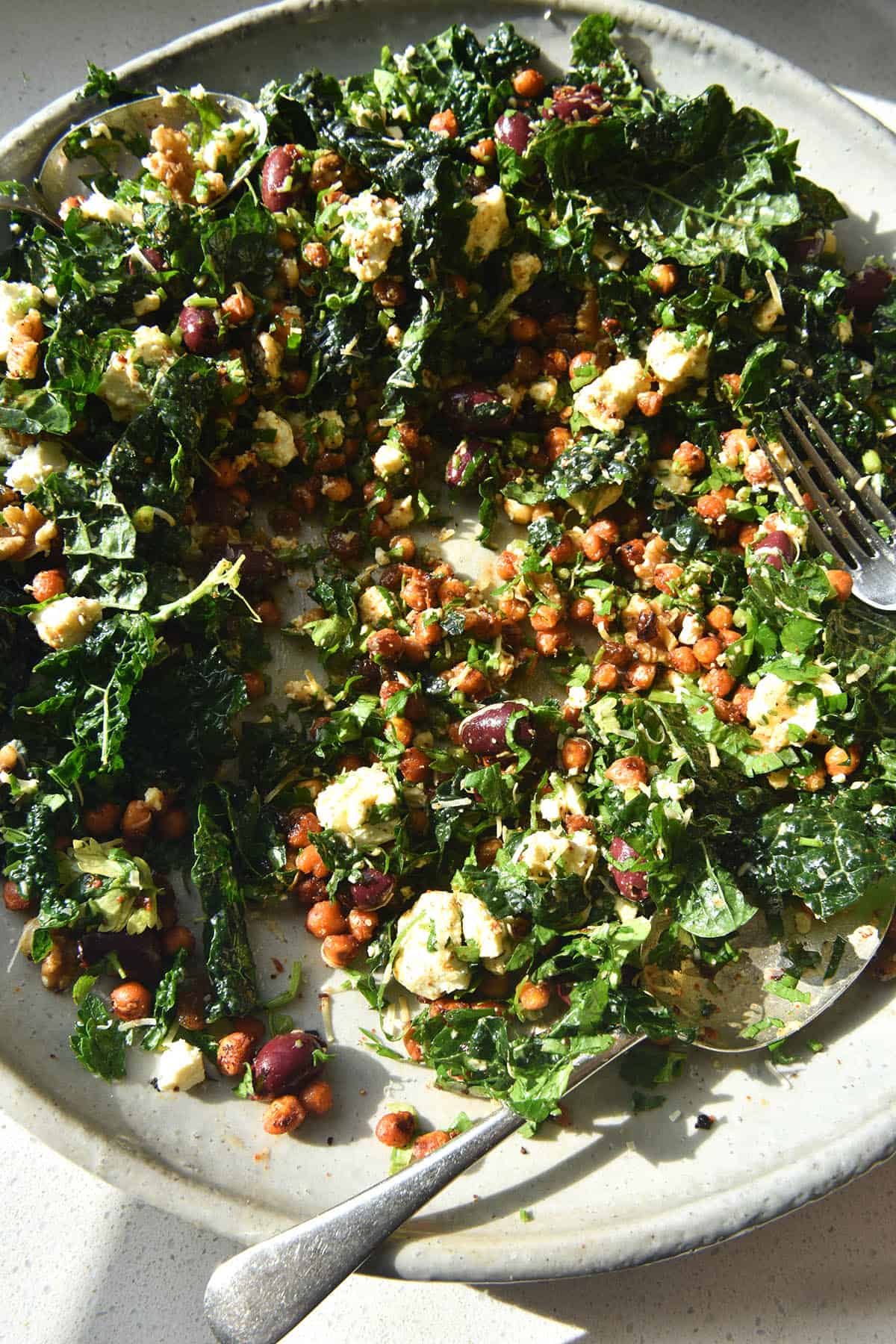 Low FODMAP vegetable tagine
This low FODMAP tagine is packed full of flavour without any onion or garlic. It uses canned chickpeas for a low FODMAP vegan protein, and they soak up the spices so perfectly.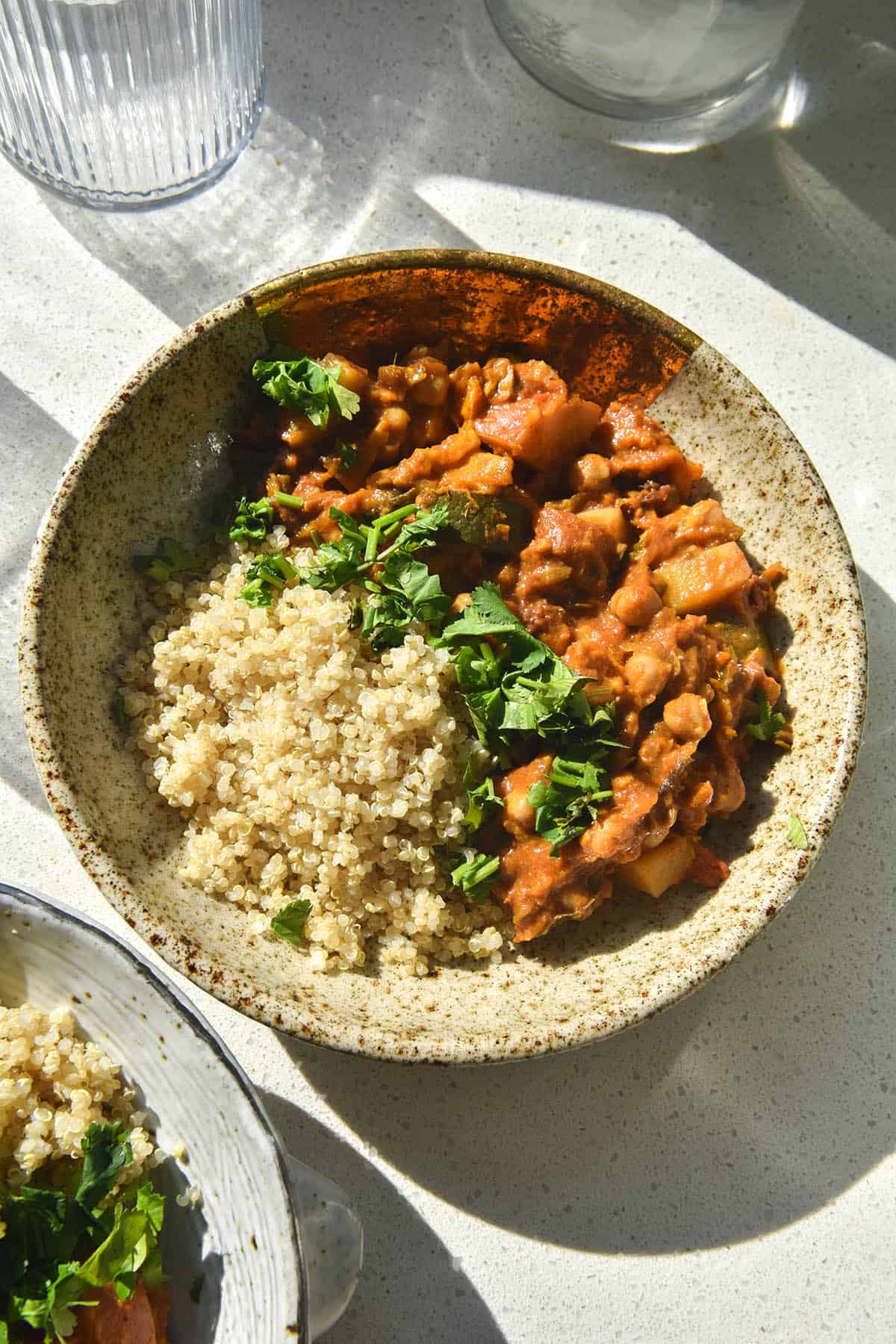 Gluten free veggie chickpea sausage rolls
These chickpea sausage rolls remind me of a cornish pasty in flavour. They're easy, packed full of vegetables, and I daresay kids would love them. You can use store bought gluten free pastry – I use the gluten free puff pastry from Intolerance Friendly Kitchen.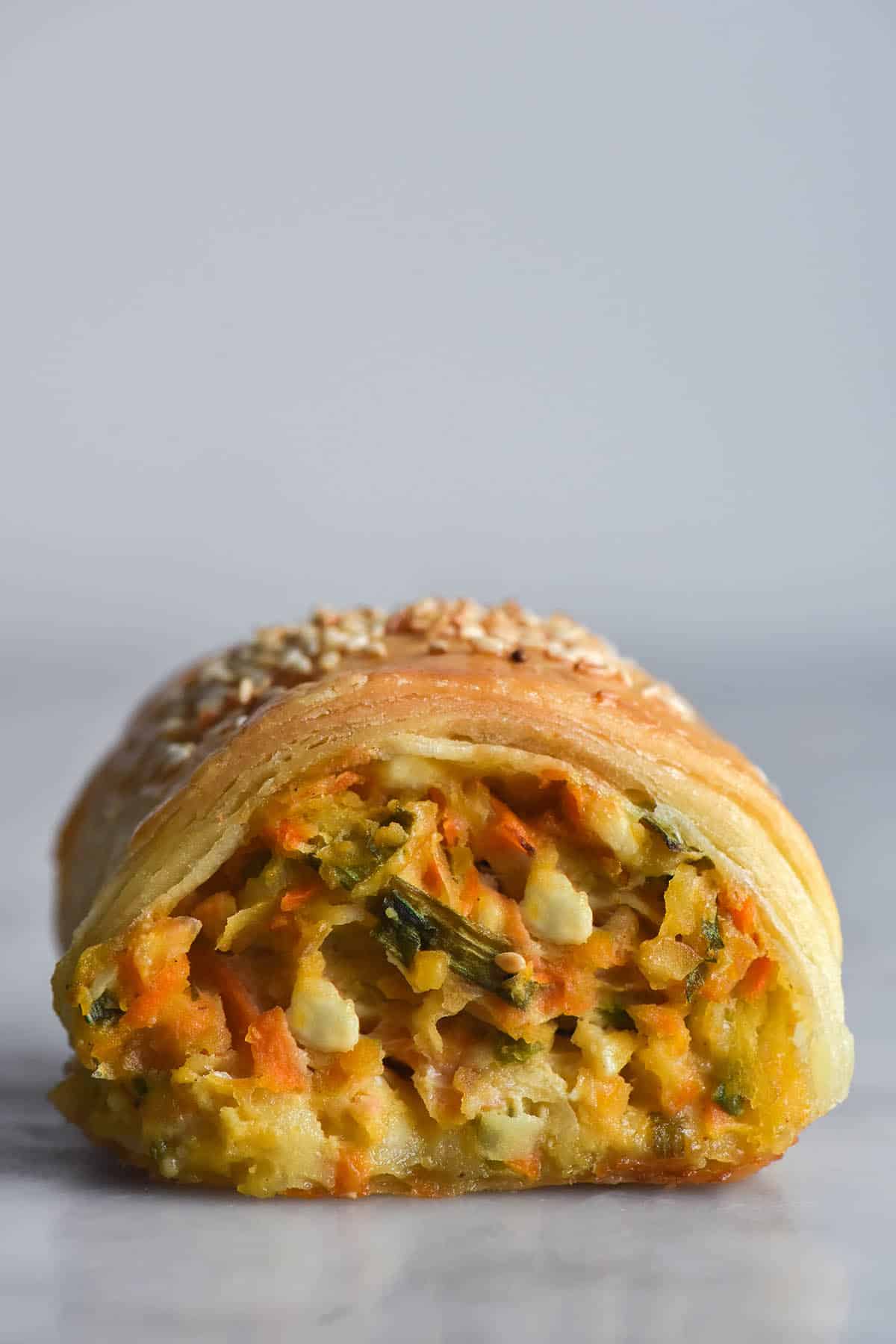 Green protein pasta sauce
This green protein pasta sauce uses lactose free cottage cheese and canned butter beans or chickpeas to make for a filling low FODMAP weeknight dinner.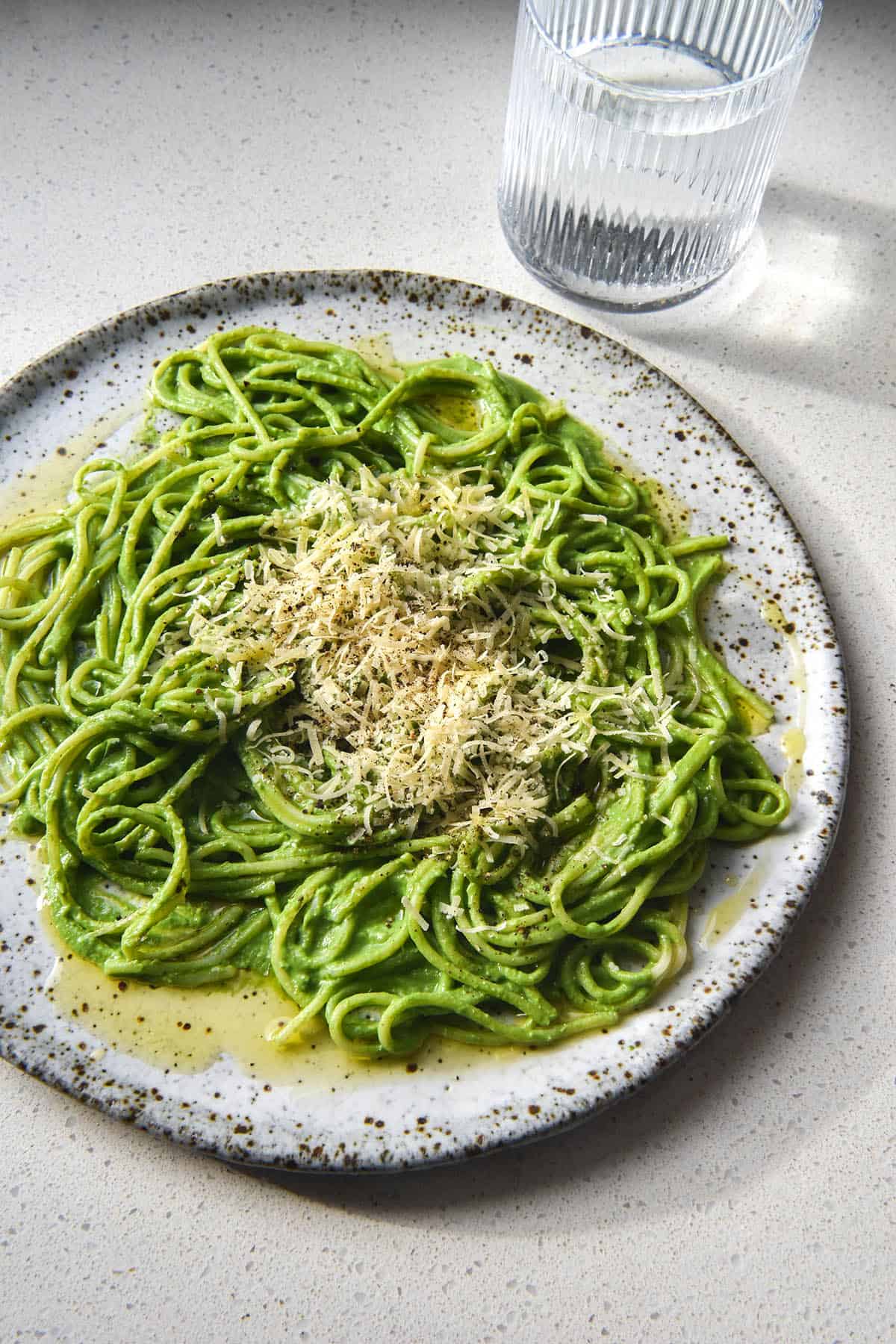 Low FODMAP minestrone
I love minestrone, and this version is a low FODMAP, gluten free delight. Use canned butterbeans or canned chickpeas for a vegan protein hit.