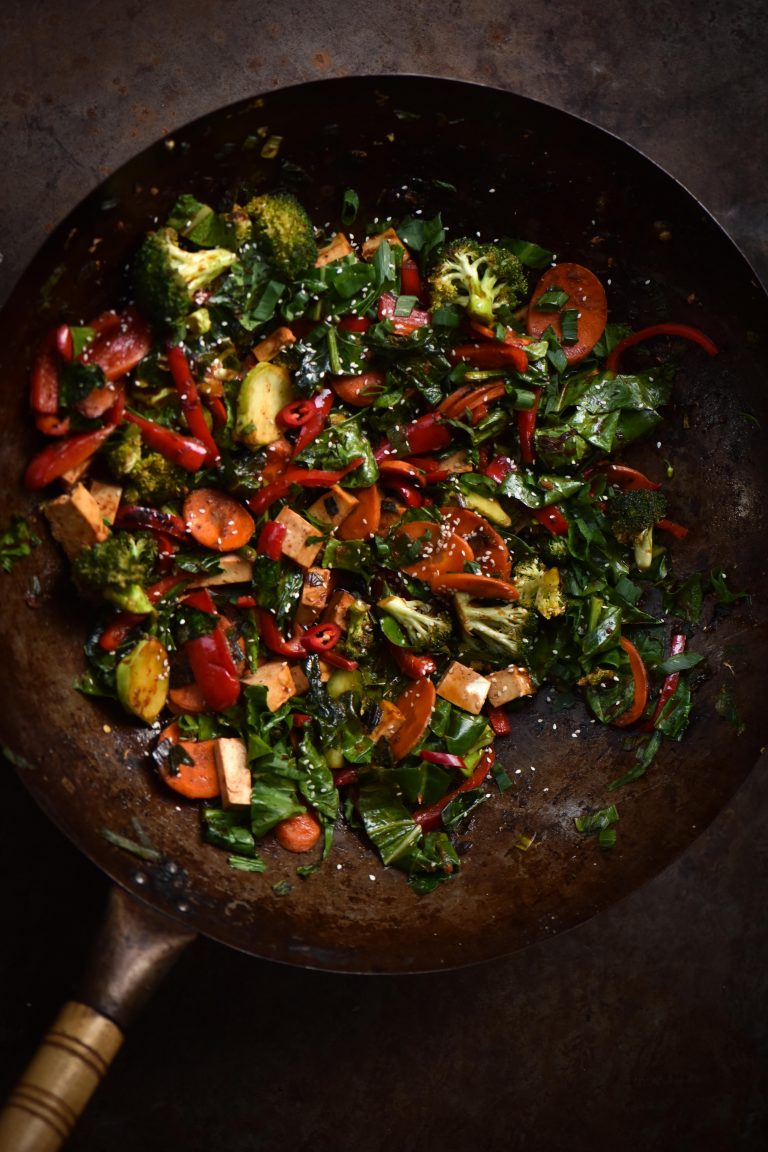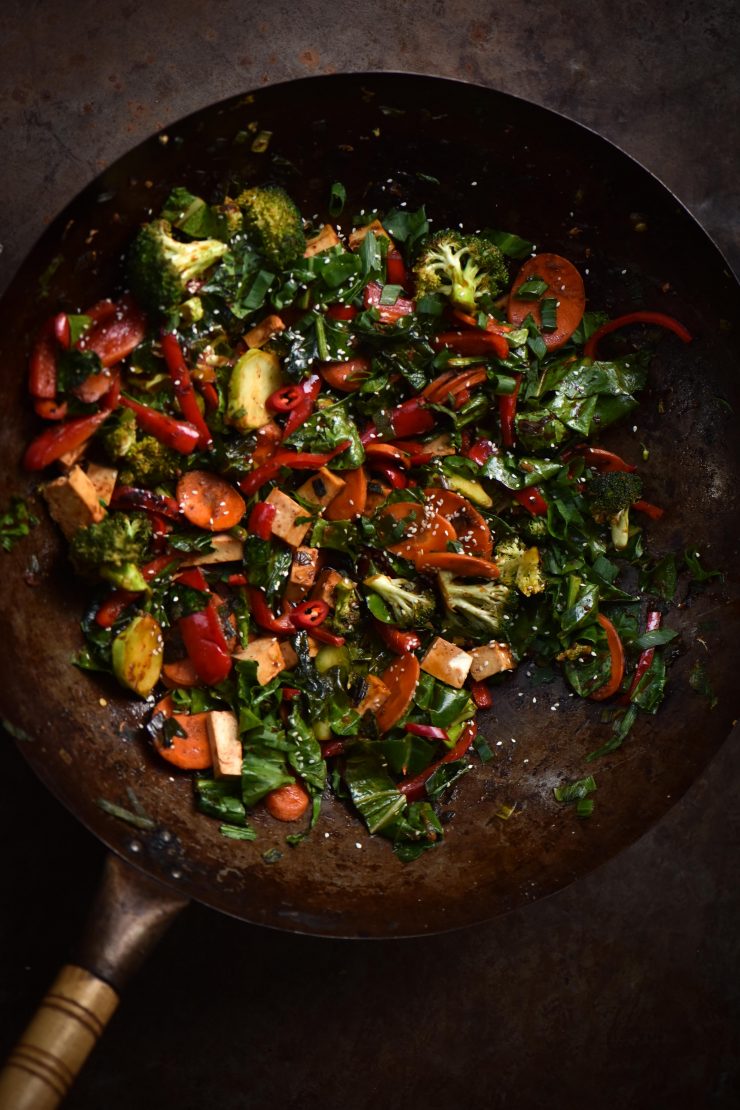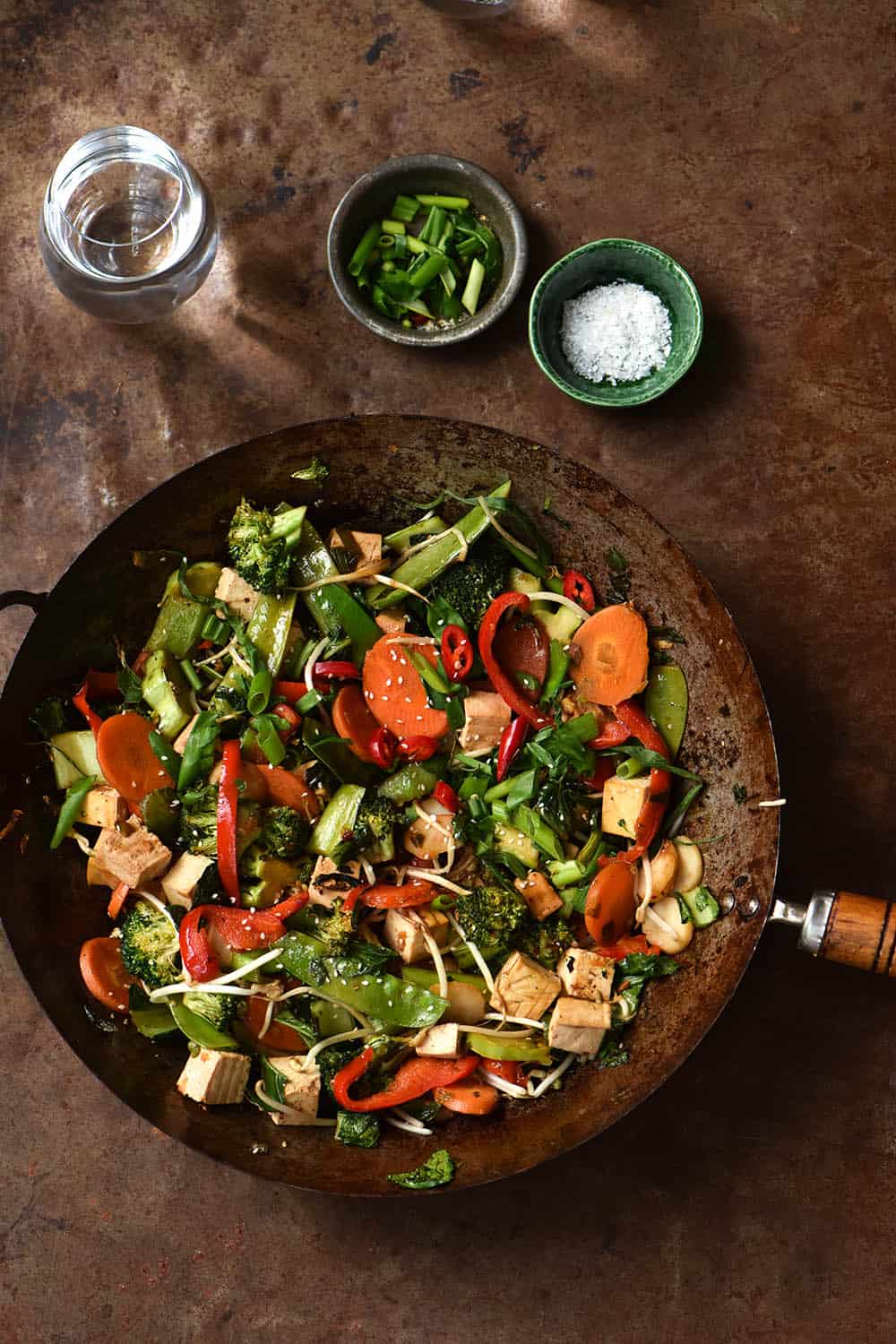 FODMAP friendly vegetable stir fry
I've never spent much time trying to develop a FODMAP friendly vegetable stir-fry. All of my attempts have generally come out rather bland and soggy. Initially I was quick to blame the lack of ferocious heat from my gas stove, but it was more than that. The sauce was always dull, overly salty and generally just one dimensional.
Enter: chow mein sauce. I've been researching chow mein sauce for a project I'm working on, and I figured I may as well throw it into a stir fry to test it. In my eyes, chow mein sauce is the missing ingredient. A simple combination of simple ingredients that comes together to create a delicious, well rounded tasting FODMAP friendly vegetable stir-fry.
Notes on oyster sauce
Arguably one of the most critical elements of a stir fry sauce is oyster sauce. Anyone who has ever tasted oyster sauce knows that unique flavour it brings to whatever it touches. I have found vegetarian oyster sauce widely available in Asian grocers (and some supermarkets) and it makes a great substitute. It's generally made with mushroom powder but I couldn't find any FODMAP information on either veg oyster or the mushroom powder itself. I daresay the quantity we're using should be fine regardless.
Apparently you can also buy Vegetarian oyster sauce at the supermarket under the Ayam brand here in Australia. I have to say they are killing it with gluten free and vegetarian options.
If you can't find any vegetarian oyster sauce, you could make your own (see this recipe) If not, apparently hoisin sauce is a decent substitute. The Ayam brand (which is gluten free) does have garlic powder in it, but probably not enough to be an issue. I reckon coconut aminos might be a decent sub, too.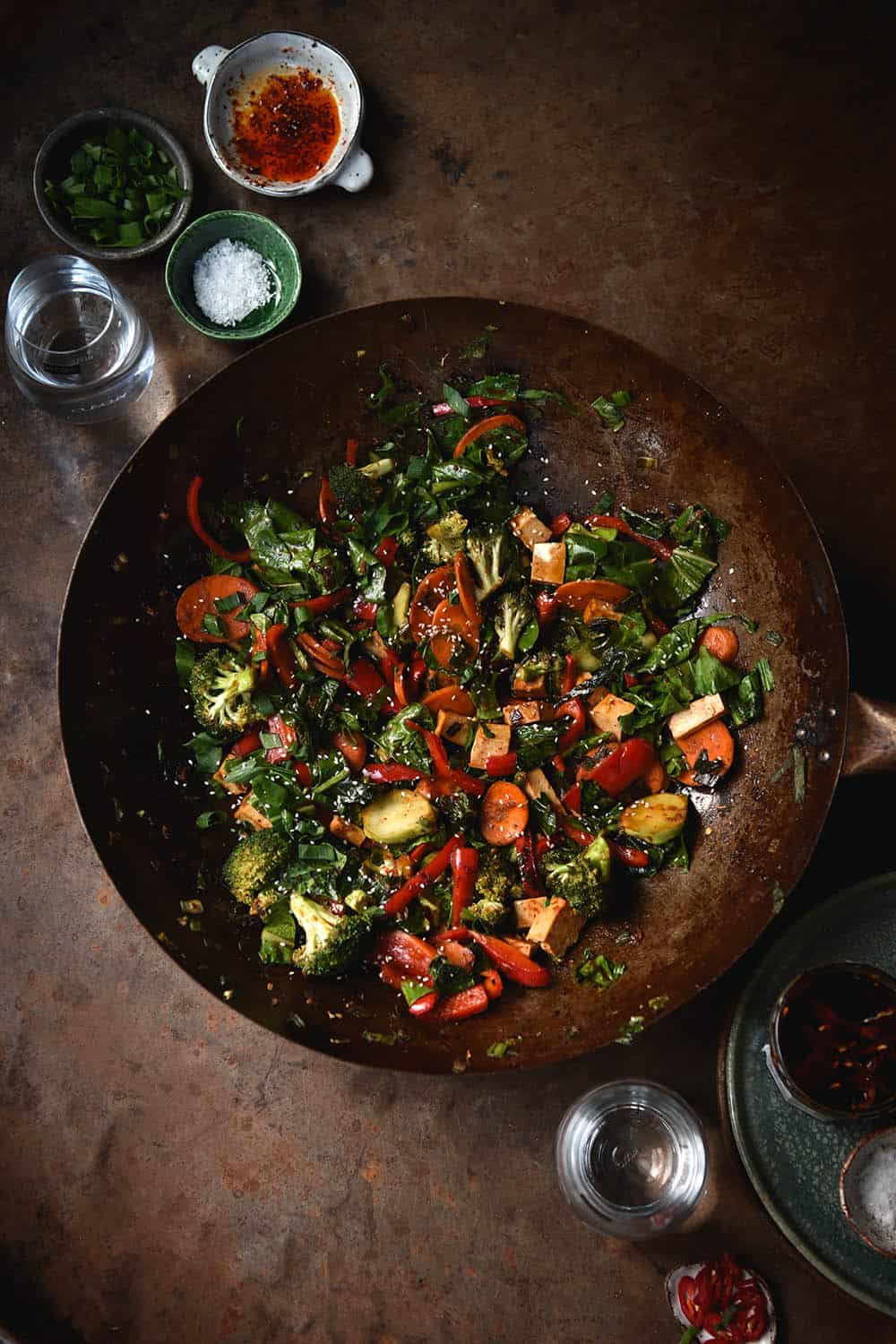 Other elements of the chow mein sauce for your stir-fry
White rice vinegar. Easily purchased at the supermarket and a must have ingredient for stir fry.
Tamari or gluten free dark soy sauce. I mean, this one is surely a given? Tamari is generally in the health food aisle or the Asian section. Ayam brand sells a great gluten free dark soy which I was really excited to find. Personally, I like using dark soy in this dish.
Sugar or maple syrup. It's necessary to balance out the flavours. Please don't omit it!
Gluten free cornflour or potato starch. Cornflour, in my opinion, is by far the best for thickening sauces. Just a little bit thickens everything up and prevents it pooling in the bottom of your stir fry. If you have a corn allergy, potato starch (the white squeaky stuff) makes a decent stand in. Whatever you do, don't omit this!
Chilli oil. I like to make my own to suit my needs.
Toasted sesame oil. Honestly, there's no competition between regular sesame oil and toasted sesame oil. Try it and have your life changed.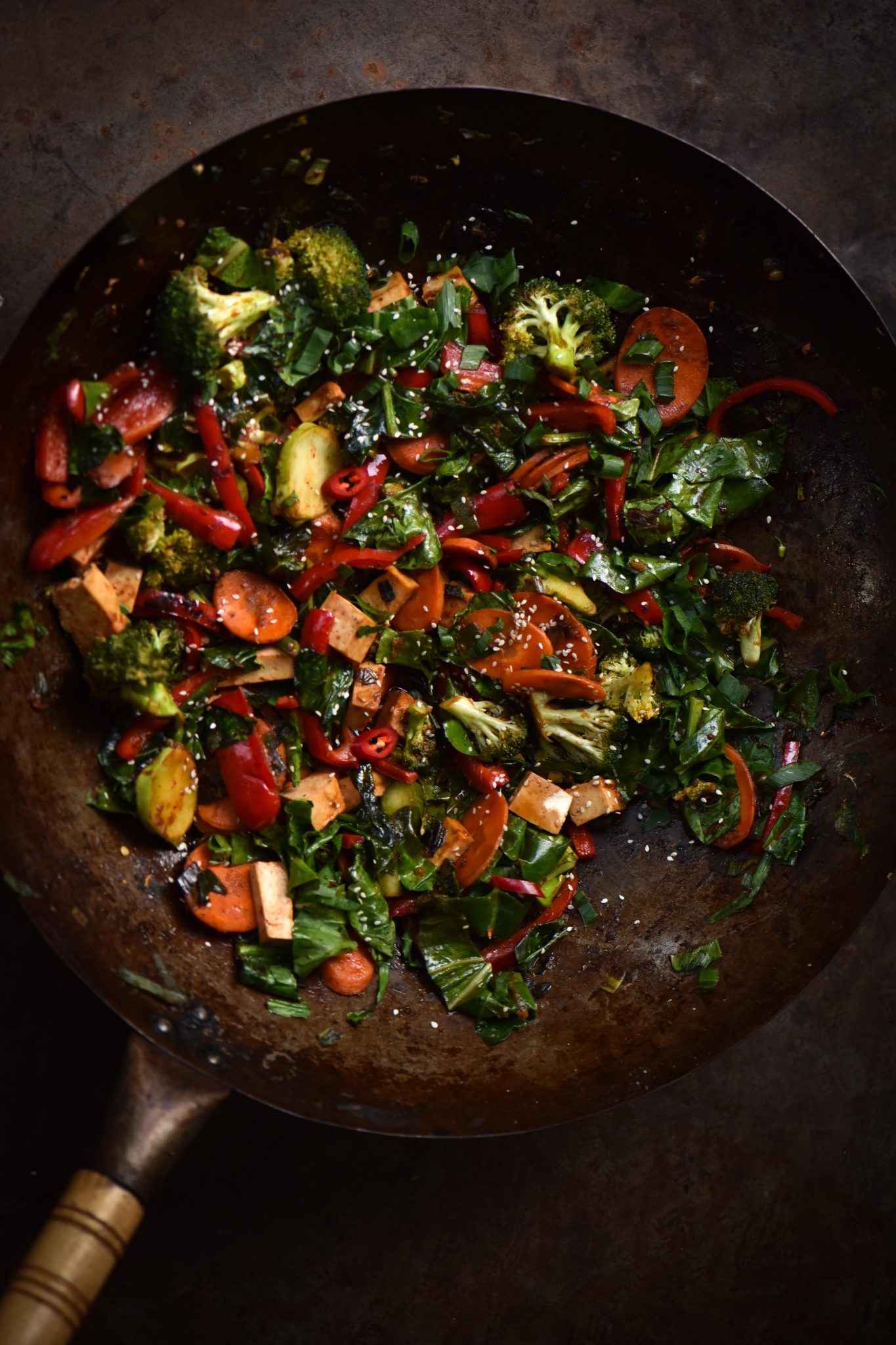 Vegetables, proteins and optional extras
Needless to say, you can use any combination of vegetables you have on hand. I have used carrot, broccoli, red capsicum, choi sum and a bit of random cabbage I had in the fridge.
If you don't have any FODMAP constraints, use whatever you like! And for those who are FODMAP but not vegetarian, feel free to add meat. I can't tell you how to cook it because I have no clue.
Obviously, I have added tofu! Always firm tofu, sometimes smoked tofu if I'm feeling fancy. You could also use tofu puffs or some crispy tofu a la this recipe.
Ginger! I am a total ginger fiend and love to add seemingly excessive amounts to everything. Although the quantity I've suggested seems like a lot, I find it really mellows when cooked and adds a subtle but nuanced layer of flavour to the sauce.
On that note: spring onion greens! I used to poo-hoo the fact that spring onion greens are FODMAP friendly. 'No way I could eat those without getting sick', I would say to myself. But on testing, low and behold! They are endlessly tolerable and add a great depth of flavour.
Finally, asafoetida. Totally optional, this funky powder tastes a lot like cooked onion and garlic, and is used for this very flavour profile in Indian cuisine (among others). I love adding it to dishes to up the flavour. Only use a tiny bit, though, because it's very powerful. Make sure you buy a gluten free variety, too, if you need one. Some of them contain wheat.
More low FODMAP vegan recipes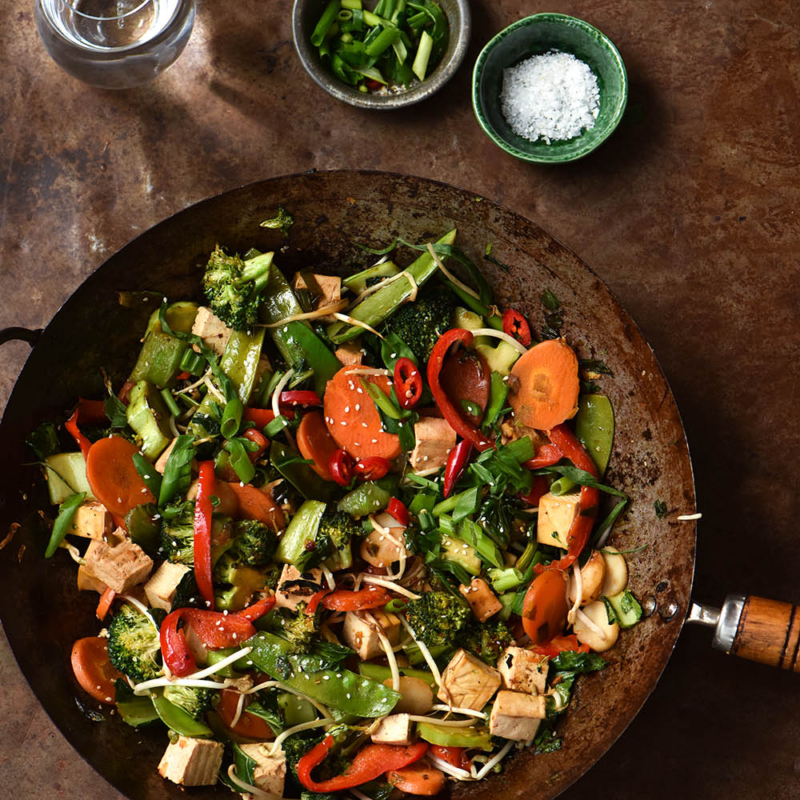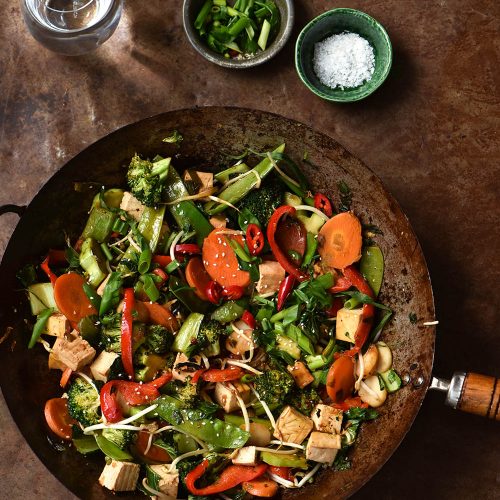 FODMAP friendly vegan stir fry
Ingredients
For the sauce:
3

tablespoons

(60ml) dark soy or Tamari

2

tablespoons

(40ml) vegetarian oyster sauce

2

tablespoons

(40ml) dry sherry

1

tablespoon

(20ml) rice wine vinegar

1

teaspoon

light brown sugar or maple syrup

White pepper
For the stir fry:
2-3

tablespoons

(40-60ml) oil

homemade chilli, vegetable or peanut

1/2

bunch spring onion greens

chopped

2-3

large carrots

1

head of broccoli

2

medium-large red capsicums

30-40

g

ginger

1

bunch of Chinese broccoli

500

g

tofu

cubed

1

x 200g can of water chestnuts
Slurry (to thicken the sauce):
2

teaspoons

gluten free cornflour

or potato starch, see notes

1

tablespoon

cold water
To finish:
Toasted sesame oil

for drizzling

Remaining 1/2 bunch spring onion greens

chopped (optional)

Toasted sesame seeds

optional
Instructions
Combine all the ingredients for the sauce in a medium sized mixing bowl.

Chop all the ingredients for the stir fry and have them ready to go.

Heat your wok over a medium high heat with the oil. Once the oil is shimmery, add half the spring onion greens and cook for a minute or until bright green.

When adding vegetables and tofu, consider how sturdy they are and how long they will take to cook, adding the sturdiest first. So, I added carrots first, followed by broccoli, red capsicum, Chinese broccoli, tofu and finally water chestnuts.

If the stir fry starts to stick, add a splash of the sauce at a time. Somewhere between the red capsicums and Chinese broccoli, add the grated ginger. This will give it enough time to cook and mellow in flavour but not burn.

Once you've added all the veg, pour the rest of the sauce in. Keep the heat high and toss the vegetables for a few minutes to allow them to absorb the flavours.

Add the slurry and stir thoroughly to combine. Within a few minutes, the sauce should have thickened to the point that it coats the back of a spoon.

Remove the stir fry from the heat and drizzle over some toasted sesame oil. Finish with the remaining chopped spring onion greens and toasted sesame seeds, if you're using them.