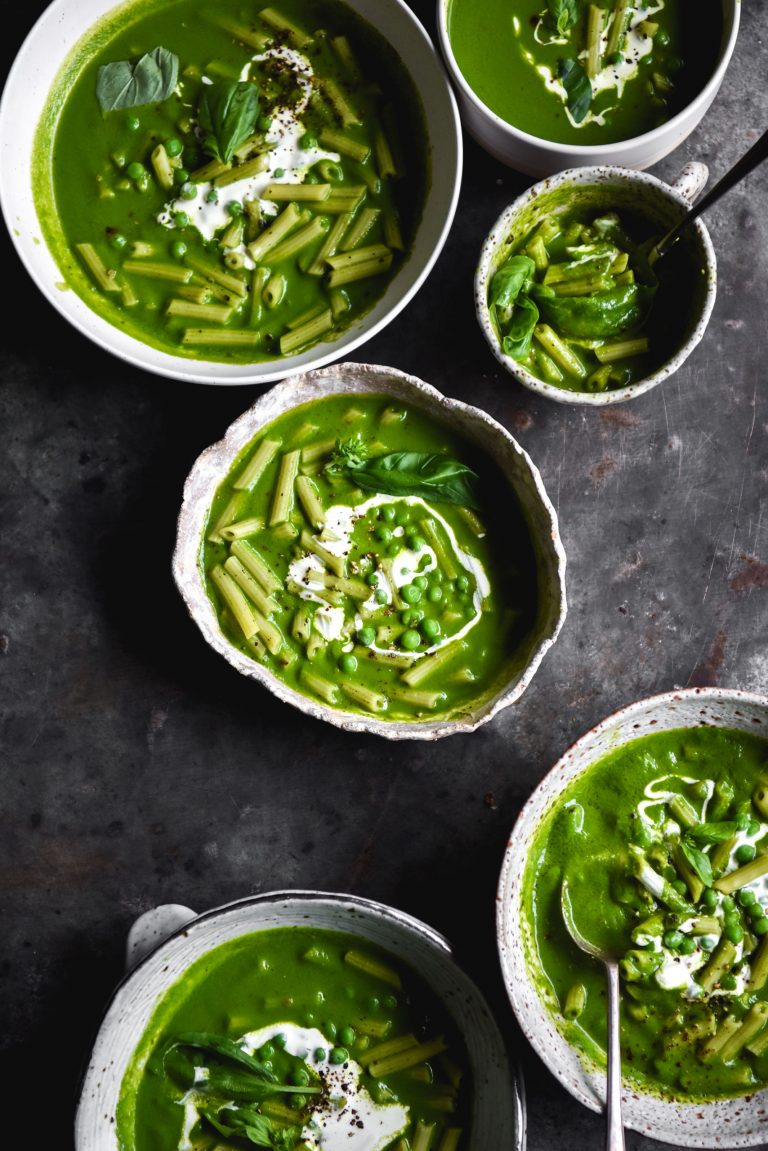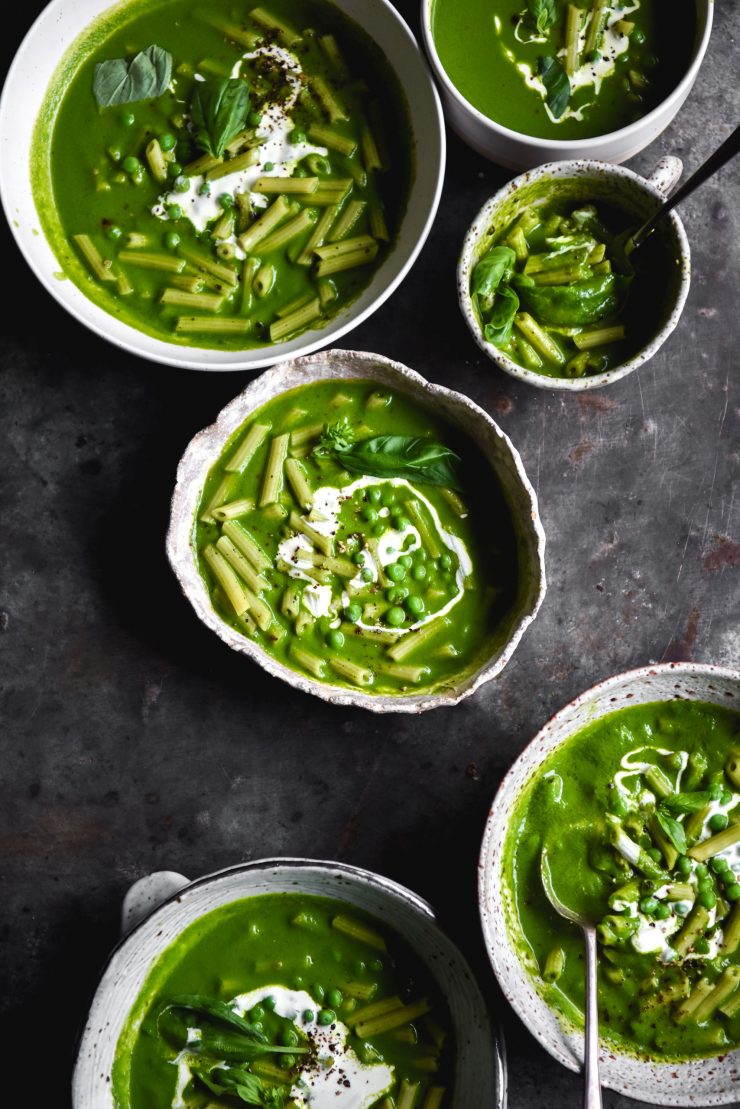 Directly on the back of the green pasta cacio pepe and pesto hybrid, here I am again with a pesto pasta soup. You all know I have a horrible/amazing habit of changing a couple of ingredients in a dish, and calling it new. I did it with the halloumi and honey roasted carrot salad (and subsequently the pasta version) and I'll do it again. If it ain't broke, don't fix it, am I right?
Achieving a vibrant green pesto pasta soup has long alluded me. In the past, my attempts have often involved throwing as many greens as humanly possible into the stock, and hoping for the best. Could I be more naive? As it turns out, and as you'll see, the key to a vibrant green pesto soup is to add the pesto mix right at the end.
So, we've got ourself a low FODMAP pesto pasta soup that is a green pesto cacio pepe hybrid. It is conveniently as beautiful as it is delicious. It is also FODMAP friendly, gluten free, vegetarian and nut free. Tick, tick and tick.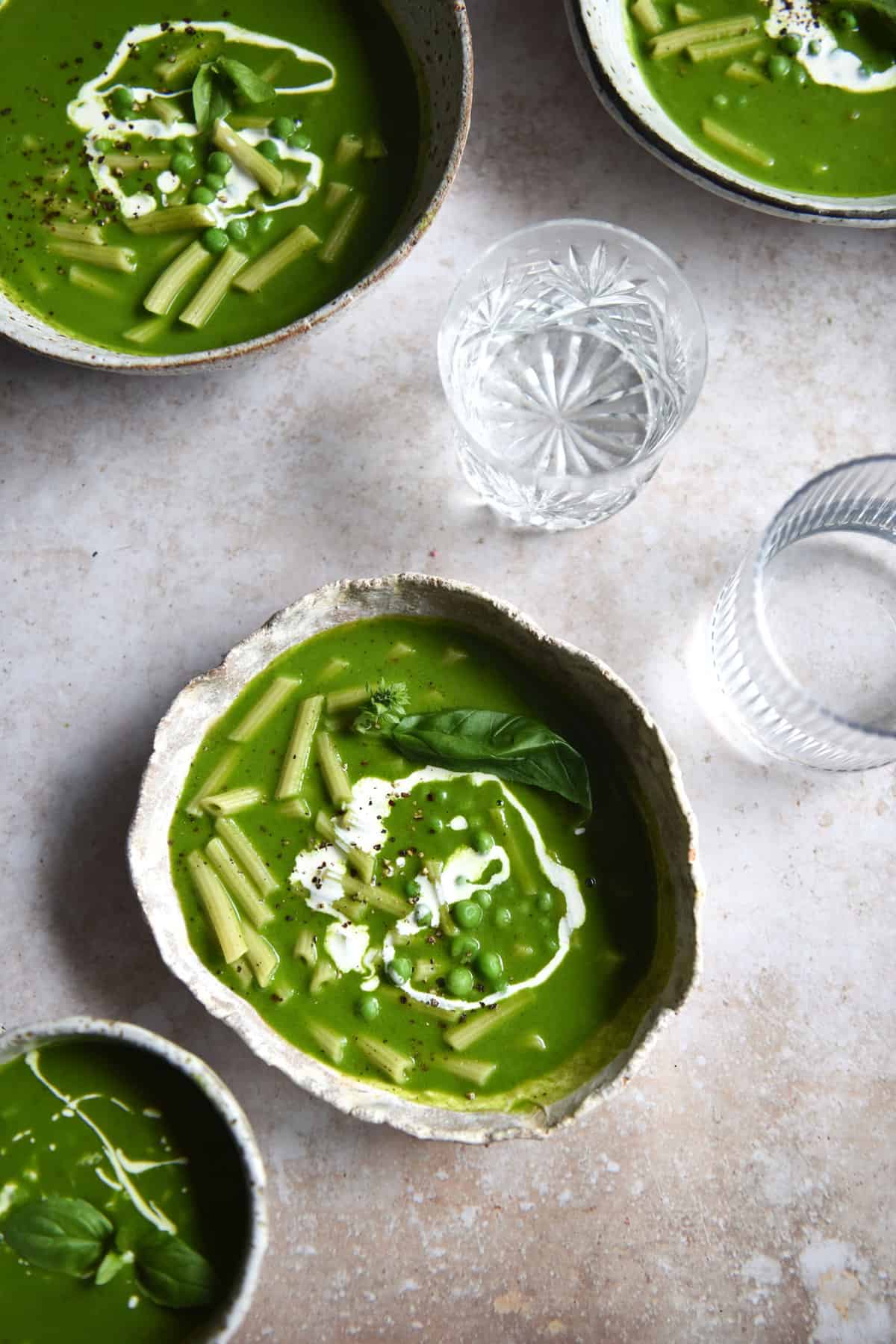 Low FODMAP pesto pasta soup
Technically, this is once again a cacio pepe and pesto pasta hybrid, albeit in soup form. Combing the sharp pecorino and pepper with the herbaceous sweetness of basil, the richness of butter, and the carb heaven of pasta. I decided to add some zucchini and peas to the mix to amp up the vegetable content as much as possible. You can add whichever vegetables you prefer.
FODMAP notes
As always, I use Green Olives Organics or Barilla gluten free pasta varieties. Using gluten free pasta keeps the FODMAP content of this dish low.
The only other things to watch out for are the vegetables you add and the stock brand you use (if you use a powdered one.)
In terms of the vegetables to add, you're probably well versed in what you can eat by now, but I recommend the Monash FODMAP app regardless. I still use it every damn day.
I added peas to this dish, which are considered FODMAP friendly in 1 tablespoon serves per person. It is winter here in Melbourne, so I used frozen peas and just added a tablespoon per dish a few minutes before serving. They will thaw in the hot broth and be vibrant and delicious.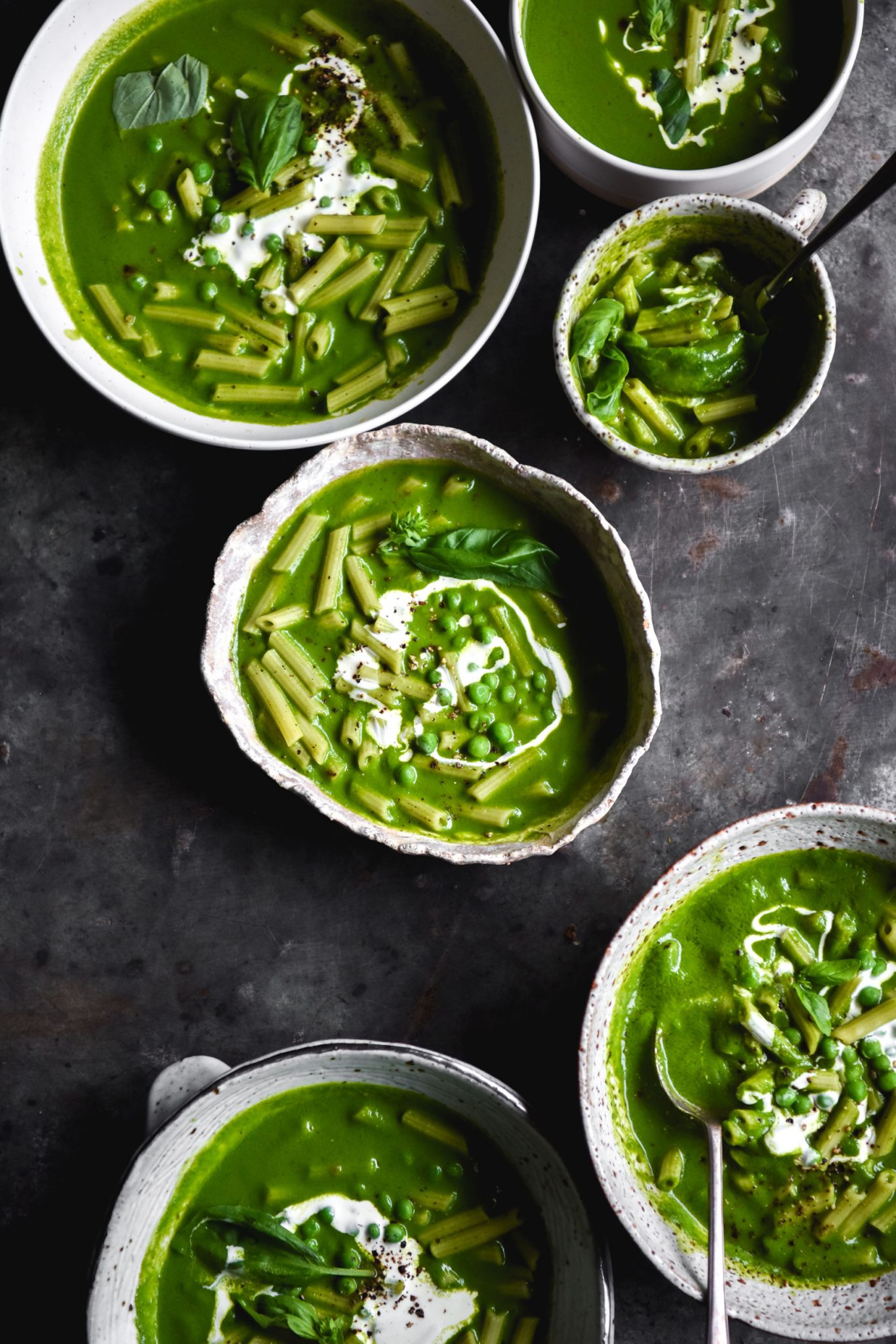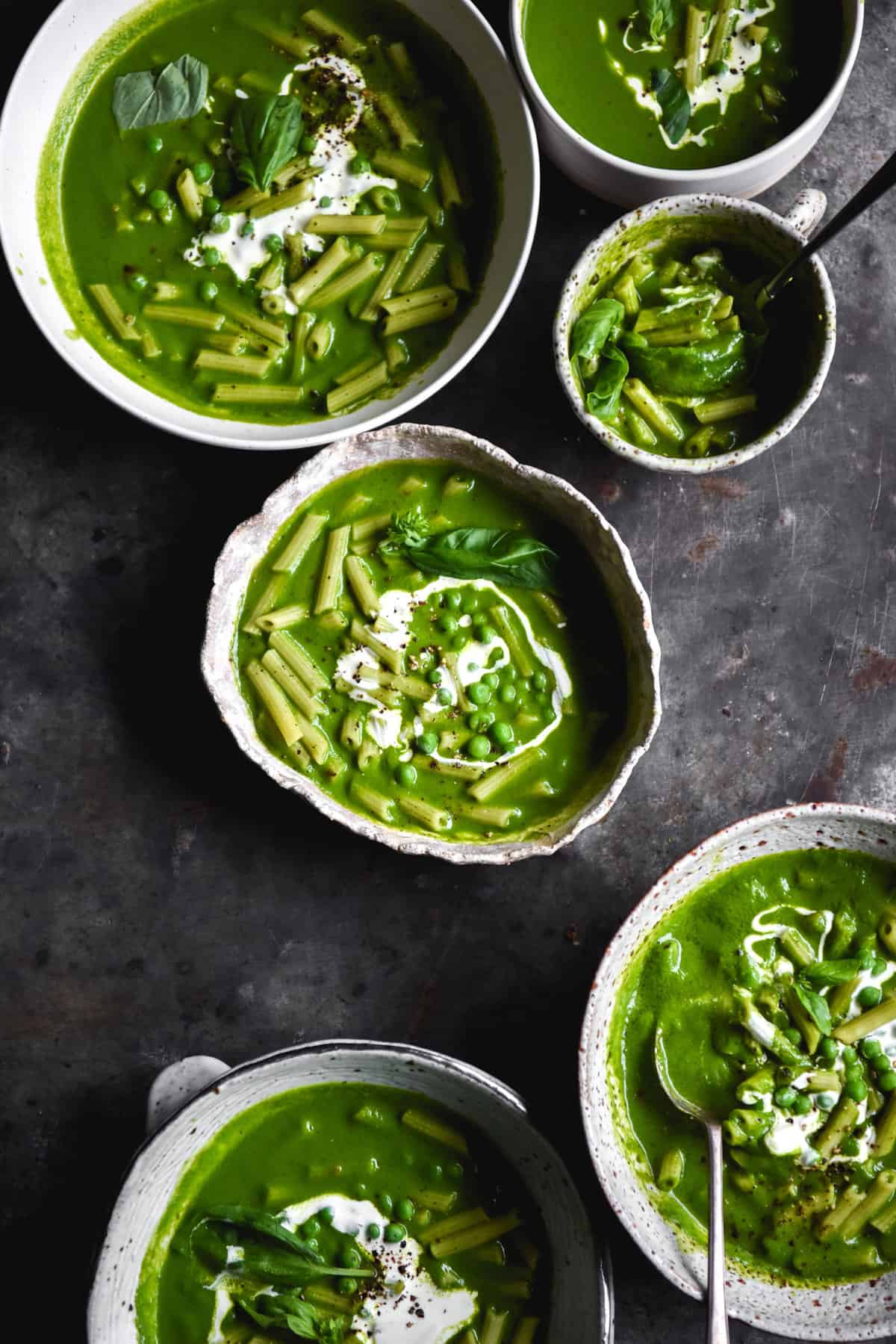 Notes on low FODMAP stock
It can be somewhat more difficult to find a good quality low FODMAP brand if you only have access to a supermarket. Massell do some stock cubes that are FODMAP friendly, and they are readily available at the supermarket. Might I suggest, however, that a good alternative to the highly processed stocks is to make your own?
I don't want to sound preachy and I know I have a lot of time to make my own stock (and sometimes still don't lol.) However, I do know that my digestion often feels god awful on artificial foods, even if they are FODMAP friendly.
A friend on the interwebs suggested to me to put a tub or bag in the freezer, and throw my vegetable scraps in there, as and when I/you have them. When the tub fills up, chuck them in a bit pot with water and enough Tamari or salt to make it interesting, et voila! FODMAP friendly, low waste stock.
Substitution notes
Everybody loves a good substitution option, and here I have a few.
You can use Parmesan instead of Pecorino, if that's all you can find. Make sure it uses plant or artificial rennet if you need it to be vegetarian.
Basically any leafy greens are suitable for the pesto mix. You could use spinach, rocket or even sorrel. A mix is also nice.
As I mentioned above, you can add any vegetables to the mix. Use this as a carb laden opportunity to clear out the bottom of your fridge.
If you're not doing pasta, you could substitute with zucchini noodles, or even perhaps some steamed and cubed potatoes.
For a protein hit, you could add a soft boiled egg, some shredded tofu, or whatever protein you prefer, whether that be vegetarian or not.
Personally, I don't think there is a worthy substitute for Basil here. However, I have made pesto with rocket on a number of occasions. The taste will be very different, but if it's your only option then that is ok.
The pepper adds a really beautiful flavour and punch to this dish, and I don't recommend omitting it. You can lessen the amount if you really don't like pepper, but it is the real MVP for replacing garlic and onion in this dish.
You can use stock (FODMAP friendly, of course) that is powdered or fresh. I have a recipe for fresh stock in my book, and I also have San Elk low FODMAP vegetable stock stock in my cupboard for lazy nights.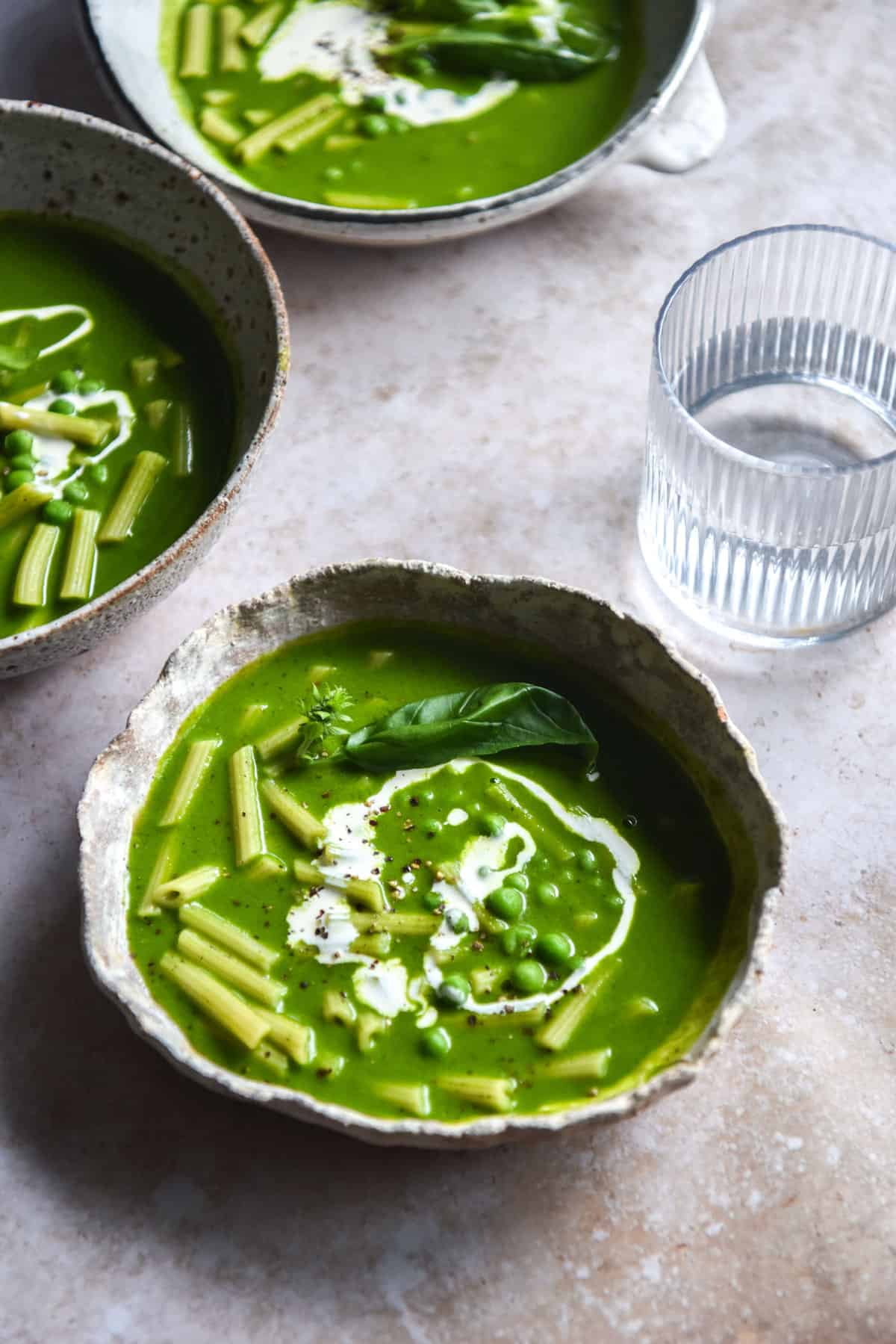 More low FODMAP pasta recipes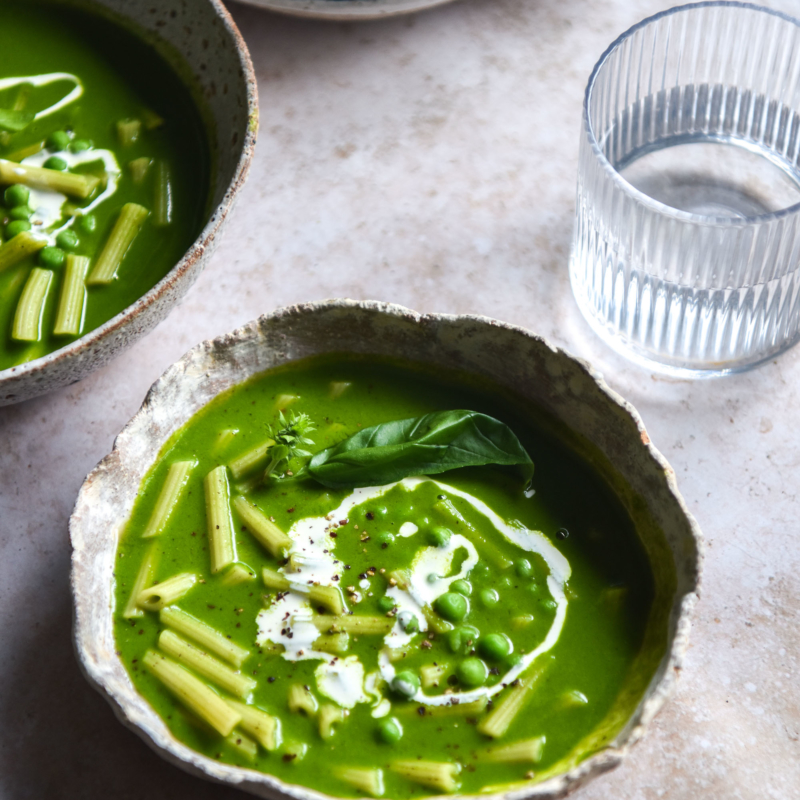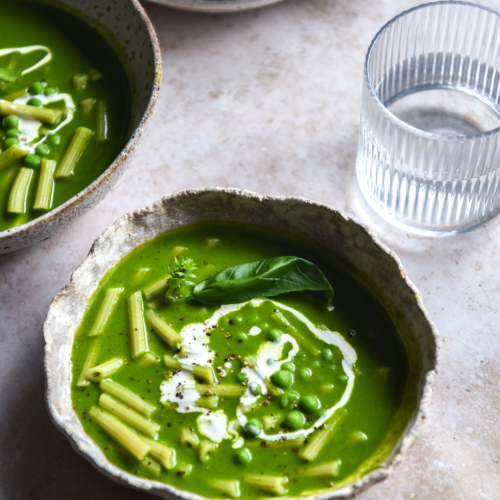 Super green pesto pasta soup
FODMAP friendly, vegetarian, gluten free, nut free
Measures are in Australian cups and tablespoons
Ingredients
For the soup:
50

g

butter

1 1/2

tablespoons

freshly cracked pepper (I did mine in the mortar and pestle for speed)

8-10

cups

(2 – 2.5 litres) of stock

1 X 300

g

packet of short gluten free pasta

I used Green Olive Organics Penne
For the greens and to finish:
2

large bunches of basil

3

large handfuls of greens

I used spinach

1/2

cup

(125ml) pasta water (you'll take this from the stock)

Juice of 1 lemon

or 4 tablespoons lemon juice

100

g

freshly and finely grated pecorino
To serve:
1

tablespoon

peas per person

or whatever veg you like

Extra basil

Extra cracked pepper

Lactose free cream or coconut yoghurt
Instructions
Place a large pot over a medium heat and add the butter. Allow it to melt before adding the cracked pepper, letting it cook and bloom for a minute or two. Once it is fragrant, add the stock and bring to a simmer.

Add the pasta and stir well to separate the pieces from each other. Cook until it is al dente – this timing will vary for different gluten free brands, so keep your eyes on it. The pasta will soften in the liquid, so it's important not to overcook it.

While the pasta is cooking, place the basil, spinach, lemon juice and pasta water (just scoop it straight out, making sure not to take any pasta into your food processor. Allow the pasta water to cool a little, particularly if you are using a Nutribullet. Once it has, blend to combine into a super smooth sauce. Add the freshly grated pecorino and repeat until smooth. Set aside.

Once the pasta is al dente, take it off the heat and add the peas, or whatever veg you fancy. If you're using a firm veg you will need to add it a little earlier or cook it separately.

Pour the pesto sauce into the pasta and stir to combine. Make sure the stock isn't boiling or it might brown the colour of the pesto. Serve immediately, with some extra pepper, basil and optional cream on top.

Best eaten within a day or so, as the pasta absorbs a lot of the stock over time and starts to fall apart.