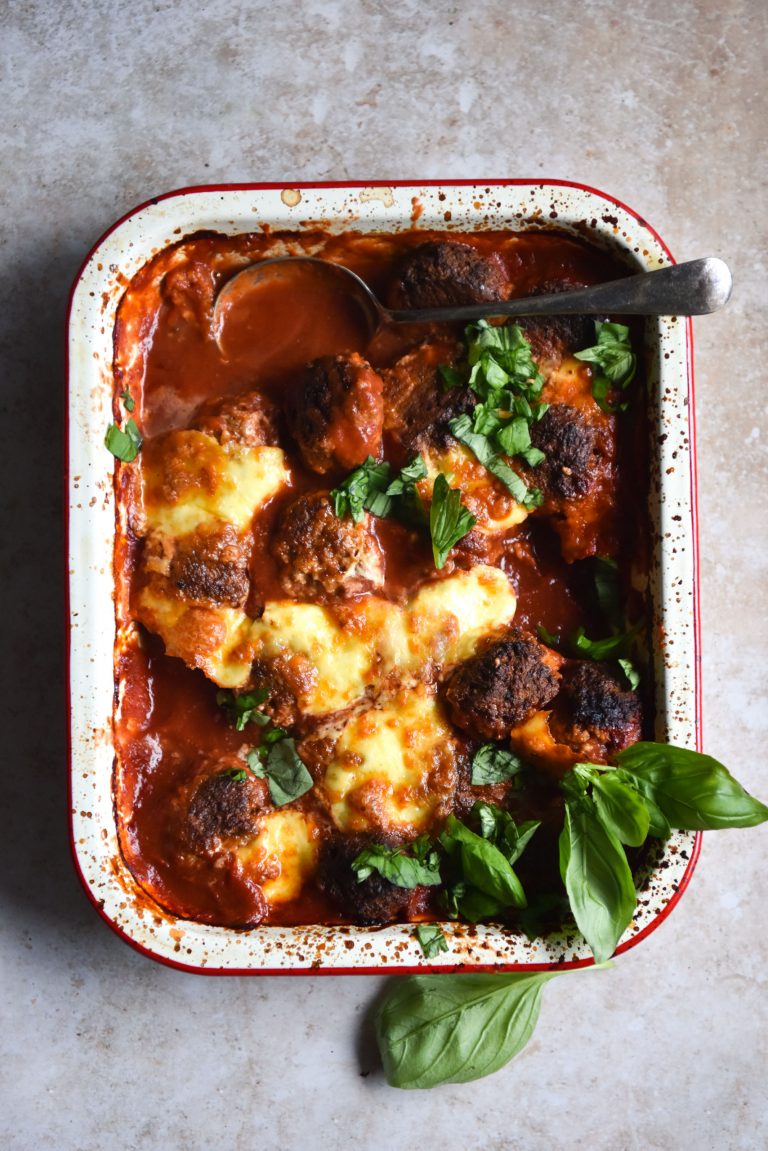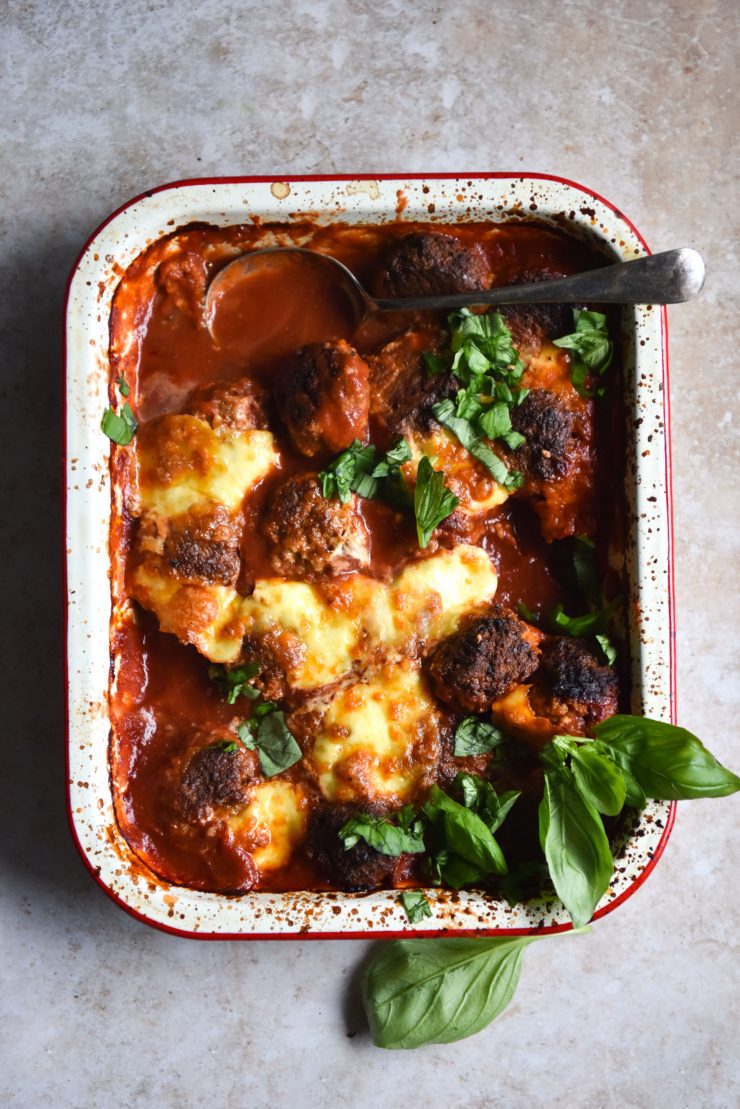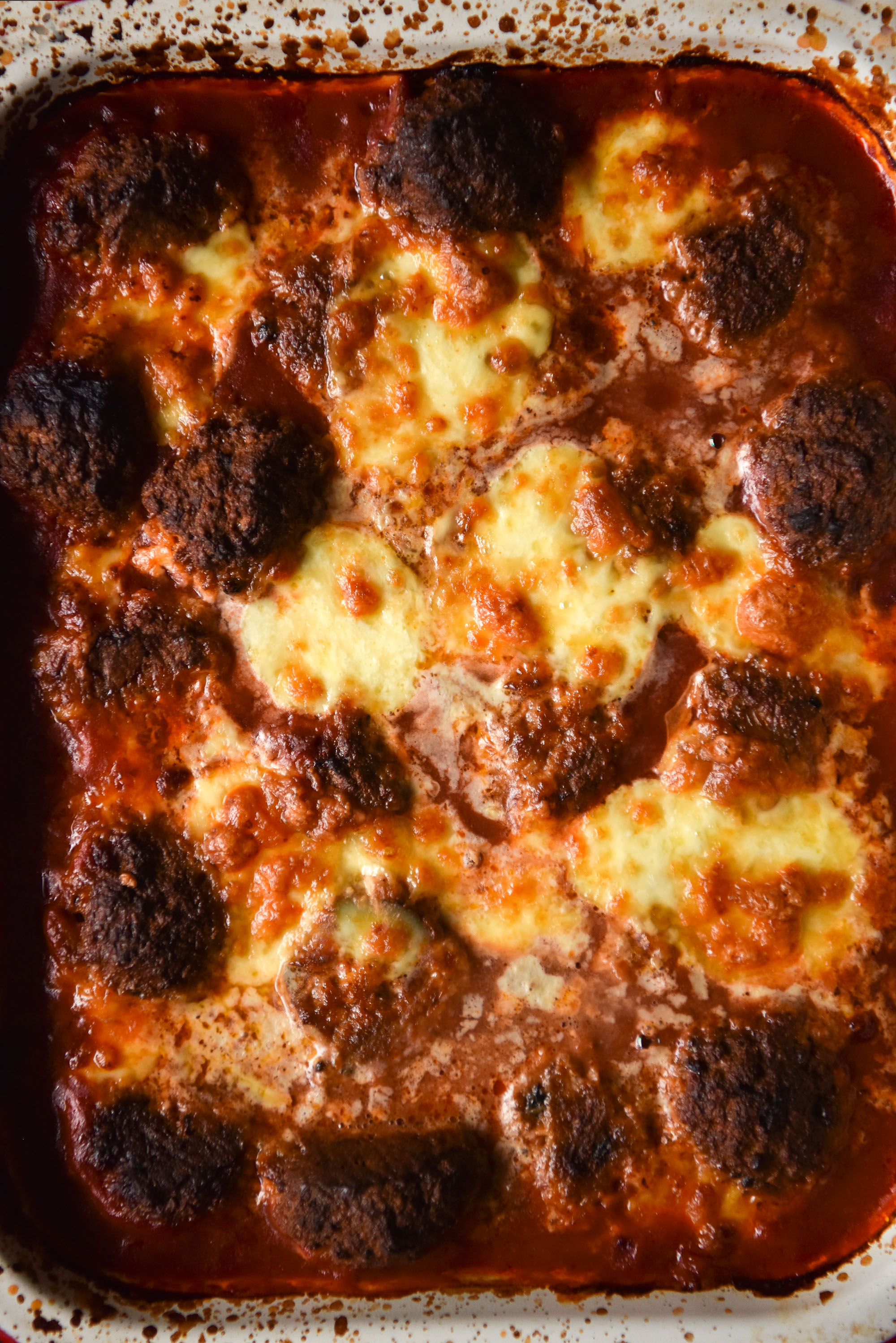 When Val Verde asked me to develop a passata-forward recipe, I thought immediately of vegetarian, FODMAP friendly polpette. After the success of the FODMAP friendly vegan bolognese recently, I developed a real penchant for utilising tofu as a meat substitute. Apparently I have also conflated meatballs with romance after watching Lady And The Tramp as a child.
VEGETARIAN, FODMAP FRIENDLY POLPETTE
Like the bolognese (and the vegan lasagne, refer to above reference to penchants) these polpette use frozen tofu as their base. Once tofu is frozen, its structure becomes markedly different, and significantly more 'mince meaty.' I'm not the first person to freeze tofu – here is a little bit more information on fellow tofu freezers, if you're so inclined. I will, however, continue to develop frozen tofu recipes until I have made them all. I think it's genius.
The polpette begin with a caramelised fennel base. This acts as the aromat replacement for caramelised onion. It adds texture, depth and flavour while keeping the dish FODMAP friendly. There's a little more on the FODMAP content below, if you're so inclined. Next up, we add a bunch of flavours to create a meatball-y sort of flavour, sans the meat. Finally, we add a little hard cheese, a binder and a couple of eggs, et voila! Vegetarian, FODMAP friendly polpette, ready for the oven.
FREEZING TOFU: A QUICK HOW TO
I have written a little about this in the bolognese recipe, but I won't make you flick between pages. As mentioned, freezing and defrosting tofu is our method for obtaining textural, meat-like tofu. Because freezing and defrosting expels a lot of moisture from tofu, it also assists us in forcing tofu to soak up flavours, something it doesn't always do very well.
I am a lazy lazy gal, so when I'm freezing tofu, I literally just pop the packet, unpacked, in the freezer. I do this the night before I intend to cook anything with tofu mince. If i'm particularly organised, I like to buy a few blocks of tofu and chuck them all in the freezer. That way I am always ready for when a polpette mood strikes.
I tested a few methods for defrosting the tofu, but settled on the following. I place a metal colander over a pot filled with water. Next, I place the pot on a medium heat, and in somewhat of a double boiler style, I defrost the tofu. This is my preferred method because, unlike boiling, it doesn't reintroduce much water to the defrosted tofu. As it defrosts, I tear chunks off the tofu block, squeeze them to drain, and set aside. Over the course of 15-20 minutes, I wind up with my textural, chunky tofu mince, ready to go. Too easy!
FODMAP NOTES
Firm tofu, as the primary polpette ingredient, is considered FODMAP friendly in 160g serves per person. We're using 500g in total, so this keeps it well under the approved serving size. Personally, I find 4-5 polpette is more than enough.
As mentioned, we use finely chopped fennel as the aromatic base of these polpette. Fennel bulbs vary in size, but I used a small-medium bulb in all my tests. The total weight ranged from 100-200g of chopped fennel. Fennel is considered FODMAP friendly in serves of 48g or less, so it shouldn't be an issue. I don't recommend omitting it! While you might not be a fennel fan, you don't actually test fennel, per se. It adds a great textural element and a nice base flavour, just as onion does.
There are 4 tablespoons of balsamic vinegar in this recipe. Balsamic vinegar can contain moderate amounts of fructose, but only in servings in excess of 1 tablespoon. Unless you eat half the meatballs, you'll be fine.
We're using a 700g jar of Val Verde Passata in this recipe. Tomatoes can be high in fructose in larger serves, but the amount we're using should be fine. Whatever you do, make sure you buy tomatoes without any onion or garlic! We don't need that in our lives. I was actually super impressed with how rich the Val Verde Passata was on it's own, to be honest. I recently watched Bon Appetit's Youtube video on finding the best tinned tomatoes for pizza. They are definitely not all made equal.
RECIPE NOTES AND SUBSTITUTIONS
These polpette keep well in the fridge or freezer, and are a great protein to throw in your salady lunch as you walk out the door.
If you can't find pecorino, you can use parmesan. Note that both cheese often use animal rennet, so if you need to keep the recipe vegetarian, you'll need to find a version that uses a plant enzyme instead. I read a tip that suggests the cheaper the parmesan, the more likely it will be vegetarian. I found that Woolworths Home Brand parmesan uses vegetarian enzymes, so this tip seems to be good.
You can use either gluten free breadcrumbs or almond meal for this recipe. If you use breadcrumbs, the recipe will be nut free. If you use almonds, it will be grain free. Personally, I prefer to use almond meal, if only for the fact that I don't see the point in buying gluten free breadcrumbs just to use 2-3 tablespoons.
You can add finely chopped parsley to the polpette for an extra boost of flavour. Continental is best.
Vegetarian, FODMAP friendly Polpette
Vegetarian, gluten free, FODMAP friendly, adaptable to be grain free or gluten free
Equipment
28cm x 22cm baking dish (4cm depth)
Ingredients
FOR THE POLPETTE 'MINCE':
1 500

g

packet of firm tofu

placed into the freezer the night before

2

tablespoons

olive oil

1

medium fennel bulb

mine was about 200g with the stems and core removed

4

tablespoons

balsamic vinegar

1

tablespoon

apple cider vinegar

you can use an extra tablespoon of balsamic if that's all you have

1 1/2

tablespoons

of brown sugar

maple syrup is a refined sugar free alternative

1/2-1

tablespoon

miso paste

optional, but adds an umami meaty layer to the taste – make sure it's gluten free if it needs to be

2

tablespoons

Val Verde Passata

the rest will be used later

1

tablespoon

Tamari

make sure it's gluten free if it needs to be

1 1/2

teaspoons

ground nutmeg

use a bit less if you're grating it fresh

100

g

freshly and finely grated pecorino or parmesan

if you use pre grated it won't melt into the mixture properly
TO FINISH THE POLPETTE:
3

extra large eggs

2-3

tablespoons

gluten free breadcrumbs or almond meal (how much you use will depend on how much liquid you drained from the tofu after defrosting)

2

tablespoons

olive oil

freshly cracked pepper

Optional: finely chopped Continental parsley
FOR THE BAKE:
1 700

g

jar Val Verde passata (you have used a bit earlier in the polpette)

200

g

fresh mozzarella

the one kept in brine

Basil

optional
Instructions
TO MAKE THE POLPETTE:
Remove the tofu from the freezer and packaging, and place it in a metal sieve over a pot of water on a high heat. Allow it to steam and thaw the tofu. I like to (carefulltear off the tofu bits that have already thawed, squeeze most of the liquid out of them, and then tear them into a bowl. If you're worried about burning your hands, you can use gloves, or do most of the tearing work once the tofu block has completely thawed. Freezing tofu gives it a mince meat like texture, to tear it up nice and good, and make sure you get most of the moisture out, too.

Heat 2 tablespoons of olive oil in a large saucepan or skillet over a medium heat. Once it is shimmering, add the finely chopped fennel. The finer you've chopped it, the smoother your polpette will be, so take the time and do it right. Stir the fennel to coat, and turn the heat to a low medium. Allow it to cook away until it is soft and caramelised, about 10 -15 minutes. The fennel the texture and aromat-ness of caramelised onion.

While the fennel is cooking, mix together all the remaining ingredients for the 'mince' in a small bowl. Stir to combine.

Hopefully your tofu has thawed and is torn up into little mince meat like bits by now. If not, try to wrap that up before the next step. You can take the fennel off the heat if necessary.

Once the fennel is well cooked, pour in the mixture of balsamic et al. It will sizzle and begin to evaporate pretty quickly. I like to use a spatula to move it all around, and also to get the little dregs of nutmeg out of the bowl you put the liquids in.

Once the liquid cooking with the fennel is reasonbly thick, pour in the tofu 'mince meat.' Use your spatula to break up the larger pieces, and to coat all the tofu in the sauce. Allow it to cook for 5-10 minutes, turning the heat up a little to get some caramelised 'meat' bits.

Once the 'mince' is cooked to your liking, remove it from the heat and allow it to cool slightly. Next we'll be adding hard cheese and eggs, so we don't want to melt and/or scramble them.

Once the tofu mince is at a comfortable temperature, add the grated cheese, and mix to combine. Follow this with the eggs (lightly beating them in a bowl first avoids a gloopy mesthe olive oil and the gluten free breadcrumbs or almond meal.

Use your hands to get in there and squelch the mixture together. You can break up any larger tofu chunks and make sure the mixture is melded together. No need to be squeamish, it's just tofu! Add the parsley here if you're using it.

Preheat the oven to 180 degrees Celsius or 356 degrees Fahrenheit. Line a large baking tray with baking paper.

Use your hands to create 20-22 little round polpette. You can create smaller or bigger ones according to your taste – for the bake I like a medium meatball, but for spaghetti and meatballs, I'd prefer a small version. Your call.

Once you have created all your polpette, place them in the oven for 20 minutes. One side will be a little flat, but I find that much better than turning them and potentially breaking them halfway through.

Once 20 minutes is up, remove them from the oven and allow to cool slightly.
TO MAKE THE BAKE:
Pour the remaining Val Verde passata into a medium sized baking dish. Mine was xx x xx. If you like, add a tablespoon of balsamic vinegar and stir it through.

Arrange the polpette in the passata, and top with the torn mozzarella. You could also use extra grated hard cheese, for a lower lactose option. Cook for 20-30 minutes, turning the grill on the melt the cheese in the last few minutes. Sprinkle with a little extra seasoning and some torn basil and serve.