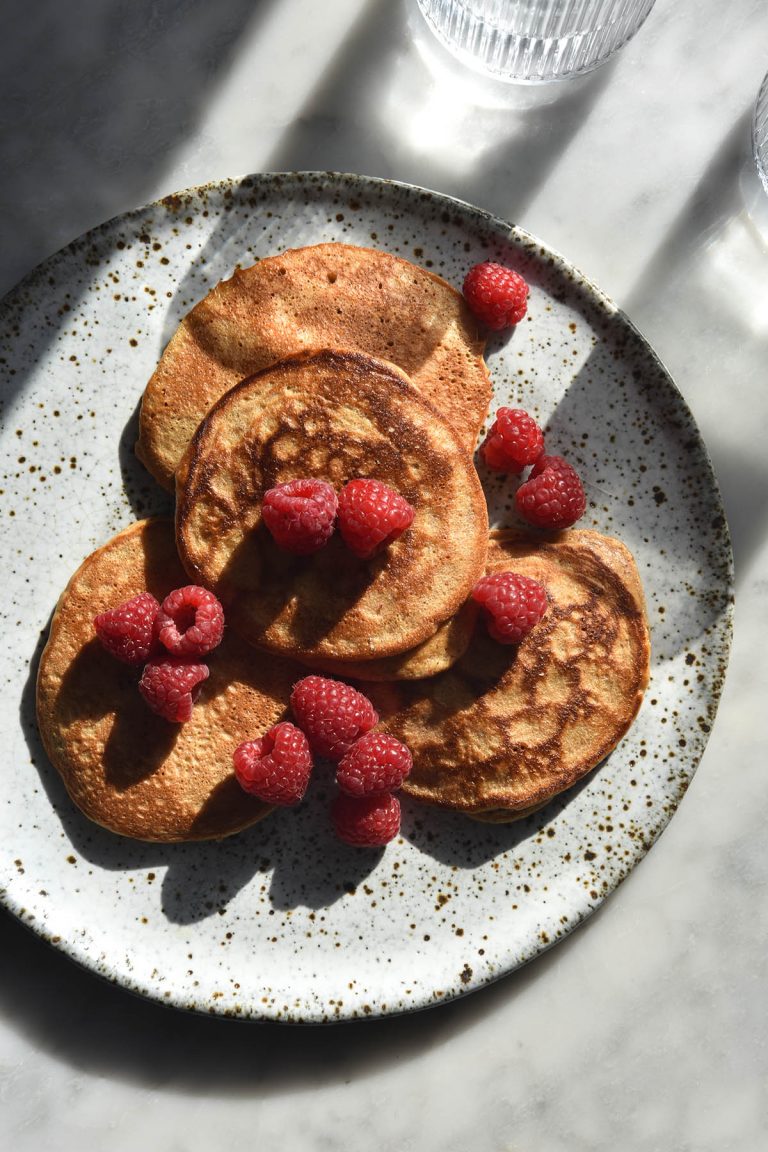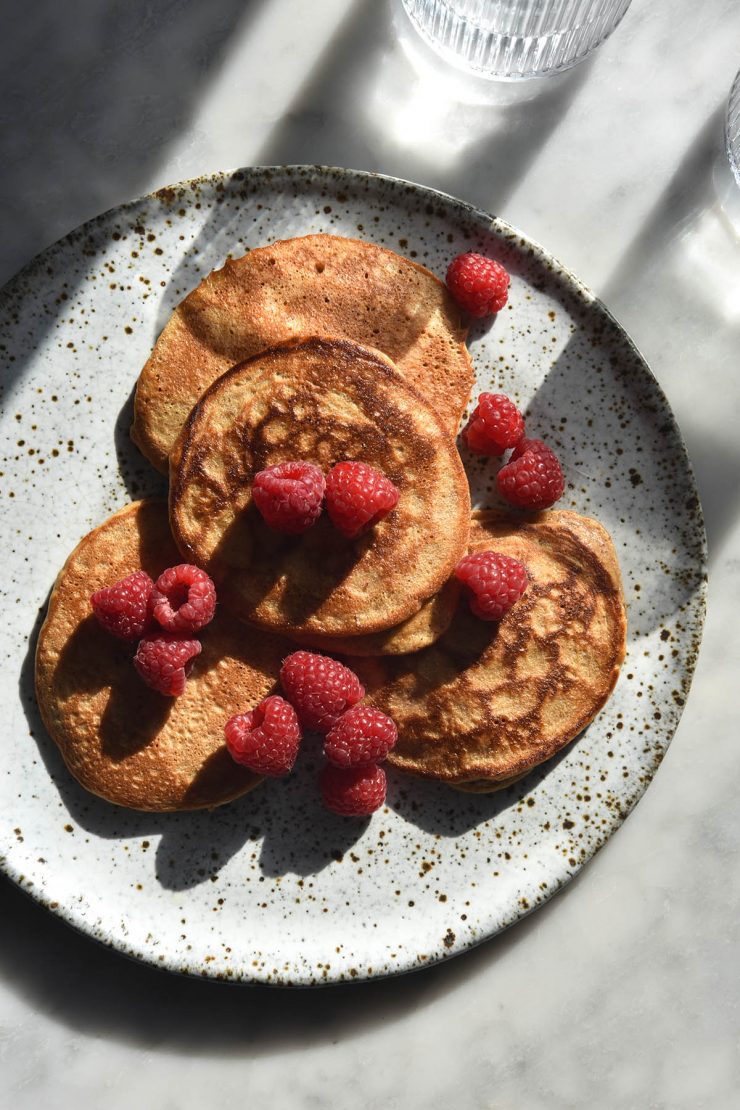 These gluten free protein pancakes are my go-to breakfast at the moment. Because I'm on an elimination diet, grains are off the menu. As a pescatarian who eats fish only out of necessity, I have been struggling to get protein in. Enter: my newfound interest with protein powder meals.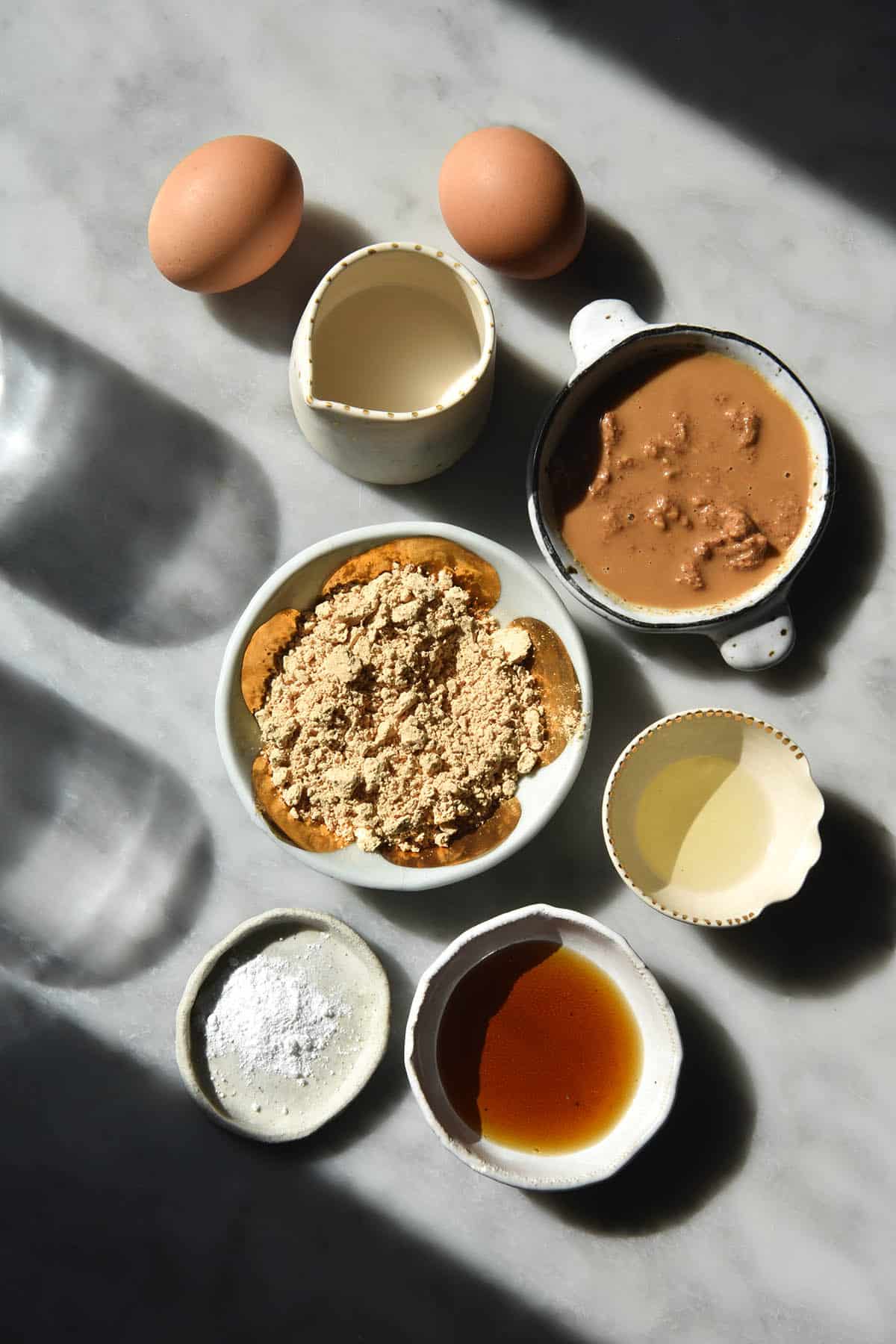 Gluten free protein pancakes without banana
These protein pancakes are made with a plant based protein powder, nut or seed butter, a small amount of maple syrup or honey and two eggs. They use baking powder, but can also use baking soda and vinegar or lemon juice to cater to grain free and SIBO diets.
The pancakes are gluten free, grain free, dairy free and refined sugar free. They don't use any bananas, unlike some of my other protein pancake recipes. By using a seed butter, you can also make these pancakes nut free. These are nutrient dense pancakes that are quick and easy to make. Gluten free flourless protein pancakes, sans banana.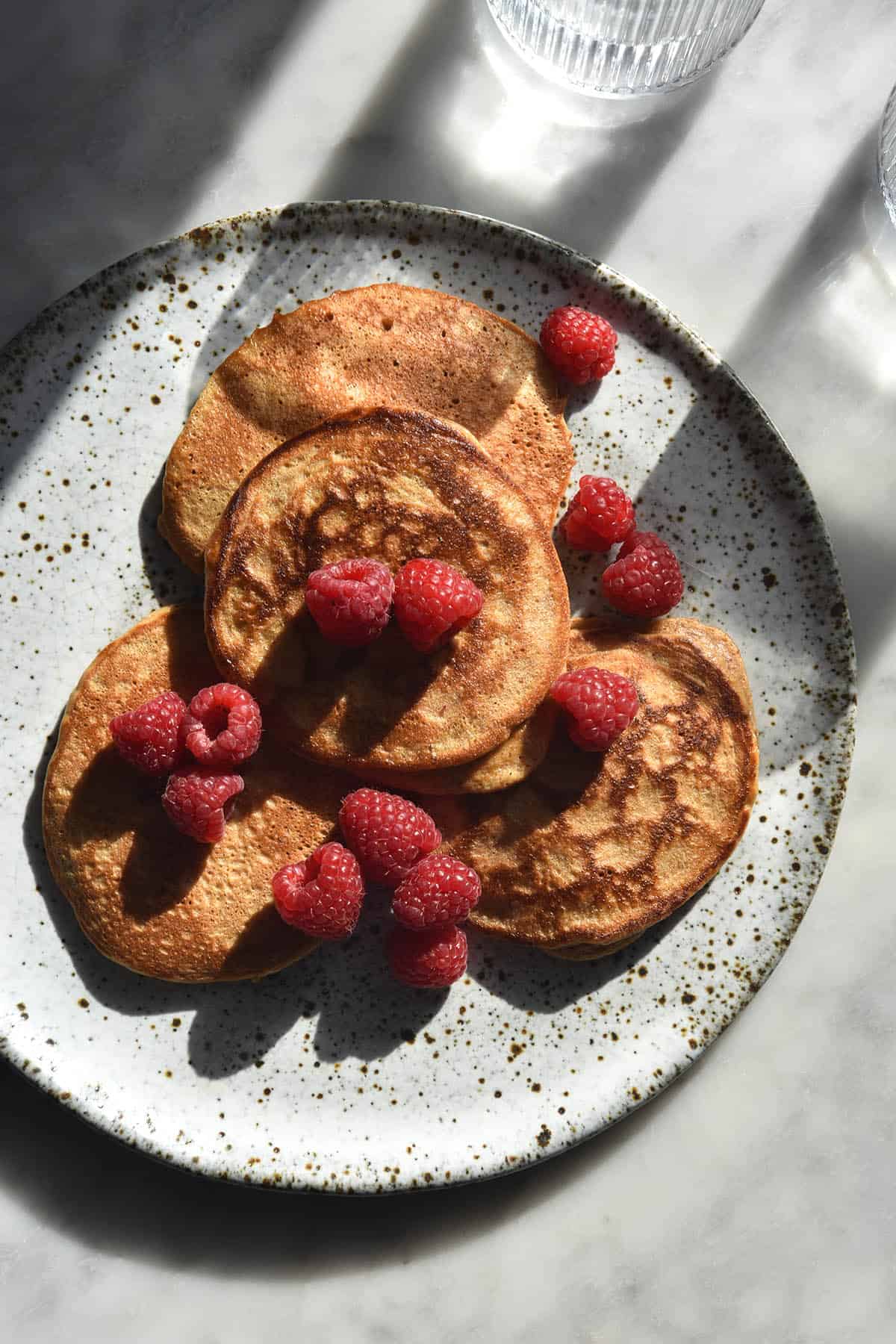 Can I use any vegan protein powder in these pancakes?
Before we begin, a note: if you want to use whey protein, I have a recipe here. It does contain bananas, but I'm working on a substitute.
A lot of protein recipes out there would have you believe that you can throw in whatever protein you have on hand. I, however, have not found this to be true.
Just like gluten free flours, different vegan proteins vary in their absorbency and consistency. Next, there's the fact that some protein powders contain xanthan gum, guar gum or fibres like psyllium husk. To me, comparing a raw vegan protein to one with xanthan gum is like comparing buckwheat flour to a store bought flour blend. There is no comparison!
I have developed a few protein powder recipes now, so I can say with a little knowledge how different proteins will react.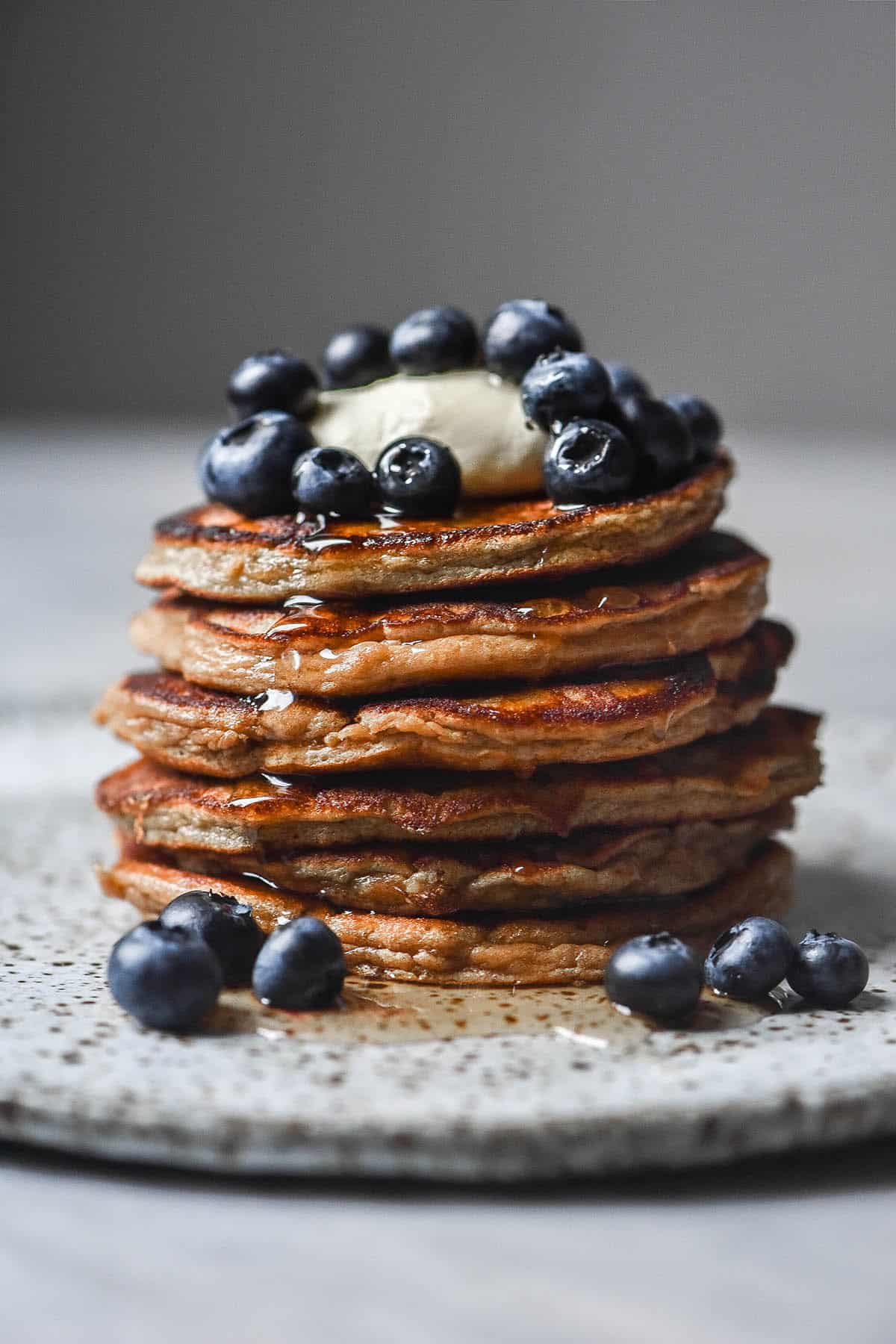 The plant proteins I have tried
Pure soy protein is very dry. You'll likely need the full 40ml of milk.
Pure sunflower seed protein sits somewhere in the middle. That said, I don't recommend it in pancakes as it can turn green when combined with baking soda.
Peanut protein also sits in the middle. It is incidentally delicious, too.
Pure almond protein is dry. I'd recommend 2 tablespoons (40ml) of milk.
Hemp protein seems to be the least thirsty of the pure proteins. In combination with peanut butter, I used 1/2 tablespoon (10ml) of milk in the hemp version.
Proteins with added xanthan gum, guar gum or inulin will likely work differently to these proteins. I have found, when testing with Macro Mike, that you can get away with using no oil in xanthan gum containing protein pancakes.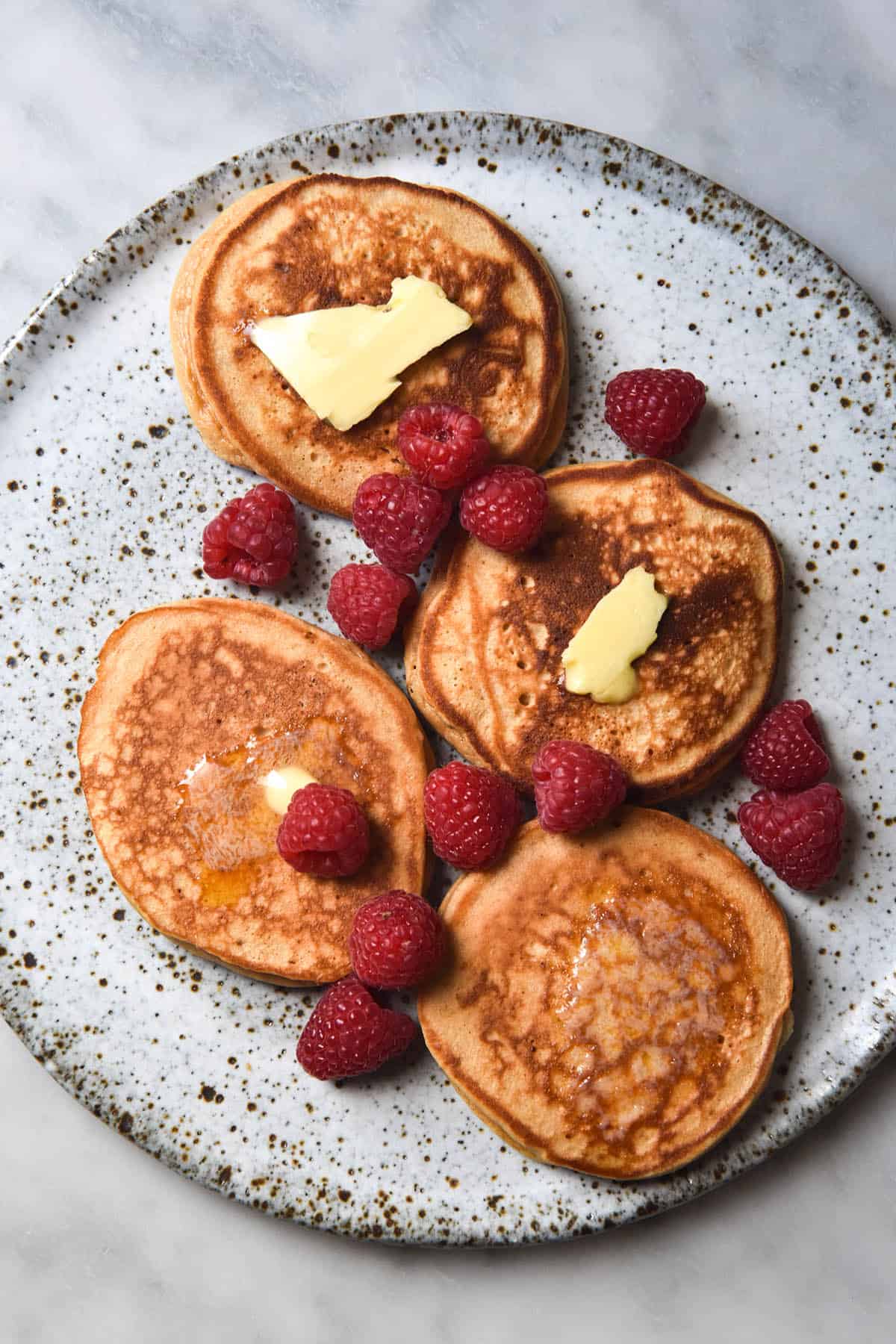 Can I make these gluten free protein pancakes nut free?
Yes, you can. I have successfully tested tahini in place of the nut butter. Sunflower seed butter or pumpkin seed butter are two other options. I daresay you could also use coconut butter. There are some commercial 'not nut' butters on the market, some containing chickpeas. I haven't tried them, but they might just work here. Keep in mind that chickpeas aren't always suitable for low FODMAP diets (or for SIBO bi-phasic).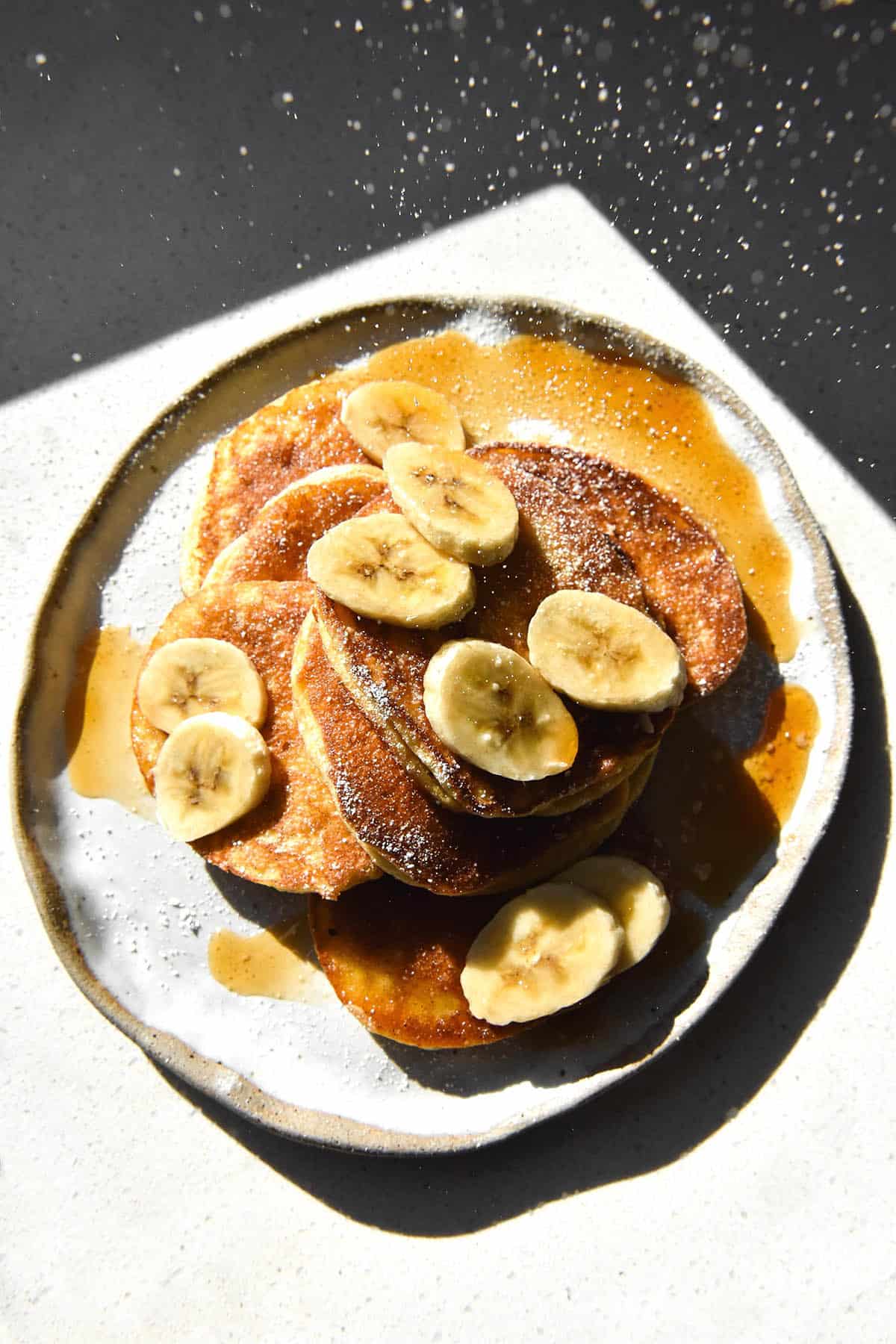 SIBO bi-phasic diet and FODMAP diet notes
These pancakes are suitable for SIBO bi-phasic stage 2 if you use honey in place of maple syrup and an appropriate protein. I am yet to find a protein blend that is SIBO appropriate, so your best bet might be to buy a pure protein. I like hemp.
The other thing to keep in mind with the SIBO bi-phasic is that you can only use almond butter, coconut butter or sunflower seed butter. I haven't tested the latter two butters in this recipe.
In terms of the FODMAP diet, 50g of peanut butter is low FODMAP, whereas almond butter is moderate FODMAP in 32g+ serves. So, peanut butter is the lower FODMAP choice for these gluten free protein pancakes.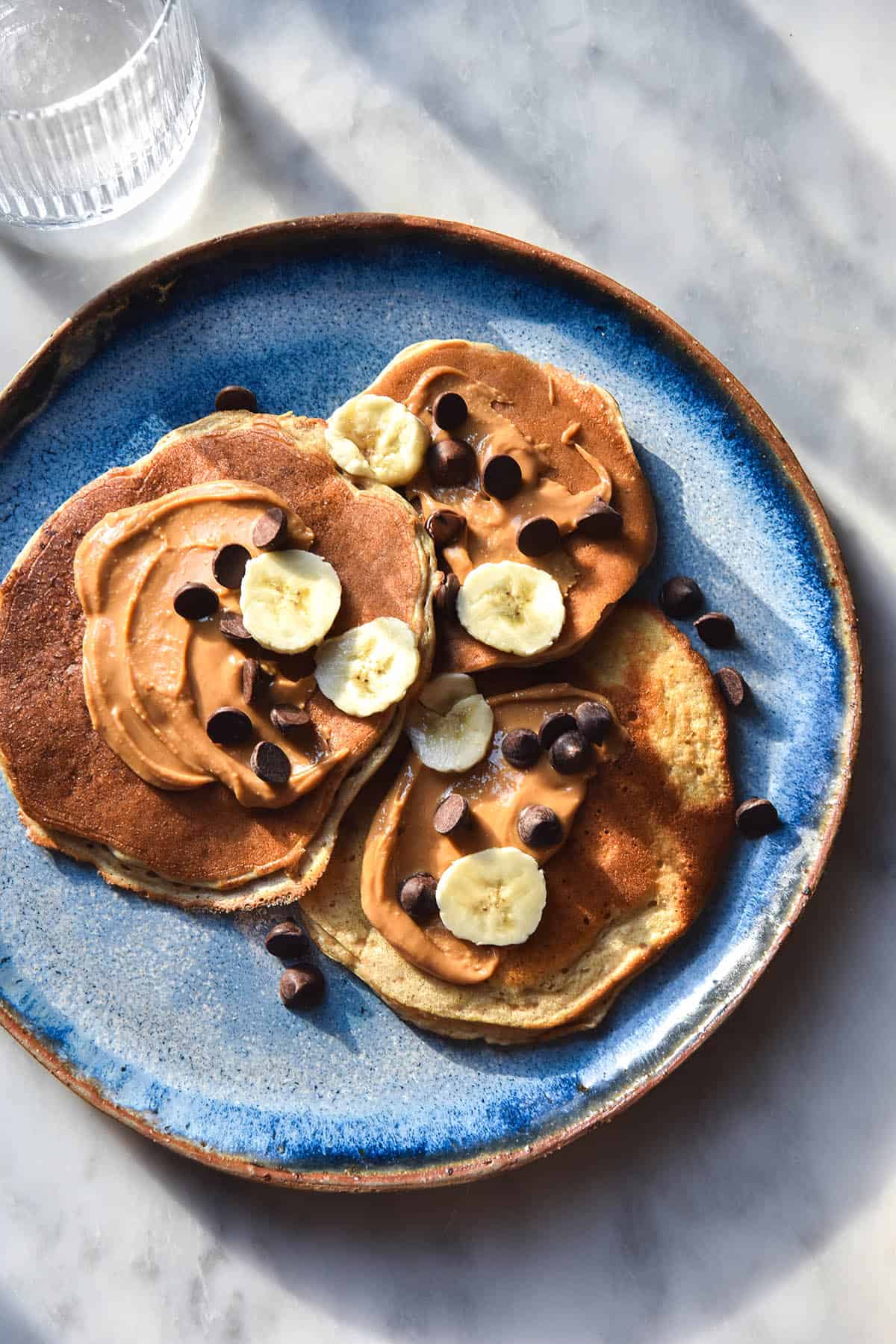 More gluten free protein powder recipes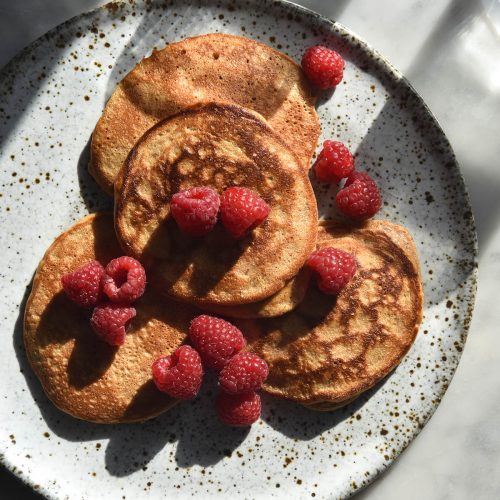 Gluten free protein pancakes without banana
Measures are in Australian teaspoons
*1 Australian tablespoon = 4 American, Canadian and New Zealand teaspoons
1 Australian tablespoon = 3 1/2 British teaspoons
Ingredients
30

g

plant protein of choice (see body of post for tips)

50

g

nut butter of choice

(see notes for alternatives)

2

extra large eggs (45-55g each without shell)

use divided

1

tablespoon* maple syrup

1

teaspoon* of neutral flavoured oil

1/4

teaspoon

baking powder

10-40

ml

milk of choice

Oil or butter

to cook
Instructions
Whisk to combine the protein powder, nut butter, 1 egg, maple syrup and oil in a small mixing bowl.

Separate the second egg by placing the yolk in the protein bowl and the white in a clean, dry mixing bowl.

Whisk the yolk into the protein mixture, then assess the texture. If it's really thick, add milk until it reaches a medium consistency yoghurt thickness.

Use hand beaters to beat the second egg white until medium peaks form. This should only take a minute or two.

Once the eggs are whipped, use a spatula to carefully fold the egg whites into the pancake mixture. I do half the egg whites straight up, then the second half after incorporating the first half.

Preheat a pan for a minute or so to stop the pancakes from sticking or spreading too much. Once preheated, add the oil and 1-2 large spoonfuls of pancake batter at a time. This batter makes 3-5 pancakes roughly the size of your palm. Cook for a minute or so on the first side, adjusting the heat as necessary. Flip and cook for about a minute more, or until just cooked through.

Repeat with the remaining batter and serve with maple syrup, butter, berries or yoghurt (or all of the above).
Notes
These pancakes will only be just sweet if you use a pure protein powder. Serve with a drizzle of maple syrup if you like things sweet. If you're using a sweetened protein powder, the pancakes will be sweet. 
I have successfully tested cottage cheese in place of the nut butter. I daresay yoghurt would also work too.