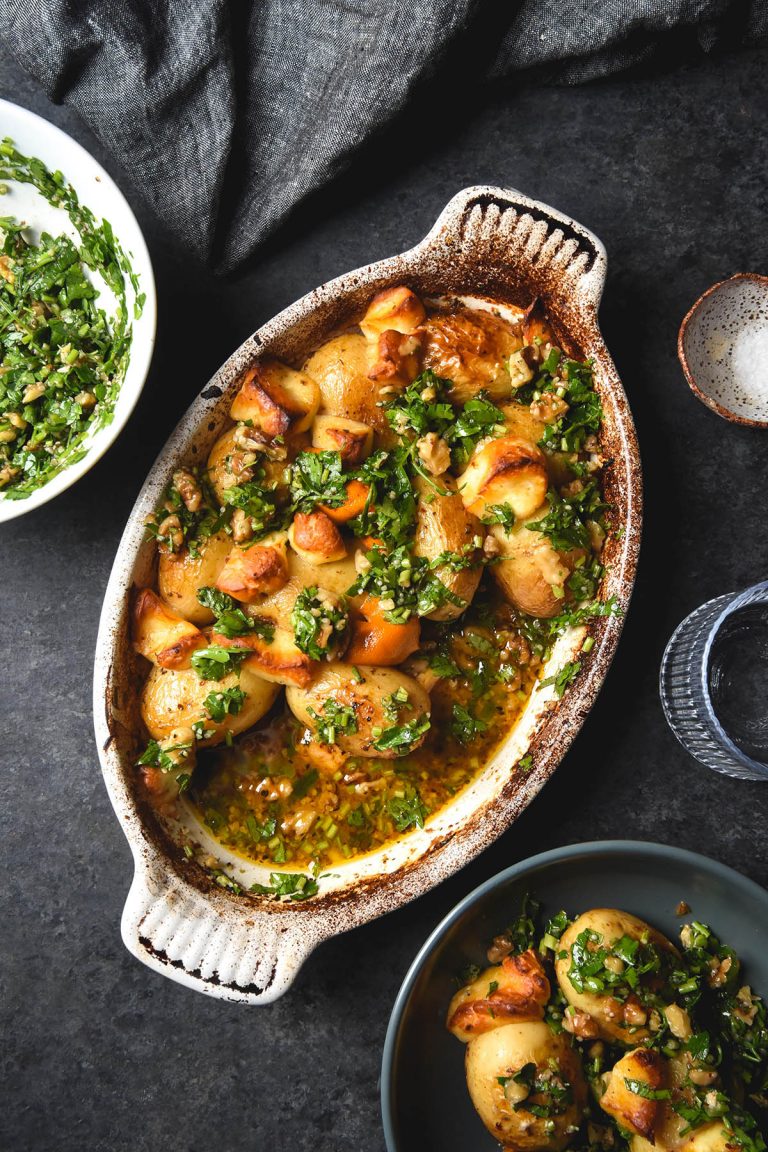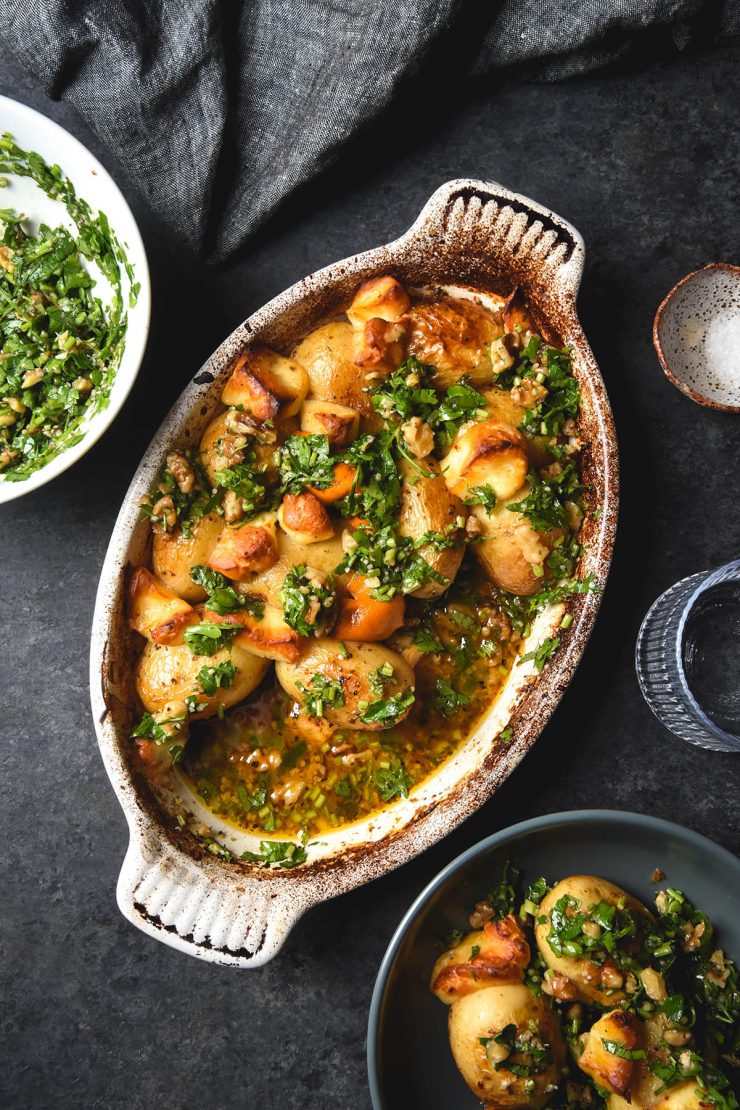 In the process of developing my recent baked haloumi recipe, my interest was piqued. The concept of baking haloumi is newer to me than the classic pan fry. With that said, it makes a great centrepiece dish and infuses the haloumi with lovely flavours. Consider that recipe my inspiration for today's lemon potato and haloumi bake.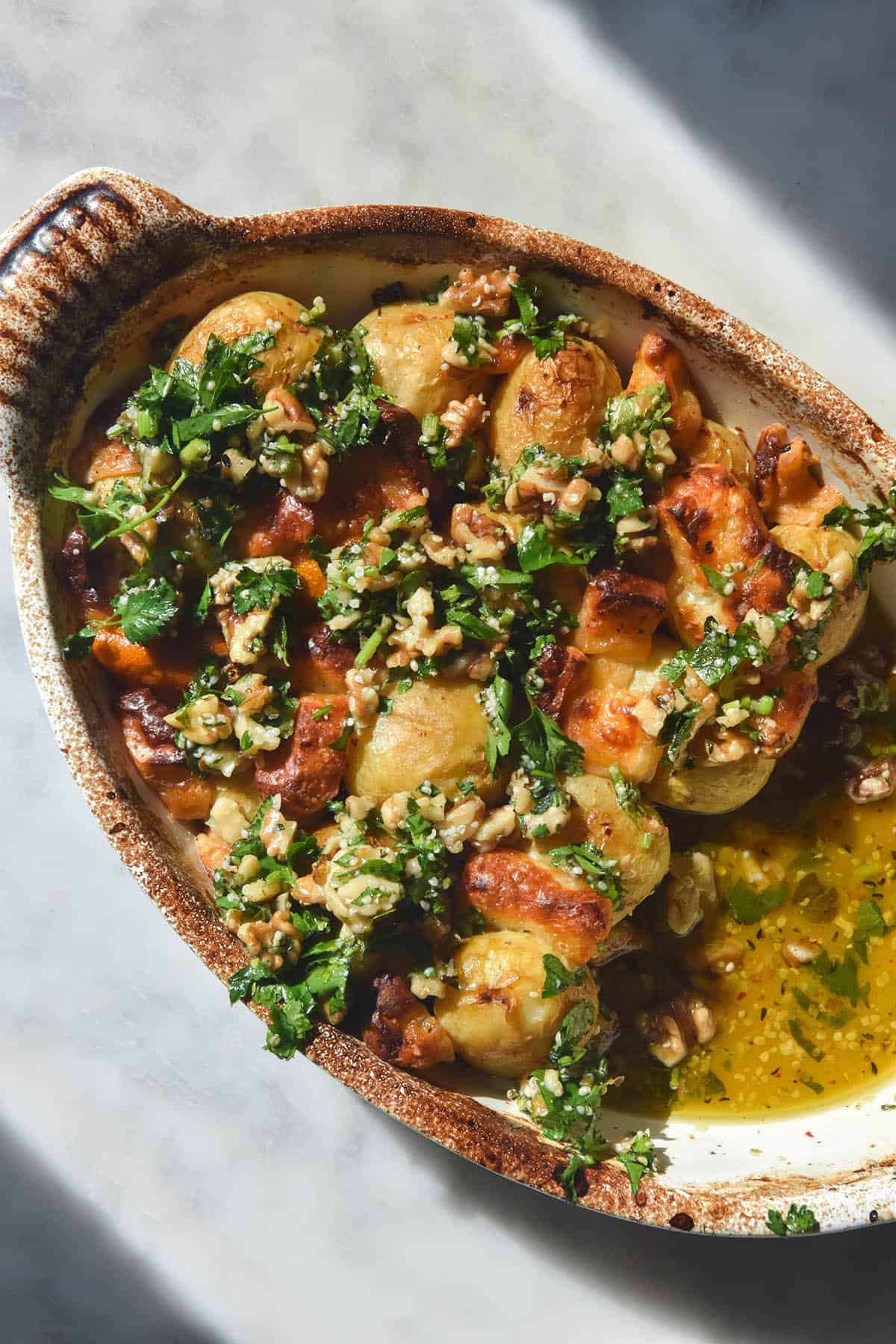 Lemon potato and haloumi bake
This lemon potato and haloumi bake is a one pan dish that is mostly hands off. Lemon juice, maple syrup, mustard, seasoning and dried herbs are mixed with water and oil in a baking dish. After the potatoes get a quick prick with a fork, you will throw them into the baking dish and douse them in the flavourful liquid. The lemon skins go in too for a powerful lemon flavour.
After an hour of baking, we'll add the cubed haloumi to the baking dish and smother it in those delicious flavours. Another short bake and you've got a flavour packed potato dish that looks like it took a lot more time than it did.
The final touch is a simple parsley and walnut salad that gets dressed with the zingy potato sauce. A beautiful, low effort dish made while you mindlessly watch reruns of Will and Grace.
A note on the dietaries: this lemon potato bake is low FODMAP, gluten free and grain free. It can be made nut free as well.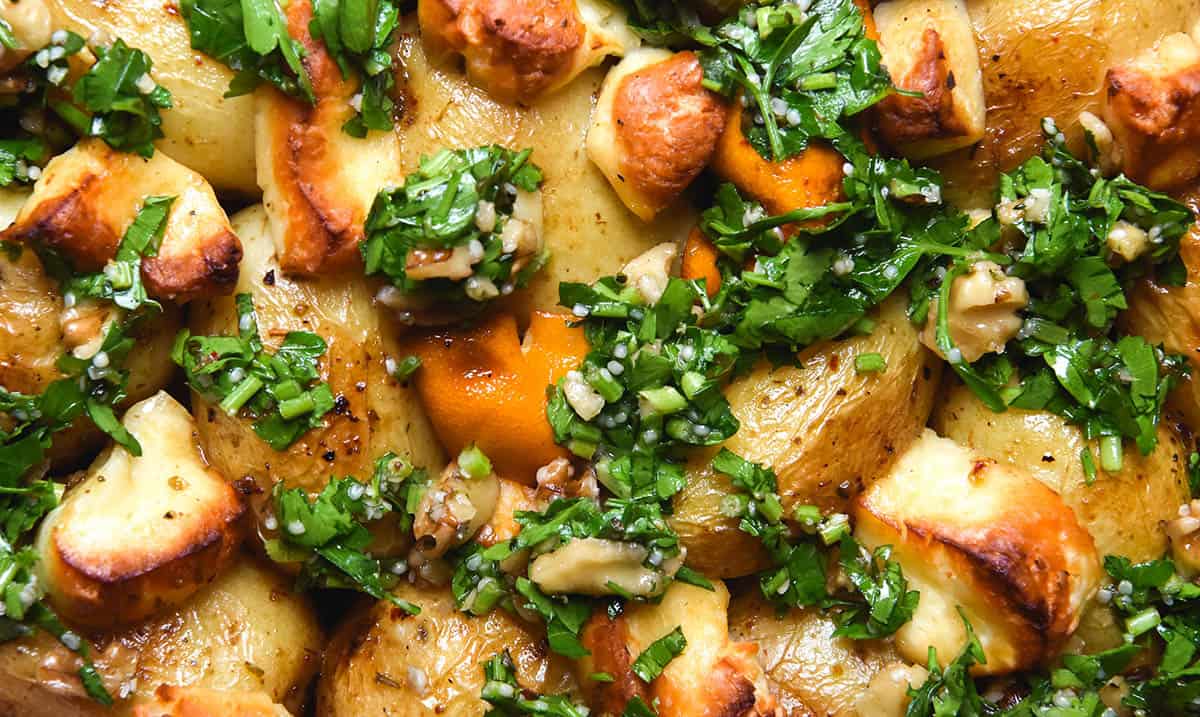 Tips for your lemon potatoes
Personally, I think that pricking the potatoes makes all the difference here. You are really allowing the flavours to permeate the potato flesh. I actually love eating these potatoes cold/the next day when the flavours have really had a chance to meld.
I have been gifted an inordinate amount of Meyer lemons recently. They have a milder acidity and a sweeter flavour which I love. Which brings me to my point: every lemon has a different acidity. You might need to use less lemon juice to achieve the same result as me. You might also prefer less acidity, which is fine too. Taste and adjust as you go.
My suggestion would be to ensure the potatoes are nearly browned enough for your liking prior to adding the haloumi. Haloumi can only cook for a finite amount of time before it burns. As such, it's easier to ensure the potatoes are basically done beforehand.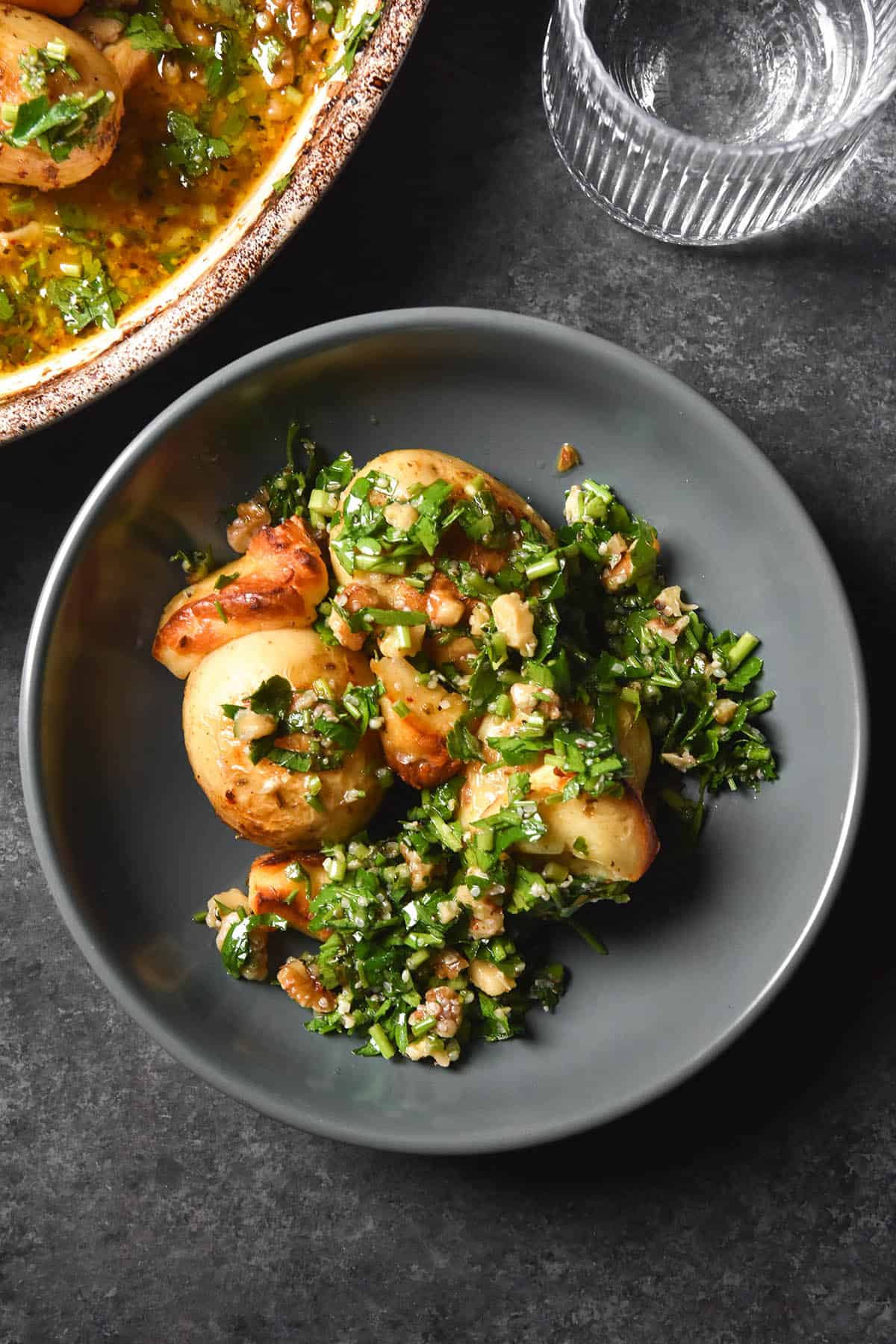 Dietary notes and substitution options
If you'd like to make this a nut free dish, simply replace the walnuts with your seed of choice. I would suggest pumpkin seeds, but use whatever works best for you. Of course, you can leave the parsley and walnut topping off entirely if you prefer.
You can omit the halloumi to make this dish vegan. I have seen a couple of vegan haloumi brands on the market but I have not tested them here.
You can use any variety of small potatoes here. I have tested Kipfler potatoes and baby potatoes and they both worked equally well.
If you're not a (flat leaf) parsley fan, become one? Just kidding. You could probably substitute rocket/arugula and/or a little bit of basil. The basil will brown after a while sitting on the hot potatoes, which is something to keep it mind if this will be on the table for a while.
As for the (optional) herbs in the bake; thyme, oregano, rosemary or sage will all work well. I have to say though that it tastes perfectly delicious without any fresh herbs in the bake.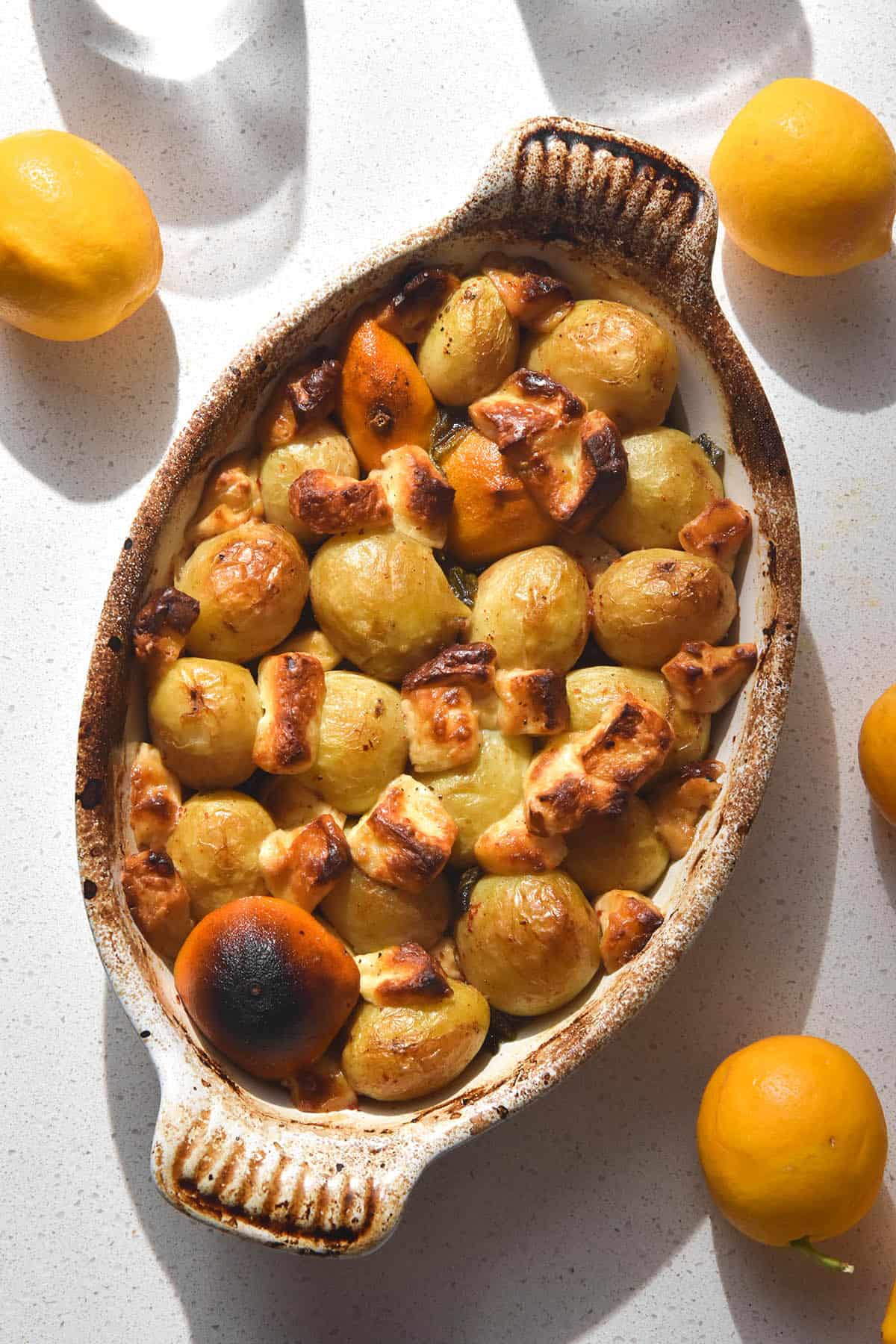 FODMAP notes
The main thing to consider for this dish in terms of FODMAPs is the haloumi. Monash puts a low FODMAP serve of haloumi at 40g per serve which is approximately 2 slices. It becomes moderate for lactose in 60g servings, which suggests a bit of wiggle room as to what constitutes a low FODMAP serve.
Taking the most conservative amount of 40g, this dish needs to serve 4-5 for a 180g-200g packet of haloumi. Of course, those who malabsorb lactose can simply serve themselves less haloumi than others.
A quick mention too for walnuts: Monash considers them low FODMAP in 30g serves or approximately 10 walnut halves. 1/2 cup of walnuts is around 50-75g, which puts this will within a low FODMAP limit.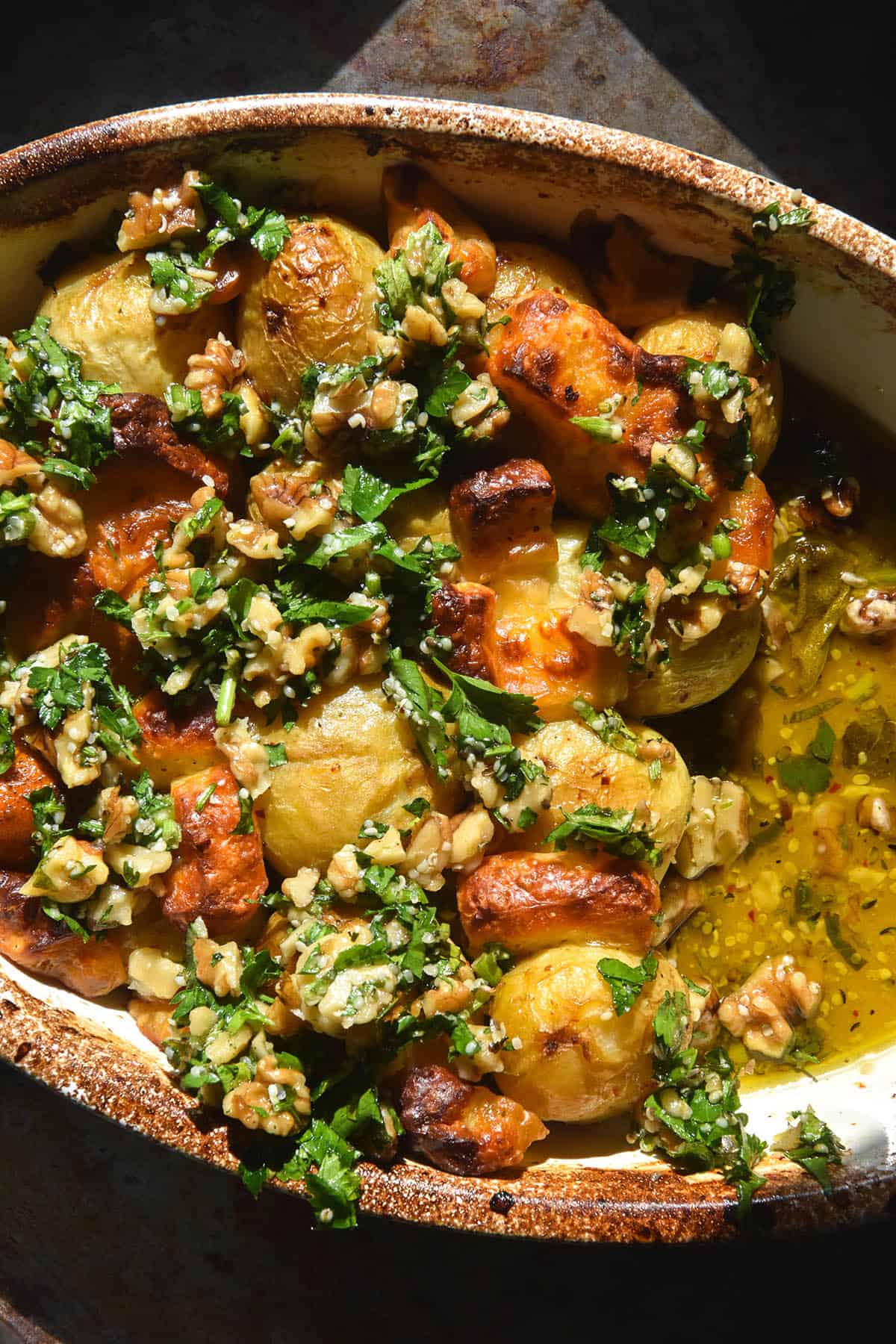 Serving suggestions
Cooking these lemon potatoes makes a delicious sauce, so I recommend buying a bag of salad to go with them. When the potatoes are ready, simply spoon the sauce over the salad to finish. This + the herb and walnut salsa = fresh and delicious dinner.
You can serve these potatoes with a protein of your choosing. I also really love the thought of adding some canned and drained legumes to the potato dish before baking. This will add a bit of vegetarian protein and the beans will soak up all that added flavour. You might need to dress your salad and herb salsa separately after, but it's a small price to pay.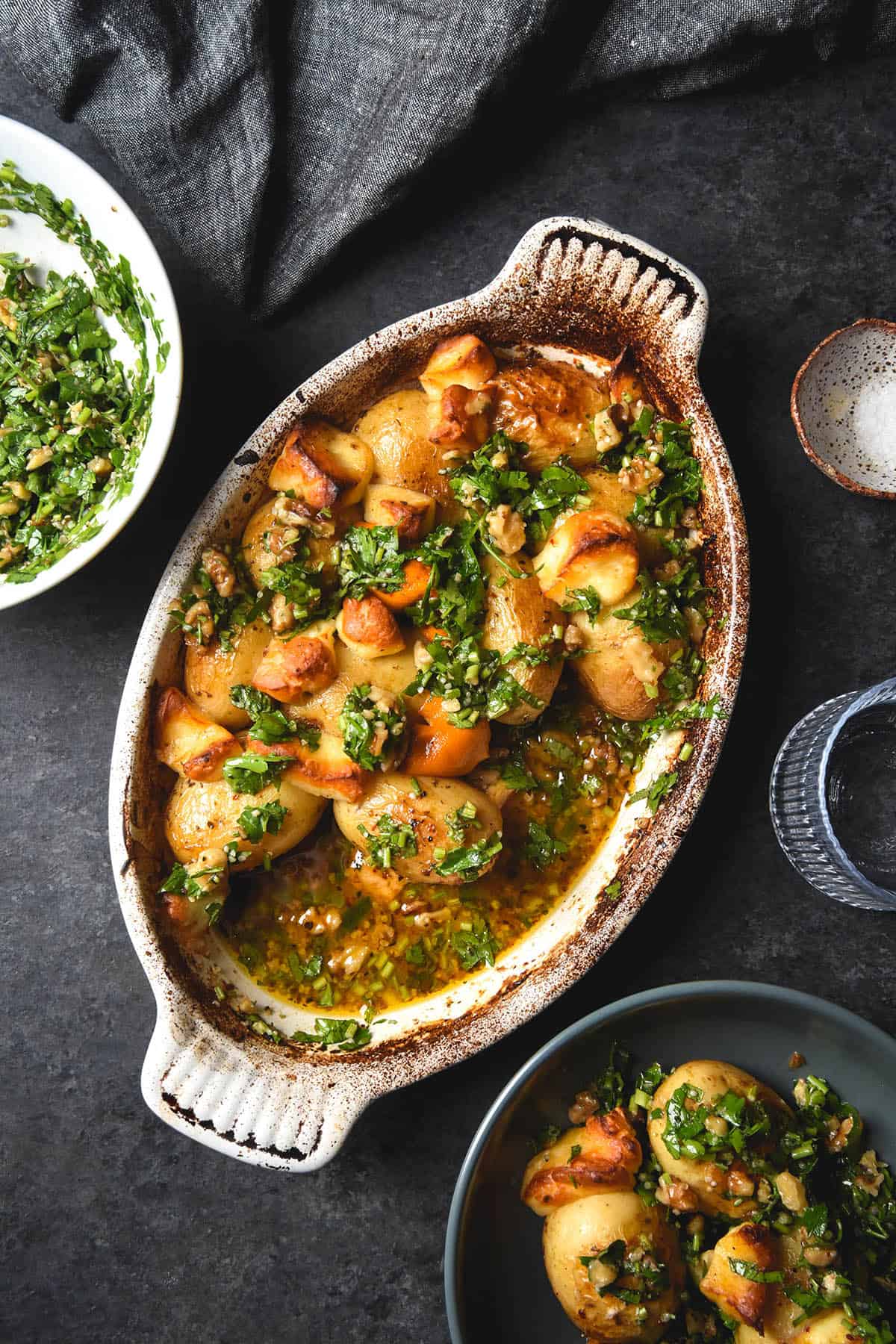 Cleaning your baking dish
Separate to the potato tips, I thought this section was important to go through quickly. Although my Mum would laugh hysterically at me giving cleaning tips, I have a few now.
This dish has a tendency to spit a little as it bakes. As such, I'd first recommend that you put the baking dish on a baking tray so that it doesn't dirty the base of your oven.
Which brings me to my second tip: cleaning the baking dish. I found the best way to get the bits and bobs off the dish was to mix up a paste of baking soda/bicarb soda and dish soap. Leave it to sit, then allow the dish to soak a while.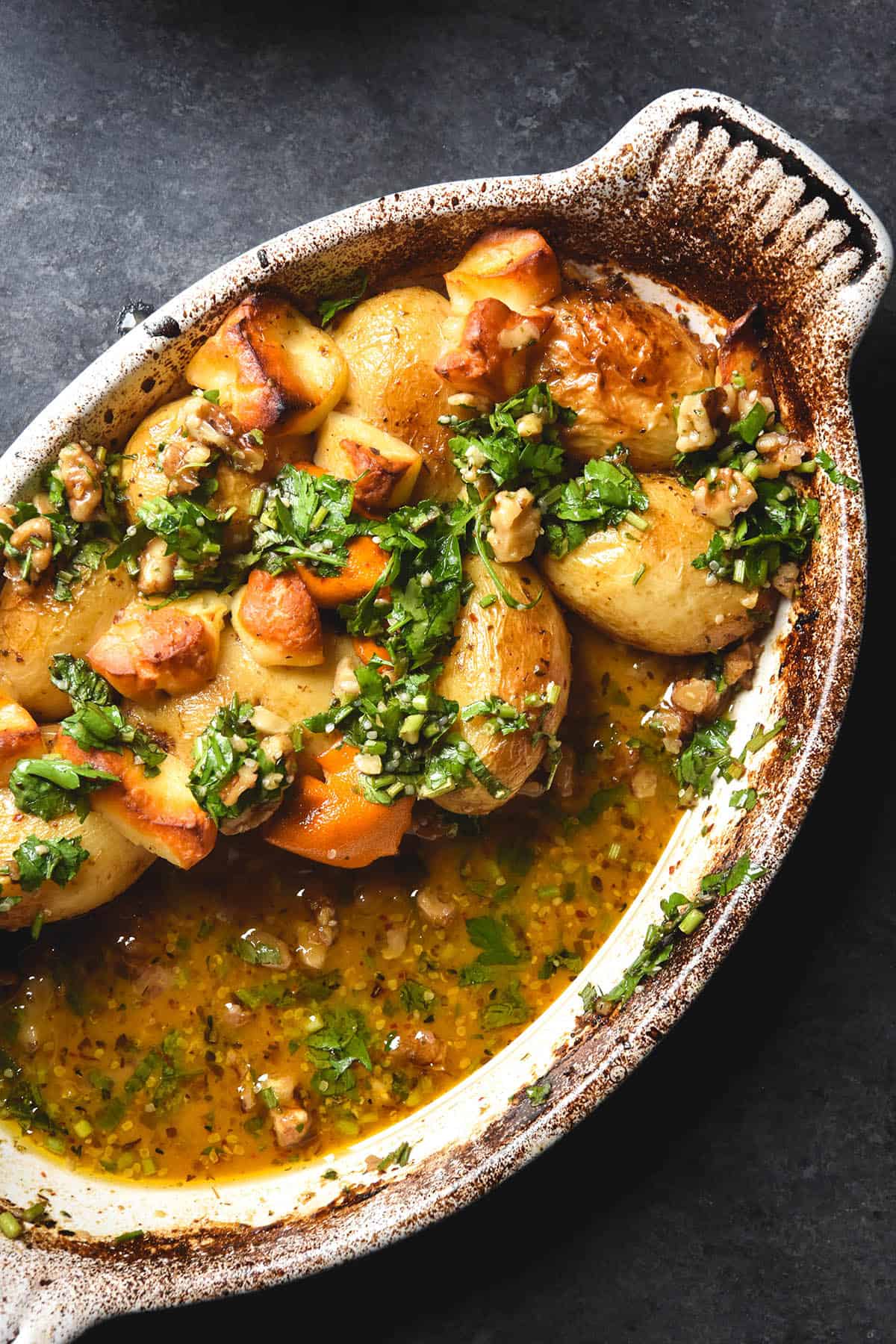 More low FODMAP potato recipes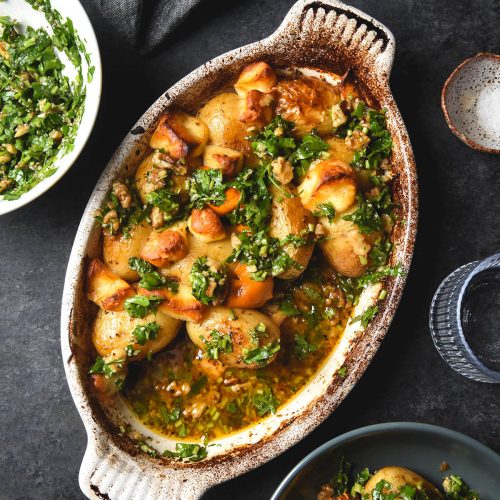 Lemon potato and haloumi bake with a walnut herb salsa
Low FODMAP, vegetarian, nut free option
Serves 5-6 as a side dish
*Cups are in Australian cups. Use gram weights for international accuracy.
Ingredients
For the lemon potatoes:
1kg

baby or kipfler potatoes

125

ml

(1/2 cup)* water

60

ml

(1/4 cup)* oil

2

lemons

juice and skins

1 -2

tablespoons

seeded or Dijon mustard

see notes

40

ml

(2 tablespoons)* maple syrup

2

teaspoons

dried oregano

1

teaspoon

fennel seeds

Seasoning and chilli flakes

to taste

Fresh herb of choice

optional, see notes

4

pickled garlic cloves

sliced

180-220

g

packet haloumi

drained and cubed
For the walnut salsa:
1

bunch of flat leaf parsley

finely chopped

1/2

cup

50-75g walnuts, chopped

2

tablespoons

cup hemp seeds

optional
Instructions
Preheat the oven to 200C/400F. Wash your potatoes and prick each potato 3-5 times with a fork.

Combine the remaining ingredients for the bake, except for the haloumi. Stir to mingle all the flavours.

Before adding the lemon skins, add the potatoes gradually, coating each one fully in the mixture. This will ensure all sides of the potato are oiled prior to the oven. Add the lemon skins wherever they fit and pop the dish in the oven for 30 minutes.

Once the 30 minutes are up, pierce a knife through the largest potato. If it's cooked through, you can either turn the potatoes and roast the other sides or simply baste the potatoes in the dressing and, if sufficiently browned, add the halloumi. The latter shaves 20-30 minutes off the baking time, but your sauce might not be as saucy. Either is delicious – it's just a matter of preference.

Either way, once your potatoes are cooked through and golden brown, add the haloumi cubes. Baste them in the lemon liquid and return the dish to the oven for 15-25 minutes or until the haloumi is golden brown and oozy.

While you're waiting, chop the ingredients for the herb salsa.

Once the potatoes are cooked, remove them from the oven. Use the cooking liquid from your potatoes to dress the herb salsa, then scatter it atop the potatoes. Serve warm for the sake of the haloumi, but the leftovers are delicious too.
Notes
Thyme, rosemary, oregano and sage are all great options for fresh herbs here.
Monash recently added pickled garlic cloves to their app. They are low FODMAP in 1 clove servings per person. I have bought pickled garlic in the Mediterranean section of an IGA and at Oasis. 
To ensure the dish is vegetarian, choose a vegetarian haloumi. Brands in Australia include Dodoni and Riverina, but make sure you check the labels in case anything changes.