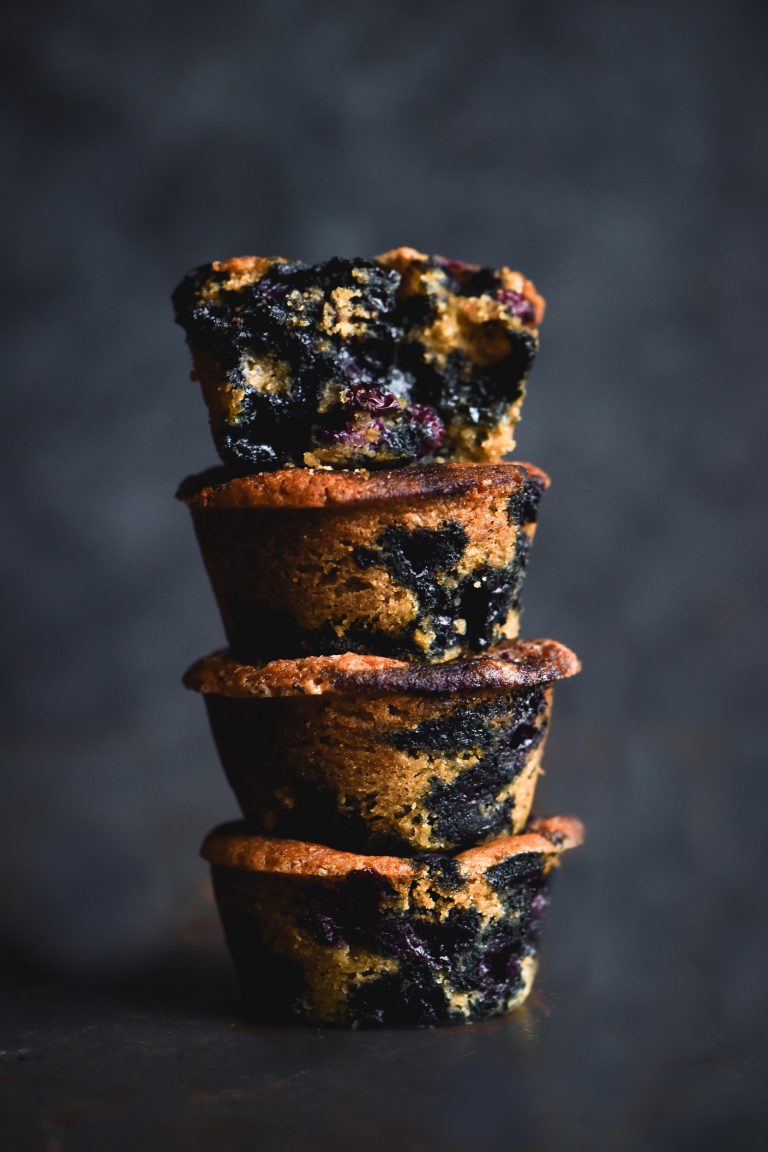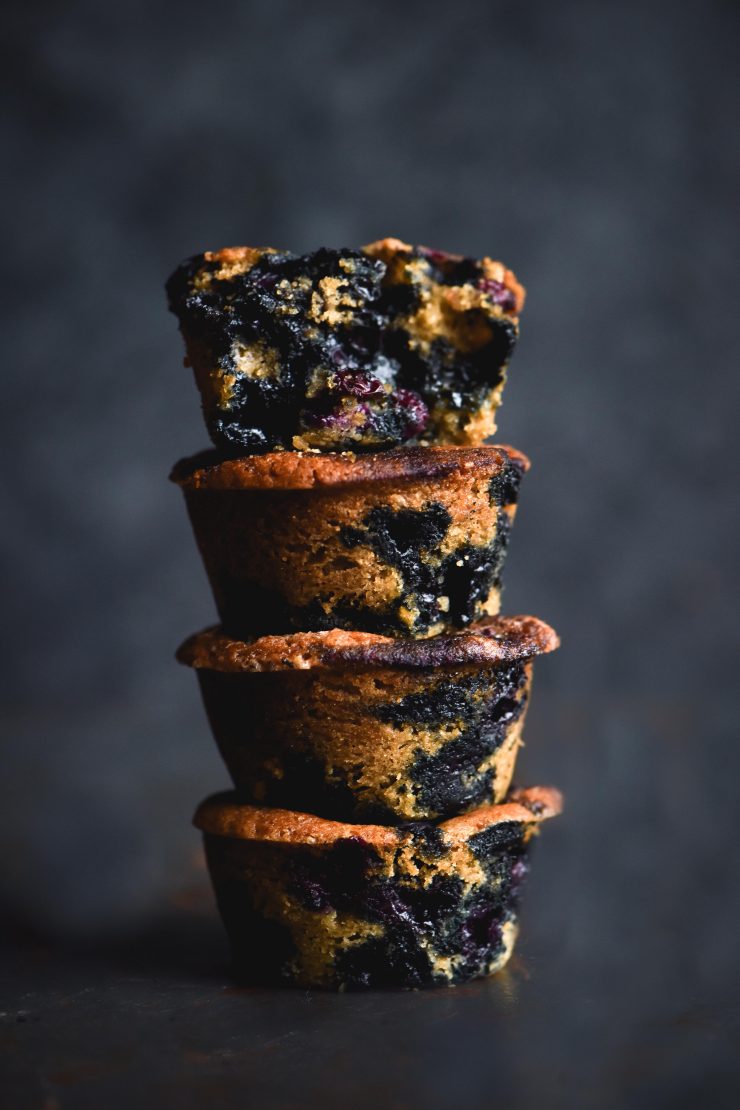 At the risk of becoming a muffin fan site, I'm back today with another gluten free muffin recipe. The specific topic? Gluten free egg free muffins. This recipe might be familiar to some of you who have made my vegan muffin recipe (because it's essentially the same lol). However, I figured this recipe needed it's own space, because it is a bit different.
Gluten free egg free muffins
These gluten free egg free muffins are a non-vegan version of my vegan muffin recipe. They are nearly the same, except we're using regular butter, milk and yoghurt. Of course, if you'd like them to be dairy free, they can be!
The muffins use a very simple method of mixing wet into dry. They require no hand beaters or any fancy equipment.
The muffins use a single flour – white rice flour – for the backbone of the muffin. This means that they are starch free and nut free. Thanks to yoghurt and butter, no xanthan gum or eggs are needed for binding, yet the muffins are still fluffy and light.
The muffins are xanthan gum free, but I have added an option to include it. We'll go into this in depth below, but essentially; adding xanthan gum helps suspend add ins in the batter. It also helps keep the muffins from staling.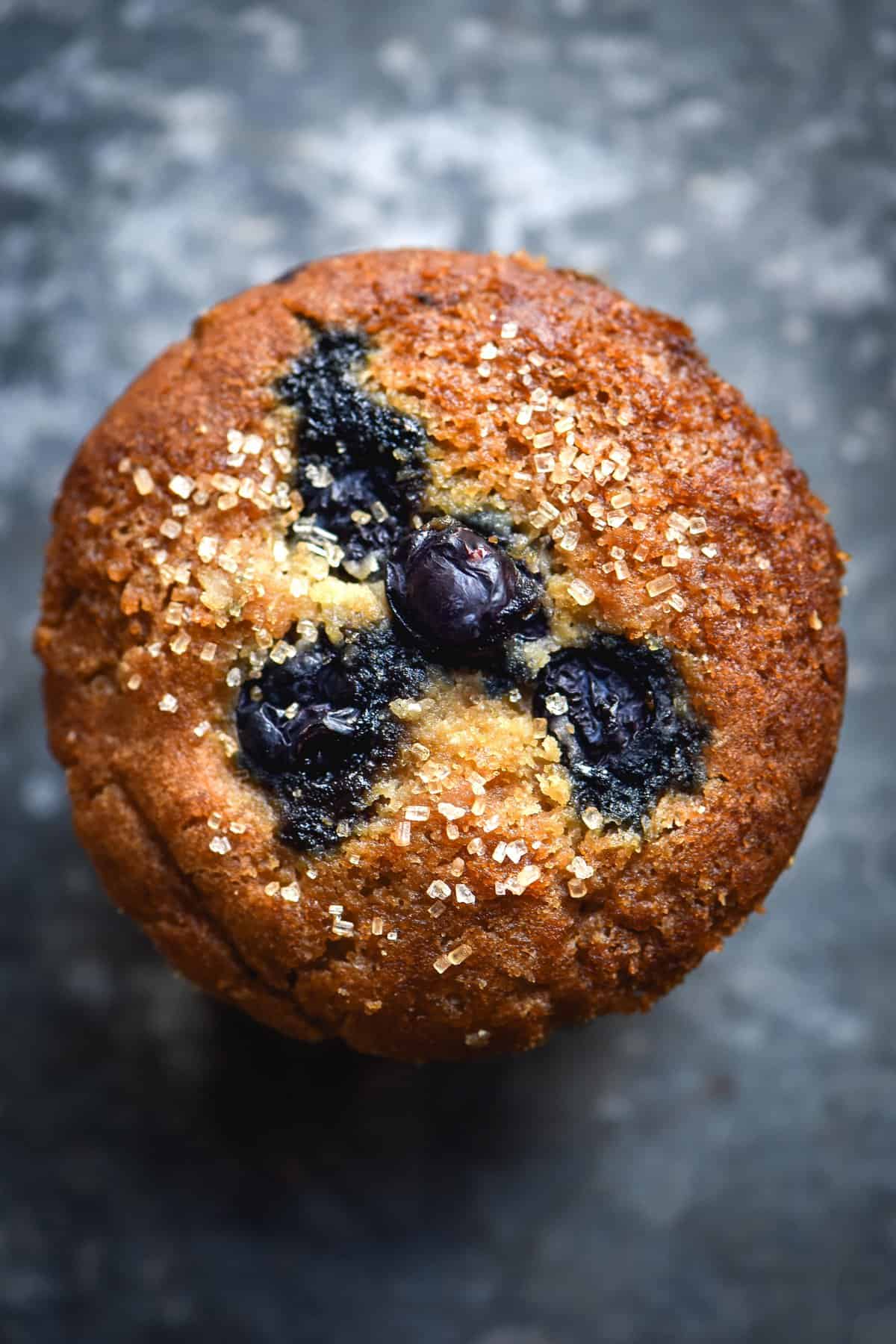 Can I make these gluten free egg free muffins vegan?
Yes! Simply use a vegan yoghurt, milk and butter in place of their regular counterparts. You'll essentially be making a double batch of my vegan muffin recipe, found here.
Are there options to use other flours in these muffins?
All of the flour variations I have tried in these muffins are in my cookbook, Intolerance Friendly Kitchen. If you'd like to do some experimenting, you are welcome to, but I can't offer much specific advice.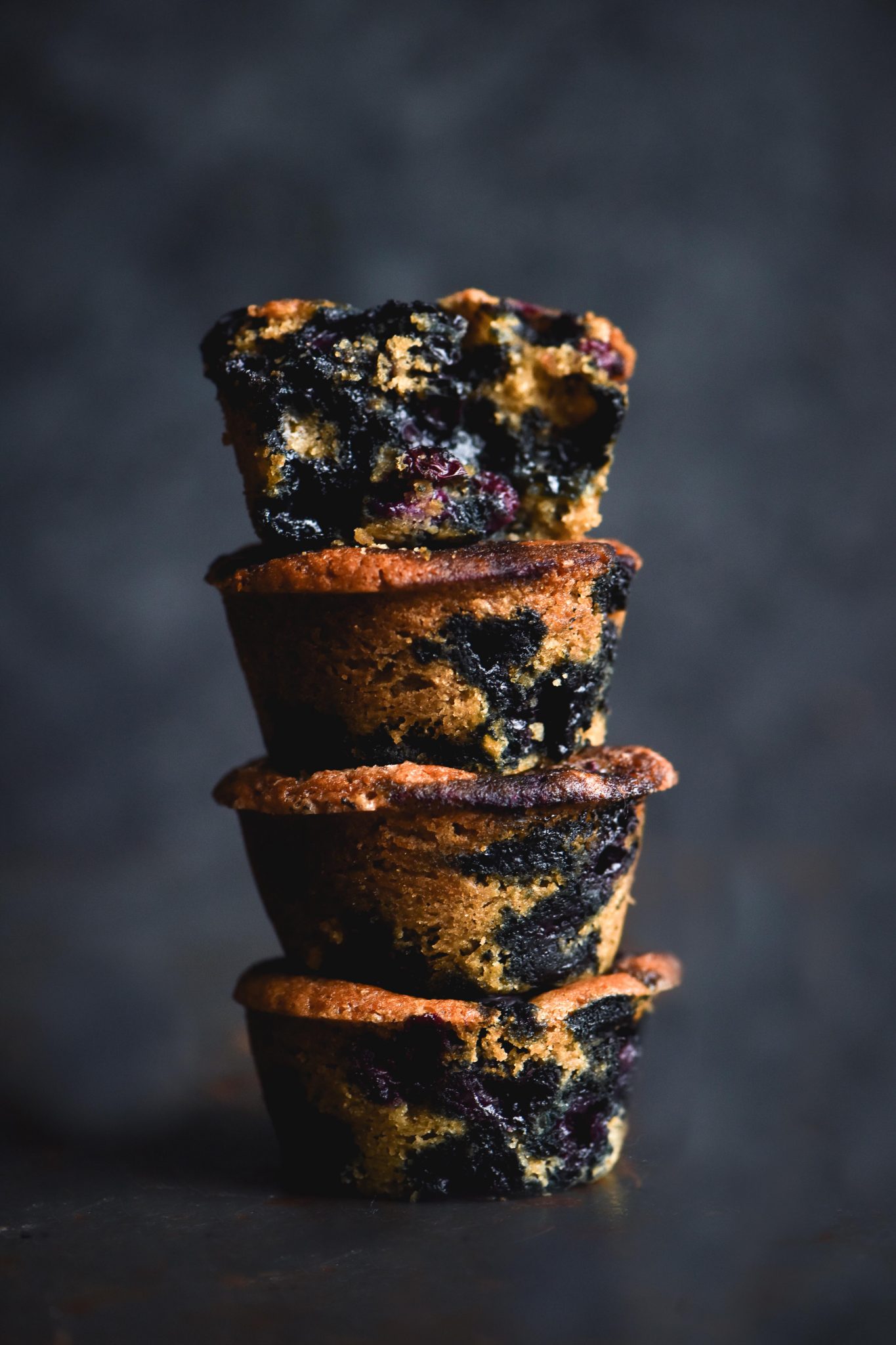 Tips for your gluten free egg free muffins
Use a thick yoghurt for best results. I like Jalna lactose free Greek yoghurt in Australia.
I sometimes like to use a flavoured yoghurt to amplify the flavours of the muffin I'm making. Raspberry for raspberry, blueberry for blueberry. An optional way to add extra flavour.
The psyllium husk powder helps hold the muffin bottoms together, particularly if you are not using muffin liners. The (optional) xanthan gum will also do that, and suspend any add ins in the batter. If you choose to use some xanthan gum, you don't need to use the psyllium husk powder.
Keep in mind that rice flour varies dramatically in it's absorption across brand to brand, country to country. If your batters looks significantly wetter or drier than described in the recipe card, adjust it to suit. Some intuition is required in gluten free baking, as we all know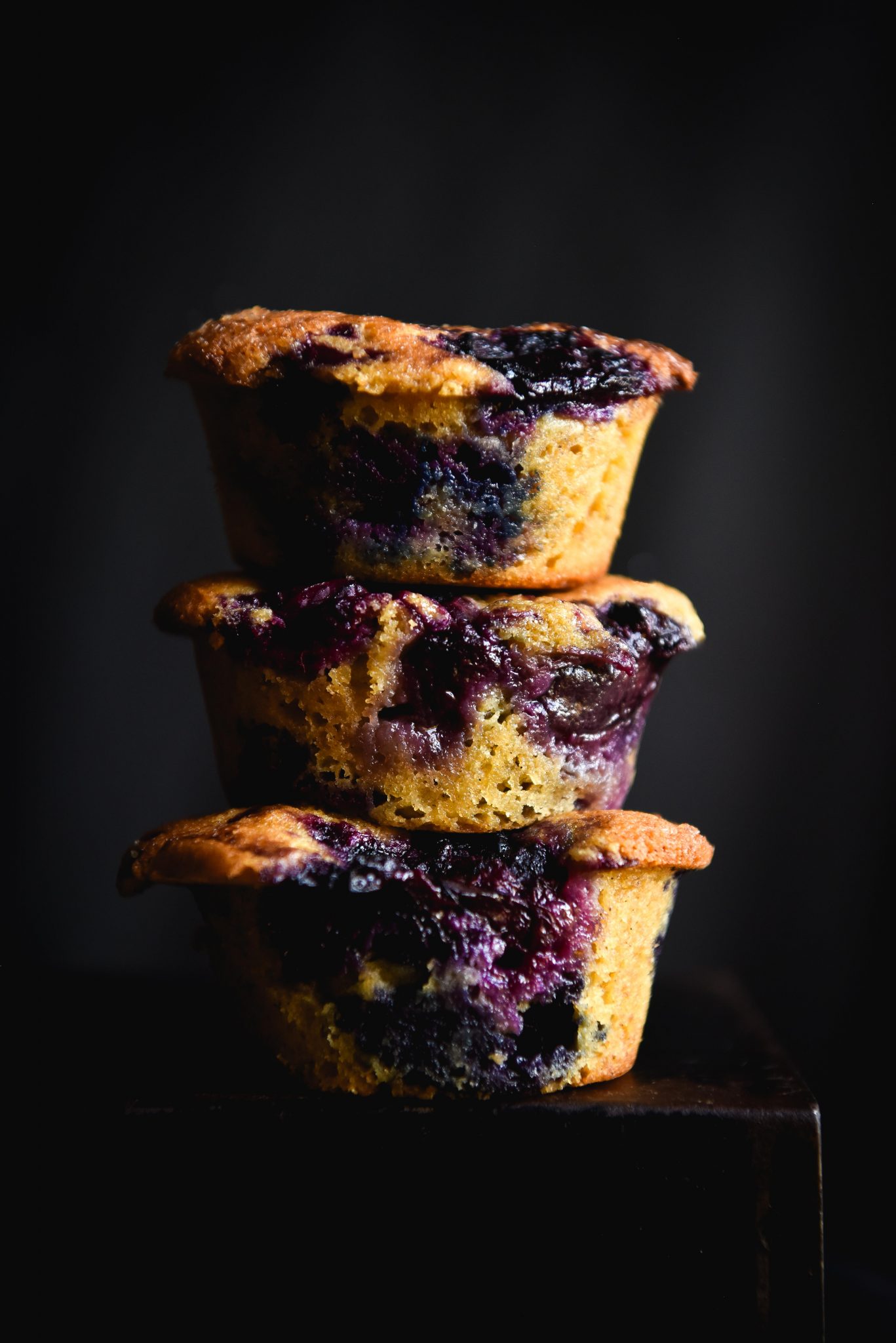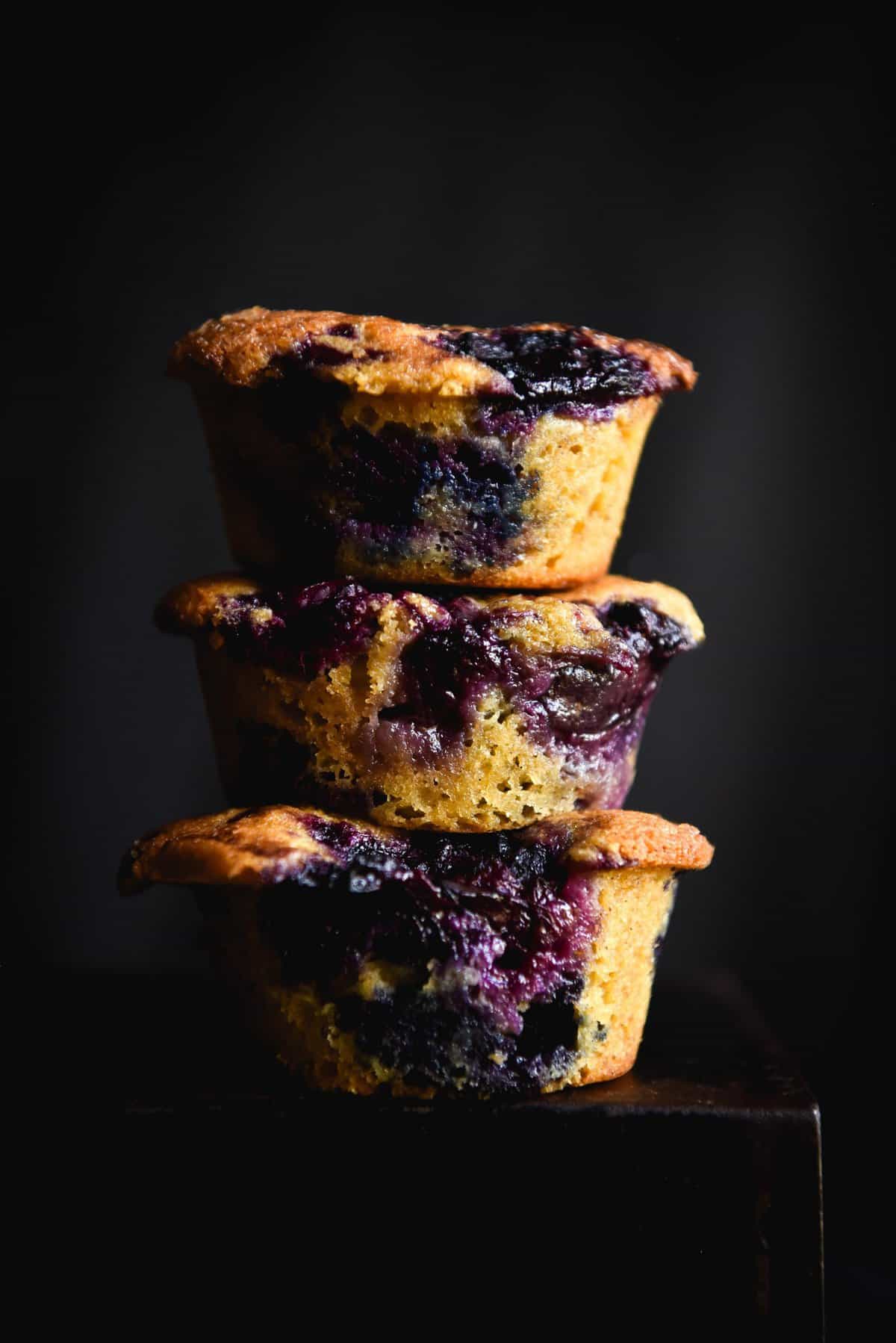 More gluten free egg free desserts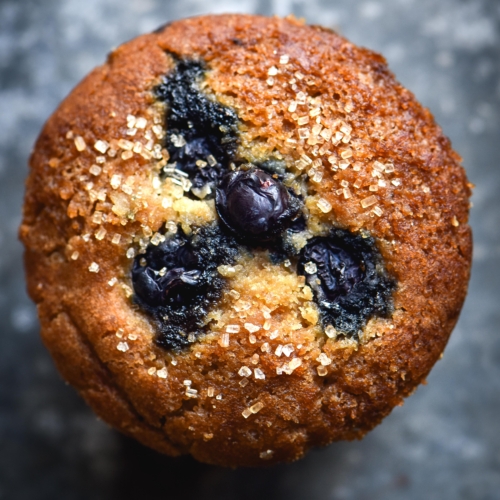 Gluten free egg free muffins
Nut free, xanthan gum free option, egg free, vegan option
Makes 10-12 muffins
*Cups and measures are in Australian cups and measures. Use gram weights for international accuracy
Equipment
12 hole muffin tin with 7cm (w) x 4cm (h) holes (roughly 80ml or 1/3 cup capacity)
Ingredients
310ml

(1 1/4 cup)*

milk of choice (+ an extra 60ml in case you need it)

20ml

(1 tablespoon)*

apple cider vinegar or lemon juice

320

g

(2 cups)* white rice flour

4g

(1 teaspoon)

baking powder

6g

(1 teaspoon)

baking soda

2.5g

(1 teaspoon)

psyllium husk (optional, see notes)

1g

(1/4 teaspoon)

xanthan gum (optional, see notes)

150

g

thick yoghurt (see notes)

100

g

butter melted (salted or unsalted)

150-200

g

light brown sugar or panela/rapadura sugar (see notes)

150-200

g

add ins of choice
Instructions
Preheat the oven to 200C or 400F. Grease your muffin pan with butter and oil or line the holes with muffin liners. This ensures the delicate muffins won't get stuck to the pan.

In a small bowl, combine the milk and apple cider vinegar or lemon juice. Set it aside to curdle and form buttermilk.

While you're waiting, combine all the dry ingredients in a large mixing bowl.

Now that the buttermilk is ready, add the yoghurt, melted butter and light brown sugar to the buttermilk bowl. Whisk until smooth.

Pour the wet ingredients into the dry ingredients and whisk to combine. The mixture should be about the thickness of a medium consistency yoghurt, and when left for a minute it should become a little bit light and bubbly. If it's thicker than this (keep in mind that flours vary and the optional psyllium/xanthan gum will make the batter thicker) add 60-80ml (1/4 – 1/3 cup) extra milk to reach a medium yoghurt batter consistency.

Add your add ins of choice to the mixture (reserving a few for topping) and use a spatula to gently fold them in. If you're using frozen berries, gently squeeze them to remove excess liquid before adding to the bowl, and only ~just~ combine the batter. If you mix in the berry juice too much you might end up with grey muffins.

Spoon the batter into 10-12 muffin holes (this will depend on the yoghurt you use and the add ins) and top with the remaining add ins. As an option, you can finish the muffins with a sprinkle of finishing sugar.

Place the muffins in the oven for 20-25 minutes or until they are well browned on top and cooked through. Remove them from the oven and allow to cool for 5-10 minutes before very gently removing them from the muffin pan. Allow to cool completely on a baking rack before storing.

These muffins keep really well in an airtight container in the fridge for at least 3-4 days. They can also be frozen and defrosted before eating.
Notes
Psyllium husk powder is optional, but helps give the muffins extra strength and structure. It also helps when you're not using muffin liners. 
Xanthan gum is an optional ingredient to help the add ins stay up in the muffin batter. Without it, they tend to gravitate towards the bottom of the muffin. They are delicious either way, so this is optional.
I find that the yoghurt you use has a bearing on how many muffins you get from a batch. I'm not sure why – it might be to do with the acidity of the yoghurt working to activate the baking the soda. Just something to be aware of.
If your yoghurt is unsweetened and you like sweet muffins, use more sugar. If your yoghurt is sweetened, use 150g sugar. 
Sugar is a wet ingredient, so decreasing the sugar below 150g will result in a drier muffin.