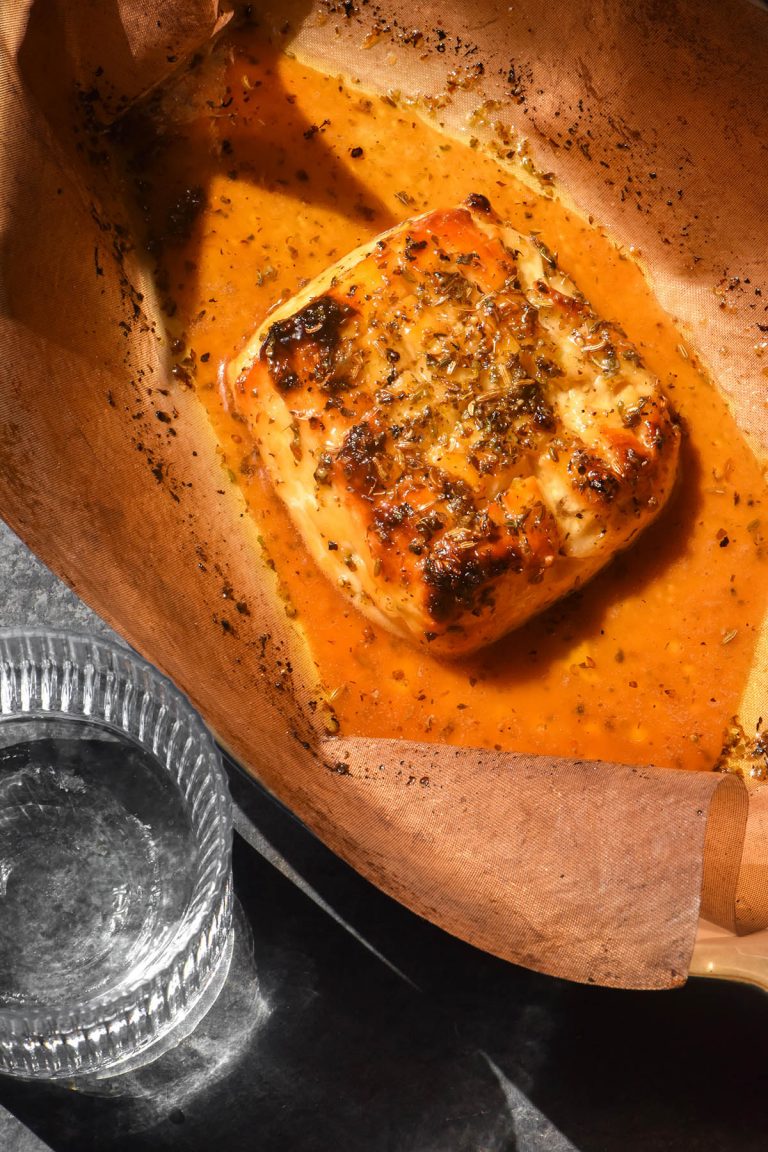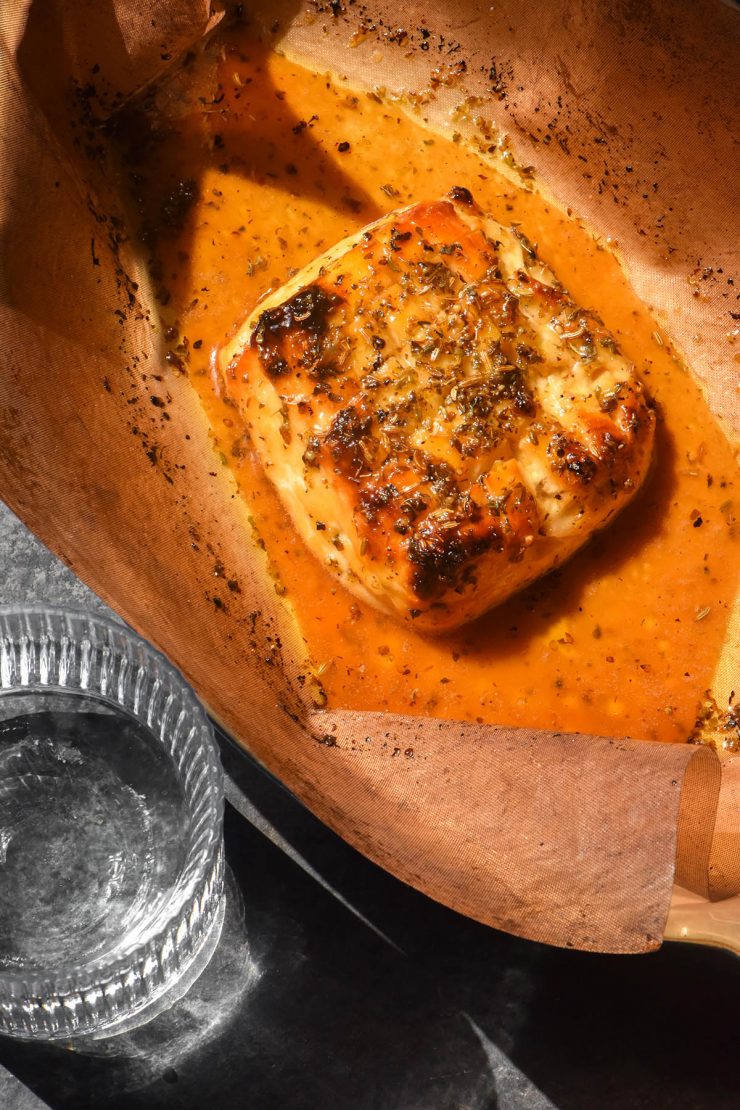 I am a long term halloumi devotee . My Instagram went through a stage of being almost entirely dedicated to halloumi. Through all this, however, I have never posted a recipe for baked haloumi. Today that changes with this delicious baked halloumi with a beautiful and simple maple lemon glaze. Side note: this halloumi recipe is also a haloumi recipe. Apparently the name differentiates haloumi made in Cyprus versus that which is not, but don't quote me on that. I will use the spelling interchangeably, mostly for SEO lol.
Baked halloumi with a maple lemon glaze
This dish uses honey, lemon and garlic infused olive oil for a heavenly yet simple sauce. The dish is not overtly FODMAP friendly, but I will go into moderations that can be made for this purpose.
This halloumi makes a beautiful vegetarian side dish for a holiday table. It is delicious on it's own or in a salad. Although the stovetop is a quicker way to make haloumi, this is still a fun and delicious dish.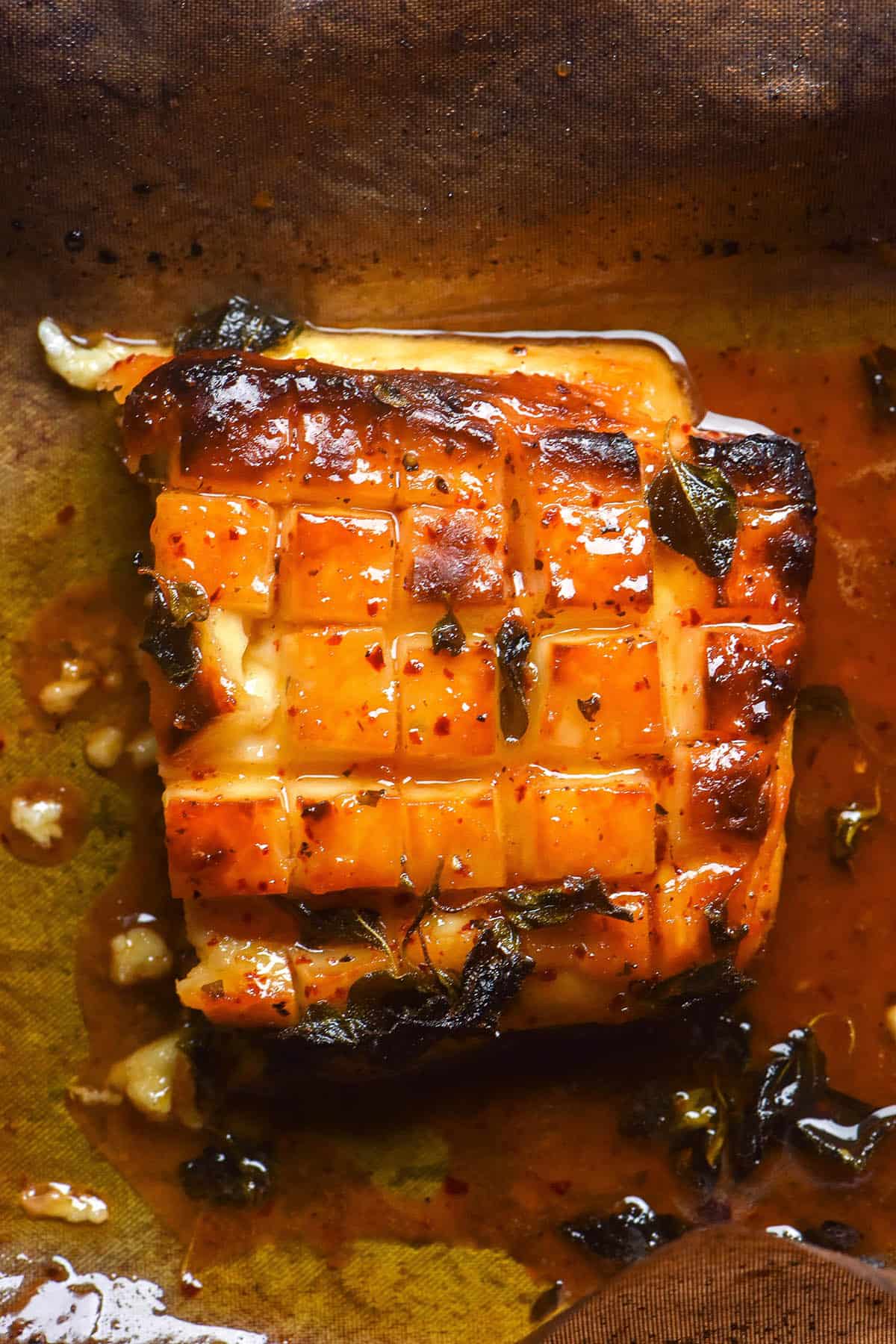 Can you bake haloumi?
Yes, you can. Baked halloumi takes a lot longer to become melty and golden brown like pan fried halloumi. However, it is a great way to utilise the oven if you have other dishes on the stovetop. It also looks gorgeous and makes for a lovely centrepiece side.
Does halloumi melt if you bake it?
No, it doesn't. Baked halloumi becomes gooey and soft for a short period of time, like pan fried halloumi does. The block of halloumi will not melt like mozzarella or brie, however. Halloumi becomes quite firm as it cools, which is why I recommend serving this dish straight from the oven.
Is haloumi vegetarian?
Not all halloumi is vegetarian, as some brands and traditional methods use rennet to set the halloumi. To ensure this dish is vegetarian (if it needs to be) read the label of the halloumi in question to confirm that it does not contain animal rennet. In Australia, some vegetarian halloumi brands include:
Dodoni (my favourite brand to use for this recipe as it comes in a generous thick slab)
Riverina (my favourite brand to use for pan fried halloumi)
Lemnos
Coles brand halloumi
Aphrodite halloumi by Will Studd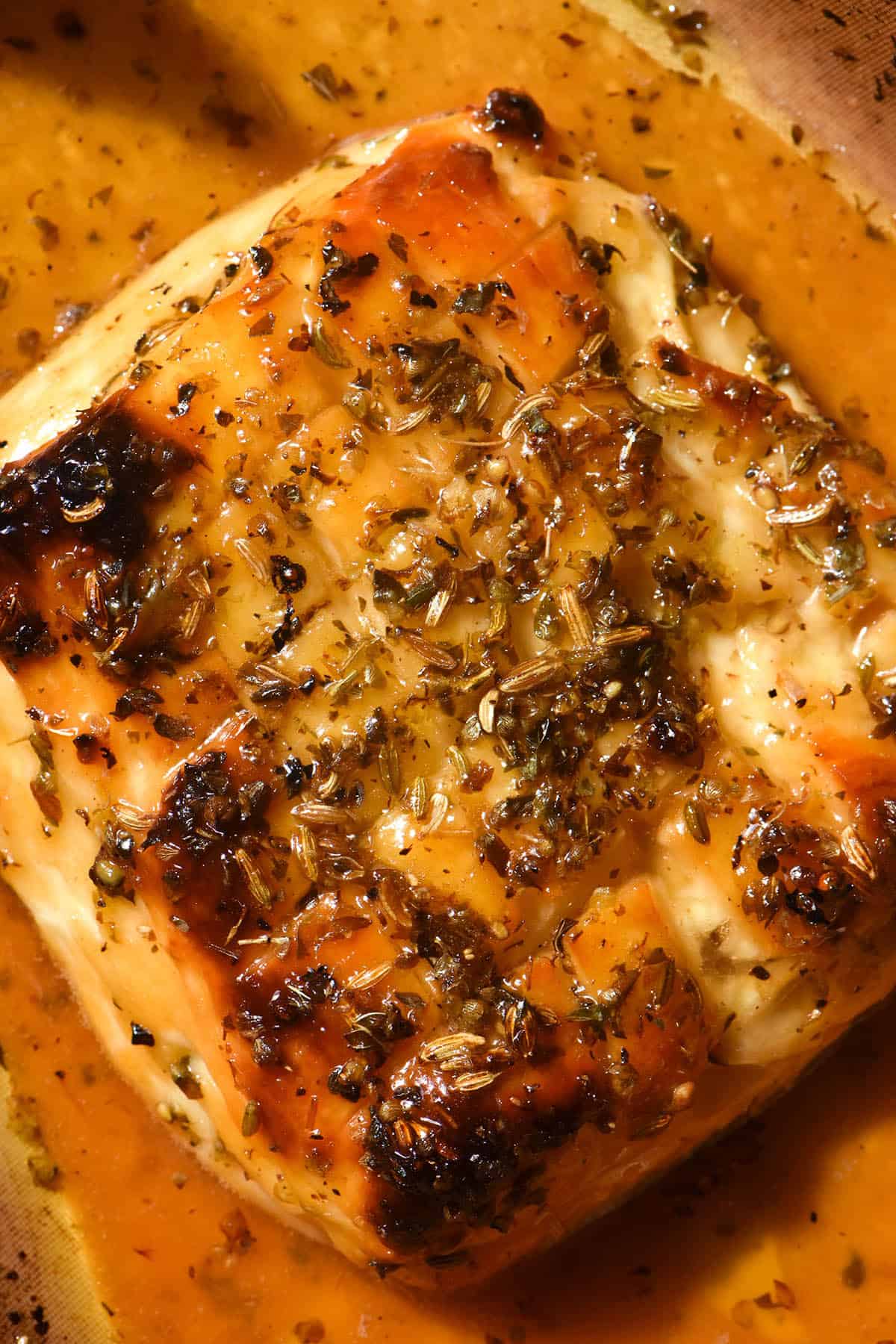 FODMAP notes for your baked halloumi
Monash puts a low FODMAP serve of halloumi at 40g or 2 slices. This is specifically for those who malabsorb lactose. If you're not in that category, you can eat haloumi according to your tolerance. Keep in mind, though, that fat can effect gut motility.
Monash puts a low FODMAP serve of maple syrup at 2 tablespoons per serve. They don't give an upper limit.
So, let's talk options. In terms of the halloumi, you can either divide the haloumi up into appropriate serves, use a different cheese (looking at you, feta) or take a lactase.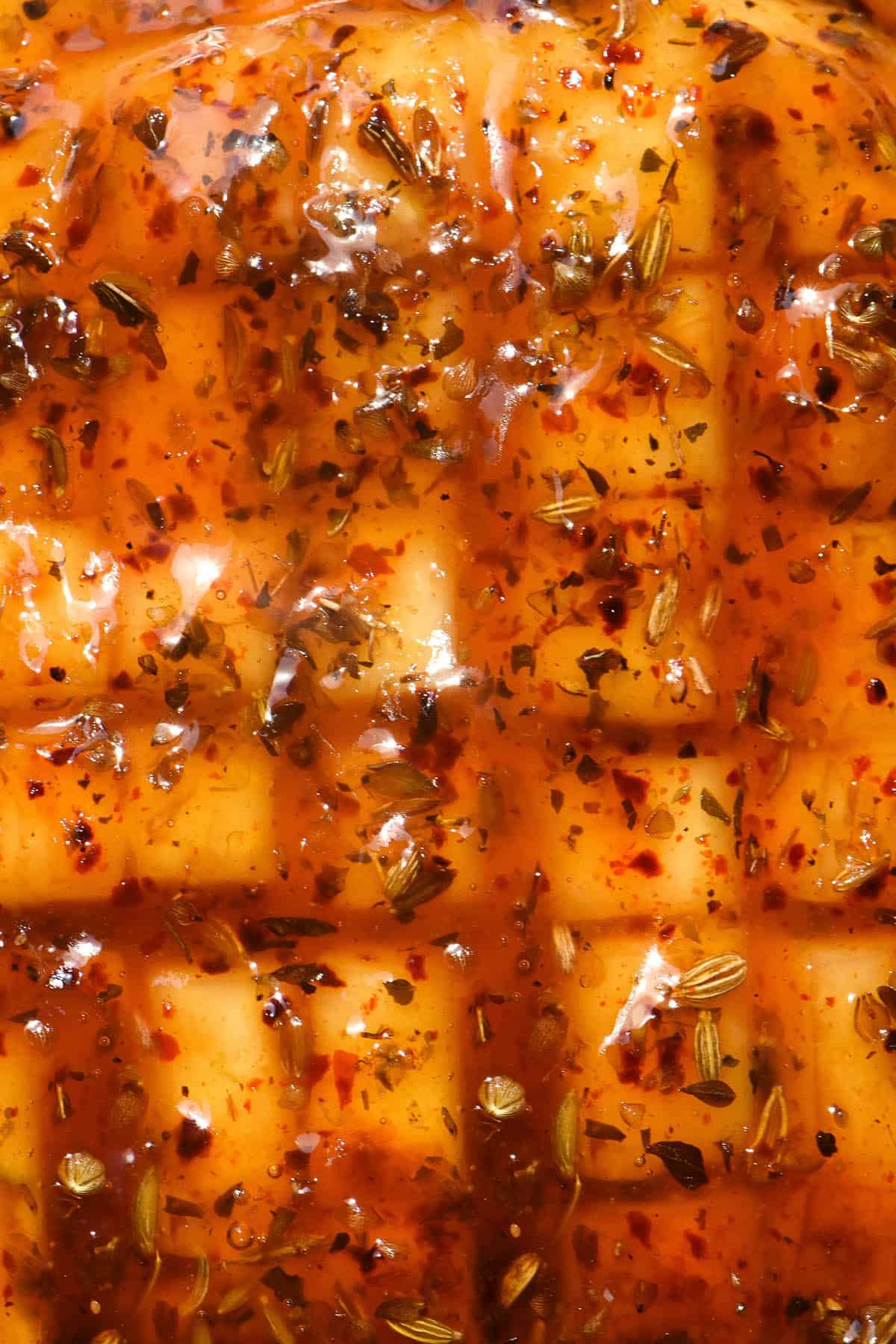 Recipe tips for your baked haloumi
First things first: lemons vary in their acidity and people's tastes vary. If you know you don't like things that are too lemony, use less lemon. If you'd prefer the haloumi not be too sweet, use a little less maple syrup. I would probably recommend adding a little water to compensate for the loss of liquids so that you still have a lovely bubbling sauce.
Secondly, on the note of the maple syrup: sugar caramelises. Make sure you don't turn your oven too high and watch the haloumi closely. Keep in mind that ovens run hot and cold – they are not necessarily tuned in to the temperature the dial says. Nothing worse than ruined haloumi, so make sure to watch it.
I have tested this recipe in a couple of different ways, and both are delicious.
Firstly, you can use the cornstarch in the sauce for a thickened, glaze style of sauce. This is delicious because it really coats and clings to the haloumi. This is the option in the recipe card.
The second option is to omit the cornstarch for a simple thin sauce that doesn't necessarily emulsify but it is still delicious. It would be great poured over salad or a grain like quinoa.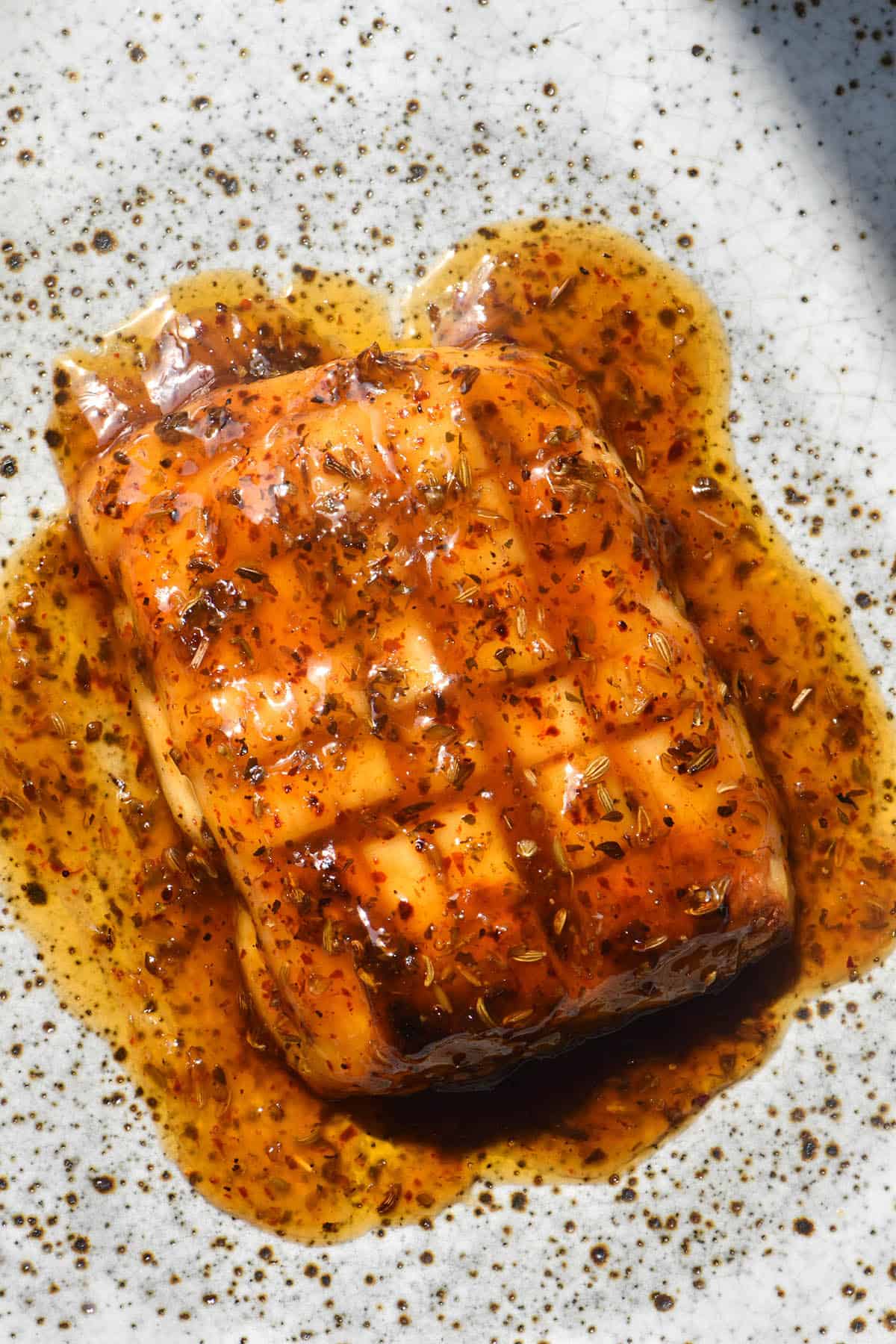 Flavour suggestions for your baked haloumi
There are a number of ways to customise this haloumi to your own tastes. As discussed above, you can use less lemon or less maple to suit. Other things I have tried:
Korean chilli flakes (or any sort of chilli flakes)
Some pickled jalapenos and/or a couple of teaspoons of jalapeno pickling liquid)
Hardy herbs like lemon thyme (they do get very browned but they add nice flavour)
Other dried herbs like basil or rosemary
Smoked oil (my new obsession!)
A couple of drops of liquid smoke
If you have no FODMAP concerns, you could try putting them sliced garlic underneath the haloumi. This way it should hopefully infuse into the haloumi without burning.
If you have no FODMAP concerns, you could try using honey in place of the maple syrup. Watch it carefully to ensure it doesn't burn, and turn the heat down if it starts to get too browned.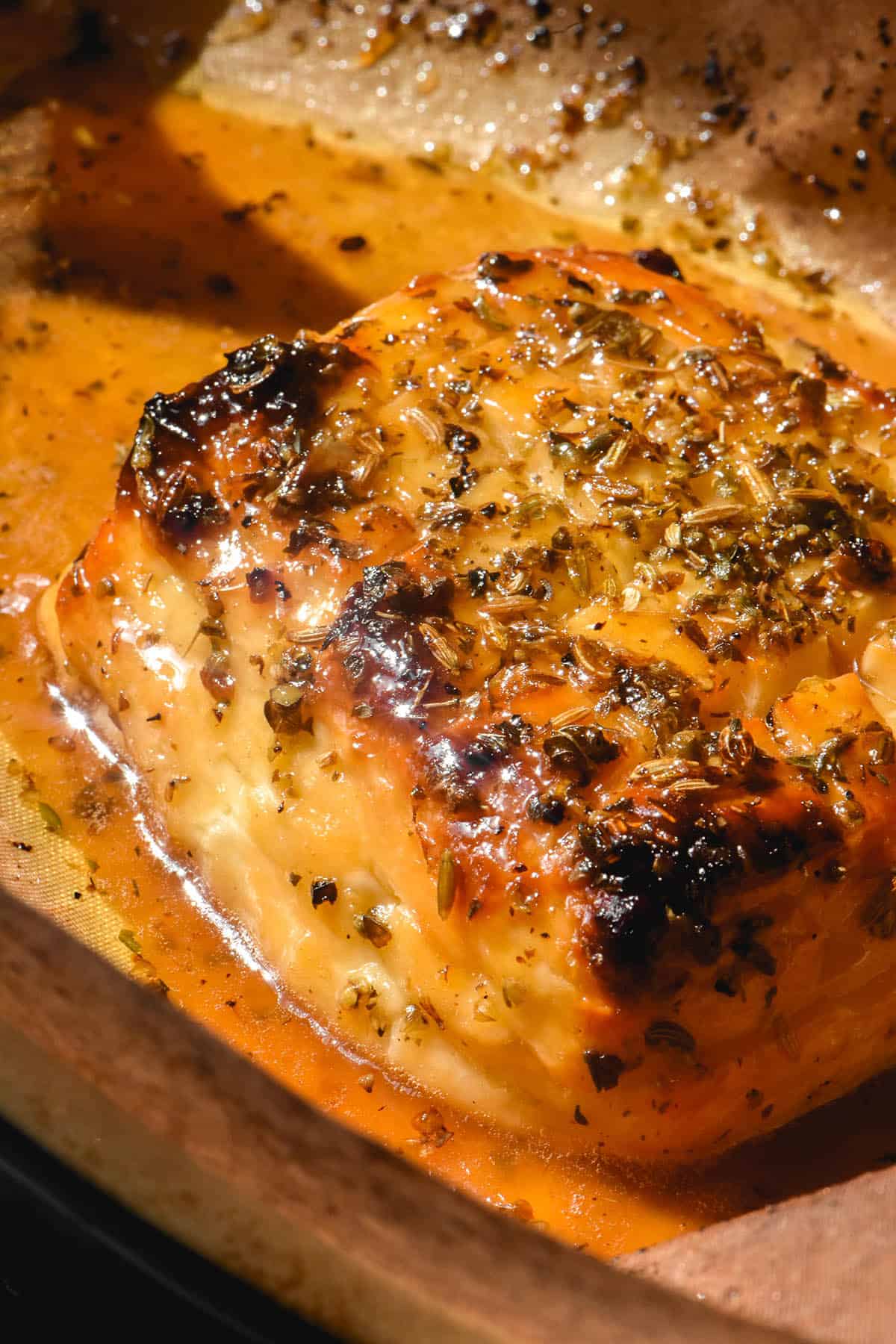 More halloumi recipes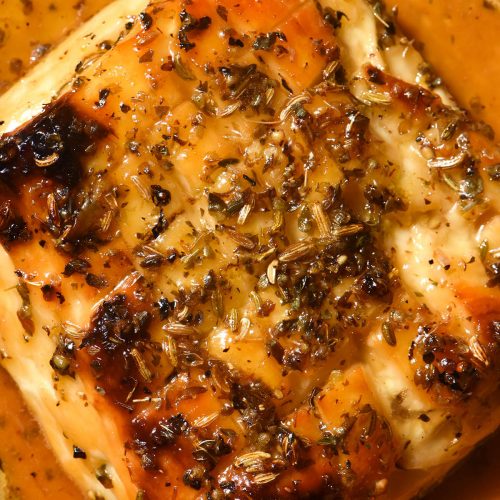 Baked halloumi
Gluten free, low FODMAP in appropriate serving sizes, vegetarian option
Serves 2-4 people as a side dish
*Measures are in Australian tablespoons. Use ml for international accuracy.
1 Australian tablespoon = 4 American, Canadian and New Zealand teaspoons.
1 Australian tablespoon = 3 1/2 British teaspoons  
Ingredients
180-225

g

plain halloumi

see notes

40

ml

(2 tablespoons)* lemon juice

1

teaspoon

cornstarch

40

ml

(2 tablespoons)* maple syrup

20

ml

(1 tablespoon)* garlic infused oil

1/2

– 1 teaspoon dried oregano

1/2

– 1 teaspoon fennel seeds

Freshly cracked pepper

to taste

Chilli flakes

to taste
Instructions
Preheat the oven to 200C/400F.

Line a medium sized baking dish with high edges with baking paper.

Create a little basket or bowl with the paper so that the sauce remains inside the paper and doesn't spill out.

Place the halloumi atop the baking paper in the centre of the dish. Score the halloumi with a sharp knife to allow the sauce to seep into the halloumi.

In a medium bowl, whisk together the lemon juice and corn starch to form a slurry. Add the remaining ingredients and whisk to combine.

Pour the mixture over the halloumi and use a spoon to baste the halloumi with the sauce.

Place the dish in the oven for 15 minutes. Retrieve the halloumi from the oven and baste it with the sauce again. If the halloumi or sauce are looking too browned, adjust the heat as necessary.

Cook the halloumi for another 10 minutes then baste it again. If it needs more colour or the sauce hasn't emulsified, continue cooking in 5 minute increments until the halloumi is golden brown and slightly gooey and the sauce has thickened. Serve while hot.
Notes
In Australia, halloumi comes in 180g-225g packets. Any size within this range is fine.
Not all halloumi is vegetarian. See body of post for brands in Australia that are vegetarian.
See the body of the post for adjusting the flavours according to your tastes.
Keep in mind that lemons vary in acidity. Adjust as necessary.
Halloumi becomes rubbery once cooked and cooled, so for best results eat straight away.
Although I have not tried this, I find potato starch to be the best substitute for corn starch