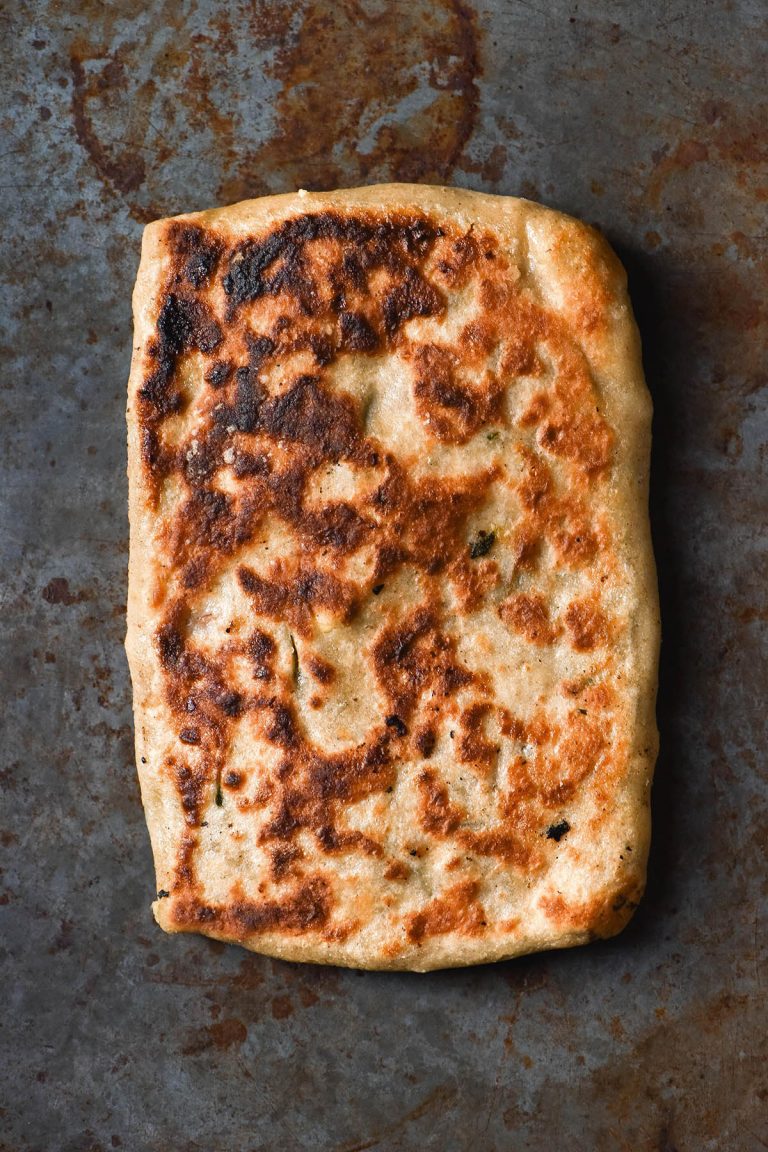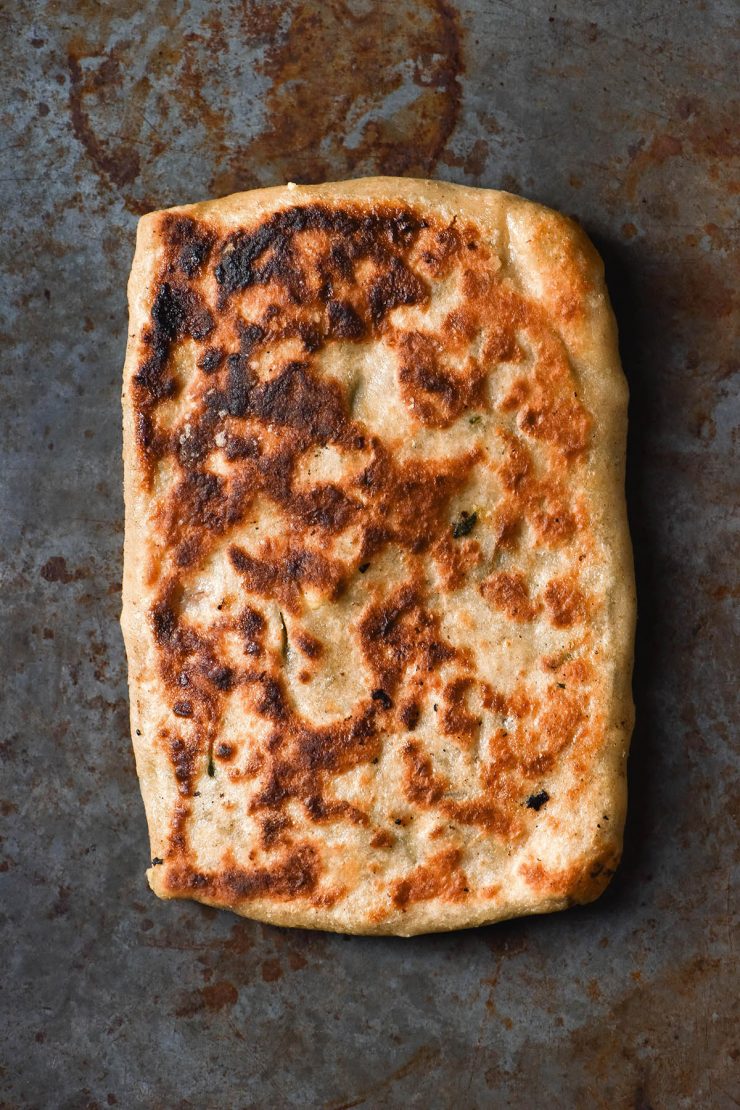 As a university student in Melbourne, I was a regular at the gozleme stand at Victoria market. Delicious, filling and inexpensive, the gozleme was perfect university student food. These days my digestive system no longer accepts wheat, so I set about making my own gluten free gozleme. It's as delicious and filling as I remember (and it's also really easy to make).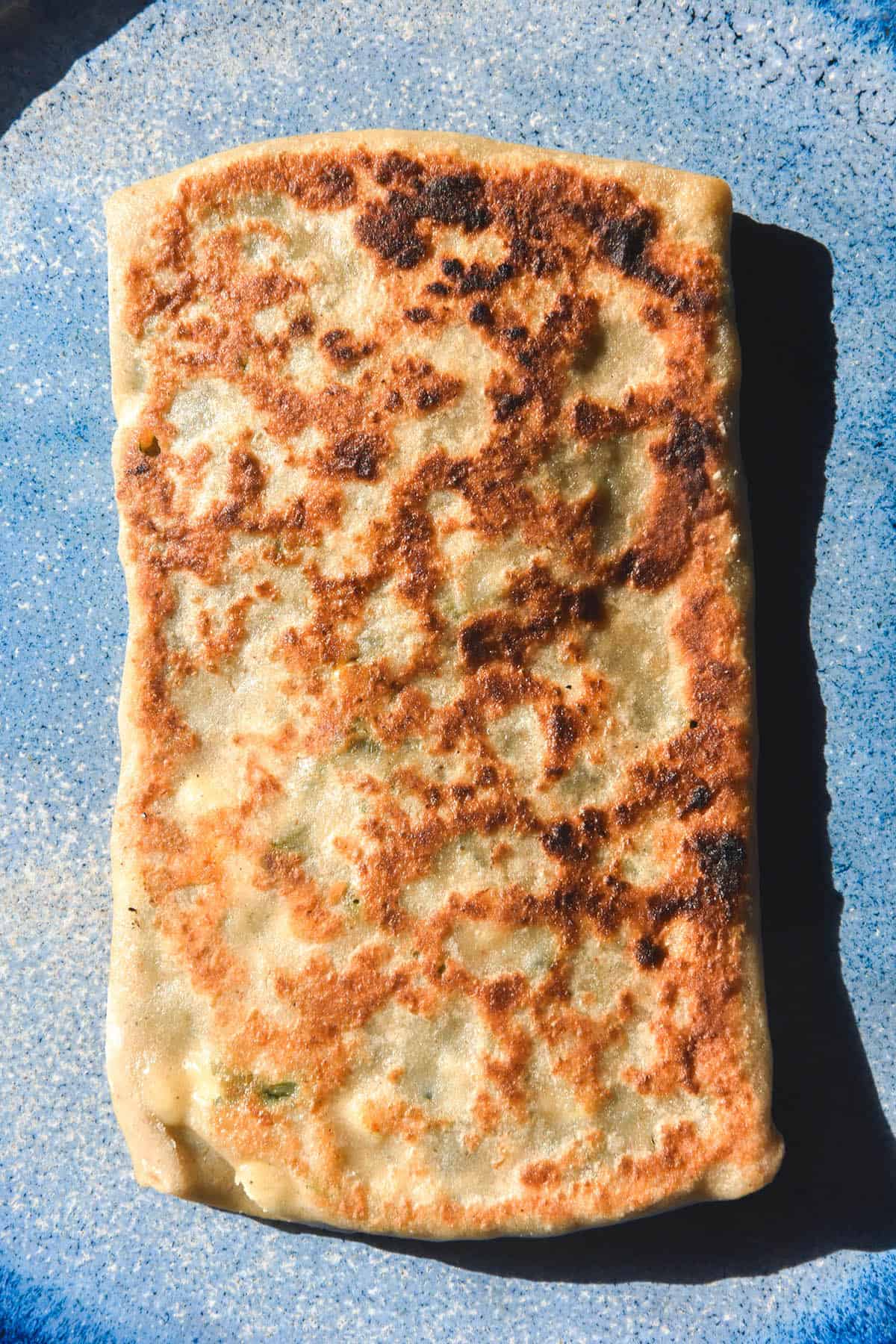 Gluten free gozleme (vegan option)
This gluten free gozleme is made with a simple mixture of white rice flour and tapioca flour. Psyllium husk powder helps bind the dough together, as does a little oil and some yoghurt. Some gozleme dough is yeasted – I chose to keep this recipe yeast free for ease and for those who can't have yeast.
The gluten free dough is xanthan gum free, egg free, nut free and low FODMAP. It can easily be made dairy free (and thus vegan) by using a thick plain coconut yoghurt instead of dairy yoghurt.
And the filling? These gozleme use a simple mix of spinach, feta, spring onion greens and a few other optional bits. I plan to work on more filling recipes, but this one is a delicious option even if you do eat meat. Who can resist the classic spinach feta combination?
FODMAP notes
There are only a few ingredients here that have FODMAP considerations. The first is the yoghurt in the gluten free dough. If you malabsorb lactose, ensure you use a lactose free yoghurt. Not all of them are created equal, and some of them are needlessly runny. I like Jalna lactose free Greek yoghurt (not sponsored, just obsessed).
If you are making these gozleme vegan, a few notes. Vegan yoghurts often contain high FODMAP ingredients like inulin to thicken them. Keep your eyes peeled for inulin or thickeners on the ingredient list. Choose a low FODMAP, plain and thick variety for best results.
The same goes for vegan feta – make sure it uses low FODMAP ingredients.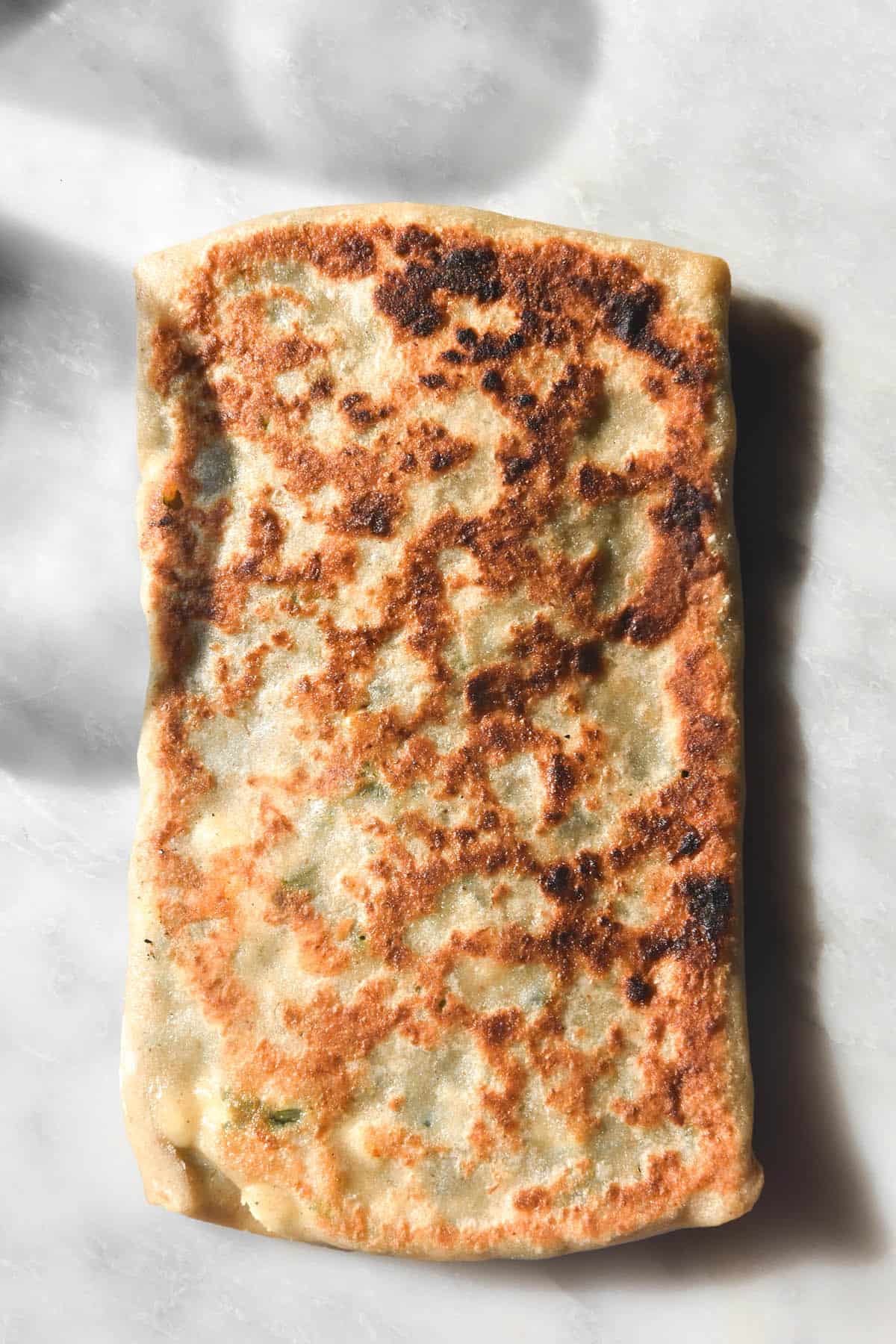 Tips for your gluten free dough
Psyllium husk powder is more absorbent than the flakes. I recommend the powder for these wraps, as it's finer and has less of an impact on the appearance. I grind flakes into a powder using my spice grinder.
Something to keep in mind: a lot of store bought psyllium husk powders can turn baked goods purple or grey (I'm not sure why). I prefer to grind my own to avoid this. It's not dangerous, it's just an aesthetics thing.
How much water you need for this recipe depends on how absorbent your flours are and how thick your yoghurt is. If in doubt, add the lesser amount of water as you can always add more.
I have tested with recipe with thick, full fat, lactose free Greek Yoghurt from Jalna and Nakula coconut yoghurt, which is nice and thick. You can experiment with your preferred dairy free yoghurt, but you might need to adjust the water content to suit (as dairy free yoghurt is generally thinner). Keep in mind that vegan yoghurt often contains gums or nuts (Nakula uses guar gum).
The sugar is for taste and browning. It's not much, so I don't recommend omitting it.
Your dough, after being in the fridge, should be plump and moist, not cracking or dry. Add more water if you need to.
Tips for your gluten free gozleme
Personally, I feel these gozleme are best eaten fresh. They can be reheated, but they tend to be a bit stiffer than when they are freshly cooked.
Make sure you roll the dough as thinly as you possibly can. Thick chunks of this dough are not pleasant to eat. Tapioca flour, a rolling pin and some patience are all you need. When the dough is properly hydrated (that is: not too wet) it is easy to roll very thinly.
Make sure you cook the gozleme until the dough is golden brown and translucent. White sections of the dough are not sufficiently cooked and will taste pasty and raw.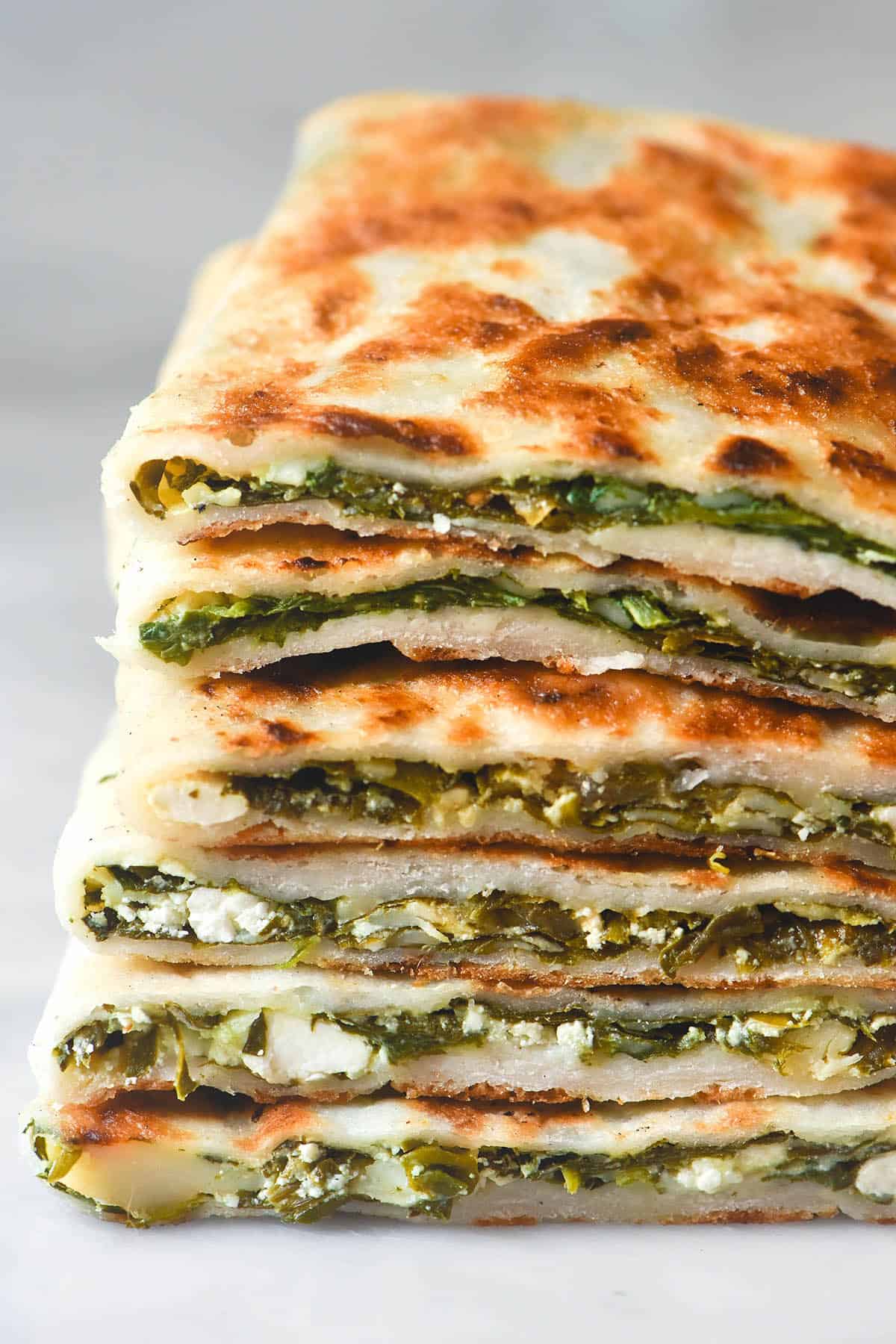 Can I make this gluten free gozleme vegan?
Yes! You can. Because this gozleme dough is egg free, you simply need to substitute the yoghurt with a plant based alternative. I recommend a thick, plain coconut yoghurt.
If you need these gozleme to be 100% gluten free, be aware that oat milk (and thus oat milk yoghurt) is not considered gluten free in Australia. Wheat free yes, gluten free no.
The other thing that needs considering is the feta. I haven't tried many brands of vegan feta so I can't suggest any. Make sure, whichever you choose, that it adheres to any dietaries you have: nut free, low FODMAP, etc.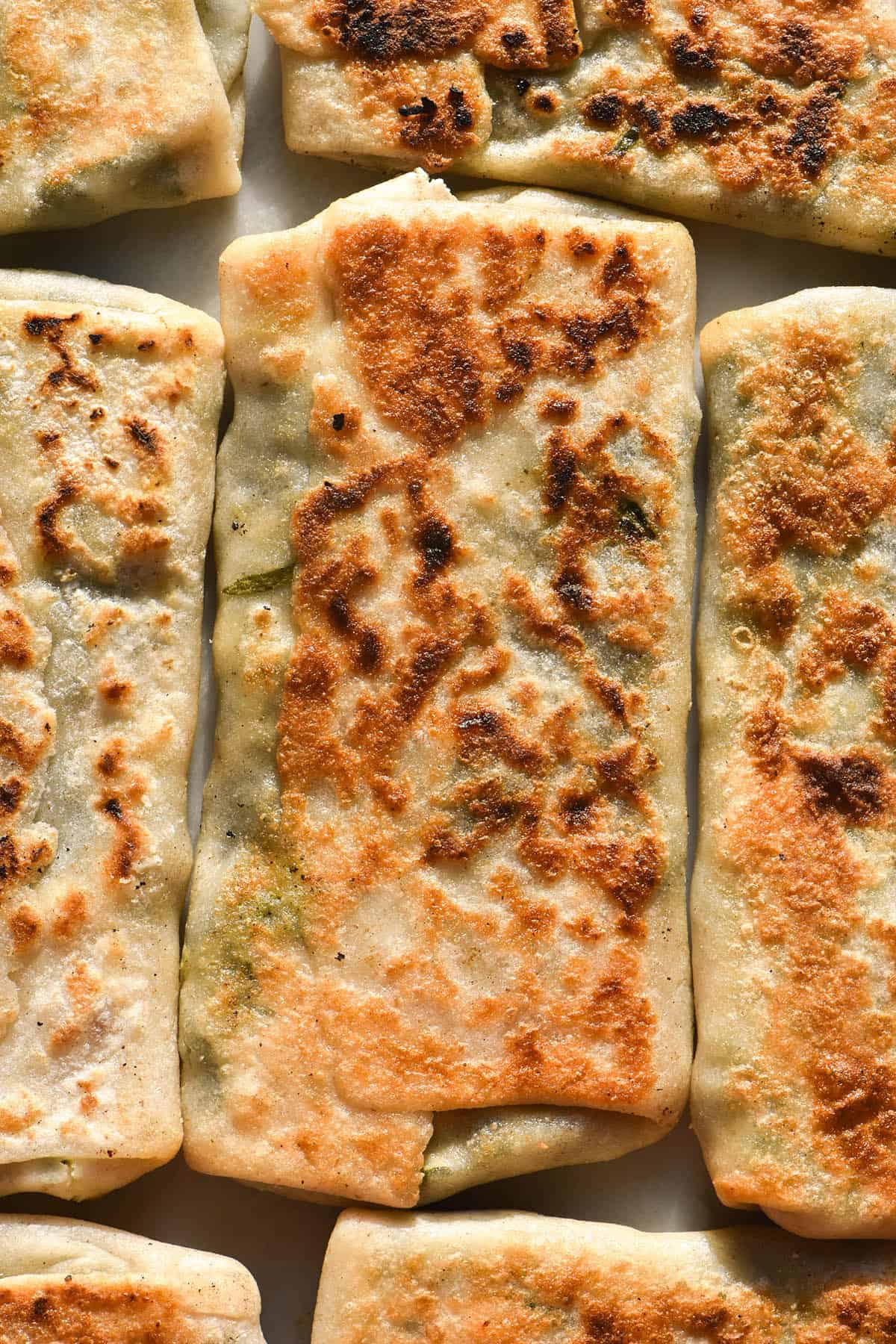 Can I make this gluten free gozleme with something other than white rice flour?
I have successfully tested this recipe with buckwheat flour and tapioca flour as opposed to the white rice flour and tapioca flour. I found the dough to be a little more fragile but still easy to roll.
One thing to note is that the buckwheat flour will need 60-80ml (1/4 Australian cup to 1/3 Australian cup) less liquid than the white rice flour version. Other than that, the recipe is the same: use buckwheat in the same quantity as white rice flour and keep the tapioca quantity the same.
For those who may not be familiar with buckwheat: it has a unique nutty taste. It's not for everyone, so if you haven't tried it you might prefer to stick to the white rice flour.
Anecdotally, I found that the buckwheat and tapioca version stayed softer the next day than the white rice flour version. If you plan to make these a day ahead, consider using the buckwheat option.
I have also tested a buckwheat and potato starch version which worked well.
I haven't tested any other starches or wholegrain flours here. If I test any other flours I'll be sure to add them to the post.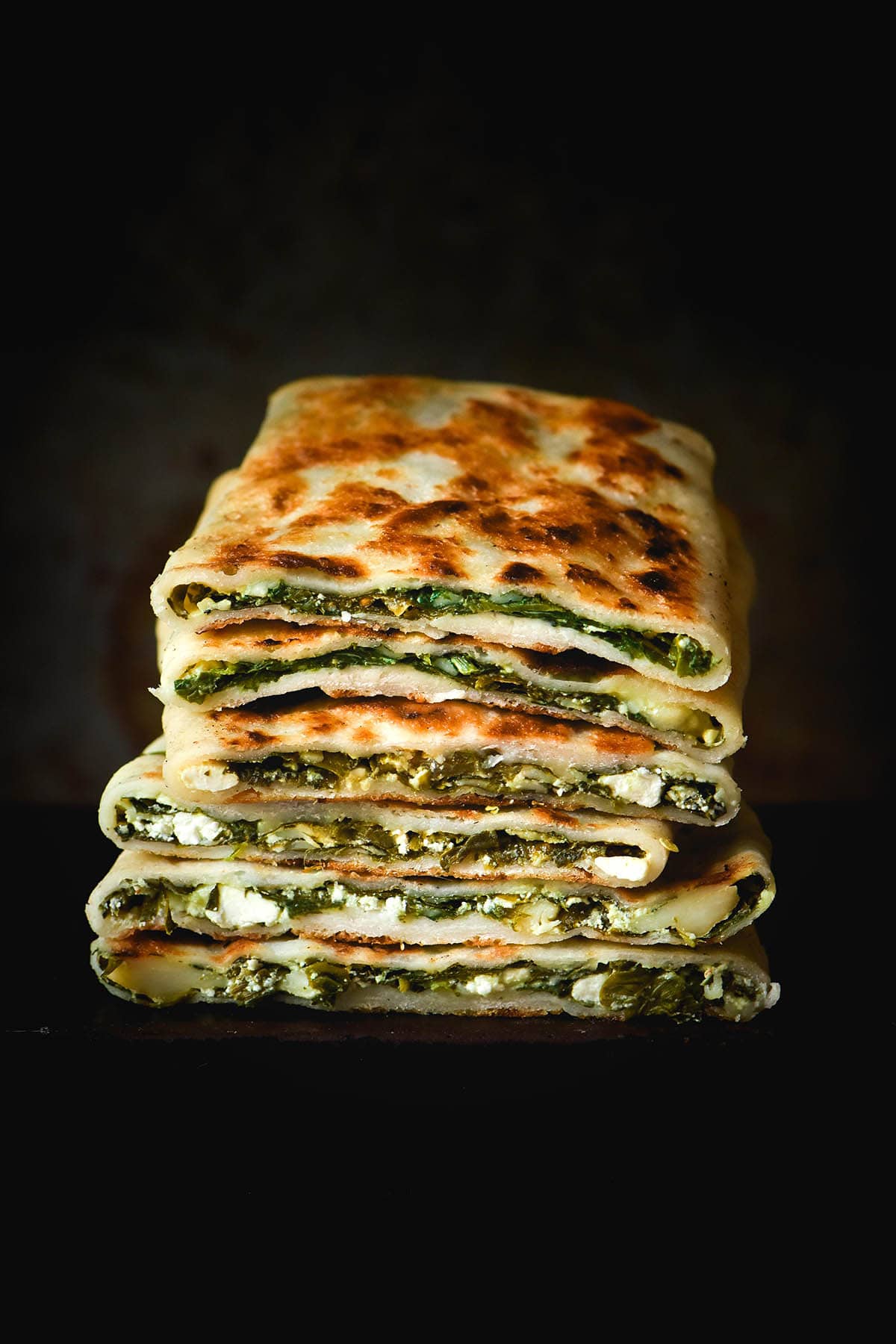 Troubleshooting your gluten free gozleme
If the gozleme dough was thick, raw and pastry, it was not rolled thinly enough or cooked long enough. Make sure you press the corners down as you fold the gozleme to avoid those pastry corners.
If the dough was wet and you had trouble rolling out, too much water was added. Always add liquid to suit the dough, rather than blindly following the recipe. No two bags of flour are the same, and your dough could need more or less liquid than mine.
If the gozleme dough kept breaking, two things: A) it shouldn't matter much once they are cooked but B) try to chop the spinach finely to avoid the pokey parts of the spinach breaking through. It can also help the roll the dough slightly thicker and then press it down firmly after to thin it out.
If the gozleme was watery inside, this is largely down to nature/spinach. As it cooks, the spinach will inevitably release moisture. This isn't much other moisture in the filling. This is why it's important to thoroughly dry the spinach before using it.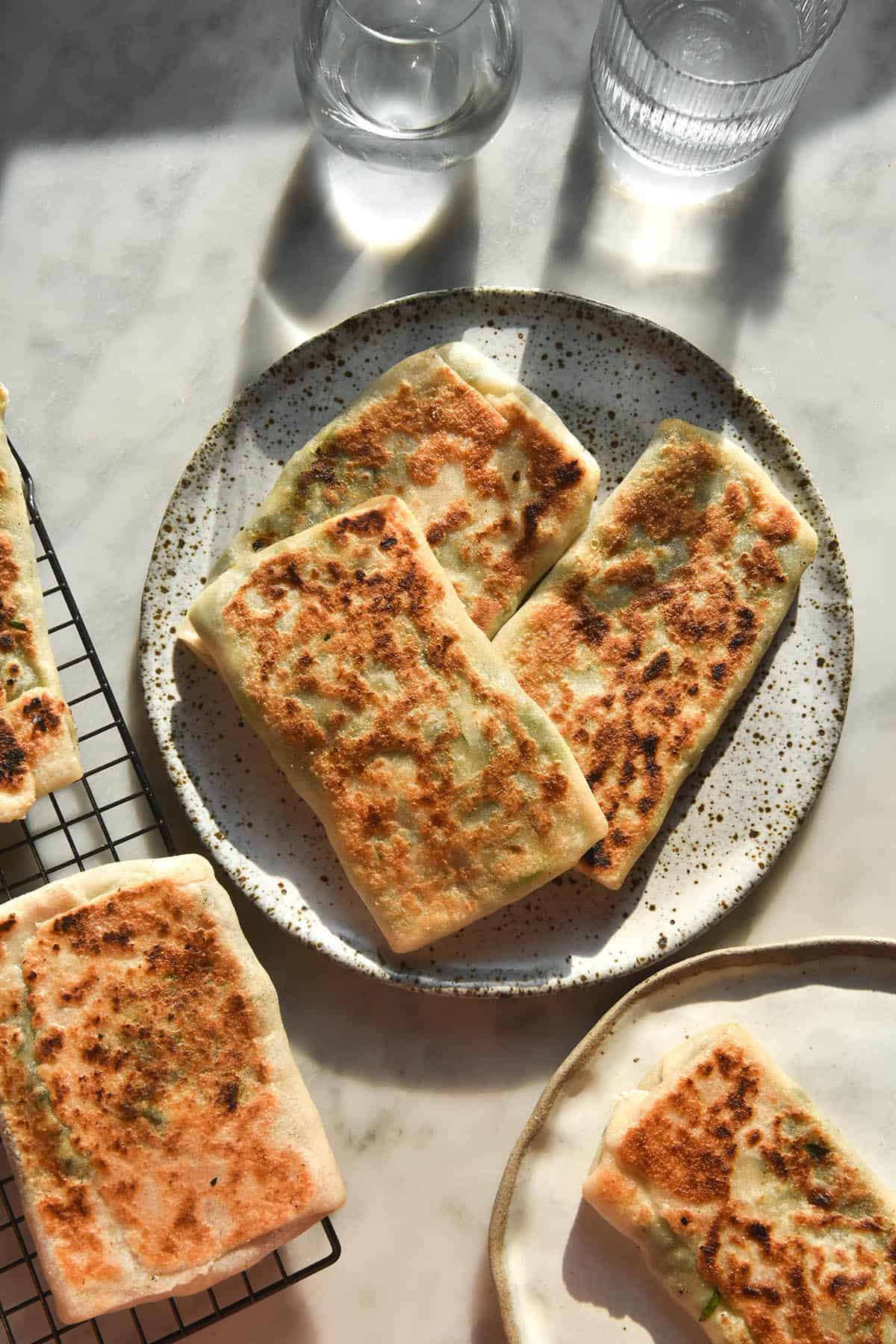 More gluten free recipes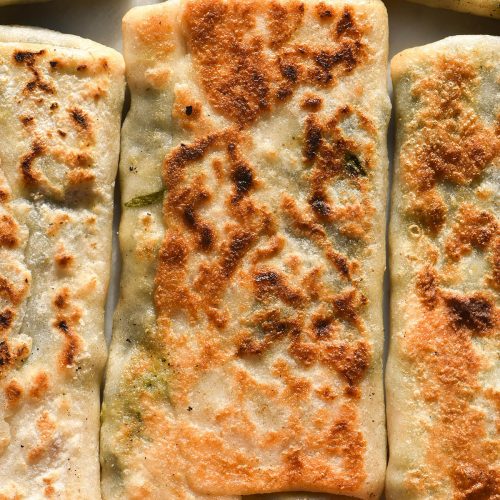 Gluten free gozleme (low FODMAP, vegan option)
Xanthan gum free, nut free, vegan option
*Cups and measures are in Australian cups and measures. Use gram and ml for international accuracy.
Ingredients
For the spinach and feta filling:
200

g

fresh spinach

200-300

g

Greek feta (see notes)

20

g

preserved lemon

finely chopped

Freshly cracked pepper
For the dough:
360

g

(2 1/4 cups)* white rice flour (see notes)

90

g

(3/4 cup)* tapioca flour

15

g

psyllium husk powder

7.5

g

– 10g fine salt, according to your taste for salt

5g

(1 teaspoon)

baking powder

10

g

(2 teaspoons) sugar

200

g

thick yoghurt (see notes)

20

ml

(1 tablespoon) oil of choice

250ml

(1 cup)*

boiling water (see notes)
Optional additions to the filling:
1/4

bunch spring onion greens

not whites finely chopped

1/4

bunch herb of choice

finely chopped (I used mint)
Instructions
To make the dough:
Wash and thoroughly dry the spinach for the filling. I like to set it aside to dry off while I mix the dough.

Combine all the ingredients for the dough except for the water in a large mixing bowl. Add half of the water and stir to combine. Once the dough has cooled off a little, get your hands in there to squelch the dough through your fingers. Add more water as necessary (watch your hands) until the dough forms a smooth ball and no dry flour remains on the dough or in the bowl. Flours vary in their absorbency, so only add water to achieve a juicy smooth ball of dough. Use less if you need less and use more if you need more. When you're happy, cover the dough while you make the filling.
To make the filling:
Chop the spinach into smallish pieces so it doesn't pierce through the dough as you roll. Add the spinach to another large mixing bowl along with your remaining filling ingredients. Stir to combine.
To assemble:
Liberally flour a clean, dry work surface with tapioca flour. Fill a small bowl with water and grab a pastry brush.

Divide the dough into 8 even sized balls. Place one on the work space and keep the rest covered.

Roll the dough out into a rectangle that is around 1/2mm thick. Thick pieces of dough are unpleasant to eat, so roll it as thinly as you can without it becoming too thin to move.

Put 1/8th of the filling down the middle of the rectangle, leaving plenty of room on all 4 sides to fold up the gozleme. Paint the dough edges lightly with water.

Fold the short edges (top and bottom if the rectangle is facing you) up over the filling. Press the side sections where dough meets dough down really firmly to thin them out. This will prevent chunky dough corners on your finished gozleme.

Paint the tops of the dough now folded over the filling with a scant amount more water. Finally, fold each long side up over the filling, ensuring these two seams meet and thoroughly encase the filling. Press down with your whole hand gently but firmly to flatten the gozleme. Using your whole hand and gentle pressure will hopefully help minimise tears. Don't worry if a few spring up, though – it won't matter as you fry them.

Place the assembled gozleme on a dry, clean and thoroughly floured section of your work bench and repeat until you have used all the dough and filling.
To cook:
Thoroughly heat a large frypan or skillet over a medium heat. Once really well heated, add 1/2 – 1 teaspoon of oil per gozleme. Add the first gozleme and cook for 1-2 minutes on the first side before flipping. Continue to cook until the gozleme is golden brown translucent. There should be no white or raw looking patches.

Transfer the cooked gozleme to a cooling rack and continue with the remaining gozleme, adding more oil each time.

For best results, I recommend waiting 5-10 minutes for the dough to cool slightly before consuming. Gozleme can be eaten fresh or kept in the fridge for 2-3 days. They also freeze and defrost really well.
Notes
Add feta according to your penchant for saltiness. I like salty things, but I know others don't. 
I have successfully tested using buckwheat flour in place of the white rice flour. The dough needs 60-80ml (1/4 – 1/3 Aus cups) less liquid than what is specified in the recipe. I have found the buckwheat version seems to cook quicker than the white rice flour dough, although this might be anecdotal. I also found the buckwheat version stayed softer the day after baking. 
I have tested regular and lactose free Greek Yoghurt (Jalna brand) and coconut yoghurt for a vegan option. Make sure the brand you choose is thick, unflavoured and doesn't use any high FODMAP ingredients (if you need the gozleme to be low FODMAP).
Add the boiling water according to your dough. As the recipe states, add only enough to make a smooth, juicy ball of dough. Adding too much liquid will mean your dough is a nightmare to roll out and pick up. Adding too little liquid will make for dry and unappealing gozleme.