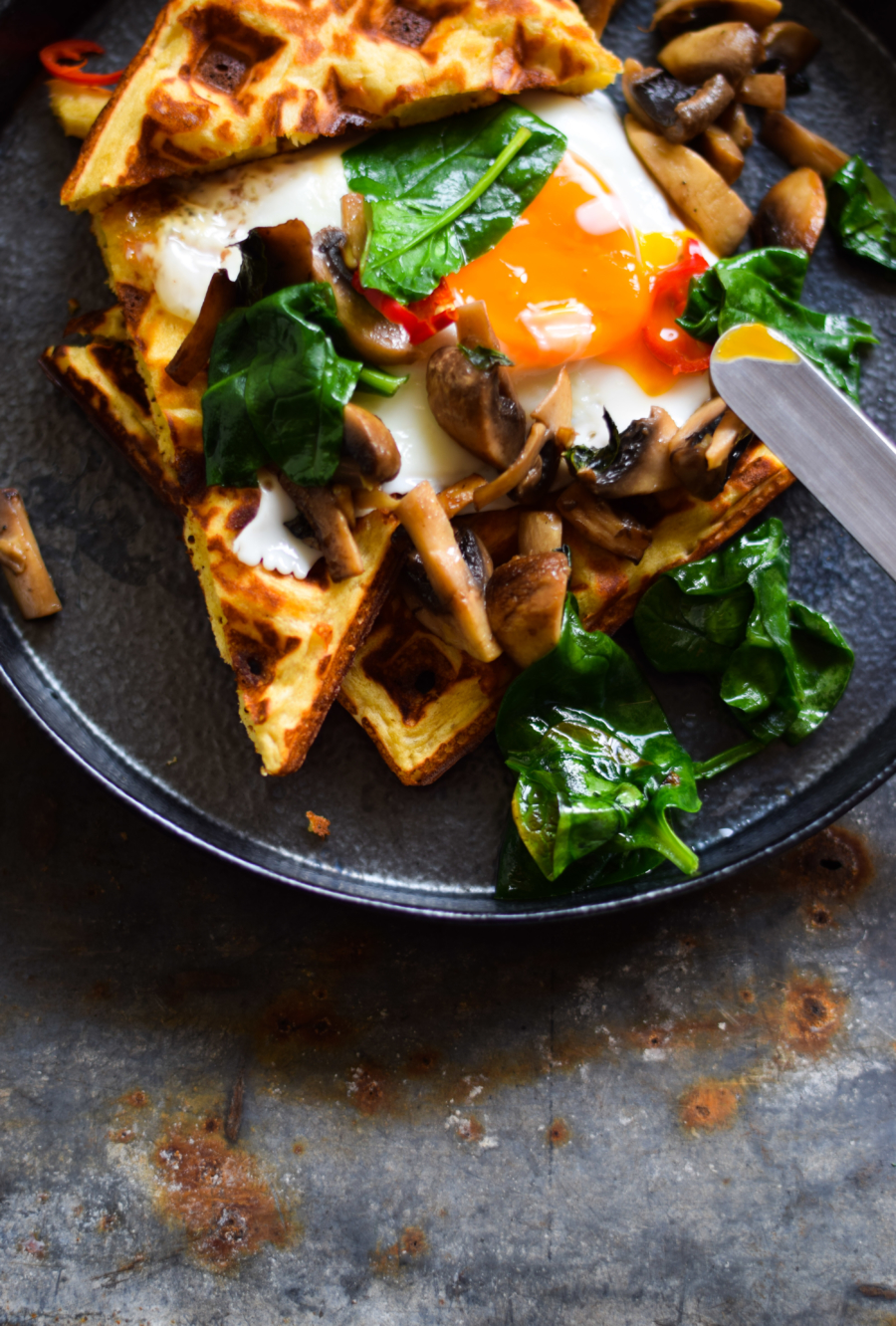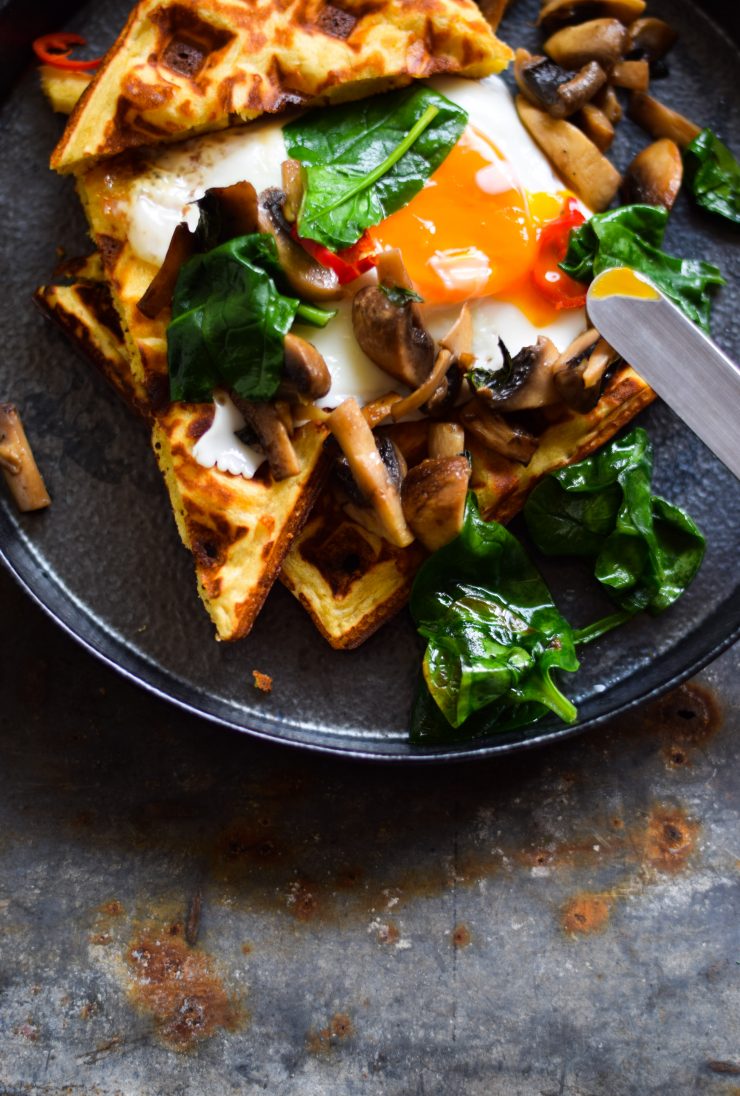 Gluten free cheesy chickpea waffles. In case you hadn't guessed, this is a recipe that was created in another life – back when legumes didn't bother me, and I didn't live and breathe by the FODMAP acronym. Interestingly, I got a lot of requests on Instagram for this recipe when I changed my website over, so here you go. Please enjoy the chickpeas and the chickpea waffles for those of us who can no longer do so.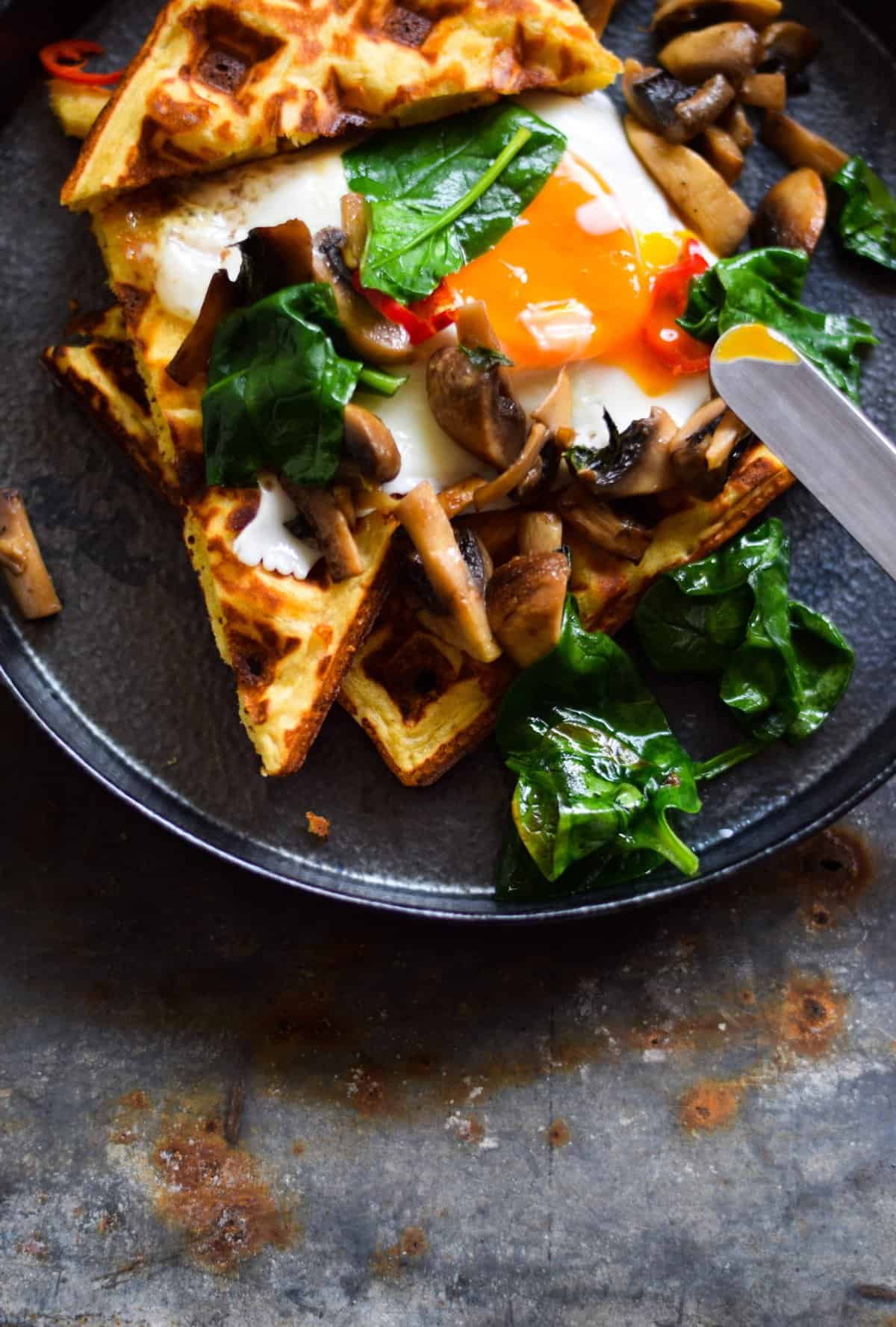 More gluten free breakfast recipes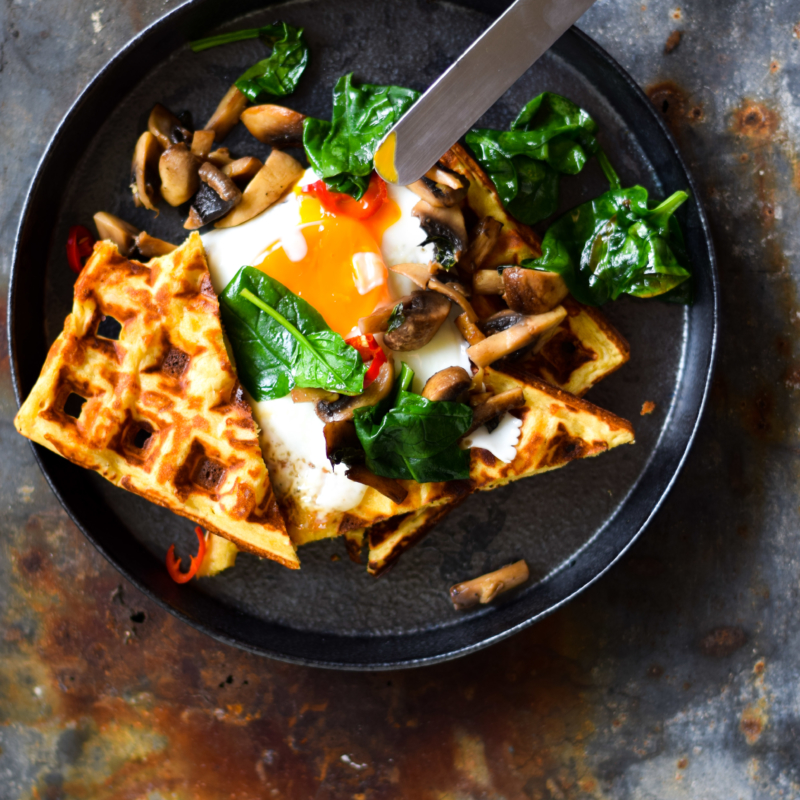 Gluten free cheesy chickpea waffles
Ingredients
FOR THE CHICKPEA WAFFLES:
1/2

cup

chickpea flour

1/2

cup

buckwheat flour

250ml (1

cup)

milk of choice

I used cow

40-50

g

freshly grated parmesan

on the thick side of the grater (we want cheese chunks)

1/2

teaspoon

sea salt

1

tablespoon

olive oil

1

egg

1

teaspoon

baking soda

2

teaspoons

apple cider vinegar
TO FINISH:
200

g

mushrooms

quartered

handful of basil

roughly torn

30

g

butter

50g tastes better but after testing this a few times I thought I better ease up

2

fried eggs

for topping

chilli and wilted spinach

for topping
Instructions
METHOD:

In a large bowl, mix together your chickpea and buckwheat flours, and sea salt. Add the milk, stirring to combine, followed by the egg, olive oil and parmesan. Once you have a nice batter (the only lumps should be those of parmesan) add the baking soda and apple cider vinegar, and stir to combine. Set aside.

On a medium heat, melt your butter and add the mushrooms. Pop a lid on them and allow them to cook for 5-10 minutes, checking them every so often. The aim of the lid is the make them squidgy – I personally despise mushrooms that are squeaky and dry when you bite into them. UGH.

Once your mushrooms are moist (Sorry most suitable word in this instance) add the basil, and pop the lid back on for another five or so minutes.

Time to turn your waffle maker on! Fear not if you do not have one, these do work particularly nicely as pancakes as well. If you are making pancakes, preheat your pan to a medium heat and spray with some olive oil.

While your waffles are cooking, fry 2 eggs, sunny side up, in some coconut oil. Keep your mushrooms warm, as they are nearly ready to be eaten.

Once the waffles/pancakes are ready, assemble yo food. Waffles, topped with mushrooms, topped with fried eggs, topped with a bitta chilli and some wilted spinach. Add some extra parmesan or goats cheese if you are feeling sassy/have gone for a run beforehand/haven't been for a run and just enjoy cheese.