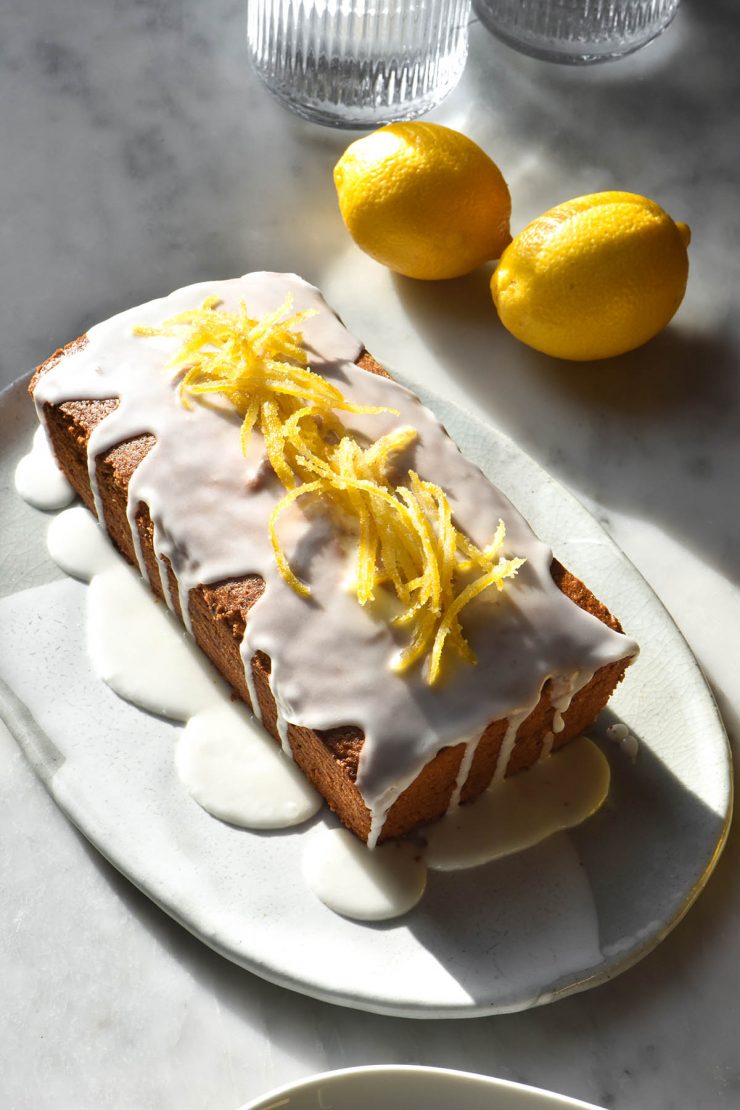 This gluten free lemon poppyseed cake has been a while in the making. Heavily related to my lemon drizzle cake, it's a recipe I've wanted to perfect for a while now. I have an overflowing supply of poppy seeds, so today is the day!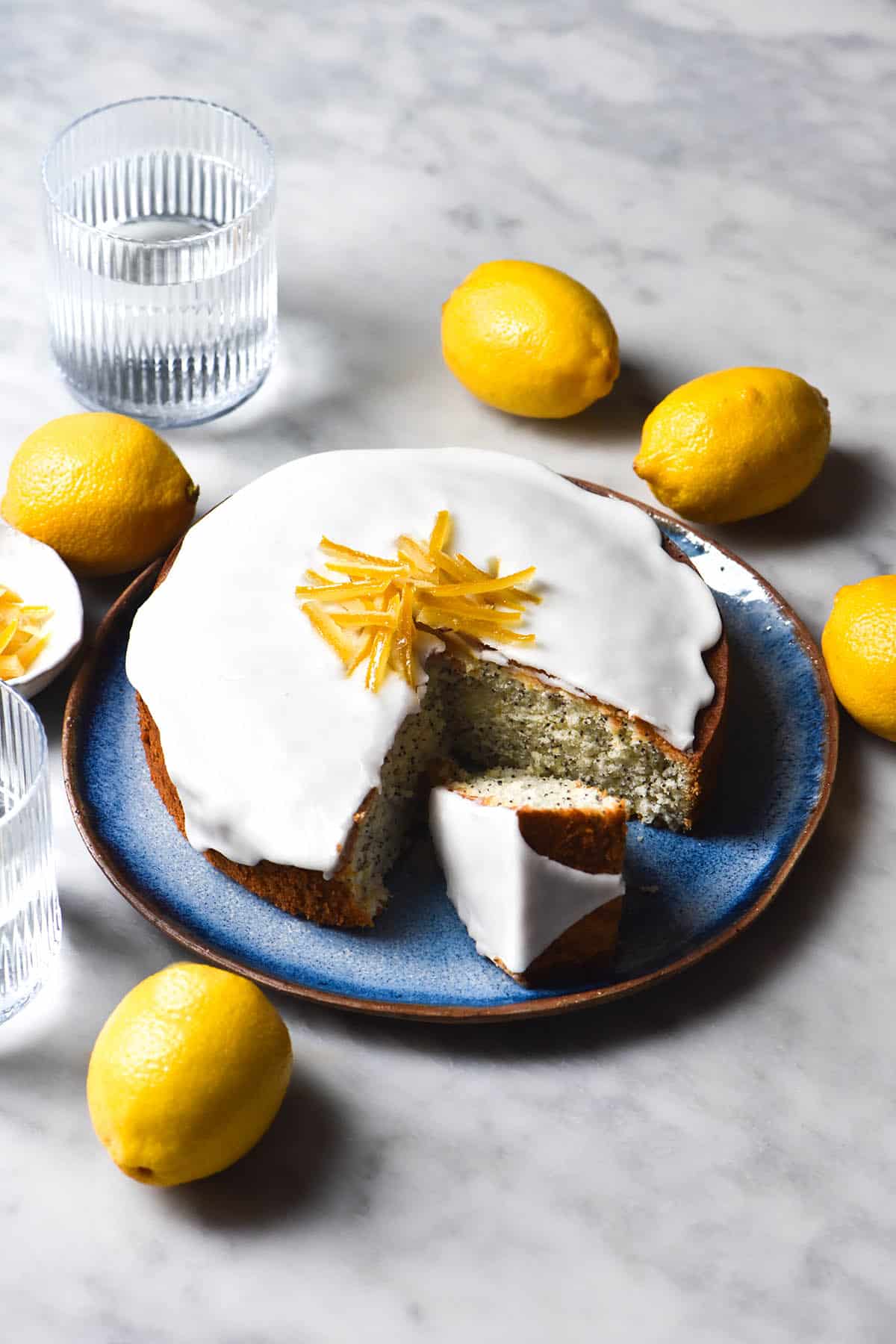 Gluten free lemon poppyseed cake without xanthan gum
This gluten free poppyseed cake uses a simple mix of white rice flour, tapioca flour and almond meal. This combination gives the cake a perfectly chewy, neutral flavoured crumb. The cake is made without xanthan gum or any kind of gums.
This recipe uses oil for a rich, moist crumb. If you'd like to make a gluten free lemon poppyseed cake with oil and butter, see my recipe here. Eggs and baking powder provide elasticity, binding and leavening, while sugar and lemon bring the flavour.
This bright and sugary lemon poppyseed cake is quick and easy to make and will impress even your non gluten free diners.
All in all, the cake is gluten free, xanthan gum free and easily dairy free. There is also an option to make the cake without the almond meal, making it nut free. If you would prefer, there are options below for making this recipe into a gluten free lemon poppyseed loaf.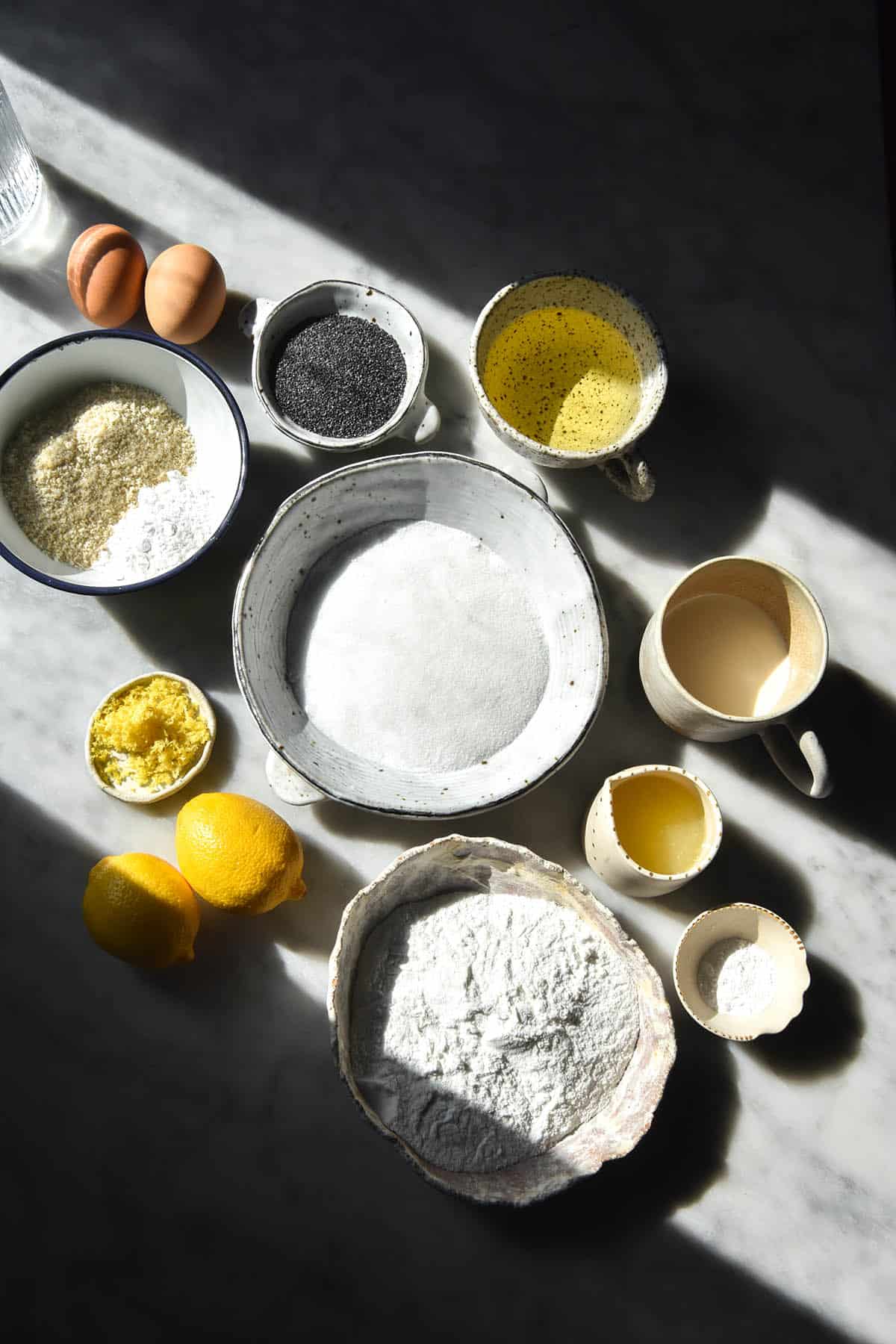 Can I make this gluten free lemon poppyseed cake dairy free?
Yes, you can. Simply use a dairy free milk option! There's no other dairy in the cake or icing, so this is an easy swap. I tend to use soy milk, but I also like Not Milk. You can use any milk you have on hand or that works well for you.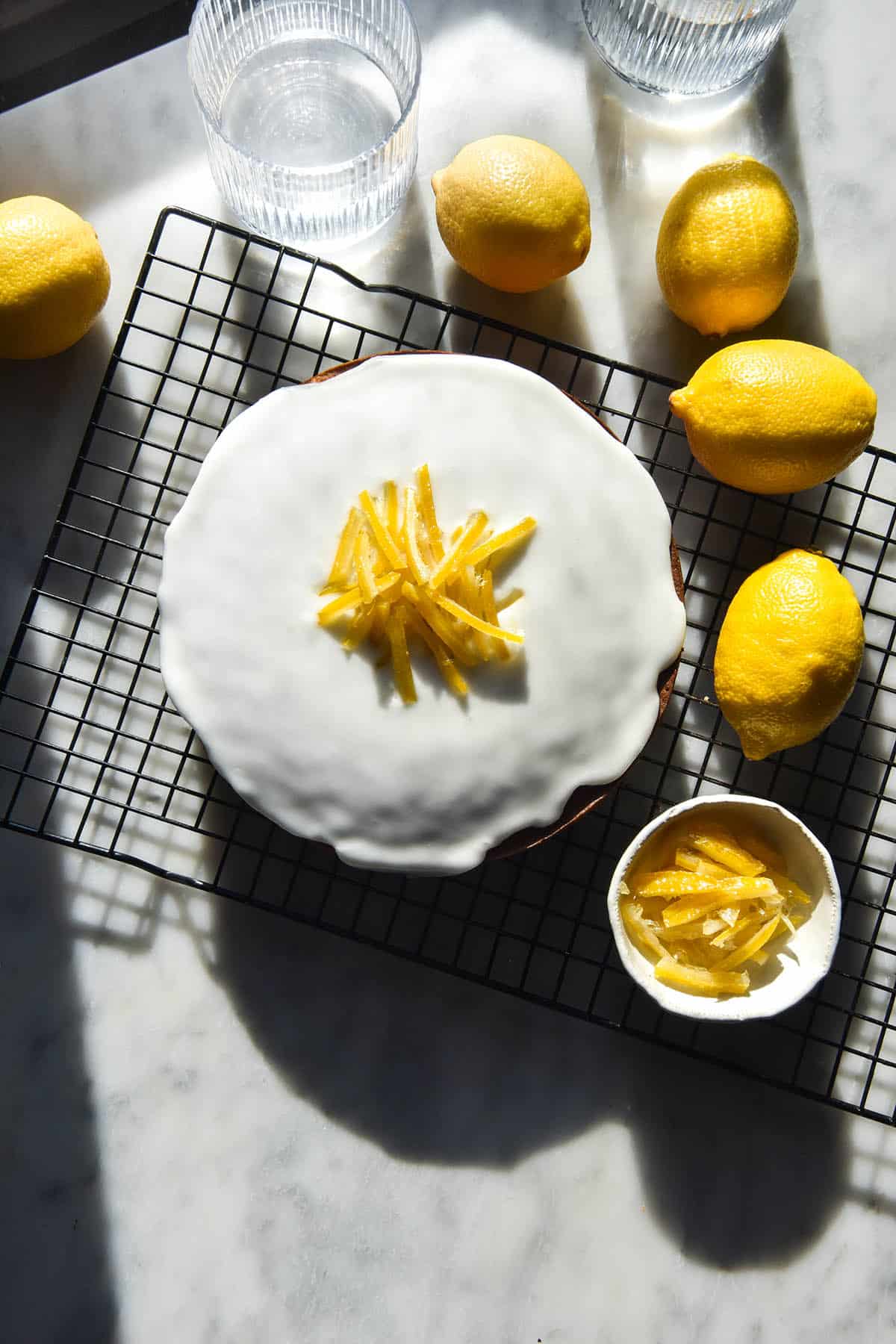 Can I make this cake without almond meal?
Yes. While I love the soft crumb of an almond meal based cake, you can sub it out for nut allergies. Use 25g extra white rice flour and 25g extra tapioca flour in it's place. You might need to add a tablespoon or two more milk to compensate.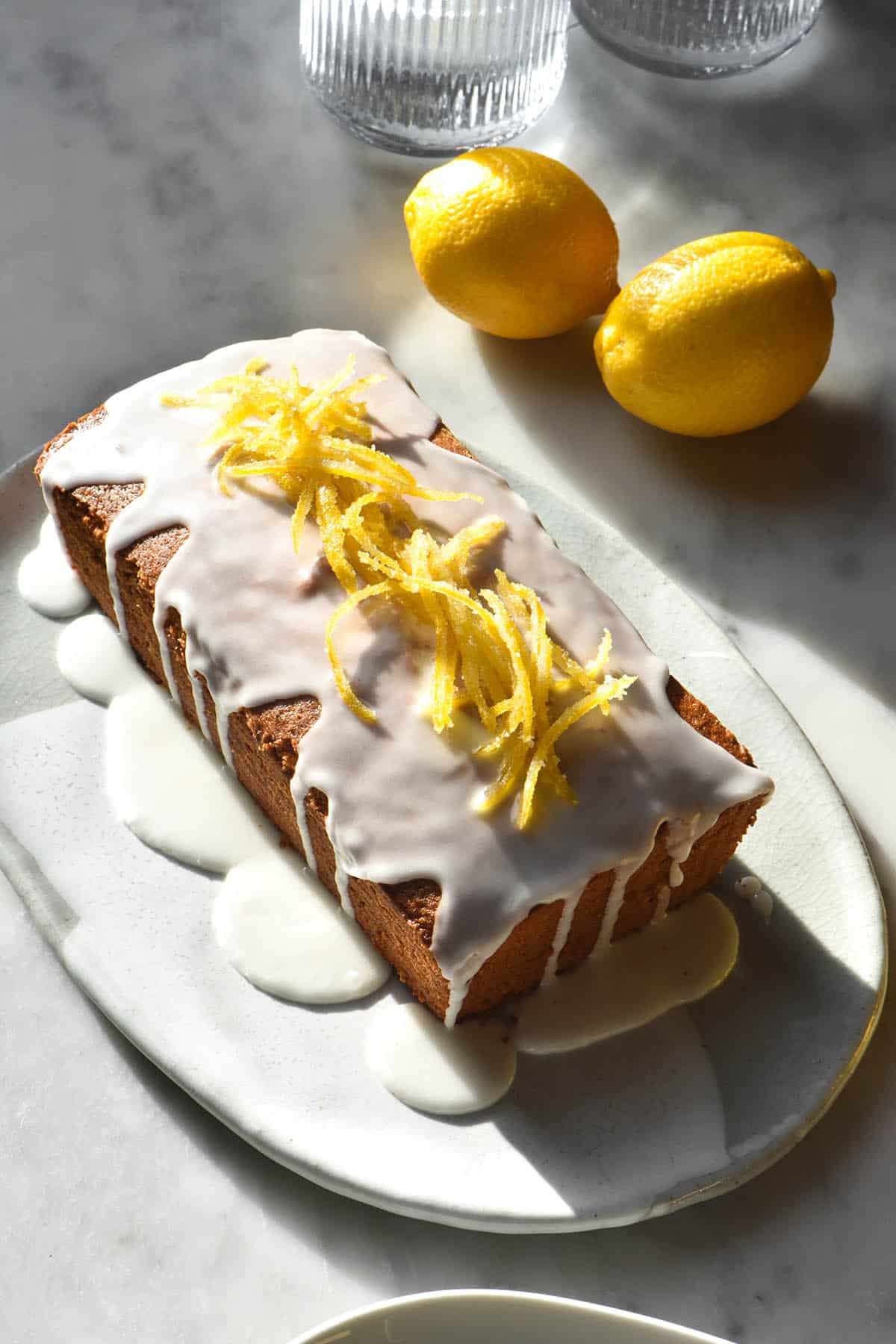 Can I make this cake as a loaf?
Yes, you can. Make the cake as per the recipe, but use a greased 21.5 x 11.5cm (8.5 x 4.5 inch) loaf tin. Cook the loaf for 20-30 minutes before checking for done-ness. Mine have generally taken the full 40 minutes, but this will depend on your oven.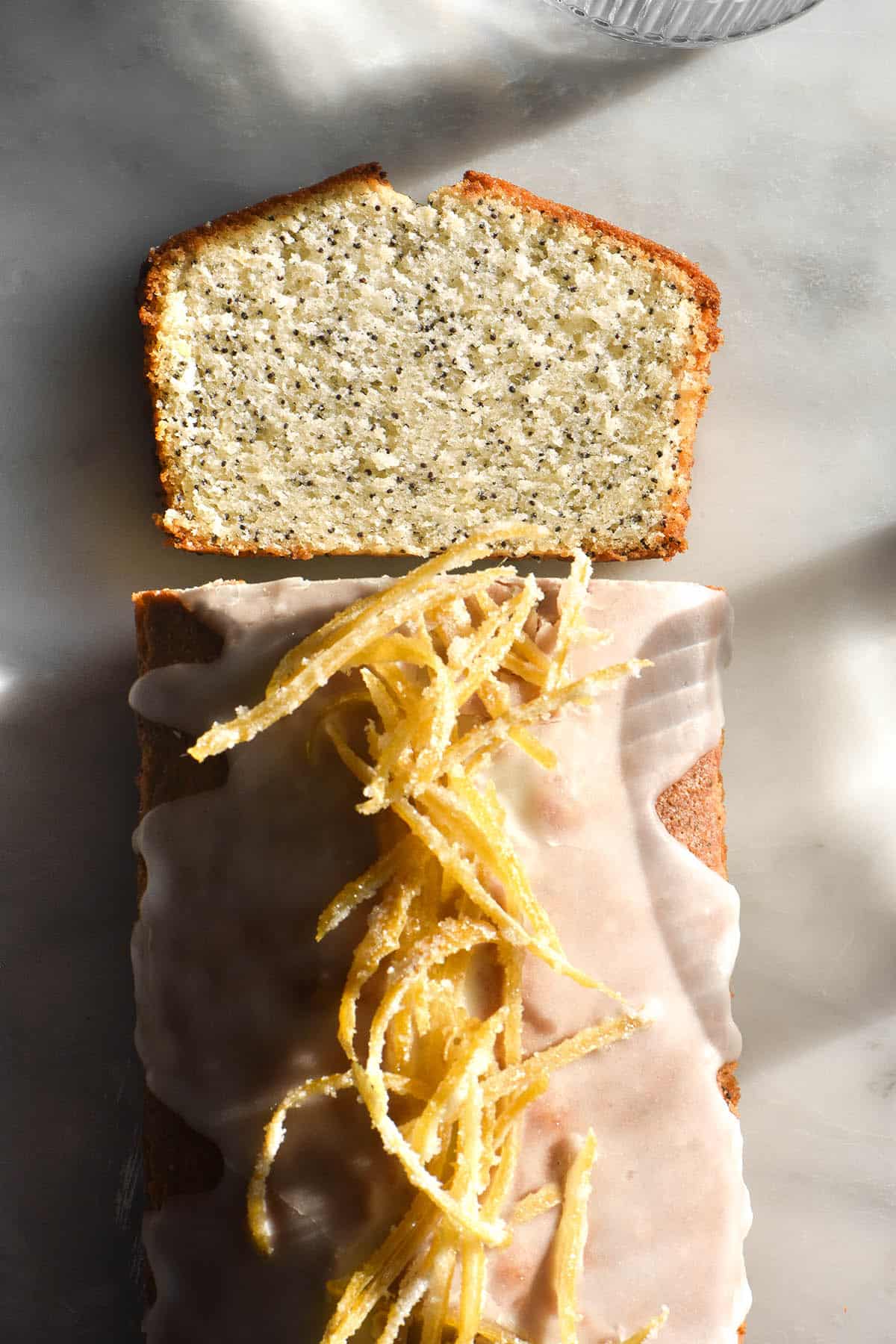 Recipe notes
Fresh and finely milled rice flour is key to using rice flour in gluten free baking. If you can, I find the quality and freshness at bulk food stores to be better than the supermarket brands. For my Australian readers: the rice flour at the supermarket in a red box is WAY too gritty to use in baking. The texture will come through in the cake.
How many lemons you need depends on how juicy the lemons are. It's always easiest to buy more than you think you'll need when it comes to lemons. They have an infinite amount of uses if you buy too many.
Don't combine the lemon juice and the milk. It's best to add them separately to avoid them becoming buttermilk before they go into the cake batter.
This recipe has a slightly higher quantity of sugar than the recipe it was based on (my olive oil cake). Because the cake uses lemon juice and zest, the extra sugar helps keep the flavours balanced.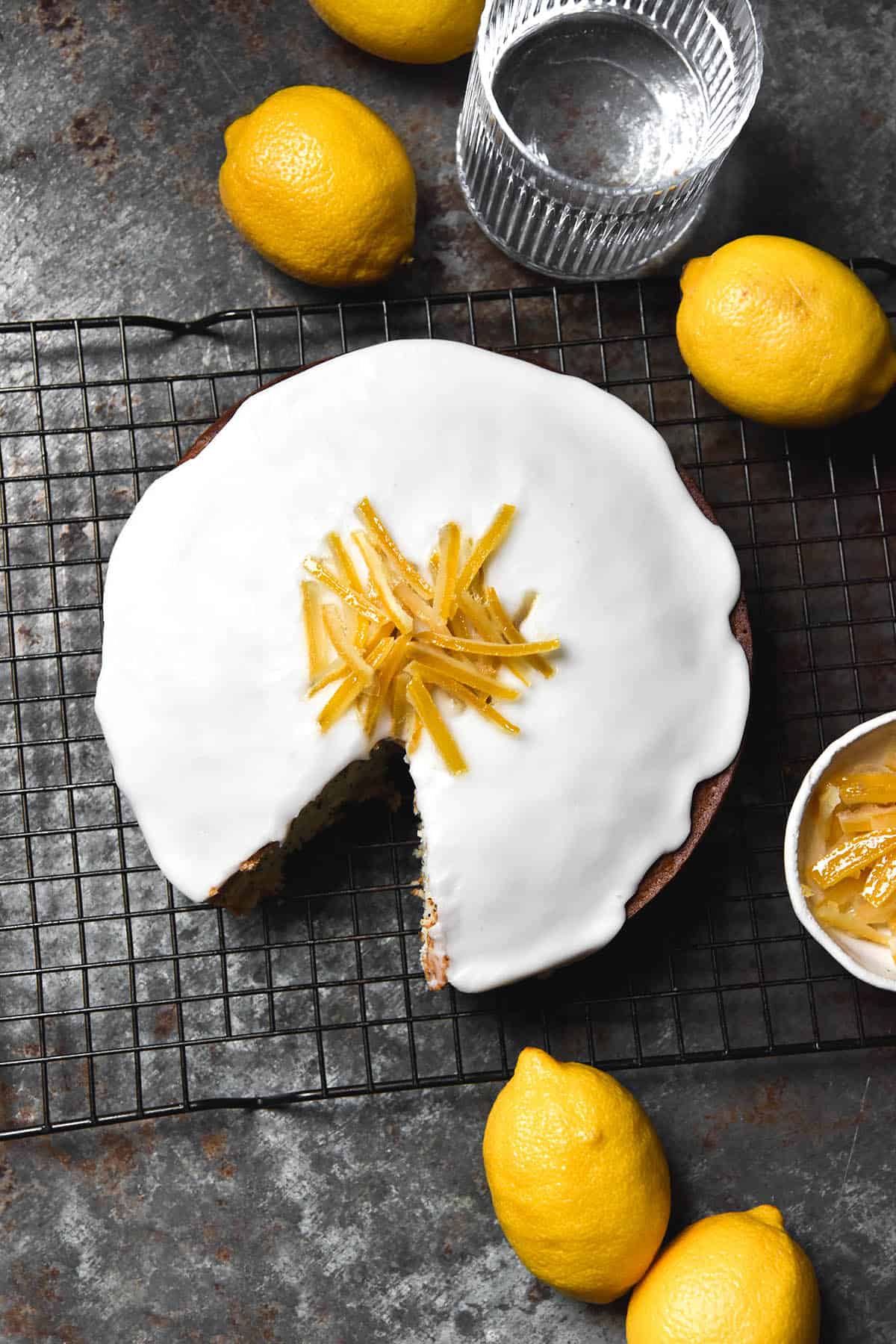 How to make the candied lemon topping
To make candied lemon, use a peeler to peel the lemon zest in long and even strips. Use a sharp knife to slice those strips into thin matchsticks.
Can also also slice the zest of a juiced lemon into strips, but be sure to remove the pith before you candy it. I've done it both ways – the images with thicker strips were from a lemon I sliced after juicing.
Combine 110g (1/2 Australian cup) caster or white sugar and 125ml (1/2 Australian cup) water in a small saucepan. Cook for a couple of minutes until the sugar has dissolved, then add the lemon.
Turn the heat to low, then cook for 10 minutes. Remove the lemon from the syrup and allow to cool a little before use. You can discard the syrup or brush it over the cake when it comes out of the oven for an extra lemon hit.
If you like, you can also toss the candied lemon in some sugar for a different look (see the image below). Wait about 10 minutes or until the lemon has dried off somewhat before tossing in the white sugar.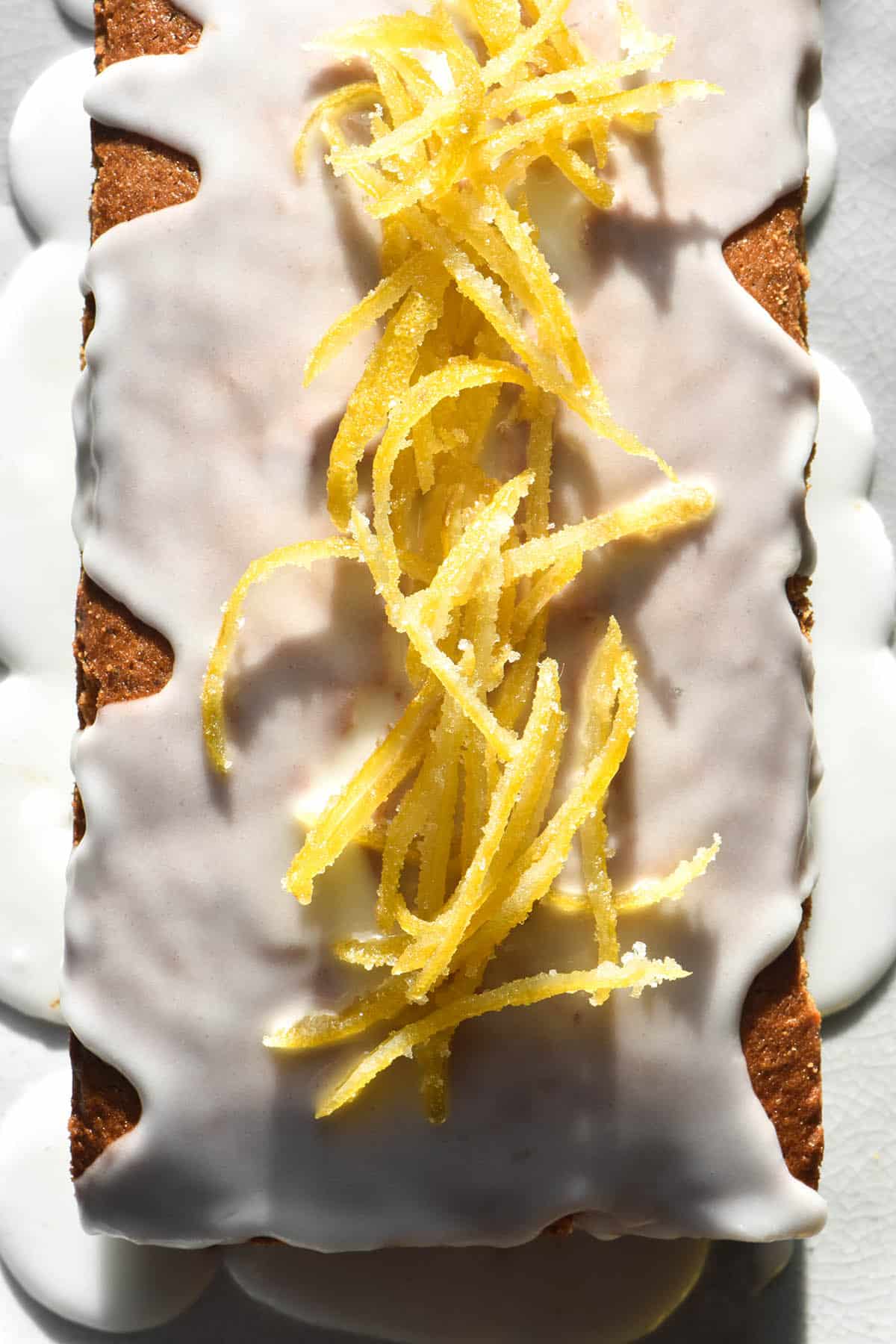 More gluten free cake recipes without xanthan gum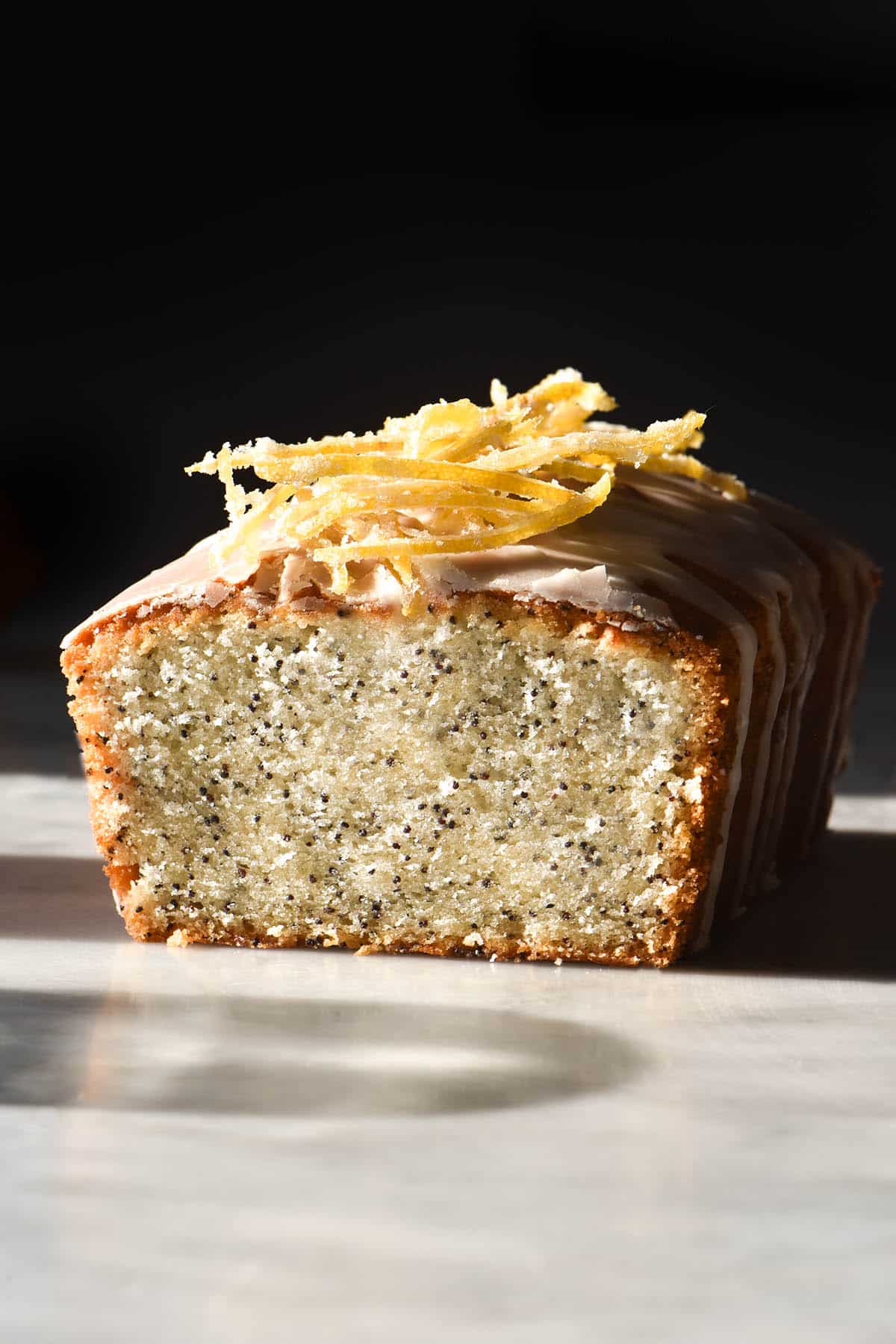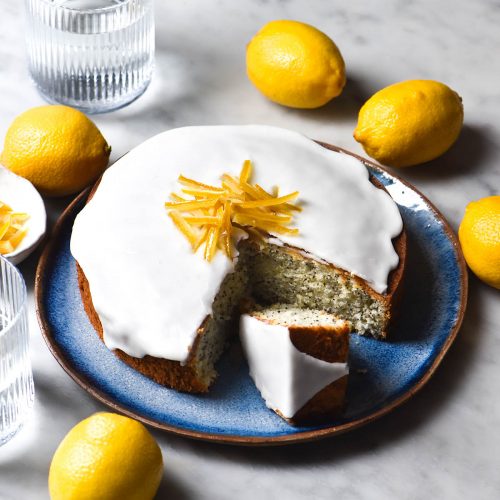 Gluten free lemon poppy seed cake
Nut free option, xanthan gum free, dairy free option
Ingredients
For the cake:
200

g

caster or superfine sugar

Zest of 1-2 lemons

160

g

(1 cup) fine white rice flour

50

g

(1/2 cup) almond meal (see notes)

30

g

(1/4 cup) tapioca flour

5

g

(1 1/4 teaspoons) baking powder

pinch

of fine salt

25

g

(2 tablespoons) poppy seeds

145

ml

(1/2 cup + 1 tablespoon) vegetable or neutral oil

2

extra large eggs (45-55g, weighed out of shell, per egg)

1

teaspoon

vanilla bean paste (optional)

1/4

cup

(60ml) lemon juice

1/3

cup

(80ml) milk of choice
For the icing:
150

g

icing sugar

20-60

ml

(1-3 tablespoons) lemon juice, to form your preferred icing consistency
Instructions
Preheat the oven to 180C/356F. Grease and line a 20cm/8 inch cake pan (not a spring form as the batter is on the thinner side).

Combine the sugar and lemon zest in a small mixing bowl and rub the zest into the sugar with your hands. Set aside.

In a medium mixing bowl, whisk the flours and almond meal with the baking powder, salt and poppy seeds. Set aside.

Add the oil, eggs, sugar and vanilla bean paste to a medium bowl or the bowl of your stand mixer. Use hand beaters or the whisk attachment to cream the mixture until pale in colour and light and fluffy in texture. It should have grown in volume and look aerated. This will take 2-3 minutes.

Add in a quarter or so of the flour mix, and beat on low to combine. Add a quarter or so of the milk and beat until combined. Continue this pattern, alternating the milk and lemon juice as the liquid component, until you have used all the ingredients, finishing with flour. The batter should be quite thin – about the consistency of a thinner custard.

Pour the batter into the prepared cake tin. Bake the cake for 30-40 minutes (toppings dependent) or until golden brown and cooked through. I like to lightly tent my cake with oil around the 25-30 minute mark so the top doesn't get too brown.

Once cooked, allow the cake to cool before running a knife around the edge. Gently invert the cake from the tin, peel off the cake liner and place it on a cooling rack to cool. Allow to cool completely before adding the lemon icing. See the body of the post for the optional candied lemon peel garnish.
Notes
Using a larger cake tin than the one specified is a surefire way to end up with a bad cake. I don't make the rules.
For a nut free version, use 25g more rice flour and 25g more tapioca flour and omit the almond meal. You might need to add a tablespoon extra oil or milk to compensate for the fat content of almond meal.
See the body of the post how to make this cake into a loaf, and for the optional candied lemon garnish.