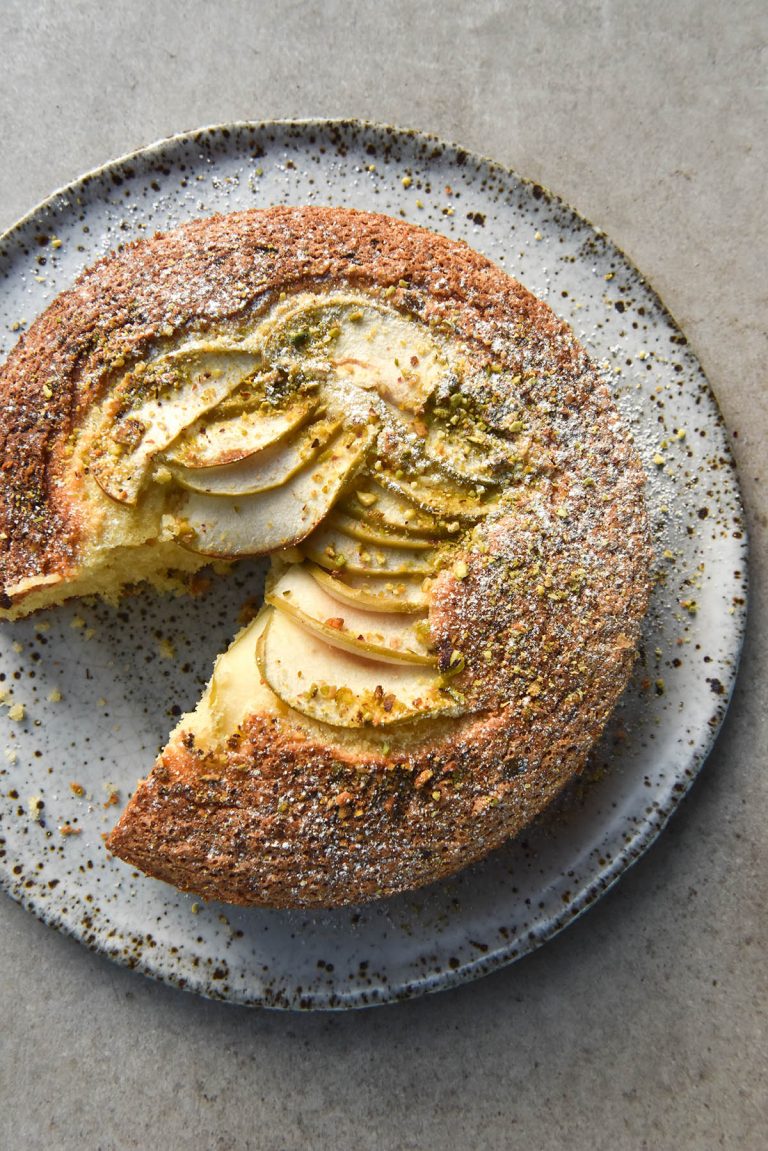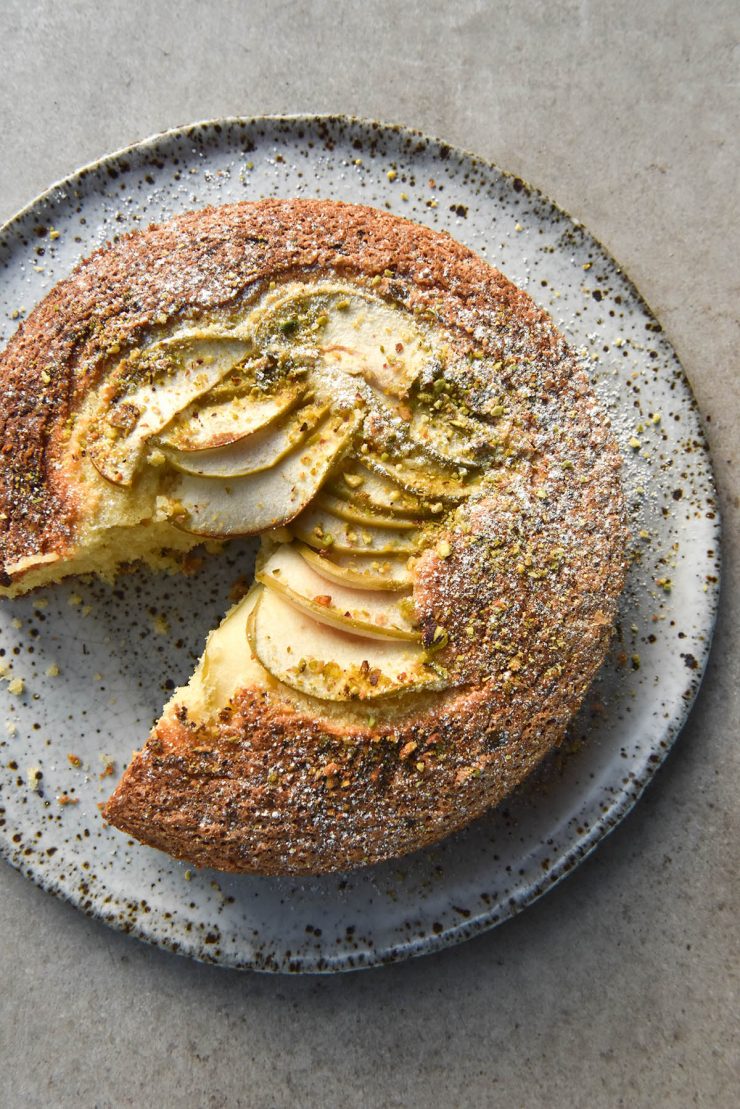 This gluten free apple cake is a deliciously light and fluffy apple cake that is quick and easy to make. It has been on my list of things to make for a while now. Luckily for me, Remedy Kombucha asked me to develop this recipe, so here we are. A low lactose and gluten free apple cake ..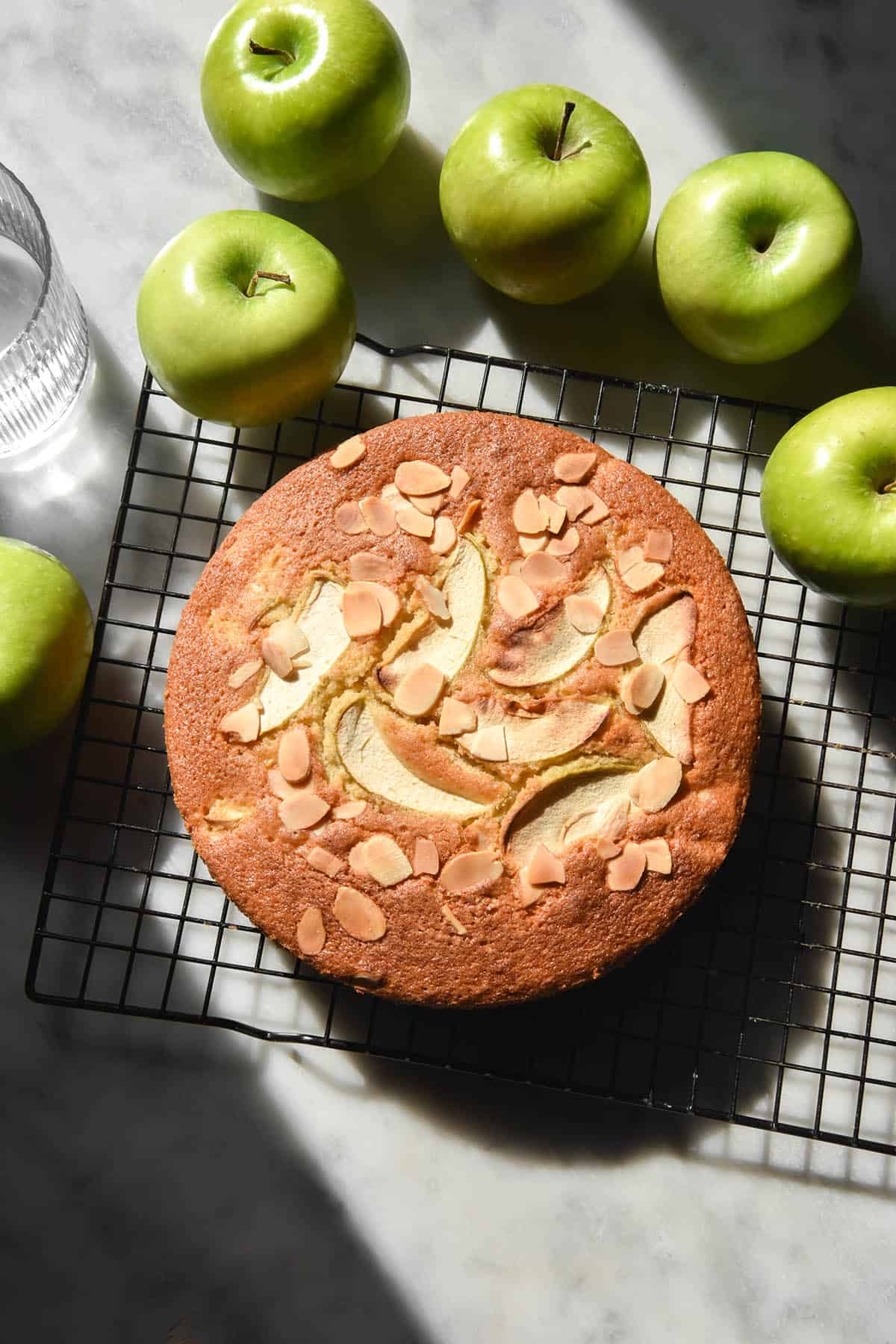 Gluten free apple cake without xanthan gum
This apple cake is xanthan gum free and has a nut free option. It is low lactose, and can be lactose free, too. I have tested the cake with varying amounts of apples to account for different preferences and dietary needs.
The cake uses a simple mix of white rice flour, tapioca flour and almond meal as the flour mix. It can also be made without the almond meal, for a nut free option.
White sugar and light brown sugar work together to create a full flavoured and nuanced sweetness which contrasts against the tart apples.
Similarly, butter and oil work together to bring the best of both worlds to this gluten free apple cake. Butter brings the flavour and creamy mouthfeel, while oil brings the longer lasting moistness and soft crumb.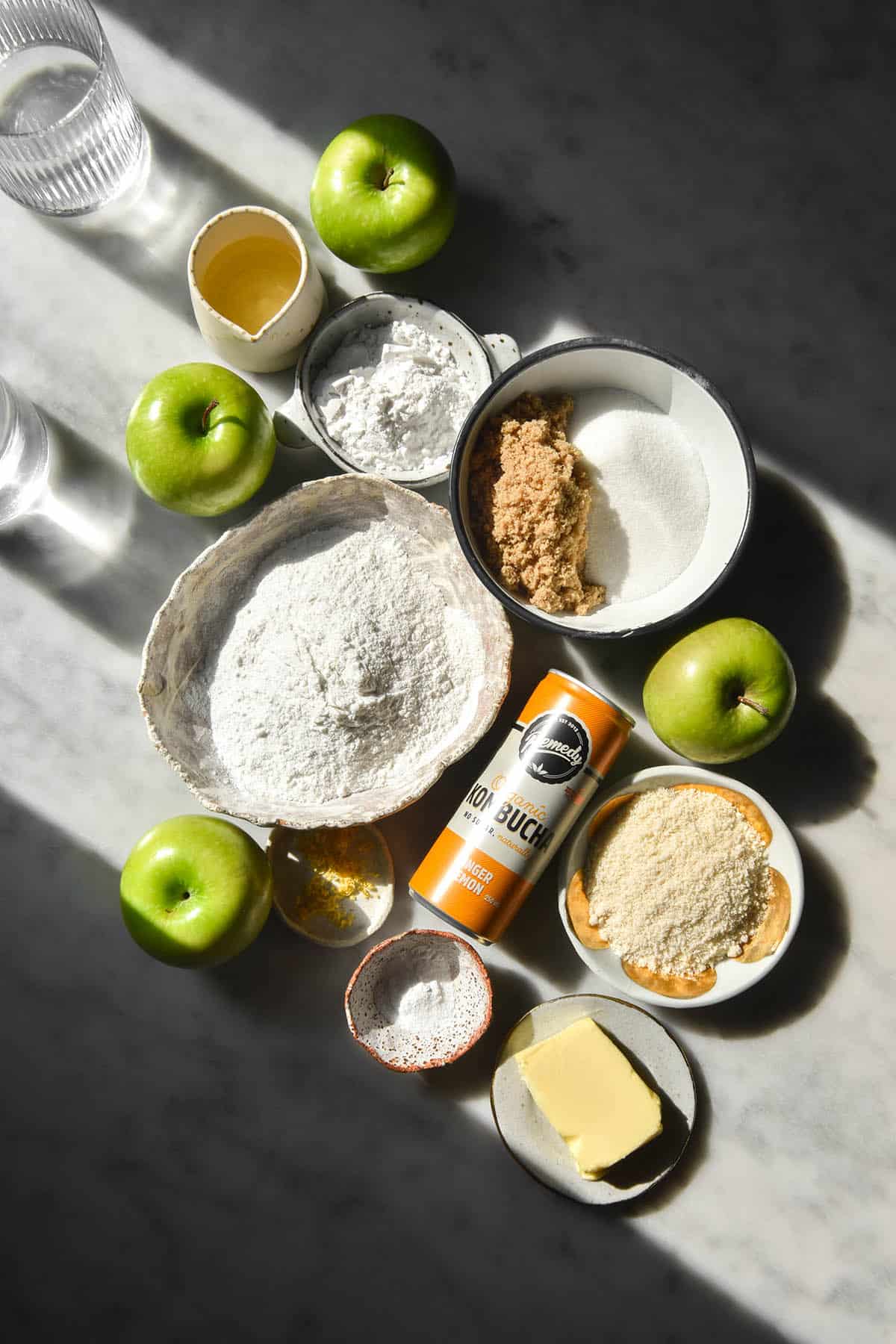 FODMAP notes for your gluten free apple cake
I wanted to get this out of the way before we dive in. No, apples are not low FODMAP. No, this is not an explicitly low FODMAP recipe. I have been broadening the remit of my recipes for a while. I want to develop recipes that help as many people as possible, and not everybody is or needs to be low FODMAP.
If you are here to write a comment and say 'THiS iSnT lOw FoDmAp' – firstly, read on. Secondly, if apple really doesn't work for you in any capacity, may I direct you to some of my low FODMAP cake recipes? This olive oil cake or my chocolate cake, for example.
It might surprise you that this gluten free apple cake can indeed be FODMAP aware. A medium Granny Smith apple weighs around 150g once the core and tough parts are removed. At the time of writing, Monash states that Granny Smith apple is low FODMAP in 25g serves. This cake serves 8-10, meaning each slice has an average of around 15-18g of apple. This puts the apple within a FODMAP appropriate serve.
Of course, if apples or fructose and sorbitol give you no issues, you can add as many as you like. More on that below.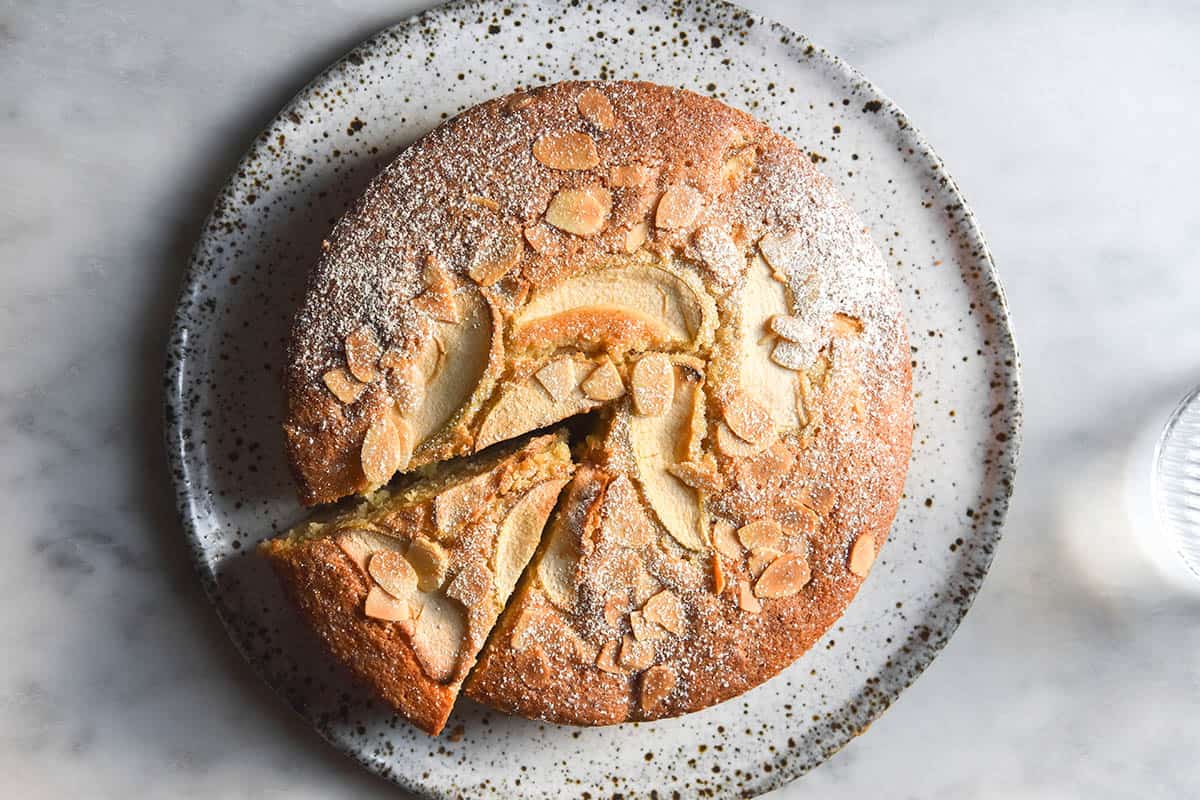 Which sort of apples should I add and how many?
I have tested this cake with Granny Smith apples. I like their tartness, and I think they play off nicely with the sweetness of the cake. A sweeter variety might make the cake too sweet.
In terms of how many apples to add, I have tested the cake with 1, 2 and 3 medium apples. This equated to 150g (1 apple) 300g (2 apples) or 435g (3 apples). All worked well. I would say that cakes with more apples really need to cool almost fully before slicing, and closer to 50 minutes to cook. I recommend covering the cake with foil after about 30-40 minutes so the top doesn't brown excessively. I also recommend using a sharp knife with small serrations to cut through the slices of cake, as it's better as slicing the apple without dragging it.
Difficulty slicing brings us to our next topic: apple skins. I like to leave the skins on, mostly because I am lazy. Thinly slicing three apples is enough work for me. However, the skins are generally what make the cake harder to slice. Do with that information what you will.
I haven't tried it yet, but grating some of the apple might also work nicely. The post will be updated if I give this a go.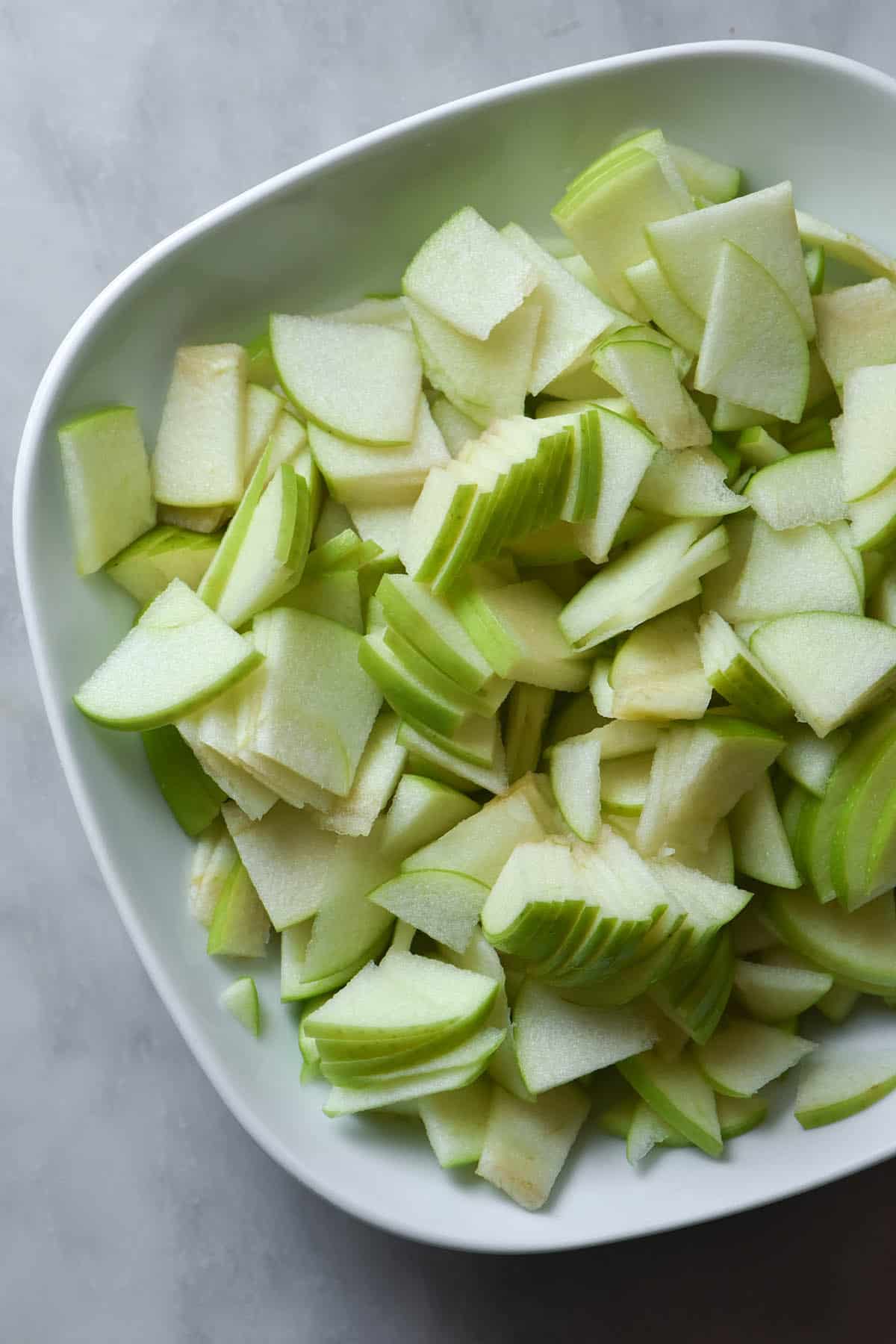 Tips for your gluten free apple cake
Using a cake pan significantly larger or small than the one the recipe specifies (20cm or 8 inches) usually spells trouble. Larger cake pans result in a thinner cake that is more likely to be dry and burnt. Smaller cake pans generally result in a cake that takes longer to cook in the middle and ends up with a raw centre but a browned outside. I advise against it – 20cm cake pans are available at the supermarket here in Australia. I always use 20cm, so if you use my recipes often you will get good use out of it.
Slice the apple really really finely. This will ensure the cake bakes evenly around the apple and it's not too difficult to slice. A mandolin helps here, if you have one. If not, take your time and save yourself the headache later.
The more apple you add, the longer you might need to cook your cake. Keep that in mind. I found a cake with 3 apples (435g) needed an hour or even a little longer (some of that time topped with foil to prevent over browning).
Allow the cake to cool fully and slice with a small serrated knife for even slices. I found that slicing the cake too early made for a crumbly end result.
If you choose the nut free option, use 80 (1/3 cup) oil instead of 60ml (1/4 cup). This will replace the fat from the almond meal.
A little bit of cinnamon or nutmeg would be lovely in this cake.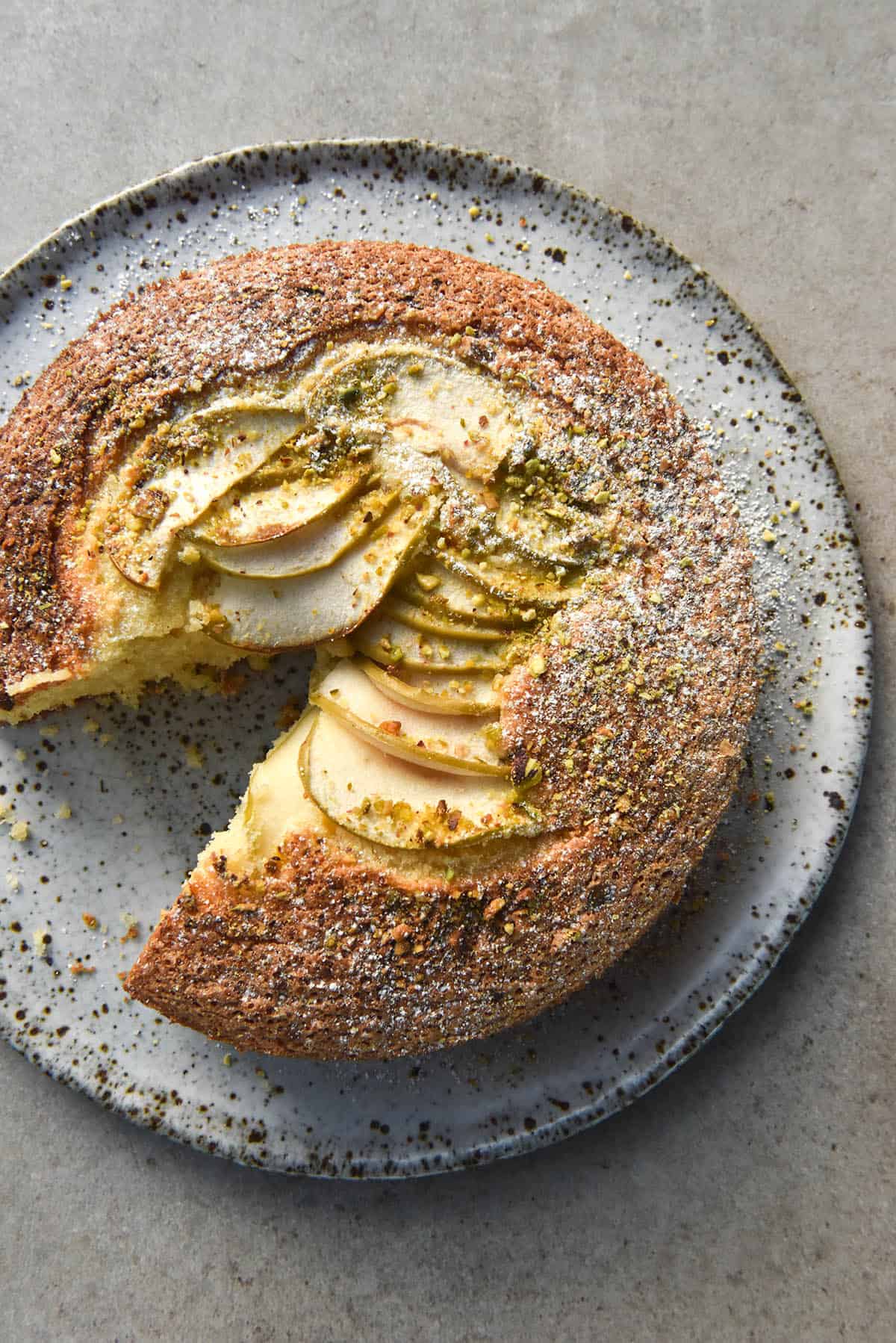 Substitution notes
For a nut free option, use 25g rice flour and 25g tapioca in place of the almond meal. Use (1/3 cup) oil instead of 60ml (1/4 cup) and omit the optional almond topping. Make sure you use a non-nut containing milk (if you are using milk instead of kombucha) too.
For a lactose free option, use a good quality plant based butter and a plant milk.
If you don't have access to kombucha, use a milk of choice in it's place.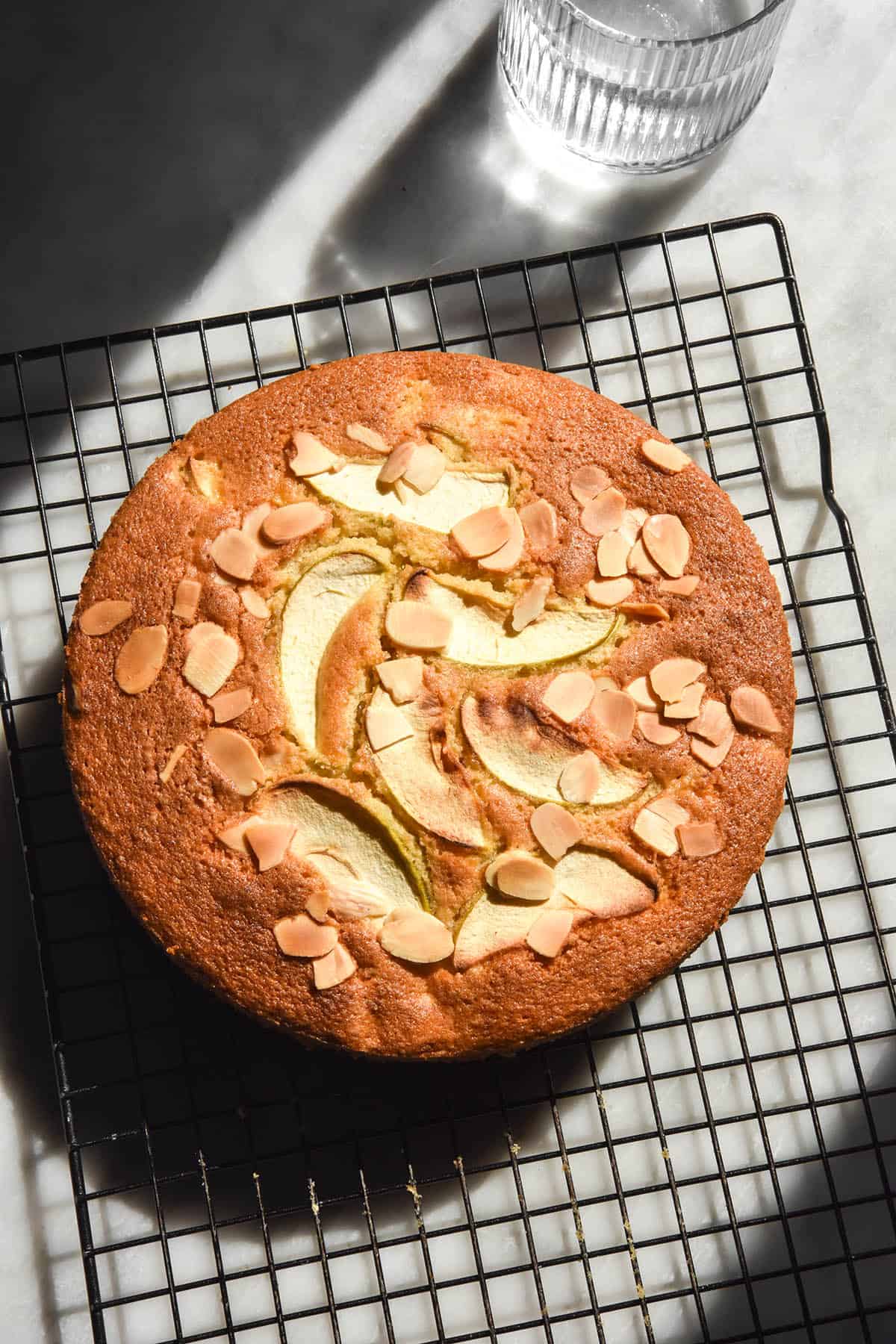 More gluten free dessert recipes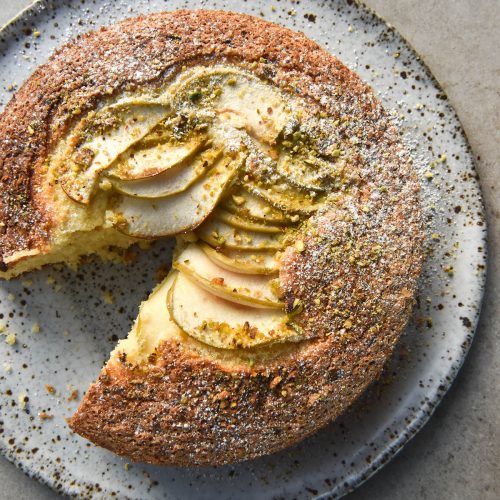 Gluten free apple cake
Gluten free, low lactose, contains nuts
*Cups and measures are in Australian cups and measures. Use gram weights for international accuracy
Serves 8-10 slices
Equipment
1 x 20cm (8 inch) cake tin

hand beaters or stand mixer
Ingredients
160

g

(1 cup) fine white rice flour

30

g

(1/4 cup) tapioca flour

50

g

(1/2 cup) almond meal (see notes)

5

g

(1 1/4 teaspoon) baking powder

Zest of 1 lemon (optional)

1/4

teaspoon

(1g) fine salt

60ml

(1/4 cup)*

oil

50

g

room temperature butter

salted or unsalted

2

extra large eggs (45-55g each, weighed out of shell)

100

g

light brown sugar

75

g

caster sugar

or all caster sugar

1

teaspoon

vanilla bean paste

optional

125ml

(1/2 cup)*

Remedy lemon ginger Kombucha (see notes)

1

Granny Smith apple

very finely sliced and chopped into small rectangle pieces (reserve a few slices for garnish)

Flaked almonds

for garnish (optional)
Instructions
Preheat the oven to 180C/356F. Grease and line a 20cm/ 8 inch cake tin.

Combine the flours, almond meal, baking powder, lemon zest and salt in a medium mixing bowl and whisk to combine.

In a large mixing bowl, combine the oil, butter, sugars and eggs.

Use a hand beater or stand beater to beat the mixture for 1-2 minutes or until lighter and foamy. The butter should have incorporated completely into the mixture, with no chunks remaining.

Turn the beaters to low and alternate between adding the flour and kombucha. Continue until you have used up all the flour and kombucha.

Add the chopped apples to the batter and stir to combine. Pour the batter into the prepared cake tin and top with the garnishes.

Bake for 35-45 minutes or until golden brown and cooked through.

Allow to cool for 5-10 minutes before sliding a knife around the cake, flush with tin, and removing from the tin. Cool on a wire rack and serve alone, with some icing sugar, with some cream or ice cream, or both.
Notes
For a nut free option, use 25g rice flour and 25g tapioca in place of the almond meal. Use (1/3 cup) oil instead of 60ml (1/4 cup) and omit the optional almond topping. Make sure you use a non-nut containing milk (if you are using milk instead of kombucha) too.
For a dairy free option, use a good quality plant based butter and milk.