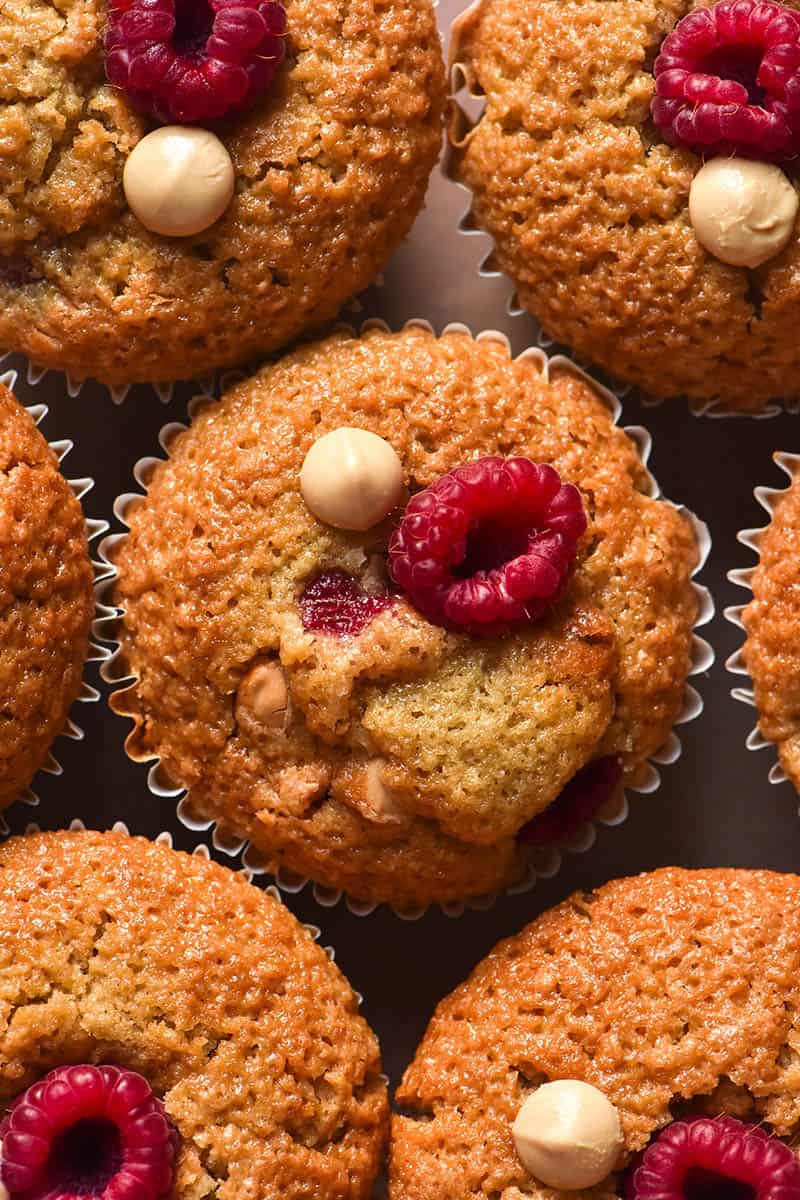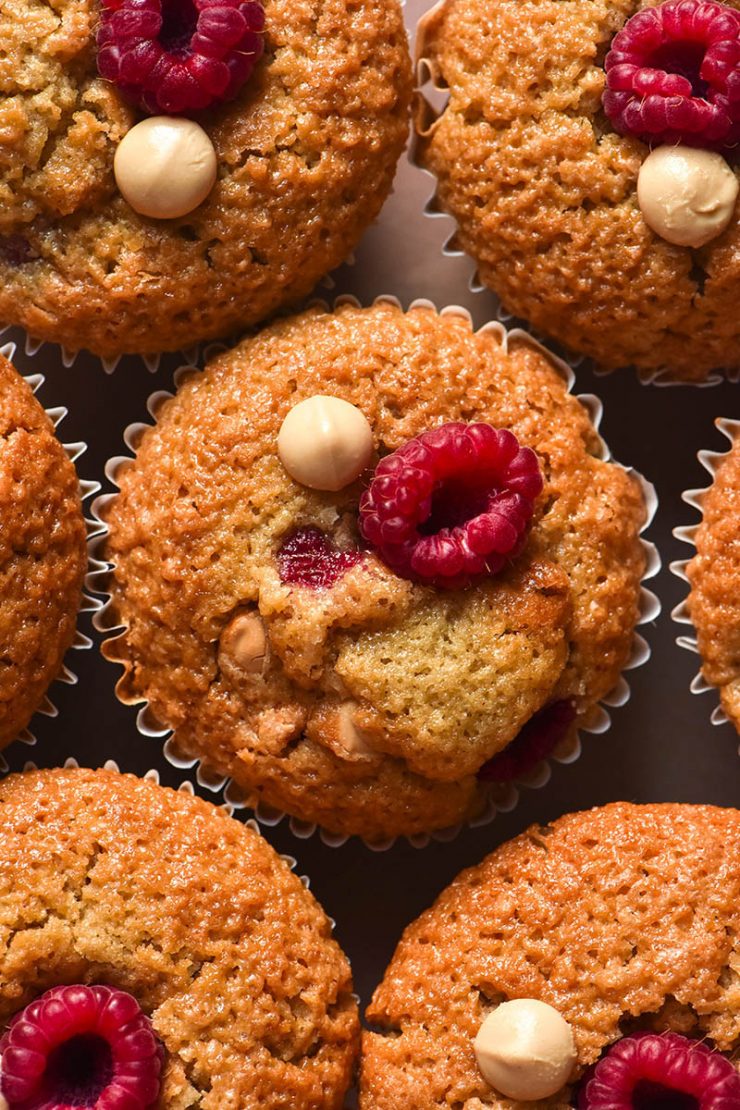 These gluten free raspberry muffins are a recipe I developed for Remedy Kombucha to celebrate World Kombucha day. I have been a kombucha lover for years, so I was more than happy to help a local Melbourne brand celebrate. And no celebration is complete without a good muffin.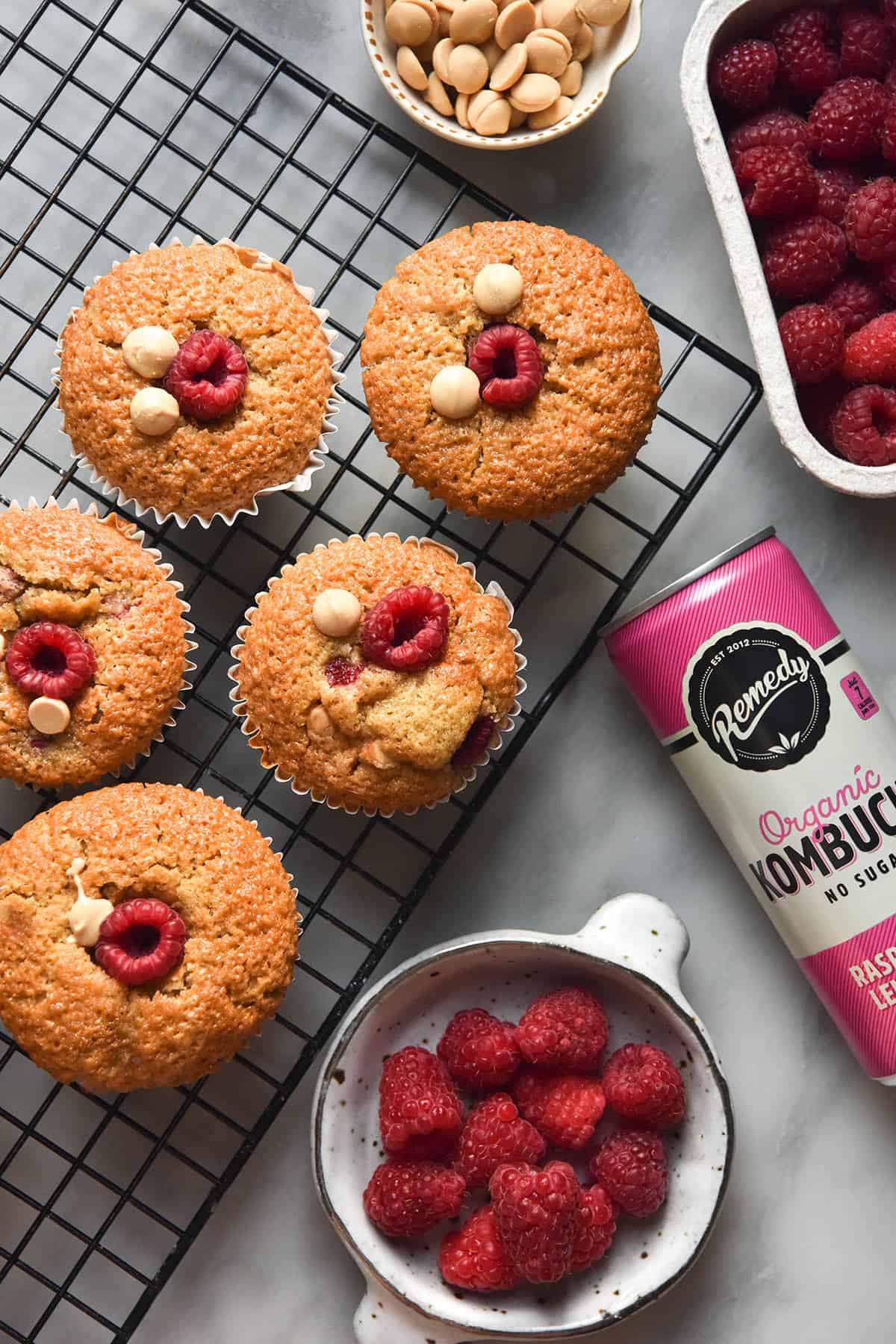 Gluten free raspberry muffins
These muffins are gluten free, xanthan gum free and easily dairy free with the right chocolate chips and butter. They use a simple mix of white rice flour, tapioca flour and almond meal for a light, neutral flavoured crumb with the perfect amount of bite.
These gluten free raspberry muffins use both butter and oil for the fat component. Doing so provides the best of both fat sources. Butter has a delightful flavour and mouthfeel, but all butter baked goods tend to be drier and stale faster. Oil creates a crumb that stays moist for days, but it lacks the flavour of butter. Together? They are unstoppable.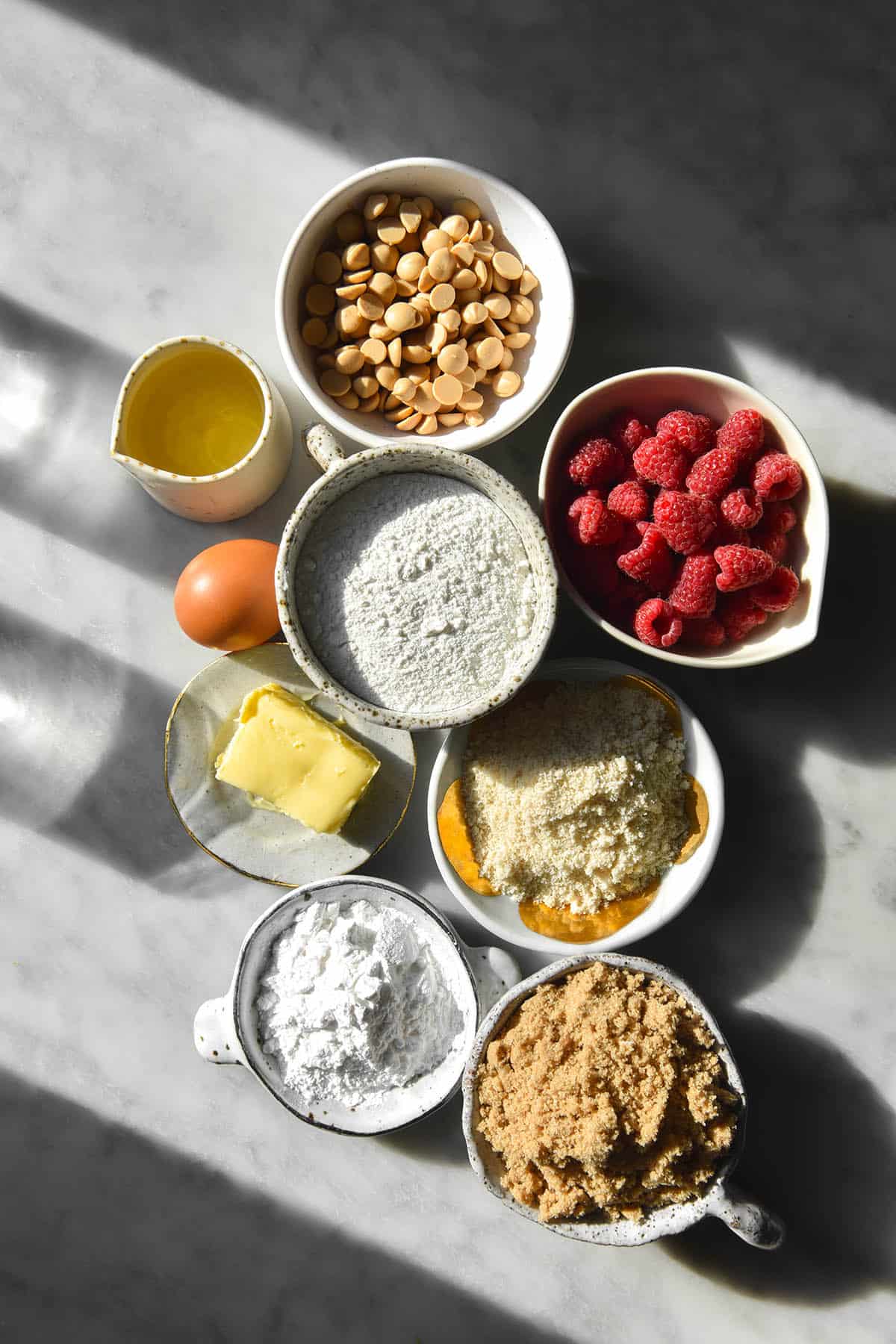 FODMAP notes for your gluten free raspberry muffins
This recipe was not explicitly designed to be a low FODMAP recipe. I try to cater to as many different dietary requirements with my recipes. However, here are some FODMAP notes if you're looking for them.
At the time of writing, Kombucha is low FODMAP in 180ml (3/4 cup) serves. This recipe contains 125ml (1/2 cup) and makes 8-10 muffins, keeping it well within the threshold.
At the time of writing, raspberries are low FODMAP in 58g (1/2 cup) serves. This recipe contains 125g raspberries and makes 8-10 muffins.
White chocolate is not low FODMAP if you have issues with lactose. You can use a dairy free alternative, substitute dark chocolate chips or omit the chocolate altogether.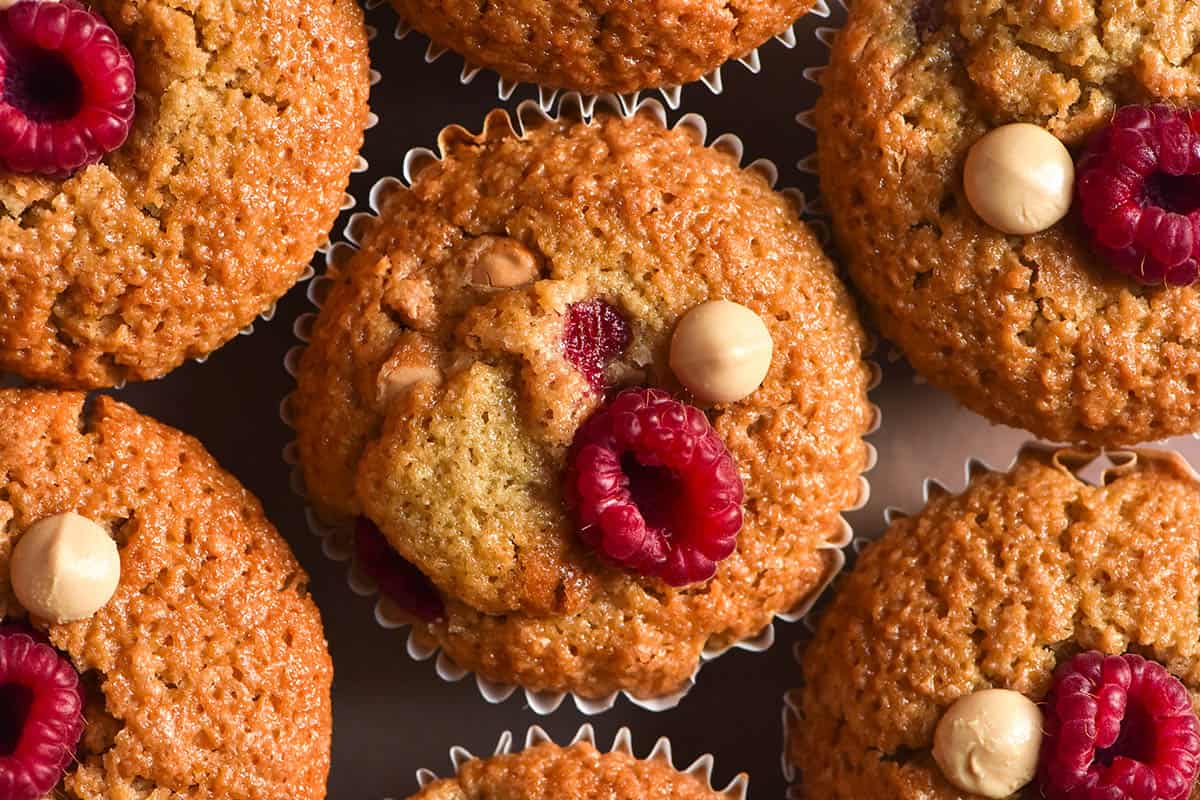 Substitution notes
You can use a good quality dairy free butter in place of the regular butter. As above, you can also use dairy free white chocolate chips, or omit. Doing so will keep these muffins dairy free.
I have not tested an option without the almond meal. My suggestion would be to add 25g extra tapioca flour and 25g extra rice flour to replace the almond meal, but I have not tried it.
Personally, I like the complex sweetness of using both caster and light brown sugar. You can use one or the other if you prefer. If you wanted to use only one, I recommend light brown sugar.
I haven't tested any unrefined sugars in this recipe, nor have I tested any sugar alternatives.
If you don't have access to kombucha, you can use a milk of choice. The kombucha reacts with baking soda to create leavening in this recipe, so you will need to include brown sugar if you omit the kombucha. Brown sugar is acidic, so it will help neutralise the baking soda. If you don't neutralise the baking soda, the muffins won't rise as high and they might have that soapy taste.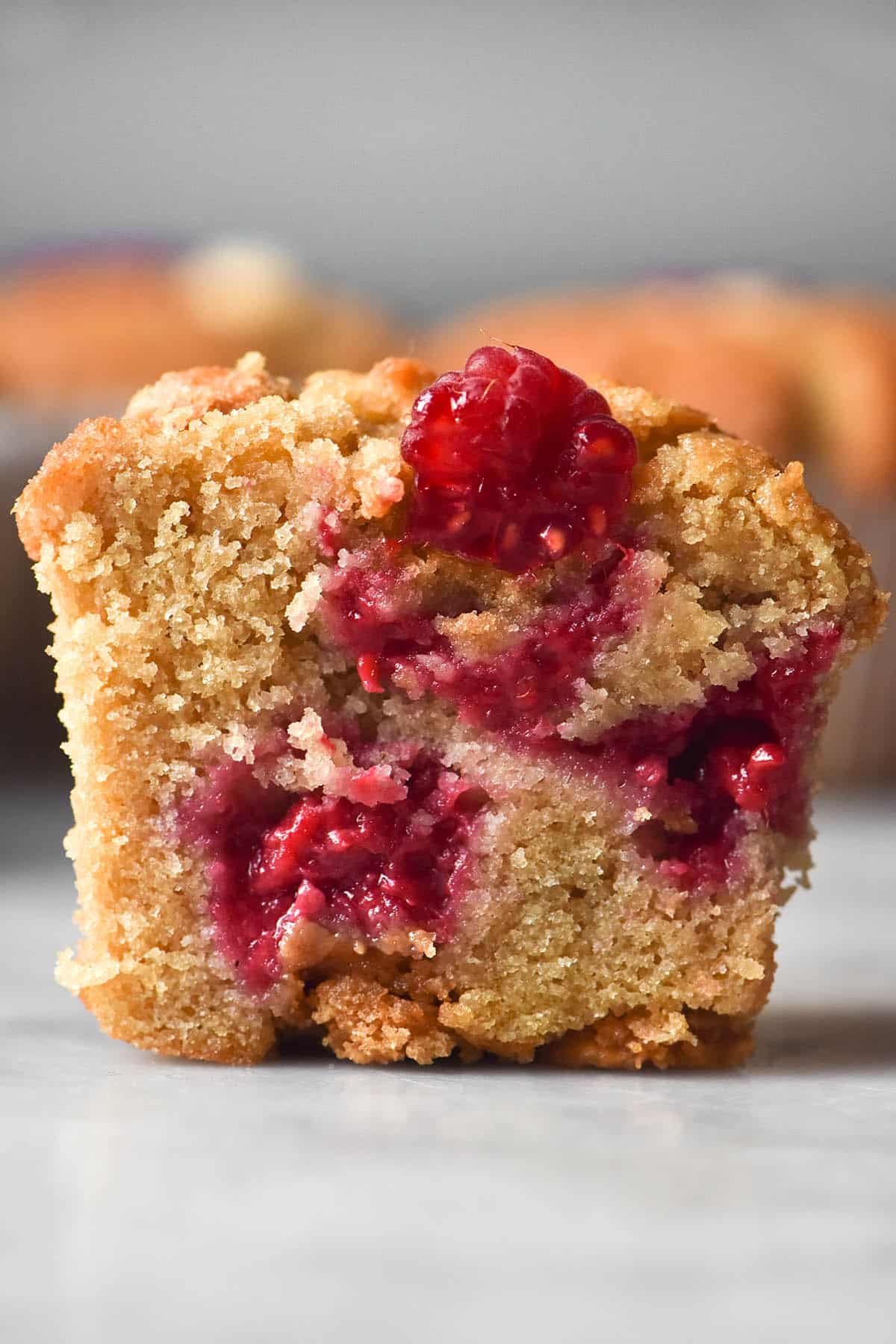 Tips for your gluten free raspberry muffins
Whether you use muffin liners or pour your batter into the pan is up to you. Previously, I have found that greasing muffin tins with a tiny bit of butter and oil really helpful. This is because gluten free muffins are more sensitive and are more likely to break when you remove them from the pan. Butter and oil is the best of both worlds for greasing muffin tins. Make sure, though, that it's a SCANT amount of each. Otherwise, the bottoms of your muffins will be oily and greasy.
If you can, space the muffins out in the pan. This helps them dome as much as possible.
Thoroughly preheat the oven to ensure it's up to temperature before adding your muffins. This will also help create lovely domed tops.
I LOVE finishing muffins with a sprinkle of sanding sugar (also called finishing sugar). It gives the tops crunch and a nice shiny finish.
I found filling these muffins almost right to the brim was the best way to get a bit of a dome.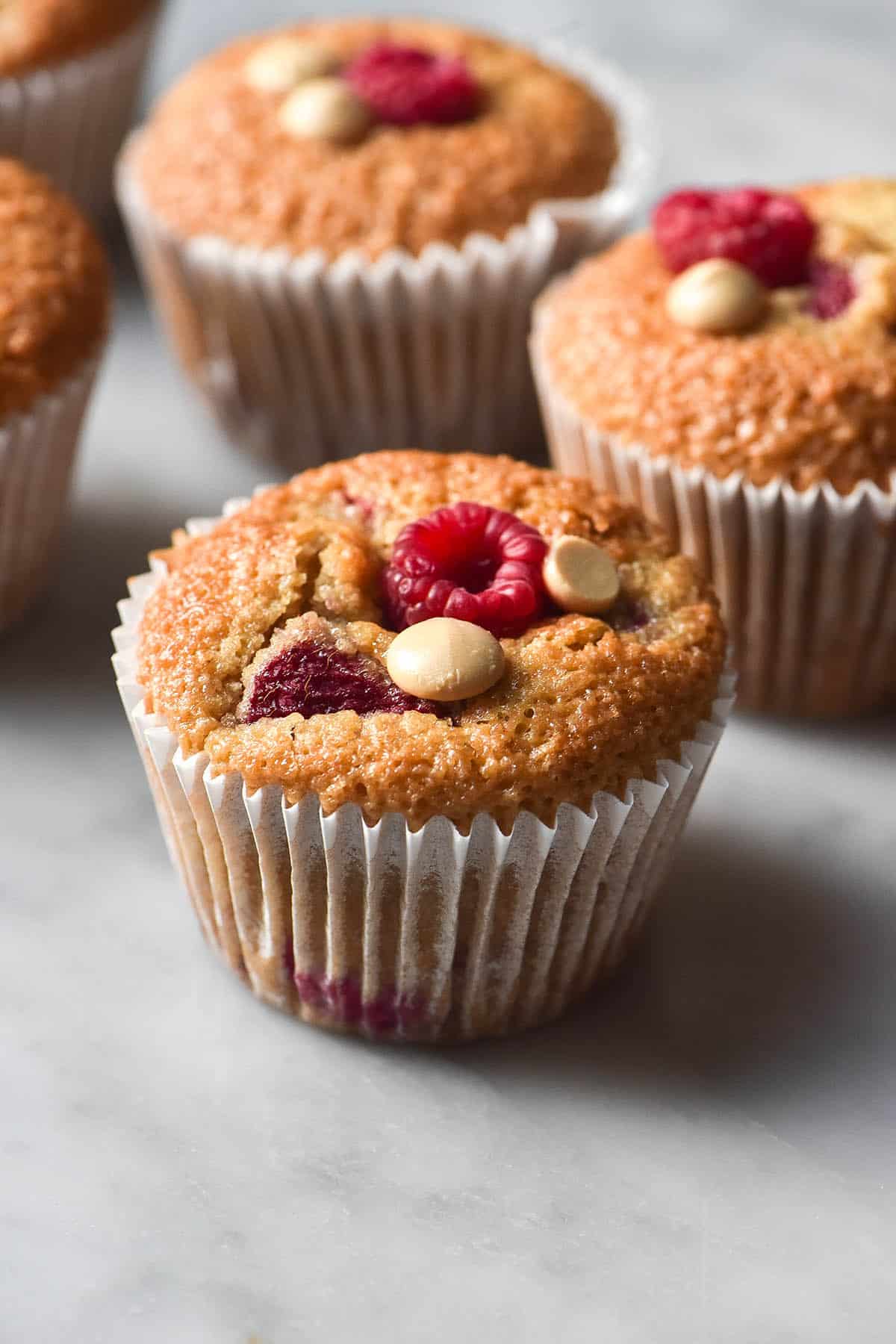 More gluten free cake and muffin recipes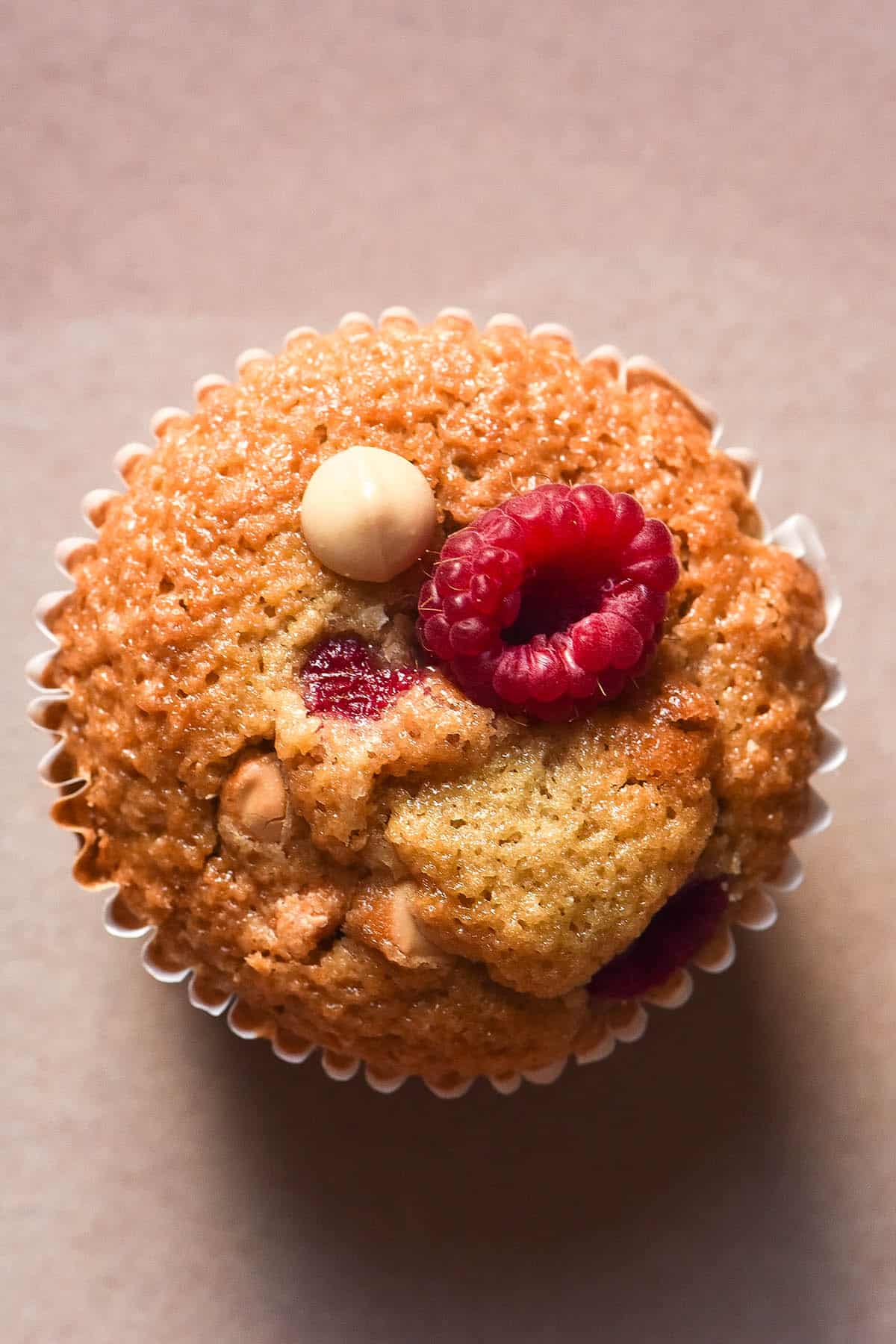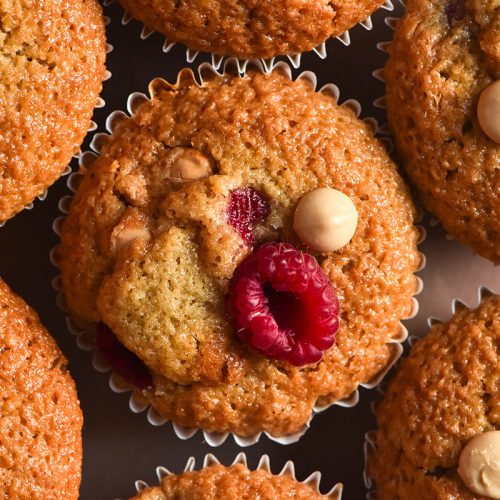 Gluten free raspberry white chocolate muffins
Gluten free, contains nuts
Cups and measures are in Australian cups. Use gram weights for international accuracy
Makes 8-10 muffins
Equipment
hand beaters or stand mixer

12 hole muffin tin with 7cm (w) x 4cm (h) holes (roughly 80ml or 1/3 cup capacity)
Ingredients
160

g

(1 cup) fine white rice flour

30

g

(1/4 cup) tapioca flour

50

g

(1/2 cup) almond meal (see notes)

1/4

teaspoon

(1g) baking powder

1/4

teaspoon

(1.5g) baking soda

1/4

teaspoon

(1g) fine salt

80ml

(1/3 cup)*

oil

50

g

room temperature butter

salted or unsalted

1

extra large egg

150

g

light brown sugar

or half caster and half light brown sugar

1

teaspoon

vanilla bean paste

optional

125ml

(1/2 cup)*

Remedy raspberry lemonade Kombucha

125

g

raspberries

reserve a few for garnish

100

g

white chocolate chips

reserve a few for garnish
Instructions
Preheat the oven to 180C/356F. Either grease or line your muffin tin with 8-10 liners.

Combine the flours, almond meal, baking powder and baking soda in a medium mixing bowl and whisk to combine.

In a large mixing bowl, combine the oil, butter, sugar/s and egg.

Use a hand beater or stand beater to beat the mixture for 1-2 minutes or until lighter and foamy. The butter should have incorporated completely into the mixture, with no chunks remaining.

Turn the beaters to low and alternate between adding the flour mix and kombucha. Continue until you have used up all the flour and kombucha.

Add the raspberries and white chocolate chips to the batter and stir gently to just combine. Pour the batter into the prepared muffin holes, then garnish with the reserved raspberries and white chocolate chips.

Bake for 25 minutes or until golden brown and cooked through.

Allow to cool for 5-10 minutes before removing from the tin. Cool on a wire rack and serve.