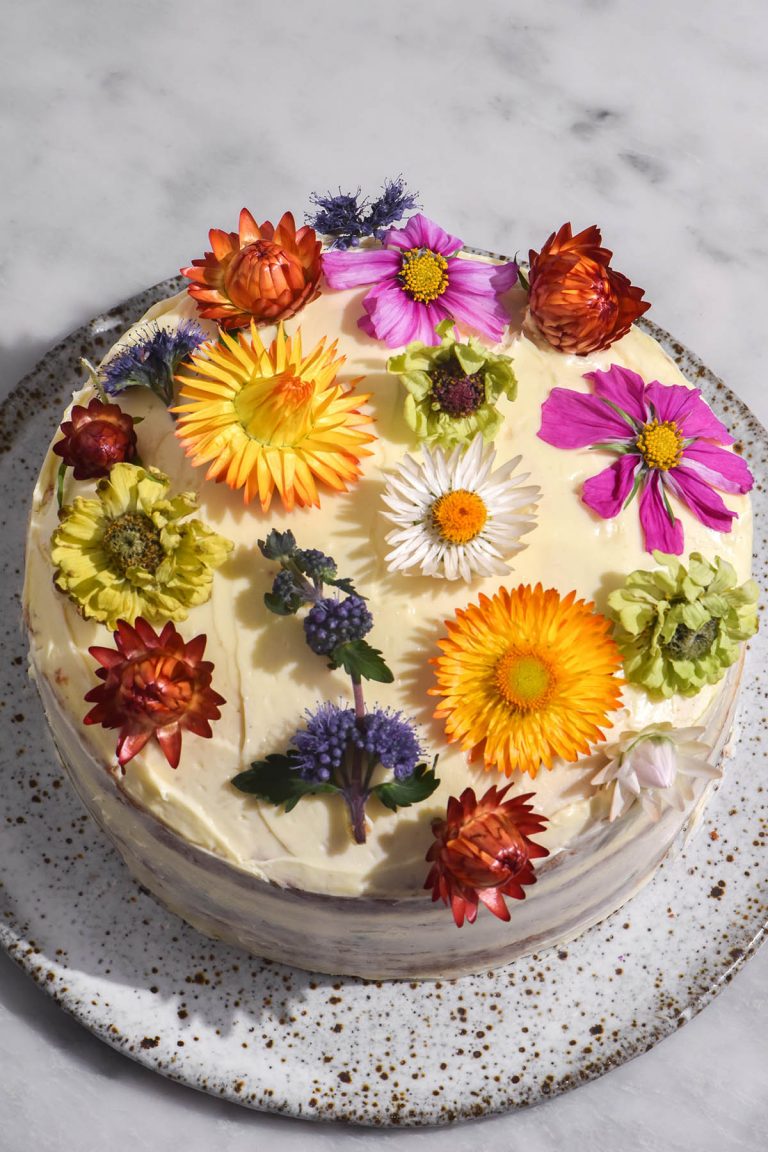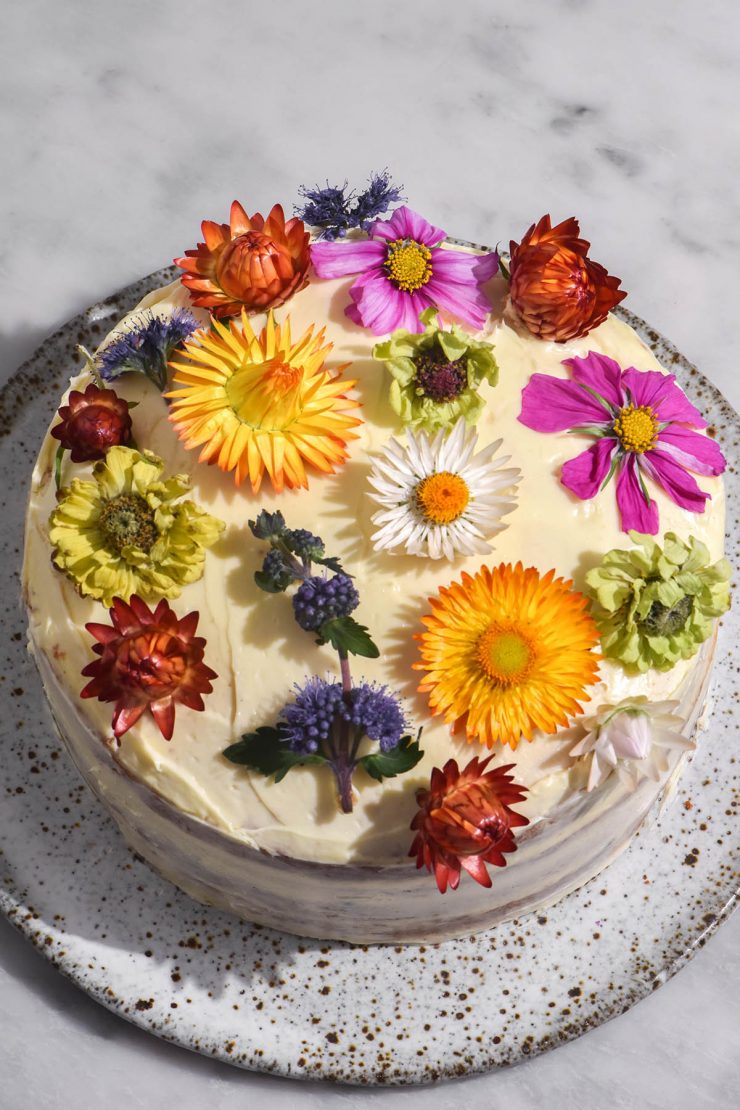 I recently made this gluten free cake with passion fruit curd for my sister's birthday. It was a variation of some of my more recent recipes, but the combination was so good that I decided to share it in this form as well.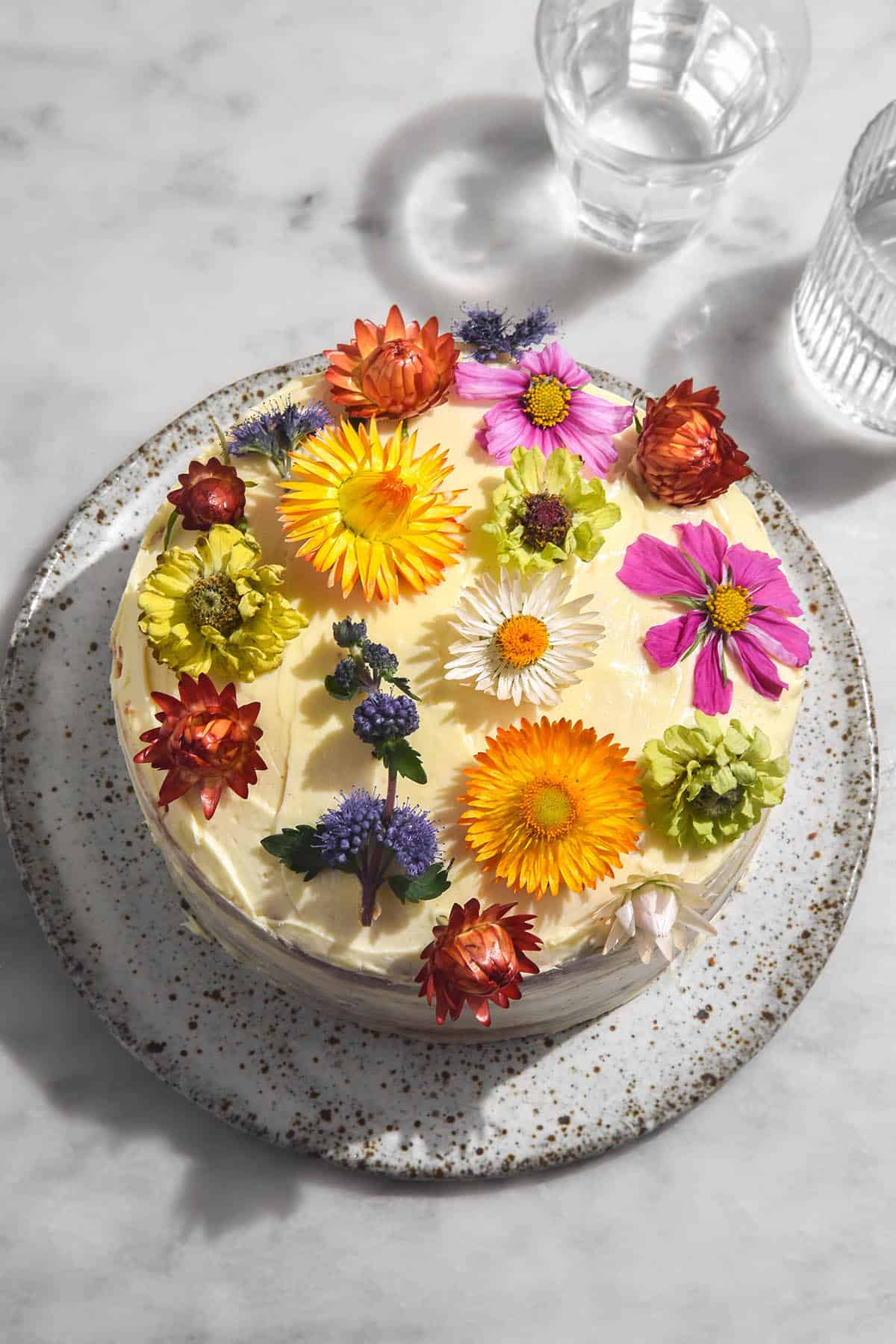 Gluten free cake with passion fruit curd and cream cheese icing
This gluten free cake is a sweet and fluffy vanilla cake. It is low FODMAP, xanthan gum free and low lactose. The cake uses a mixture of white rice flour, tapioca flour and almond meal for a soft yet sturdy crumb. A combination of butter and oil make for the best of both worlds: a buttery flavoured cake that stays moist for far longer.
The method for this cake involves creaming the oil, butter, eggs and sugar until the mixture becomes light and fluffy. This method is far easier than creaming butter and sugar, which can be time consuming in cold weather and fickle for beginners.
Once the layers are baked, they are sliced and painted with a simple sugar and milk soak. A soak is really just the act of painting your cake layers with the mixture (milk and sugar). Adding a soak to a cake (and in particular, a layer cake) is such an incredible way to keep the crumb moist. You might think that the cake could become soggy, but I promise it doesn't. Just moist and delicious!
Next, the soaked cake layers are sandwiched with my dairy free passionfruit curd and topped with a simple lactose free cream cheese icing. Non-edible flowers are not compulsory but I absolutely love them on cakes right now!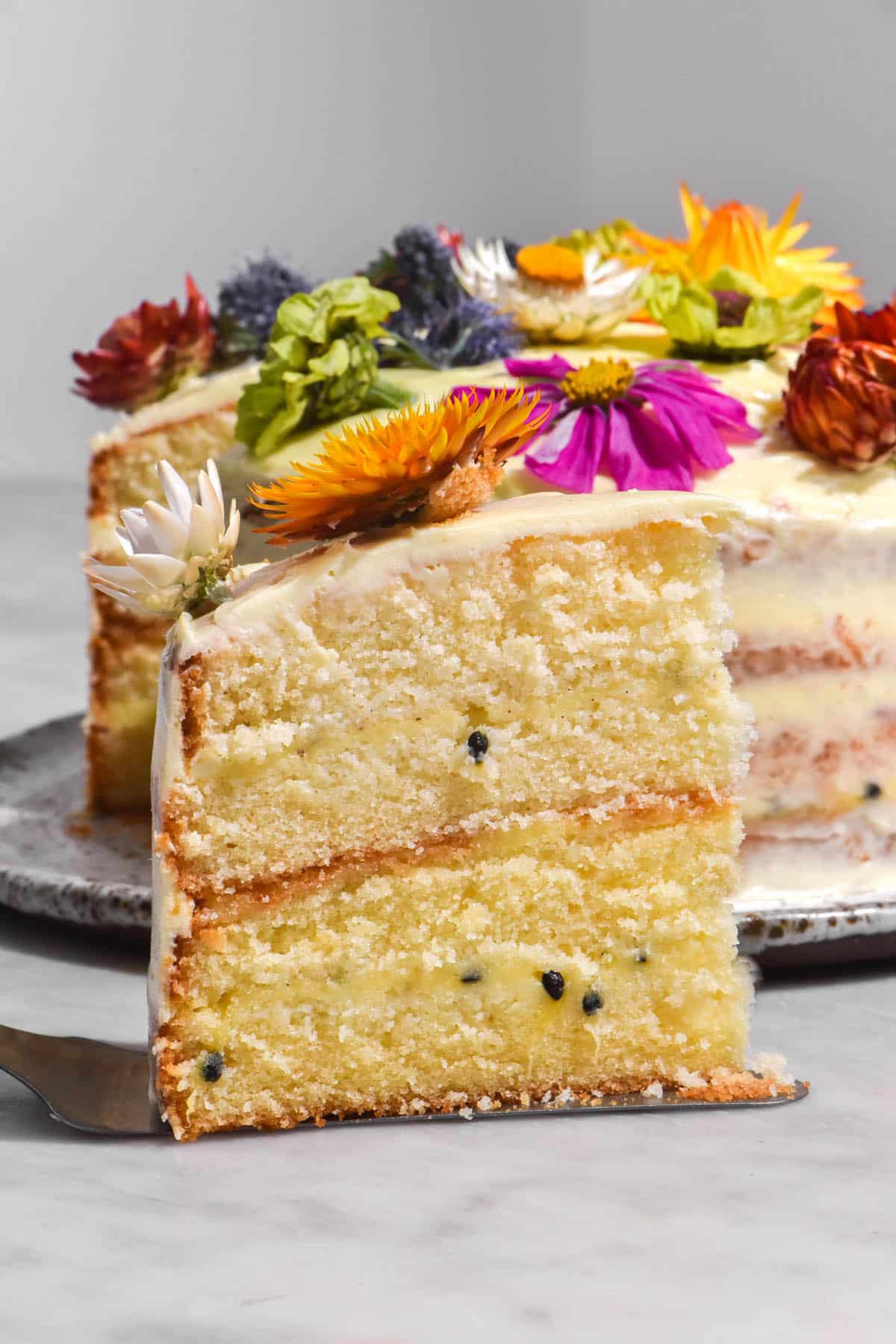 Tips for your gluten free cake
The most important tip I have for this cake is that I have found that cream cheese icing cracks when left overnight. I'm not entirely sure why, but it happened with both my final tests of this cake. I would recommend icing this cake the day you intend to serve it.
Please trust me with the cake soak! It makes a huge difference. You can use a neutral flavoured plant based milk, if you like. Some bakers also use simple syrup.
Adding the sugar to the cake soak doesn't make it too sweet, either. Just in case you're worried.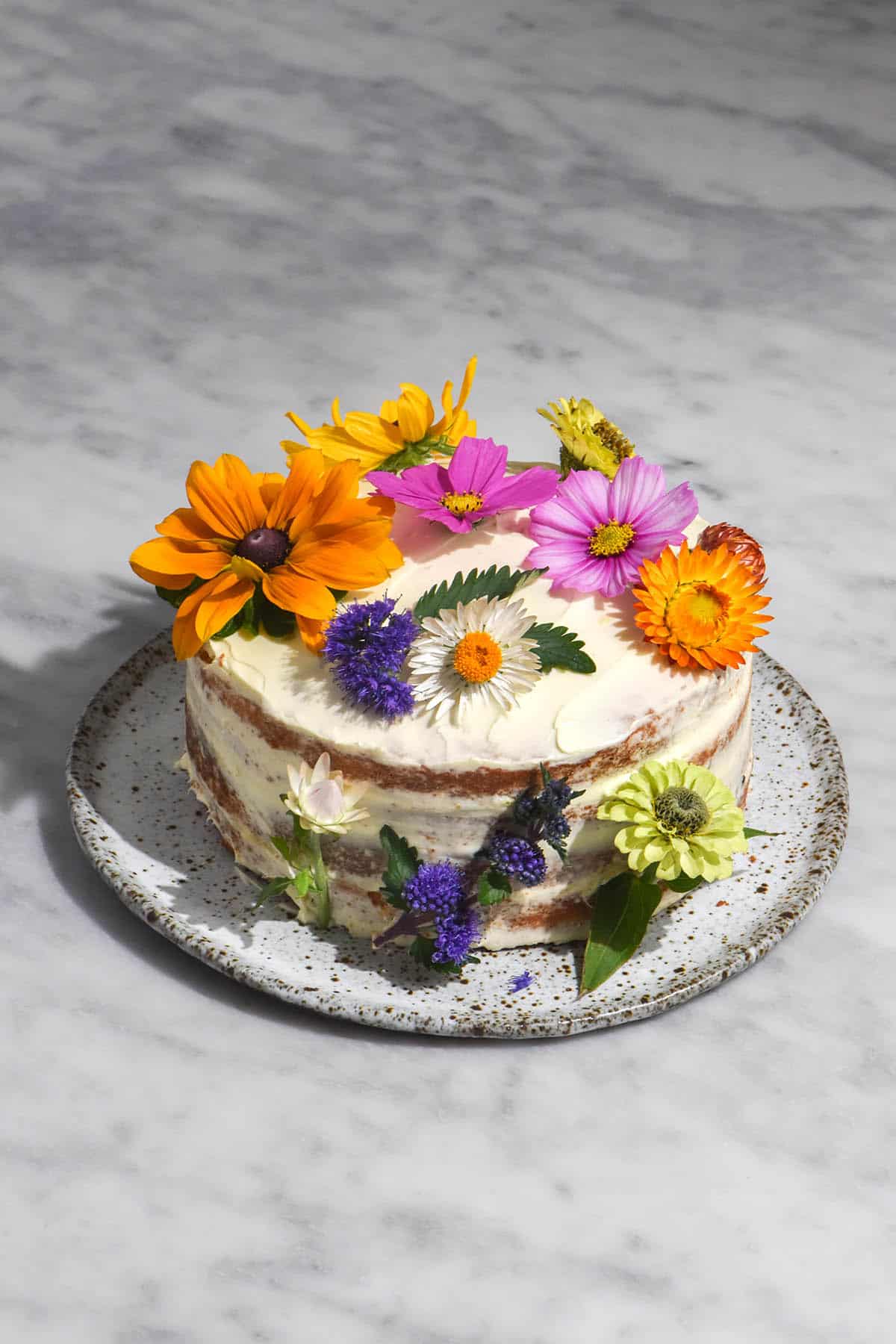 Tips for your dairy free passion fruit curd
Measure the coconut oil melted, not solid. On the note of coconut oil: I promise the flavour isn't intrusive here.
I recommend buying more passionfruit (and lemons) than you think you'll need. You never really know how full a passionfruit is, or whether you have accidentally bought an empty one. Nothing worse than being caught without enough of the star ingredient as you begin to bake.
Passionfruit pulp freezes and defrosts really well, so you can freeze any excess in an airtight container.
Lemons tend to vary dramatically in their acidity. Before adding the eggs, I recommend adding 125ml (1/2 cup) and tasting the mixture before adding the remaining 60ml (1/4 cup) if needed.
Adding a pinch of salt lends flavour complexity to your curd and I highly recommend it.
Other flavour additions that would be nice include some lime or makrut lime zest, lemon zest or a little bit of vanilla.
If you'd prefer, you can also use lemon curd or lime curd.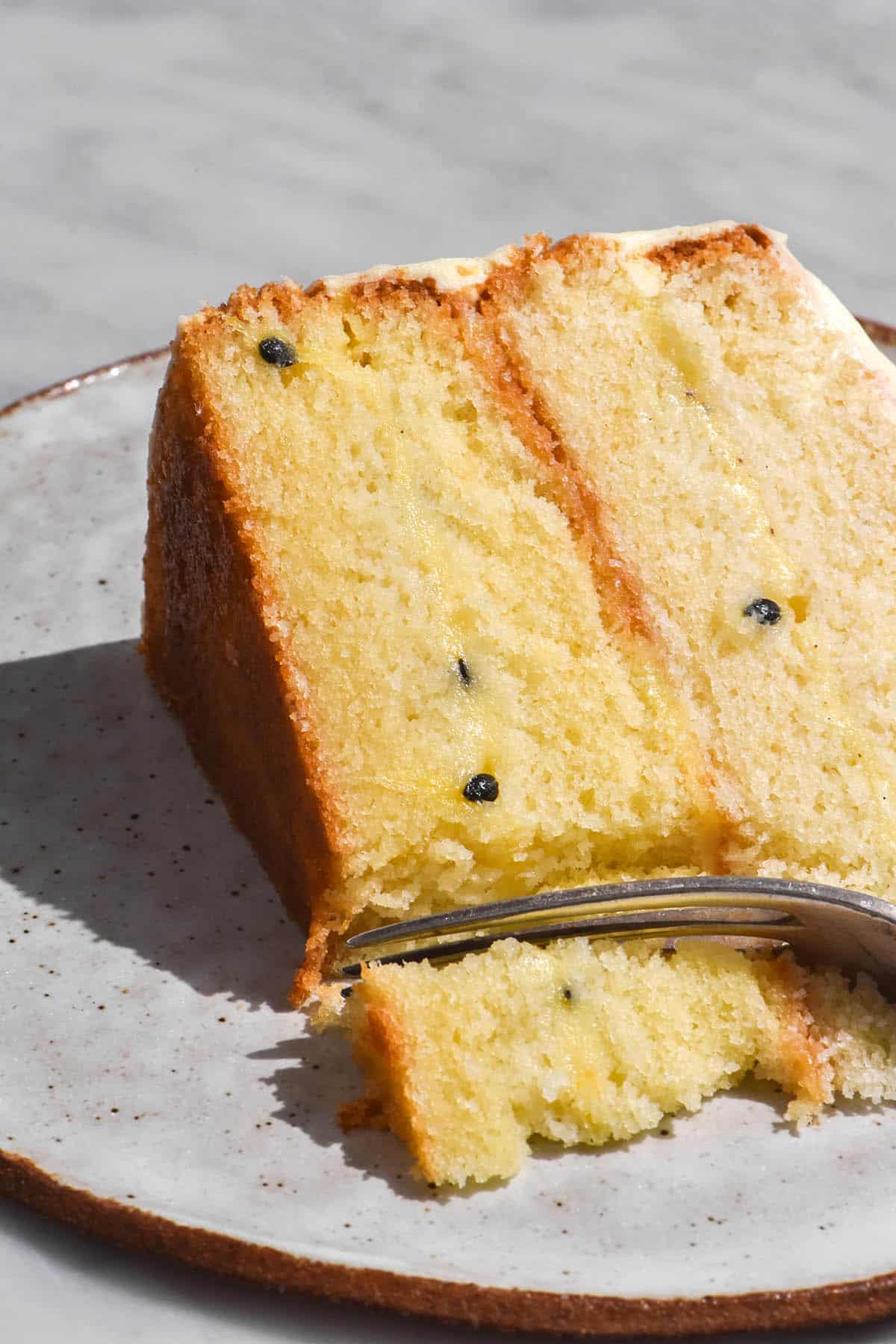 More gluten free cake recipes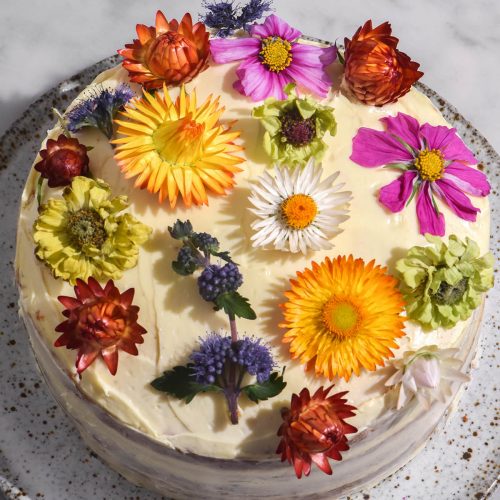 Gluten free cake with passionfruit curd and cream cheese icing (makes 2 cakes for a layer cake)
Ingredients
For the passionfruit curd:
60

g

(1/4 cup)* passionfruit pulp

110

g

(1/2 cup)* caster or white sugar

125-180

ml

(1/2- 3/4 cup)* lemon juice (see notes)

125

ml

(1/2 cup)* melted coconut oil

4

extra-large eggs 200g total weight

weighed out of shell
For the cakes:
300

g

white rice flour

100

g

almond meal

60

g

tapioca flour

10

g

baking powder

250

ml

milk of choice

I used lactose free full cream

150

g

thick

plain Greek yoghurt (I used Jalna lactose free)

125

ml

vegetable oil or neutral oil

150

g

butter

salted or unsalted, room temperature

3

extra large eggs

45-55g each, weighed out of shell

400

g

caster sugar

1

teaspoon

vanilla bean paste

optional
For the cake soak:
125

ml

milk of choice

I recommend regular lactose free milk for a neutral flavour

25

g

icing or caster sugar

1

teaspoon

vanilla bean paste

optional
For the cream cheese icing:
1

x 250g packet of cream cheese

I use lactose free room temperature

50-75

g

icing sugar

sieved

Splash of milk

for a spreadable consistency
Instructions
To make the curd:
Place the passionfruit pulp, sugar, 125ml (1/2 cup) lemon juice and melted coconut oil in a medium heatproof bowl. Whisk to combine and allow to settle before tasting for acidity. Add the remaining lemon juice according to your tastes.

Add the eggs and whisk again to combine. Set the bowl over a small saucepan 1/4 filled with water over a low-medium heat. Ensure the water won't touch the bowl.

Use a spatula to continue stirring the curd over a low medium heat. A spatula will prevent too much air bubbles from forming but also allow you to scrape the sides of the bowl as the curd cooks. Once the curd has thickened (it will thicken up a little more as it cools) remove it from the heat. If you accidentally overcook the curd, place the base of the bowl in ice cold water and whisk rapidly.

When you're happy with the curd, allow it to cool a little. Cover the curd with plastic wrap, flush to the curd itself so it doesn't develop a skin. Place in the fridge and allow to cool completely (if you're not using it straight away) before decanting into a clean, airtight container. Use it within a week or freeze it to preserve it for longer
To make the cakes:
Preheat the oven to 180C/356F. Grease and line two 20cm/ 8 inch cake tins. Place a rack in the middle of your oven and ideally another one up the top (not touching the elements). We'll place a piece of foil on this top rack to prevent the cakes from over browning.

Combine the flours, almond meal, baking powder and salt in a large mixing bowl and whisk to combine.

In a medium bowl, whisk together the yoghurt and milk and set aside.

In a large mixing bowl, combine the oil, butter, eggs and sugar.

Use a hand beater or stand beater to beat the mixture for 1-5 minutes or until lighter and foamy. The butter should have incorporated completely into the mixture, with no chunks remaining. This will take longer with colder butter, so make sure it's room temperature. Add the vanilla here, if you're using it.

Turn the beaters to low and alternate between adding the flour mixture and milk mixture. Continue until you have used up all the flour and milk.

Pour the batter into the prepared cake tins and place them into the oven.

Bake for 15-20 minutes, then swap the cakes in the oven to evenly distribute the heat. Continue cooking for 20-25 or until the cakes are golden brown but firm to the touch. Remove from the oven and allow to cool for 10 minutes before gently removing the cakes from the tins. Place them on a wire rack to cool completely. (peel off the baking paper if it has stuck to the bottom of the cake).
To make the cream cheese icing:
Use hand beaters or a stand mixer to process the cream cheese and butter until smooth, combined and lump free. Add the icing sugar, turn the speed to medium high and beat the mixture until fluffy. Add the optional flavours to taste.
To assemble:
Mix the milk, sugar and (optional vanilla for the cake soak and set aside).

Carefully slice each cake in half through the side to make four rounds of cake. If you want the cake to be flat, you can also carefully trim off the domed top of each cake. Carefully lay each piece out, cut side up. Brush the pieces of cake equally with the cake soak until you have used it all up.

Next, use around 1/3 of the passionfruit curd on the bottom piece of the first cake. Spread it gently so as not to disturb the crumbs. Only use as much as you need – using too much will mean that it will spill out of the edges. Place the top piece back on the cake.

Add another 1/3 of the curd on the top of this cake, then stack the bottom of the next cake on top. Add the final layer of curd to this layer, then place the cake lid on top, completing your layer cake. Gently press down to secure the layers, then place the cake in the fridge for 15-20 minutes to set.

Finally, we're ready to ice the cake. Very gently spread your cream cheese icing on top and sides of the cake. I like to use an offset spatula, but you can also use a flat bladed knife or the cake of a serrated knife. Anything with a smooth edge.

Fill in any gaps with icing and smooth the cake top down. Top with decorations of your choice and serve.
Notes
I find cream cheese icing cracks on cake if left overnight. For this reason, this cake is best iced the day of eating.