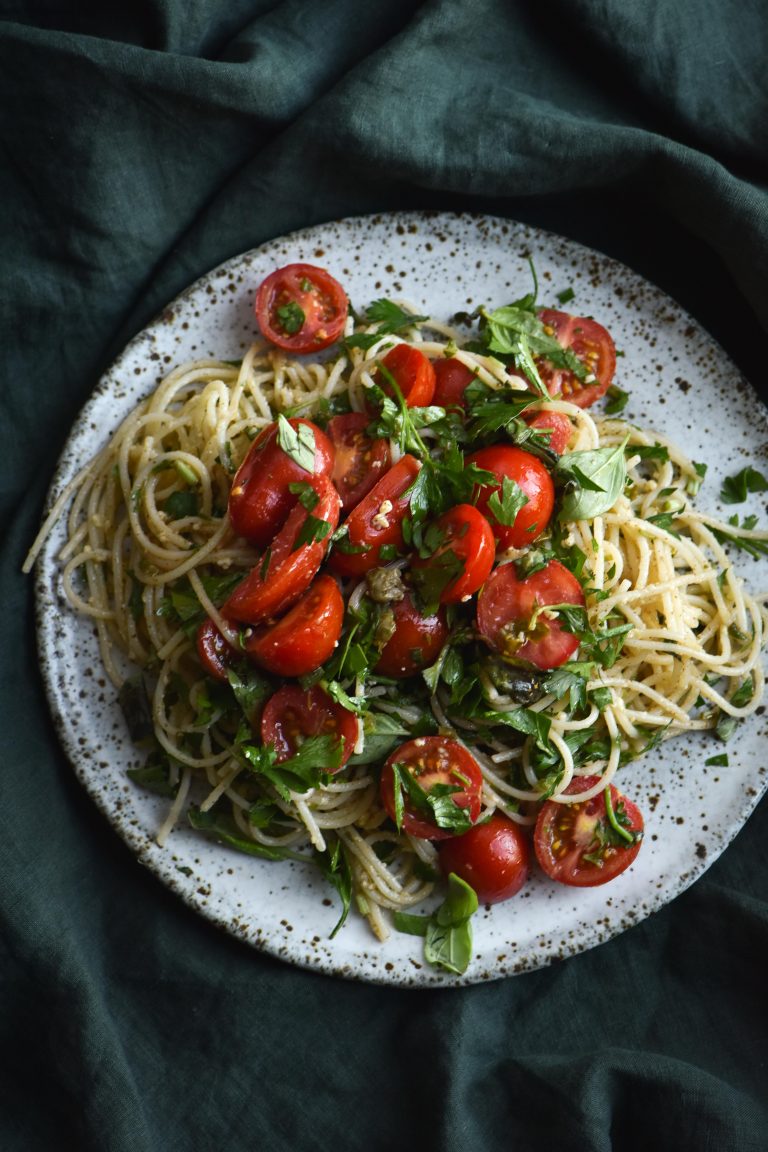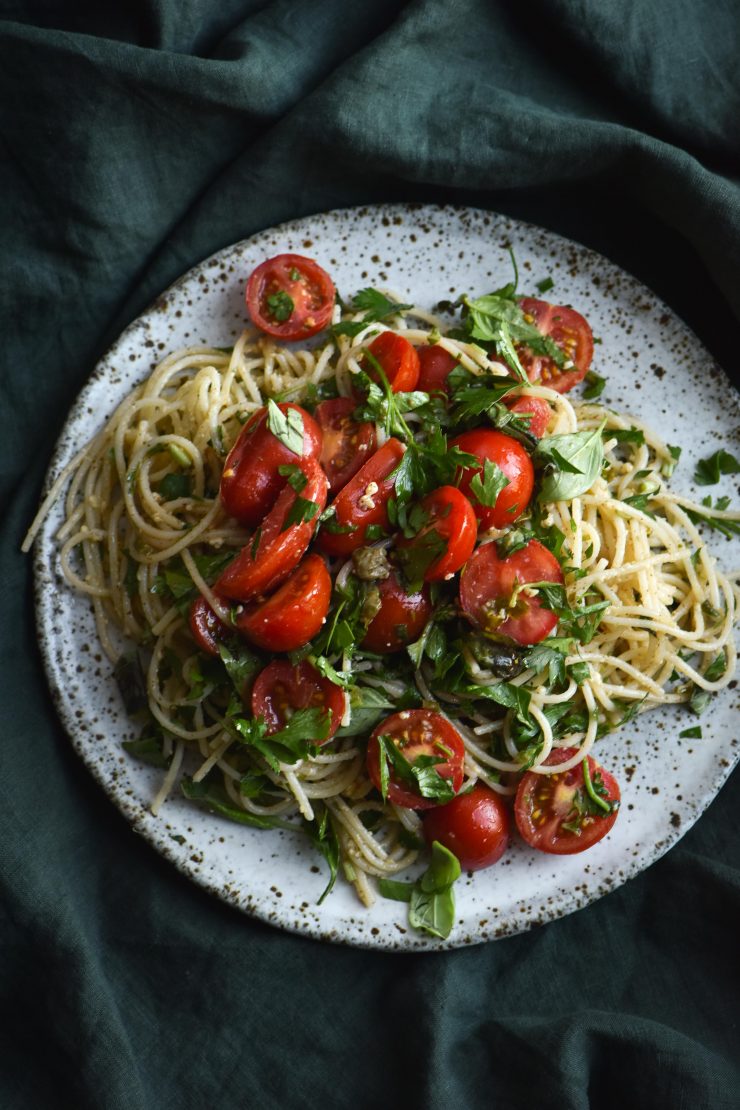 One of my own personal critiques is that I'm wholly ignorant of how little time people have to cook each day. Given that I cook all day, every day as a job, I seem to easily forget that not everybody can spend all day making an intricate lasagne. I'm here today to begin rectifying this, with a FODMAP friendly pasta that is ready in 20 minutes. It's gluten free, vegetarian and be customised to any season. Basically: it's a lazy, easy pasta sauce.
FODMAP friendly vegetarian pasta with brown butter sauce
This gluten free, vegetarian dish is fast and delicious. Butter is browned until dark, speckled and fragrant. In go some capers, chilli and perhaps a little asafoetida. Next up: lots of lemon juice and a little pasta water. By the end of the pasta cooking time, you have a zingy, creamy, light yet flavourful pasta sauce. Finished with herbs, a handful of parmesan and the vegetables of your choice? Heaven. Easy, delicious, FODMAP friendly pasta heaven.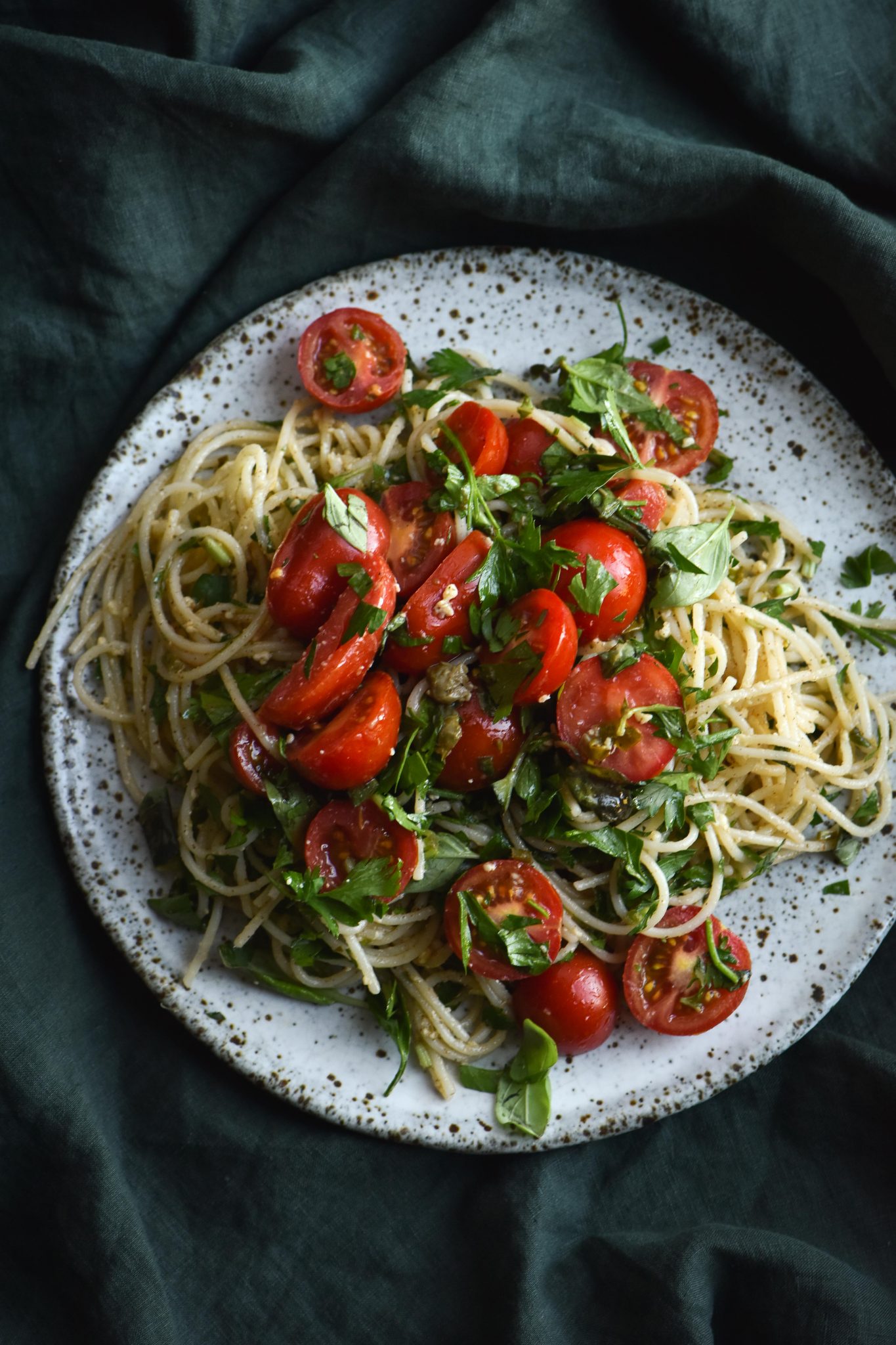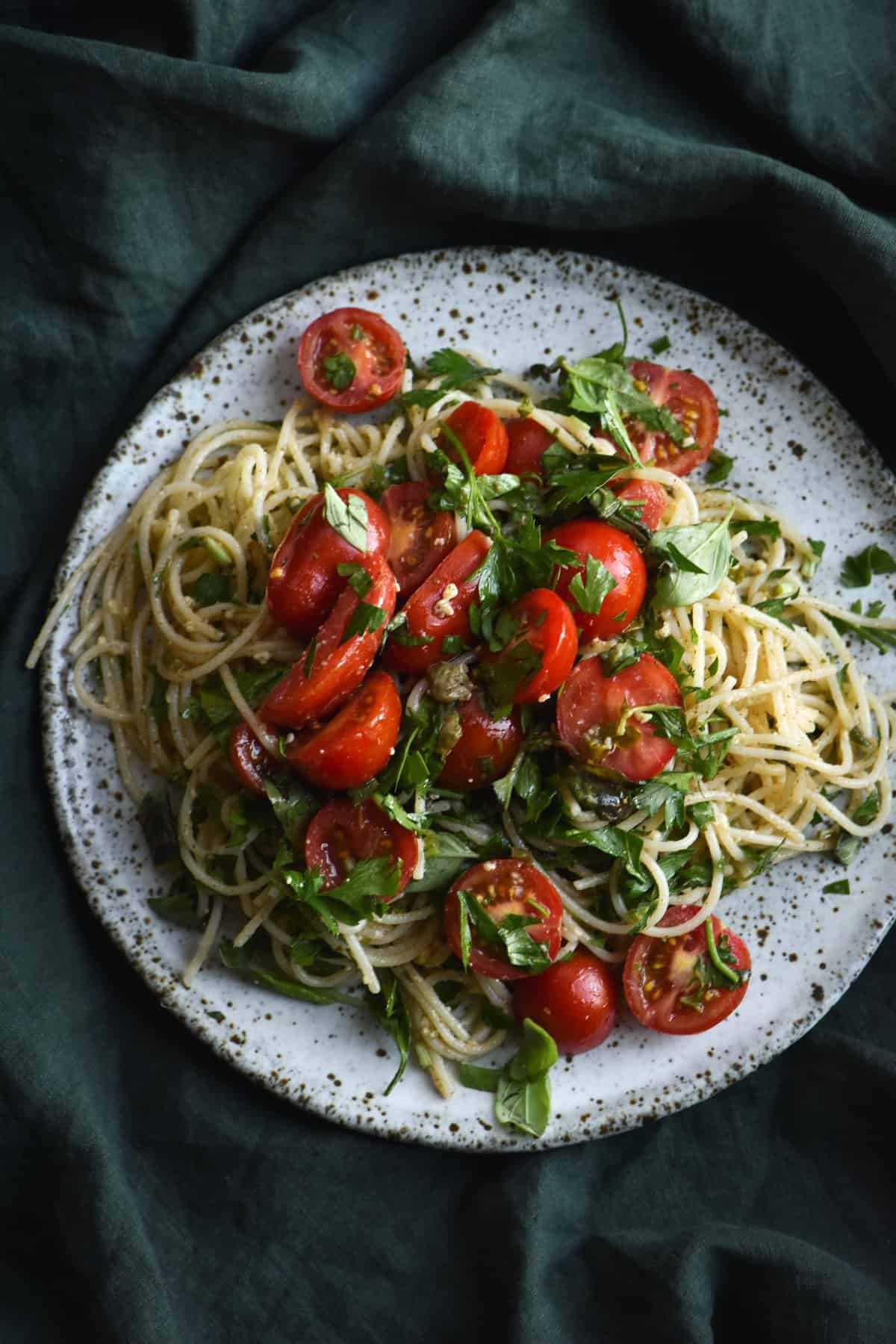 More low FODMAP vegetarian pasta dishes
Recipe notes
100g of butter might seem like a lot, but between 4 people it is only 25g. I haven't worked on a vegan version yet, but I promise I will. 
For a more subtle lemon hit, use the lesser amount of lemon juice. Personally, I love the full on version with the full amount of lemon.
I've used parsley and basil as the herbs, but you could use your preferred herb (within reason, sorry coriander). 
I really like Ceres and Green Olive Organics brands for spaghetti in Australia. They contain whole grains, not just corn and starches. 
Aleppo chilli is a great smokey chilli flake that isn't too high in heat. That's what I like to use in this dish.
The brown sugar is (kind of) optional but really balances out the tartness of the lemon. You can use maple syrup or panela sugar in it's place if you prefer. 
Meyer lemons are a sweeter variety of lemon, which is helpful if you don't like things too tart. They're not generally available at supermarkets though.
Use vegetarian parmesan to keep this dish vegetarian. Yes, it does exist. I know, it technically shouldn't. Yet here we are.
Although I haven't tried it, you could probably use chopped olives instead of capers. Anything goes, really.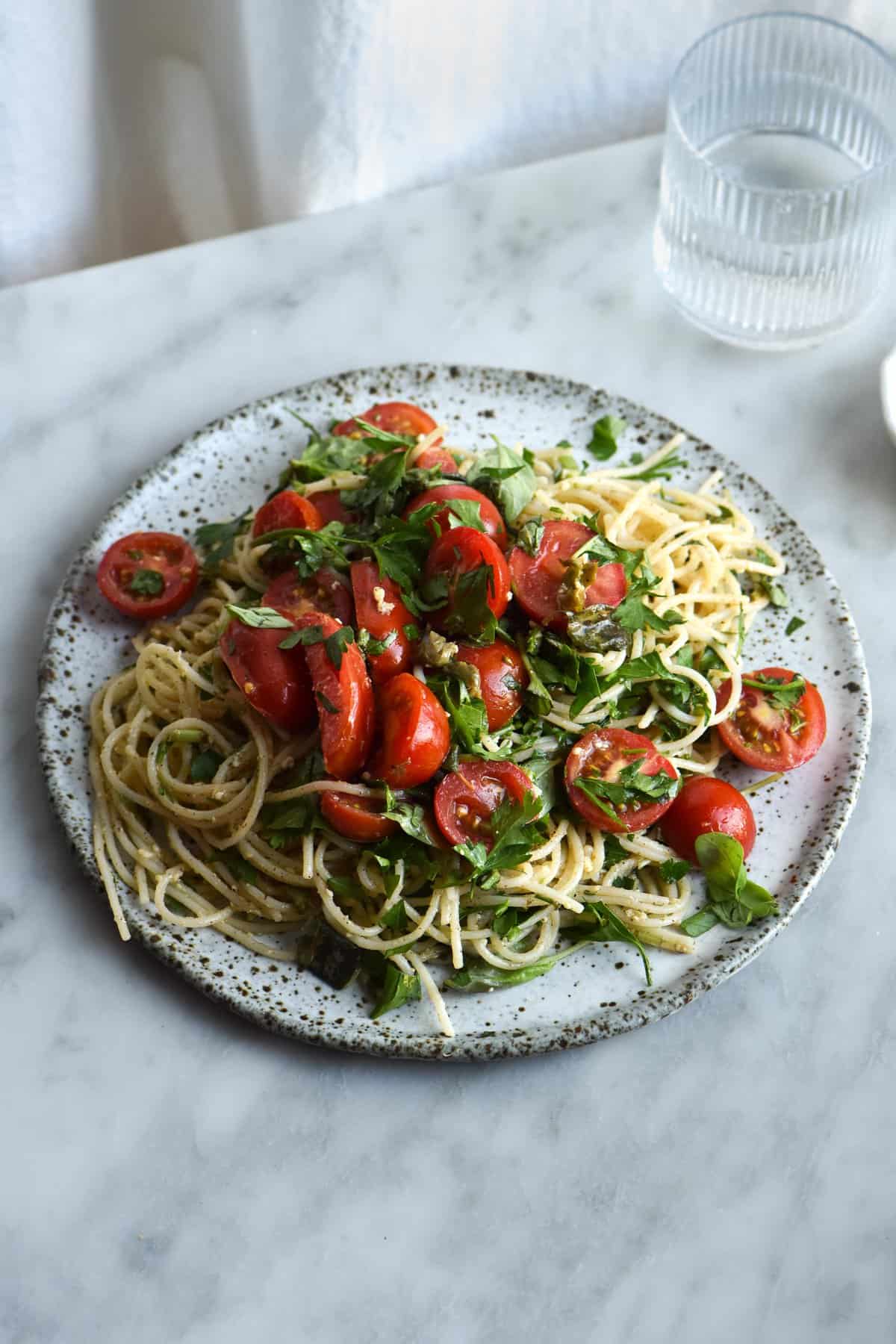 Tips and tricks for your FODMAP friendly vegetarian pasta
Chop, juice, assemble everything first. This dish goes very quickly once you start, so it really helps to have everything on hand.
Blender parmesan is the way to go here! Once blended, parmesan becomes a fine, beautiful powder that assimilates into the sauce. I chop it into small chunks and blend it in my old Nutribullet. Please never ever buy pre-grated Parmesan unless it's real parmesan in a tub from the deli. The packaged sort has fillers that prevent it from properly melting and it can aggravate sensitive digestive systems.
I like to use a wok to cook my spaghetti because it means I don't have to bend the sides to squish it into the pot. It also means I can use less water, which in turn produces brilliantly starchy pasta water. This emulsifies the lemon sauce and brings it all together.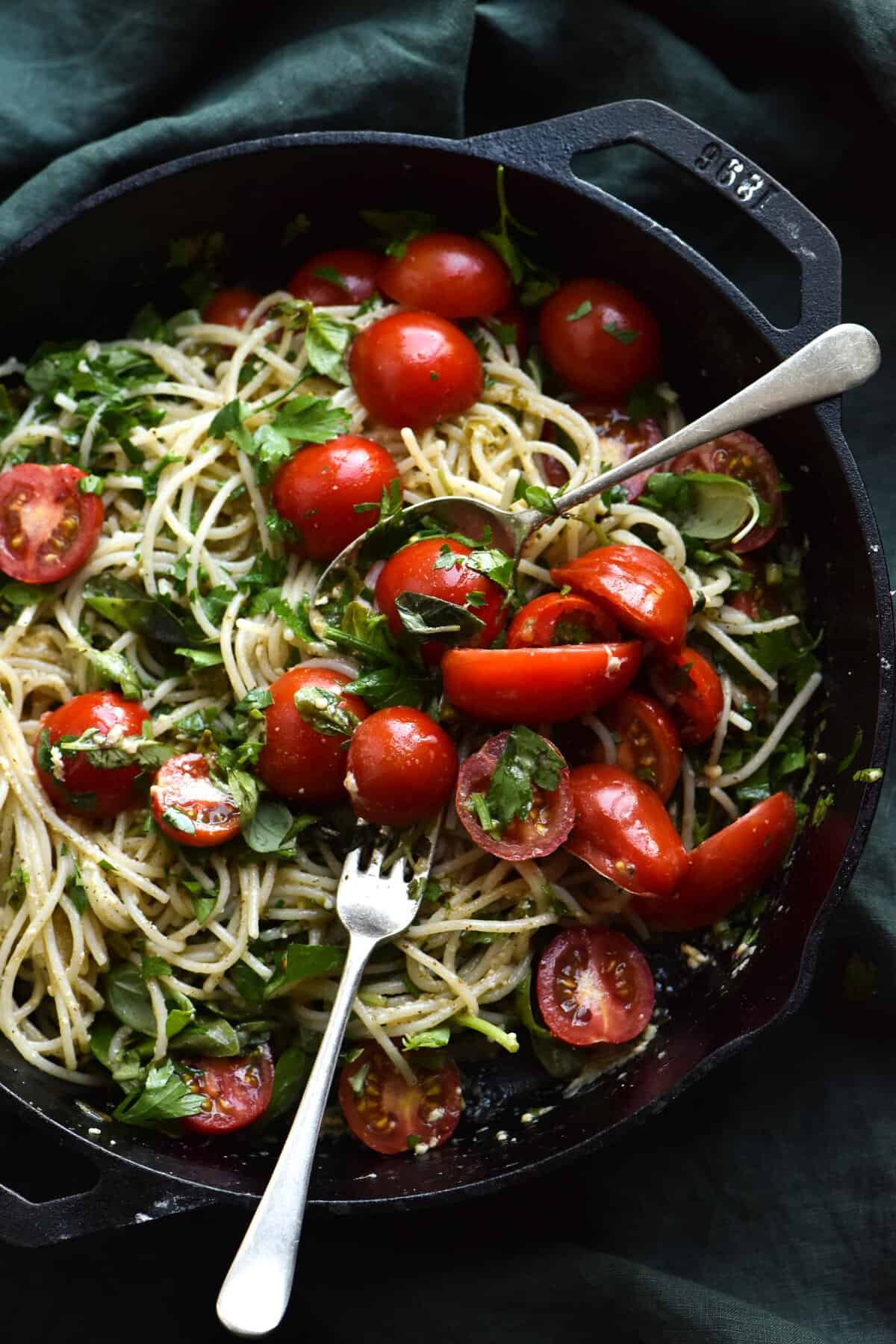 Substitution options
As noted, I have not yet tried a vegan version of this dish. Vegan parmesan would be fine, but I'm not sure if vegan butter would work. It certainly wouldn't brown, and as yet I'm unsure if it would emulsify or just become greasy. Stay tuned.
You can, however, use 3-4 tablespoons of olive oil in place of the butter. Personally I much prefer the brown butter version, but it is an option. You could use garlic infused oil for a bit of pizzazz, too.
You can easily use vegetables you have on hand for this FODMAP friendly pasta. If they're hardy vegetables like broccoli you will need to cook them prior to adding them into the pasta. Or not, you do you.
You could bulk the pasta out by stirring through some lightly wilted greens. Another option to get extra greenery in there is to gently stir through some zoodles after you've turned off the heat.
I added some chopped olives to the brown butter while I was testing this recipe and found that a very pleasant addition.
I see no reason why you couldn't use any pasta shape you fancy. For me, there's just something about spaghetti.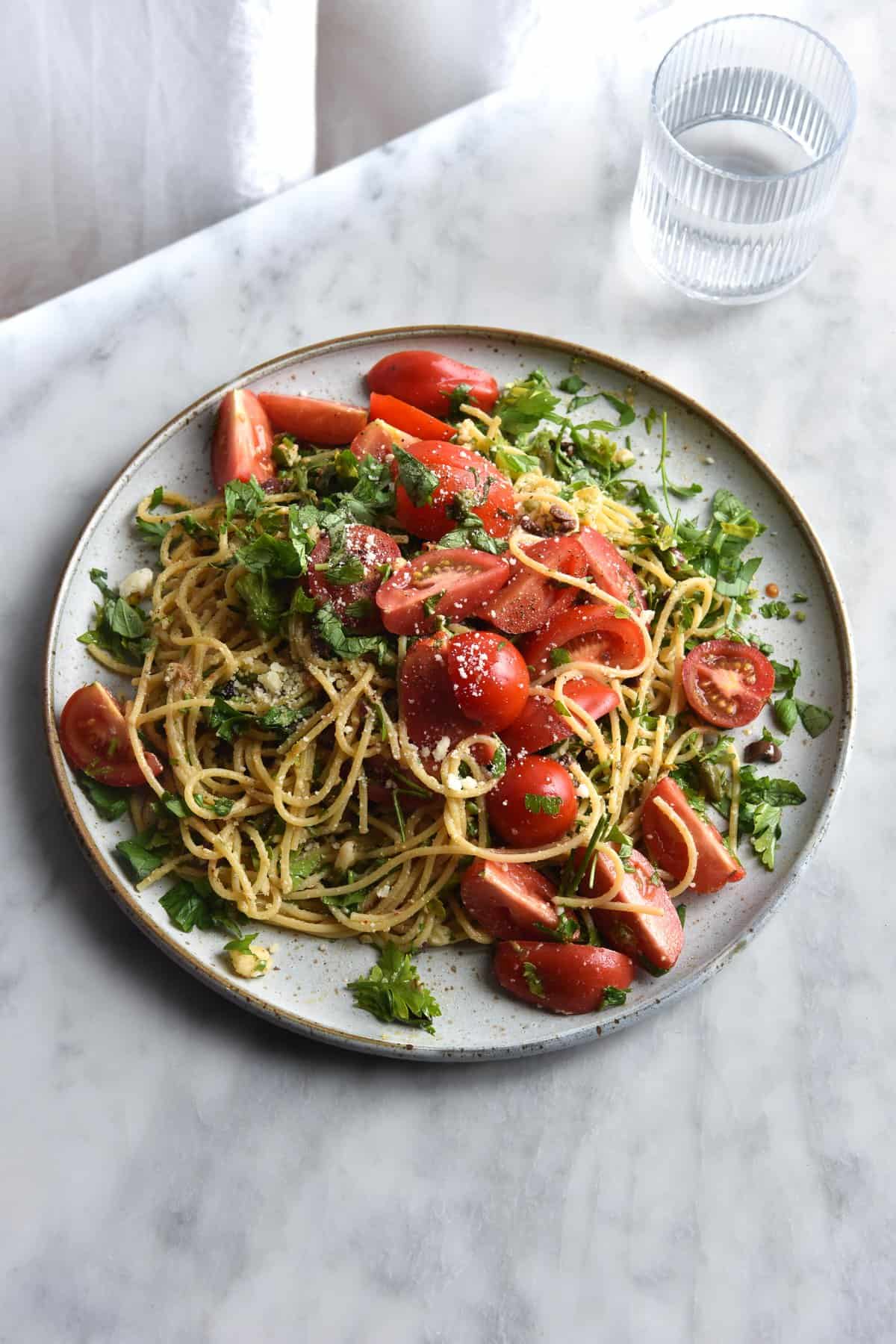 Monash FODMAP update:
Monash have recently updated their guidelines for tomatoes, lowering a FODMAP friendly serve per person. 1/2 a common tomato or 3 cherry tomatoes are now considered low FODMAP. Servings that contain more than this will have a high fructose content. If you have never had any issues with tomatoes, as you were! No need to change anything. If you have, consider using less tomatoes and using another vegetable instead. Or, skip the tomatoes and eat the pasta with the brown butter sauce.
FODMAP friendly pasta notes
A few notes on FODMAPs for this pasta dish:
Use any type of tomato you like, but just be aware of cherry tomatoes if you're using them. They have a higher FODMAP content than regular tomatoes. See the update above.
Butter and parmesan are both incredibly low lactose.
It's optional, but I like to use asafoetida powder in this dish to give it a bit of a garlic-like flavour. Make sure it's gluten free if it needs to be (some brands contain wheat). You can find asafoetida at Indian grocers or these days even in health food stores. It tastes a bit like cooked onion and garlic so it's a very handy ingredient if you need to avoid them.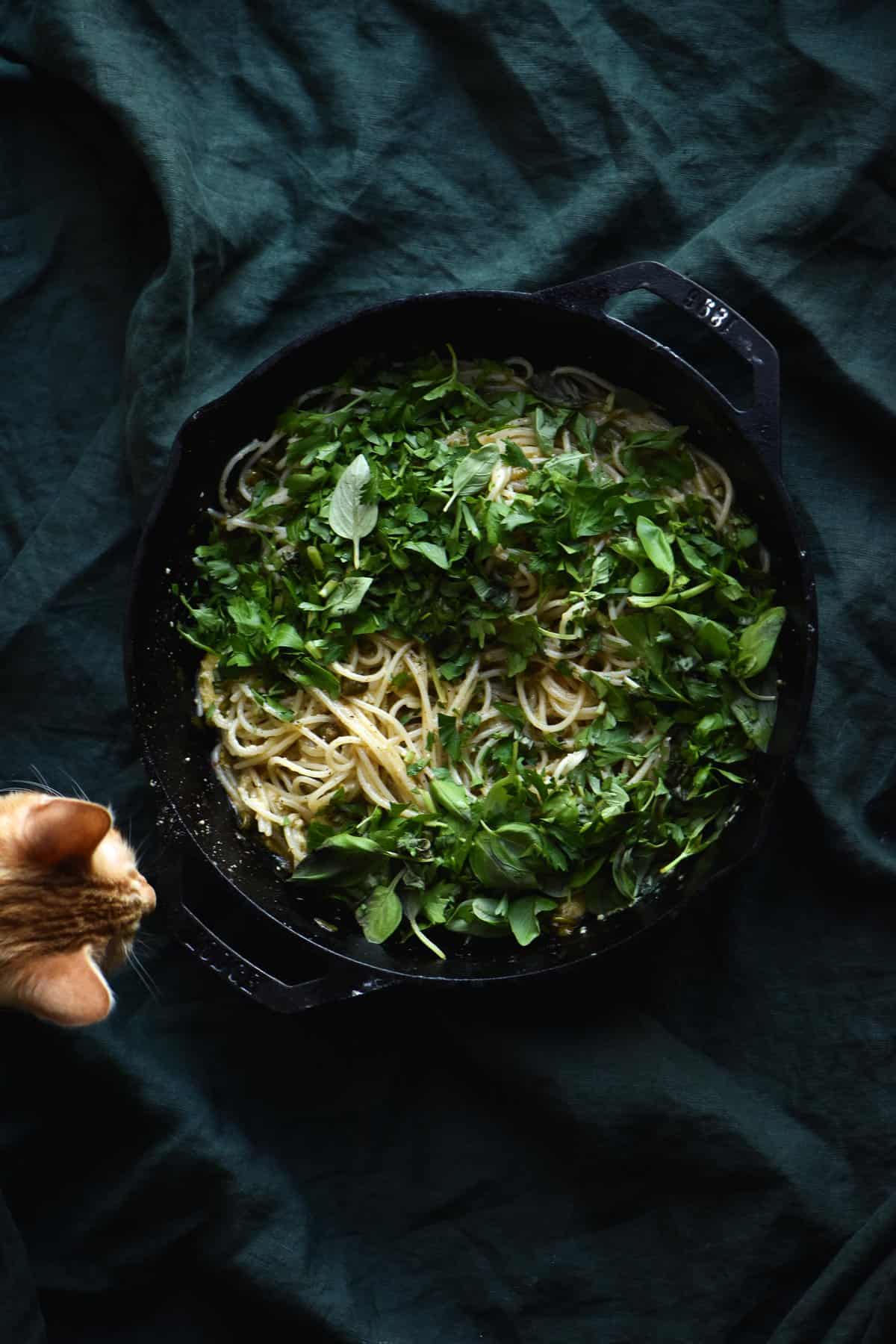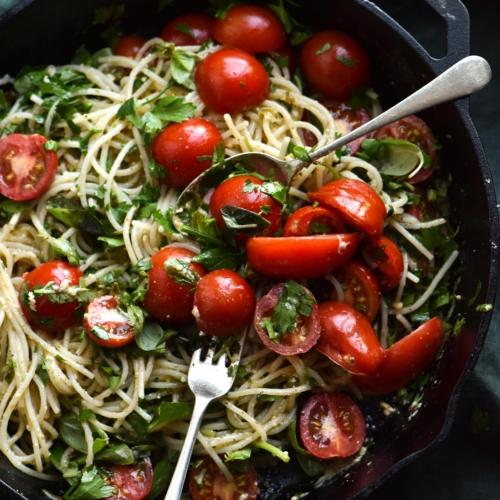 FODMAP friendly pasta with brown butter, lemon, chilli and herbs
FODMAP friendly, vegetarian, nut free, gluten free
Ingredients
250

g

gluten free spaghetti

regular spaghetti is fine too

100

g

good quality salted butter

Lots of freshly cracked black pepper

to your taste

2

tablespoons

capers

chopped

Pinch

of chilli flakes

I used Aleppo chilli

1/2

teaspoon

asafoetida powder

optional, see notes

1

teaspoon

light brown sugar

optional, see notes

1/4

– 1/2 cup pasta water

4-6

tablespoons

freshly squeezed lemon juice

2-3 large lemons

Handful of blender parmesan

to taste

Two large handfuls of herbs

finely chopped (I used basil and continental parsley)

Punnet or so of tomatoes

chopped (see notes)
Instructions
Get everything chopped, squeezed, blended (Parmesan) and assembled. It will make life so much easier.

Bring a large wok or saucepan half filled with well salted water to the boil. Use just enough water so you can cook the spaghetti but also condense the starch.

Once the water is boiling, add the spaghetti and use tongs to separate it.

In a large skillet, melt the butter and crack in the pepper. Use a silicon spatula to move the butter around and continue to cook until it is deep, deep brown in colour and smells delightfully nutty. This will take anywhere from 2-5 minutes.

Once the butter is browned to your liking, add the capers, chilli flakes, asafoetida and light brown sugar. They will sizzle. Stir them in and cook them off for a minute or so. At any time from here if you're worried the butter is getting too brown, add some pasta water.

Add the lemon juice and stir to combine. If you haven't already, add some pasta water to emulsify the ingredients and form a sauce.

If your spaghetti is done (just slightly al dente is good) use tongs to transfer it to the sauce skillet. You can allow a little bit of pasta water to piggyback in – it will cook off quite quickly.

Swirl the spaghetti around in the sauce until it's completely coated and no excess liquid remains. Turn off the heat.

Add the blender parmesan to your taste and stir through. Do the same with the chopped herbs. Taste and adjust for salt, pepper, and Parmesan before gently stirring through the tomatoes. Serve immediately.
Notes
UPDATE:
Monash have recently updated their guidelines for tomatoes, lowering a FODMAP friendly serve per person. 1/2 a common tomato or 3 cherry tomatoes are now considered low FODMAP.  Servings that contain more than this will have a high fructose content. If you have never had any issues with tomatoes, as you were! No need to change anything. If you have, consider using less tomatoes and bulking up the salad with greens or cucumbers instead.