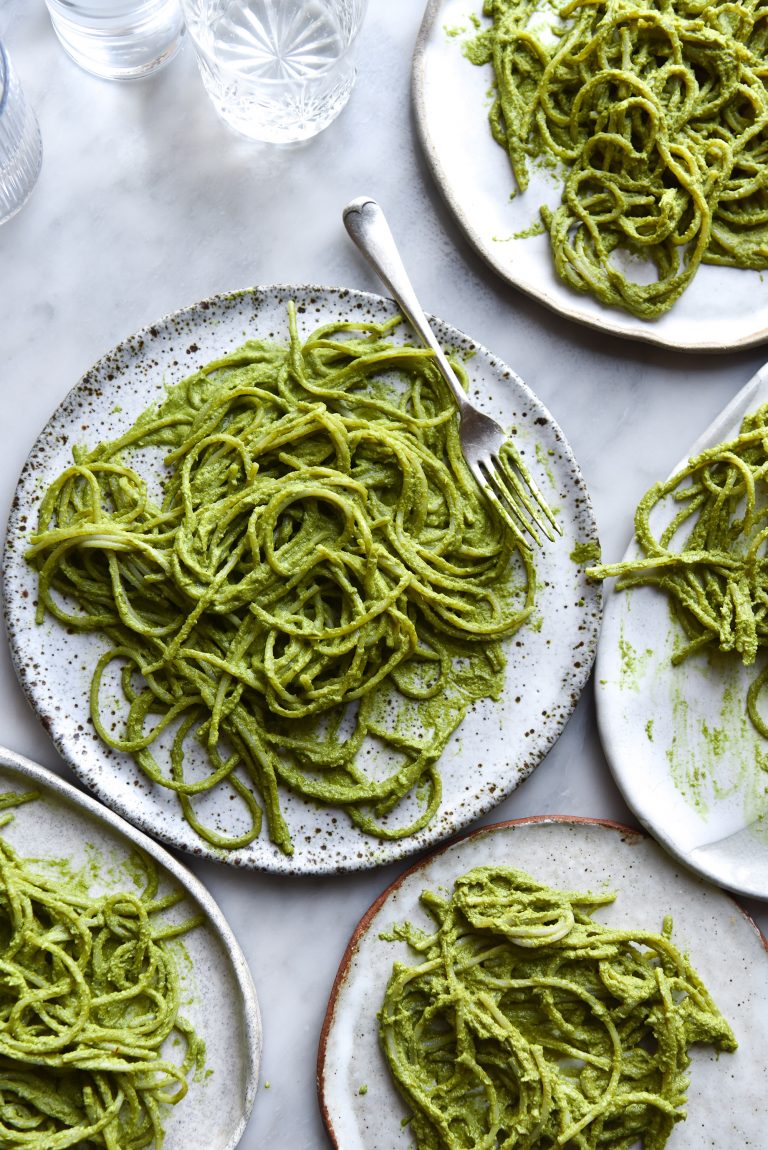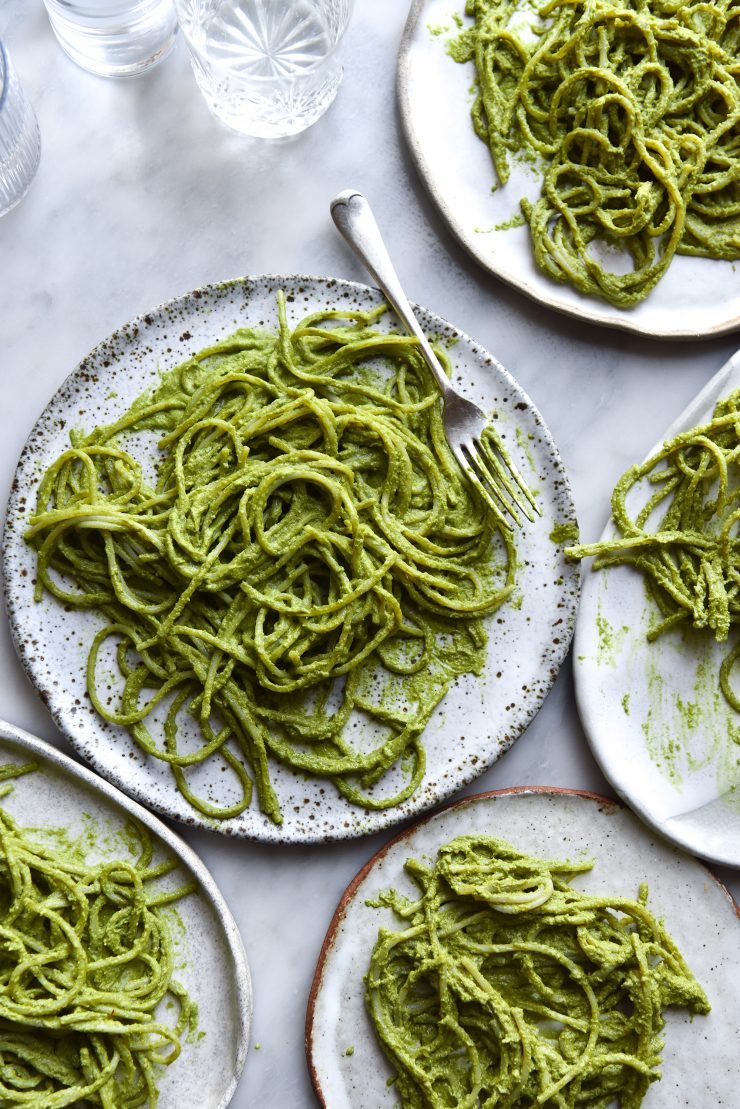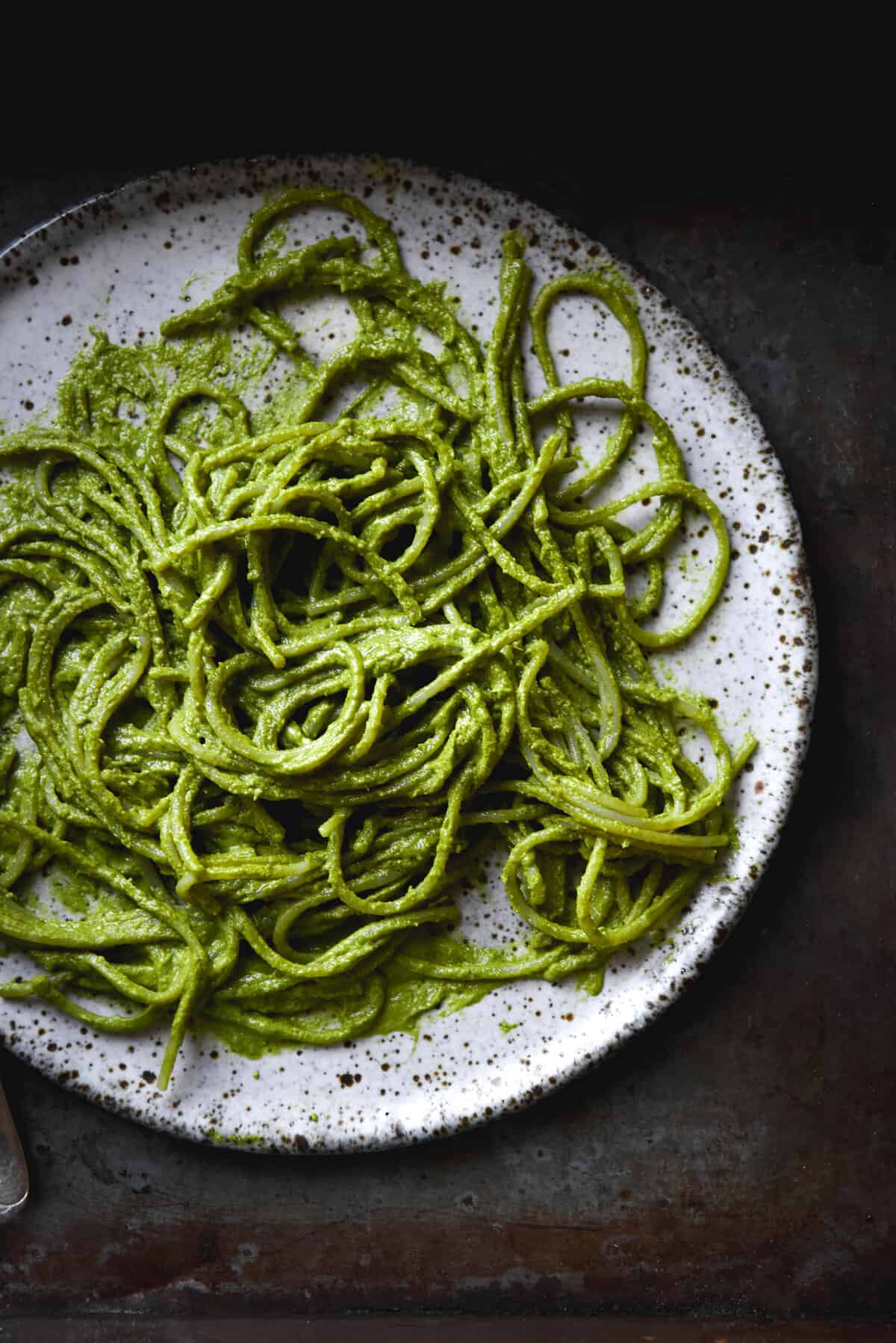 If you had told me even 3 weeks ago that I'd be developing freezer recipes for an imminent lockdown, I would not have believed you. Here in Australia (as in many parts of the world) we are staring down the barrel of an indefinite freeze on regular society. One which, it should be noted, I fully support. People frolicking on Bondi Beach as our doctors prepare to be overwhelmed by suffering patients is one of the most embarrassing and selfish things I've seen in a long time. Regardless, you're not here for my rants, you're here for this vegetable filled pesto.
So, I developed this recipe as a quick and easy remedy for restricted trips to the supermarket. This vegetable filled pesto, as it's name suggests, is packed to the brim with veg and designed to be frozen. You can smother it on toast, stir it through pasta, or add it to stock to make a quick and easy soup. The pesto is FODMAP friendly, gluten free and vegetarian if you use vegetarian parmesan. It basically builds on my basic FODMAP friendly pesto recipe.

VEGETABLE FILLED PESTO NOTES
Although it's impossible for me to thoroughly test, I'd say you could use any number of greens in this recipe. Whatever you have on hand is likely suitable.
Make sure you use vegetarian parmesan if necessary. It does exist, I promise.
You can freeze the pesto and whip it out whenever you're low on meals or vegetables. Keeping it in the fridge is also an option.
I like to use this pesto on a good gluten free pasta. My preferred brands are Barilla, Green Olive Organics and a new favourite, Rummo.
To make this into a soup, simply combine it with a FODMAP friendly stock. There's a recipe in my cookbook, but I'm also working on a low waste, stay at home stock recipe. If you'd prefer to use stock cubes, Massell have a FODMAP friendly variety here in Australia.
I make this in my Nutribullet, because that's the only processor I have at the moment. I love the Nutribullet, but if you have an actual food processor, use that instead. Nutribullets tend to pulverize pesto and make a paste rather than a sauce.
To spruce up your pesto, use garlic infused oil. I'd suggest a whole clove of garlic for this amount of oil.
HOW TO FREEZE YOUR VEG PACKED PESTO
There are plenty of ways to freeze your vegetable filled pesto. So, let's go over the options.
Firstly, I like to decant the pesto in two large freezer safe containers. I use one container to make an easy pesto pasta, and one to make a simple pesto soup.
That said, if you'd prefer smaller portions of pesto, go ahead and do that. Many people suggest freezing your pesto in ice cube containers, while The Kitchn suggests freezing pesto in sheets and then placing into ziplock bags.
I recommend pouring a thin layer of olive oil over your pesto to keep it fresh and green. This advice is the same irrespective of whether you're storing it in the fridge or freezer.
Vegetable packed pesto (FODMAP friendly)
Ingredients
100

g

large bunch basil

1 1/2

cups

walnuts

150g

1

medium

150g zucchini

1 1/2

cups

olive oil

100

g

spinach or rocket

100-150

g

freshly grated parmesan

depending on your taste

Juice of 2 lemons

1/2 cup plus extra, to taste

1/2

small broccoli

150g

Salt and pepper

to taste
Instructions
Depending on your make of processor, you might be able to combine all the ingredients in one go. I use a large Nutribullet chamber for this recipe, so I have to process incrementally.

If you're also using a smaller blender: begin by blending the basil, walnuts and zucchini in your food processor.

Once these have combined, add the next three ingredients, before moving on. Once the mixture is totally combined, season it to taste.

I like to decant my pesto into 2 freezer safe containers and freeze for later use. If you'd like to freeze it for smaller batched goods, see the notes for freezing above.