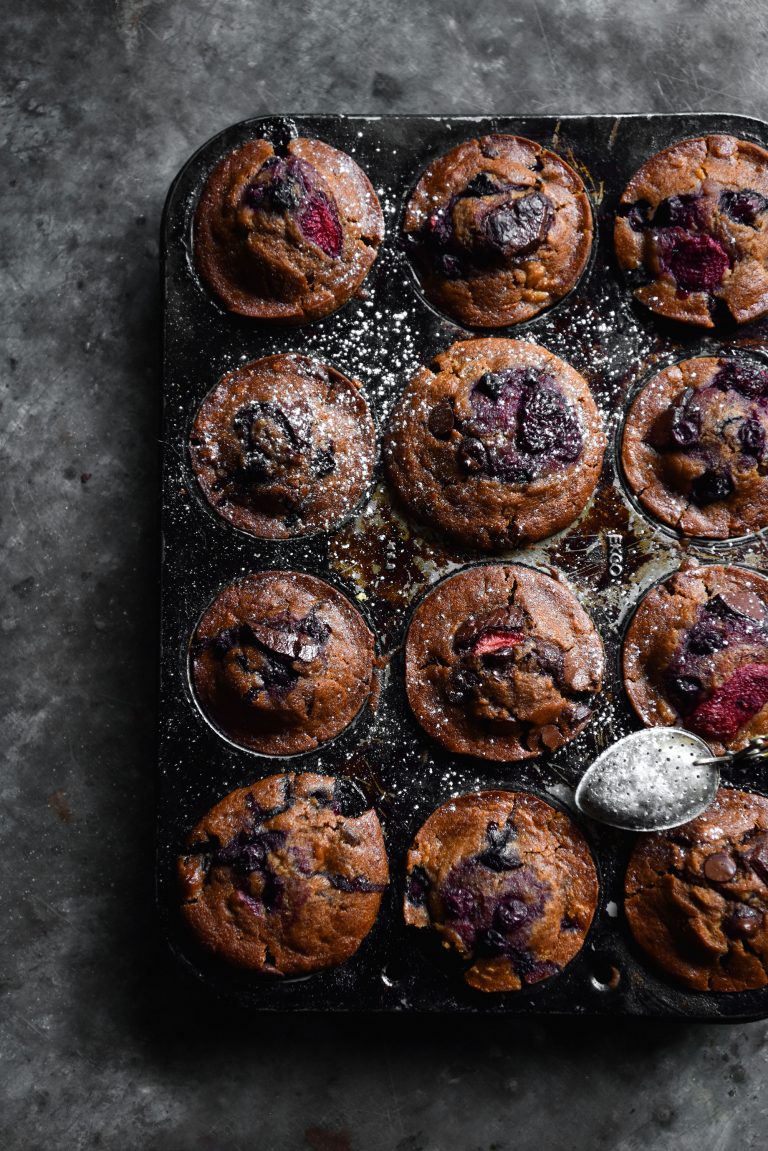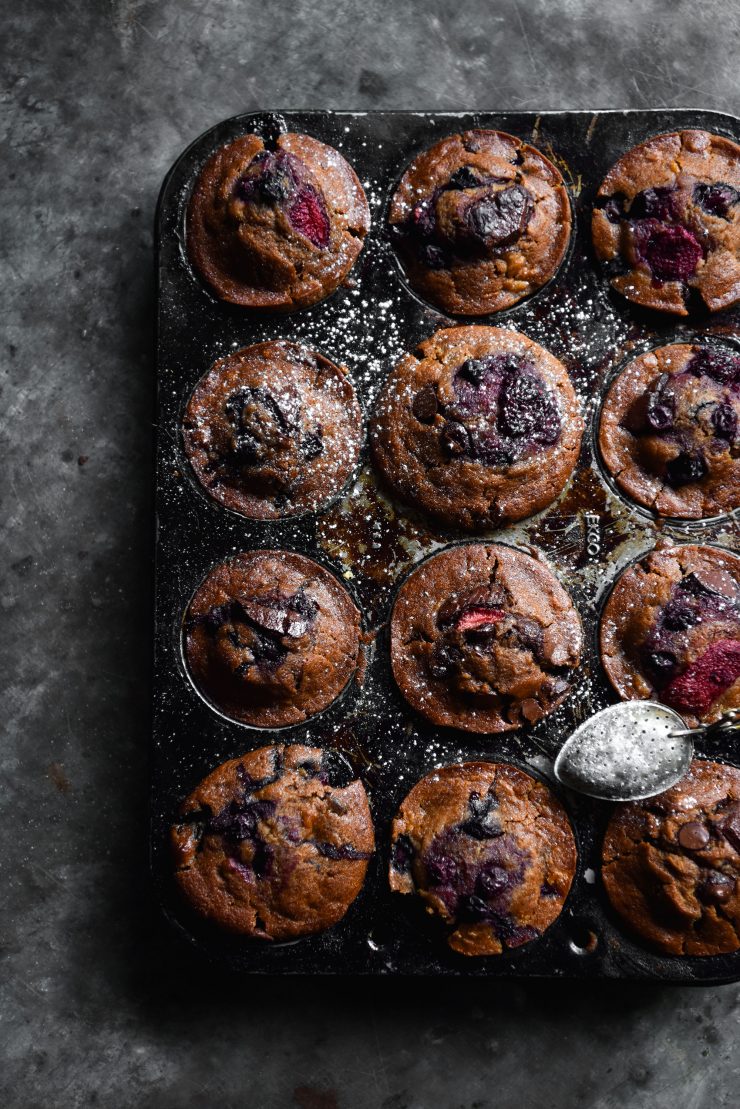 These banana muffins – they look somewhat similar to my recent brown butter banana bread, right? You are an astute lot. They are, in fact, exactly the same. Some may call it unnecessary content milking, others may call it a helpful hint.
I made these banana muffins after eating my weight in the original banana bread recipe. This seems somewhat illogical given my constant battle with over consuming baked goods, but the banana bread was truly that good. My one sole gripe, and the reason for the muffins, was that the banana bread takes an hour to cook. Sometimes, I don't have an hour to spare, or even worse, I cannot wait an hour. Enter our friends, the brown butter banana muffins. Studded with fresh or frozen blueberries and a hefty handful of dark chocolate.
So yeah, I'm basically writing up these muffins to tell you that they need less time in the oven than the banana bread. That's the helpful hint. I also learnt that they stay exceedingly moist, even when cut open and accidentally left out overnight post photoshoot. I think they are my favourite baked morsel to date.
BANANA MUFFIN DETAILS
The banana muffins are gluten free, nut free, low in lactose (only butter!) FODMAP friendly and refined sugar free. The quantity of banana used has been carefully measured so that you can safely consume these muffins within Monash guidelines. If you use very ripe bananas, you will consume approximately 25g per muffin, which is under the suggested 35g per muffin/serving. If you use unripe bananas, you could essentially eat 3-4 muffins in one sitting.
The brown butter in this recipe gives the muffins a depth nutty of flavour without any additional work or any actual nuts. Don't skip this step – browning butter decreases the moisture content in it, so you might end up with soggy muffins if you do. The moisture content is perfectly balanced to produce beautifully moist yet structurally sound muffins. Really, what is better than that? If you've never made brown butter, here's a quick instructional vid for ya.
After browning the butter, the bananas are cooked in the butter with a pinch of sea salt and vanilla bean paste. This brings out the banana flavour, which is even more important when you're using under-ripe or just ripe bananas.
Blueberries are a friendly berry in servings of 40g or under, so we have no issue here. However, feel free to change up the mix ins as you see fit, keeping in mind that the muffins are structurally sound but on the softer side. This probably doesn't matter for muffins, but you may find it difficult to slice the bread with whole nuts or anything bulky added.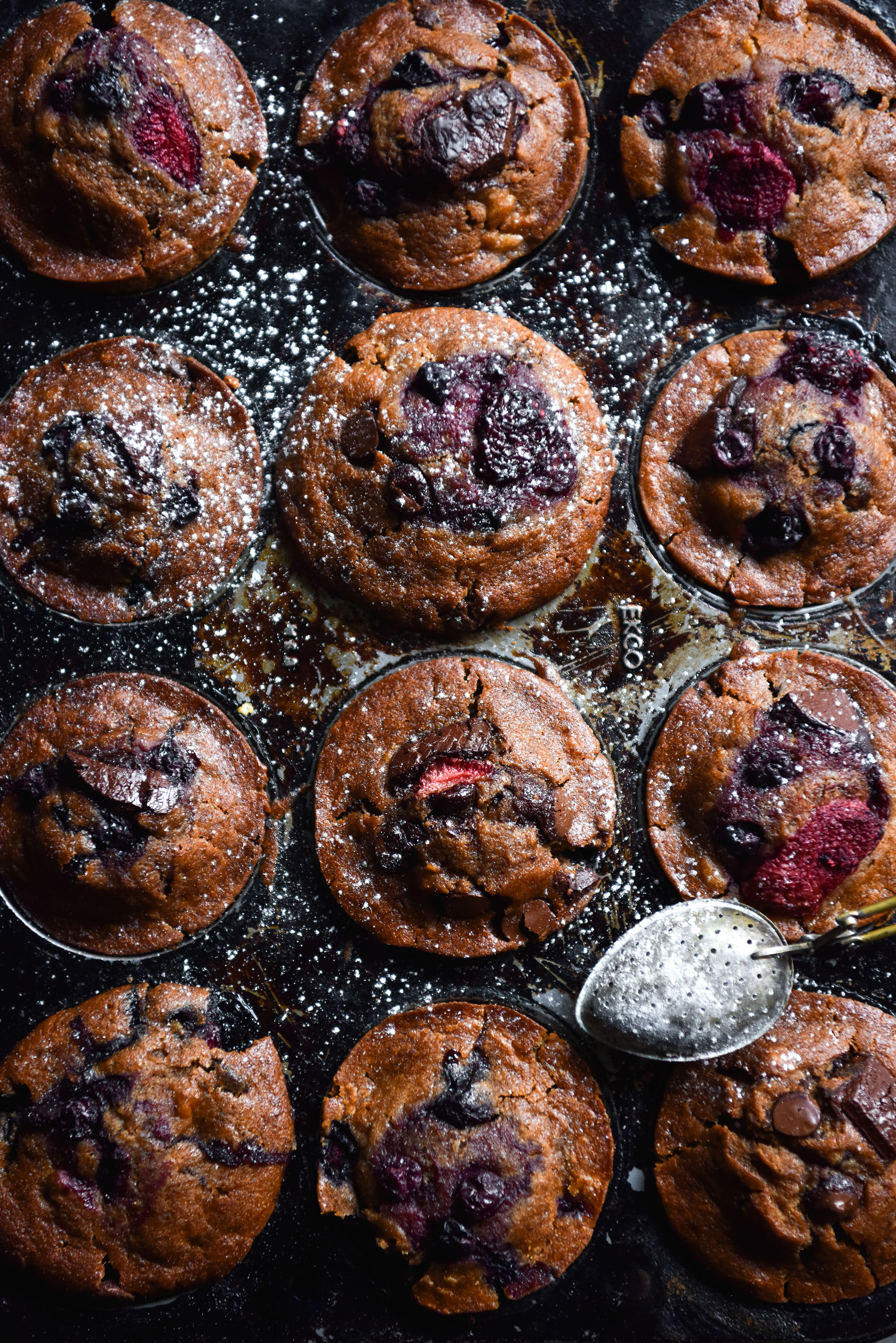 BROWN BUTTER BANANA BREAD WITH BLUEBERRIES AND DARK CHOCOLATE
Gluten free, refined sugar free, nut free, FODMAP friendly
Ingredients
For the banana muffins:
125

g

brown butter

well browned

300

g

ripe banana

mashed

1/2

cup

maple syrup

1

teaspoon

vanilla bean paste

2

eggs

I use 700g sized eggs

good pinch of sea salt flakes

I promise it makes everything better!

1/4

cup

milk of choice

1/2

tablespoon

apple cider vinegar

1

cup

fine brown rice flour

160g

3/4

cup

tapioca flour

90g

2

tablespoons

coconut sugar

or brown, but that will add a refined sugar component

1

teaspoon

nutmeg

1/2

teaspoon

cinnamon

1

teaspoon

baking powder

1

teaspoon

baking soda
Mix ins:
100-125

g

blueberries

100

g

chocolate chips or roughly chopped chocolate

refined sugar free if you want to keep it refined sugar free

Sea salt flakes

optional
Instructions
METHOD
Preheat the oven to 180 degrees Celsius.

Brown the butter as per your preferences. If you've never browned butter before, follow the link to the banana bread recipe for some tips.

Once the butter is browned to your liking, add the mashed banana, a pinch of sea salt and some vanilla bean paste. The butter will stop browning when you add the banana, so make sure you've actually browned it first. It should smell nutty, start bubbling, and have golden flecks under the bubbles.

Cook the banana in the butter for 5-10 minutes, until the banana is fragrant smelling. This is particularly important if you're using unripe bananas – you want to encourage as much banana flavour as possible. Once cooked, set aside to cool. You don't want to scramble the eggs.

While you're waiting, mix the plant milk of choice and apple cider vinegar together in a small bowl to form buttermilk. This will help give the loaf some oomph.

In a mixing bowl, mix together the flours, baking soda and powder, spices and coconut sugar. Add this to the banana mixture, and stir thoroughly to combine.

The banana should have cooled a bit, so add it to the flour mix along with the maple syrup. Stir to combine, and then add the eggs and buttermilk. Stir again. The mixture should look a bit fluffy.

Finally, add most of the blueberries and chocolate chips and stir through. Reserve a few to top the muffins, if you fancy.

Divide the mixture into 12 greased muffin holes. My tray is quite old, but the muffins didn't stick at all. It is an average sized muffin tin. Top with reserved berries and chocolate.

10. Place the muffins in the oven for 20-25 minutes, or until the tops are golden and a skewer comes out clean.

11. Once cooked, remove the muffins from the oven and allow them to cool slightly before transferring to a cooling rack. You can eat warm or cool. They make a great breakfast on the go, speaking from experience.

12. Store in an airtight container and eat within 3-4 days. They would probably freeze well, too