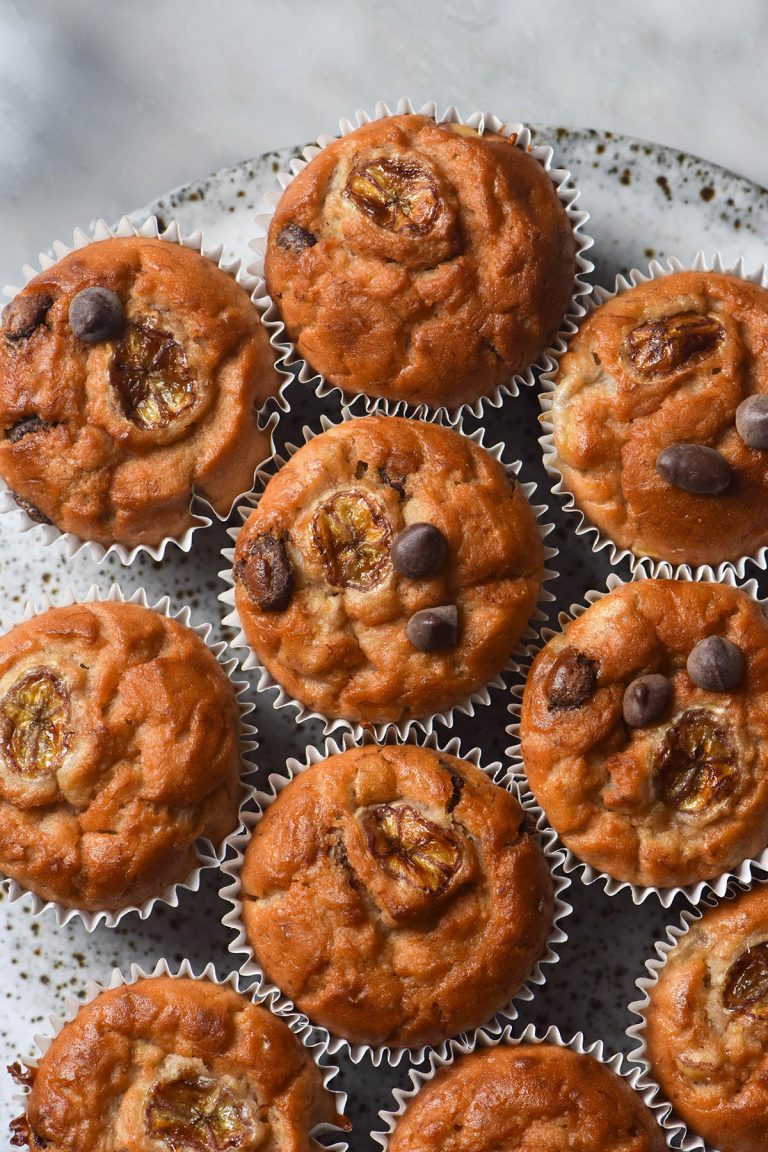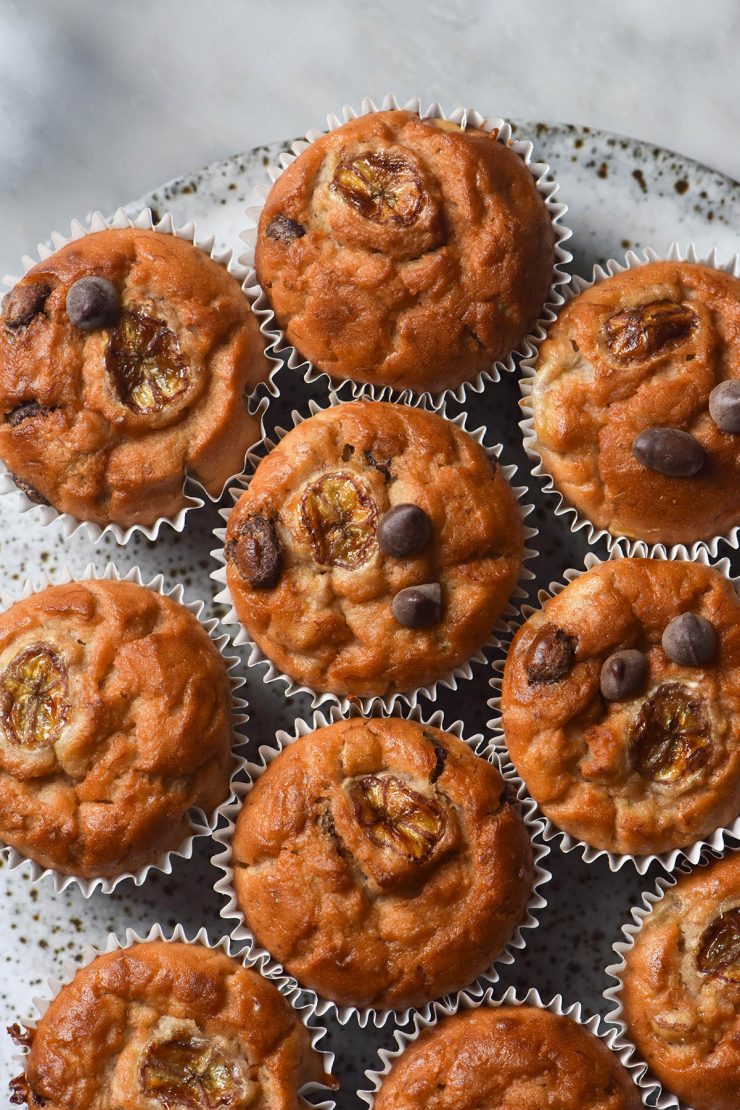 I've been going hard on muffins recently. I've published these gluten free banana carrot muffins, carrot muffins, chocolate muffins and white chocolate raspberry muffins. What I haven't published, though, is a recipe for gluten free banana muffins. So today that is changing!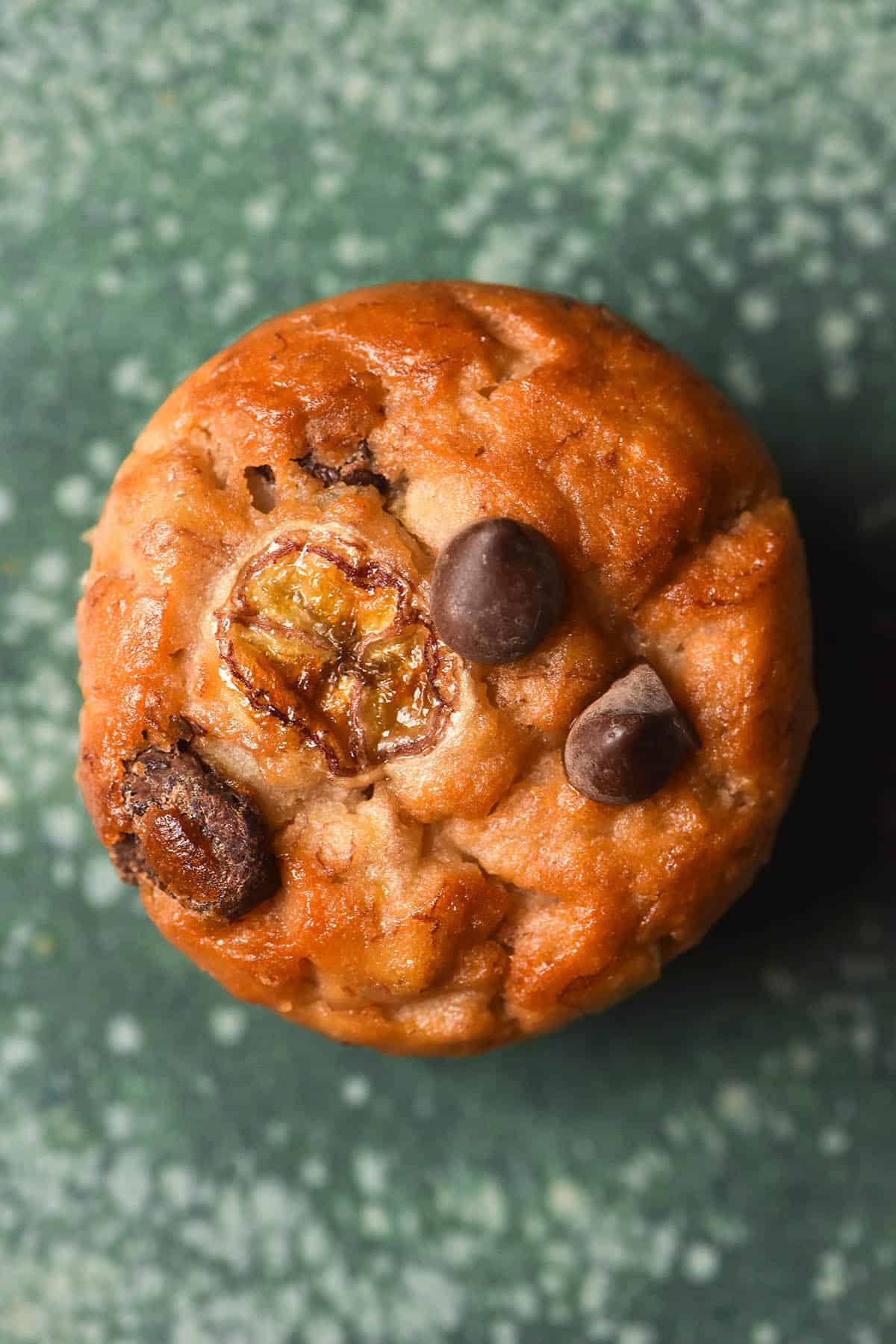 Gluten free banana muffins without xanthan gum
These muffins are a lower sugar, xanthan gum free, egg free and nut free little treat. Because the muffins are nut free, they are a suitable lunchbox snack for nut free schools. There is also a quick and easy vegan option.
They're very simple to make and constitute a nice filling snack thanks to use of lactose free Greek yoghurt. They also have a low FODMAP option, which we will go into below.
The muffins use a simple combination of white rice flour and buckwheat flour. Mashed ripe banana and yoghurt bind the muffins without the need for eggs or xanthan gum. A relatively low quantity of white sugar is used for sweetness. Although I haven't tested the theory, I daresay you could use brown sugar, rapadura sugar or panela sugar too.
I have add chocolate chips to my muffins, for a delicious and easy gluten free choc chip banana muffin. You could add hemp seeds, walnuts, cinnamon, or really anything you see fit.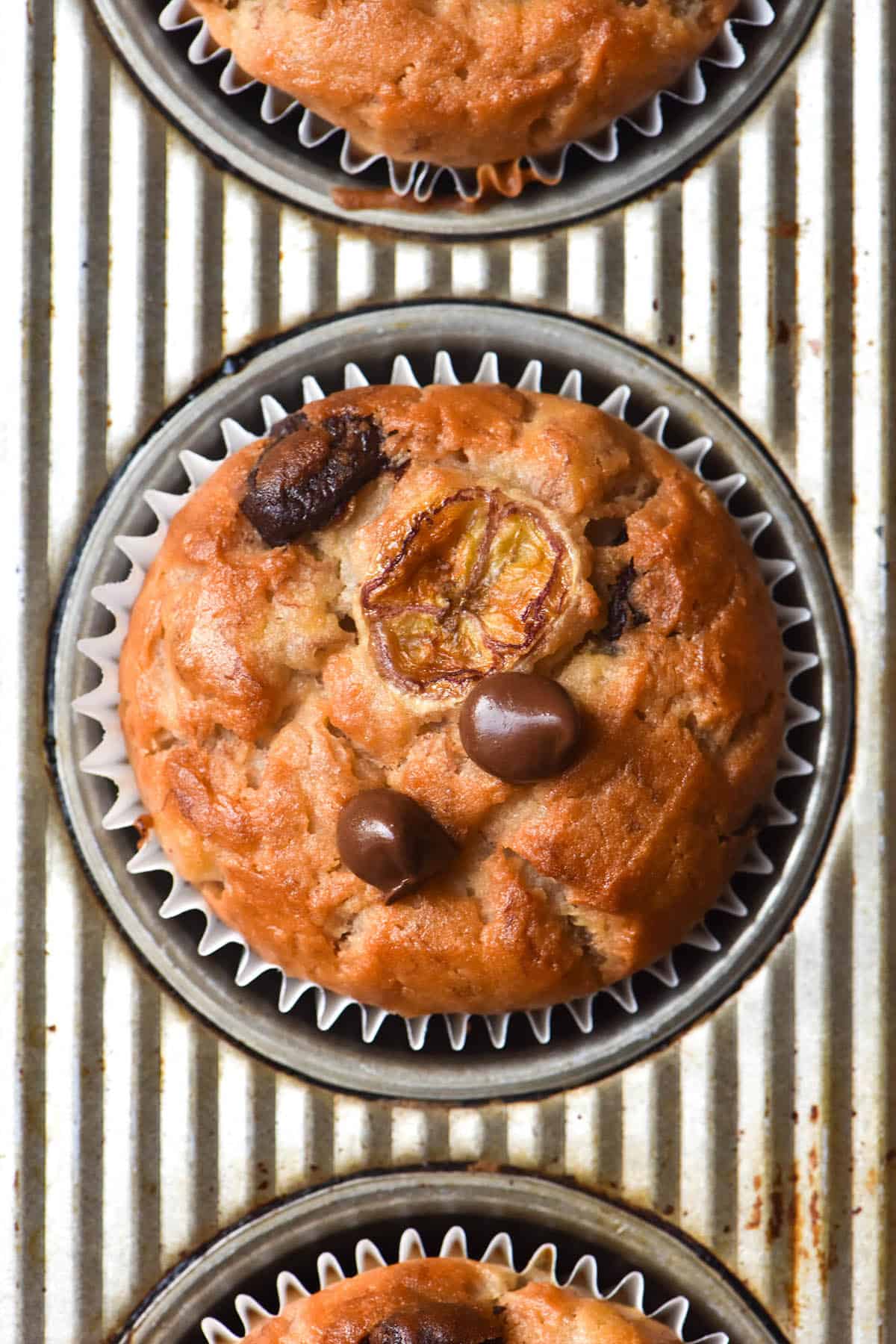 FODMAP notes
Oftentimes, people think that recipes with ripe bananas are off limits on the FODMAP diet. However, that isn't necessarily true.
This recipe makes 10-11 muffins and uses 250g of ripe banana. Common ripe bananas are low FODMAP in 35g serves per person. That means that a batch of 10 muffins need to serve just over 7 people. This math isn't particularly practical when it comes to muffins, but it does mean that one muffin is a low FODMAP serve.
However, there is another option. Ripe lady finger bananas (sometimes called sugar bananas) are low FODMAP in 110g per serve. This means that 10 muffins would need serve slightly over 2 people. You could eat 4 muffins in one sitting, and that would be considered a low FODMAP serve. As such, sugar bananas are an excellent option for people who have fructose concerns (but who love banana muffins).
The other ingredients to note in terms of FODMAPs are the yoghurt and the milk. I use Jalna lactose free Greek yoghurt for all my recipes. It's simply Greek yoghurt made with lactose free milk – no additives or thickeners.
If you need these muffins to be dairy free and low FODMAP, use a plain coconut yoghurt. Monash says that plain coconut yoghurt is low FODMAP in 125g serves.
As for the milk, choose a low FODMAP option like lactose free full cream, rice milk, macadamia milk or soy milk made with soy protein (not whole soy beans).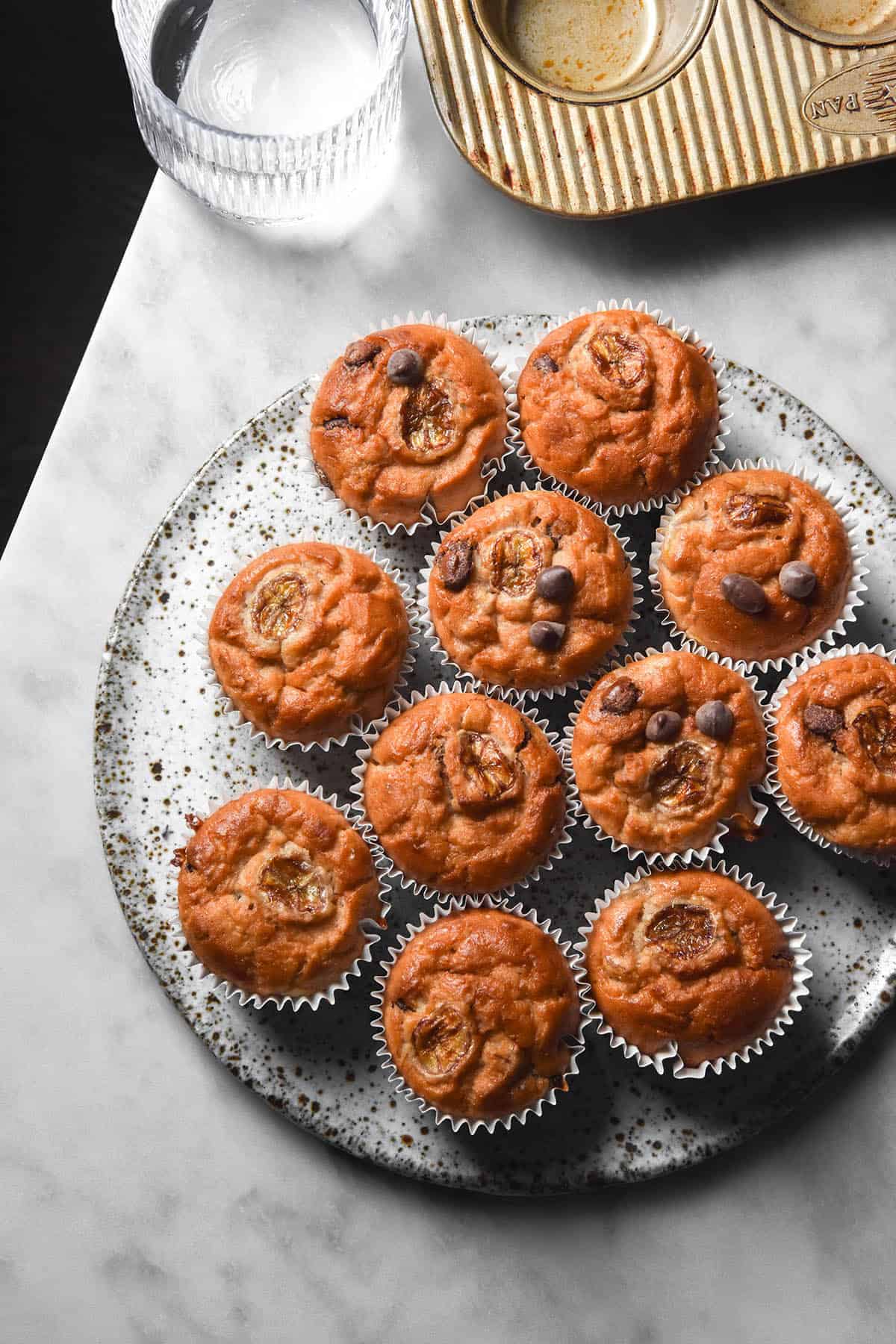 Optional additions for your gluten free banana muffins
A sprinkle of hemp seeds for some extra protein and texture
1/2 – 1 teaspoon cinnamon, chai spice or a spice of your choosing
Dark chocolate chips (use vegan chocolate chips if need be)
An extra slice of banana on top for decoration (I slice mine incredibly finely so they don't sink or alter the FODMAP content)
A flavoured yoghurt for a little somethin' extra (I'd recommend blueberry or vanilla)
A handful of blueberries or raspberries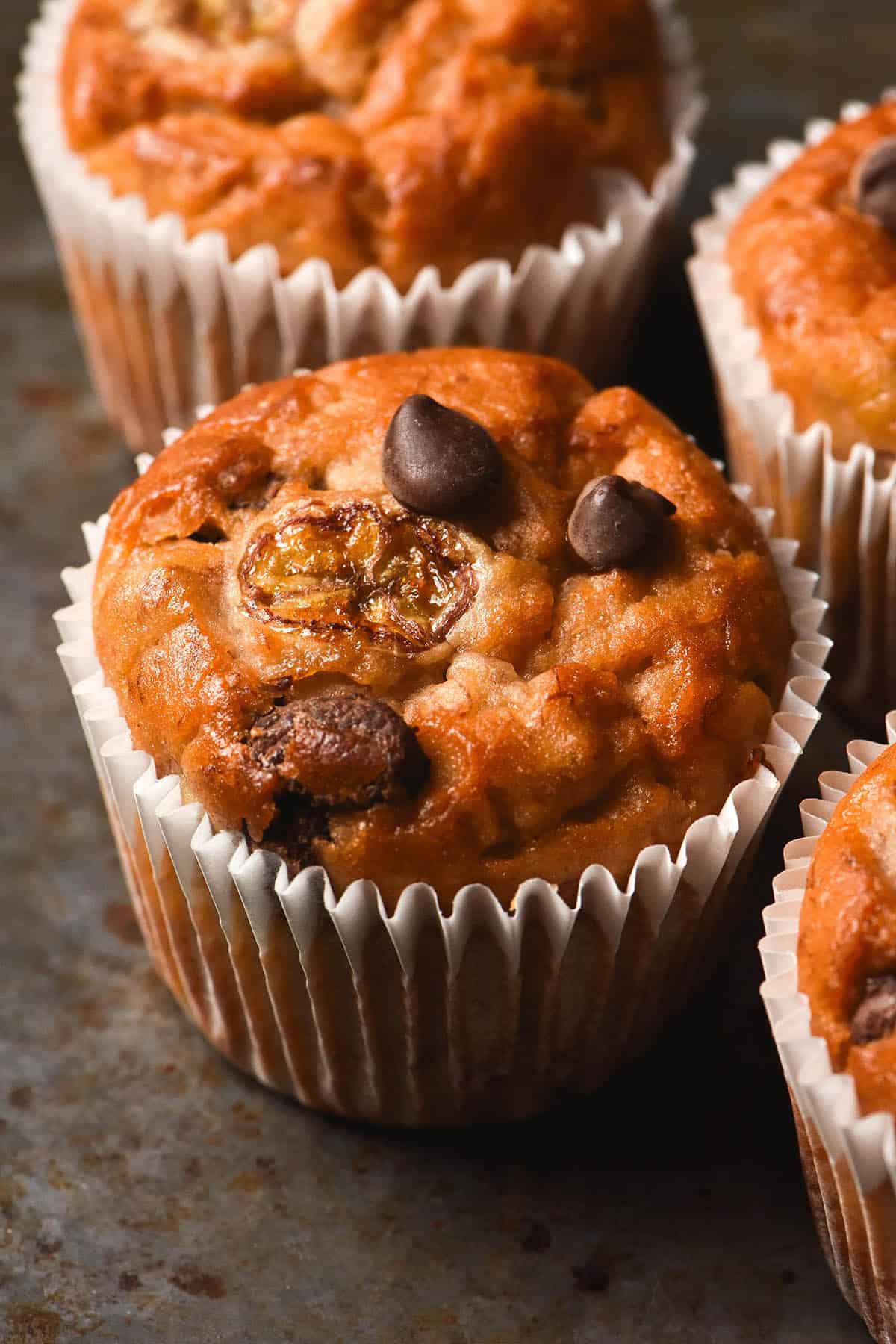 Recipe tips
I hate the waste of muffin liners but I do find them very helpful when adding chocolate chips. Because gluten free batter often has less strength, it's not uncommon for the chocolate chips to sink. If you haven't greased the tins thoroughly, this can often result in the bottom of the muffins sticking to the pan (thanks to the sunken chips). If you don't want to use muffin liners, grease the tin really well. I like to use a scant amount of both butter and oil.
On that note, though: using too much butter and oil to grease will result in a greasy muffin. Use a scant amount.
If you like your muffins to look cute, reserve some chocolate chips and stud them on top at the end. They tend to sink, as discussed, so this ensures you have some on the muffin tops.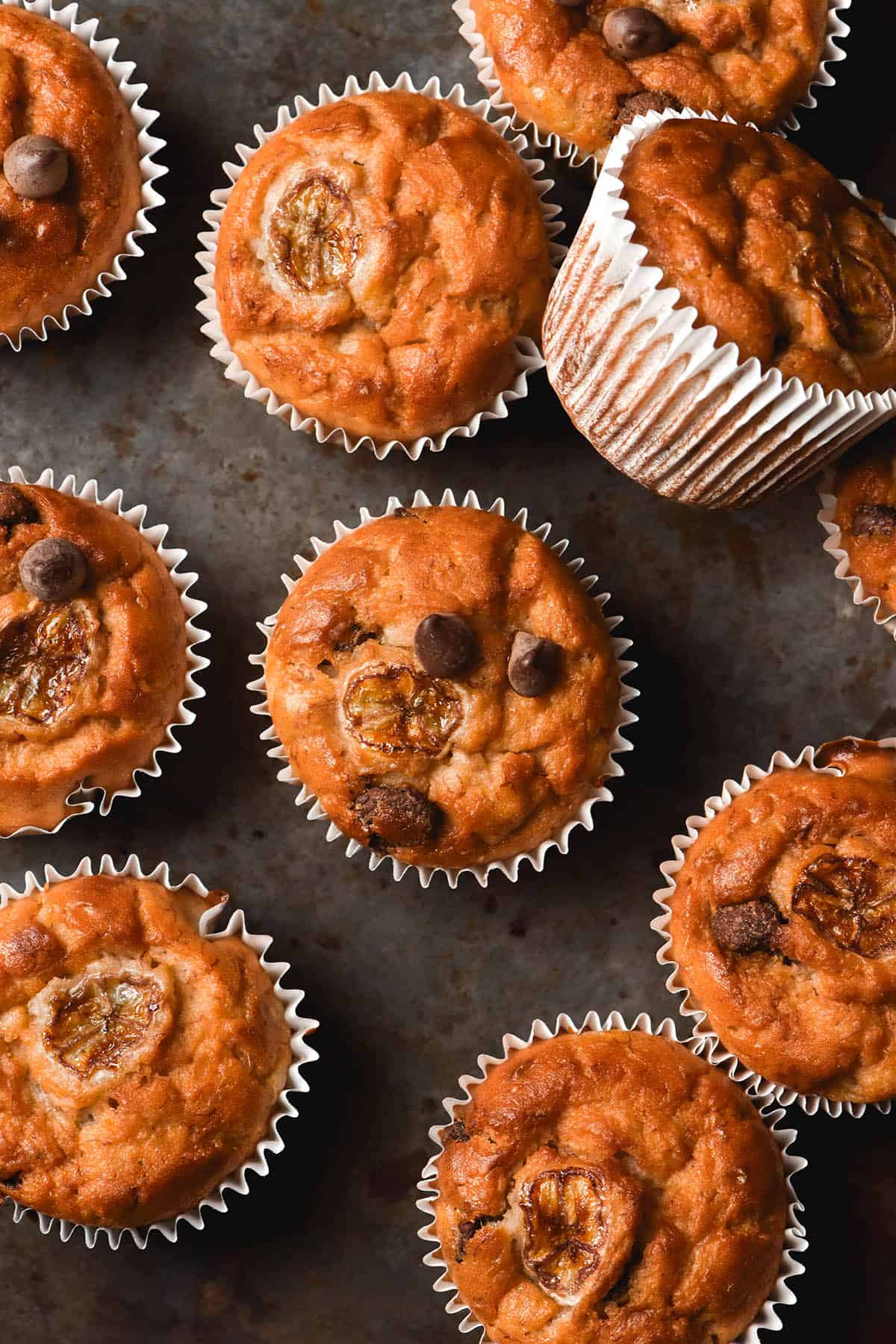 More gluten free snack recipes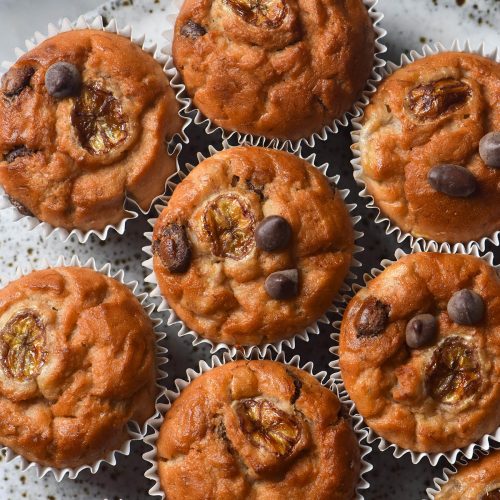 Gluten free banana muffins
Nut free, xanthan gum free, egg free, vegan option
Makes 10-11 muffins
*Cups are in Australian measures. Use gram and ml for international accuracy.
Ingredients
160

g

(1 cup)* fine white rice flour

60

g

(1/2 cup)* buckwheat flour

4.5

g

(1/2 teaspoon) baking soda

1

teaspoon

ground cinnamon

pinch

of fine salt

250

g

ripe banana

see notes

150

g

thick plain yoghurt I have tested Lactose free Greek yoghurt and coconut yoghurt

125

g

caster sugar

60

ml

(1/4 cup)* neutral flavoured oil (I used vegetable oil)

125-185

ml

(1/2 – 3/4 cup)* milk of choice

100

g

dark chocolate chips

optional
Instructions
Preheat the oven to 180C/356F. Line 10-11 holes of a muffin tin with muffin liners or grease them well.

Whisk to combine the flours, baking soda and salt in a medium mixing bowl. Set aside. Add any spices (like cinnamon) here if you're using them.

Add the remaining ingredients and 125ml (1/2 cup) to the bowl and whisk until a batter forms. If the batter looks a little dry or stiff, add the remaining 60ml (1/4 cup) milk.

Spoon the mixture into the prepared muffin liners, right to the top. Once you've used all the batter, top with any toppings you'd like (a thin slice of banana is my preference) and bake the muffins for 20-30 minutes or until domed and golden. Allow them to cool a little before eating, and completely before storing in an airtight container. They keep well in an airtight container for a number of days.