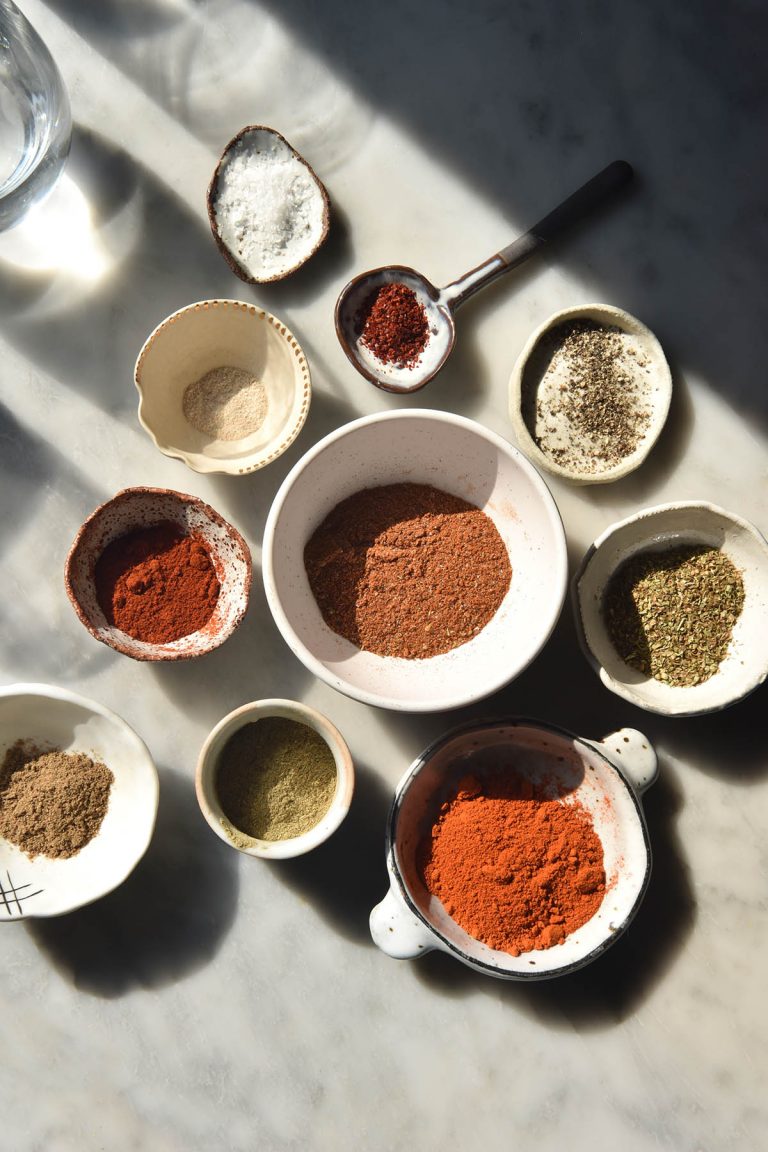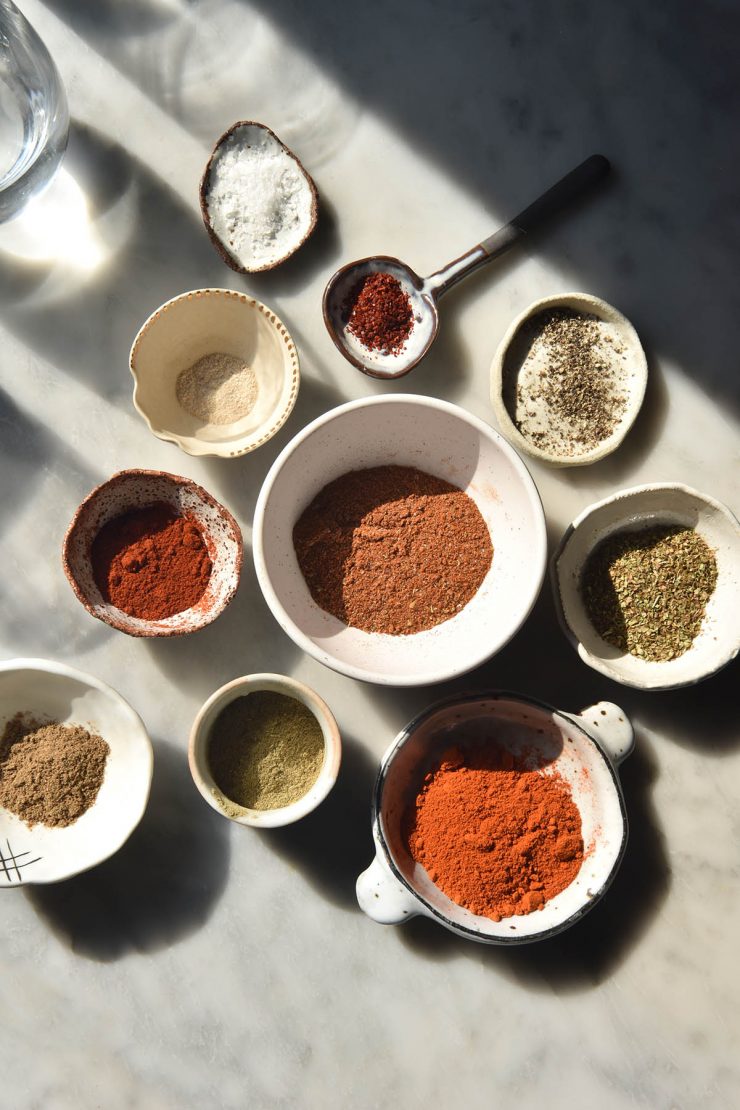 Low FODMAP taco seasoning is one of those recipes you need to have in your back pocket. Whether you're vegan, vegetarian, pescatarian or carnivorous, there is an application for taco seasoning. This taco seasoning is a quick and easy homemade version that is free from onion and garlic.
I used to love buying the taco seasoning sachets at the supermarket. They're quick and they taste delicious. However, they also contain onion, garlic and flour, which are off limits for me. Might I also say, the first ingredient in a well known brand is sugar? Don't get me wrong, I love sugar. But there are some places where it needn't be the primary ingredient.
So now, of course, I make my own! I will say that this is Tex Mex – not remotely authentic Mexican.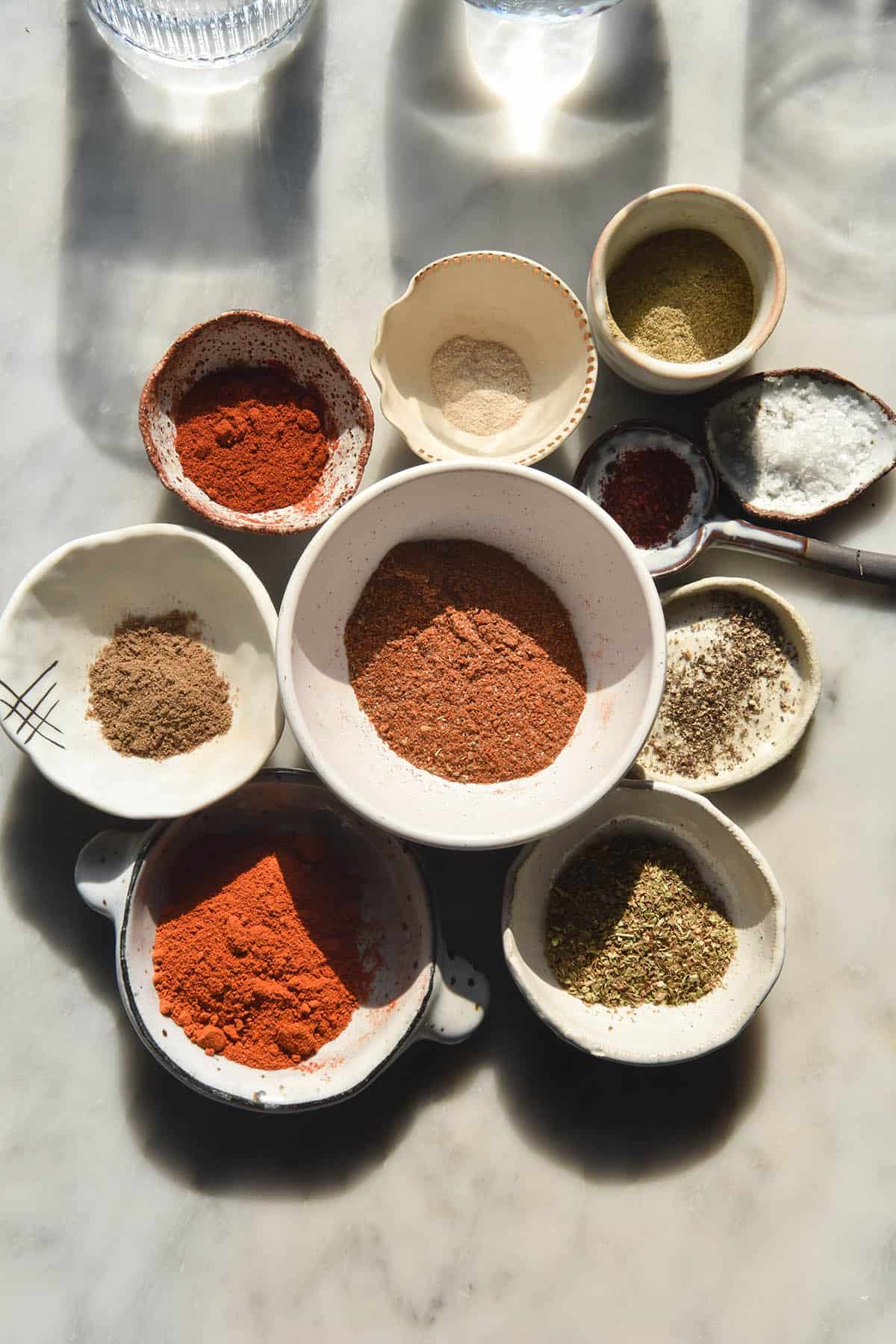 Low FODMAP taco seasoning
This low FODMAP taco seasoning is made without onion, garlic, flour or sugar. It is a very simple blend that can be added to any sort of taco adjacent dish for a hit of flavour that is well rounded and delicious. Who needs garlic?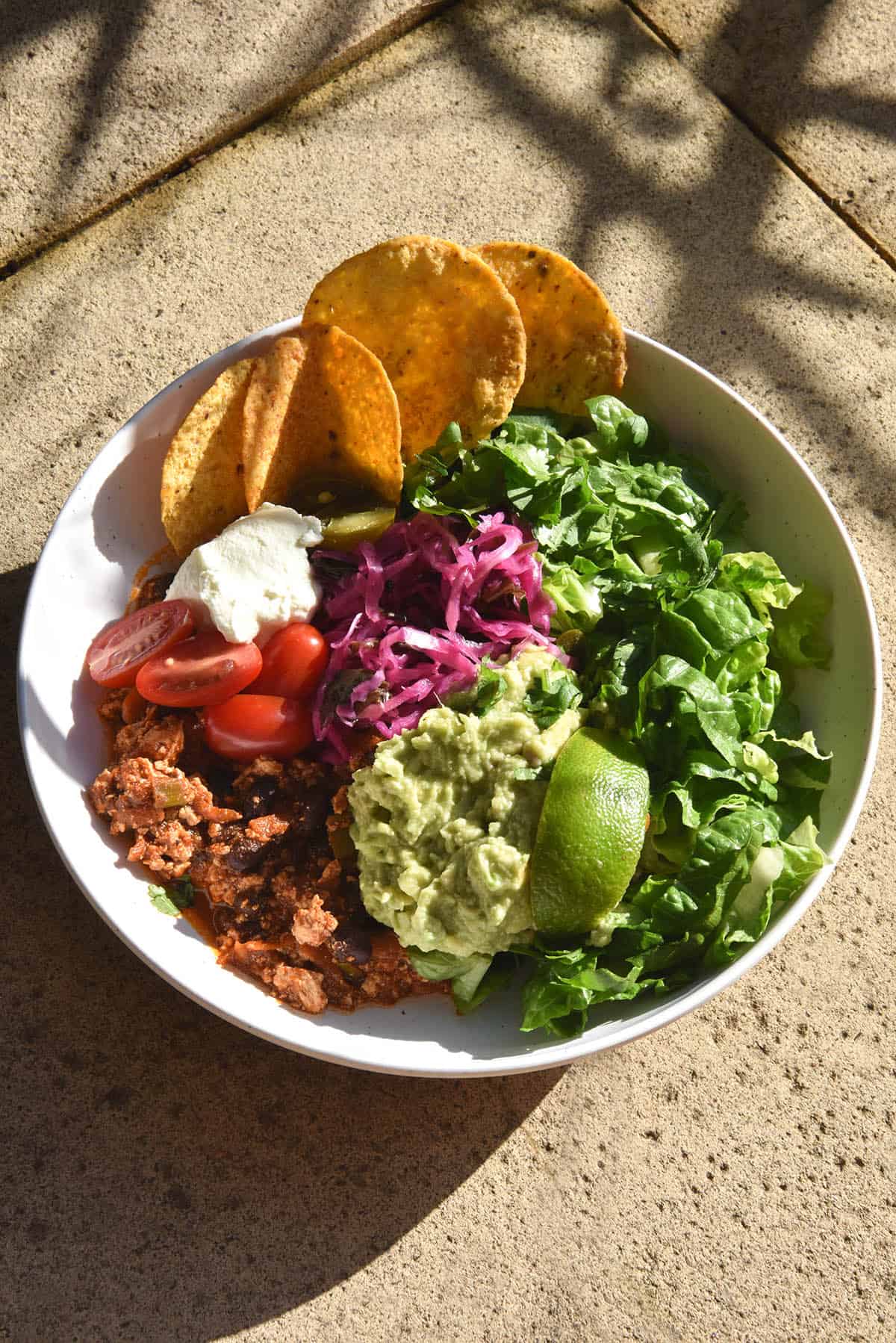 Ingredient notes
Chilli powder and flakes
Chilli is a critical ingredient in any good taco seasoning, but it also has some FODMAP constraints. Chillies can be high in fructose in certain amounts, and each variety of chilli varies a little.
It's worth noting, before we begin, that American chilli powder is not what we're discussing here. Chilli powder in Australia (and Britain, Canada and New Zealand, as far as I can ascertain) is just straight up chilli, powdered. American chilli powder has things like oregano and garlic powder added. This is not what we want to use. A chilli powder without any additives is necessary here, because we are trying to avoid onion and garlic.
Red chilli powder, Chipotle chilli powder, and Gochugaru (Korean red chilli powder) are all low FODMAP in 1 teaspoon (2g) serves.
The recipe also uses a small amount of chilli flakes for colour and extra heat. If you have it on hand, I love using tajin here to add that citrusy tang. Tajin contains chilli powder, salt and citric acid and adds such a great flavour punch. It is optional, though.
Smoked Paprika
Paprika adds colour, flavour and bulk to this low FODMAP taco seasoning. It's a straightforward ingredient that is available at all supermarkets in Australia. I love using smoked paprika, because it adds in a depth of flavour if you're cooking vegetarian or vegan.
Dried oregano and dried coriander powder
A small amount of oregano goes a long way in adding a lovely herbaceous flavour to your taco seasoning. Like paprika, it's easy to buy in Australian supermarkets, and a great thing to have on hand.
Dried coriander powder is an optional ingredient that really balances out the flavours. It is subtle, but it does add to this low FODMAP taco seasoning. In Australia, you can easily buy it at the supermarket.
Asafoetida powder
This is really where this low FODMAP taco seasoning differs from regular taco seasoning recipes. Asafoetida powder (also called hing) is made from the root of a giant variety of fennel. It has a cooked onion and garlic adjacent flavour, which makes it incredibly handy for people who can't eat onion or garlic.
Asafoetida powder adds back in that savoury flavour that is missing without onion or garlic powders. It's also amazing to have on hand for just about any low FODMAP dish, as it really contributes to the flavour. The powder is incredibly strong, so you only need a tiny bit of a great result. Keep in mind that asafoetida is often cut with flour to reduce it's potency, so make sure you choose a gluten free variety if you need to.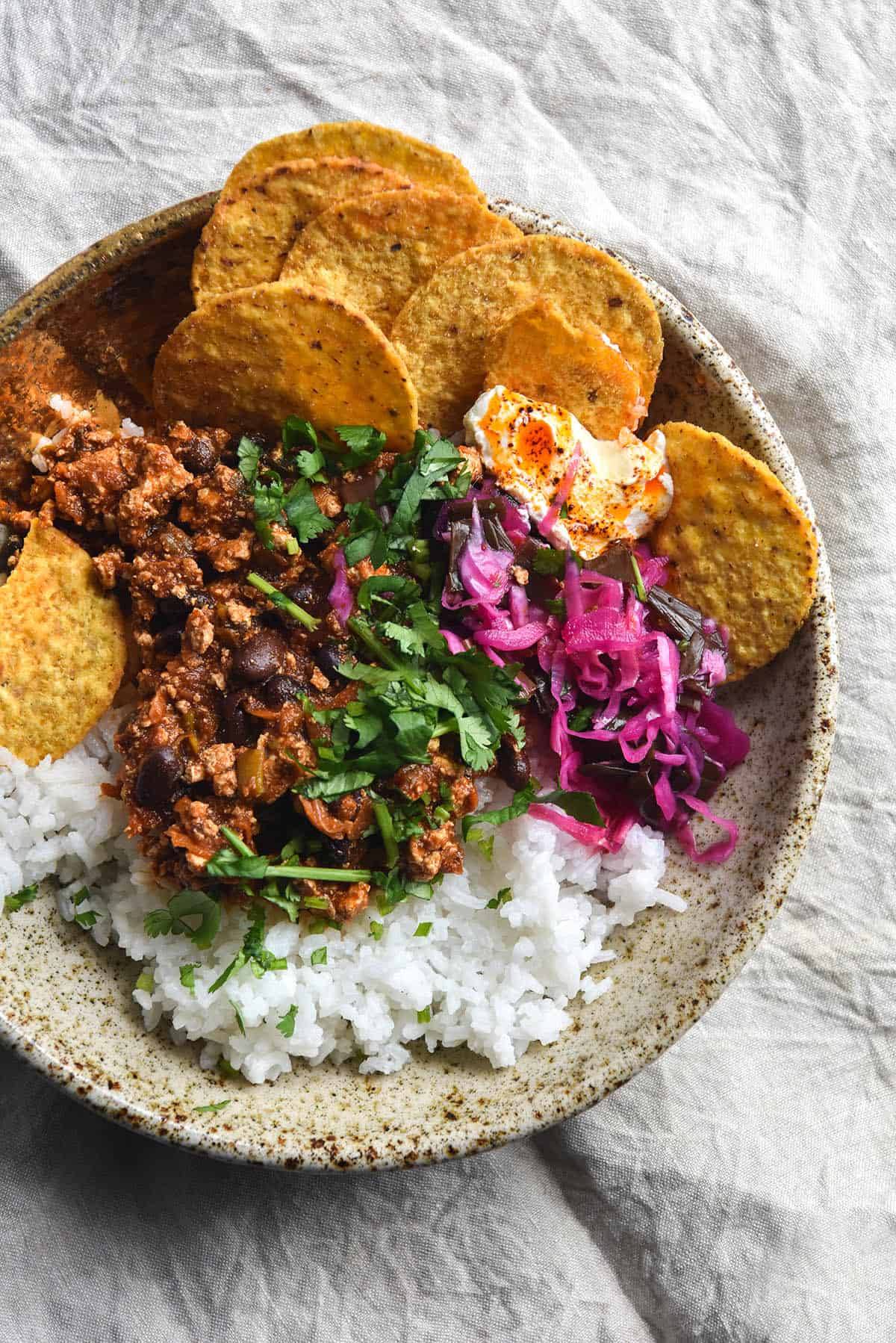 Recipe notes
I have designed this recipe to accomodate all levels of chilli tolerance. Scale the chilli powder up or down as you wish.
To make this recipe SIBO bi-phasic compliant (stage 1 and 2) omit the asafoetida and the sugar.
To reiterate, this recipe uses 100% pure chilli powder. In American, chilli powder often has other added ingredients, including onion and garlic powder. Cayenne might be the closest readily available option in America.
Taste the seasoning before you finish to ensure it's what you like! Keep in mind, though, that the flavours will mellow significantly in the dish. If in doubt, add more flavour.
This spice blend makes enough for 1 heavy duty dish like a big meaty one. In a tofu application, I generally use 1/2 to 3/4 of a batch.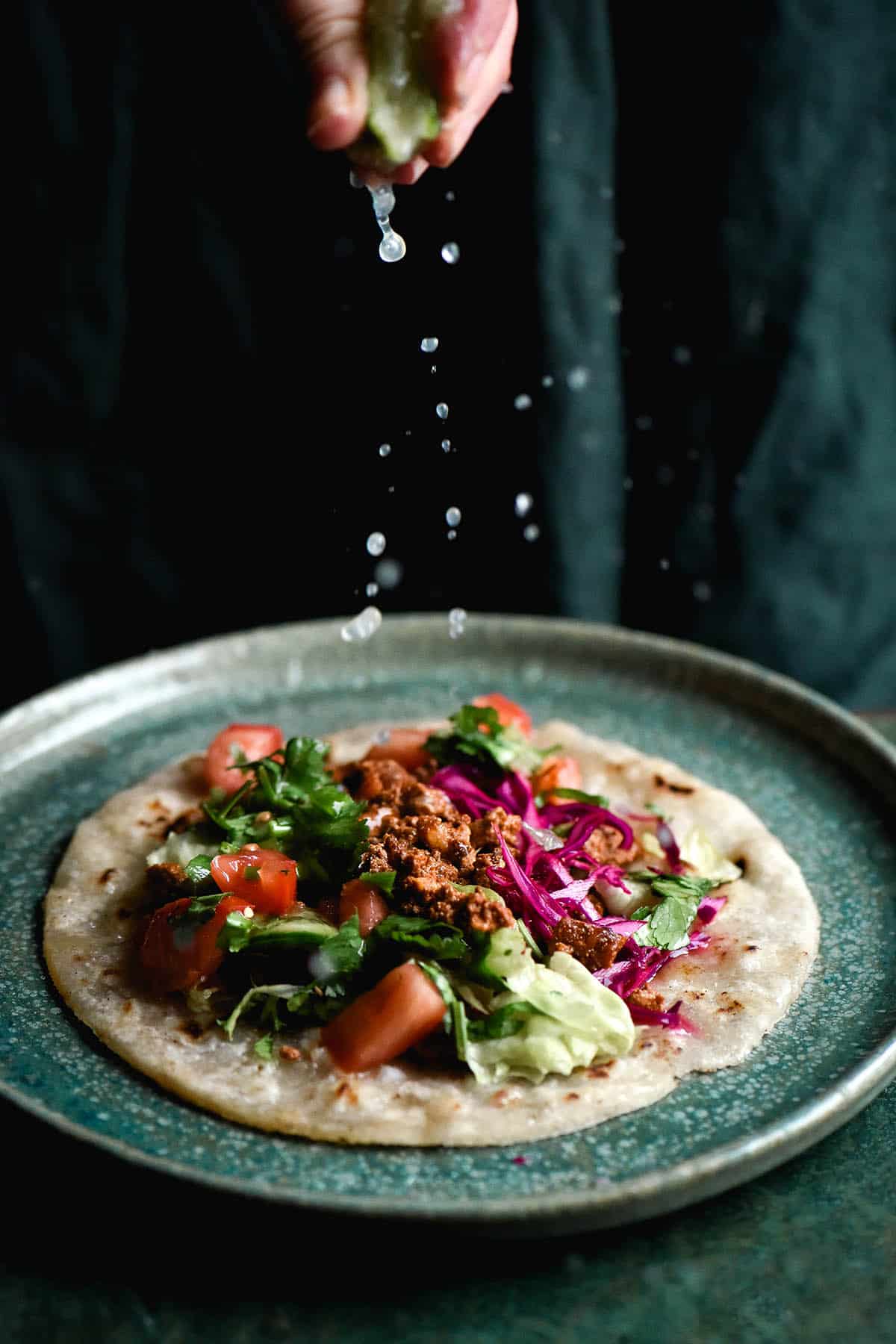 Tips for cooking low FODMAP Tex Mex inspired meals
Use plenty of spring onion greens and leek greens in the base. Both are low FODMAP and contribute a lovely depth of onion adjacent flavour. They're not necessarily the first thing that comes to mind when you're cooking Mexican cuisine, but the flavours are subtle.
Coriander roots are another great way to add flavour. Make sure you wash them really well.
I have written a post dedicated to adding flavour without onion or garlic, if you're feeling stuck.
Plenty of spices help compensate for a lack of onion and garlic. Add more as you see fit.
Adding a squeeze of lime always goes a long way!
I like adding in some dried sage powder, liquid smoke and nutritional yeast to my vegetarian and vegan Mexican inspired dishes. They go a long way in developing the flavour.
If your dish is still bland: is it seasoned properly? Salt enhances flavour on a a chemical level, so consider adding some extra salt to see if that brings out the flavour.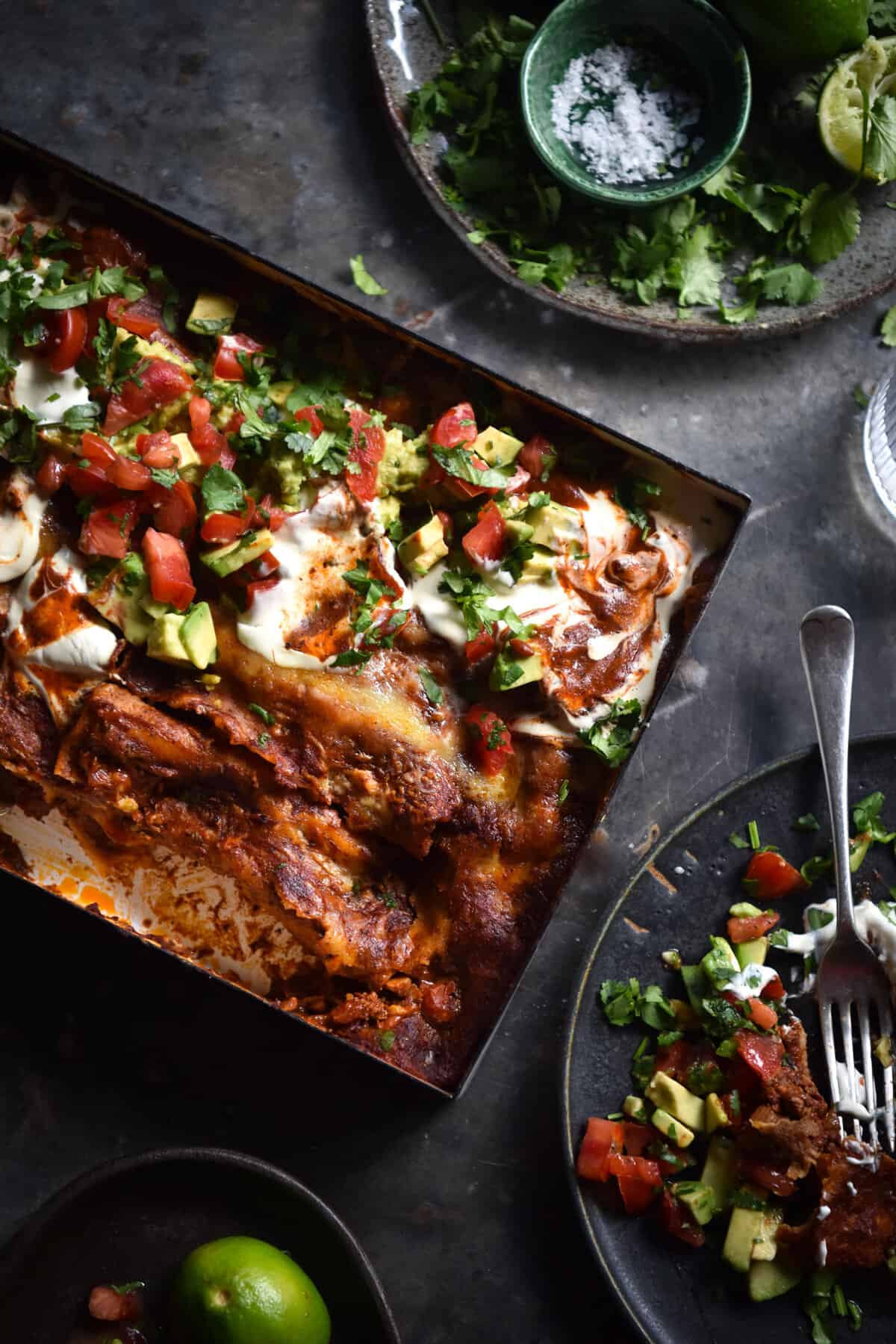 More low FODMAP Tex Mex recipes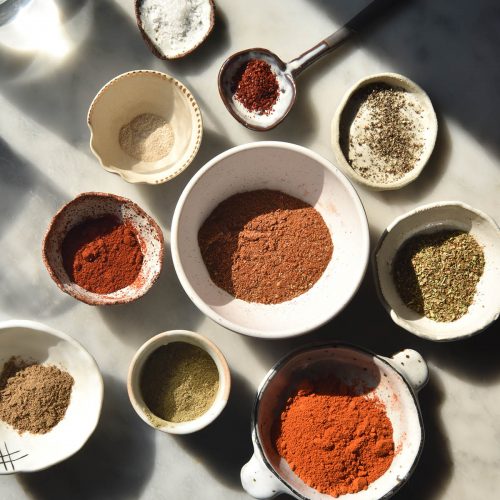 Low FODMAP taco seasoning
Vegan, gluten free, low FODMAP, Sibo bi-phasic option
Ingredients
2-6

tsp

chilli powder (see notes)

Plain, 100% chilli powder

6

tsp

smoked paprika

3 – 4

tsp

cumin powder

1

tsp

dried oregano

2

tsp

dried coriander seed powder (optional)

2

tsp

fine salt

1/2

tsp

asafoetida powder, to taste

freshly cracked pepper, to taste

1

tsp

red chilli flakes or tajin

1/2

tsp

white sugar (optional)
Instructions
Add all the ingredients to a small jar and shake to combine. Taste adjust according to your preferences and store in the jar.

Add the taco seasoning to taste to your low FODMAP Tex Mex dishes.

For freshest results, use within a couple of weeks and store in the glass jar away from sunlight.
Notes
This recipe uses teaspoons only because I use Australian measures. An Australian teaspoon is very close in size to American, Canadian and New Zealand teaspoons, so this recipe can easily be used internationally.
British teaspoons are 5.9ml, which is larger than the average 5ml for other countries. You can use slightly less per tsp, or just use the 5.9ml worth for a slightly higher yield. 
This recipe uses 100% pure chilli powder. In American, chilli powder often has other added ingredients, including onion and garlic powder. Cayenne might be the closest readily available option in America
For a milder taco seasoning, use less chilli and use a milder variety, like Kashmiri chilli powder. Personally, I use 1 teaspoon Kashmiri chilli. You can always add more chilli to the finished dish, but you can't take it out. 
My recipe uses more paprika than most. This is because the taste of smoked paprika really adds a lot to vegetarian and vegan dishes, but also so that you can adjust the chilli content up or down as your spice preferences allow.
Tajin is optional but it has citric acid, which really brings a fresh vibrancy to the seasoning. If you don't have tajin but you do have citric acid or amchoor powder, use a pinch of either, to taste. If not, no worries. It will still taste good. 
The sugar is optional but it does bring in that little bit of sweetness that sachets have.