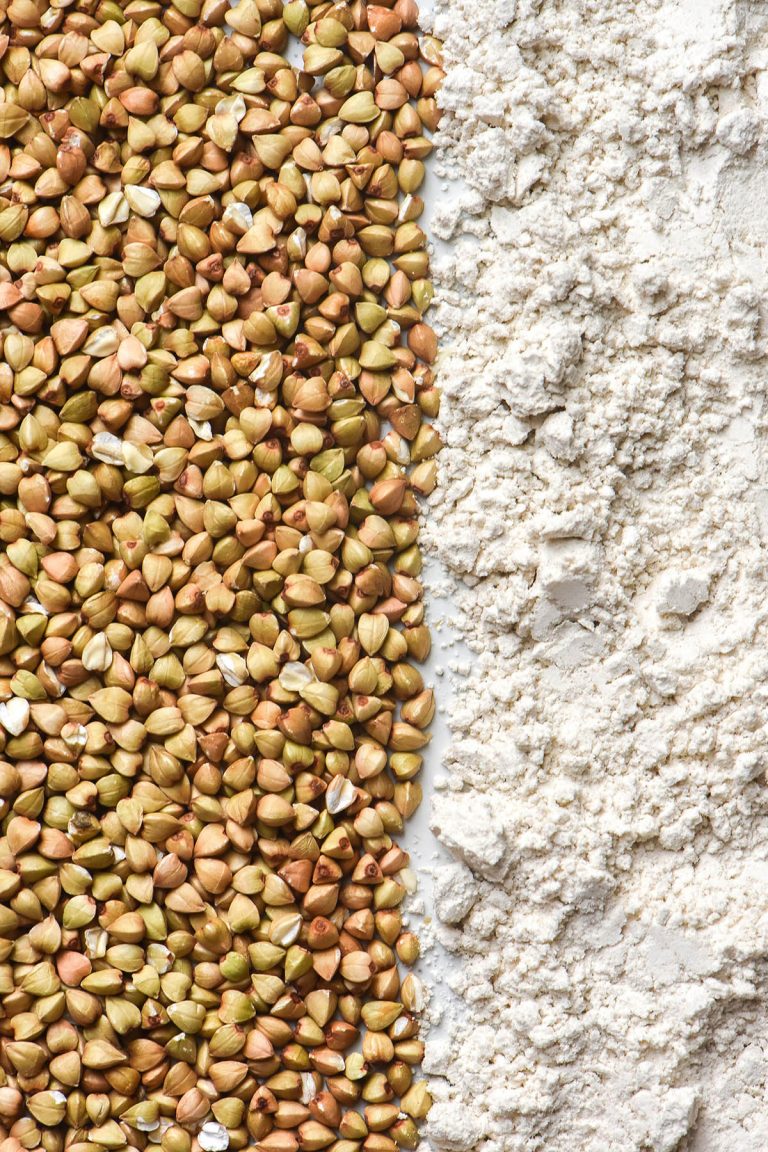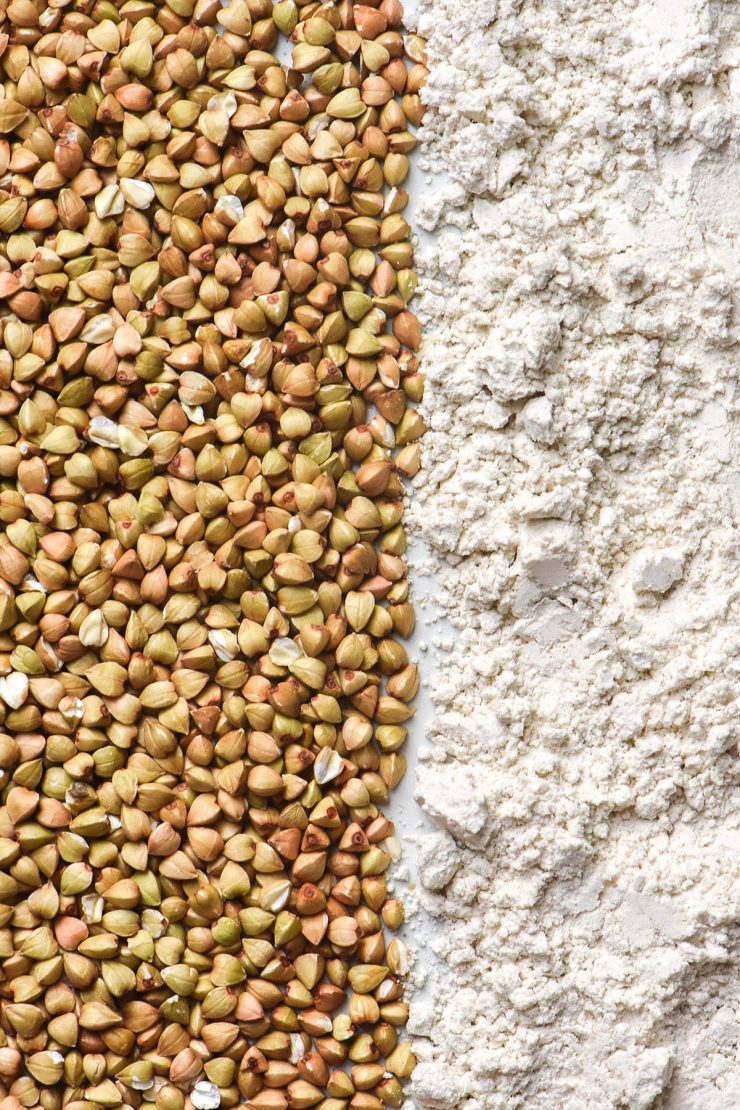 There are a couple of flours in the gluten free baker's arsenal that cause a bit of confusion due to their names. The first is glutinous rice flour, and the second is buckwheat flour. So today we're asking the question: is buckwheat gluten free?
Is buckwheat gluten free?
Buckwheat is 100% gluten free and bears no relation to wheat. It is actually a seed that is harvested from a flowering plant most closely related to rhubarb!
Buckwheat groats, or kernels, are a common fixture in many different cuisines. They can be eaten as a porridge, ground into flour, made into pasta or soba, or even puffed.
Buckwheat is sometimes called a pseudo-cereal, because it doesn't grow on grasses like classically defined grains. This places it in a similar category to quinoa. However, these pseudo-grains or pseudo cereals are most often categorised with grains due to their nutritional and culinary similarities.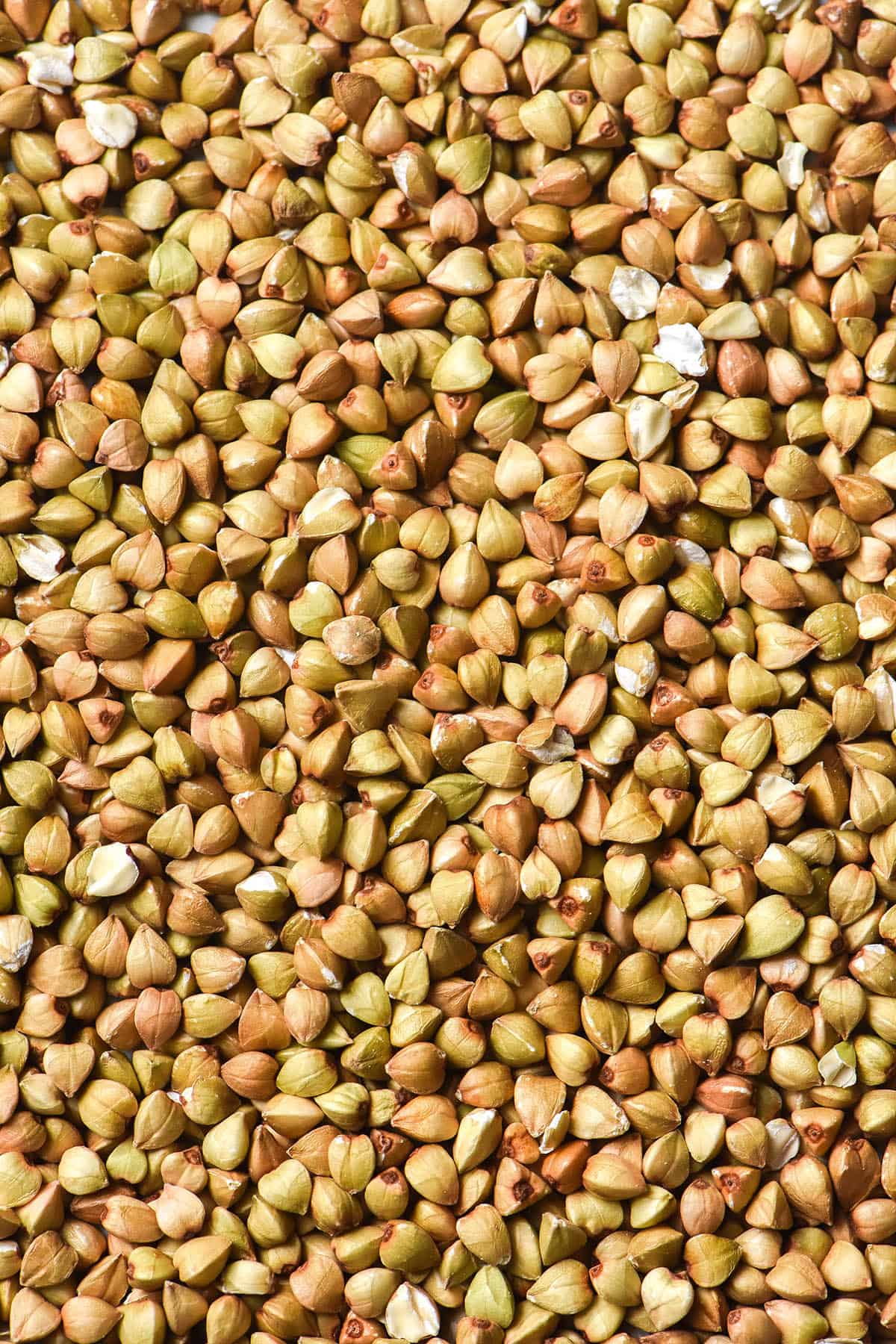 What does buckwheat taste like?
Buckwheat is deeply earthy and nutty with a slightly bitter after taste. While the groats (sometimes called kernels) have a more subtle flavour, the flour has a strong, earthy taste.
Some people say that buckwheat has a flavour akin to rye or wholewheat flour, if you have tried those.
Most recipes tend to combine buckwheat with other flours to balance the earthy flavour and chewier texture. My gluten free buckwheat bread, with a high percentage of buckwheat flour, also uses a small amount of tapioca flour for extra elasticity.
What does buckwheat pasta taste like?
Buckwheat pasta has a pleasant, nutty and slightly earthy flavour. In my experience, it darkens a little as it cooks (just so you know what to expect visually) and can be susceptible to overcooking easily. Make sure you watch it carefully, and drain it while al dente.
I have also noticed that it tends to produce very starchy pasta water and that packages generally overestimate the cooking time. I recommend cooking it in a big pot and watching it like a hawk, stirring to prevent it sticking to the bottom.
If prepared properly, buckwheat flour has a slightly chewy texture with a wholegrain mouthfeel. I really enjoy it, and I find it works nicely in a pasta salad if it hasn't been overcooked.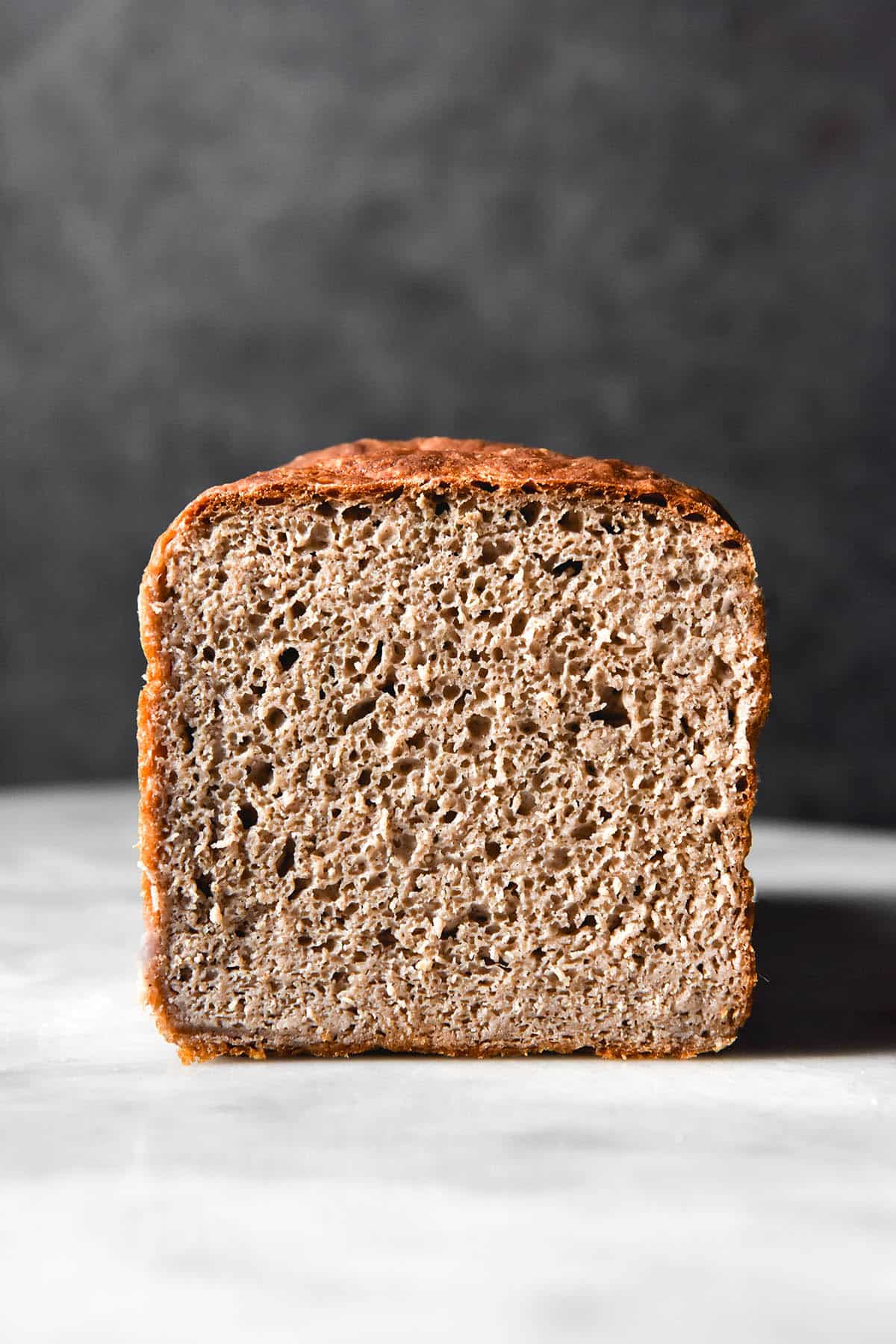 How do I use buckwheat flour?
Buckwheat flour is a unique gluten free flour in that it has some elasticity. This makes it unlike other gluten free flours (with the exception of cassava flour). By definition, gluten free flours don't have any gluten, and therefore have no elasticity or binding capabilities.
Buckwheat 'bucks' that trend, if you'll excuse my saying so. This makes it an excellent flour to use in fritters (like my gluten free zucchini fritters).
In some countries, buckwheat flour is available in both light and dark varieties. Australia isn't one of them, so I am yet to try dark buckwheat flour.
If you're first experimenting with buckwheat flour, I'd recommend substituting 1/4 cup of buckwheat for the starchy component (tapioca etc) of your recipe (if it's gluten free). I have found that buckwheat substitutes well for a small portion of starch in gluten free recipes (like these gluten free carrot muffins). For more gluten free buckwheat recipes, see the bottom of the post.
Different buckwheat products
Buckwheat is sold in a number of different forms and each have different uses.
Buckwheat flour – great for gluten free baking or to add complexity of flavour to any baked good
Kernels or groats – used to make porridge or kasha or as a cooked grain (among other things)
Puffed buckwheat – useful in gluten free granolas and bars
Buckwheat pasta or noodles
Buckwheat soba – make sure you choose 100% buckwheat if you need it to be gluten free
Honey – a nutritious honey made from bees that collect honey from buckwheat flours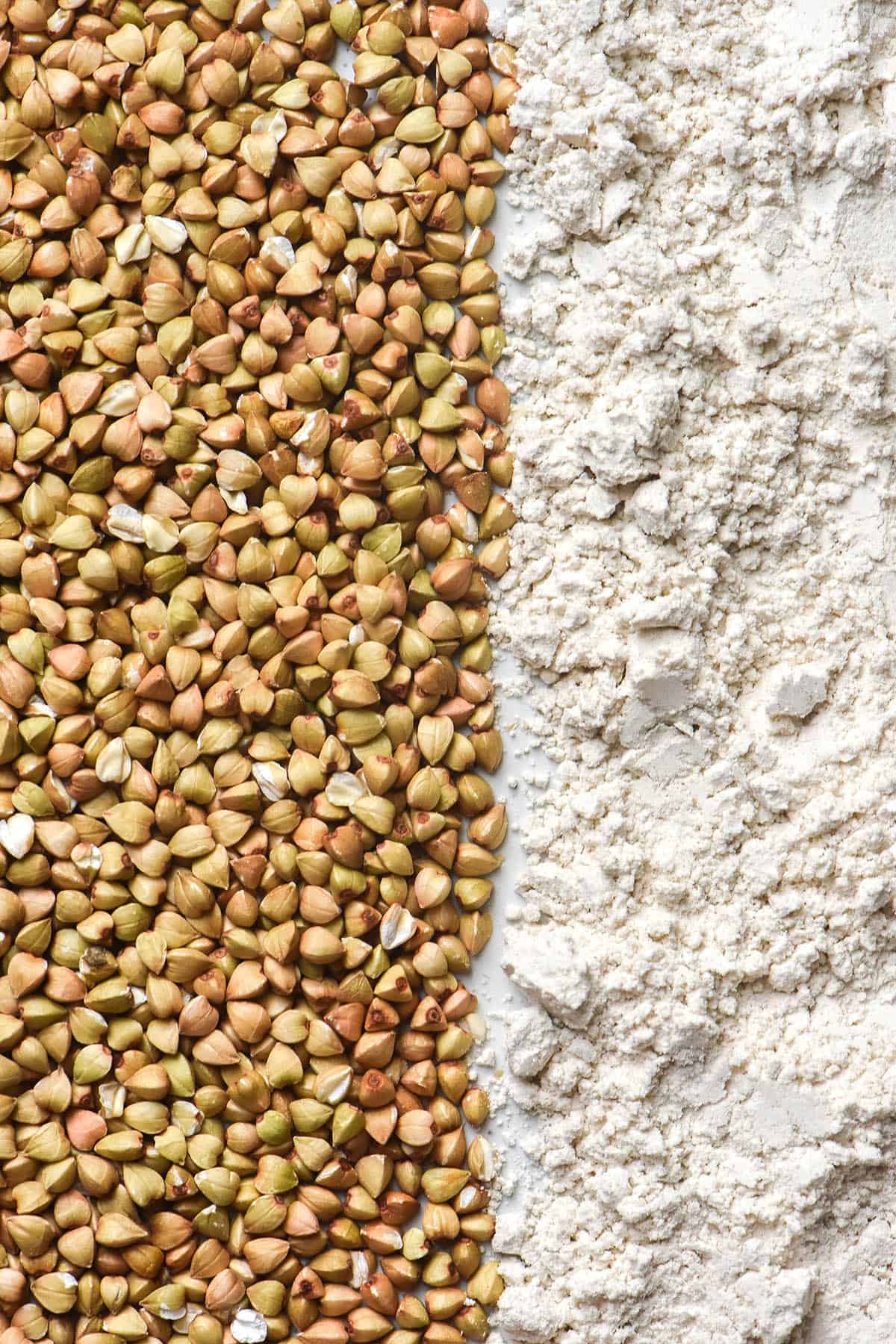 Gluten free recipes that use buckwheat
The following are my favourite recipes that use buckwheat flour. They are all gluten free and low FODMAP, as well as vegetarian or vegan. Where possible, I try to give xanthan gum free, egg free and nut free options, too. For an extensive roundup of my gluten free buckwheat recipes, see this post. For 10 entirely buckwheat flour recipes, see my buckwheat flour e-book.
Gluten free croissants
These croissants are one of my favourite recipes I have developed thus far. They are a recipe from my cookbook, Intolerance Friendly Kitchen. The book contains recipes for gluten free croissants, pain au chocolat, danishes and sourdough gluten free croissants as well. I have written up an extensive guide to making them which you can find here.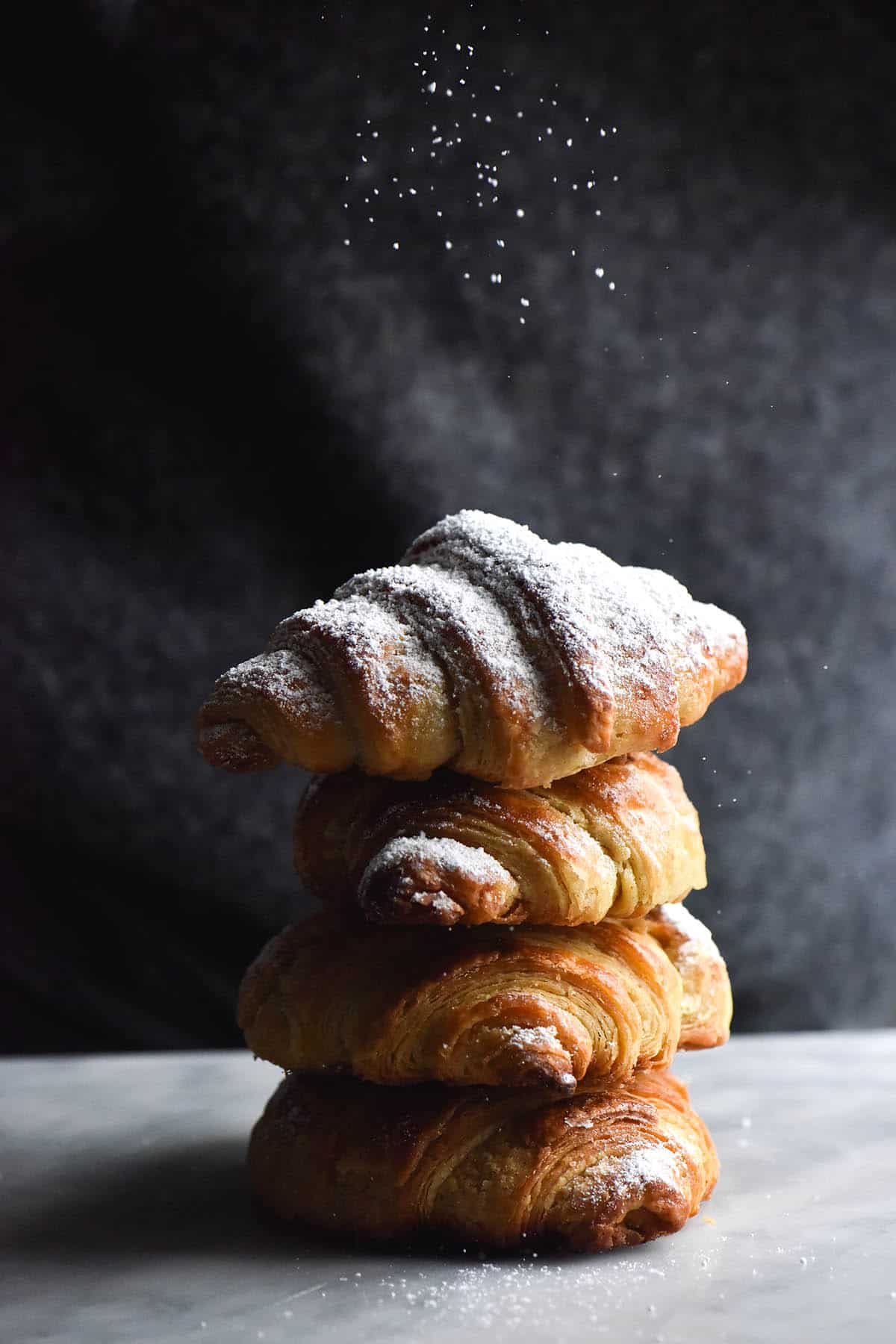 Low FODMAP, gluten free corn fritters
These gluten free corn fritters use buckwheat flour for a quick and easy fritter batter that is binding yet still light. The fritters use canned corn to keep them lower FODMAP, and spring onion greens for the same reason. They are a great snack, lunch or light dinner.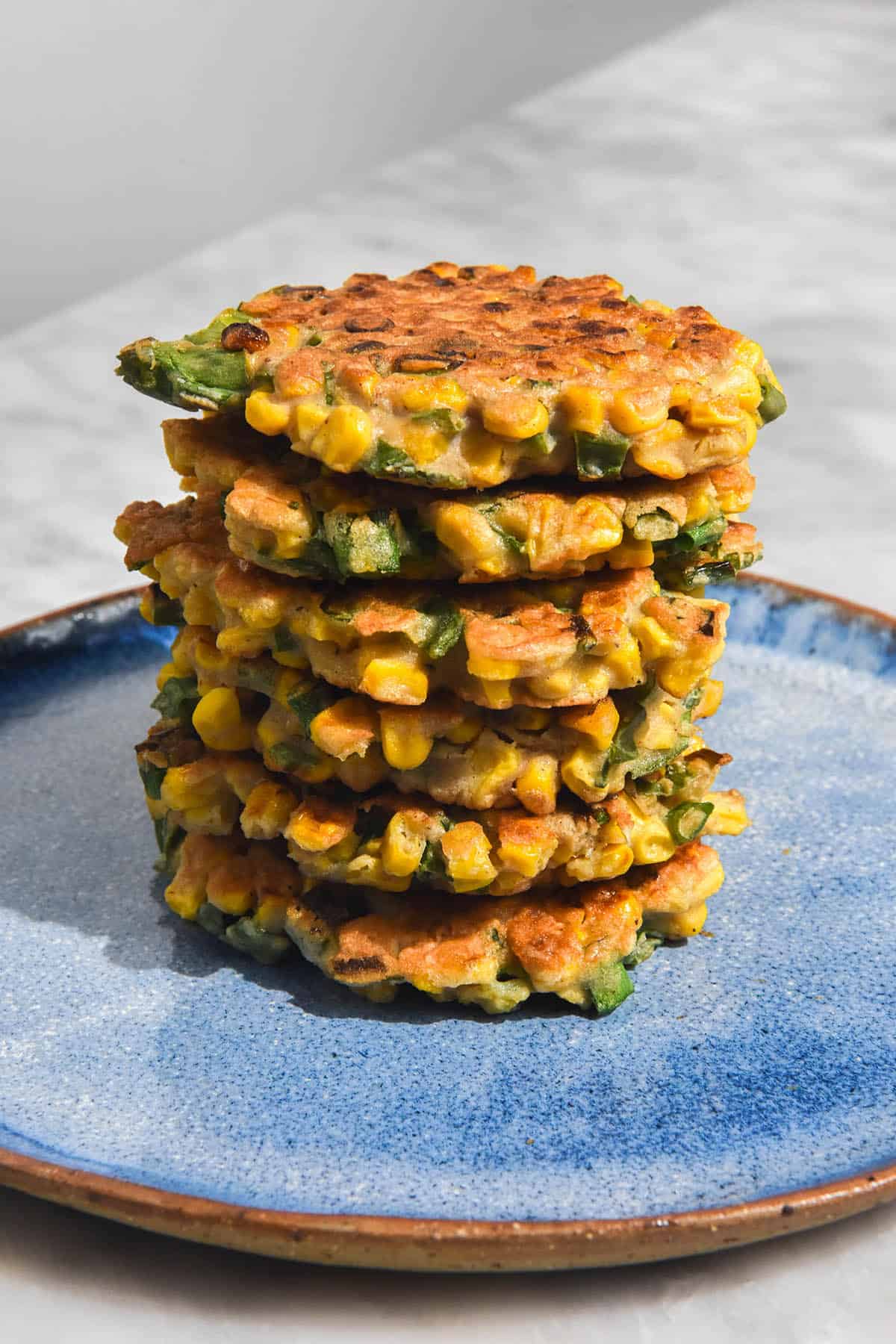 Gluten free buckwheat bread
My favourite gluten free buckwheat recipe to date, this bread is easy to make, vegan and xanthan gum free. It has a lovely earthy taste from the buckwheat flour and makes a great sandwich or slice of toast.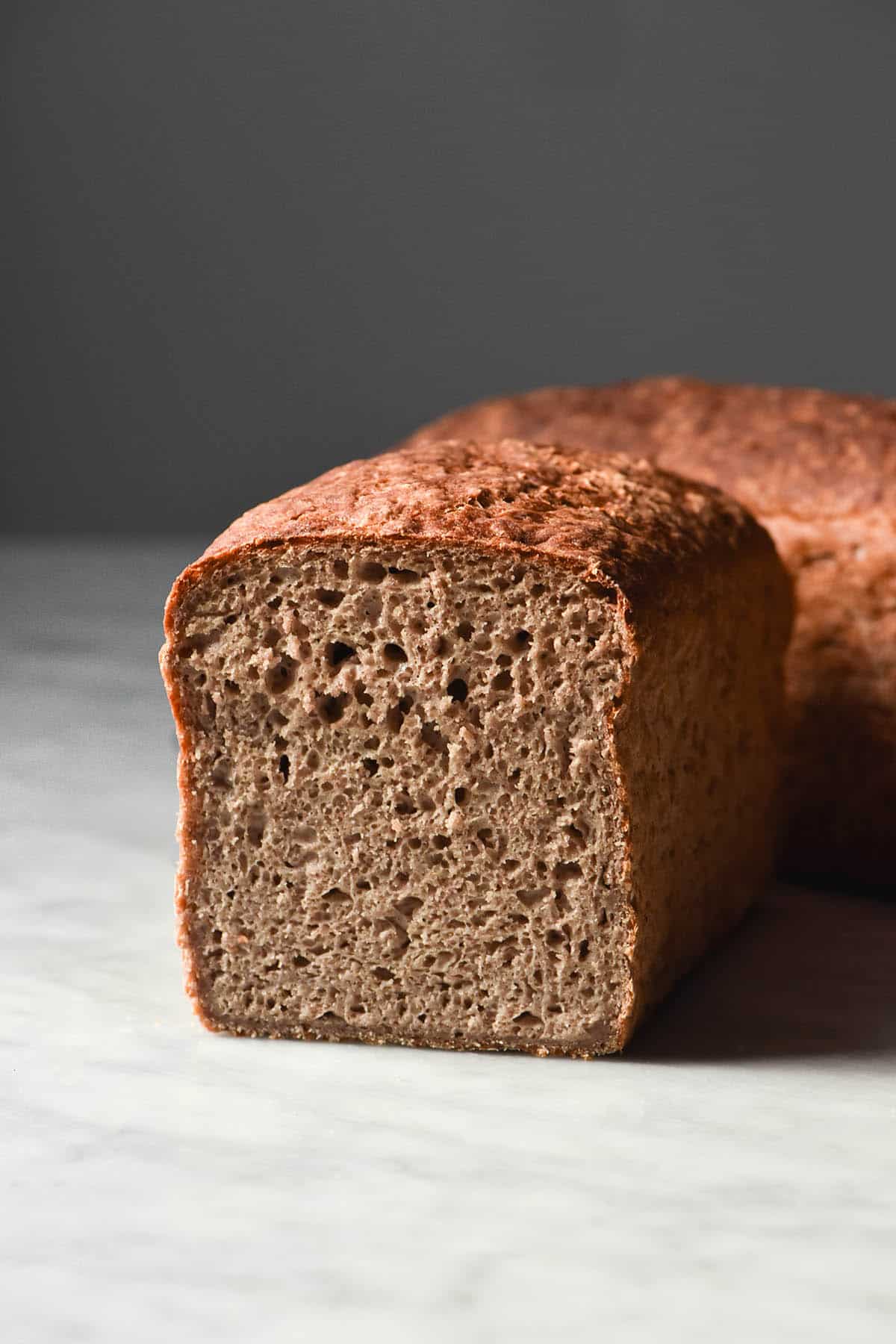 Sweet and sticky buckwheat noodles with tofu
This recipe is my favourite way to use 100% buckwheat noodles. It's hearty and delicious, low FODMAP and still full of flavour.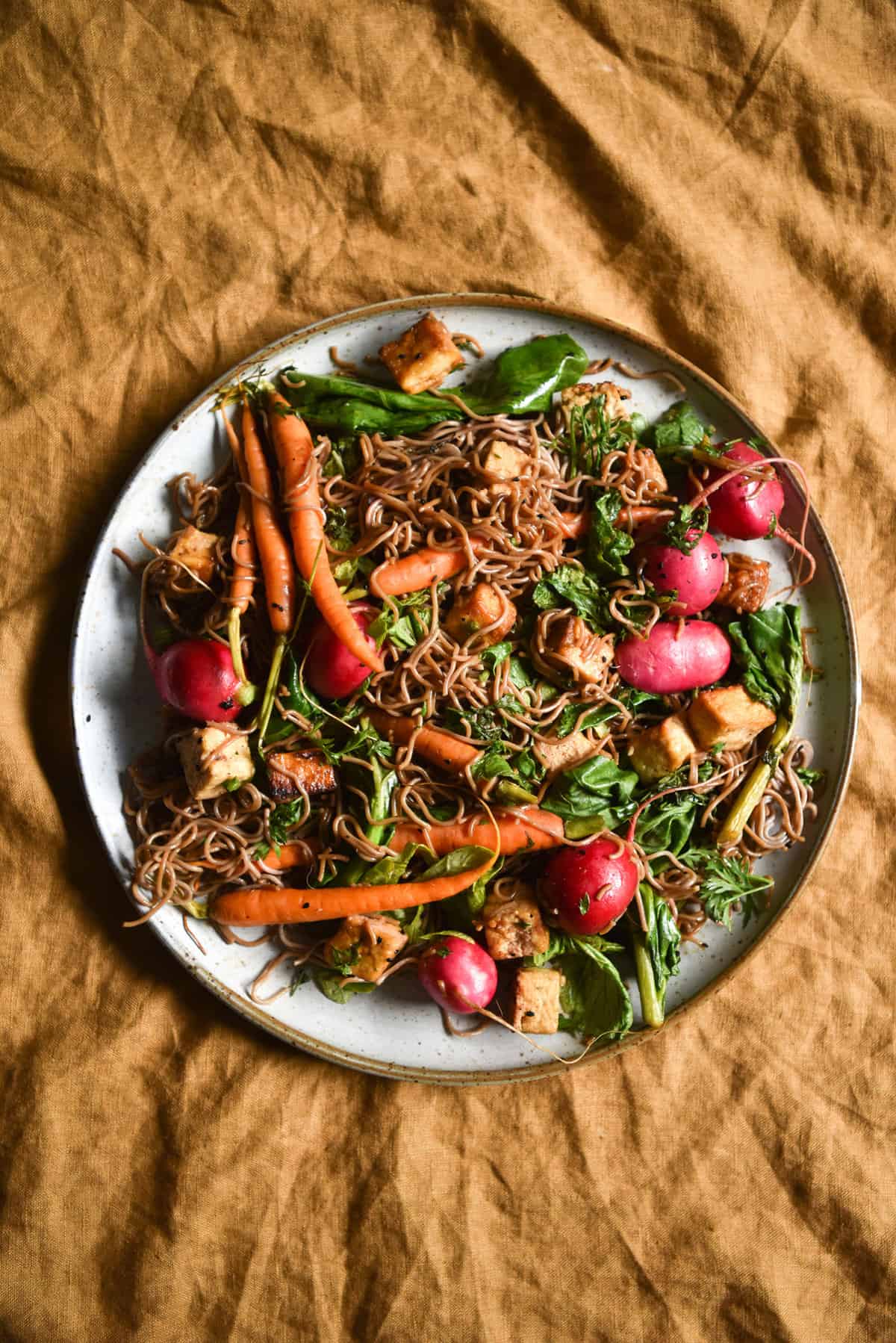 Gluten free carrot banana muffins
These gluten free banana carrot muffins are a wholesome and delicious lunchbox snack that uses buckwheat flour instead of a starchy based flour.