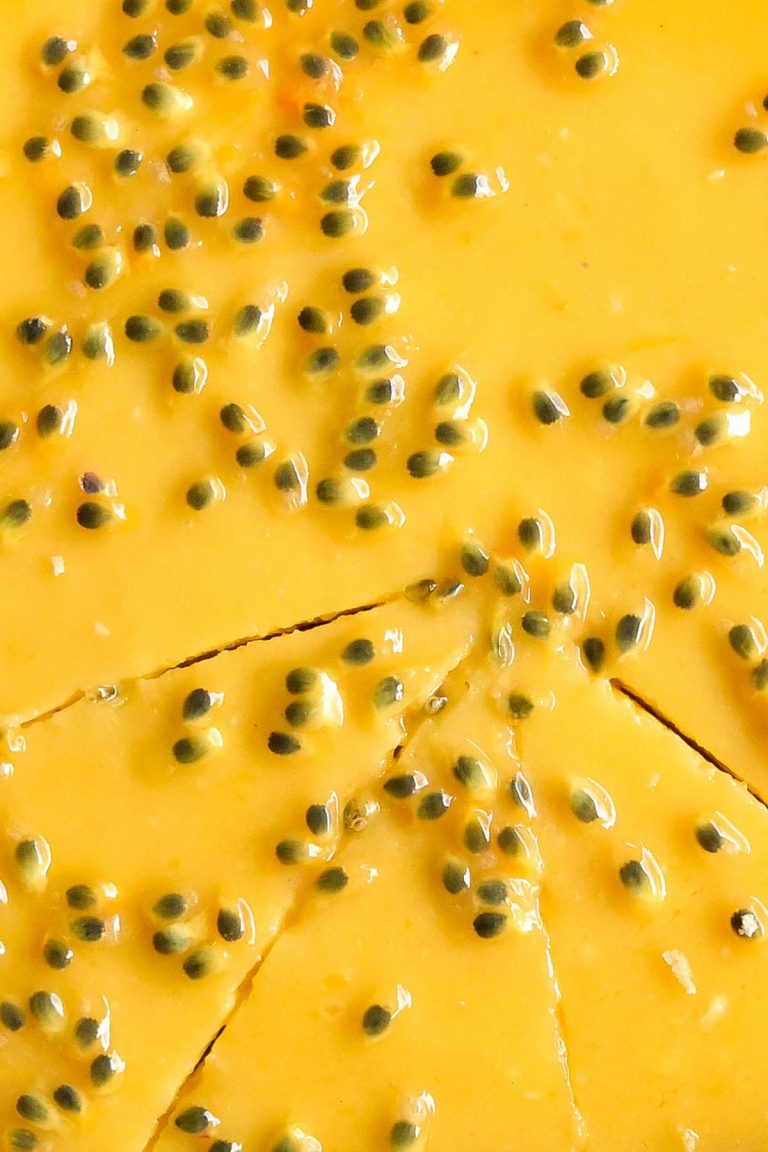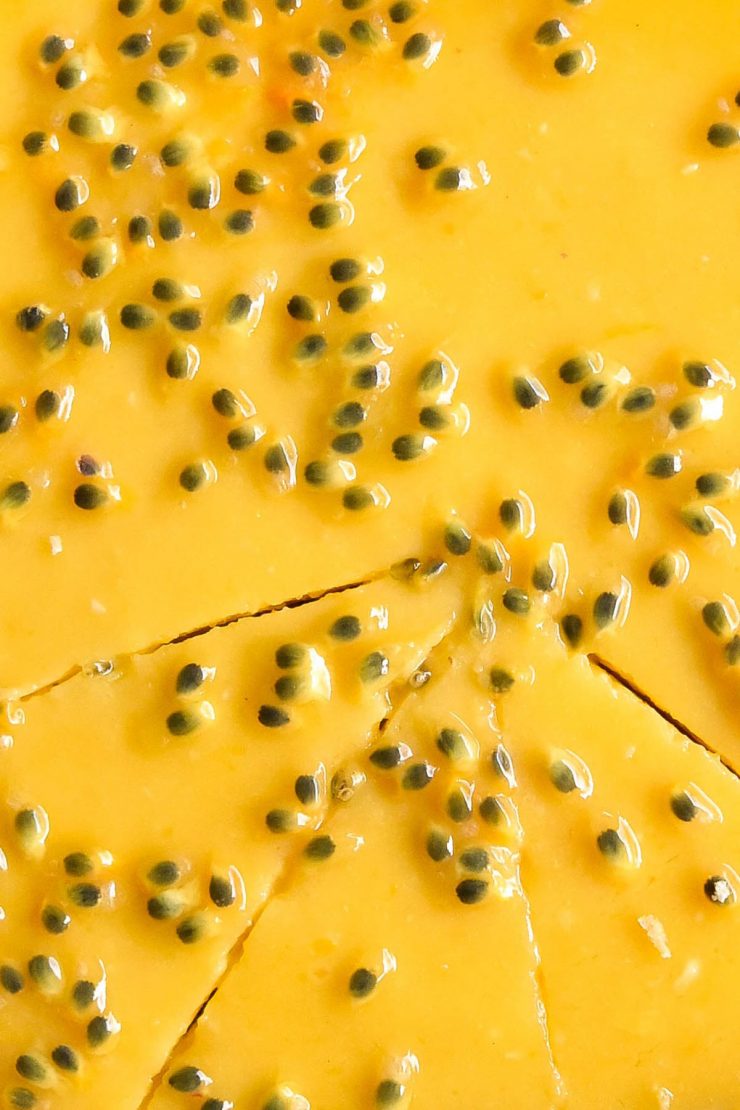 This passionfruit curd came about after I found myself with a glut of passionfruit from the garden. I'm lucky enough to have a passionfruit vine in the garden, and I wanted to do this year's fruit justice.
You'll probably know by now that I love (and prefer) using coconut oil as opposed to butter in my curd recipes. I find that it results in a cleaner, brighter flavour that is less muted by the butter. As an added bonus, this also means the curd is completely dairy free.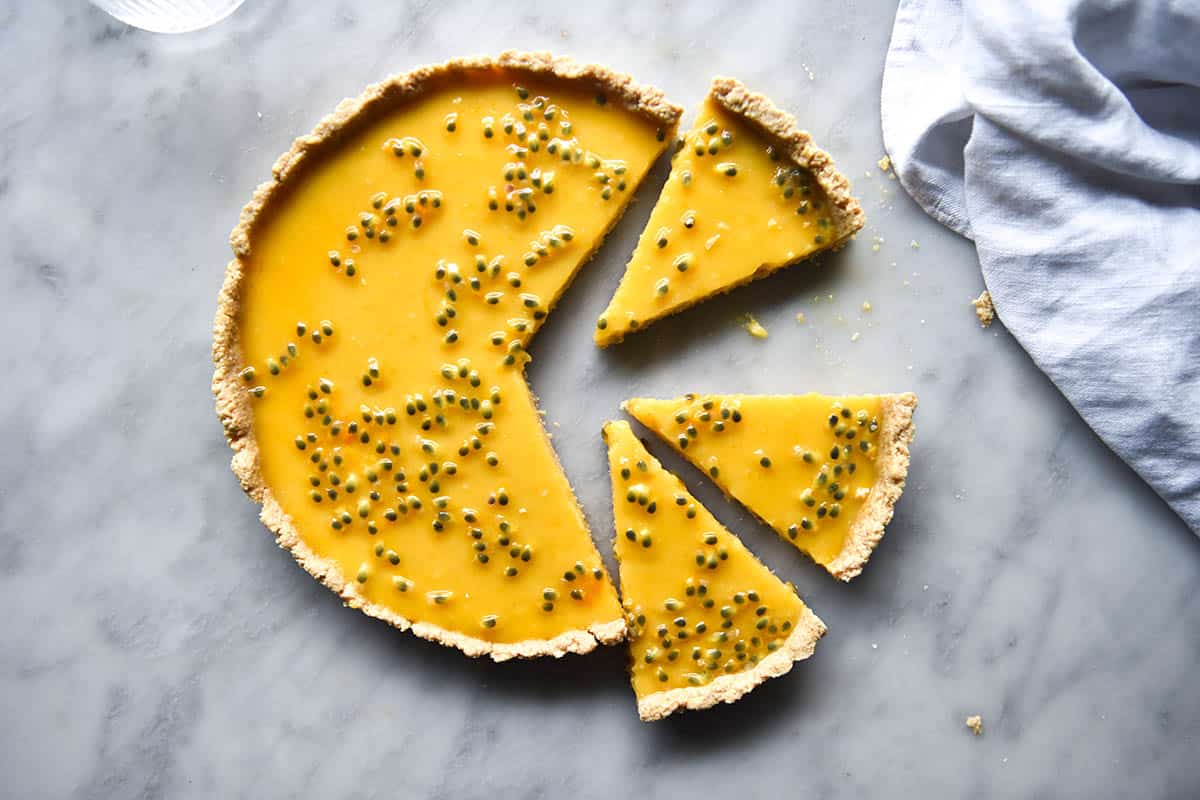 Passionfruit curd (dairy free)
This curd uses passionfruit, lemon juice, coconut oil, white sugar and eggs. It's a simple curd that is easy to put together and results in a tangy and vibrant curd that is perfectly balanced.
The curd is dairy free, low FODMAP and gluten free/grain free.
I use coconut oil in all my curd recipes, including this lime curd tart, my lemon curd and this raspberry curd pavlova. Generally speaking, I find that you can't taste the coconut at all. In this passionfruit curd, however, I can't help but feel that it adds a very subtle tropical flavour that is incredibly good.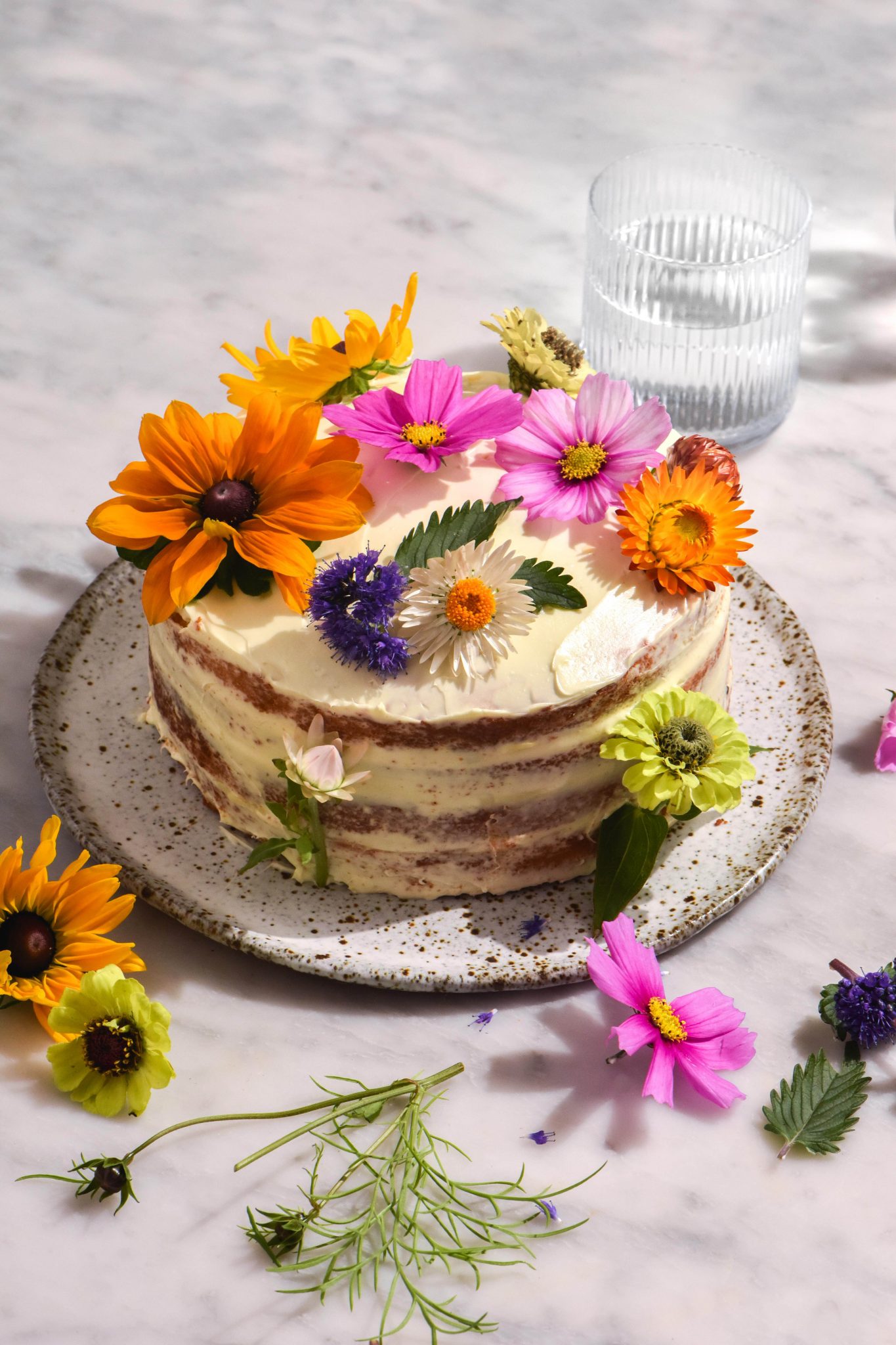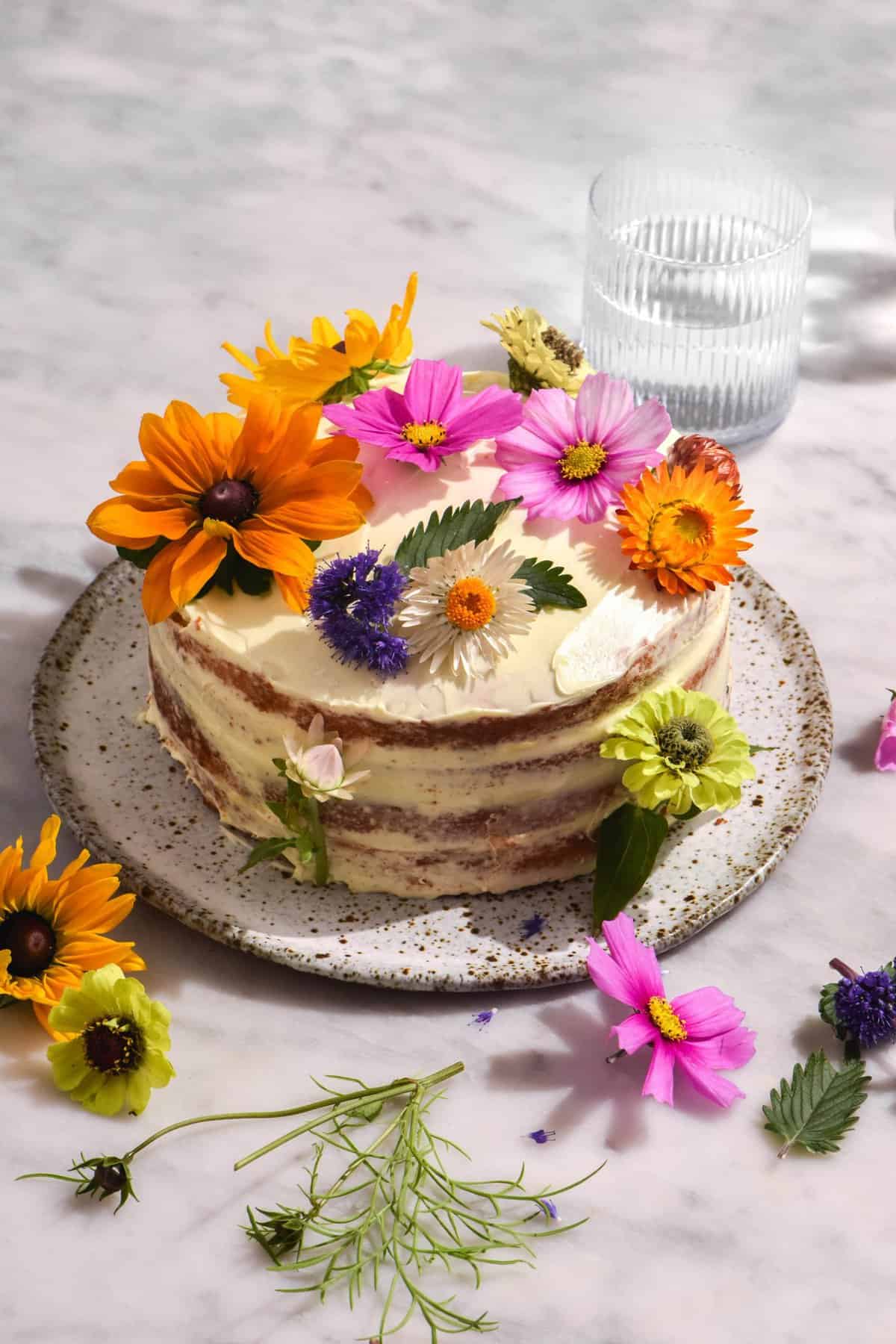 Recipe tips
Measure the coconut oil melted, not solid.
I recommend buying more passionfruit (and lemons) than you think you'll need. You never really know how full a passionfruit is, or whether you have accidentally bought an empty one. Nothing worse than being caught without enough of the star ingredient as you begin to bake.
Passionfruit pulp freezes and defrosts really well, so you can freeze any excess in an airtight container.
Lemons tend to vary dramatically in their acidity. Before adding the eggs, I recommend adding 125ml (1/2 cup) and tasting the mixture before adding the remaining 60ml (1/4 cup) if needed.
Adding a pinch of salt lends flavour complexity to your curd and I highly recommend it.
Other flavour additions that would be nice include some lime or makrut lime zest, lemon zest or a little bit of vanilla.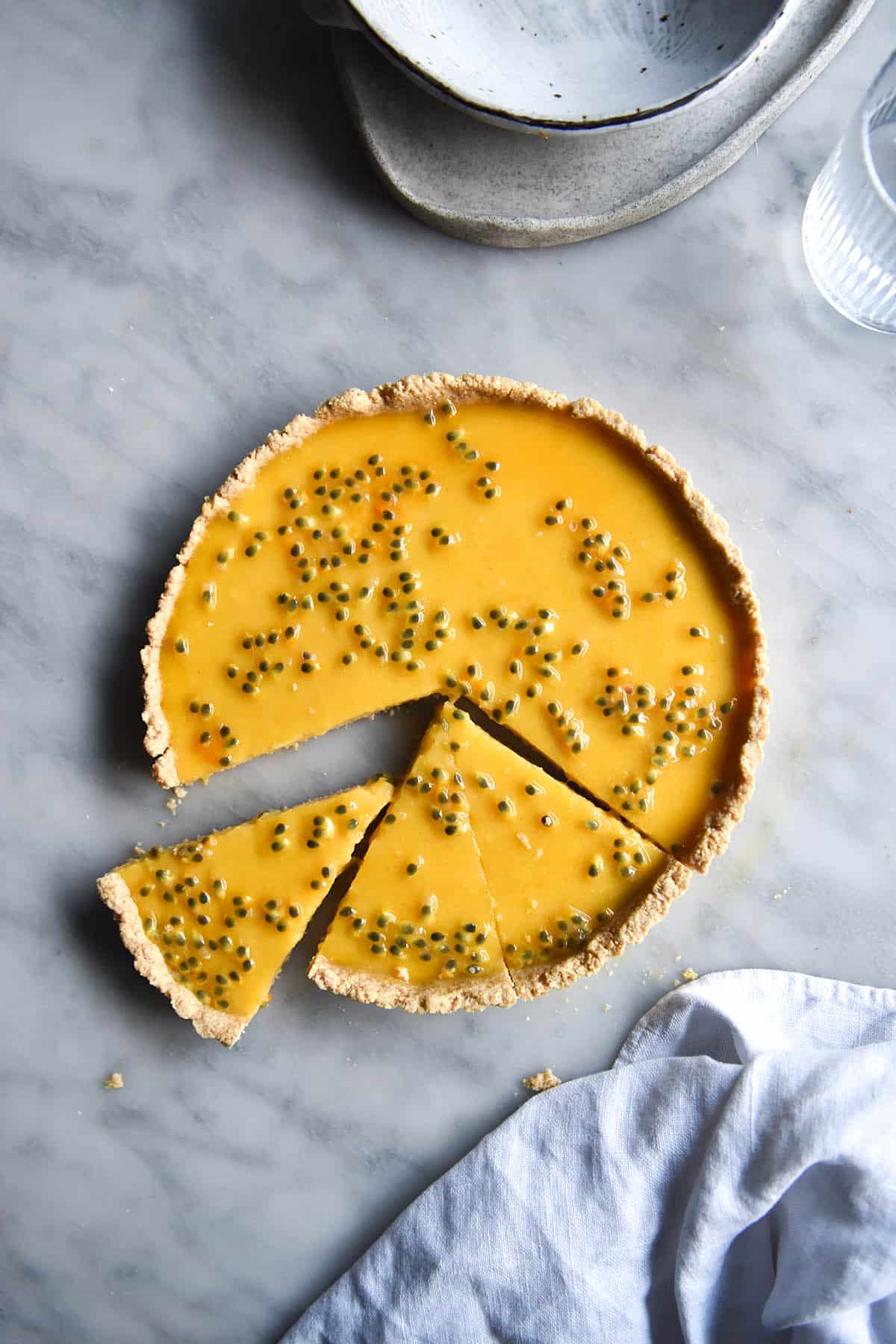 FODMAP notes
The only two ingredients we need to discuss in terms of FODMAPs are the passionfruit and the lemon juice.
Passionfruit are low FODMAP in 46g serves, which is around 2 fruit per person. This curd uses around 60g of passionfruit, so it is well within accepted FODMAP limits (as long as you don't eat the entire batch in one go).
Lemon juice is low FODMAP in 125g (1/2 cup) servings. It contains moderate amounts of fructans at 187g. This curd is well within accepted FODMAP limits provided, as before, you don't eat it all yourself in one go.
Eggs, coconut oil and sugar are all low or no FODMAP foods.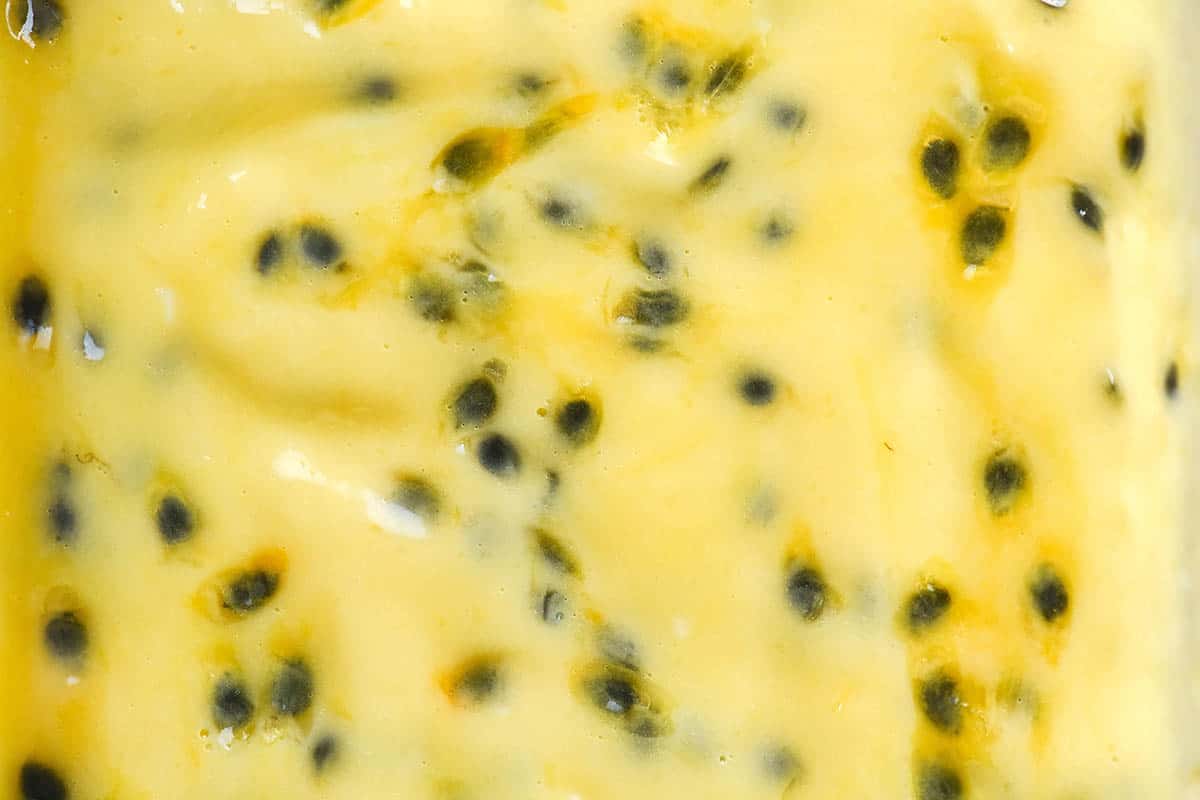 More dairy free dessert recipes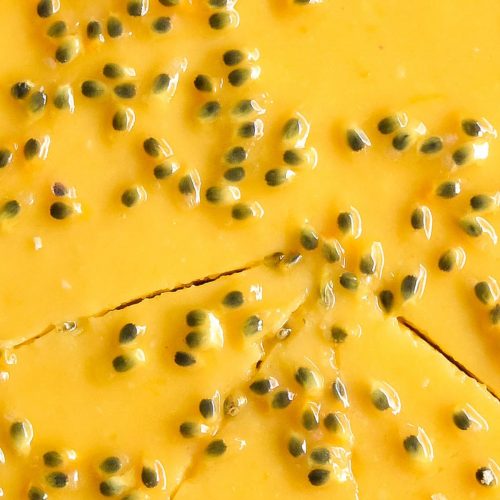 Passionfruit curd (dairy free)
Makes approximately 2 cups (enough for 1 large tart or 1 layer cake with 3-4 layers of curd)
*Cups and measures are in Australian cups and measures. Use gram weights for international accuracy
Ingredients
60

g

(1/4 cup)* passionfruit pulp

110

g

(1/2 cup)* caster or white sugar

125-180

ml

(1/2- 3/4 cup)* lemon juice (see notes)

125

ml

(1/2 cup)* melted coconut oil

4

extra-large eggs

200g total weight, weighed out of shell
Instructions
Place the passionfruit pulp, sugar, 125ml (1/2 cup) lemon juice and melted coconut oil in a medium heatproof bowl. Whisk to combine and allow to settle before tasting for acidity. Add the remaining lemon juice according to your tastes.

Add the eggs and whisk again to combine. Set the bowl over a small saucepan 1/4 filled with water over a low-medium heat. Ensure the water won't touch the bowl.

Use a spatula to continue stirring the curd over a low medium heat. A spatula will prevent too much air bubbles from forming but also allow you to scrape the sides of the bowl as the curd cooks. Once the curd has thickened (it will thicken up a little more as it cools) remove it from the heat. If you accidentally overcook the curd, place the base of the bowl in ice cold water and whisk rapidly.

When you're happy with the curd, allow it to cool a little. Cover the curd with plastic wrap, flush to the curd itself so it doesn't develop a skin. Place in the fridge and allow to cool completely (if you're not using it straight away) before decanting into a clean, airtight container. Use it within a week or freeze it to preserve it for longer.