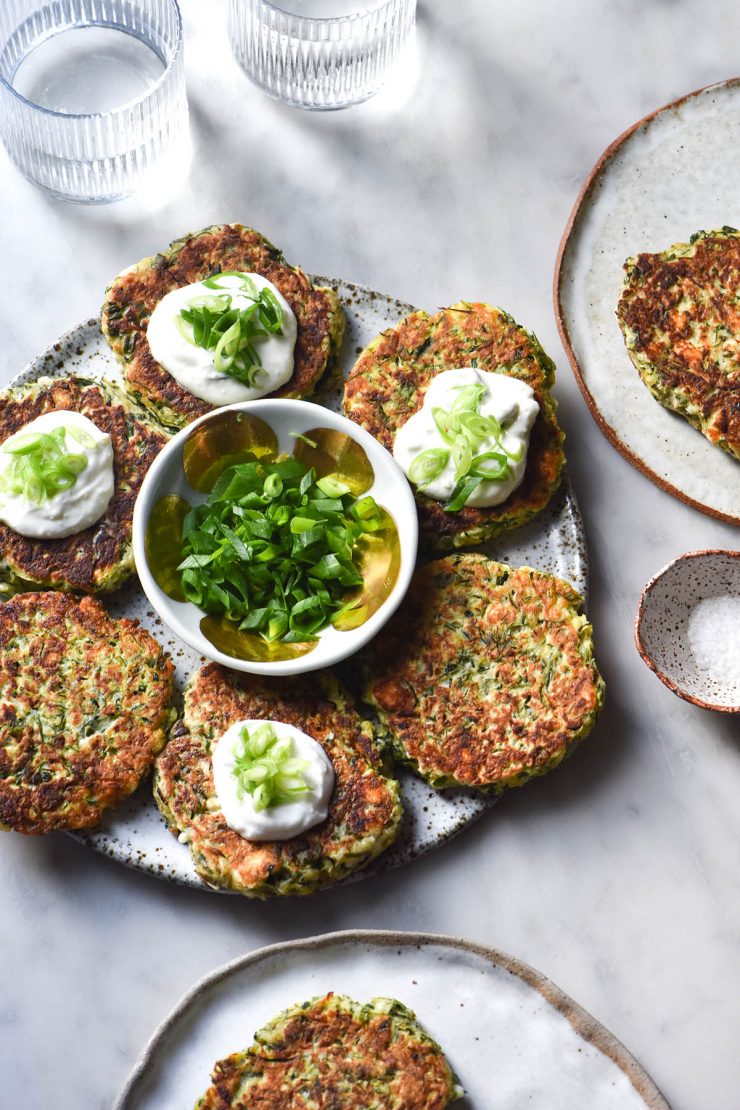 It's about that time of year when zucchini are in abundance, so gluten free zucchini fritters are on the cards. They're a great way to use up a glut of summer zucchini. They're also a great make ahead lunch or snack that freezes exceptionally well. A win all round!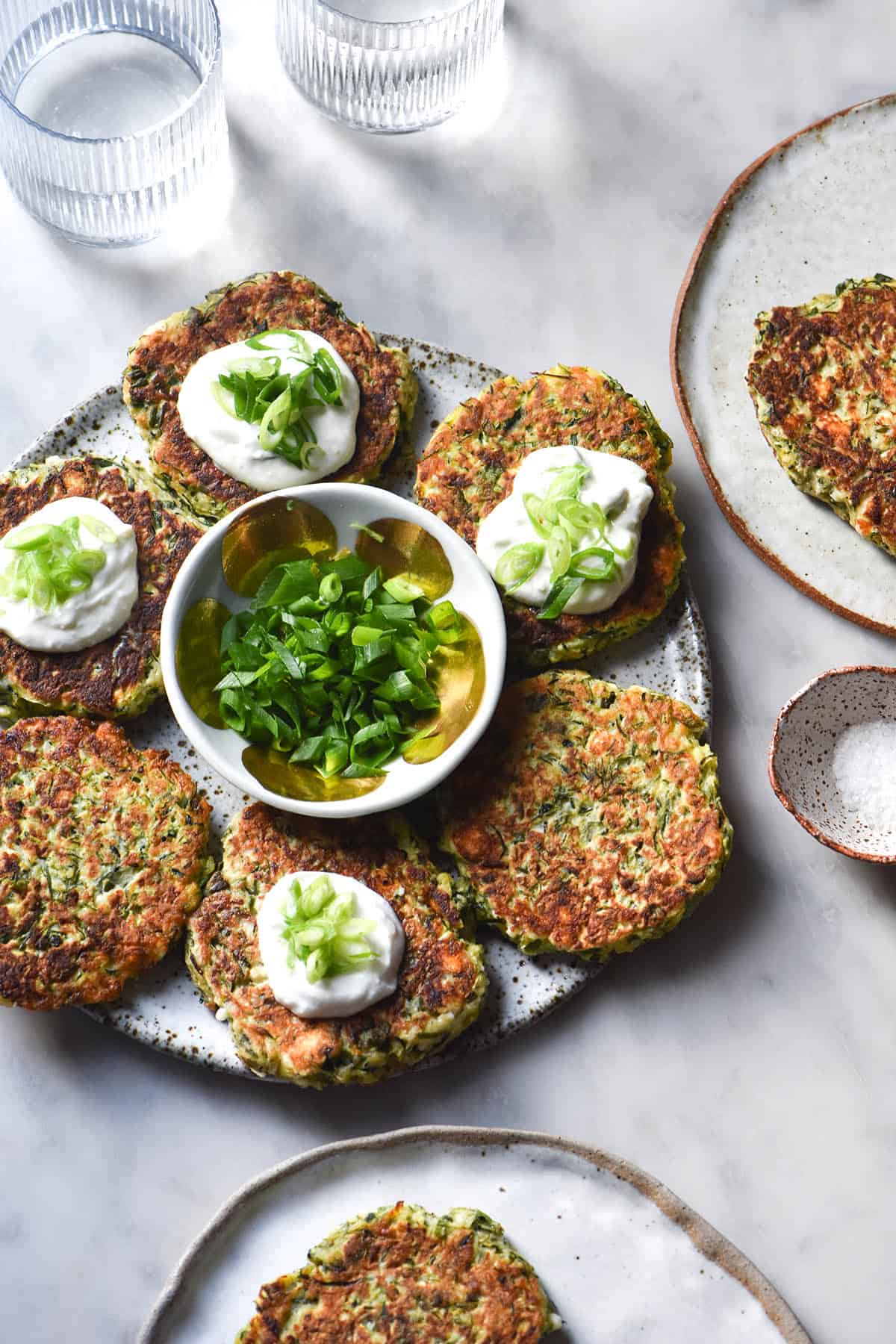 Gluten free zucchini fritters
These gluten free zucchini fritters are vegetarian and xanthan gum free. They use thoroughly wrung out zucchini, feta, dill (or mint) spring onion greens and lemon zest for bulk and flavour.
I have provided a number of gluten free flour options to suit a range of dietary requirements. Almond meal and cassava flour, all cassava flour, almond meal and buckwheat flour or all buckwheat flour are all suitable options for these fritters. What you use depends on your dietary requirements and the ingredients that are accessible to you.
These fritters are easy to make and keep well in the fridge or freezer. I like to have them on hand for a speedy snack.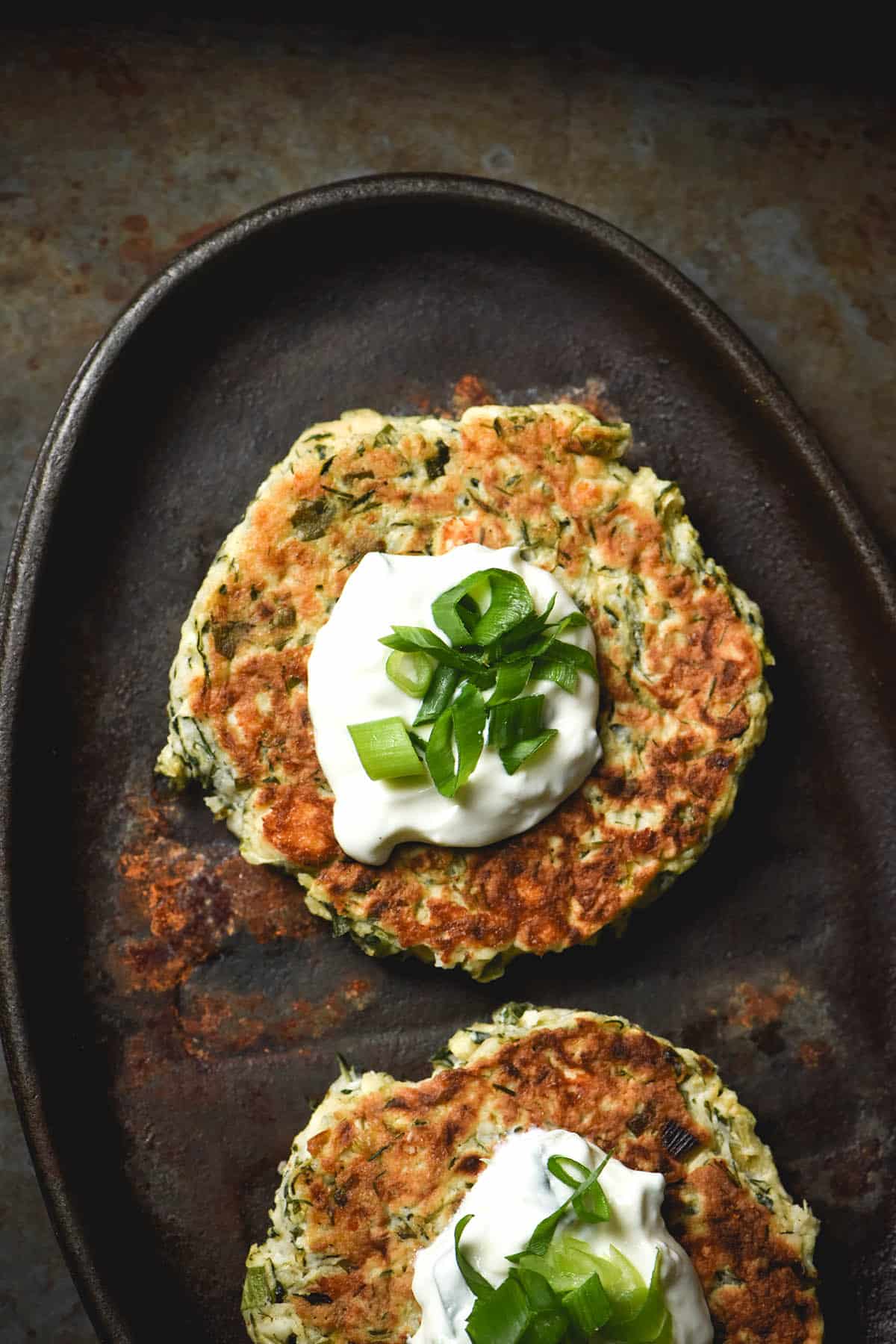 Tips for your gluten free zucchini fritters
The absolute key to success in zucchini fritter making is thoroughly wringing out the zucchini of excess liquid. Excessively runny fritter batter results in flat fritters that spread over the pan and have crepe-like edges. Those edges are likely to burn before the bulk of the fritter is cooked, leaving you with raw fritters.
In testing, I found that the best fritters had approximately 650+g of liquid removed during the draining process. This means that 1kg of zucchini becomes 350g approximately. The zucchini should look dry and shrivelled and have to be pulled apart in it's little ball form.
Wringing this much liquid from zucchini isn't difficult, but it does take some patience.
To begin, place the grated zucchini in a large sieve over the sink. Sprinkle over the fine salt, then massage it in with your hands. You can start squeezing the zucchini of excess liquid, allowing it to drain into the sink.
At this point, I generally like to wander off and allow the zucchini to keep draining for a while. Anywhere from 15 minutes to an hour really makes a difference.
Finally, place the zucchini in a clean, dry thin tea towel (or muslin cloth) and go to town on wringing it out over the sink. A nut milk bag is too thin here – you'll likely break it. Keep going until only small amounts of liquid are coming out, then weigh the zucchini. Hopefully it will weigh 350-500g.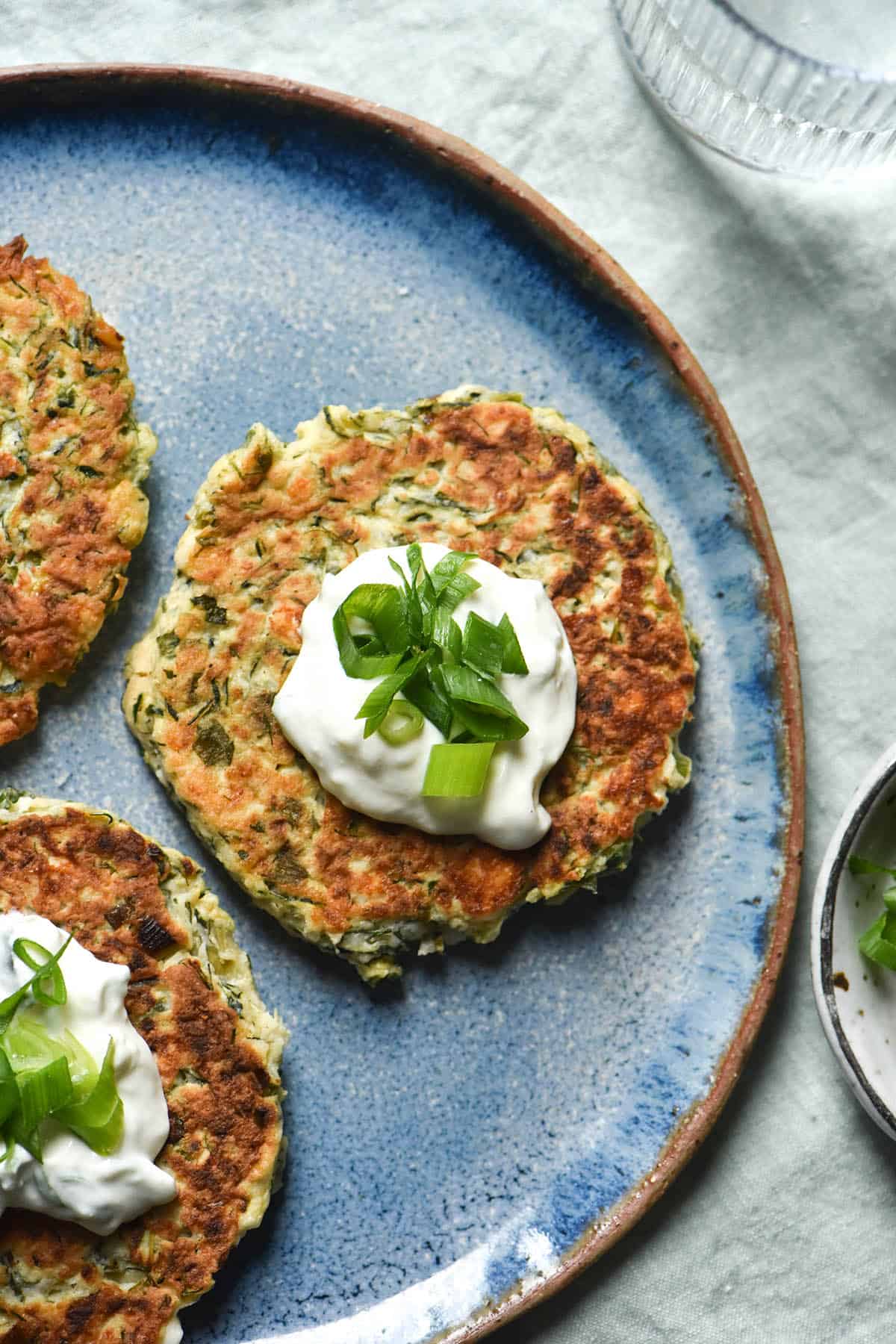 Cooking your gluten free zucchini fritters
The other thing to be mindful of when making zucchini fritters is the cooking time. It's important to have the pan on a low enough heat to cook the fritter through entirely without burning the outsides. I like to thoroughly preheat my pan without any oil (we're talking 3-5 minutes) before adding oil and turning the heat to low. This way, even with my old dodgy pans, the fritters don't stick.
Each fritter will take about 5 or so minutes to cook – perhaps more. If you're in a rush, it can be helpful to have the oven on and to transfer fritters to the oven as you cook them. This will help ensure the fritters are cooked through. Generally speaking, though, I find being patient with cooking them thoroughly the easiest way to do it.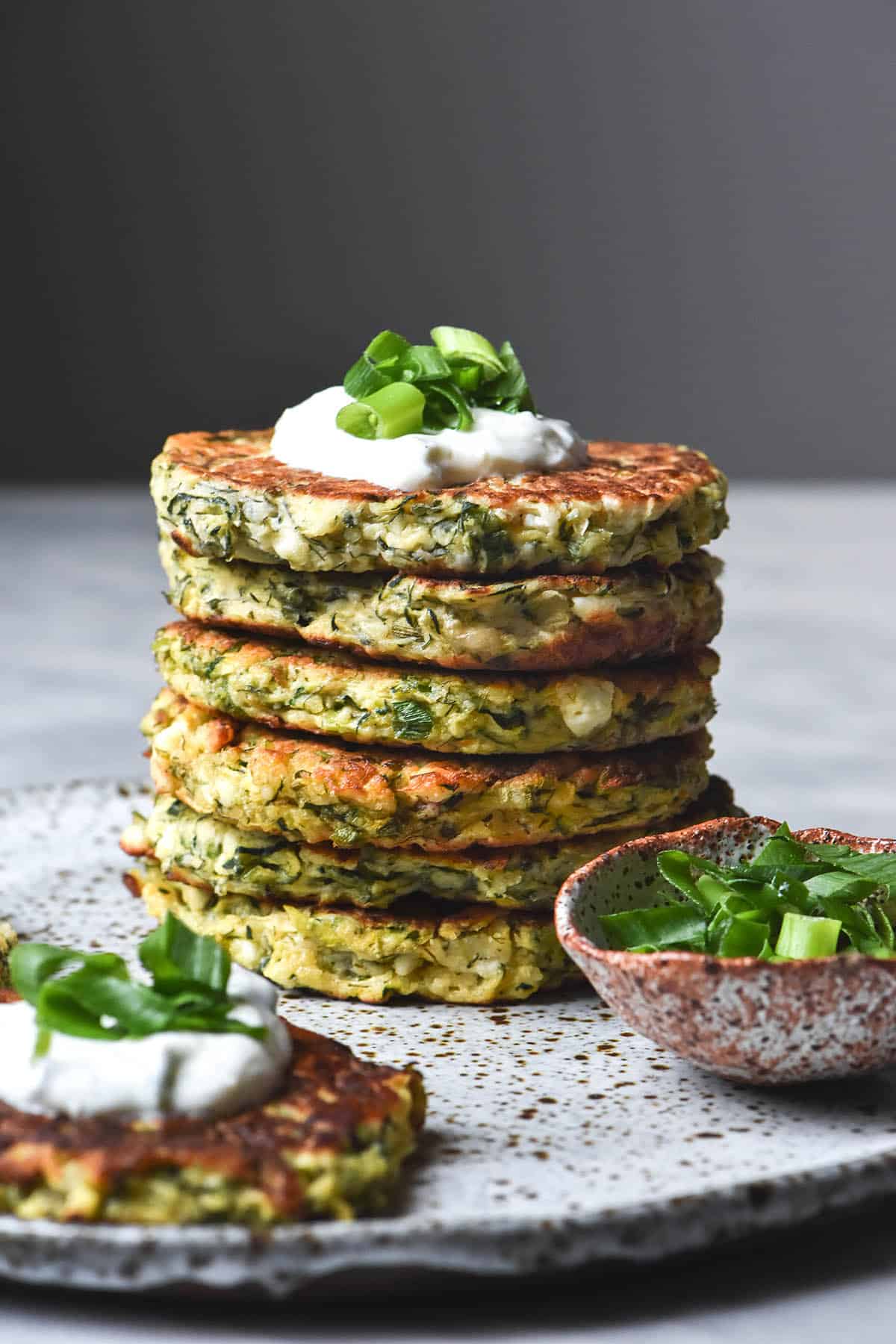 More tips
To reiterate, the success of zucchini fritters essentially depends on taking the time to wring them out properly. That's just the way it is.
The batter should have no liquid sloshing around the bowl once it has been mixed up. If it does, you likely haven't tried the zucchini for long enough.
This can be fixed, to an extent, by adding equal parts of each flour to help mop it up. I would add 1 tablespoon of each at a time. There will become a point when they become too pasty, though (particularly when using all cassava or all buckwheat) so use this option sparingly.
2 1/2 teaspoons seems like a lot of salt. Keep in mind, though, that the first 2 teaspoons essentially drains off with the zucchini liquid. Salt brings out the liquid content of zucchini, which is then squeezed out.
Really finely chopped herbs and spring onions are easier to form into patties than chunkily cut ones.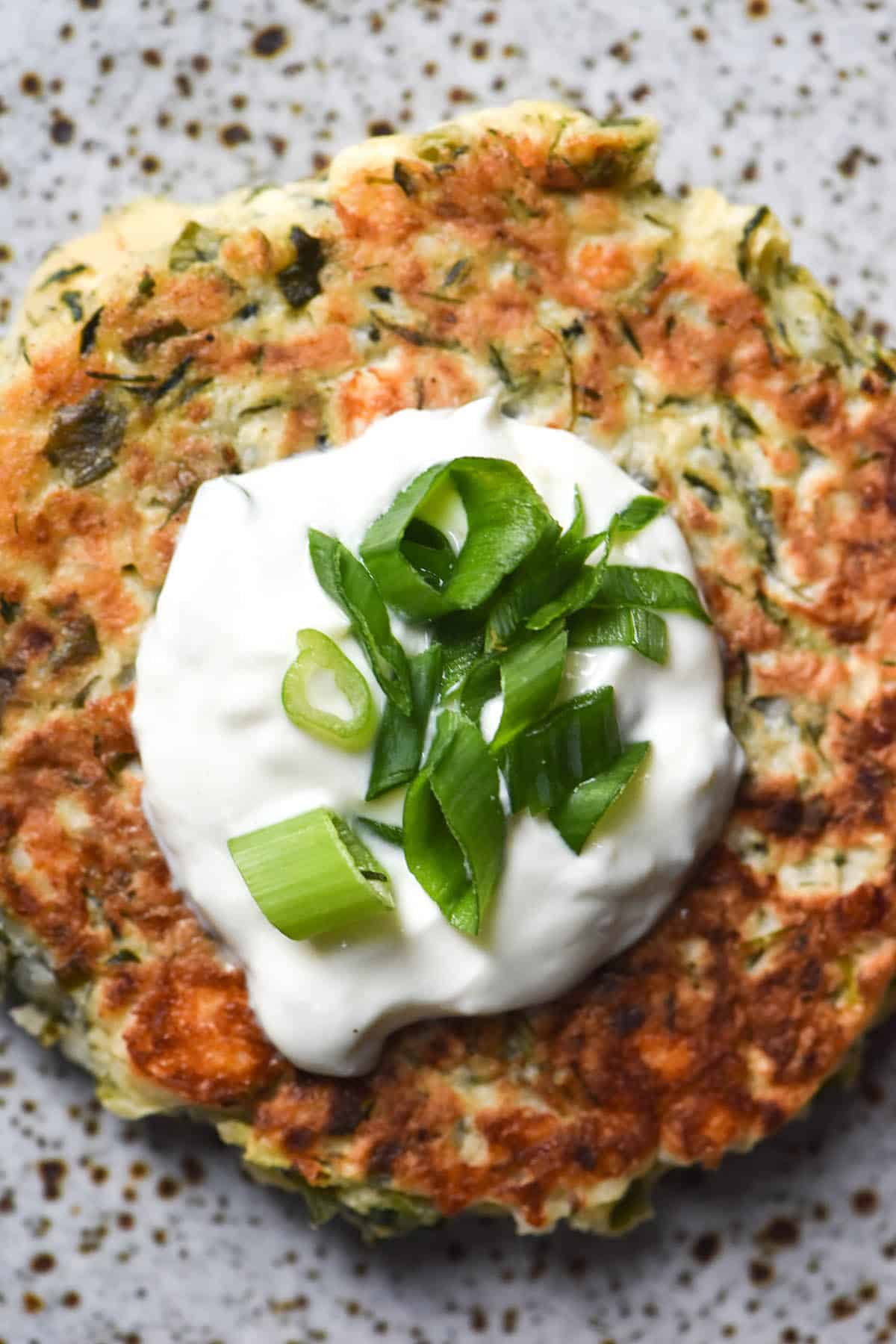 FODMAP notes
It's important to note that these fritters are not designed to be low FODMAP. Zucchini is low FODMAP in 65g serves, and these fritters contain 1kg of zucchini.
Almond meal is low FODMAP in 33g serves, and the recipe uses 50g. Monash doesn't have an entry for cassava flour, but the whole root is low FODMAP in 75g serves.
Even if you use the buckwheat flour option, though, the zucchini content is too high to be considered FODMAP friendly in any capacity. If you don't have any issues with zucchini, that's great! But this is not an explicitly low FODMAP recipe.
Personally, I use spring onion greens here, because I find I can eat a couple of fritters with no adverse effects from zucchini. You can use the whites as well if that works for you.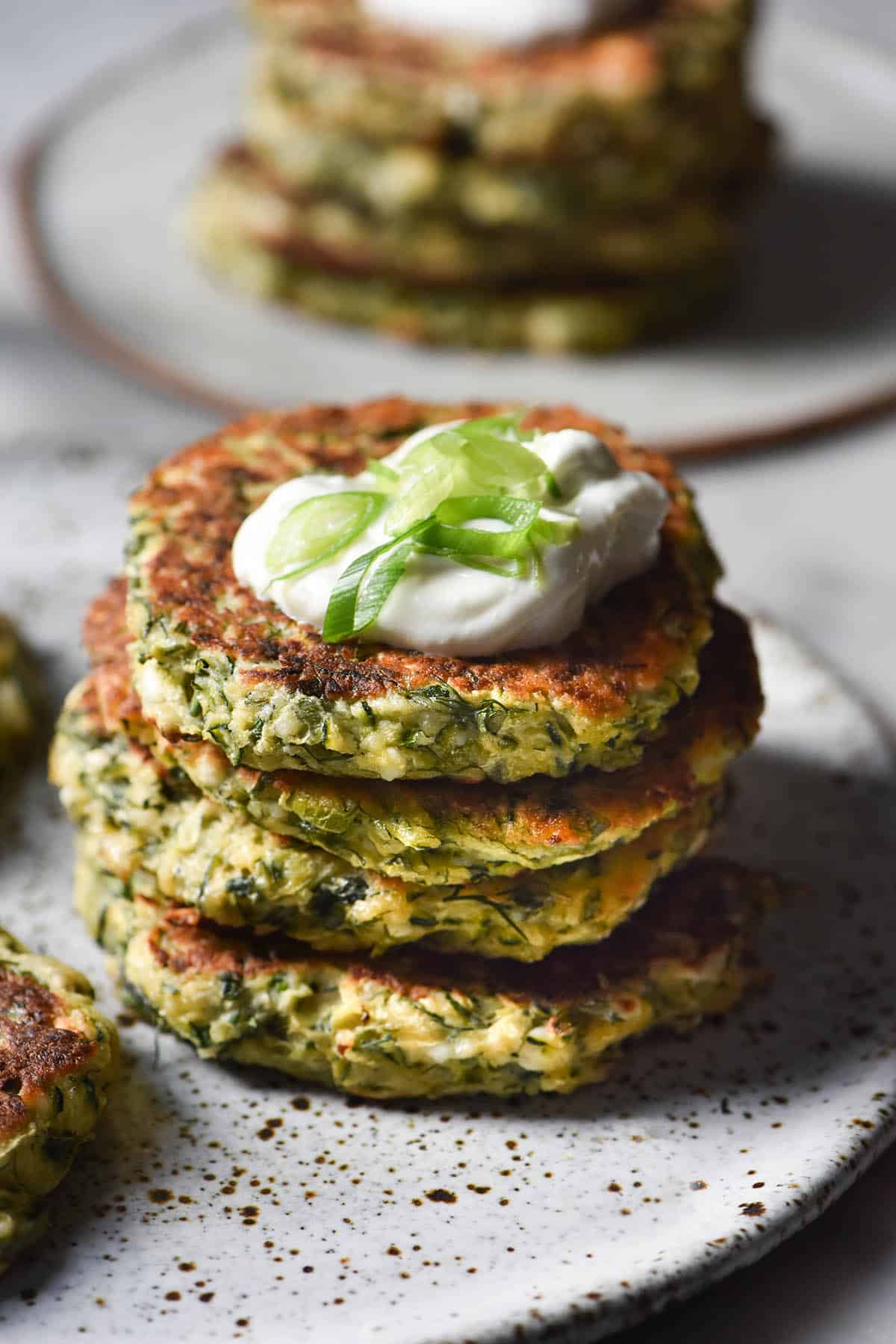 Which flours can I use in these gluten free zucchini fritters?
I have tested these fritters with a number of different flour options, which we will go through below. I have not tested anything other than what I have outlined.
50-75g almond meal and 50-75g cassava flour. This combination works well.
All cassava flour – these worked, but were a little gluey fresh off the pan.
All buckwheat flour – this worked well, and I found the buckwheat flavour to be pretty subtle.
50-75g almond meal and 50-75g buckwheat flour. This combination also worked well.
Another option is to add 1/2 teaspoon baking powder just to aerate the fritters inside a little bit. You don't have to add it, but it does add a little somethin'.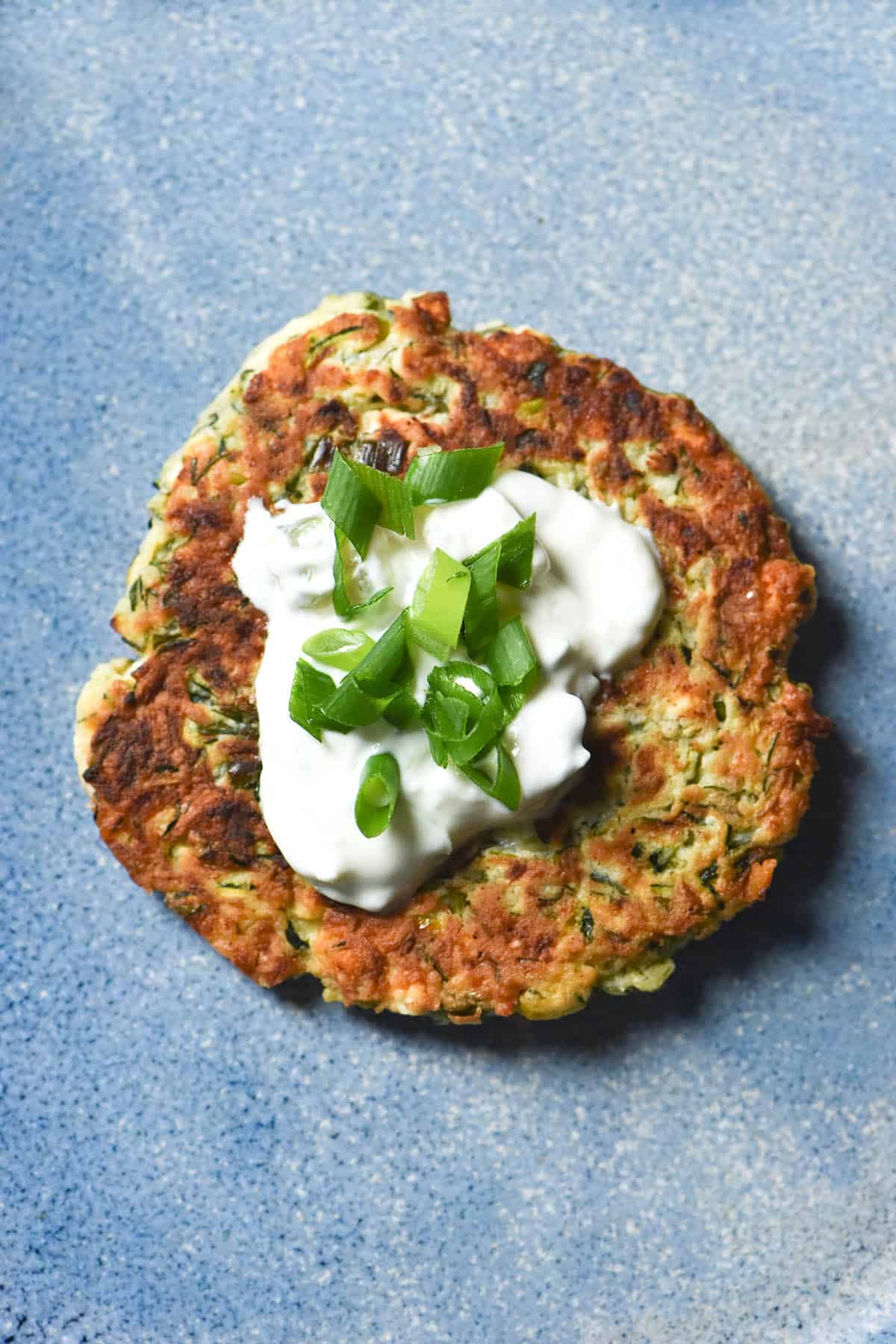 Flavour notes
I highly recommend using the lemon zest – it adds a lot of flavour. Same goes with the spring onions – they're not an optional ingredient.
To an extent, the more herbs, the merrier! If you have more than 30g, feel free to throw the extra in.
Some chilli flakes, fresh chilli, pickled jalapeno or some tajin would all make great additions.
You can use mint (or maybe even basil, but I haven't tried it) in these fritters if you don't like dill.
I have tested haloumi in my zucchini, pea, mint and haloumi fritters and it worked well. I imagine it would work well here too.
I haven't tried any dairy free cheeses yet. If you try one and it works well, let me know!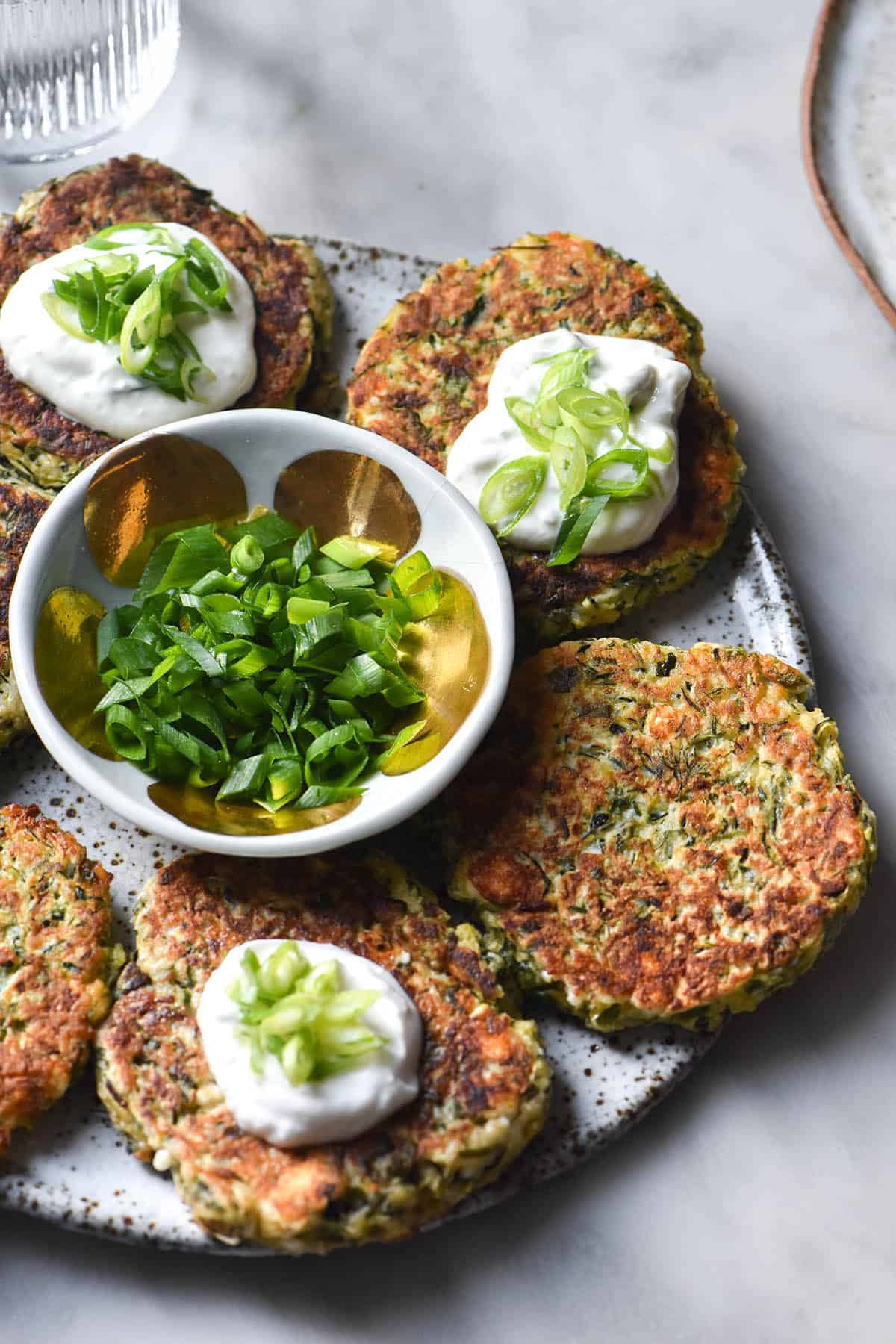 More gluten free zucchini recipes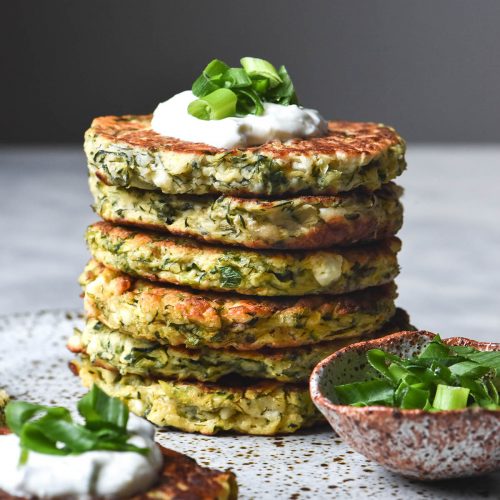 Gluten free zucchini fritters
Teaspoons are in Australian measures.
Teaspoons in Canada, New Zealand and Australia are 5ml.
In the USA, they are 4.9ml. In Britain, they are 5.9ml.
Ingredients
1

kg

zucchini

2

teaspoons

salt

30-50

g

dill or mint

very finely chopped

1/2

bunch spring onion greens

very finely chopped

1-4 – 1/2

teaspoon

salt (see notes)

Freshly cracked pepper

to your taste

50-75

g

almond meal

see notes

50-75

g

cassava flour or buckwheat flour

see notes

Zest of 1 lemon

200

g

firm feta

crumbled into small pieces

1/2

teaspoon

baking powder (optional, see notes)

2-3

extra large eggs

Vegetable oil or neutral oil

for cooking
Instructions
Grate the zucchini on the large side of your box grater and place into a colander over the sink. Sprinkle over the 2 teaspoons of salt and massage it in with your hands. Begin to wring the zucchini of excess of moisture. I like to leave mine for 10 minutes in between wringing it out to allow it to drain off.

Place the partially wrung out zucchini in a clean, dry thin tea towel or muslin cloth (a nut milk bag is too delicate here).

Go to town on wringing out the zucchini – you want to remove as much liquid as humanly possible. I aim for the zucchini to weigh between 350-500g once fully wrung out. The less liquid there is, the easier forming your fritters will be.

Once your zucchini is shrivelled and dry, break it up into a large bowl. Add all the ingredients except the eggs and taste for seasoning. If you're adding any extra flavourings like chilli, add them here.

When you're happy with the taste, add the eggs. If the mixture is moist and easily forms patties with two eggs, only add two. If it's still a little dry and crumbly, add three.

Thoroughly preheat a pan over a medium high heat. I preheat mine without oil for 3-5 minutes to ensure it is exceptionally well heated so the fritters don't stick.

Turn the heat to low medium. Take about 1/8th of the mixture and form a patty in your hands. Flatten it out to about 1-2cm thick, then place it on the pan. Use a spatula to flatten it out a little. Thick fritters are more likely to be undercooked inside, so you want them to be reasonably thin. After about 2 minutes (heat dependent) flip the fritter. Each fritter needs about 5-7 minutes to cook through, heat and size dependent. You can cook multiple fritters at a time with a decent sized pan.

Once each fritter is cooked, place it on a cake ran so it doesn't sweat underneath. Repeat with the remaining fritters, then serve. If you'd like to freeze the fritters, allow them to cool completely then pack into airtight containers.
Notes
I have written extensive tips for successful fritters in the body of the post – too many to re-write here. Have a read of those for the best fritters.
You can use all buckwheat flour or 50-75g almond meal and 50-75g buckwheat flour in place of the flours listed in the recipe. I found all cassava flour to be a bit gluey hot, but better cold. 
Add salt according to how salty your feta is and your taste for salt. 
Another option is to add 1/2 teaspoon baking powder just to aerate the fritters inside a little bit. You don't have to add it, but it does add a little somethin'.
I haven't tested these fritters without the eggs or cheese. I also haven't tested them with a dairy free cheese.