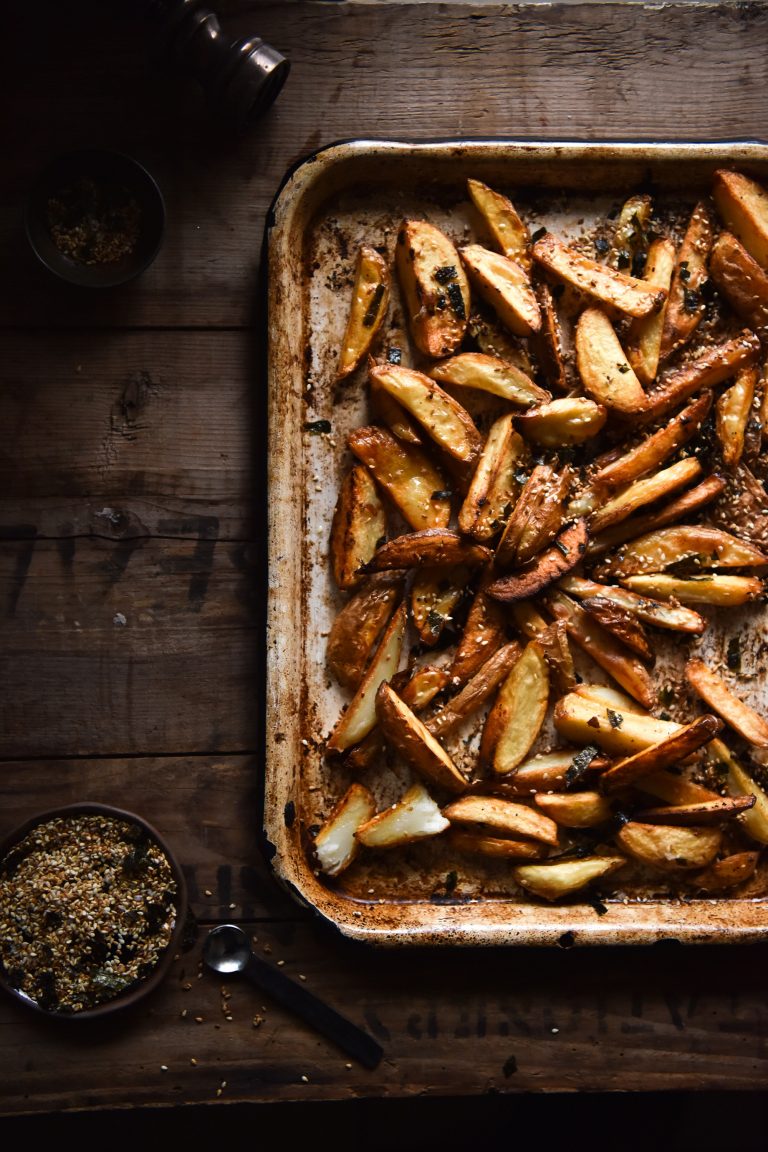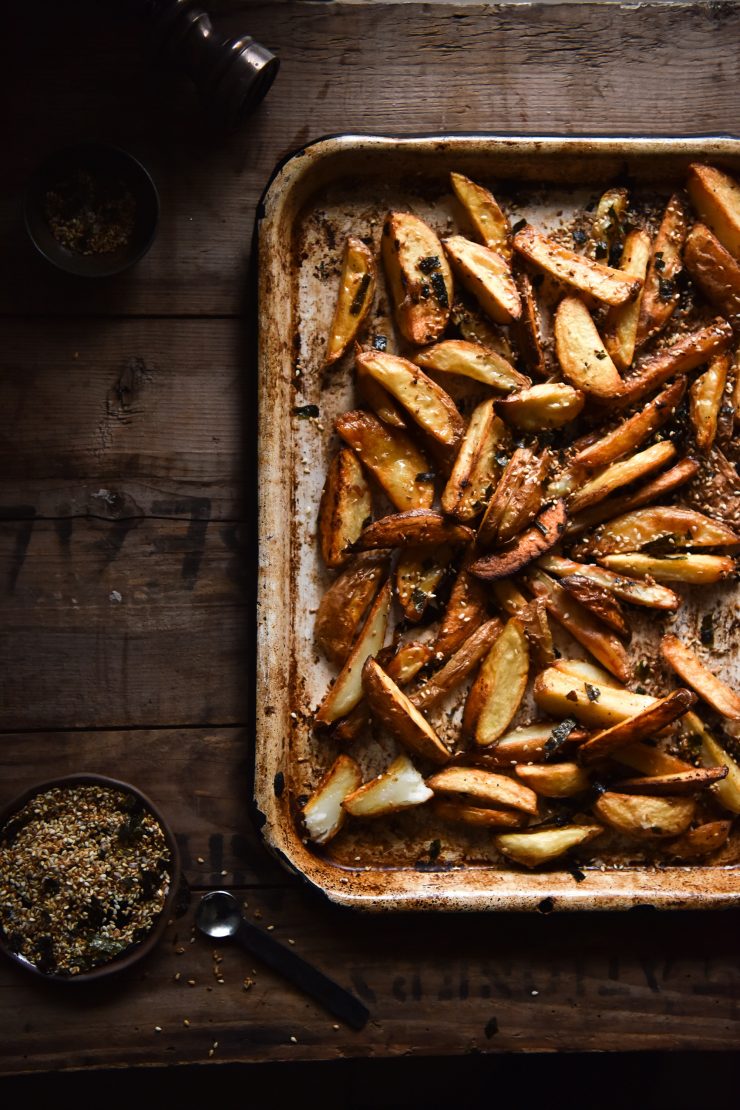 I'm an old fan of oven fries (just look at my Instagram/previous blog posts/physique) but a newer fan of furikake fries. Furikake, in it's traditional form, contains sesame seeds, bonito flakes, nori flakes, salt and sugar. Mainly out of laziness (I am officially pescetarian, after all) I decided to make a vegan adaption of the Japanese flavouring (read: couldn't or wouldn't find bonito flakes) and found I didn't feel like a vital piece of the puzzle was missing. Lazy and/or vegan cooks, rejoice.
I've done a lot of experimenting with oven fries in the past, and I've found that par boiling the potatoes before roasting them in hot oil is key to soft interiors with crunchy exteriors. Personally, I find that skipping the par boiling stage (which only takes 5-10 minutes!) is a recipe for dry fries. Friends, life is too short for dry fries. Embrace the par boil.
These furikake fries are gluten free, grain free, vegan, and FODMAP Friendly. You can serve them as is, or (my favourite) with Kewpie mayonnaise (the vegan one, obviously) and some chilli sauce (Tabasco is my low FODMAP favourite)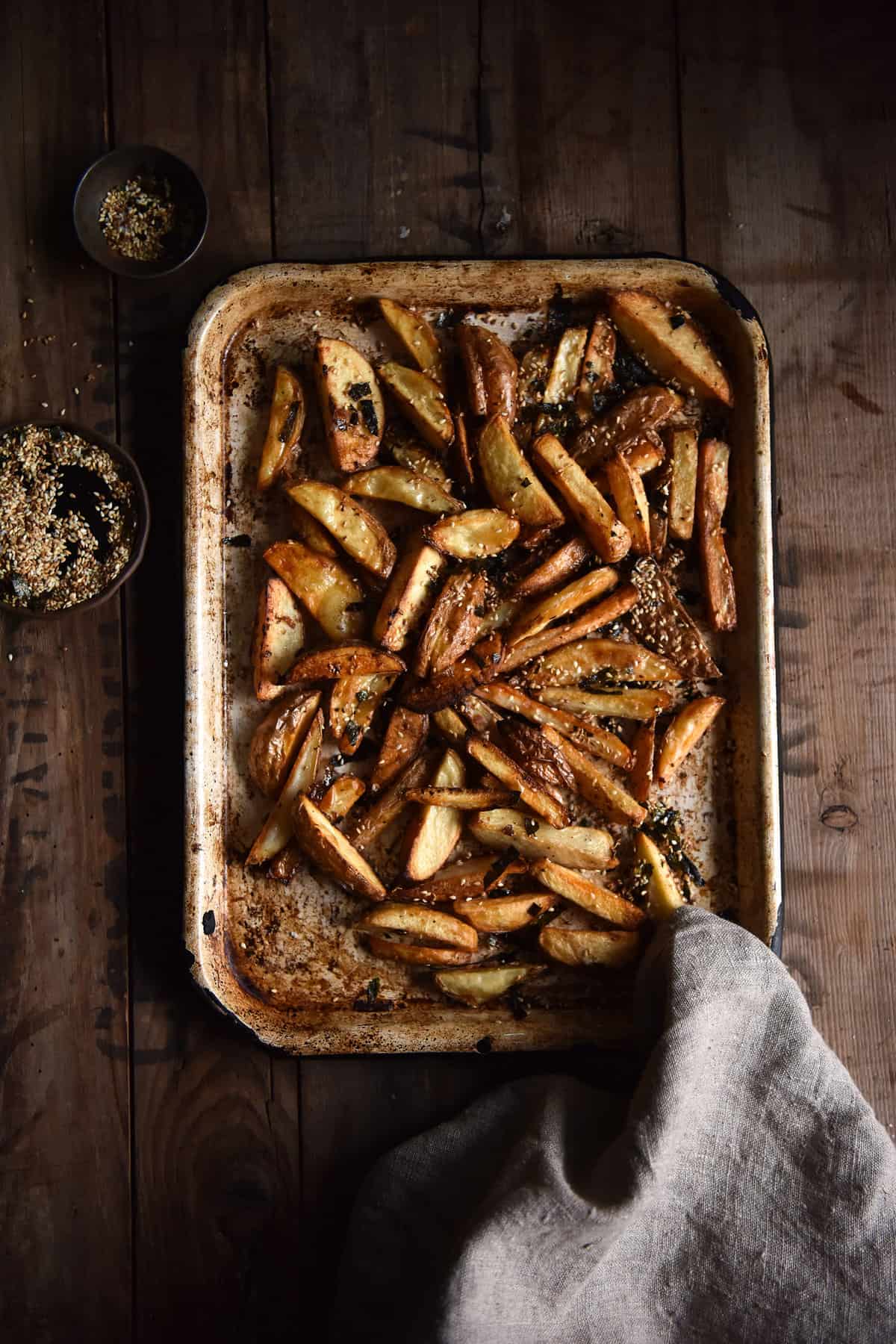 Tips and tricks for these furikake fries
Par boiling your potatoes, hand pricked with a fork and in very salty solution. Pricking the potatoes allows the salt to flavour the potato from the inside out. Par boiling the potatoes makes them soft and fluffy on the inside, prior to crisping the outside in the oven.
I generally like to choose an all rounder variety of potato for oven chips. This article goes through the varieties available in Australia, but you can easily Google the best varieties in your country. Australia doesn't have a huge variety of potatoes.
Preheating your oil in the oven is super important! The potatoes need to sizzle upon contact with the oil – this is what creates a crunchy exterior but leaves the interior fluffy. If you put the potatoes in cold oil, they're less likely to be crispy and more likely to be soggy.
You can buy furikake from your local Asian grocer if you don't need it to be vegan and/or FODMAP friendly.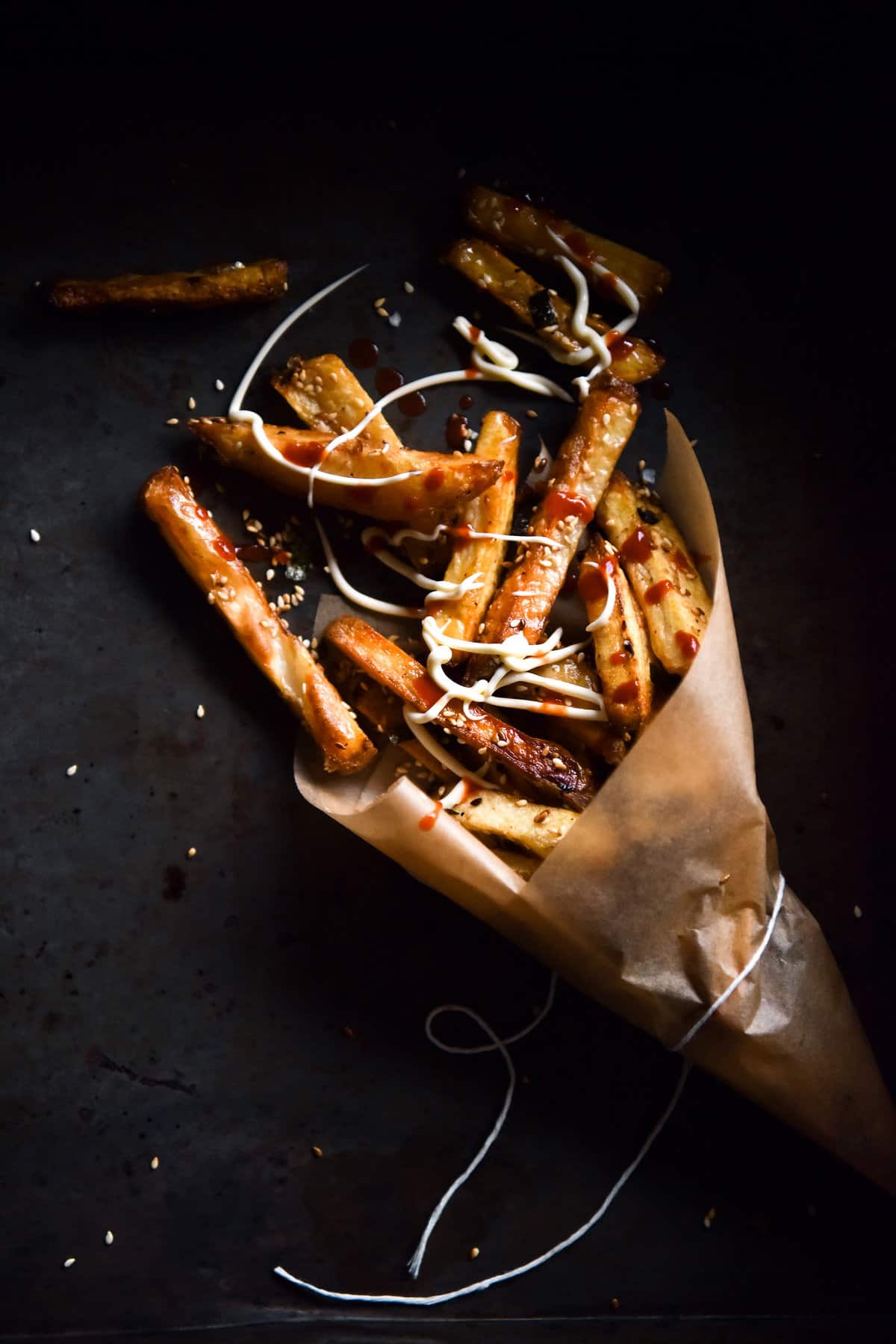 More potato recipes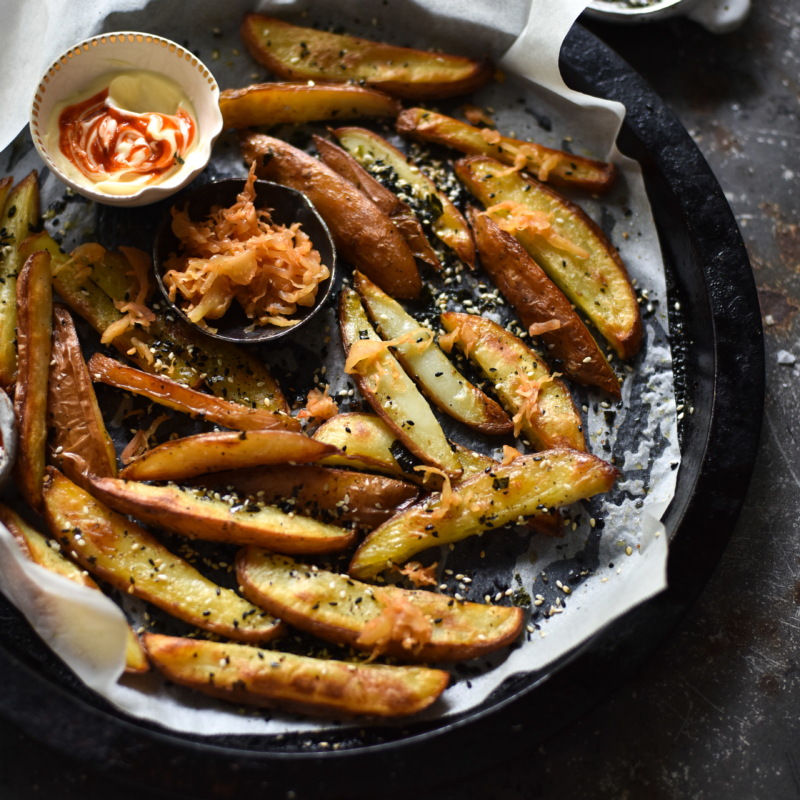 Vegan furikake fries
Ingredients
For the oven fries:
1

kg

potatoes

see intro about which variety to choose

Vegetable or olive oil

1

tablespoon

sea salt flakes
For the vegan furikake
1/2

cup

60g sesame seeds (I like to use half black and half white for visual interest, but I didn't have any black sesame seeds on hand)

1-2

sheets of nori

finely chopped (I fold the nori into a tiny little square, and use my scissors to chop)

1

teaspoon

sea salt flakes

2

teaspoons

coconut sugar

brown sugar would also work
To serve:
Vegan kewpie mayo

Tabasco chilli sauce

Whatever you want to serve them with
Instructions
METHOD:
Use a fork the prick a few little holes in each potato. This will help the salt water permeate the potato flesh, flavouring them from the inside out.

Place the potatoes in a medium large pot, and add the tablespoon of sea salt. Make sure it's sea salt, and trust me. You're not consuming that whole tablespoon of salt, it's just for flavour. My flavour is sea salt, in case Craig David ever asks.

Place the potatoes over a high heat, and allow to boil for around 7-10 minutes. You want to be able to stick a knife in them, still with a bit of firmness.

Once they're cooked, transfer them to a colander, and allow to steam dry and cool a little. Preheat the oven to 180 degrees Celsius.

Take a large oven tray, and cover the bottom of it with your oil of choice. Place it in the hot oven, and allow to heat for around 10-15 minutes.

Slice the potatoes into the fries of your dreams, aka whatever size you like. Cooking time will vary a little based on how thick you cut them and how well you par boiled them.

Place the chips into the hot oil, leaving space between each chip. Overcrowding is an oven chips worst nightmare, so ideally, cook the chips in two batches. Annoying, yes, crispy, also yes. Your call.

Cook the chips for around 30 minutes, before turning, sprinkling with sea salt, and cooking for an additional 15. ALTERNATIVELY, place your oven on the highest setting, and grill for around 10 minutes on each side. The first option is preferable, the second option is for hangovers or hangry emergencies.

While the chips are cooking, make the furikake. Toast the sesame seeds in a dry pan until they're golden, and then add the chopped nori and salt. Stir well to combine, and then add the coconut sugar. It should melt instantly, creating a sticky, delicious sesame condiment, that can be eaten by the spoonful.

Once the chips are golden brown, serve them immediately with as much furikake as you're into (I recommend the whole batch, obviously) and any condiments you're into (all of them, obviously)