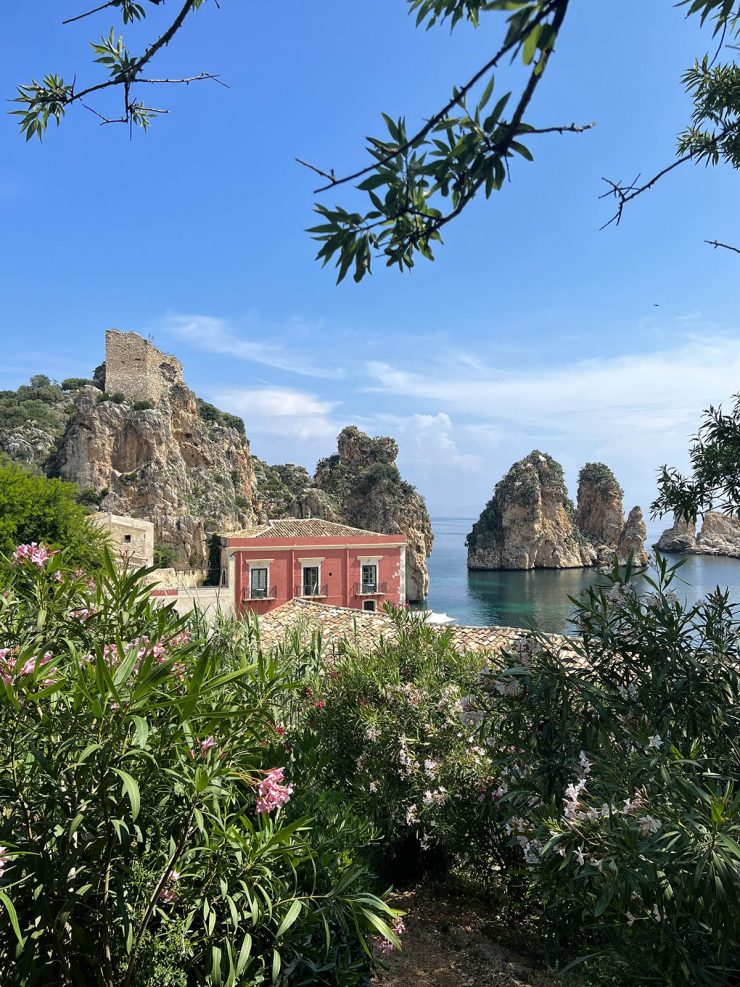 Scopello is an absolutely beautiful township of Sicily, Italy that I visited on my recent trip to Sicily. Although small, Scopello has risen to it's touristic status by way of the famous Tonnara Di Scopello. The Tonnara is a historical tuna fishery that has since been transformed into a hotel, wedding venue and paid public beach.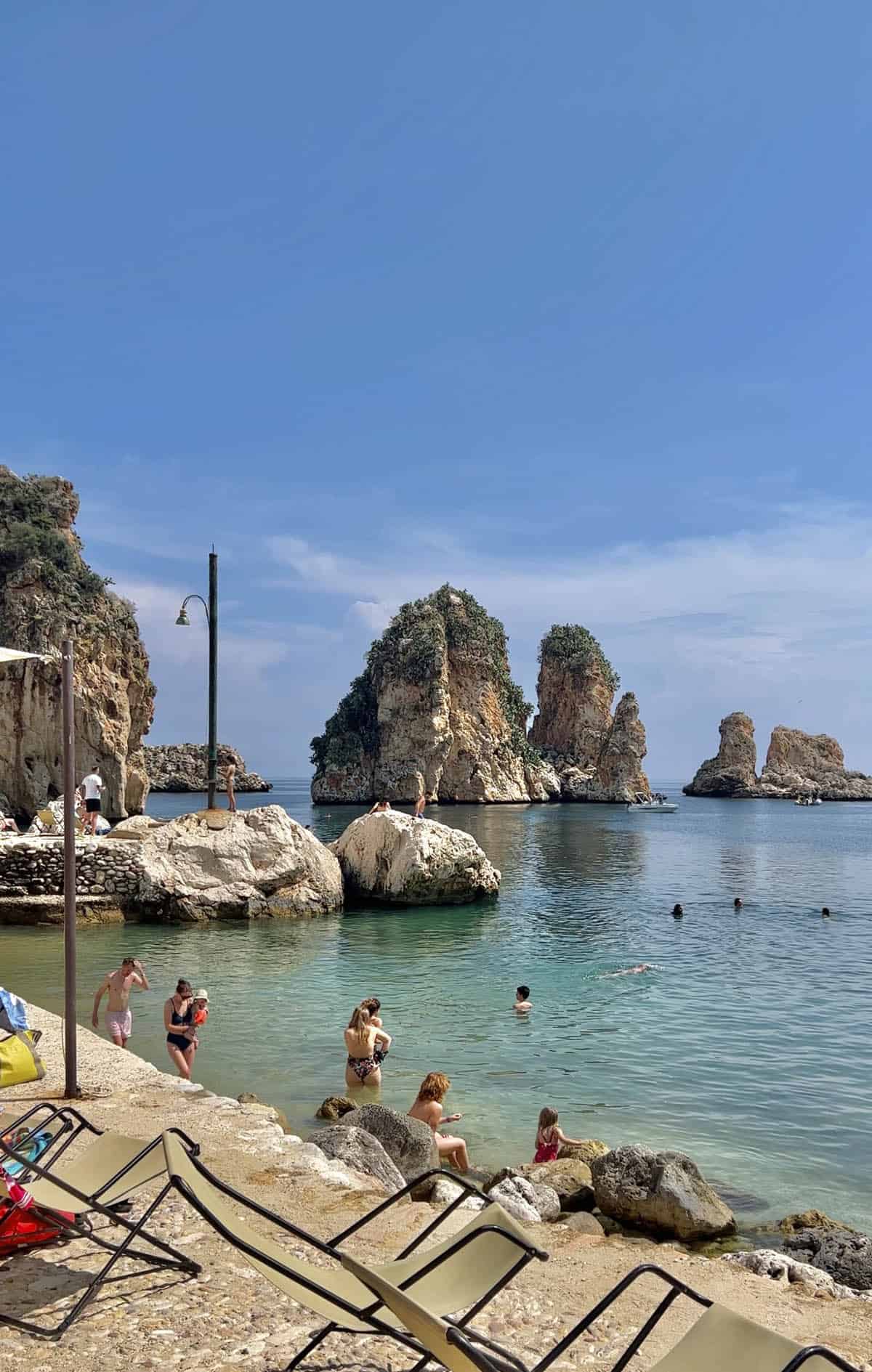 Scopello, Sicily
Scopello is a tiny mountainous seaside town that is about 40-60 minutes drive from Palermo. Because it's small and without much public transport, the best way to get to Scopello is with a hire car. If you're worried about hiring a car and driving in Sicily, have a read of my experience here.
Scopello has a local township where all the restaurants and hotels are. Further towards Zingaro nature reserve, there is more housing (assumedly some local) and access to the local beach. Where you stay depends on your needs, mobility and your interests. If you're in Scopello for the beach and nature reserve, the air bnbs in the area closest to the reserve might be best. If you want to spend time sipping espresso in the main square, a hotel or air bnb in town might be your thing. It all depends.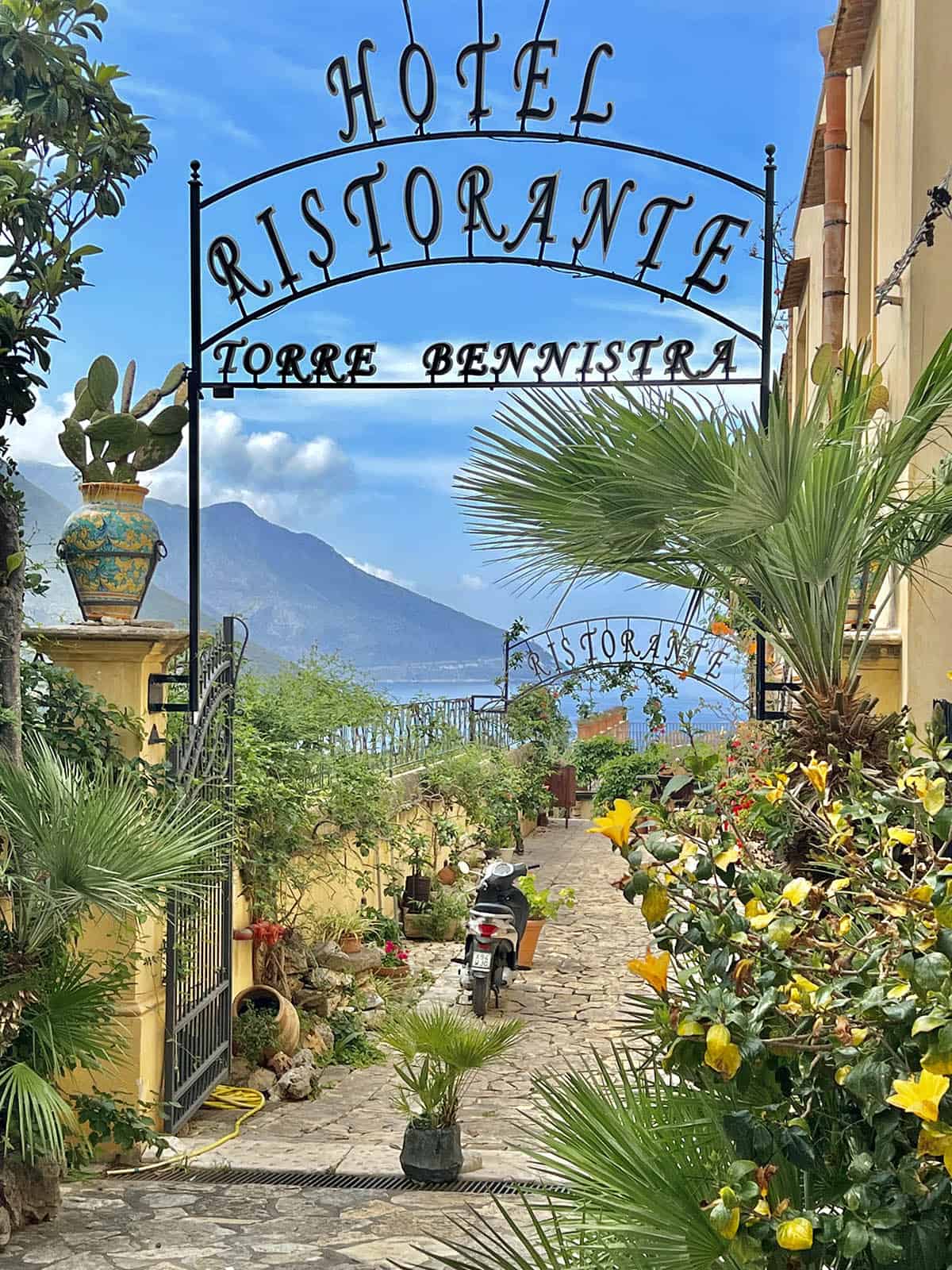 Tips for your stay in Scopello
Don't make the mistake that I did and drive straight through the centre of town because the person in front of you did. Scopello town centre is a ZTL, which means that cars are prohibited. Sometimes this is for certain times of day and sometimes it is permanent. You get a fine if you drive through a ZTL, so just don't do it.
To get into Scopello the right way, turn right after driving past Scopello Market (as opposed to following GPS and going straight ahead) then loop around past the Tonnara. Turn left and park your car at the paid parking if you don't have parking (we did have parking).
Scopello is small! Don't arrive thinking there will be the amenities of Palermo. It is a small township with a handful of restaurants.
If you're bringing a hire car, make sure you get parking with your accomodation. There is no free parking in the township.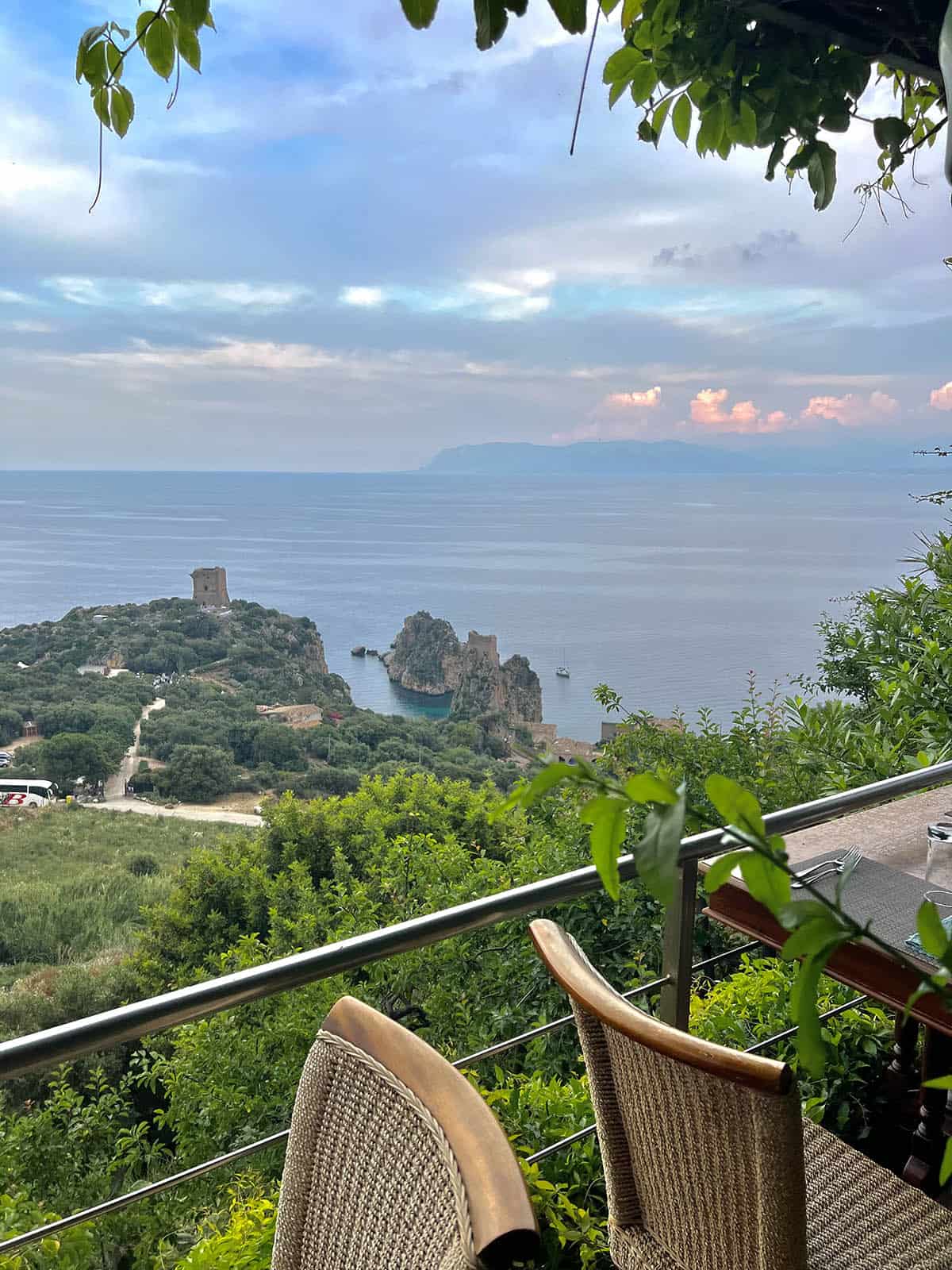 Scopello amenities
A handful or so of restaurants and a handful of hotels with restaurants
Gelateria and coffee shop
Pasticceria, coffee and aperitif shop (we had espresso here every morning and a spritz here every evening)
A couple of shops (I think one was a jeweller and one was ceramics)
An ATM
Police station
A deli/sandwich shop for takeaway wine, sandwiches and deli ingredients (but you can also sit and eat/drink in their gorgeous backyard)
Scopello Market, a great little supermarket and attached cafe (with great gelato) just outside of town. There's also a produce store in this same little group of shops. I even saw some electronics (cables etc) for sale, so this is your place for any tech issues).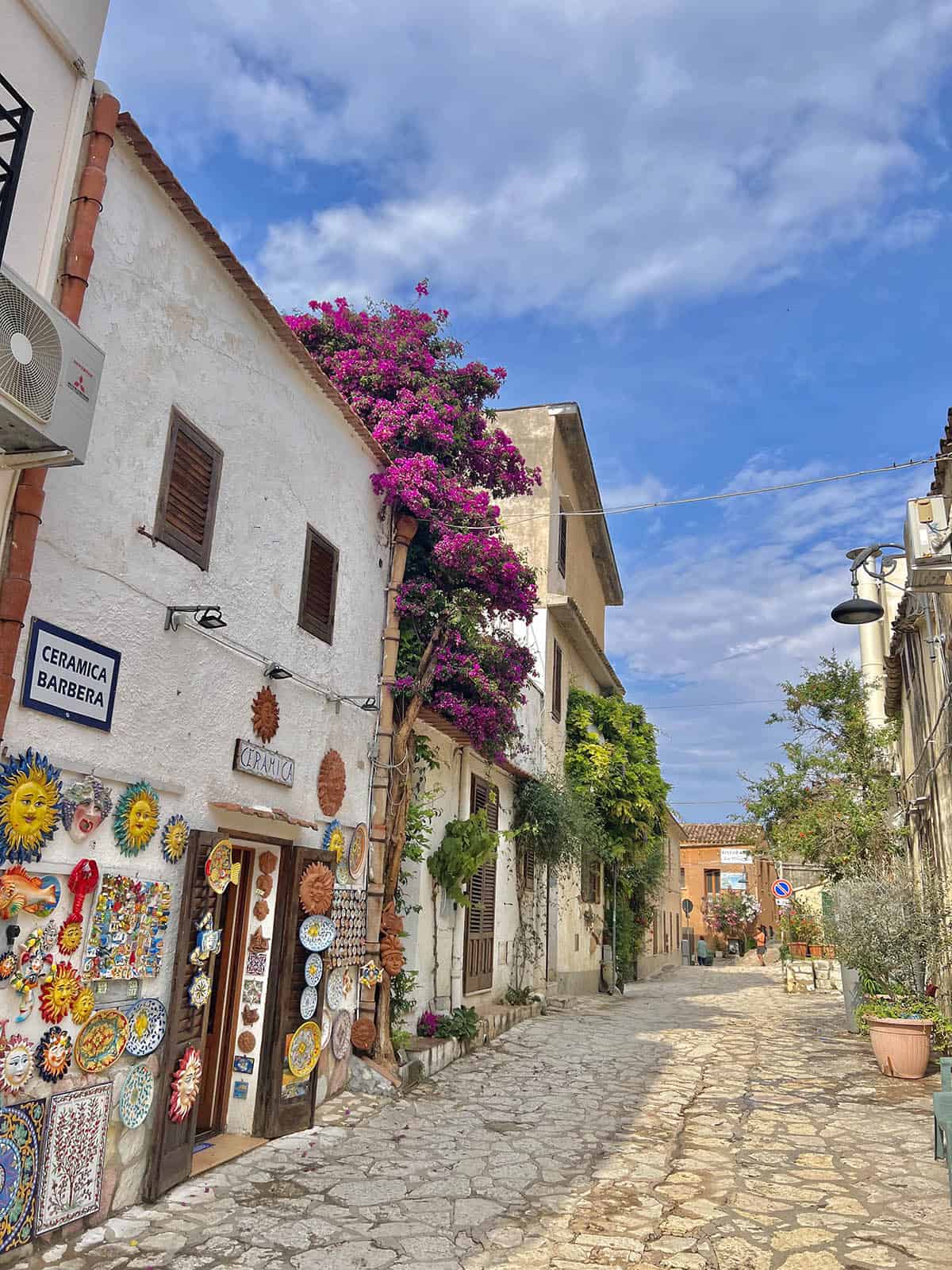 Where to eat in Scopello
Scopello is a small town and there are a just handful of restaurants. I didn't get the chance to visit them all while I was there, but the following are my recommendations.
Made n' Sicilia was a restaurant in the square that had solid food and lots of gluten free options.
I have heard that Bar Nettuno, also in the square, is equally nice. Basically, we found it hard to find awful or even average food in Italy (unless it's surgelato, which is frozen and microwaved).
Hotel Torre Bennistra Ristorante was one of the nicest meals we had with one of the most specatular views. They are such nice people that I don't think they market themselves aggressively enough! The food was great.
La Terrazza was also yummy and had lovely views as well. Added bonus is all the cats that are there in the summer (for me, anyway).
Panifico Di Stabile e Anselmo is the local bakery in town. I loved the pannelle (chickpea flour fritters) and Dad loved everything baked (particularly the cassatelle and sfincione).
Gusto Di Sicilia, the deli, had the most delicious antipasto plate that we shared for dinner. It was huge and had everything from olives to cured meats and fishes.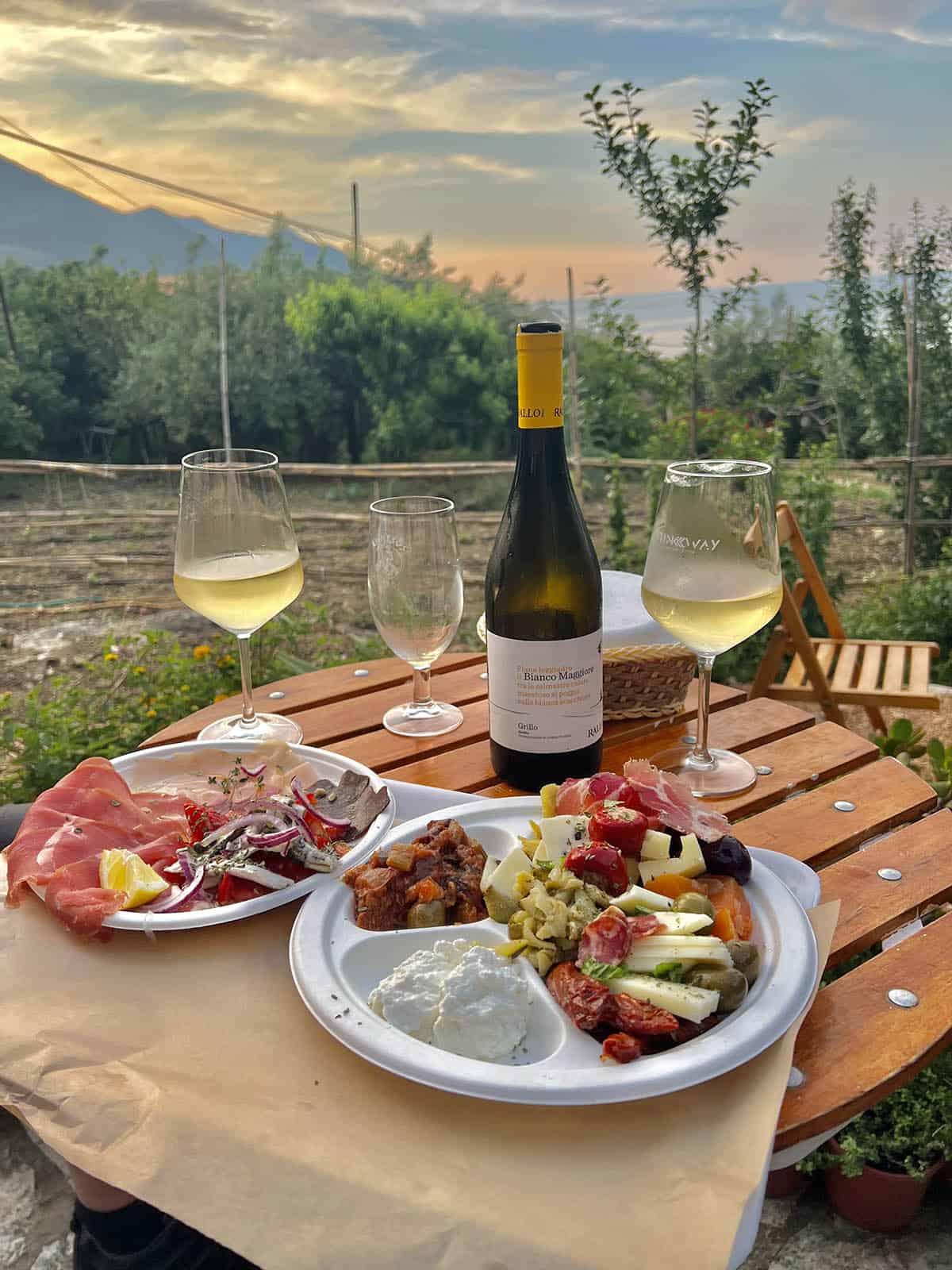 Where to get coffee in Scopello
Essentially, there's two coffee shops in Scopello. Unless you're staying at a hotel, these are your main options. Bar Pasticceria was our daily spot for espressos and then aperitifs in the evening. They had plenty of lounge chairs and it was lovely to people watch with a drink in the square.
The other coffee shop, Bar La Palma, was our spot for gelato in the evening. They had delicious flavours and the staff were lovely.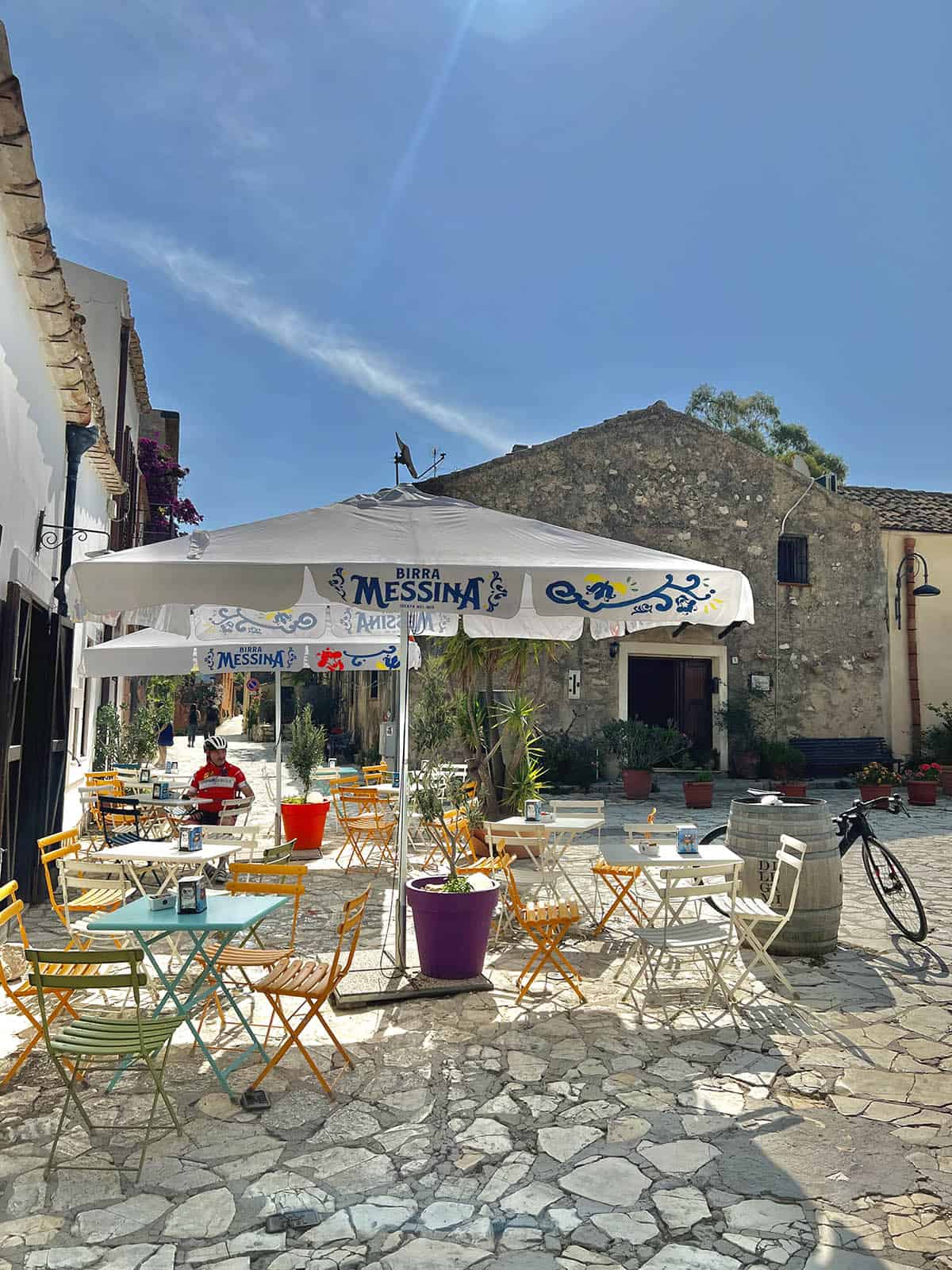 Where to get drinks in Scopello
Aside from the aforementioned Bar Pasticceria, we frequented Bellevue Lounge bar very regularly. I won't say that the cocktails were life changing but the view and ambiance were pretty unparalleled.
If you're after something more simple like a beer or a glass (/bottle) of wine, Gusto Di Sicilia, the deli on the corner, was an absolutely stunning spot. You can sit in the garden with the wine and take in the serenity and views of the ocean. Highly recommend.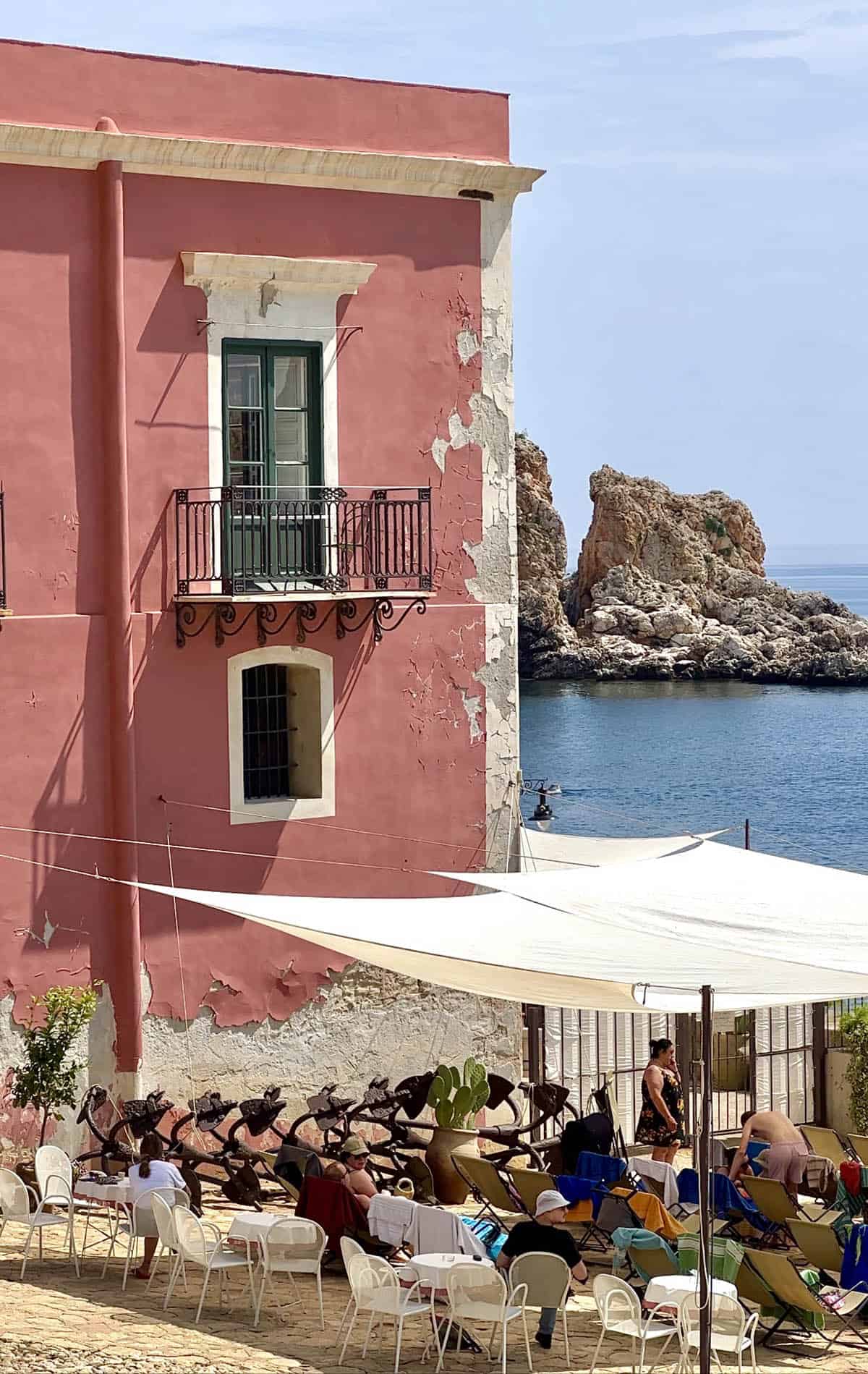 Where to stay in Scopello, Sicily
As we've briefly discussed, where you stay in Scopello really depends where your interests lie. If you plan to spend all your days in the nature reserve, I would get an air bnb near that area. I walked down to the local beach from the township and the return was quite the sweaty experience. The nature reserve is even further down the road, so it might work better to stay nearby.
If you are in Scopello Sicily to experience the Tonnara, I would try and stay at the Tonnara hotel. It's often closed to day trippers and it's also closed by 6-7pm every night. There's also days where it fills up very quickly in the morning and you won't be allowed in. To minimise that risk if this is your main focus, stay there (that said, it ain't cheap).
We stayed in town at Casa De Brigida, a cheap and cheerful accomodation right across from the gorgeous deli. The accomodation was basic but very central and came with a coveted car park (important if you have a hire car). Our only issue was that some sort of water pump or air con rhythmically vibrated overnight keeping me up. Other than that, it was a great spot.
Thumbs down for Hotel Baglio Di Scopello, where I booked a room to escape my Dad's snoring. They stuck me in a boiling hot room with an air con that was getting hotter and hotter (27C when I left) and said I couldn't change rooms. When I decided to leave, they kept all my my money. Boo.
Recommendations
Hotel Torre Bennistra was where I wanted to stay but it was booked out for our visit
Hotel La Tavernetta looked very cute and had a great pool area overlooking the ocean
La Tonnara, with caveats (no air con, super busy with tourists during the day, no restaurant)
Casa De Brigida – aside from the buzzing noise (and no dividing wall to encapsulate my Dad's snoring) it had everything we needed and was so central. Car park was such a mega perk.
I saw a gimpse of the inside of Bed and Breakfast Maria on the main square and it looked very cute. Only downside would be the noise at night as it is on the main square.
If you're mobile and happy to walk into town (or drive) then any number of air bnbs would be great. One with a pool and/or beach access would be ideal in the summer months.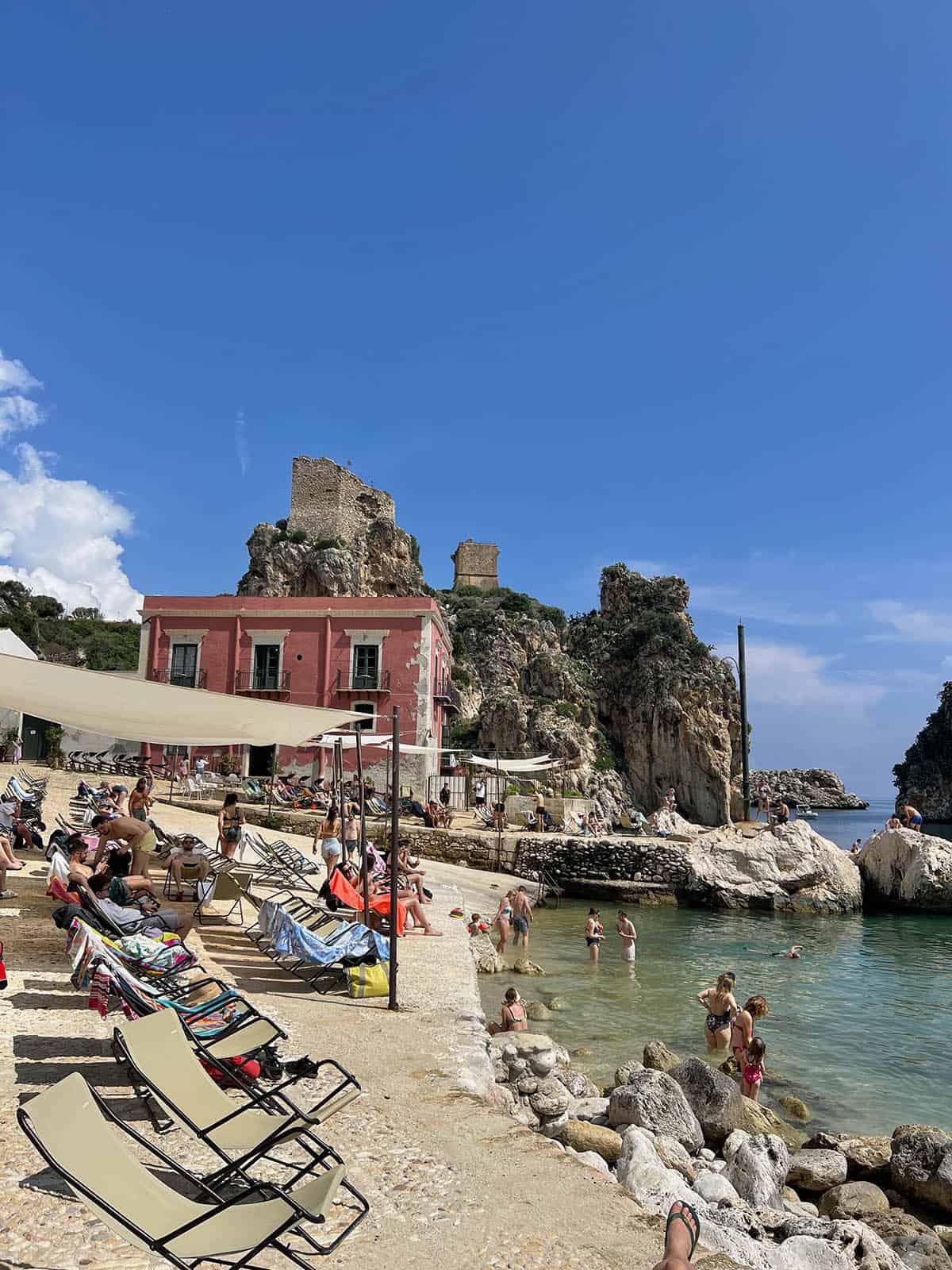 Things to do in Scopello, Sicily
Spend your day on the Zingaro reserve. It's a nature reserve but there are plenty of gorgeous little coves for swimming. You can also organise a boat trip to take you around on the water.
Grab a sunbed at the Tonnara Di Scopello and spend your day alternating between the ocean and the lounger. For information on visiting the Tonnara as a day guest, see my post here.
Hike up to the Bennistra tower (the tower that overlooks the township).
Go to Guidaloca beach (about a 5-10 minute drive away) or Cala Mazzo Di Sciacca, the beach down in Scopello.
Have a long boozy lunch at one of the restaurants in the square.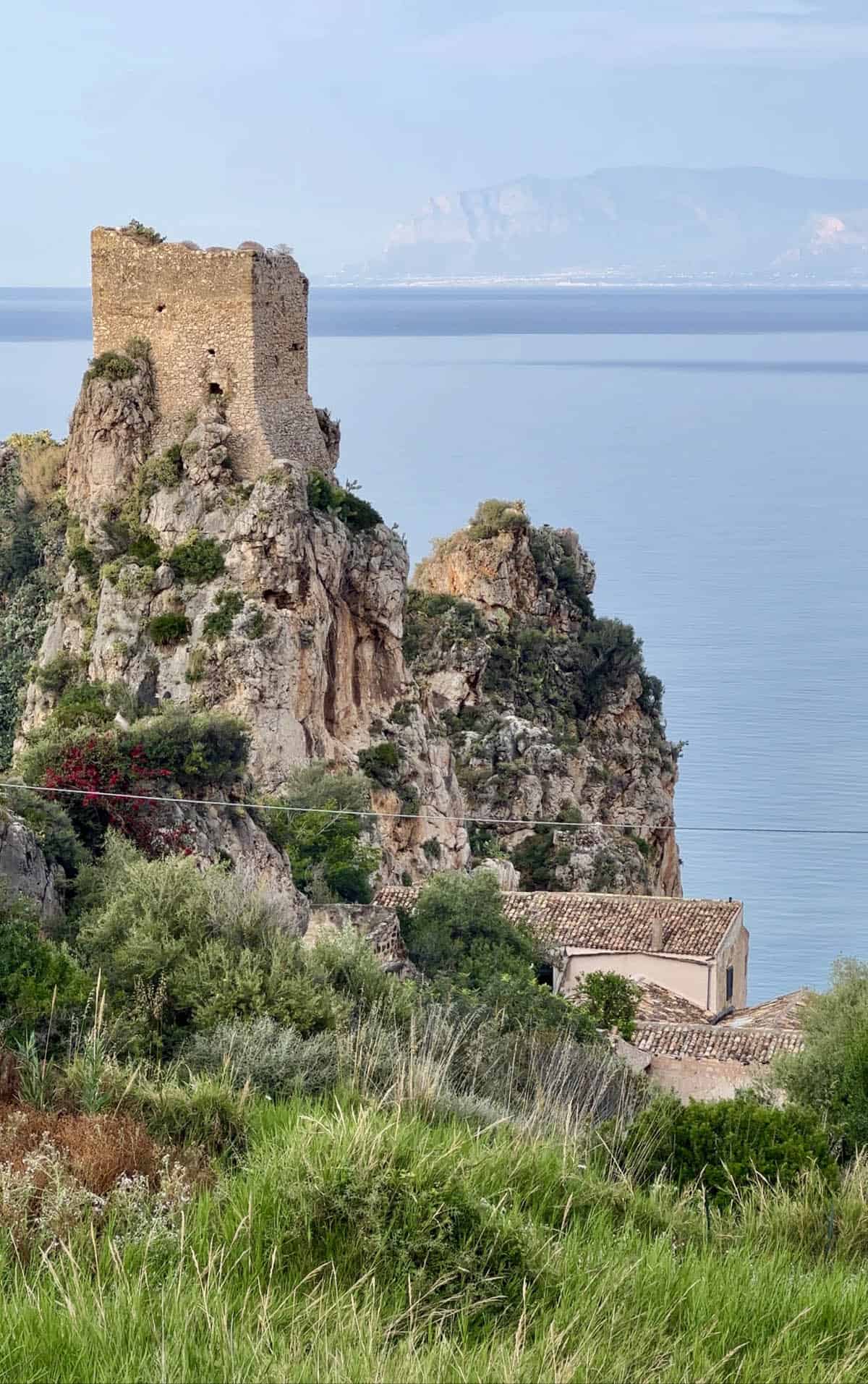 Day trips from Scopello, Sicily
All of these suggestions are based on having a hire car (it's not that bad driving in Sicily, I promise!)
Trapani is a 38km/55 minute drive away. It's a gorgeous seaside town (small city, really) with a port that ferries people to Favignana and Levanzo islands.
We did a day trip to Favignana which was a bit ambitious and left us with an insufficient amount of time on the island. I'd recommend staying overnight (at least) on Favignana, and then again on Levanzo (but that's a point for another time!)
San Vito Lo Capo is a 43km/55 minute drive away. It looks INCREDIBLE and we didn't go but I sorely wish we did.
Same goes for Erice: a 36km/50 minute drive away. It's a historic hillside town, and you can catch a cable car up there from Trapani. There are other routes, too, but why not take the scenic one?
Castellamare Del Golfo is a 10km/20 minute drive away. It's a gorgeous seaside town with restaurants, a beach, and a lovely main street to wander up and down.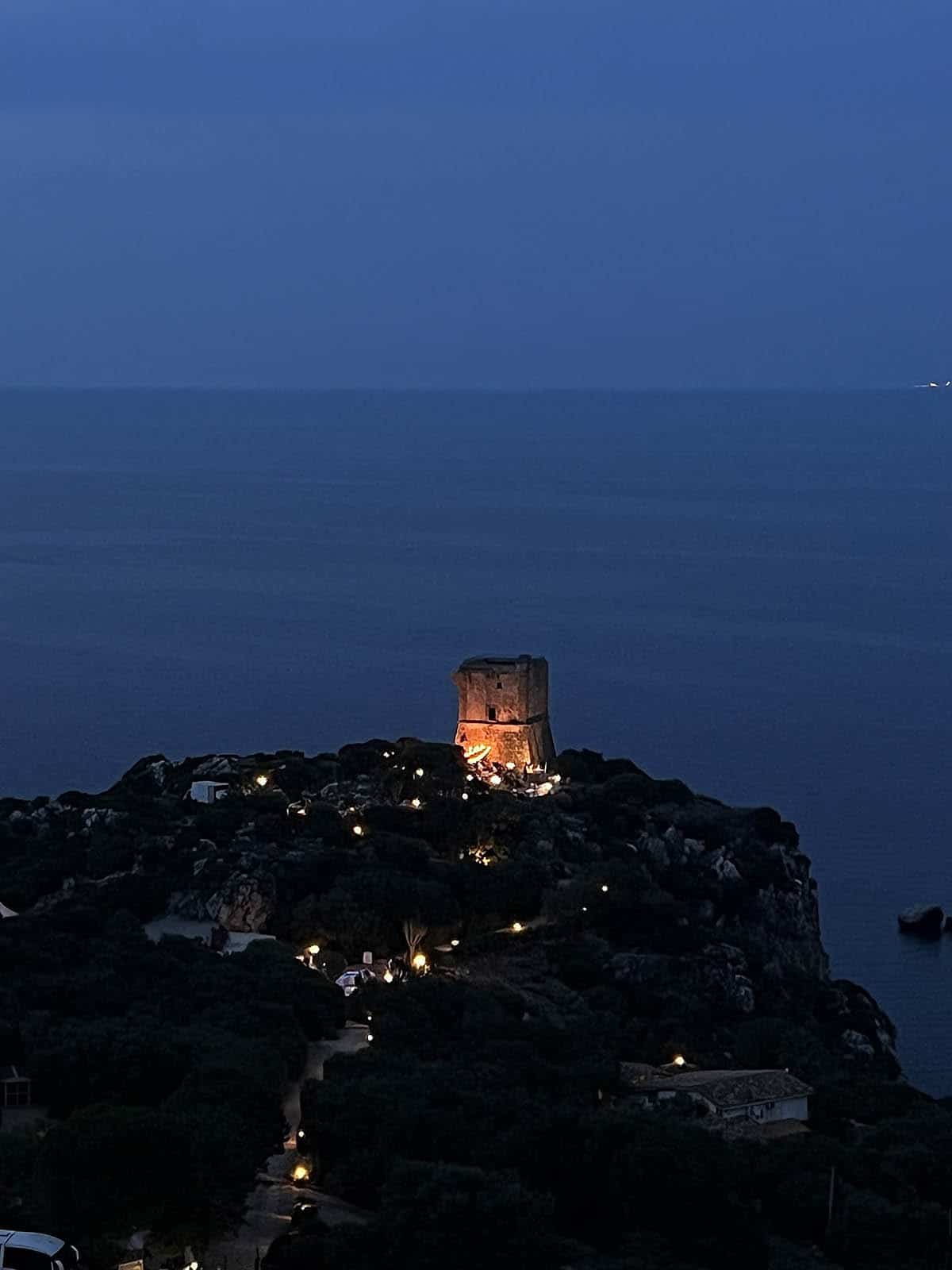 Should I base myself in Scopello?
I asked this question on Instagram before my trip, so I want to pay it forward now with my experience. My answer is: it depends.
When we arrived, I did wonder how we would fill in the 4 days we had in Scopello. It's beautiful but small, and I had just come from Palermo, which has a lot more happening. Over our stay, however, I became increasingly fond of the little town and the simplicity of small. We developed routines in where we had coffee and breakfast, which was lovely.
If you're the type of tourist who loves reading a book on the beach or by the pool and taking it easy, you would be very happy in Scopello, particularly in summer. Similarly, if you love nature, hiking or boating, this could be a great base.
If you're the sort of person who needs to fill every day with sightseeing, I think it could be more practical to stay in Trapani with a day trip to Scopello. You'd have access to the ferry port for Favignana and Levanzo, the cable car for Erice, and you'd be in easy reach of Marsala. It's roughly equal distance from Scopello to San Vito Lo Capo as it is Trapani to San Vito Capo, but the roads look less windy.
I don't really know why, but Scopello just doesn't feel like the place you roll back into at 8.30pm after a day long adventure. It's more like the place you're in the town square with a spritz at 5pm on the dot.
More Sicily resources