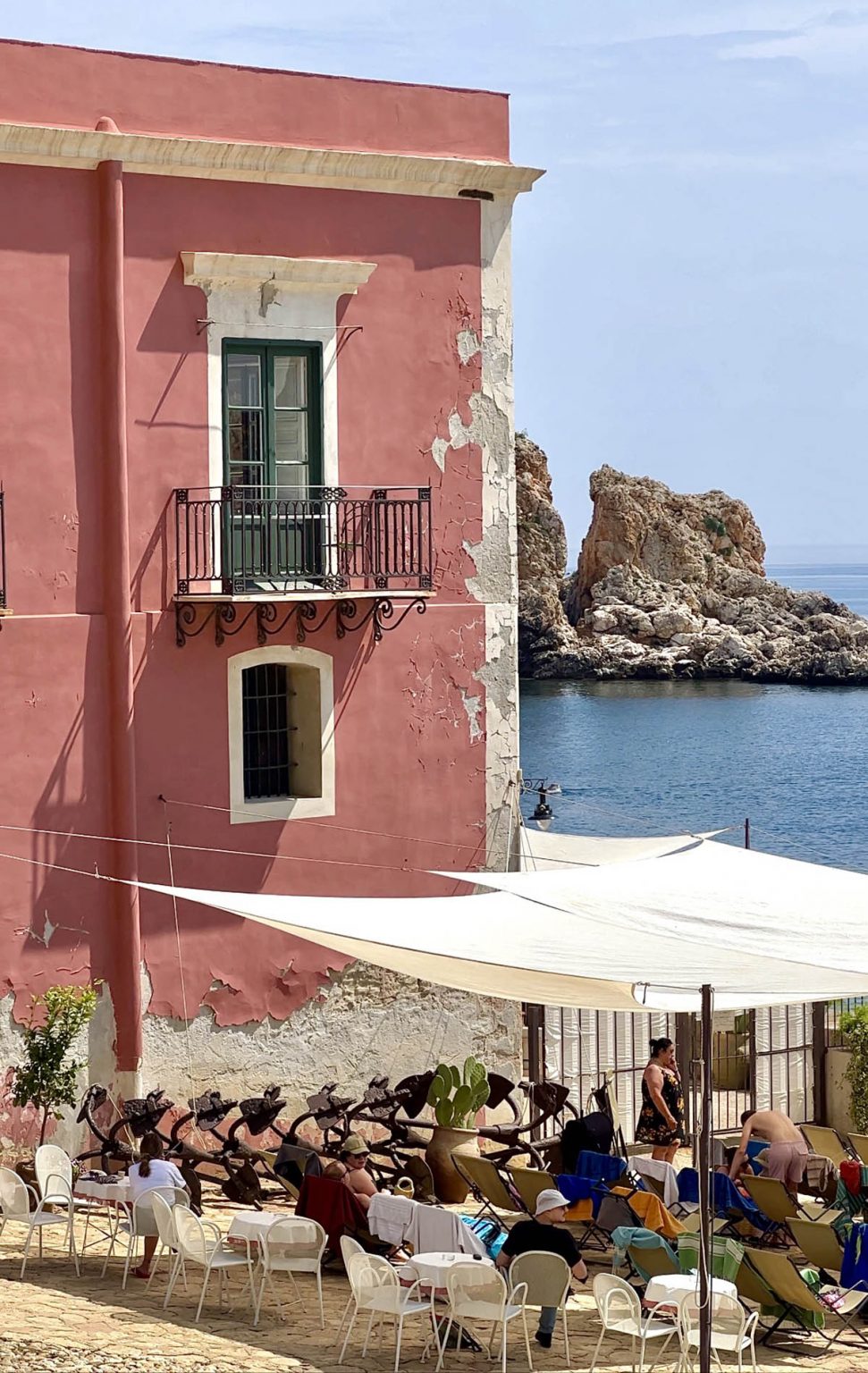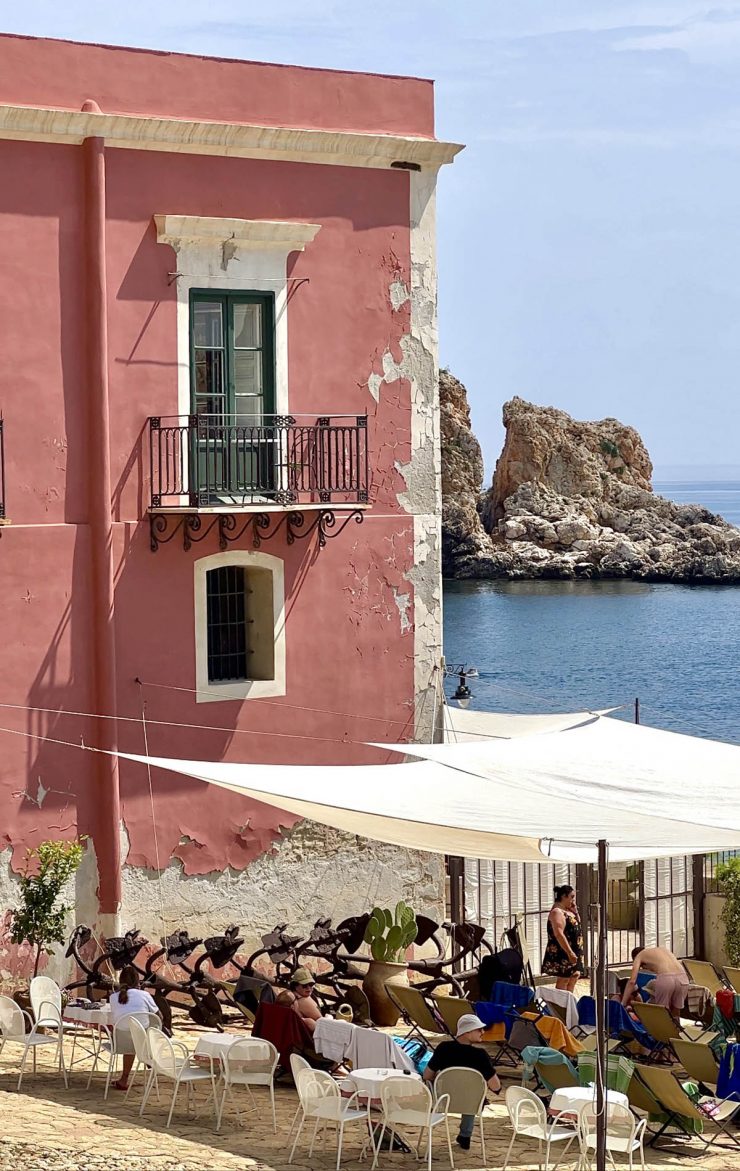 The Tonnara Di Scopello seems to be everywhere on social media these days. And while there are a number of popularised places that I find overrated, the Tonnara is not one of them. It is every bit as beautiful, charming and picturesque as the images you see online would suggest. In this article, I'm going to discuss everything I learned about visiting the Tonnara on my recent trip to Scopello.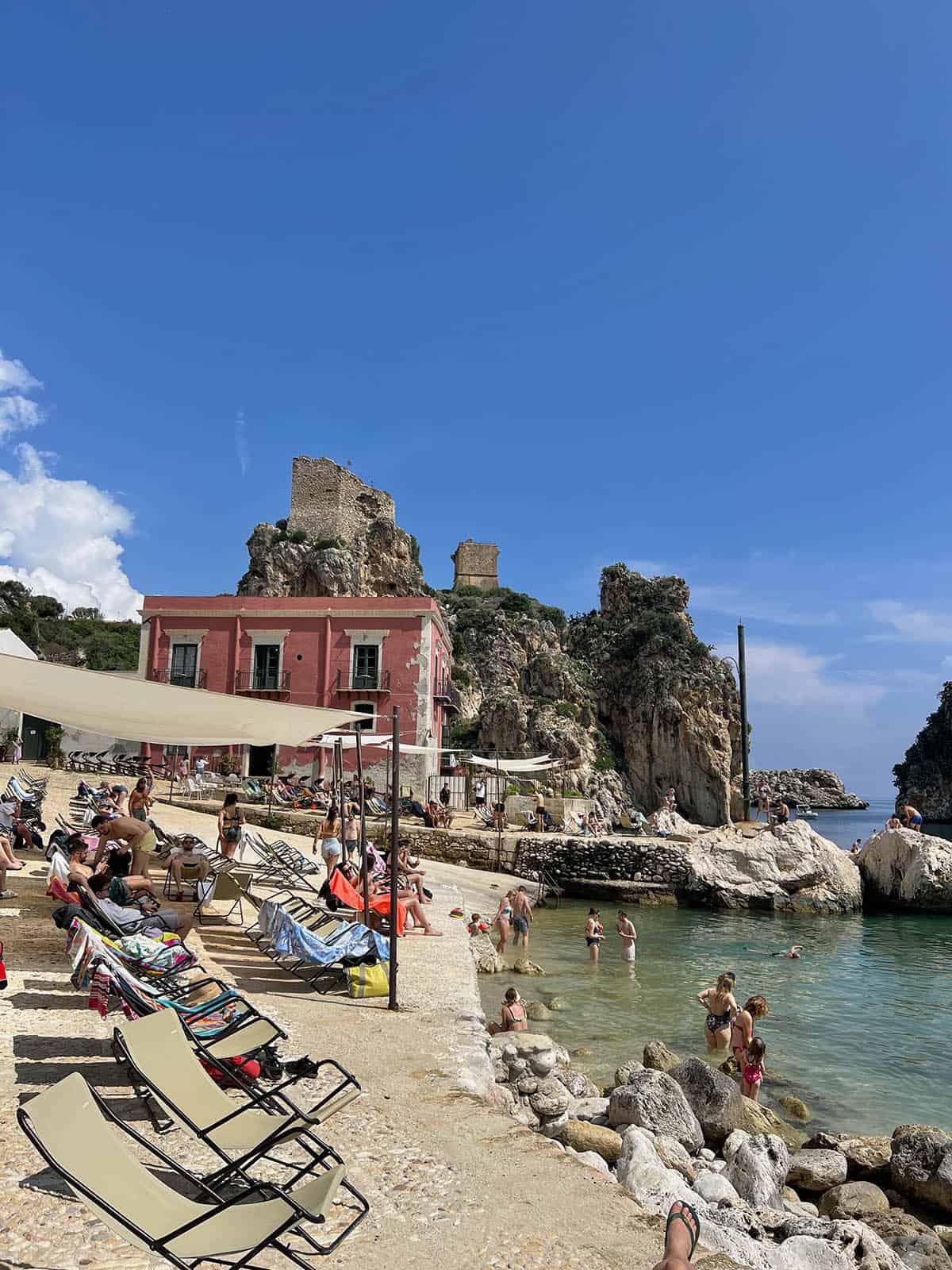 Tonnara Di Scopello
The Tonnara Di Scopello is an historical tuna factory located in Scopello. It is a beautiful old pink building surrounded by craggy rock beaches and beautiful aquamarine waters.
These days, the Tonnara is a apartment style hotel with a caffè and paid beachside area for the public to swim in.
The Tonnara is also a popular wedding venue, with a wedding on the weekend I was in Scopello.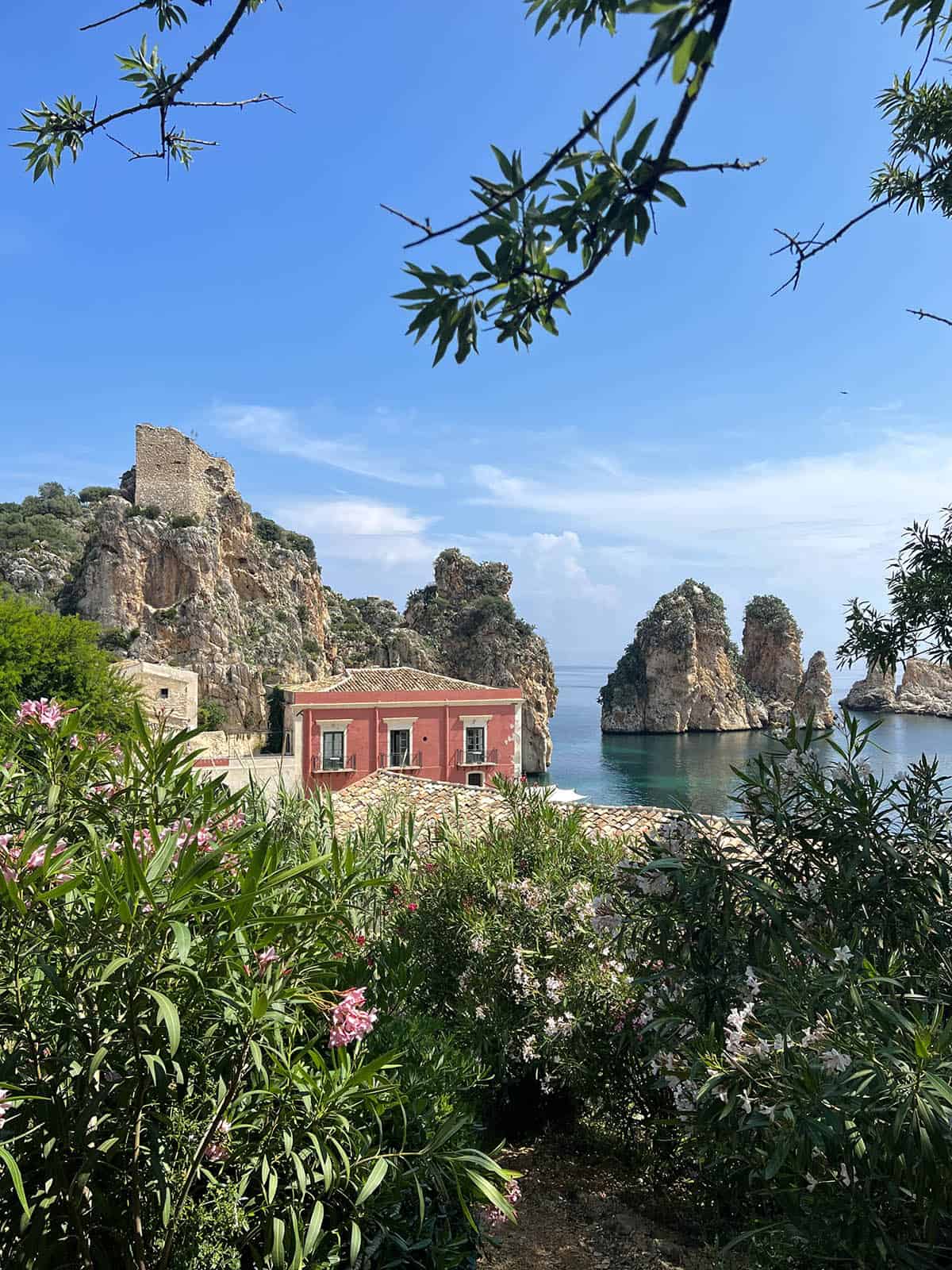 Getting to Tonnara Di Scopello
Scopello is a small town about 40-60 minutes drive from Palermo. It is without much public transport infrastructure, so you will need to arrange transport or hire a car to get here.
We picked up a car from Palermo airport after our stay in Palermo and drove to Scopello after visiting Trapani. If you're curious about hiring a car and driving in Sicily, I have written about my experience here.
Because the Tonnara is private property, you cannot park at the Tonnara itself. Lots of people tend to park on the road adjacent the Tonnara, but there are clear 'no parking' signs and towing warnings. There is paid parking around the corner closer to Scopello market, so I recommend using that. You can also use the paid parking at the end of Scopello township and walk five minutes back to the Tonnara entrance.
Tonnara Di Scopello as a guest
There are a few important things to note when entering the Tonnara as a day guest. The first is that (in June 2023 when I visited) the Tonnara charges €10 per person for entry. Apparently this is a relatively new thing. I understand why they do: there were so many people trying to get in every time I went past, some (like me) just for a look. The facilities for day guests are also very nice: lots of shaded sunbeds and a caffè to purchase drinks and (potentially) food. I assume there are toilets too but I didn't stay long enough to need one.
The next important thing to note is that the Tonnara fills up fast in summer. I tried to go at 11am and it was full. They will not let you in, even for a quick look. This is something to consider if you're planning a day trip. The Tonnara currently opens at 10am and closes at 7pm – I assume these are summer hours and subject to change. I'd recommend getting there as early as possible to score a place and a great sun lounger.
This brings me to my last point: the Tonnara is as popular of a wedding venue as it is a beach venue. If you are planning to visit, it's absolutely essential you check their website for potential closures. It is often closed for days at a time, which will really throw a spanner in your travel plans if you've come to Scopello for the Tonnara. I was very lucky to visit on a whim one morning, because I didn't realise it would be closed the next day.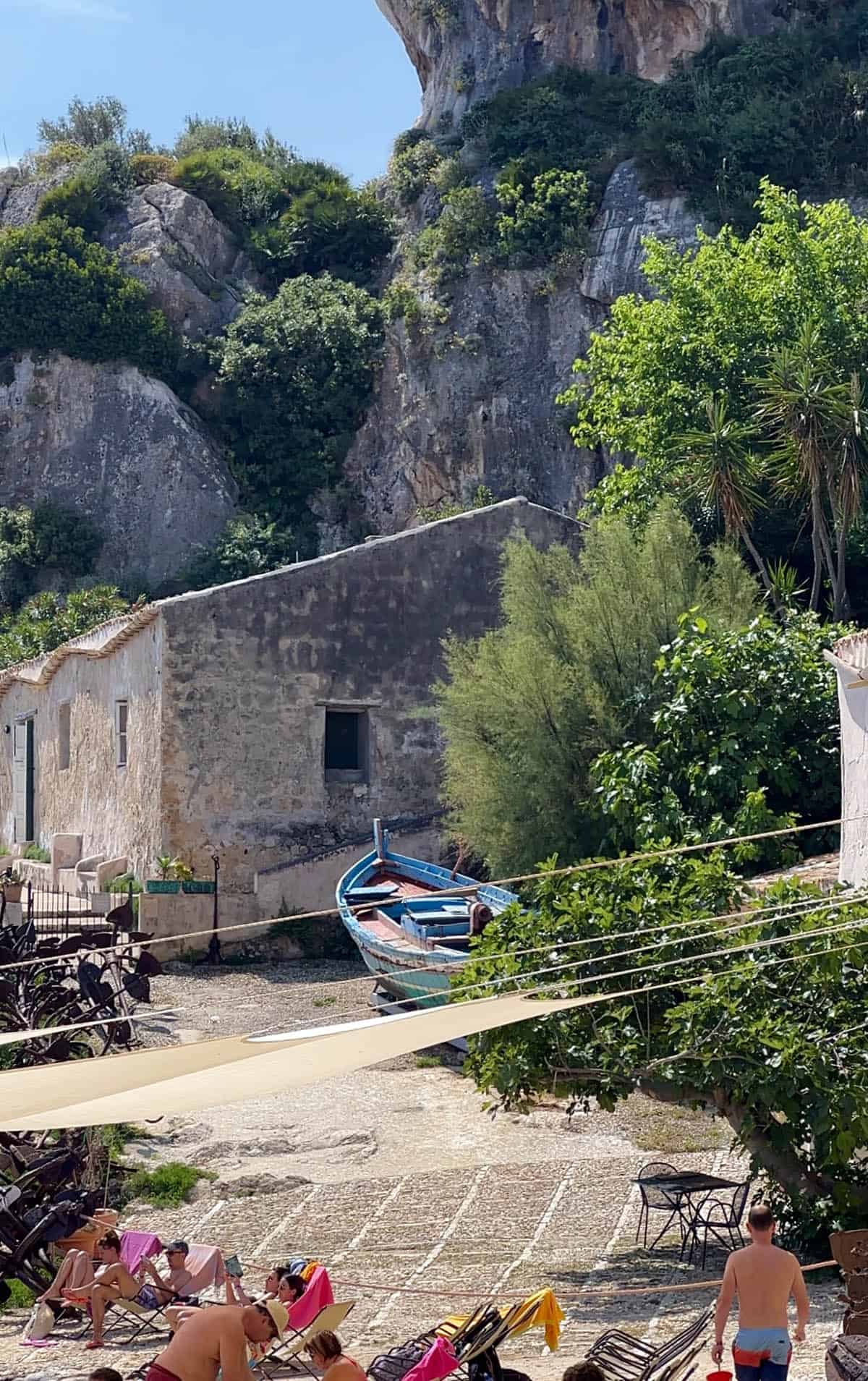 Accessibility
Accessibility is not something I have considered in the past. However, travelling with my Dad who has bad knees has made me realise that accessibility needs to be considered. The walkway down to the Tonnara is a rocky hillside path. It's definitely not wheelchair accessible, and it would have been a struggle for my Dad.
The man at the desk said (I think, as I speak broken Italian) that I could drive him down to the entrance and then take the car back to the public parking. The driveway is currently unpaved and hairpin with a steep initial entrance (not super difficult but not an easy paved road) which is something to consider if your car is low.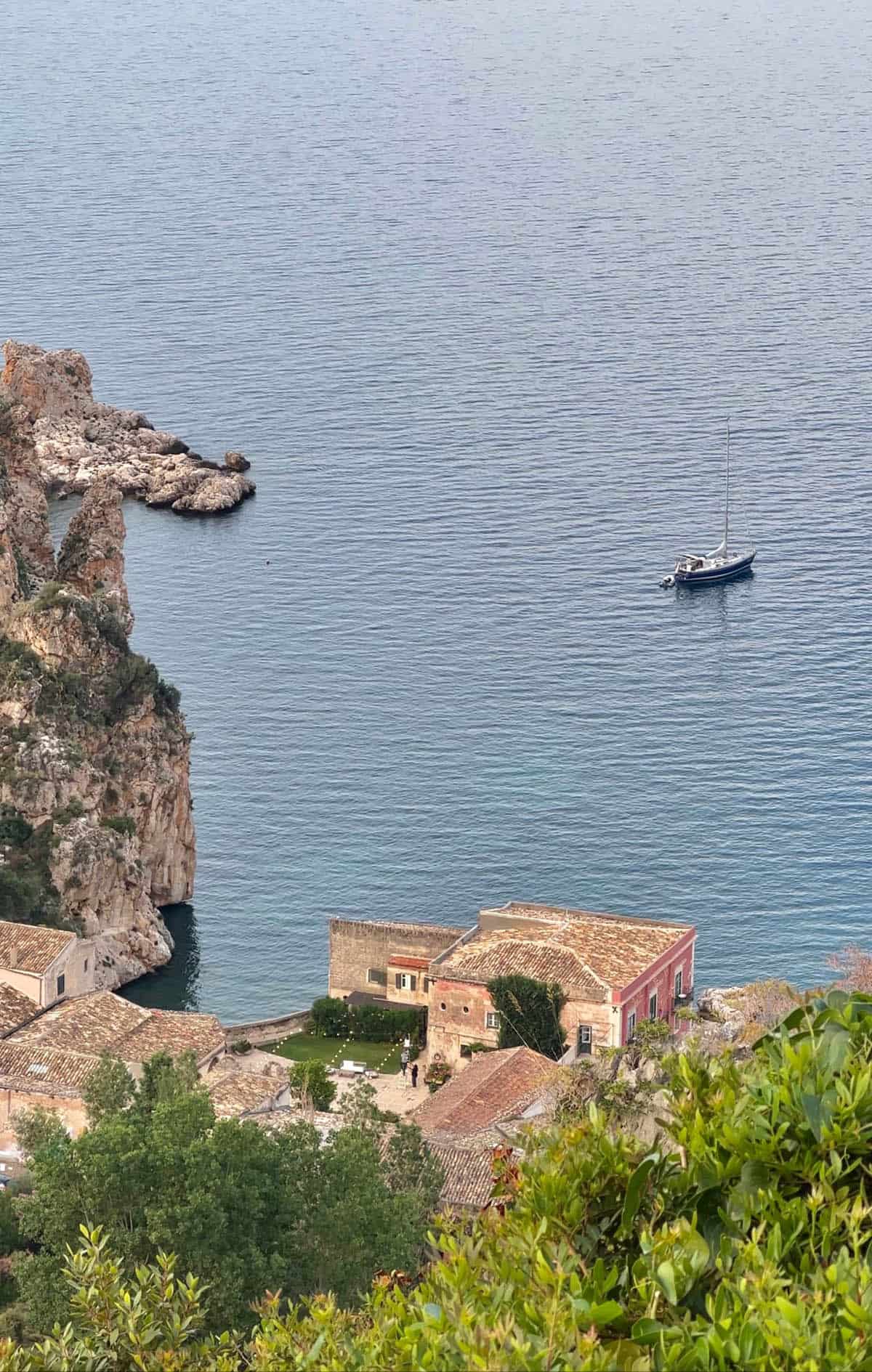 Can I see the Tonnara from the road?
Sort of. The below is a picture I took from the road that the Tonnara entryway is on. I wandered down the bush track from the Scopello township (and used the 3x zoom on my IPhone). There are some slightly different (maybe better?) views from the walking track if you carry on towards the Tonnara paid car park.
With all that said, the best views are from the Tonnara itself. I paid the €10 fee just to have a look around (I didn't have my bathers and we were off to Castellamare Del Golfo) and that was worth it to me. It's a truly beautiful place that is best experienced from within.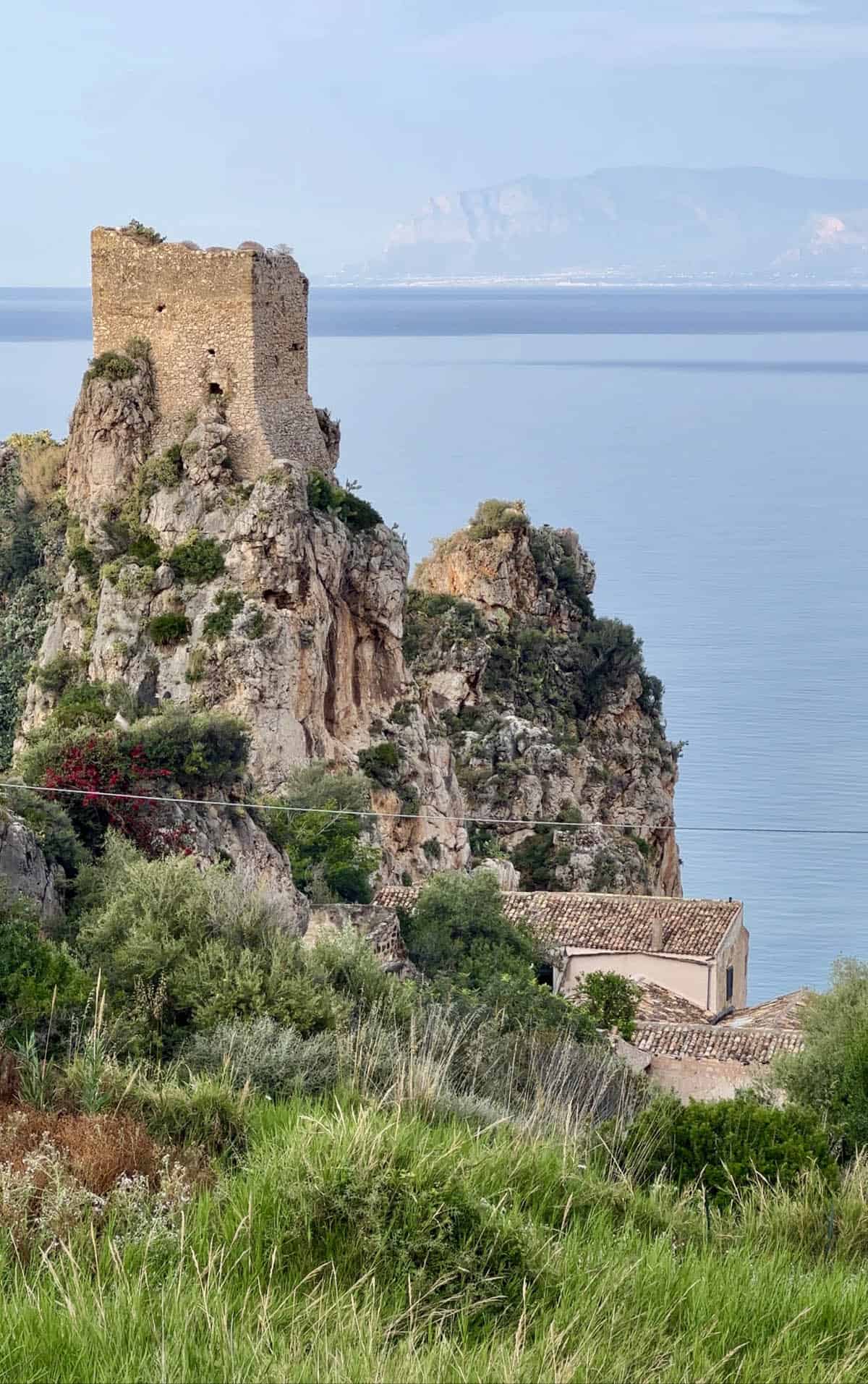 Where are the best views of the Tonnara from Scopello?
I can't say for absolute certain, but in my experience the best views were from the restaurant at Hotel Bennistra in Scopello. We had one of our most delicious dinners there overlooking two weddings: one at the Torre Della Tonnara (the tower in a lot of these images) and one at the Tonnara Di Scopello. I daresay the ocean facing rooms of Hotel Bennistra would have an equally lovely view.
We also had a lovely view from La Terrazza, a restaurant a few doors down from Hotel Bennistra.
The torre was closed for the duration of our stay, likely for weddings. It might have a good view, but I can't say for sure.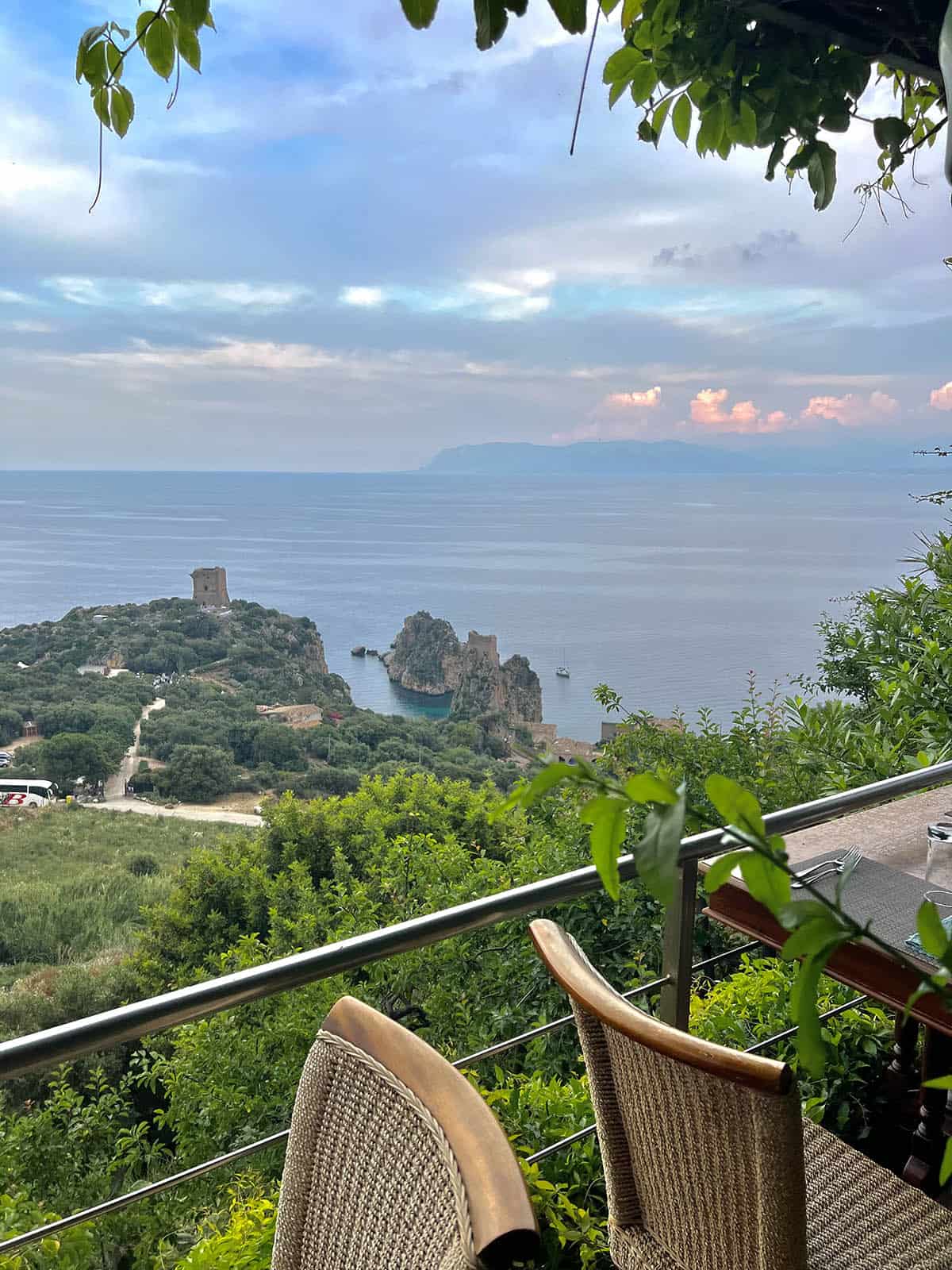 The Tonnara is booked out. Where should I stay in Scopello?
I desperately wanted to stay at Hotel Bennistra (views above) but they were booked out when we visited. They would be my first recommendation.
A big thumbs down to Hotel Baglio Di Scopello who stuck me in room with an air con that just got hotter and hotter, told me I couldn't change rooms, then kept all my money when I left. Not chill at all.
If you're after cheap and cheerful, we then stayed at Casa De Brigida which was right by the gorgeous little garden deli. I'd say it's probably the most inexpensive place you'd get in Scopello and it also came with a car park which is rare for Scopello. The location of it couldn't have been better, but nextdoor's air con pulsated on the roof all night. Just something to consider if you're a light sleeper. Otherwise, a great little spot.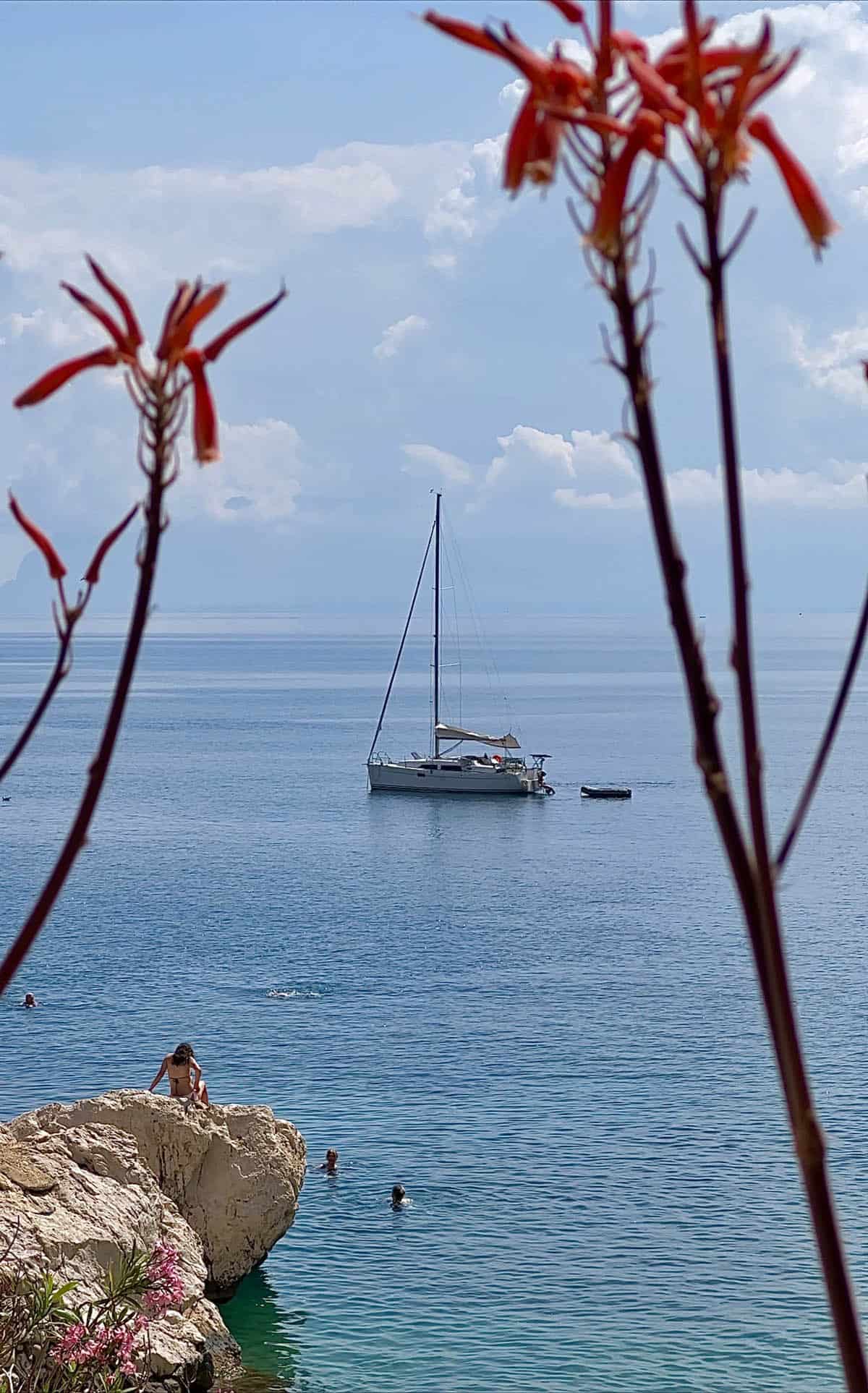 What should I bring to the Tonnara Di Scopello?
First of all, bring your wallet and enough money for everyone to get into the Tonnara. I paid cash, so I'm not 100% sure if they take card. Ideally bring cash, as Italy is still a cash society. Better safe than sorry.
Next, bring your bathers, a towel and everything you'll need for at least a few hours of swimming and sun lounging. That might also include a phone battery pack if you're a compulsive photo taker like me. I don't think there are pass outs (although they do put a wrist band on you) so plan to have everything you need.
I didn't see what was available at the caffè, although some reviews say it is quite pricey. If you intend to be there for a while, I'd suggest bringing at least water. If you're on a budget, I'd probably also bring snacks or lunch.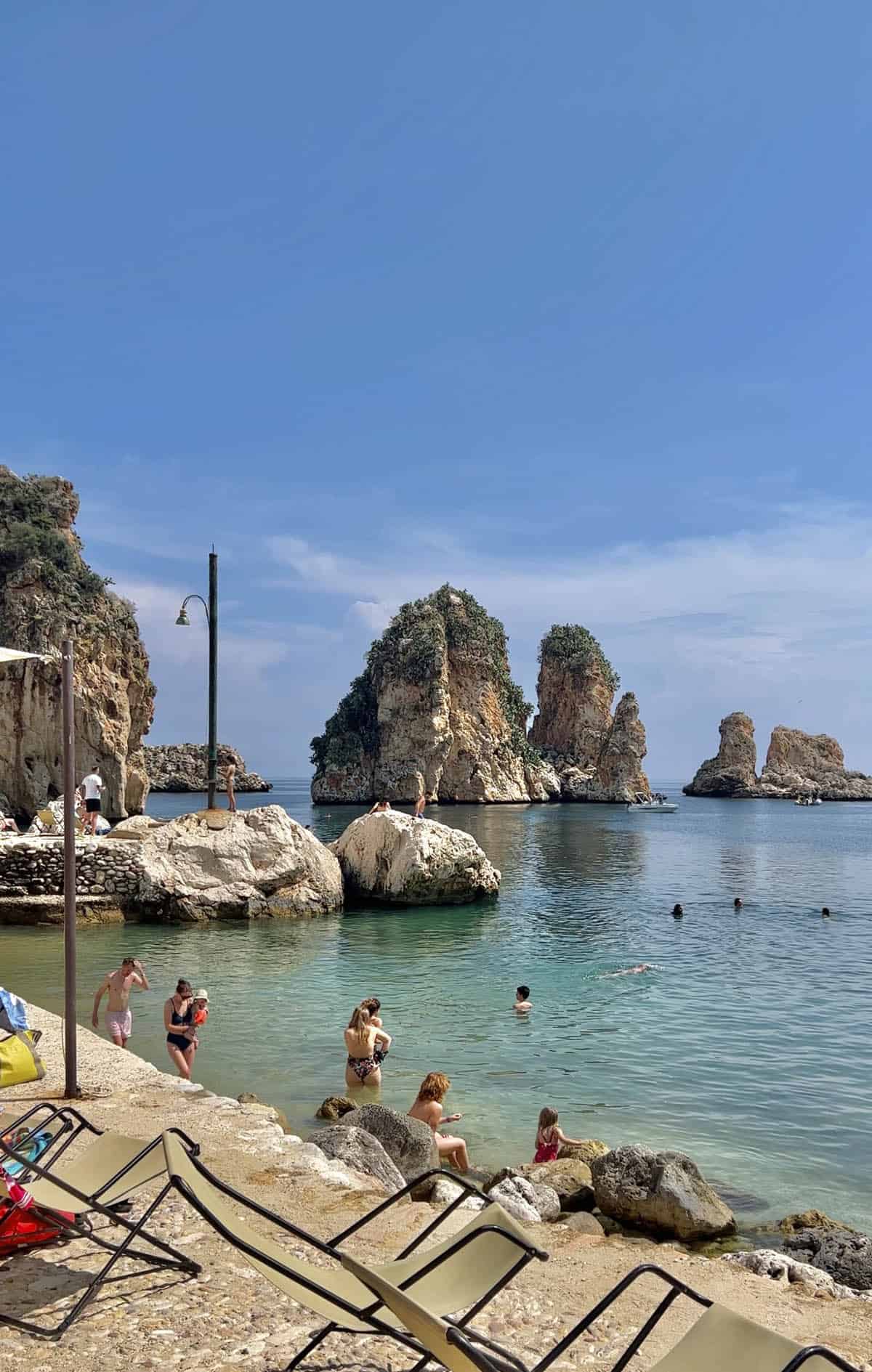 More Sicily resources