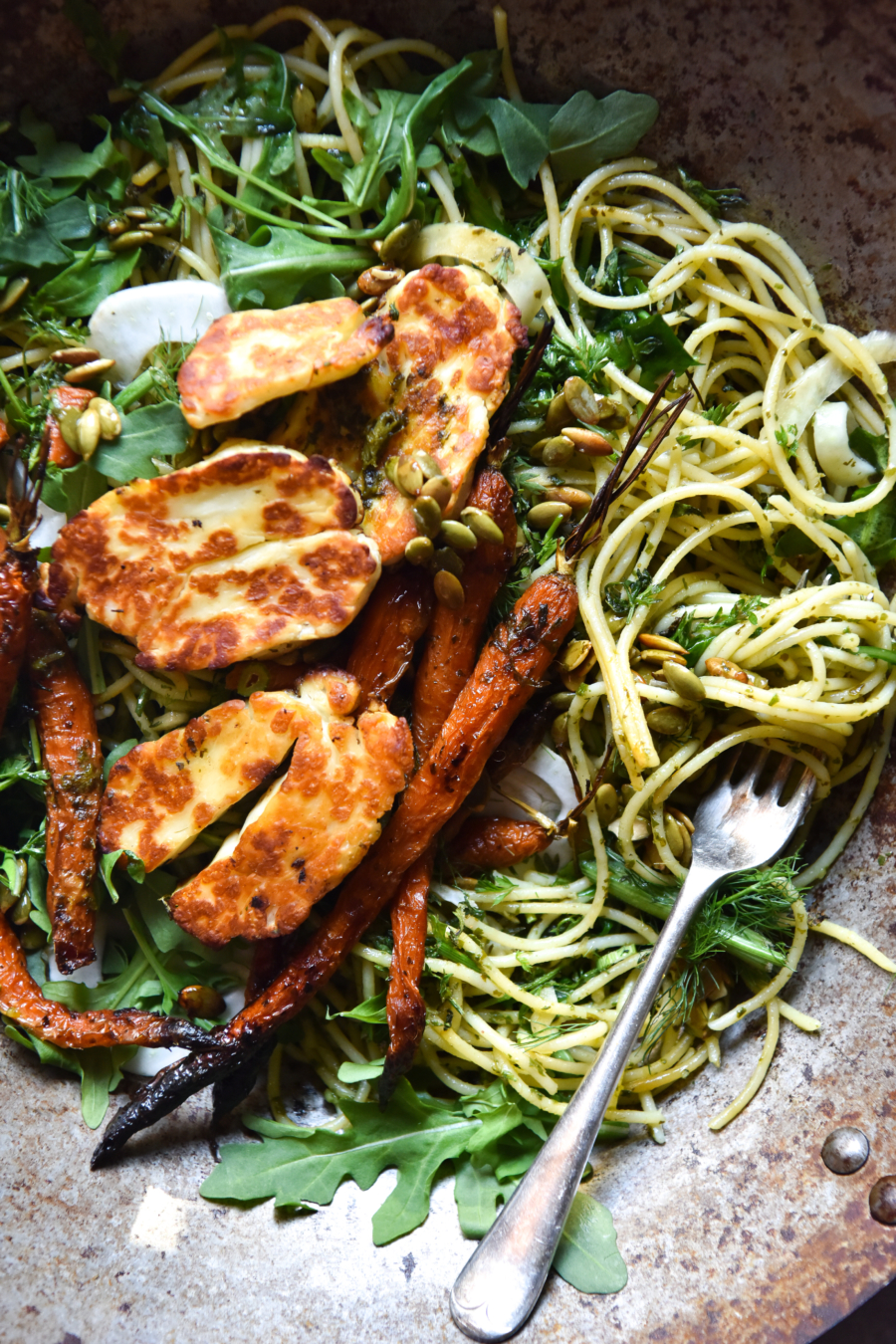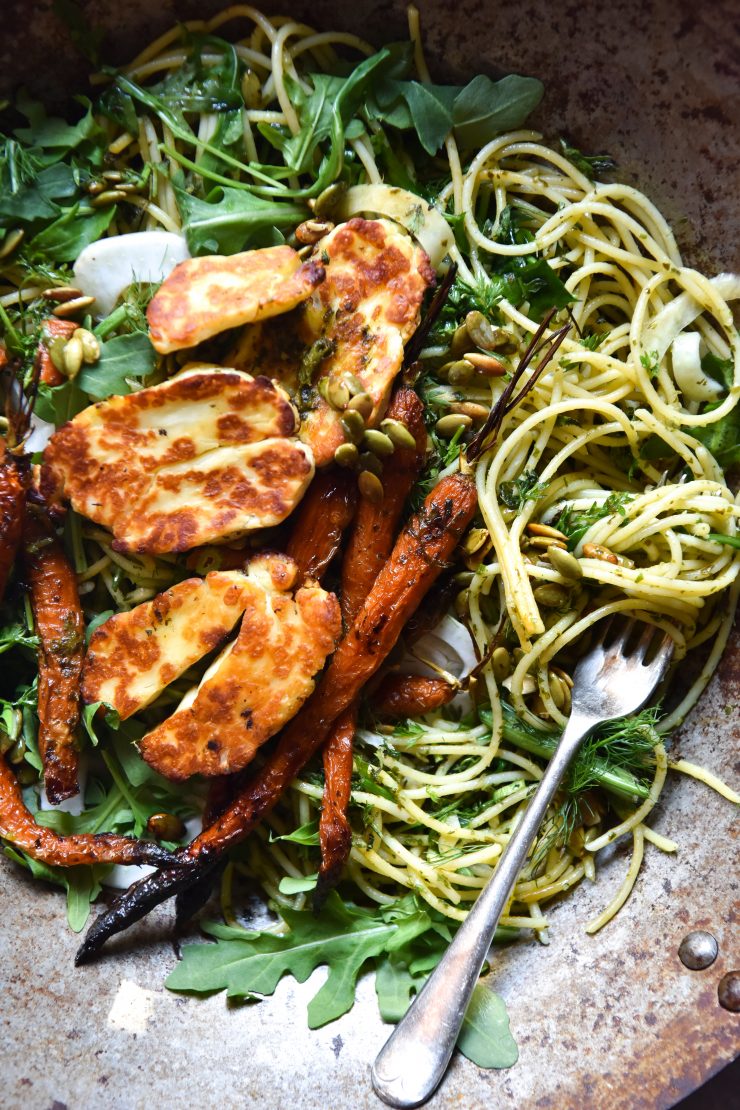 So you might be thinking that this pasta looks suspiciously like the roasted carrot, halloumi, fennel and maple toasted pepita salad I posted last week. I'd like to be the first to confirm those suspicions. As I said on Instagram (I don't want my lines to go to waste) I'm an expert in stretching out birthdays, jeans, haloumi benders, and blog recipe posts. I'm truly enamoured by that salad, and I want it to remain relevant for as long as possible. Hence: a pasta version.
This pasta version differs very minutely to the salad version. Firstly and foremost, you'll need some pasta. That's very self explanatory. Secondly, I've done a bit of tweaking, because I know that bunches and bunches of herbs are not particularly budget friendly. Nor are they environmentally friendly, given the plastic sleeve they come in, here in Australia. So! In this particular version of the salad I've used rocket, although you can use whichever greens you like. Simply substitute a big handful of rocket for the coriander in the recipe, and voila! A herb sauce, with half the herbs. Genius.
This pasta can easily be made vegan, by substituting the honey on the carrots for maple syrup, and adding a vegan cheese, as opposed to halloumi. I'm basically waiting on someone to invent a vegan halloumi and I'll be ready to give up dairy, but that's another subject for another time. To make the salad more FODMAP friendly, you can swap out the honey, as in the vegan option. You could experiment with using a spelt spaghetti, or, if you have no need for gluten free spaghetti, simply use regular.

Honey butter roasted carrot, halloumi and preserved lemon herb sauce pasta
Gluten free, vegetarian, FODMAP friendly
Ingredients
FOR THE PASTA:
400

g

gluten free spaghetti

only if you need it to be gluten free

1

fennel bulb

mandolined or finely sliced

250

g

dutch baby carrots

you can use more if you're into carrots

1

teaspoon

honey

this is enough for 250g carrots, use more if you're using more carrots

10-20

g

butter

slightly more than the original, but here we will drizzle the melted butter over the pasta mmmmm yes

1

packet of halloumi

they vary from 180g to 250g, as far as I can tell. The more the merrier

2

large handfuls of greens of your choice

I've used basically every green under the sun, but for the pasta rocket aka arugula goes well
FOR THE LEMON HERB SAUCE:
1/2

cup

olive oil

1

large bunch mint

1

large bunch coriander

or a large handful of rocket/another green

30

g

around 2 small pieces of preserved lemon

Juice of 1 lemon or lime

Pinch

of salt
Instructions
METHOD:
Preheat the oven to 180 degrees Celsius, and lay the carrots on a lined baking tray. Sprinkle them with the honey and blob them with butter, finishing with a good pinch of sea salt. Cook for 30 minutes to an hour, depending on how well done you like your carrots. While the carrots are cooking, place the finely sliced fennel in a bowl, and massage it with some olive oil, a bit of lemon or lime juice, and a smidge of salt. Set aside.

When the carrots have ten minutes left, place the pepitas in the oven on a lined tray, and bring a large pot of salted water to the boil. If you follow me on Instagram you might have noticed I like to cook my spaghetti in a wok, so it can lie straight in the water. Whether I should be proud of or hiding this fact/'hack' remains to be seen. Once the water is boiling, add the pasta, and cook for around 8-10 minutes. This will depend heavily on what brand and shape you decide to use, so follow the packet and eat a bit of pasta every now and again to check.

The carrots and pepitas should be done, so remove them both from the oven. Pour the maple syrup over the pepitas, and sprinkle with sea salt. Set both aside.

Pop all the ingredients for the preserved lemon sauce in the food processor, and whizz until fully combined and saucy.

Once the pasta is cooked al dente (most of the way through, with a bit of bite) reserve about a cup or so of draining water, and drain the rest. Place the pasta back in the pot (or wok, no judgement) along with the reserved pasta water. Pour over the herb sauce, adding as little or as much as you like. I add the whole lot. Toss to coat, and then stir through the greens and the fennel (along with the lemon and oil juice, if there's any left)

Heat a pan to over a high heat, and once it's hot, add a scant half teaspoon of oil. Your pans might be better than mine, and you might not need to. Either way, add the halloumi to a super hot pan, and watch it closely, turning after a minute or two. Repeat if you need more colour.

To serve, you can either toss everything together in the pan, or you can lay the halloumi and carrots atop a bed pasta. Whatever you do, make sure you use the leftover honey butter from the carrots, and top the whole thing with the maple toasted pepitas and some chopped carrot tops (you can eat them! I promise!)